End of Another School Year
Dear Parents/Pupils,
Today, like every end of year, should have been a day where spirits would be high and the corridors of Scoil Iosef Naofa would be filled with laughter, chat and excited children on the last day of term. It has been very strange, and surreal time for everyone. On behalf of myself and the staff of Scoil Iosef Naofa I would like to take this opportunity to thank all of the parents and pupils in Scoil Iosef Naofa for their cooperation throughout the last year, especially over the last four months.
To our 6th class cohort leaving, we thank you for always being such a fantastic and memorable bunch of students and you really will be sadly missed. From the start of Junior Infants you were a pleasure to teach, always willing to help each other, and always so enthusiastic about everything you did. We have the upmost faith that as you move on from us you will continue to leave a positive mark on your next school and hopefully we will be able to welcome you back in the near distant future.
We look forward to seeing some of our pupils back in school next week for the summer provision. To the rest of our students enjoy the summer holidays and hopefully we will be back refreshed and ready for a new school year commencing on Thursday 27th August 2020.
I hope you have a great break and can't wait to be back amongst the pupils taking on the world together, the Corville way very soon.
Take care,
John Slattery.
---
School Work for Students

Important Notice: Regular updates, projects, extra resources, competitions will be published on our school Facebook page so make sure to Like & Follow us over there.
List of resources: Staying healthy and well is important, particularly now when we all need to mind ourselves and each other a little more. Take a look at this comprehensive list of resources for children, young people and families while we all work together to stay safe >> Wellbeing Resources
School Work: As you are all aware, schools are closed for at least the next two weeks until May 5th. The teachers have left work for the students to complete while they are off school. This is to ensure your child does not regress over the coming weeks due to the enforced school closure. We appreciate that at times the tasks may be difficult to complete outside of the classroom but all we expect is their best effort. A child learns more when given immediate feedback, therefore parents are welcome to mark their child's work in this situation. We will also review their completed work on returning to school. If the shutdown period is extended we will continue to upload work to be done on this website. So check back each week for further updates. Thank you.
Teacher Email Addresses – if you have any issues with regards the work being set then make sure to get in contact with the class teacher via the emails below. They are there to help.
MsMcMahon@corvillens.com
MsOConnell@corvillens.com
MsFrawley@corvillens.com
MsKelly@corvillens.com
MsScott@corvillens.com
MsOSullivan@corvillens.com
MrStapleton@corvillens.com
MsBourke@corvillens.com
MsOBrien@corvillens.com
MsBrowne@corvillens.com (Suzanne)
MrPhelan@corvillens.com
MsMcGrath@corvillens.com
MsMadden@corvillens.com
MsRyan@corvillens.com
MsFitzpatrick@corvillens.com
shanescully@corvillens.com
MsMcManus@corvillens.com
MsMurphy@corvillens.com
MrsBrowne@corvillens.com (Sinéad)
MsBarry@corvillens.com
MsAtkinson@corvillens.com
MrDarcy@corvillens.com
MsMcCormack@corvillens.com
MrHeffernan@corvillens.com
MrMeade@corvillens.com
MrHogan@corvillens.com
MrSlattery@corvillens.com
---
6th Class Drive Through Graduation
Huge congratulations to all our 6th class students who made their graduation last night. It was a Graduation with a difference, but there was still the same buzz of excitement in the school as all our teachers came to give our students a guard of honour. We lined up all 49 cars in our field and they passed through one by one to receive their last goodbyes and a Graduation Goodie Bag. It was quite an emotional evening for everyone but we don't mind showing emotion as it shows what Corville means to the students and what the students mean to Corville. We would like to wish all our 6th class students the very best in the future. We are super proud of every last one of you.
We put together a video of our 6th class student's journey through Corville. We hope you enjoy it – This is Your Corville Life!
You can download it from the links below.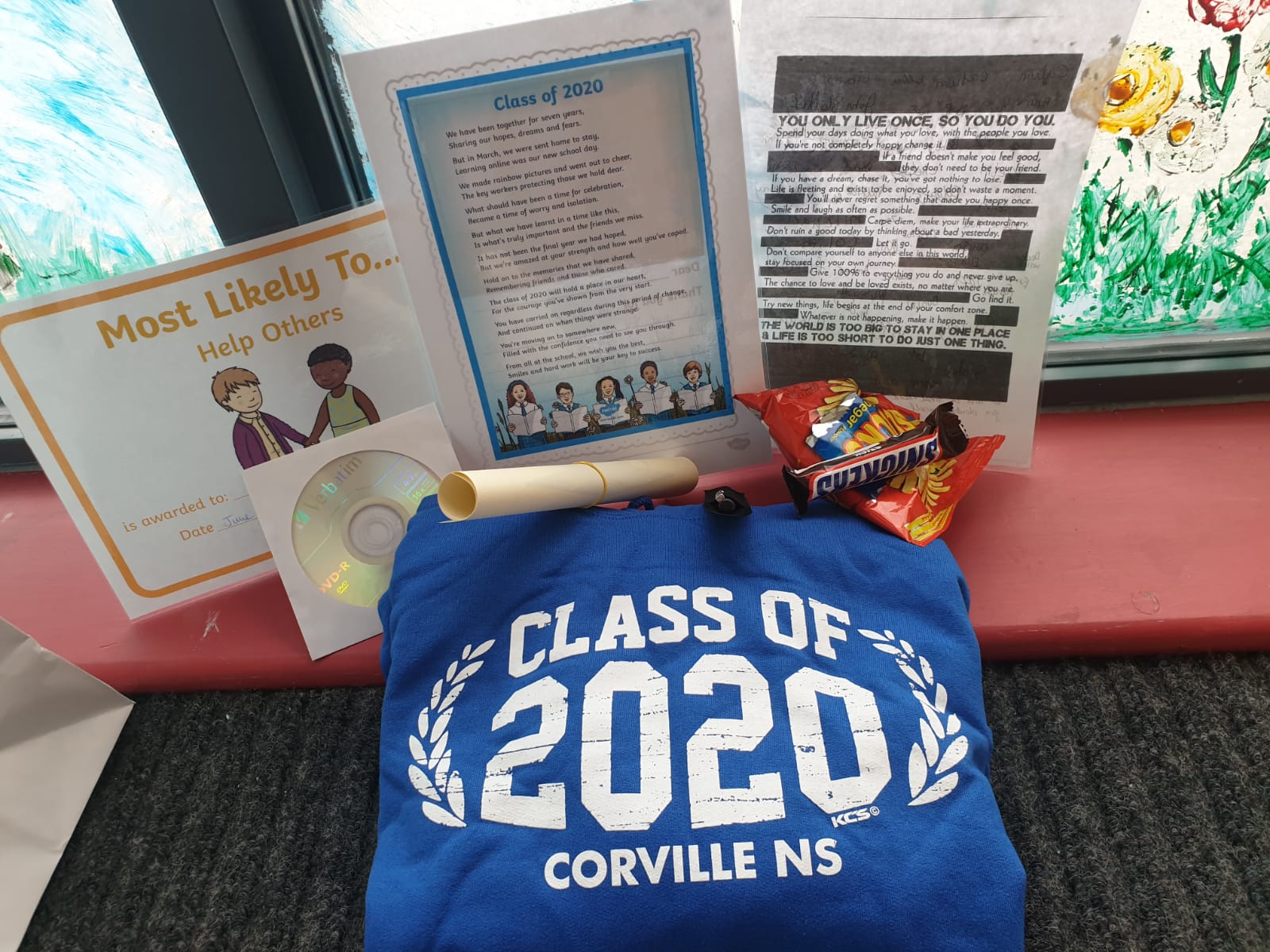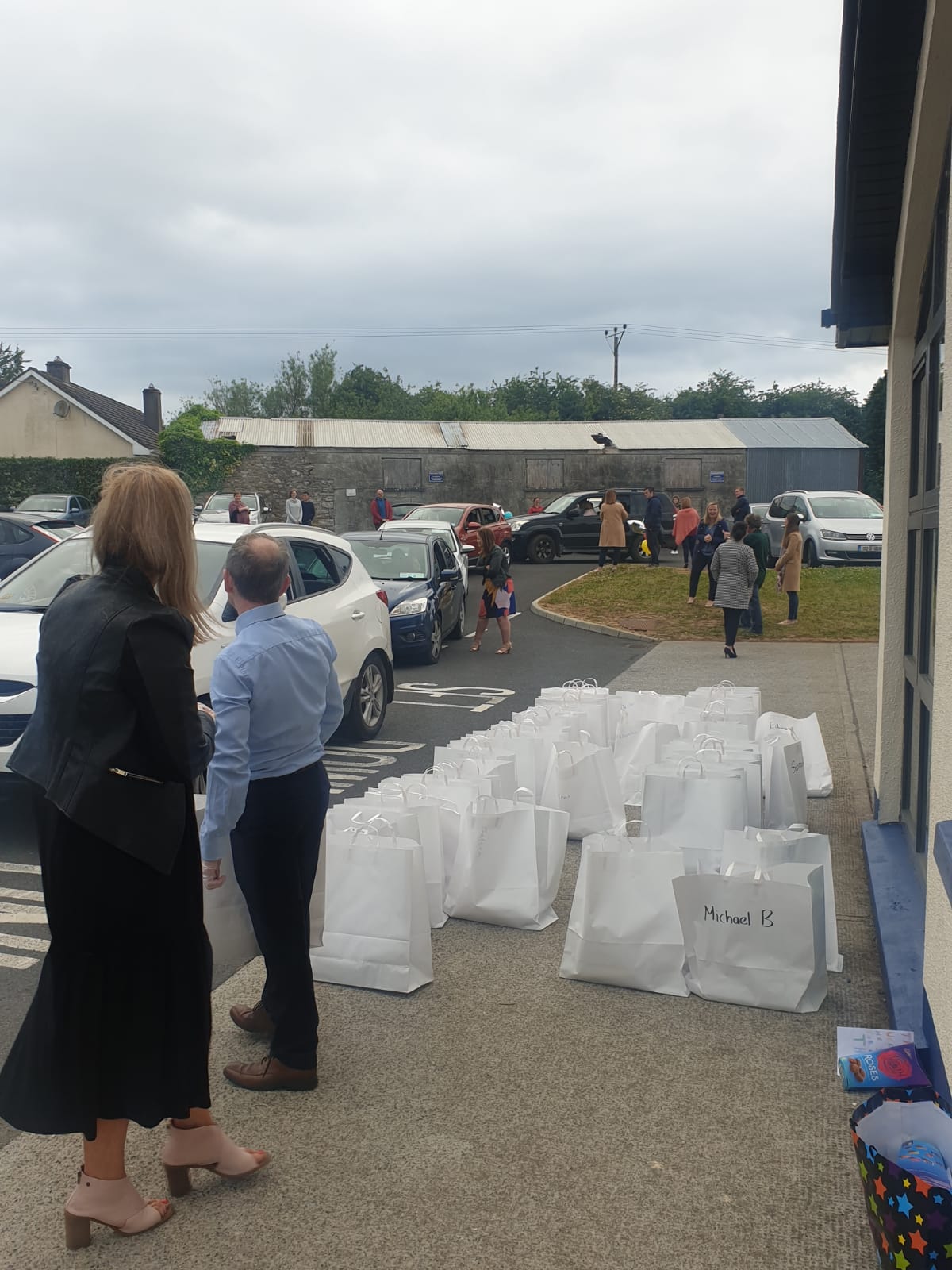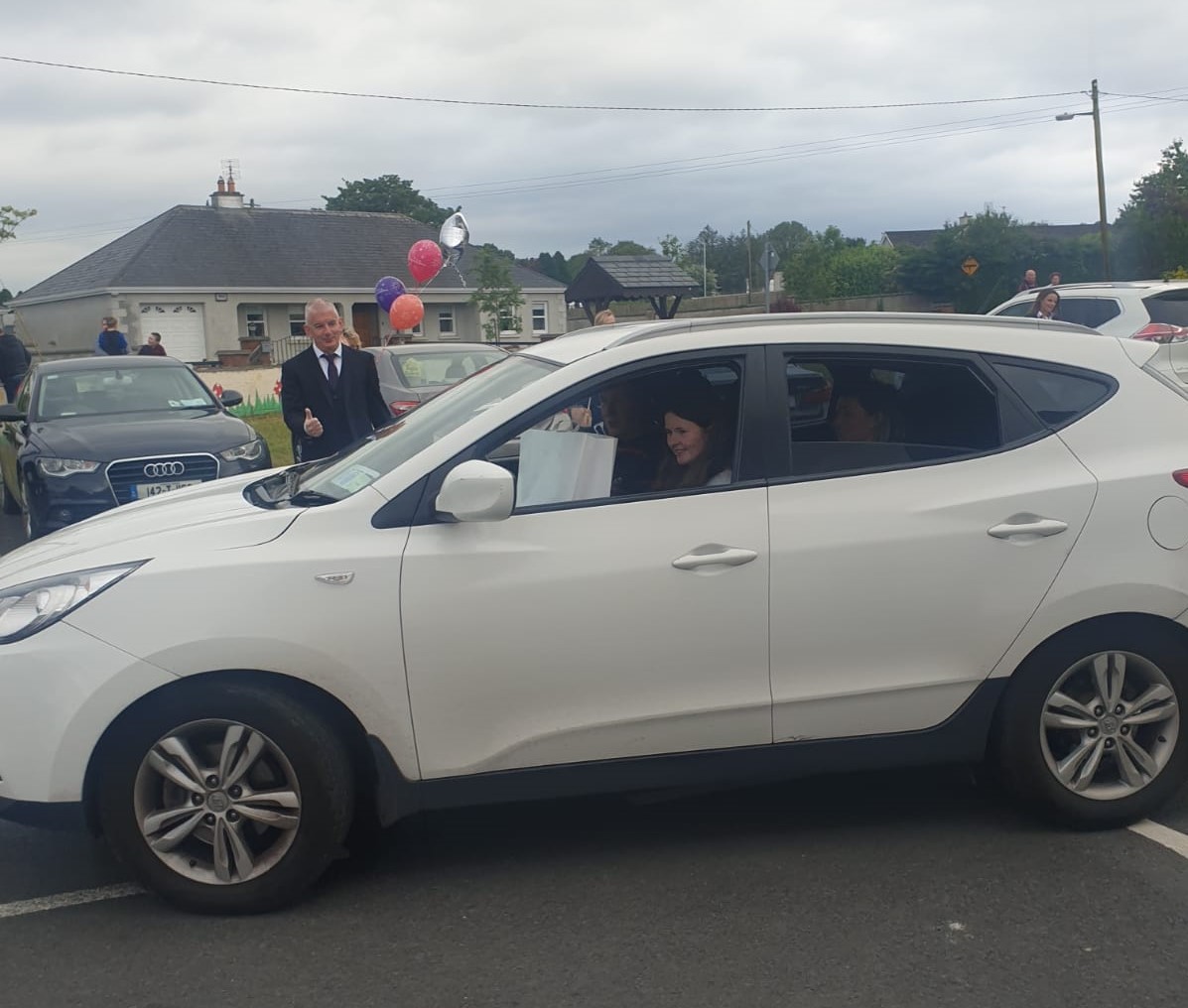 ---
School Book Return
Wednesday, 10th June
Please return all books that your child used for book rental on the above date.
You may also par €53 school fees per child to Martina on Wednesday. She will be in the Junior Infant yard to collect the money. Please put the exact fees in an envelope.
Return the books at the following times:
JI, SI and 1st Class – 9:30 to 11:00
2nd, 3rd and 4th Class – 11:15 – 12:45
5th and 6th Class – 1:15 – 2:45
Books that need to be given back for Book Rental:
Junior Infants and Senior Infants
All levelled readers that were in their homework folders. They would be marked PM readers, Engage or Connect.
First Class
• Class reader fun at the circus
• Read at Home 1
• Any levelled readers in their homework folders
• Maths counters blue and red.
Second Class
• Class Reader- the wild explorer
• Read at home 2
• Cloze procedures booklets
• Dictionaries
Third Class
• Maths Matters 3
• New Wave Mental Maths 3
• Bun Go Barr 3
• Roald Dahl Novels
• History Quest 3
• Science and Geography Quest 3
• English Comprehension Cards
• Cloze Procedure Booklets
Fourth Class
• Maths Matters 4
• Bun Go Barr 4
• Grow in Love 4th class
• Small World History Textbook
• Small World Geography and science textbook
• Library Books from class library
• Class novel Danny the Champion of the world
Fifth Class
• Maths Matters 5
• Mental Maths 5
• Bun Go Barr 5
• Roald Dahl Novels
• Small World History fifth class
• Small World Geography and science Fifth Class
• Cloze Procedure Booklet
• Grow in Love fifth class
• Class Novel war horse ( ms. Ryans class)
Sixth Class
• Maths Matters 6
• Mental maths 6
• Novel – wildflower Girl
• Novel – Under the Hawthorn Tree
• Small World History – sixth class
• Small World Geography and science – sixth class
• Bun Go Barr 6
---
Virtual Reality Tour of Corville
Check out our virtual reality tour for next year's Junior Infants to help ease the transition in September for Scoil Iosef Naofa, Corville, Roscrea, Co. Tipperary.
---
Corville Updates – 22/02/20
We are at the half way point in Term 2 and we hope everyone is enjoying the short mid-term break. Time to recharge the batteries and get ready for what will be a jam packed few weeks and months ahead. Still to come in term 2 we have Literacy week, Engineering Week, Seachtain na Gaeilge, the St. Patrick's Day parade, Confirmation, the Spar FAI soccer tournament, hurling and camogie matches, a chess tournament, the Easons Spelling Bee and much more. For now, let's catch our breath and take a look back at what we have been up to since we returned at Christmas.
Pyjama Party: last week was a very exciting one in junior infants as they got to experience our annual pyjama party. Everyone (including teachers!) at the party had to dress up in their pyjamas and the junior infant room was decorated in lovely lights. The kids were buzzing for a week after it. It really is a magical evening in school.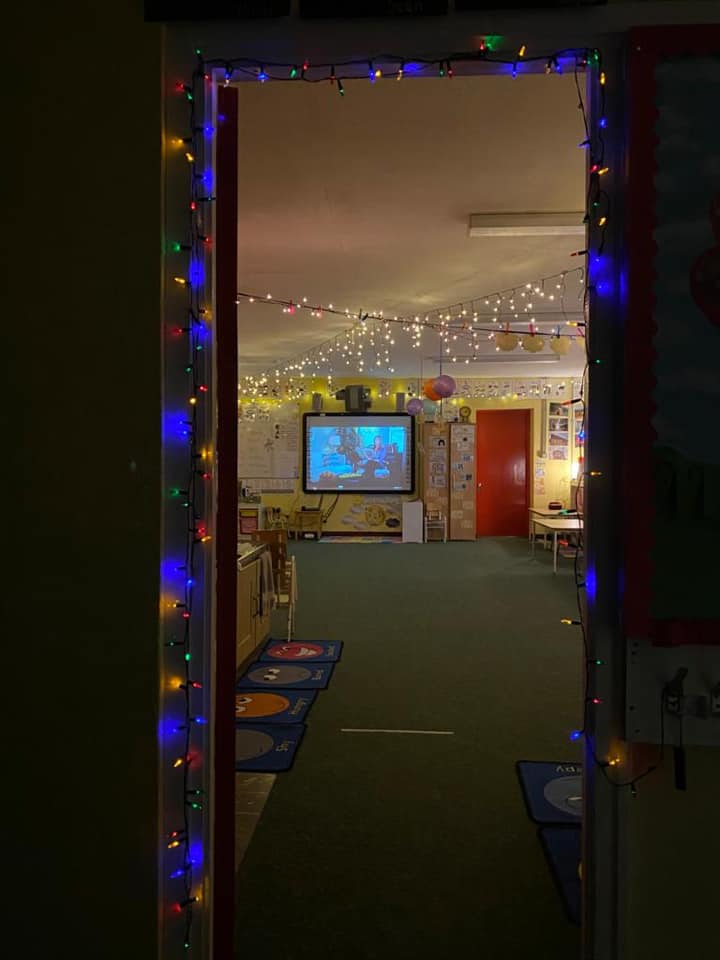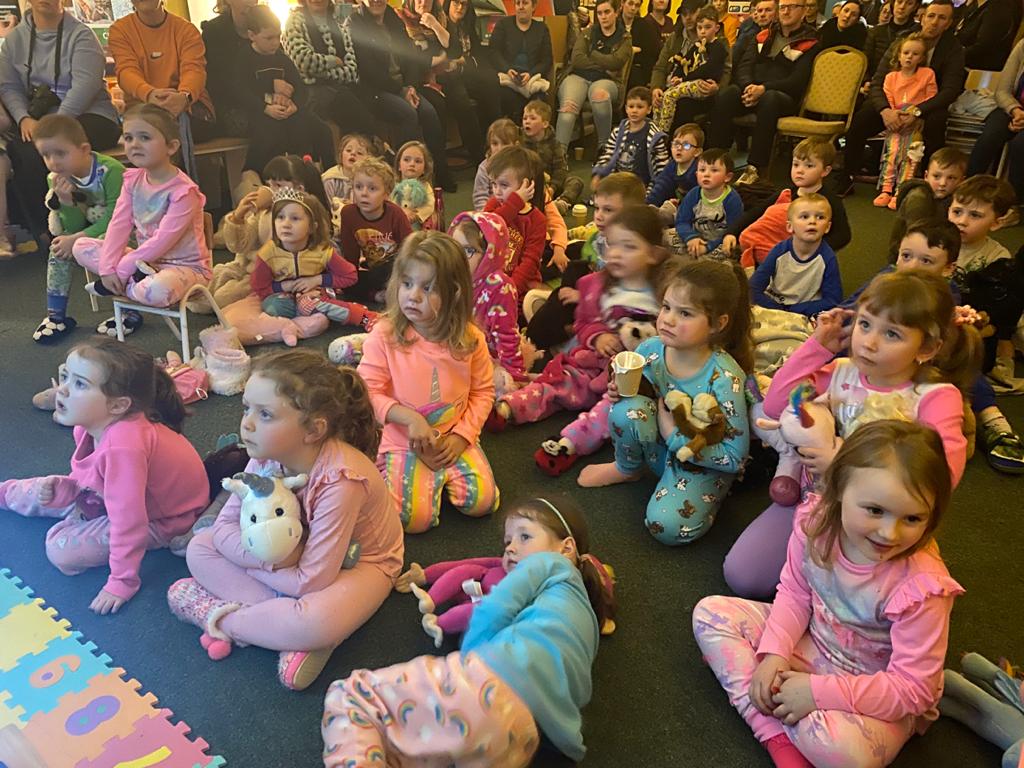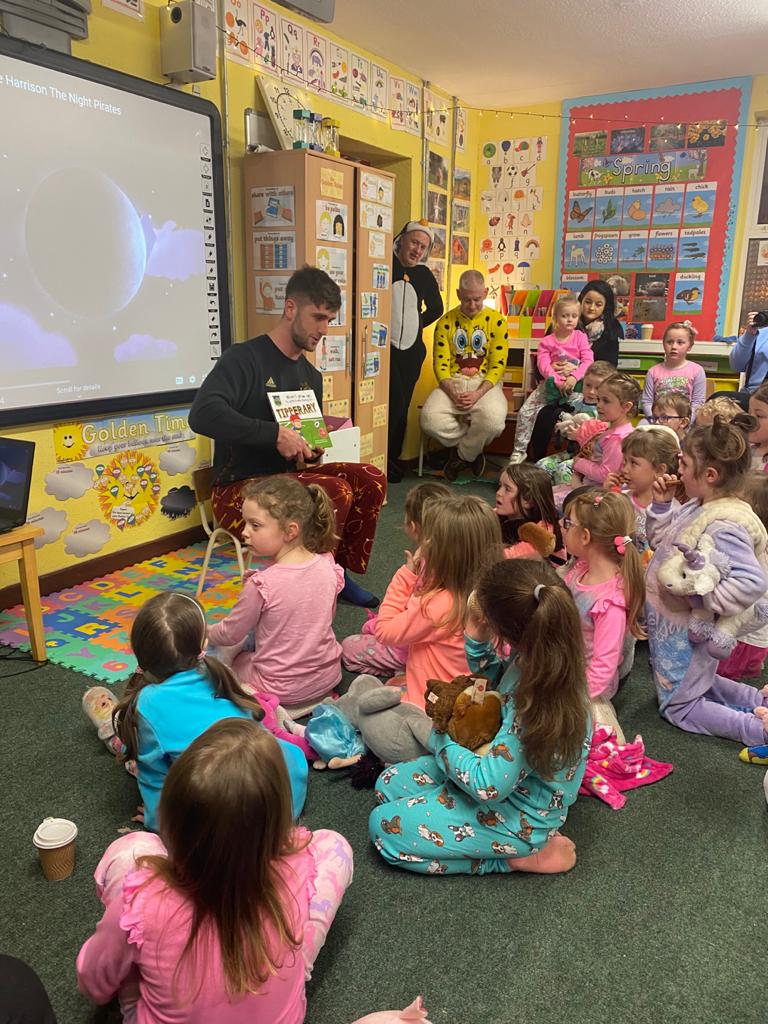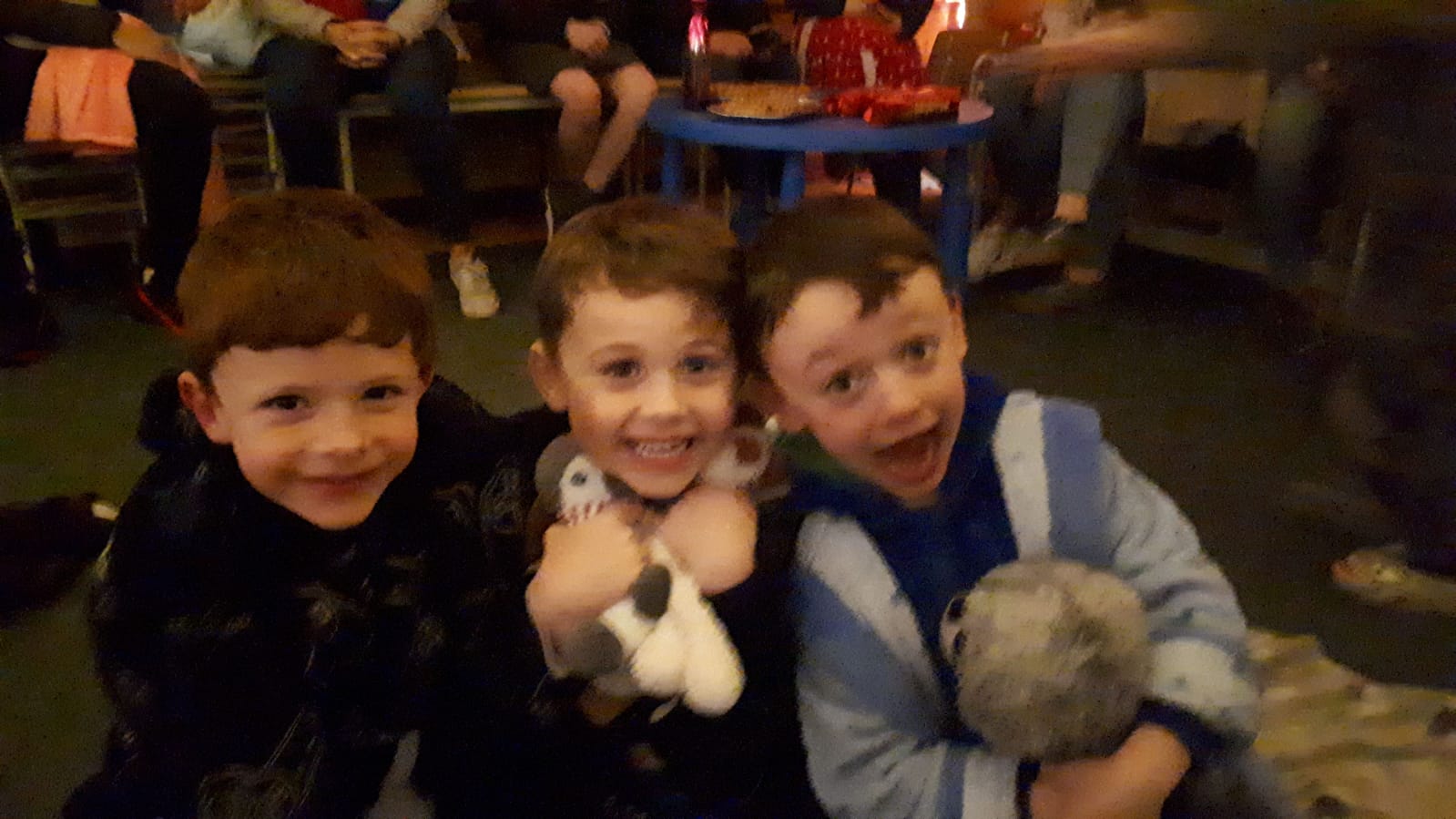 Credit Union Quiz: Both our U/13 and U/11 teams performed very well at the recent Credit Union Quiz. Both teams finished in 3rd place with only the first place team to qualify for the next round. Our U/13 team were very unlucky as they finished in joint 1st with two other teams but lost out on the win in a tie break. Our U/11 team were also very unlucky as they were just 2 points off the win. They finished in joint 2nd but lost in another tie break. This is especially good considering we have a very young team with all 4 students underage again next year. Both teams were understandably disappointed not to progress, but the effort they put in was phenomenal and they did the school proud.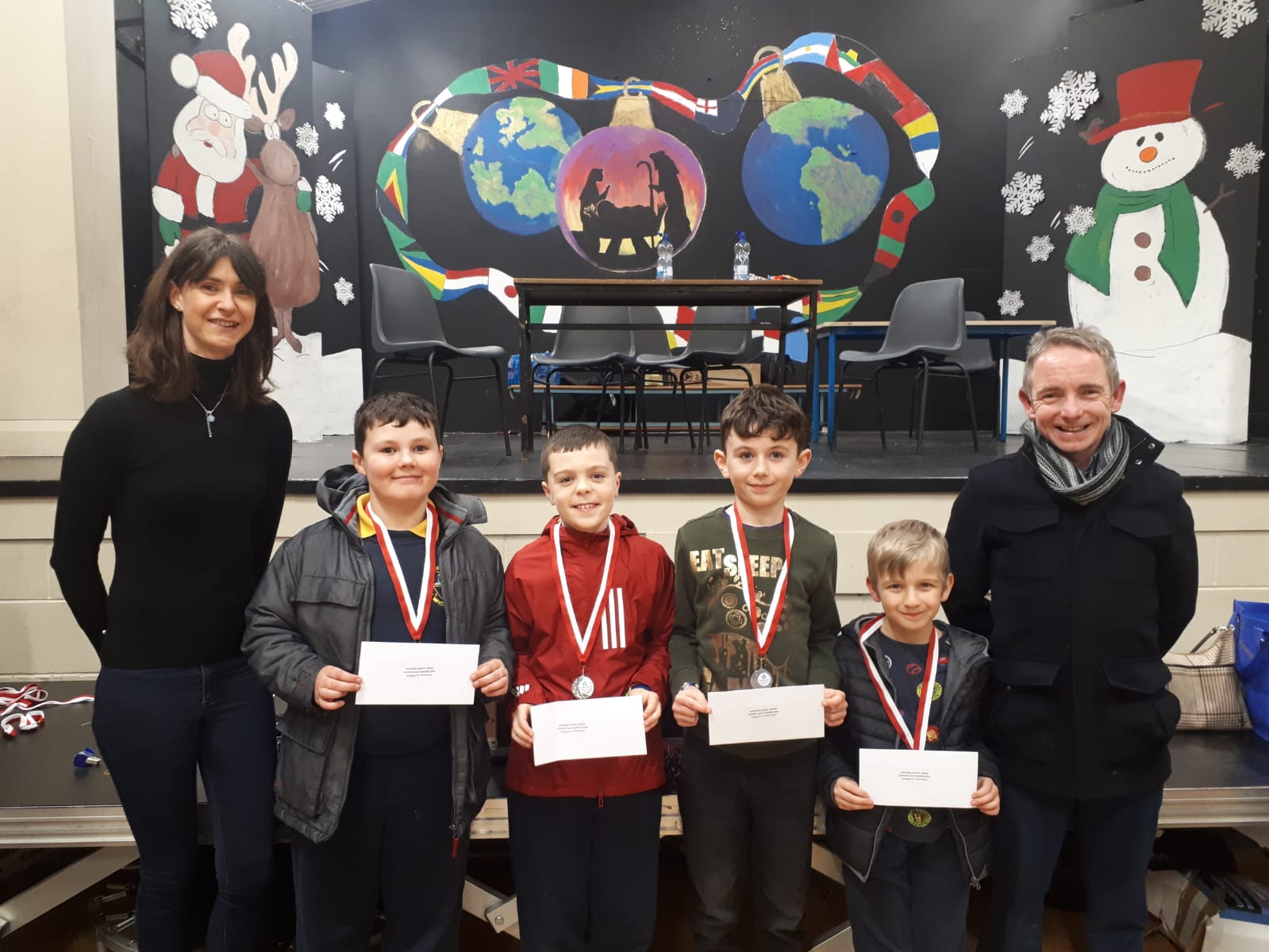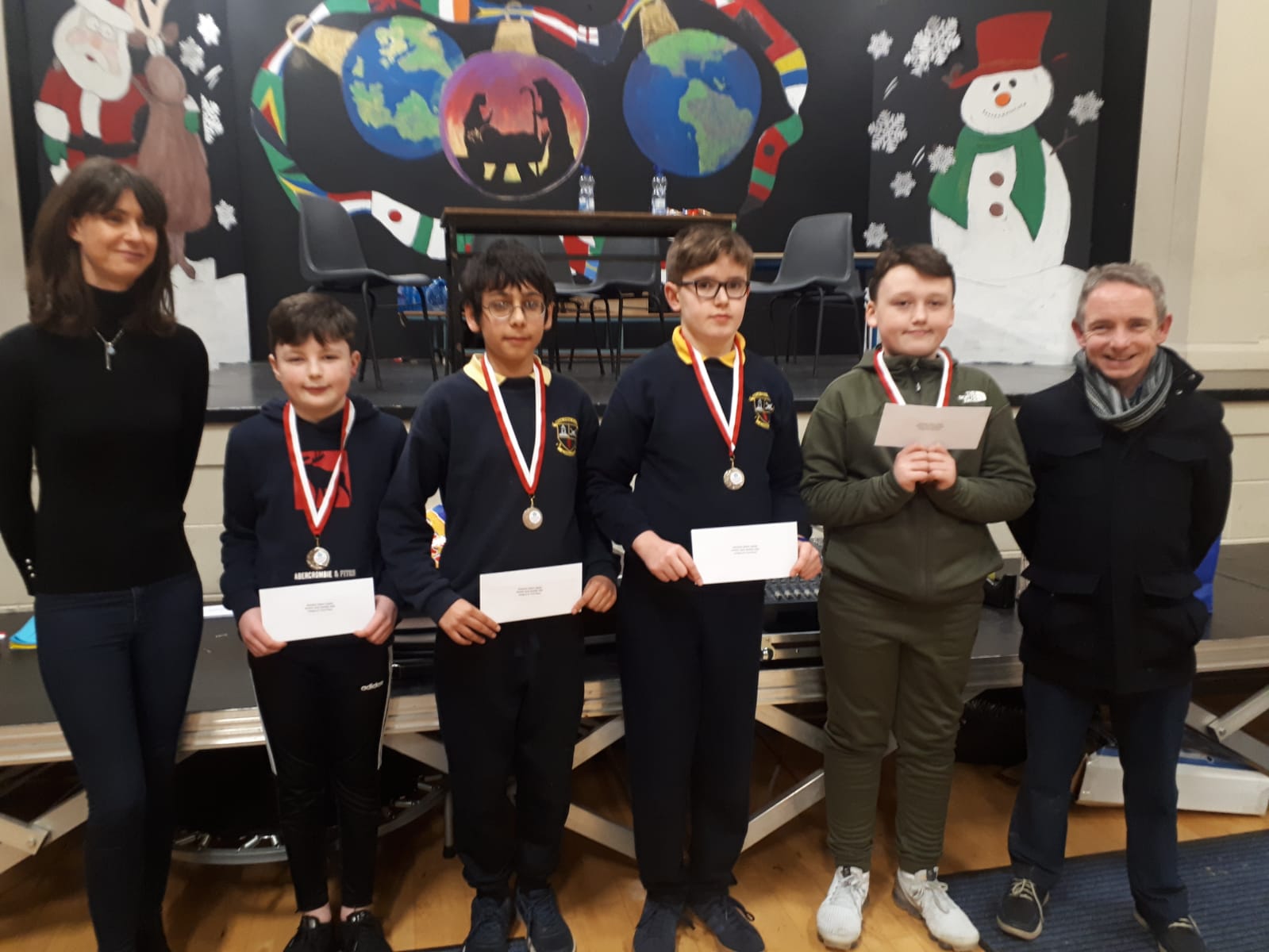 Walton's Music Competition Entry: Our wonderful school choir have been hard at work getting their latest song competition entry ready. This time it was the Walton's Song Competition and the song they were singing was 'You've Got a Friend' by Carole King and James Taylor. Well done to all the students; it sounded great! The entry was one of only a handful of schools that were highly commended but it wasn't enough to make it into the top few schools that compete for the title. Thanks to Ms. Browne and Ms. McMahon for all the work they do and for giving the students many opportunities to show just what a talented bunch they are.
Literacy Week & World Book Day: are both coming up soon in the school and to celebrate we are running a very interesting competition for all our students. We have put together a display of all the teacher's favourite childhood books. To win the competition you have to connect the book to the teacher!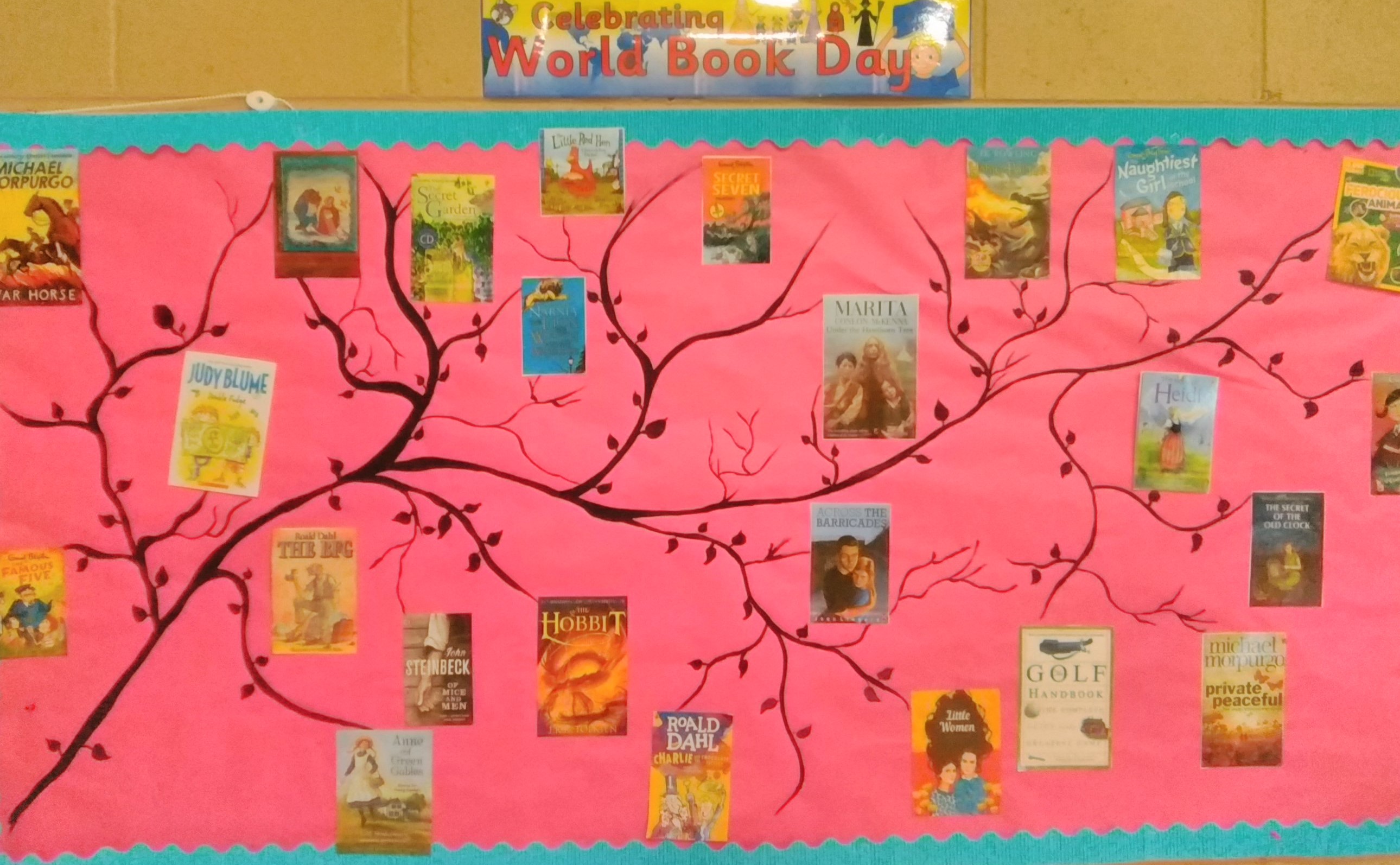 Our Green School Committee: along with all the classes are working hard on getting our next Green flag – Global Citizenship and Energy. We are working on saving energy around the school and at home. Here are some useful tips for saving energy at home.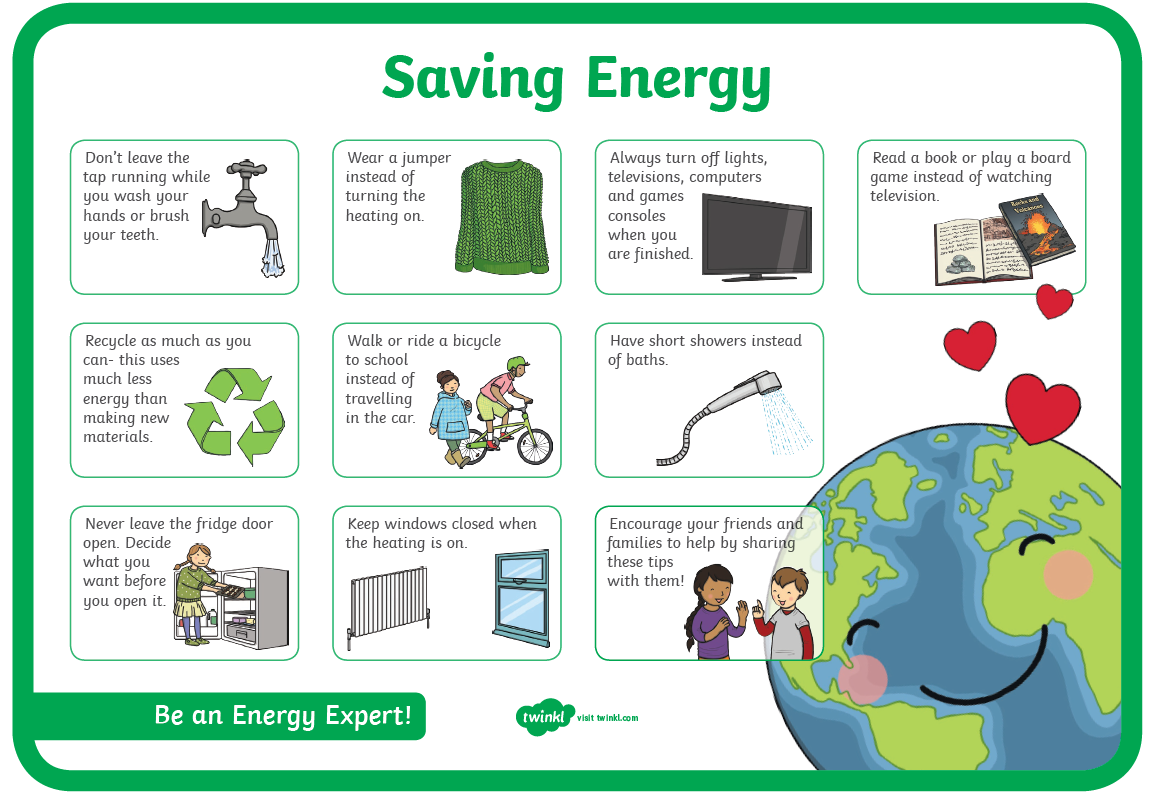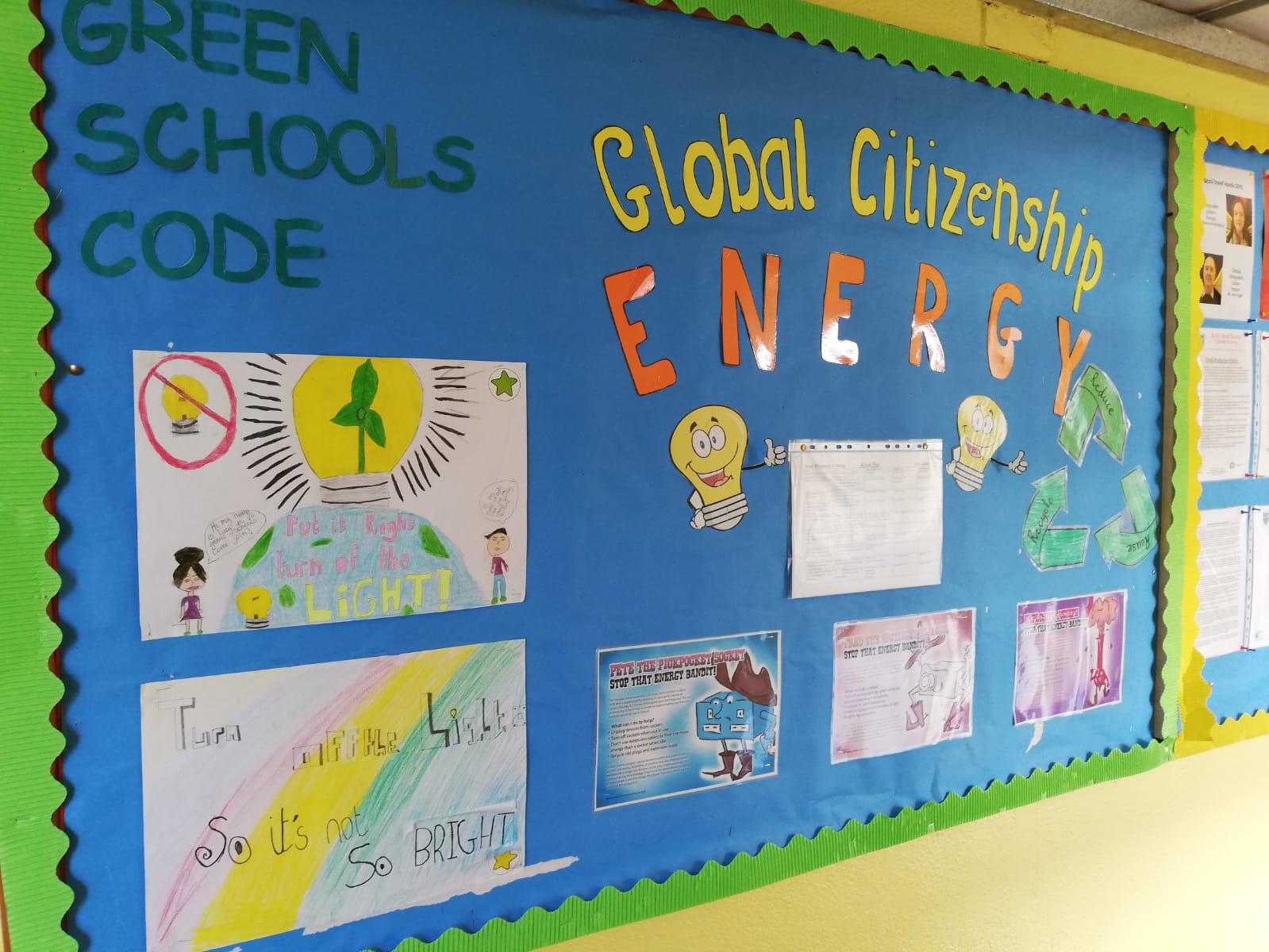 In-school Chess League: this game is proving to be very popular with our students and to cater for the demand we decided to start a chess league. Matches are played at lunch time on wet-days and the tournament is a Champions League type format. The school will be entering the Ficheall.ie chess tournament for the 1st time this year so we will be putting teams together for that. There is a 5th/6th class and a 3rd/4th class team. We will be practicing on wet days in Mr. Scully's room and his 6th class will also be teaching the lower classes how to play chess.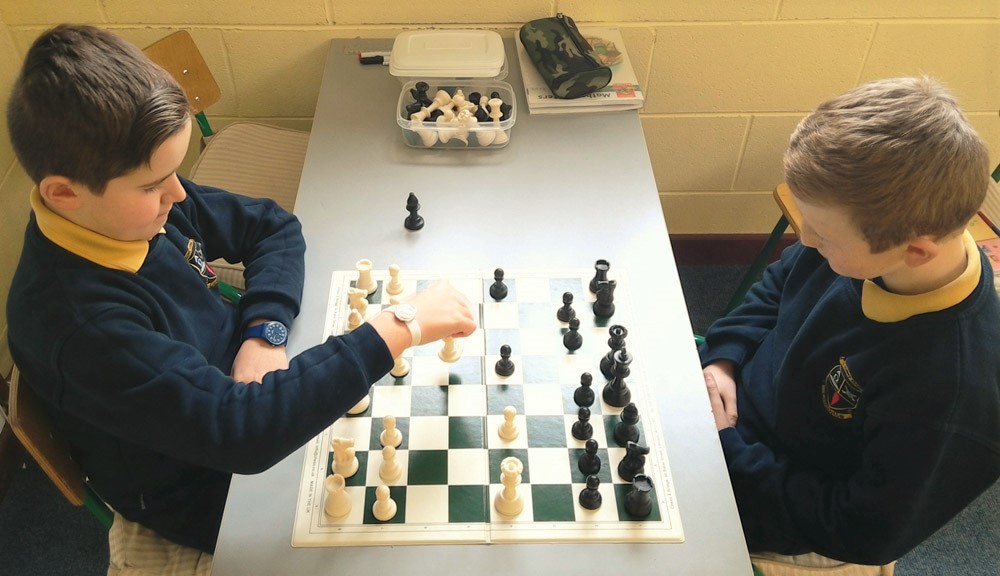 Assembly Performances: each class continues to perform in front of the school each Friday at assembly. We had a wonderful rendition of the song Riptide by 3rd class just last week. We think you will like it.
Craft Club: 5th Class pupils have been enjoying Craft Club on Tuesday afternoons with Ms. McManus & Ms. Atkinson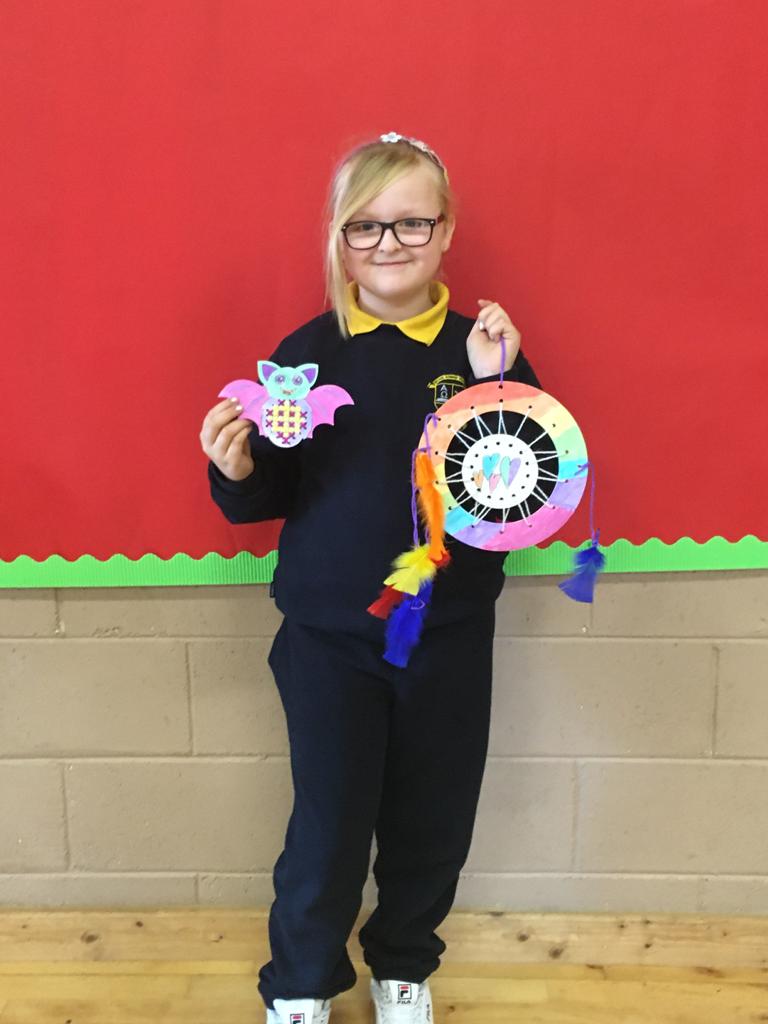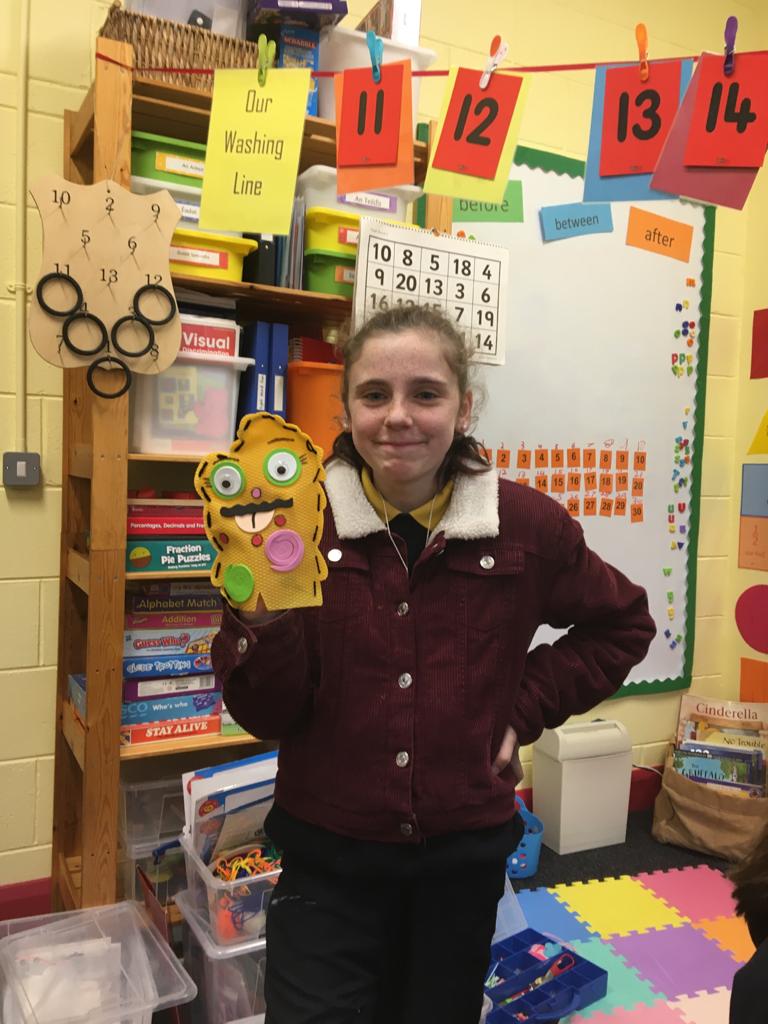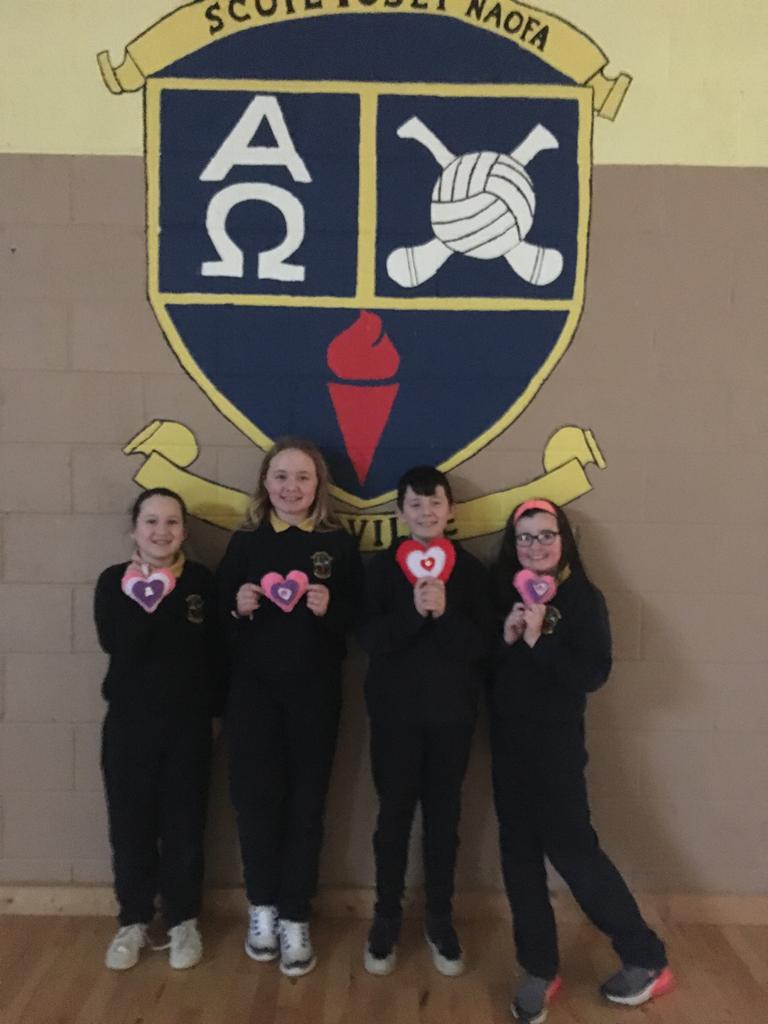 Corville at the Tipperary Vs Limerick Match: As a treat for our hardworking hurlers and camogie stars in school, we decided to bring them all on a trip to the recent Tipp match in Semple Stadium under the floodlights. We had over 80 students with us and 7 teachers on our trip down the road to Thurles. The kids were all very well behaved and although we shouted the Tipp team on loudly, we didn't quite get the result we were looking for. It was still a great experience for all who went and we hope it might inspire our teams to train hard and reach for the stars. That could be you one day playing in Semple Stadium.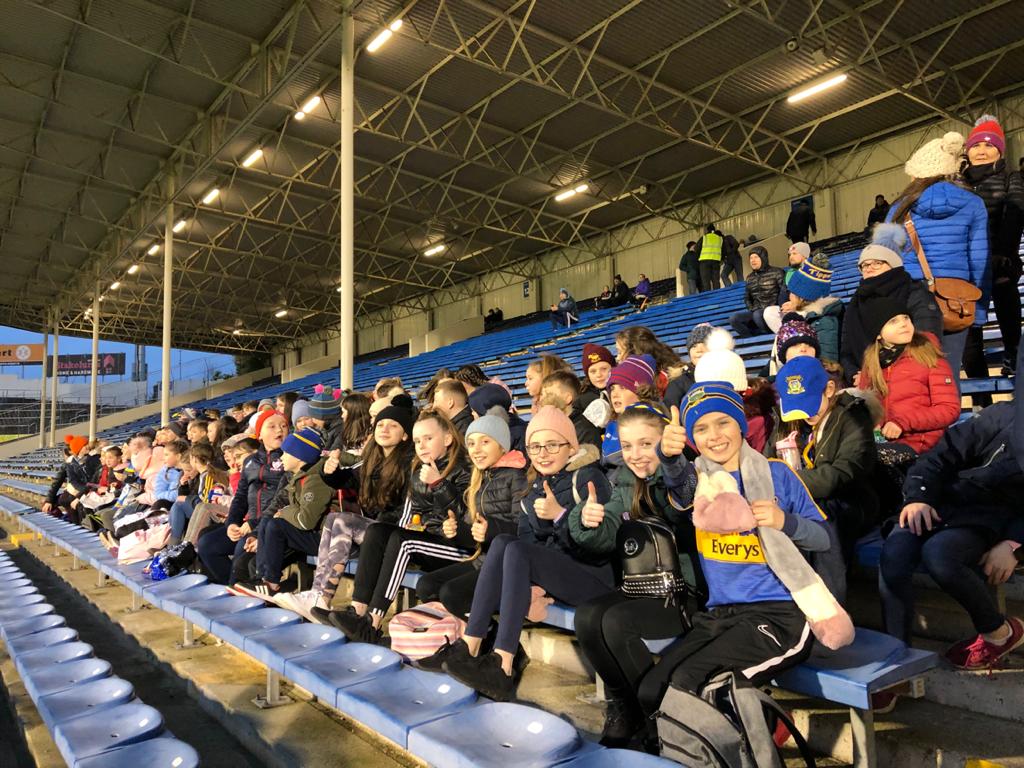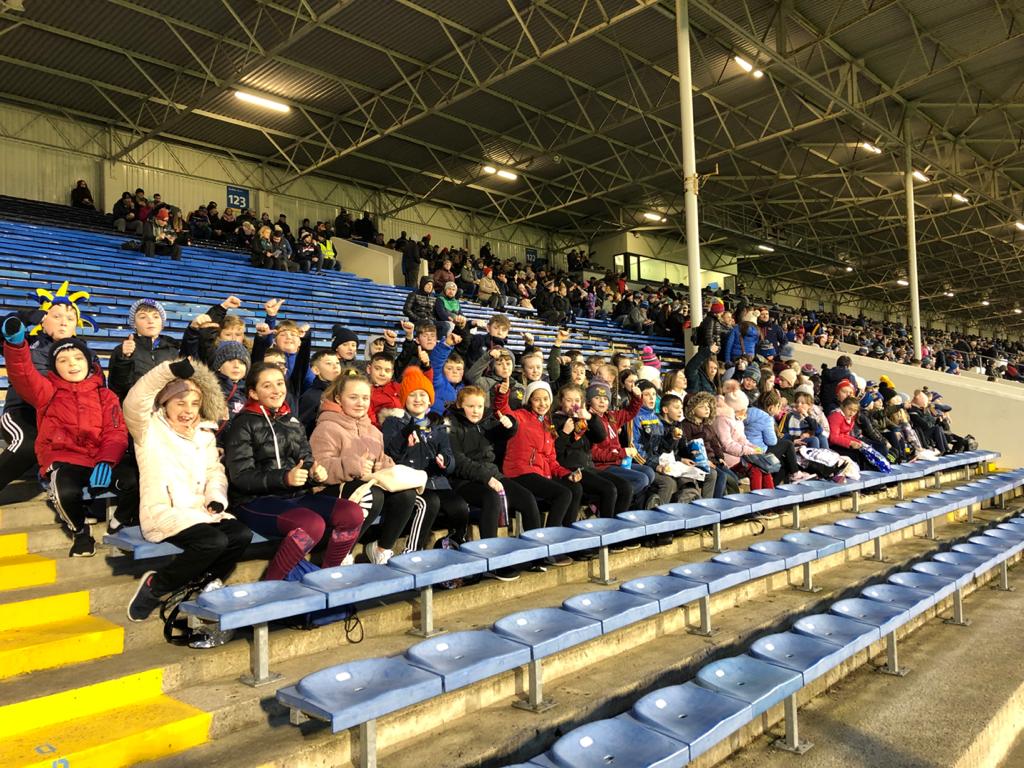 Grandparent's Day in Corville: this is always a very special day in the school. The children in junior and senior infants absolutely love seeing their grandparent's coming to visit them at school. Later, everyone went out to the yard where we released balloons in memory of all the grandparents of children who are unfortunately no longer with us. Tea and refreshments were served afterwards to finish off what was a beautiful morning. We have a wide selection of photos from the day so take a look. You can find a lot more photos on our Facebook page.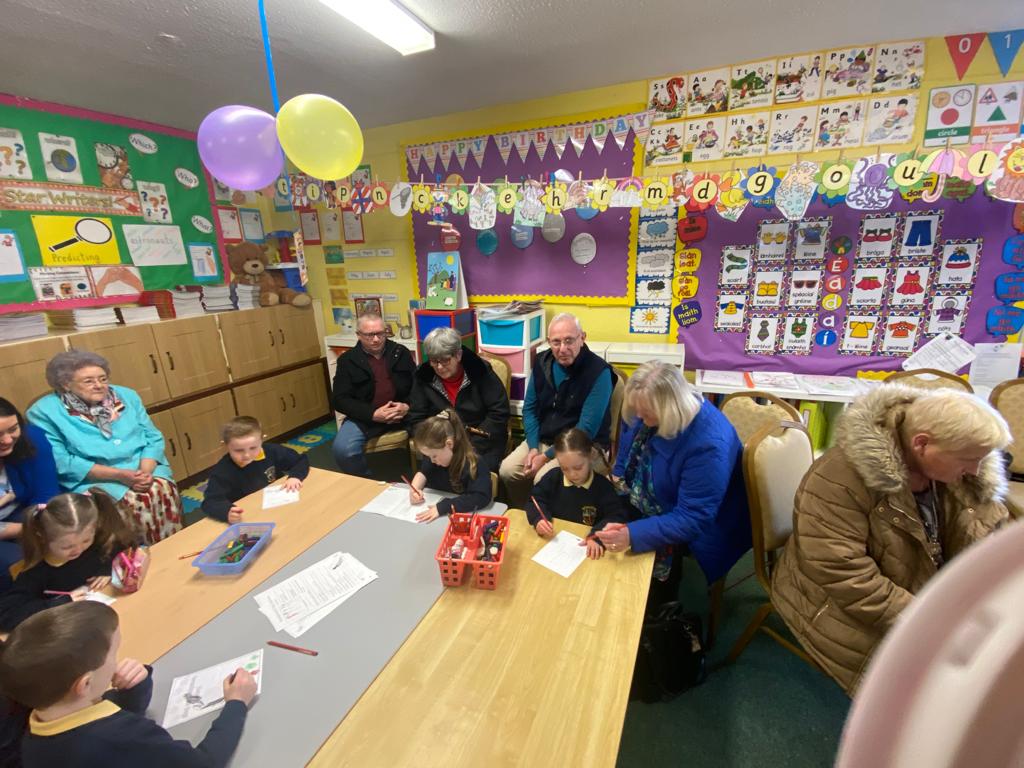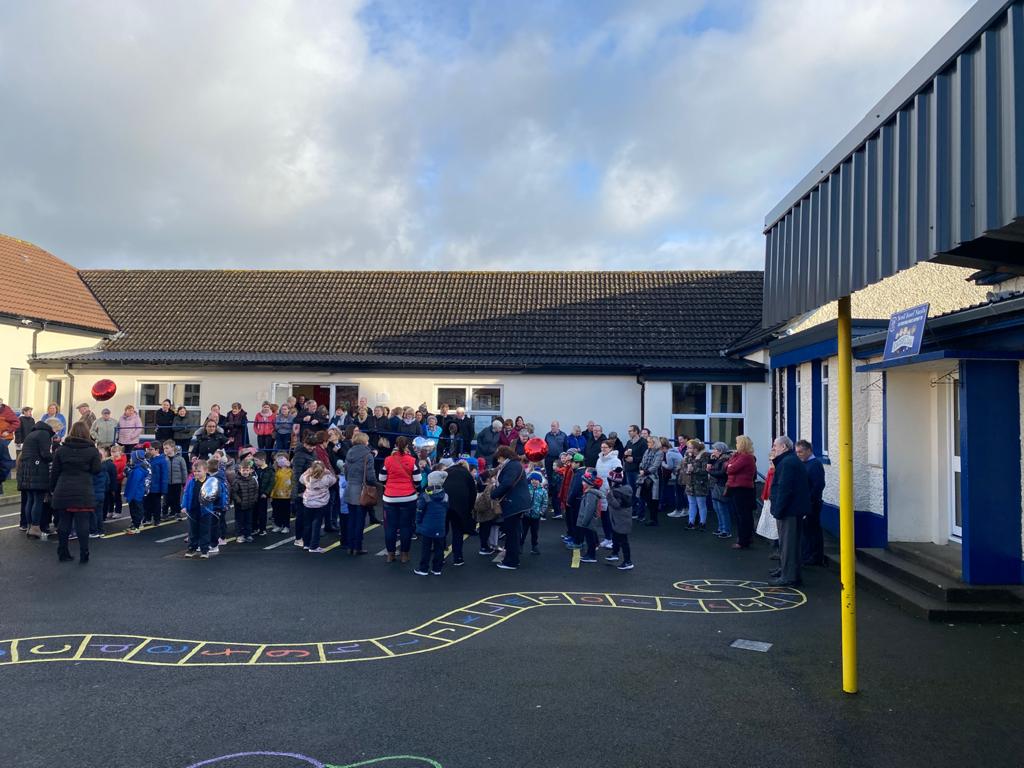 Science in Corville: the school have been upping our game when it comes to science over the last few years. This year we are attempting to gain a science award for all our hard work. So far this year we have been on trips to the Cabragh Wetlands and Fota Wildlife Park and we will be heading over to the science centre in Birr soon too. For the first time ever, the school will also be entering the Science Blast Exhibition. We are running a competition for all our budding scientists in school whereby they have to put together a presentation in the hall. If they are judged to be one of the best they will be selected to go represent the school in the big exhibition in Limerick.
Photos from science experiments about creating carbon dioxide and the water cycle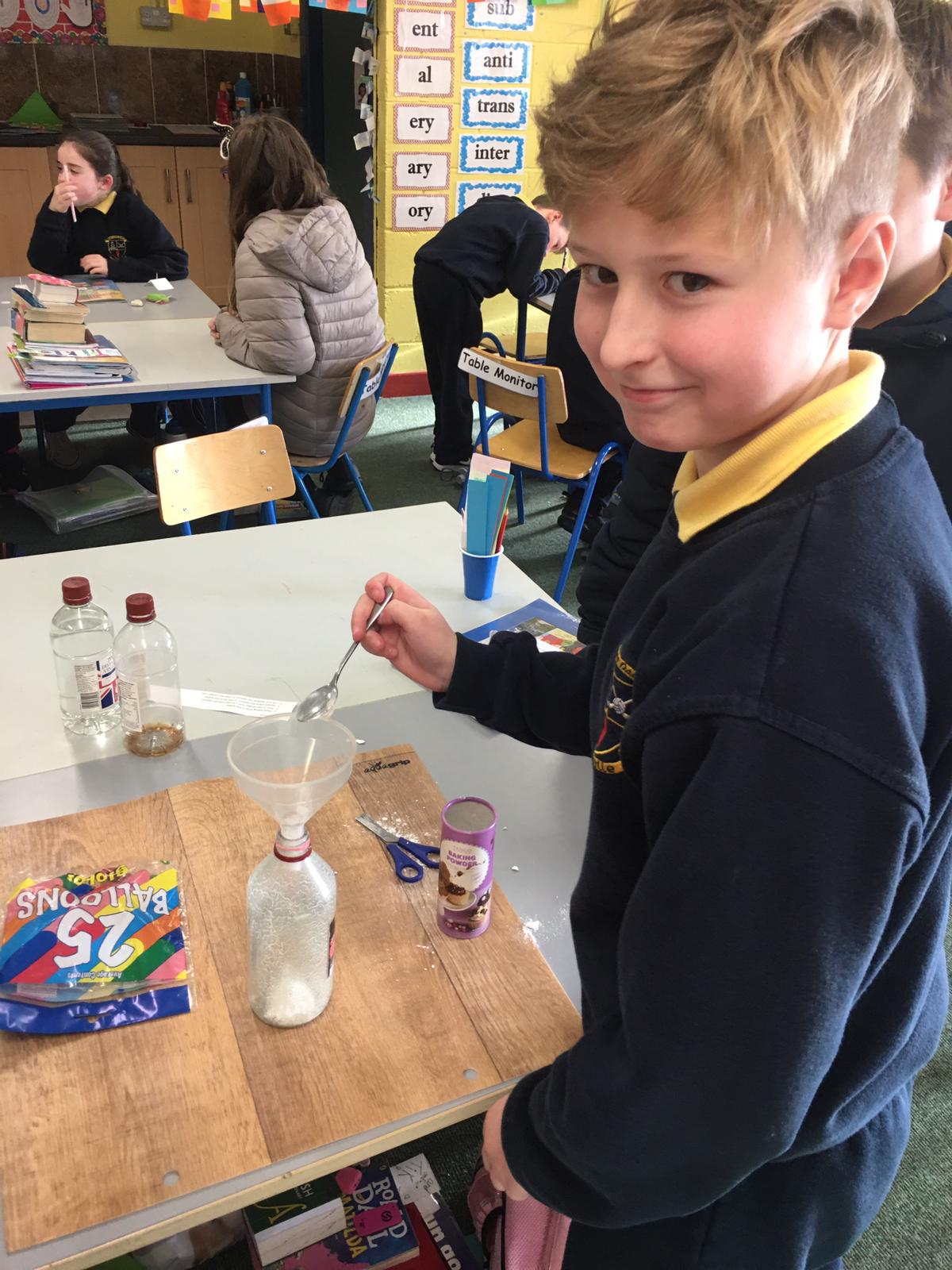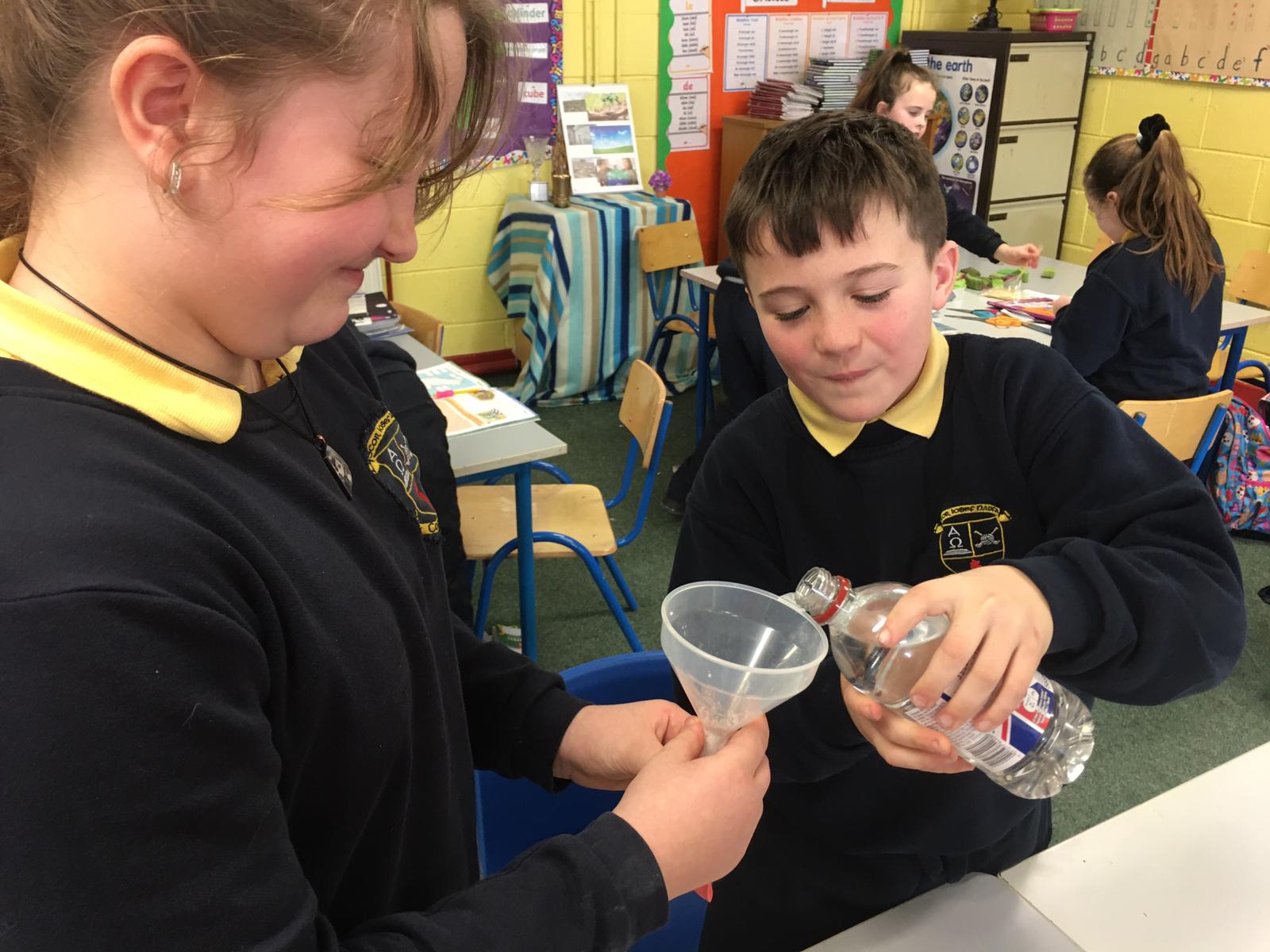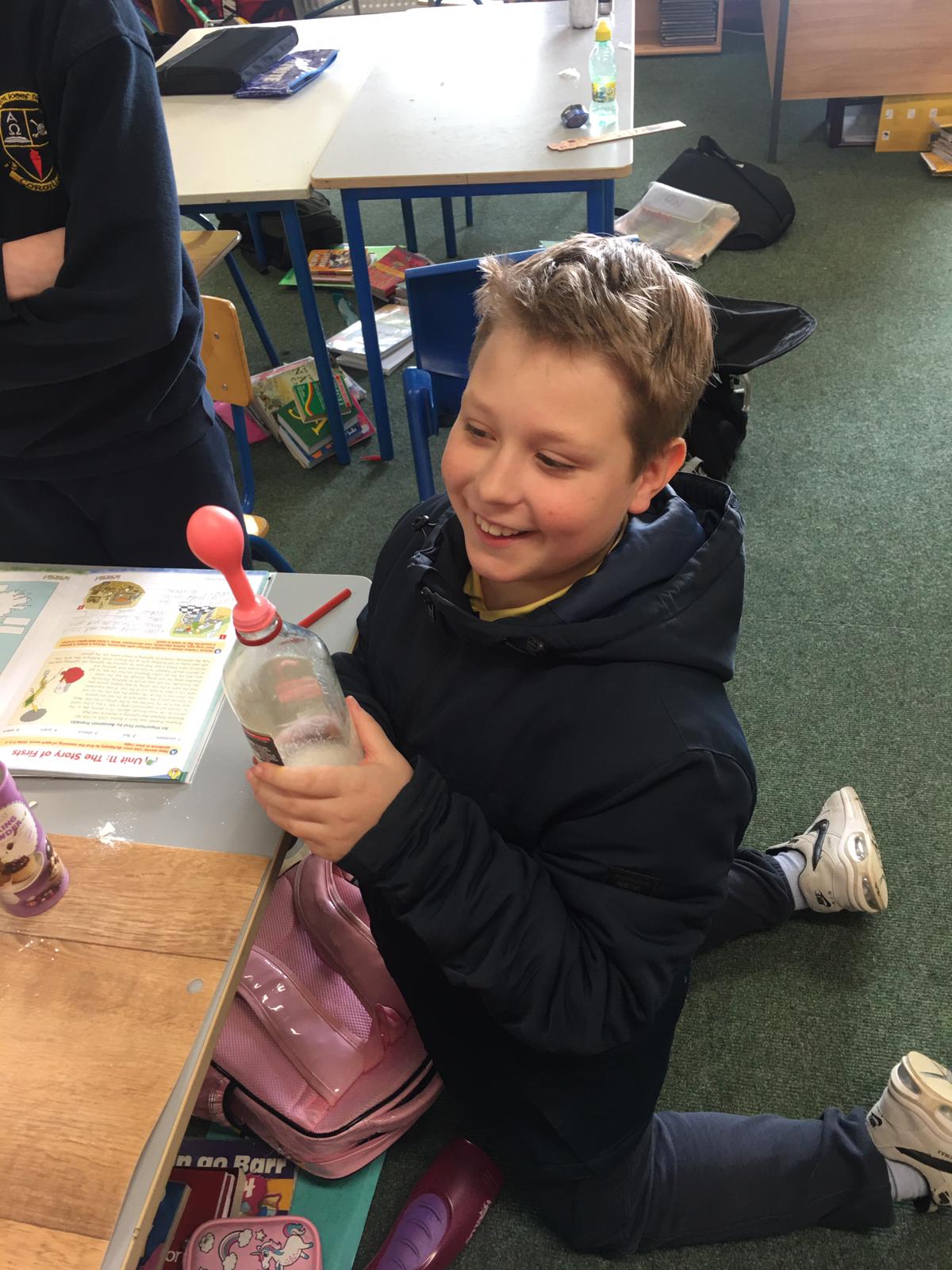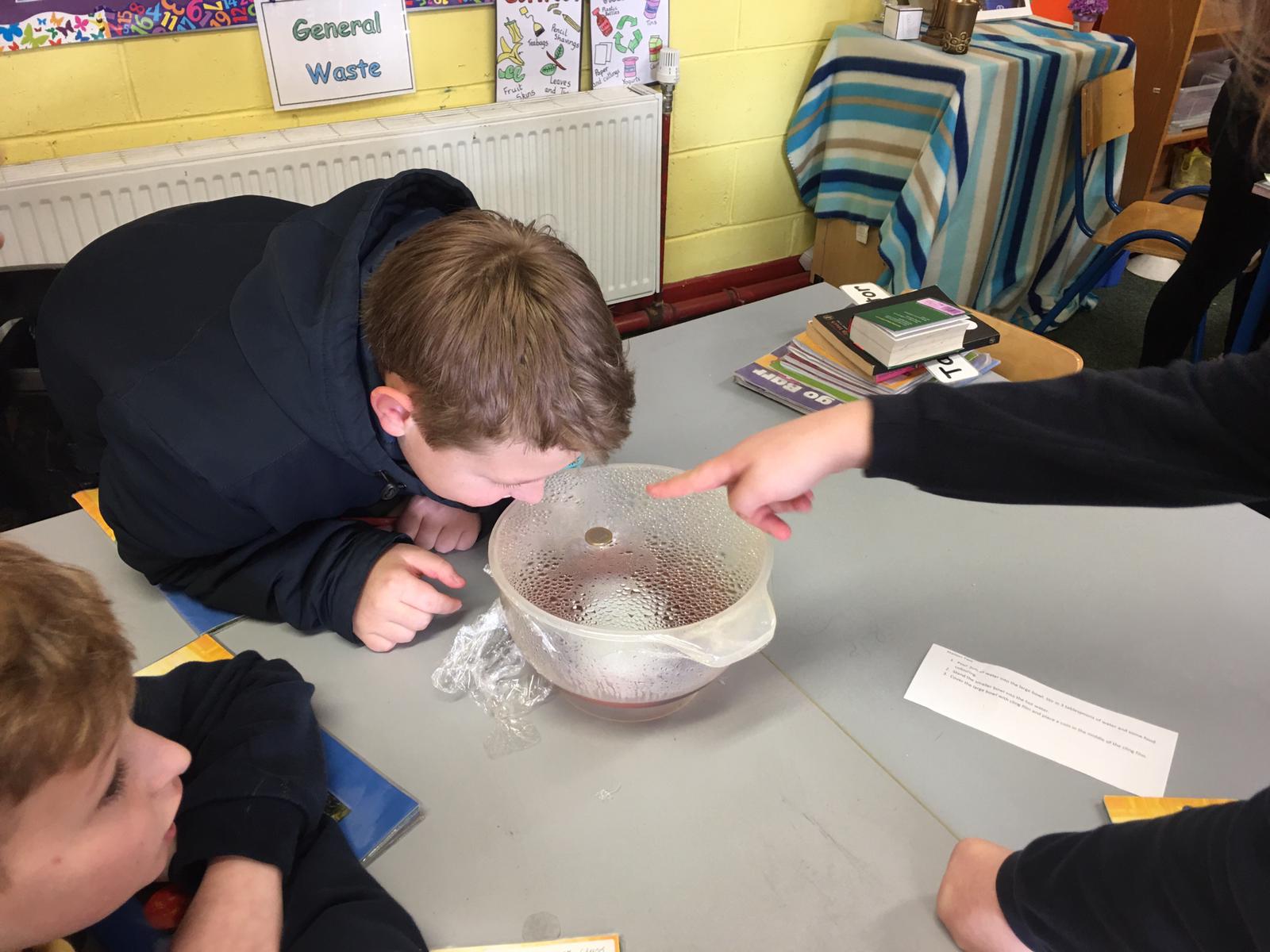 1st and 5th class planting.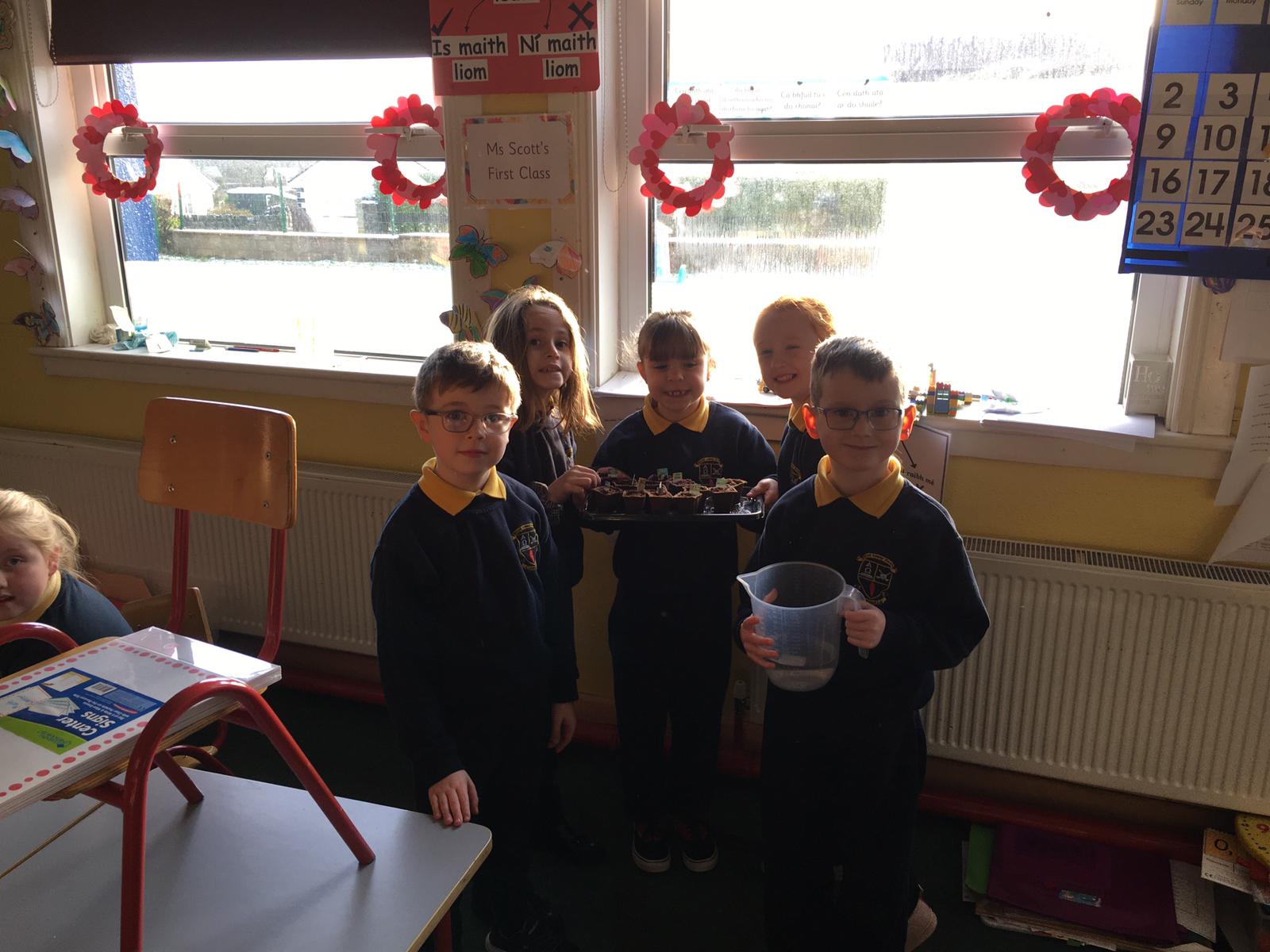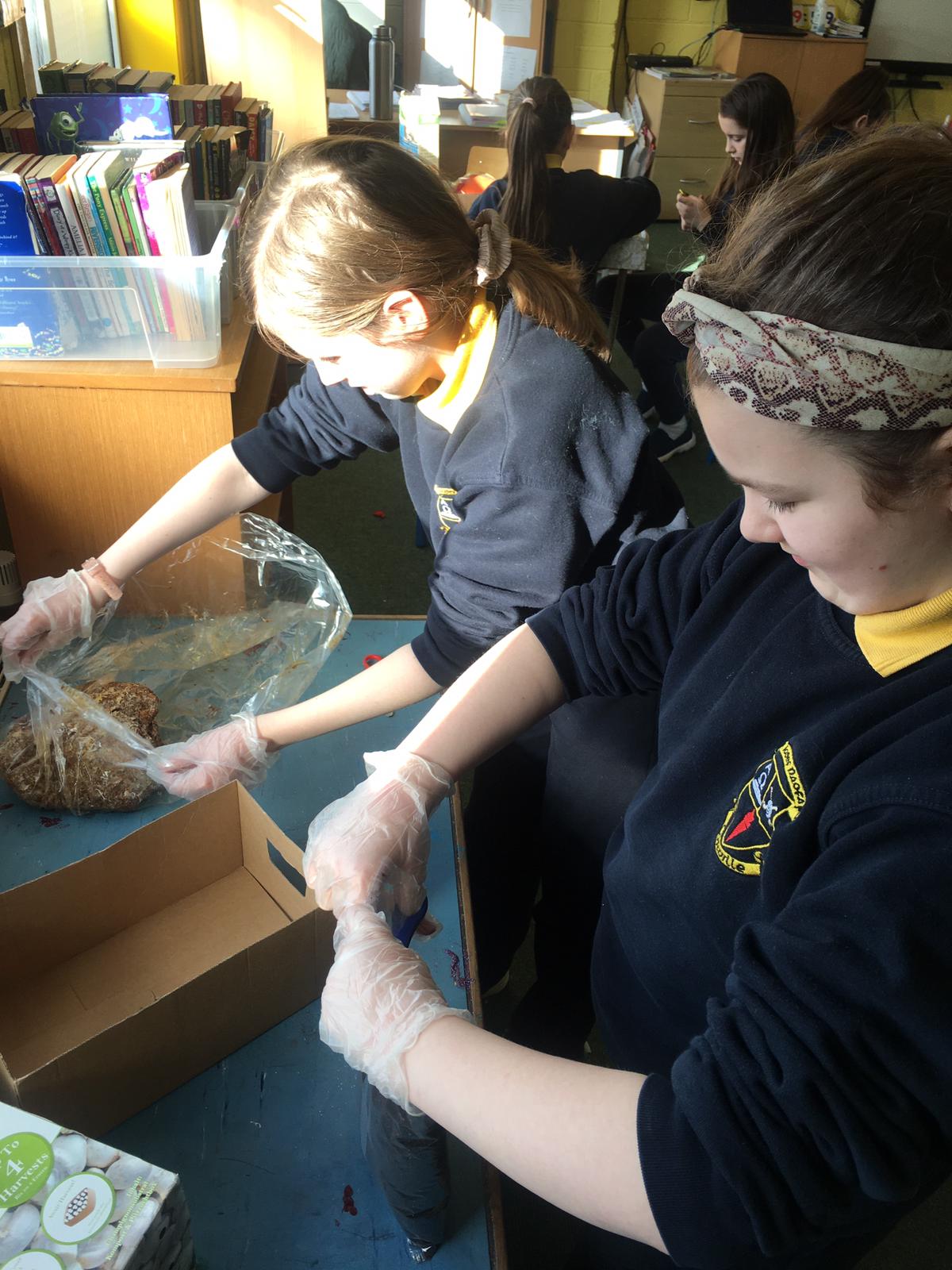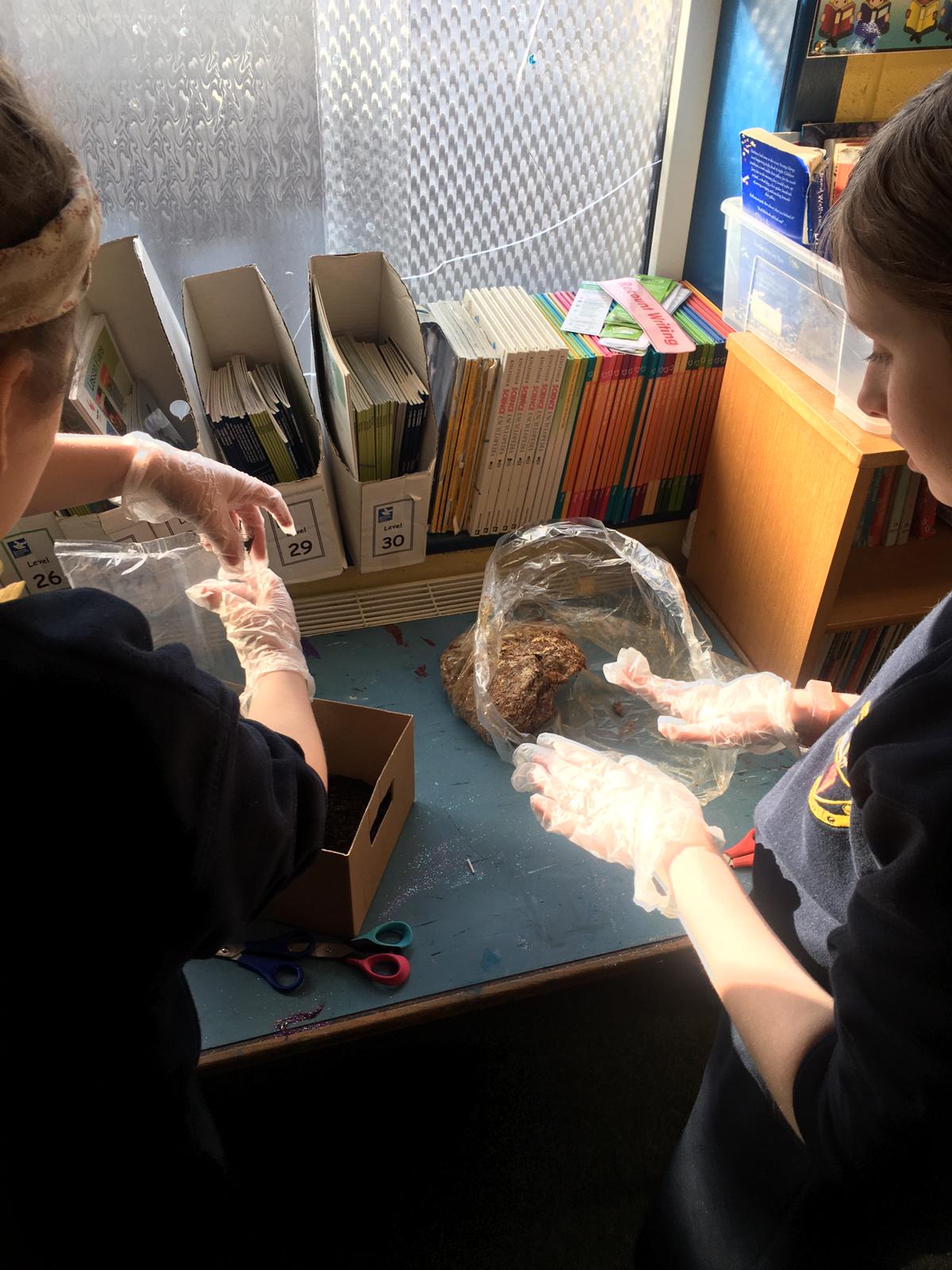 Snow Day (almost): we thought we were going to get snowed in two weeks ago when the skies opened up and dumped a whole heap of white snow on the ground. It was hard to focus on work in the classroom as the snow was falling heavily. Senior Infants couldn't let the snow pass without going out to taste some snowflakes!!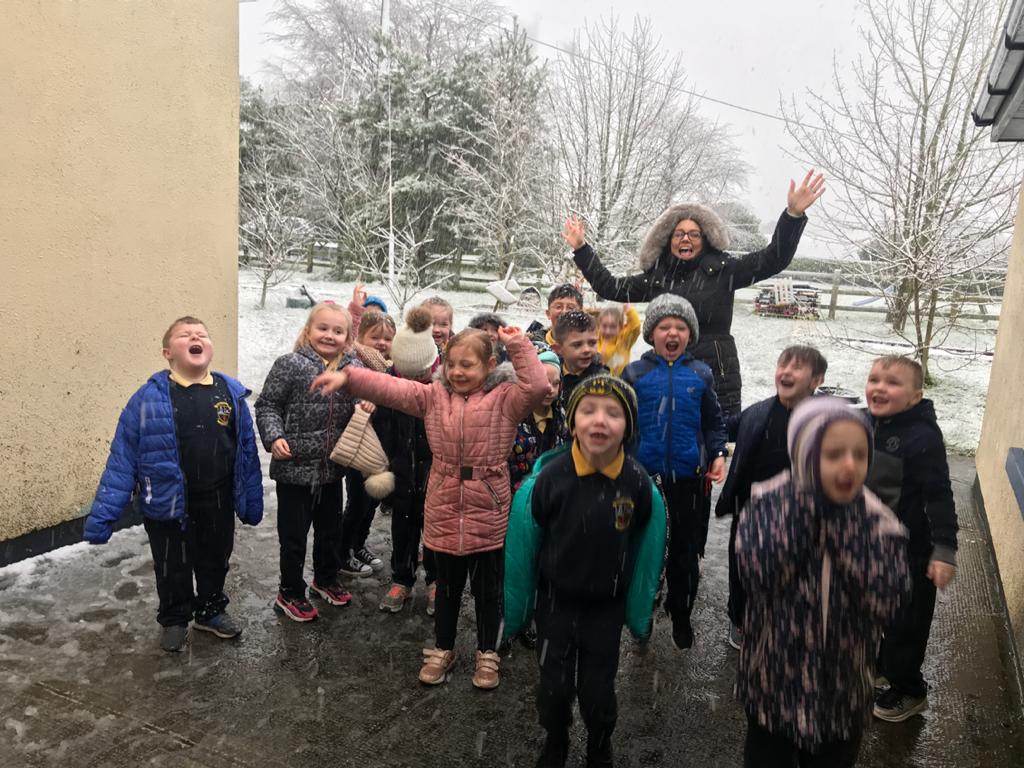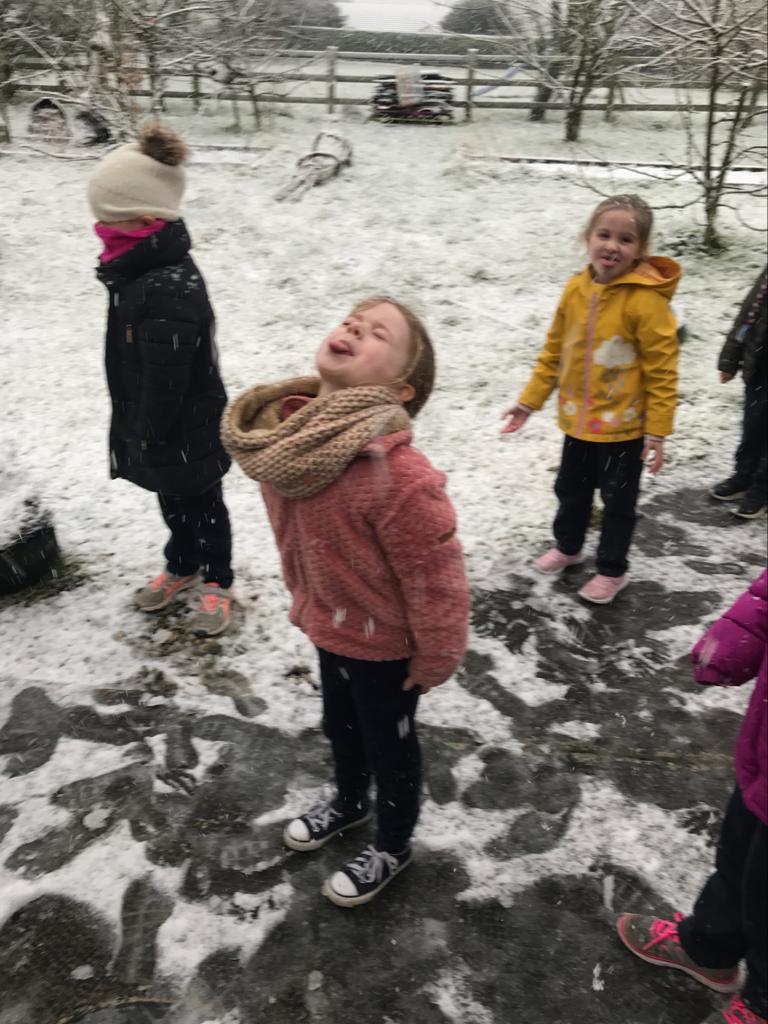 Erasmus+ Programme: each class in the school have been given a project to complete for our European Eramas+ project. We have been tasked with putting together various things to allow the other European schools involved with the programme to get to know us better. The two 6th classes were tasked with putting together a study of the various hobbies and interests students in the school have. All the students in the school were surveyed and you can see what hobbies proved most popular in the document linked >> Hobbies Erasmus.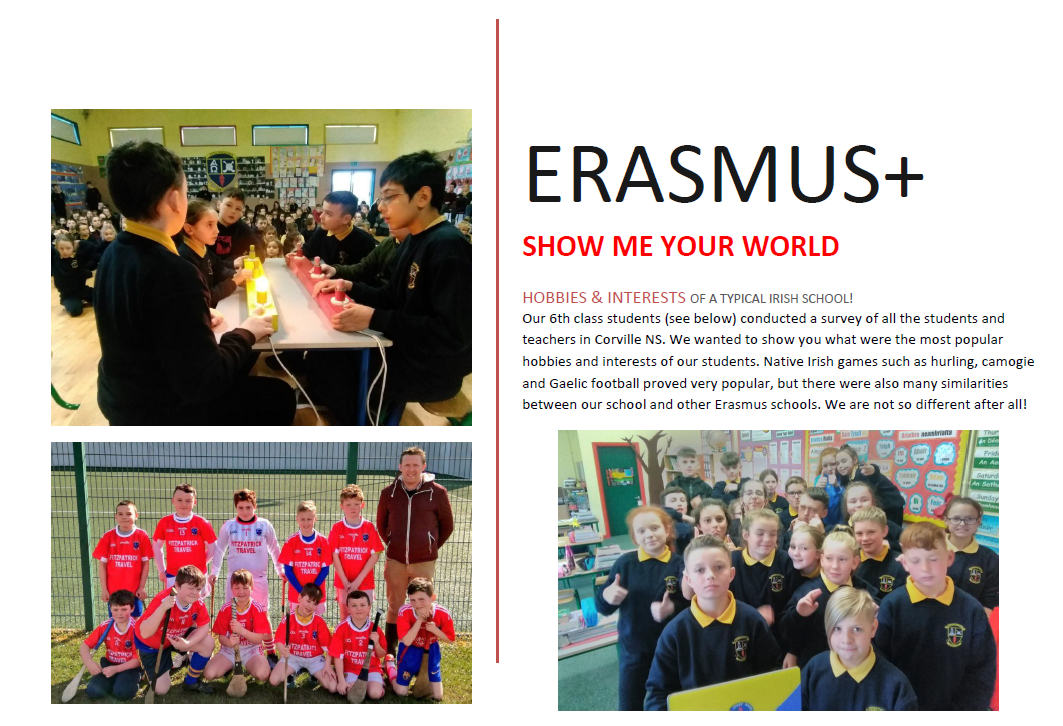 Just for a bit of fun we also asked the teachers what their favourite hobbies were and you can see them in the graph below!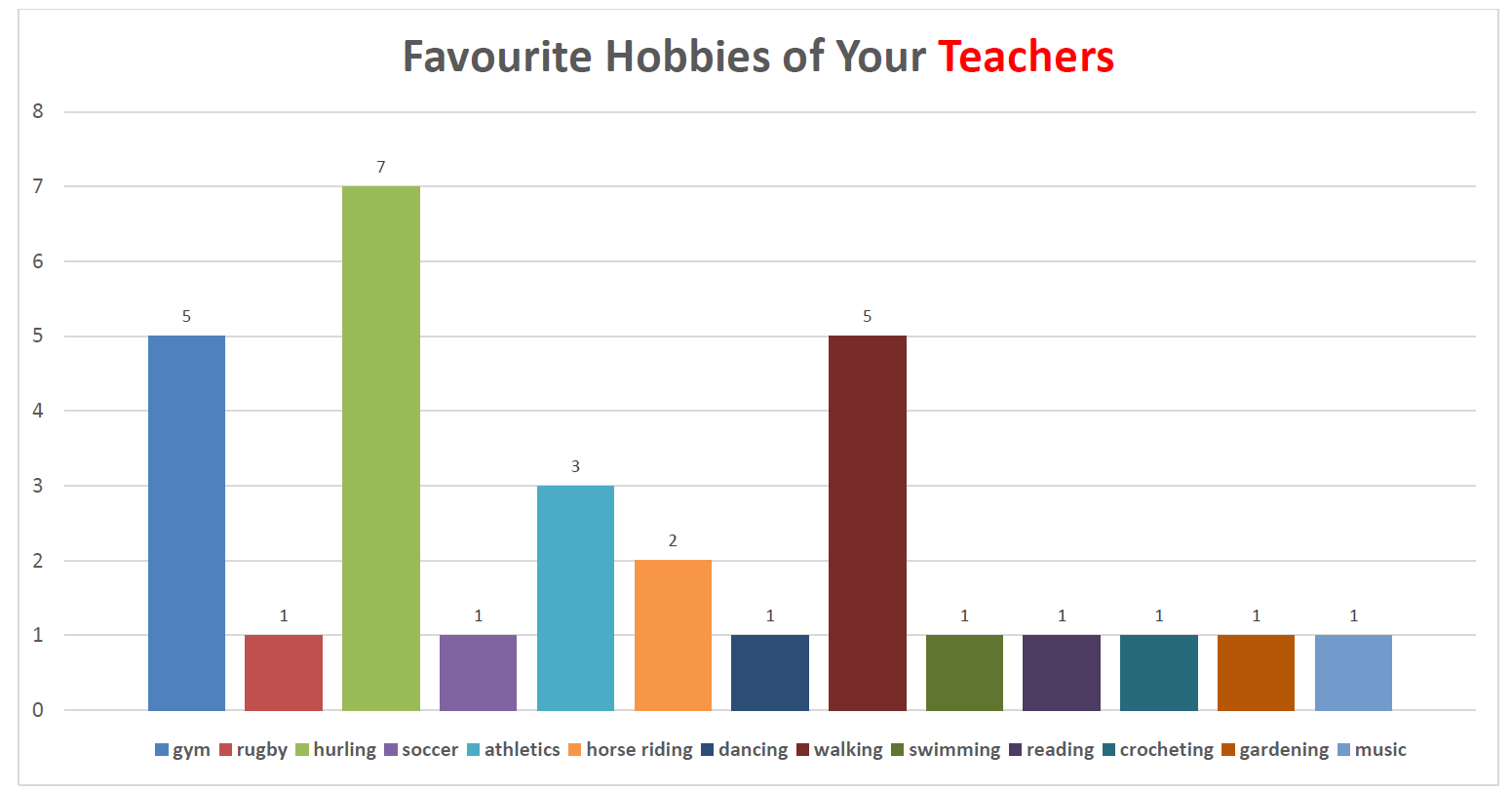 Valentine's Day: love was in the air in February for Valentine's Day. Lot's of cards for mammies and daddies were created along with various displays.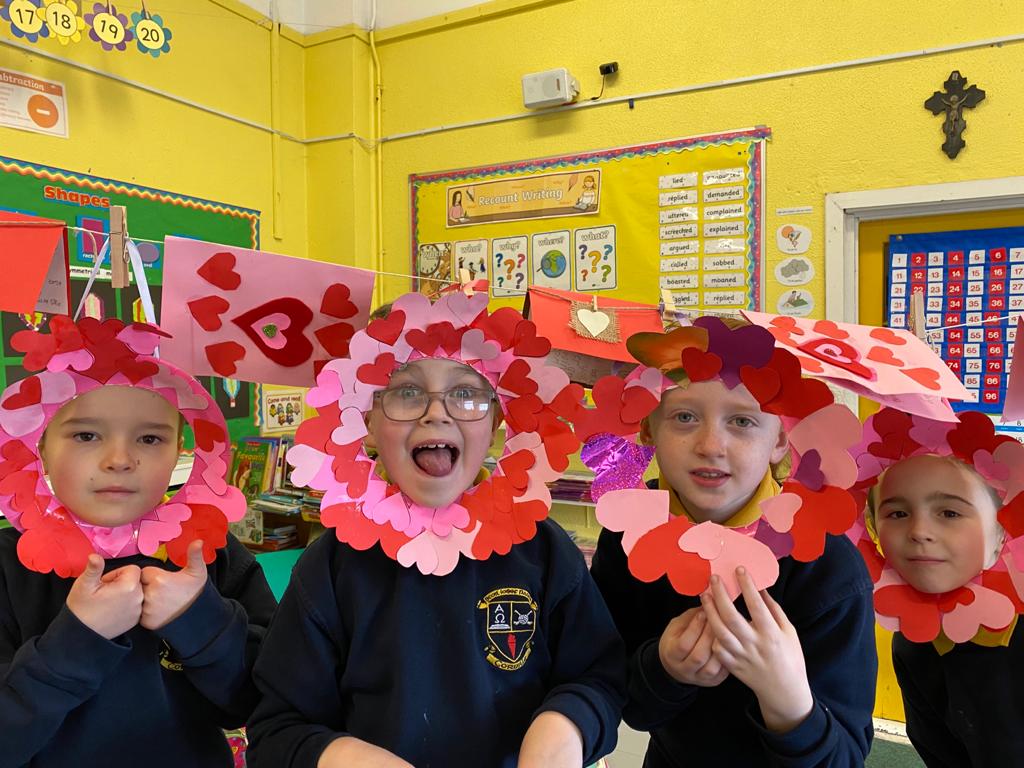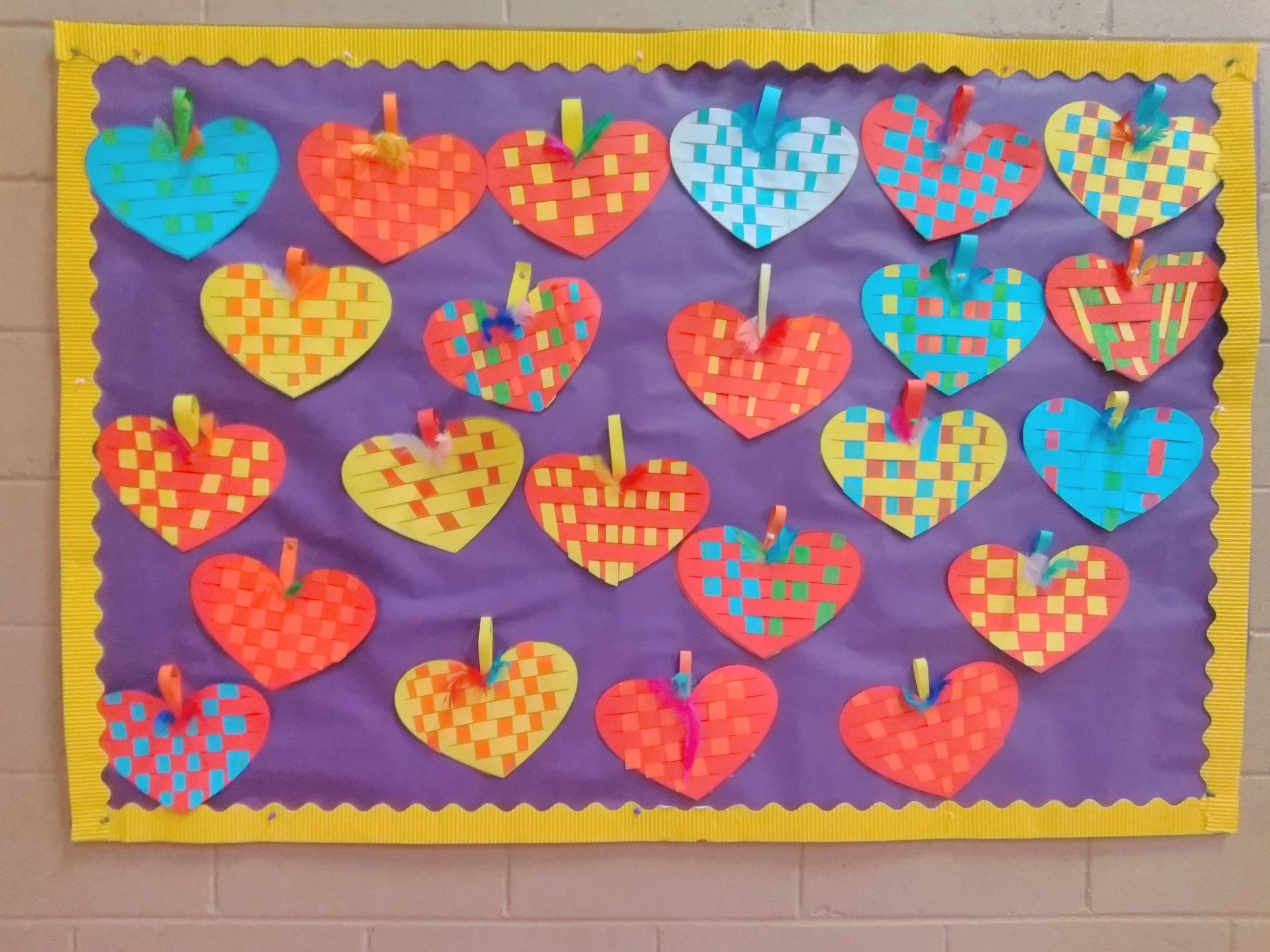 Senior Infants having fun creating Valentine's Day cards for their families!!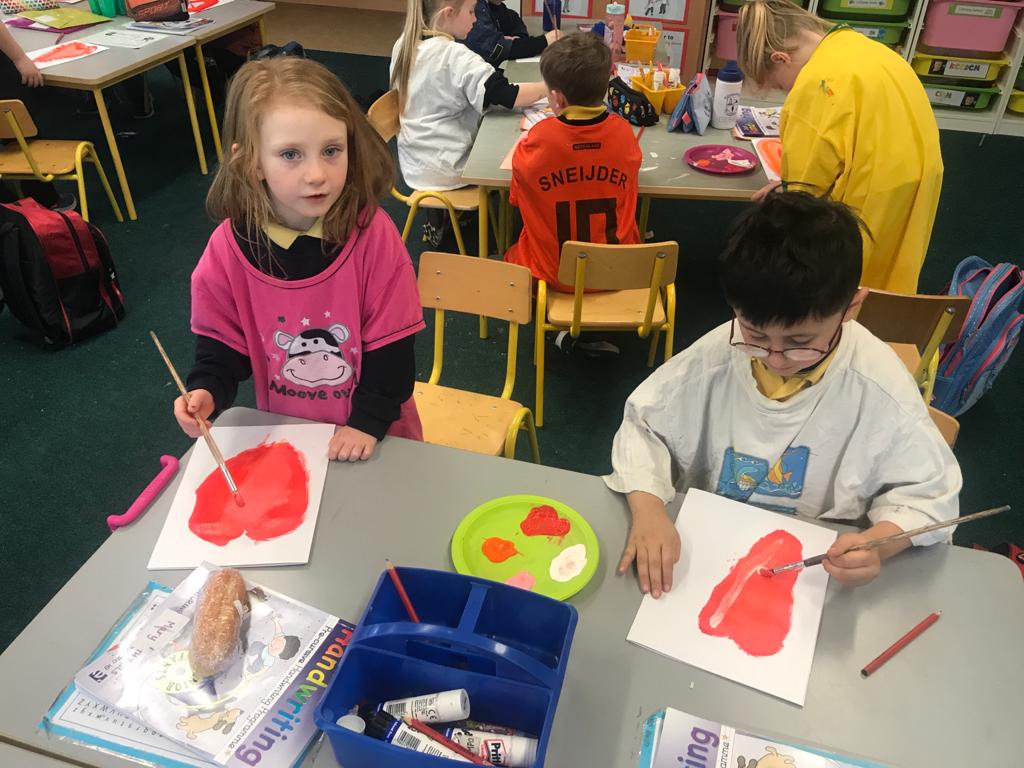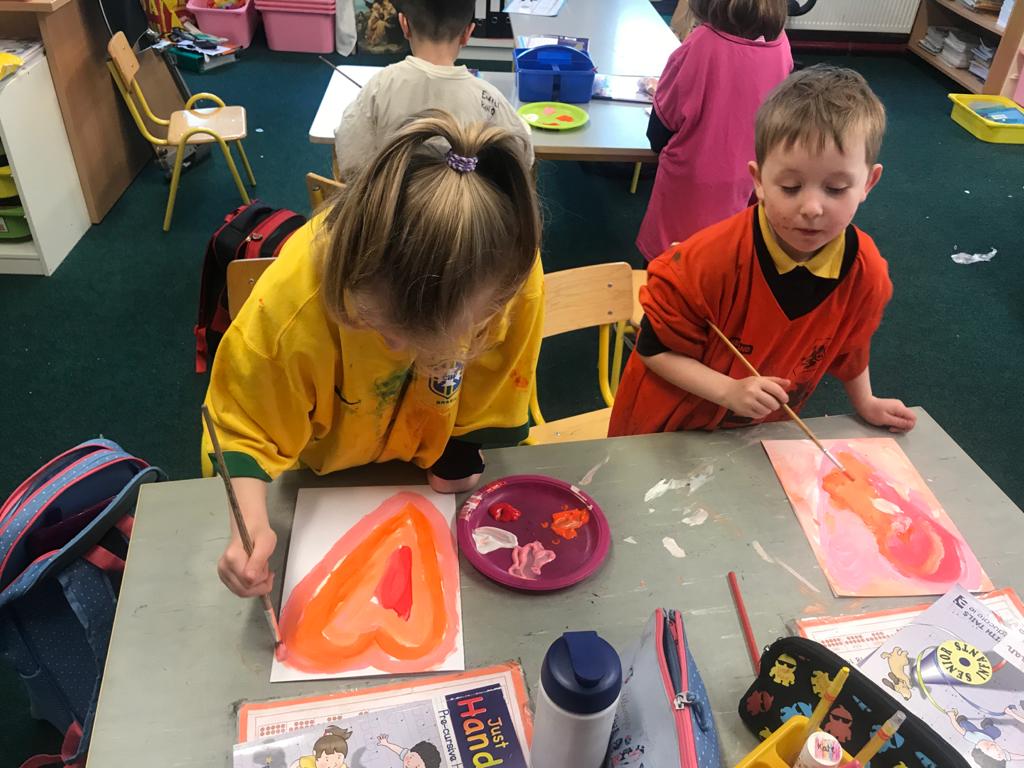 Chinese New Year: 2nd class celebrated the Chinese New year a few weeks ago. Welcome to the year of the rat!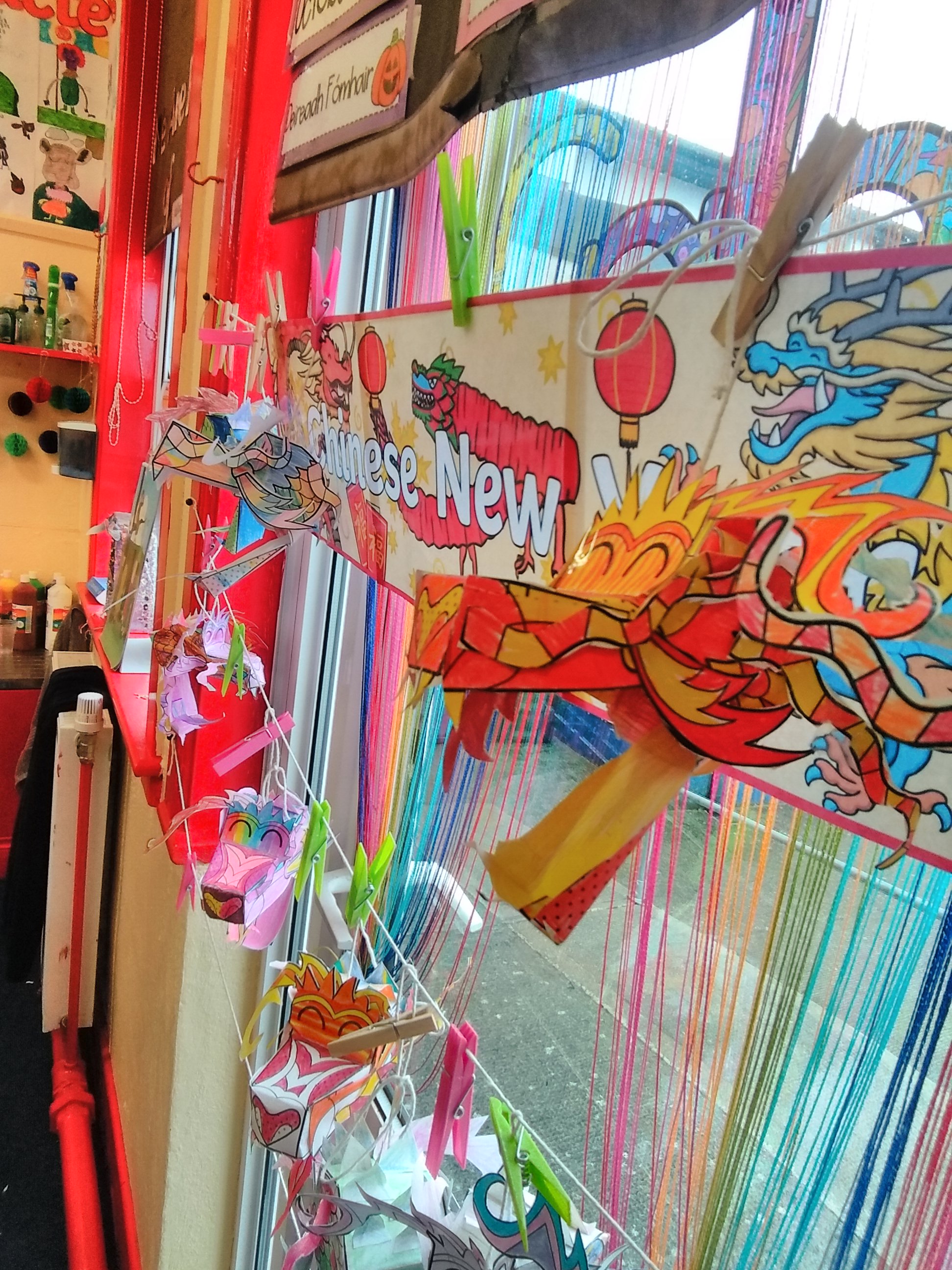 Maths in Senior Infants: this week senior infants were working in groups balancing weights.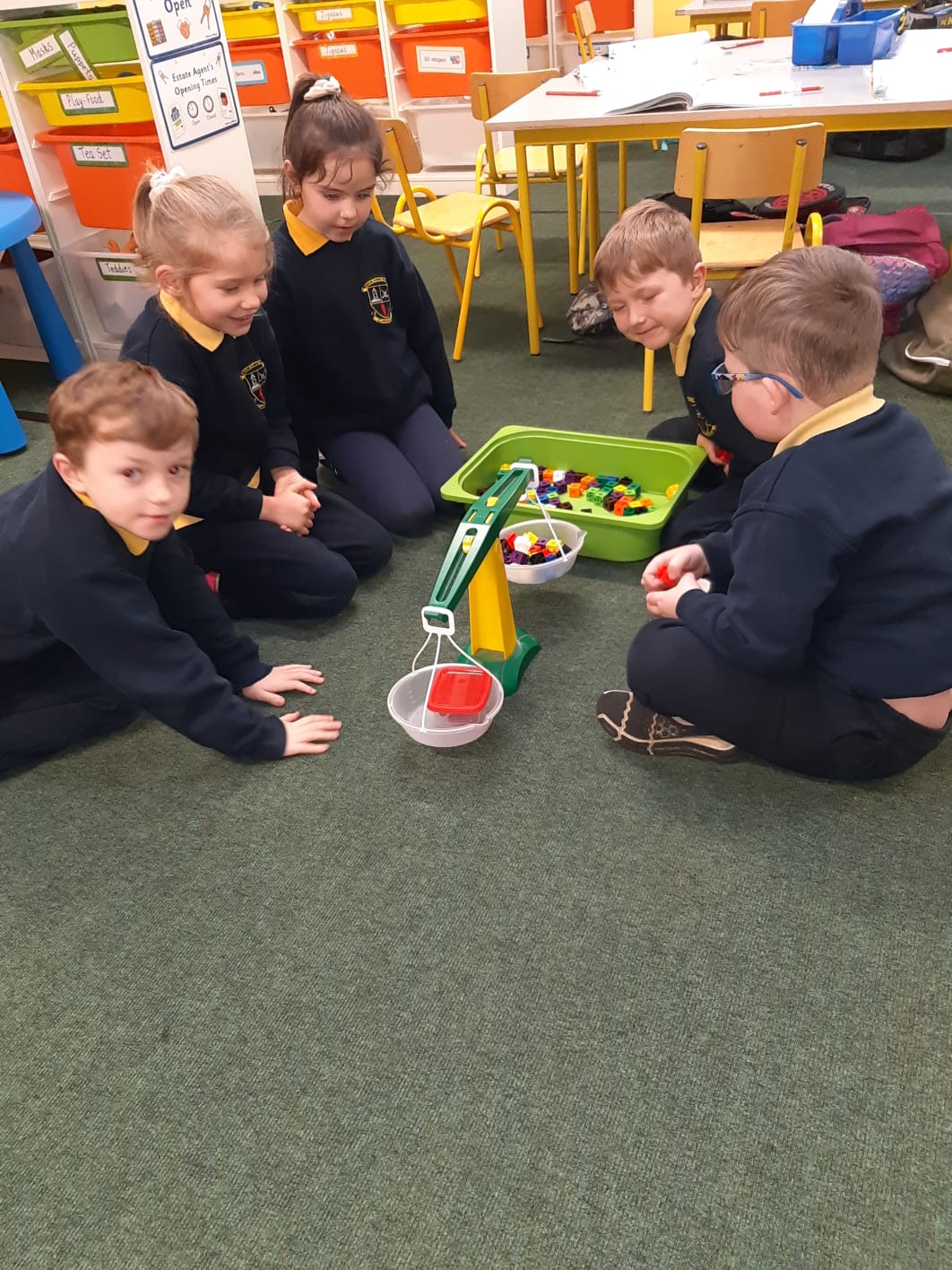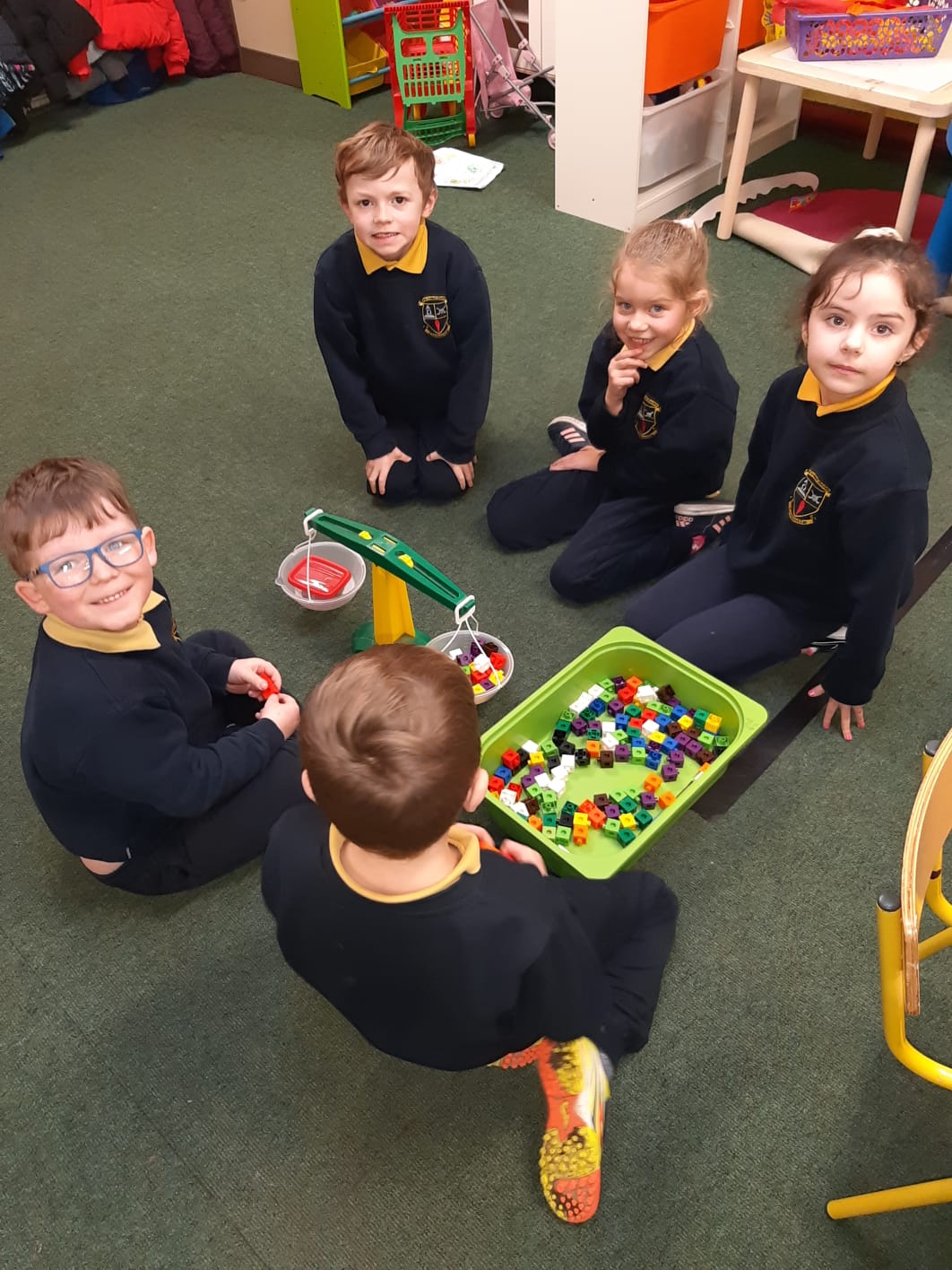 6th Class Blog: our 6th class students continue their blogging adventures. This time they blogged about portrait art, Castletown retreat, Fr. Treacy coming to the school to talk about Confirmation, an Erasmus presentation,  basketball, 'Giant' assembly performance and the Tipperary match in Semple Stadium. You can follow their blog >> here.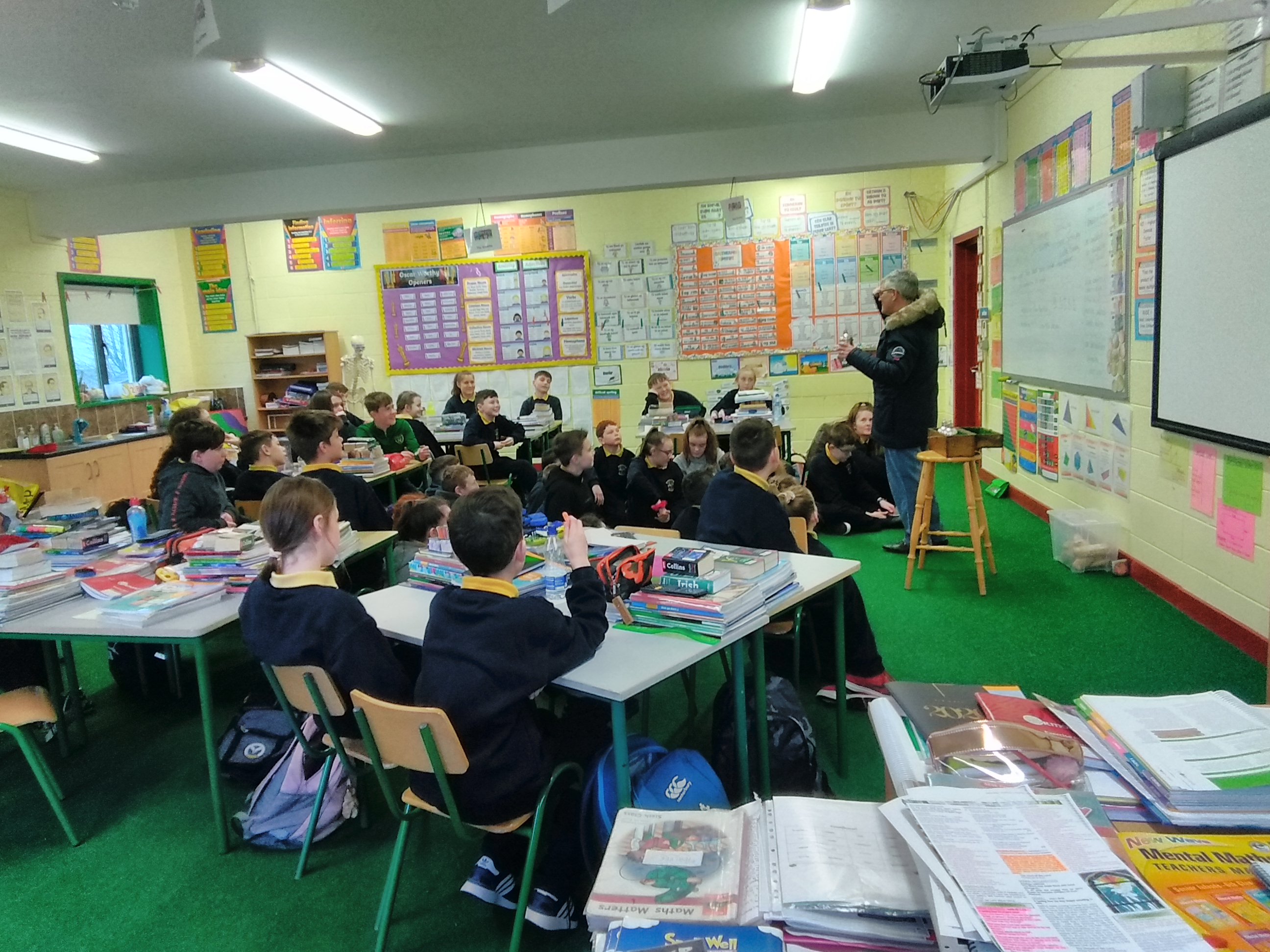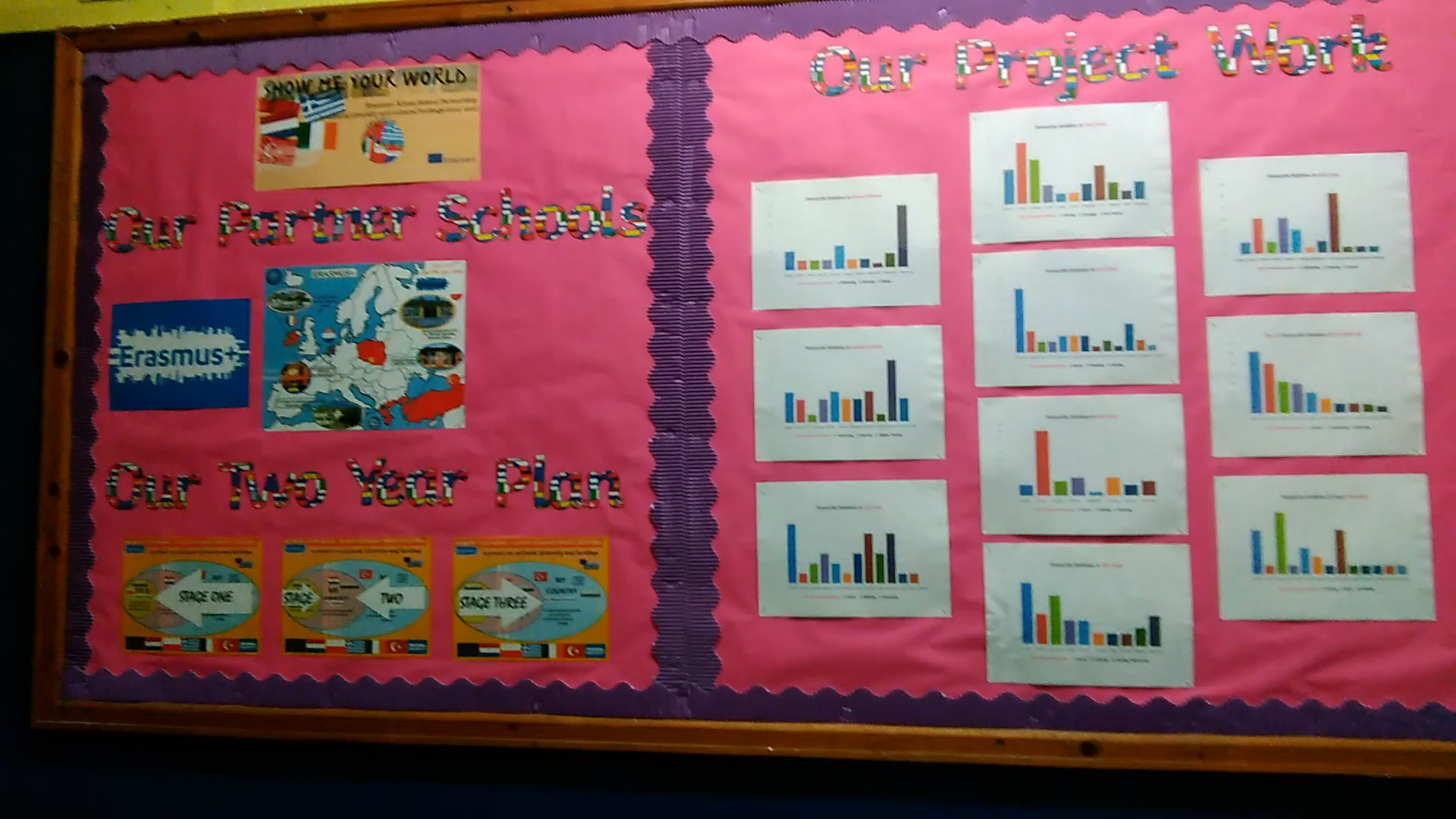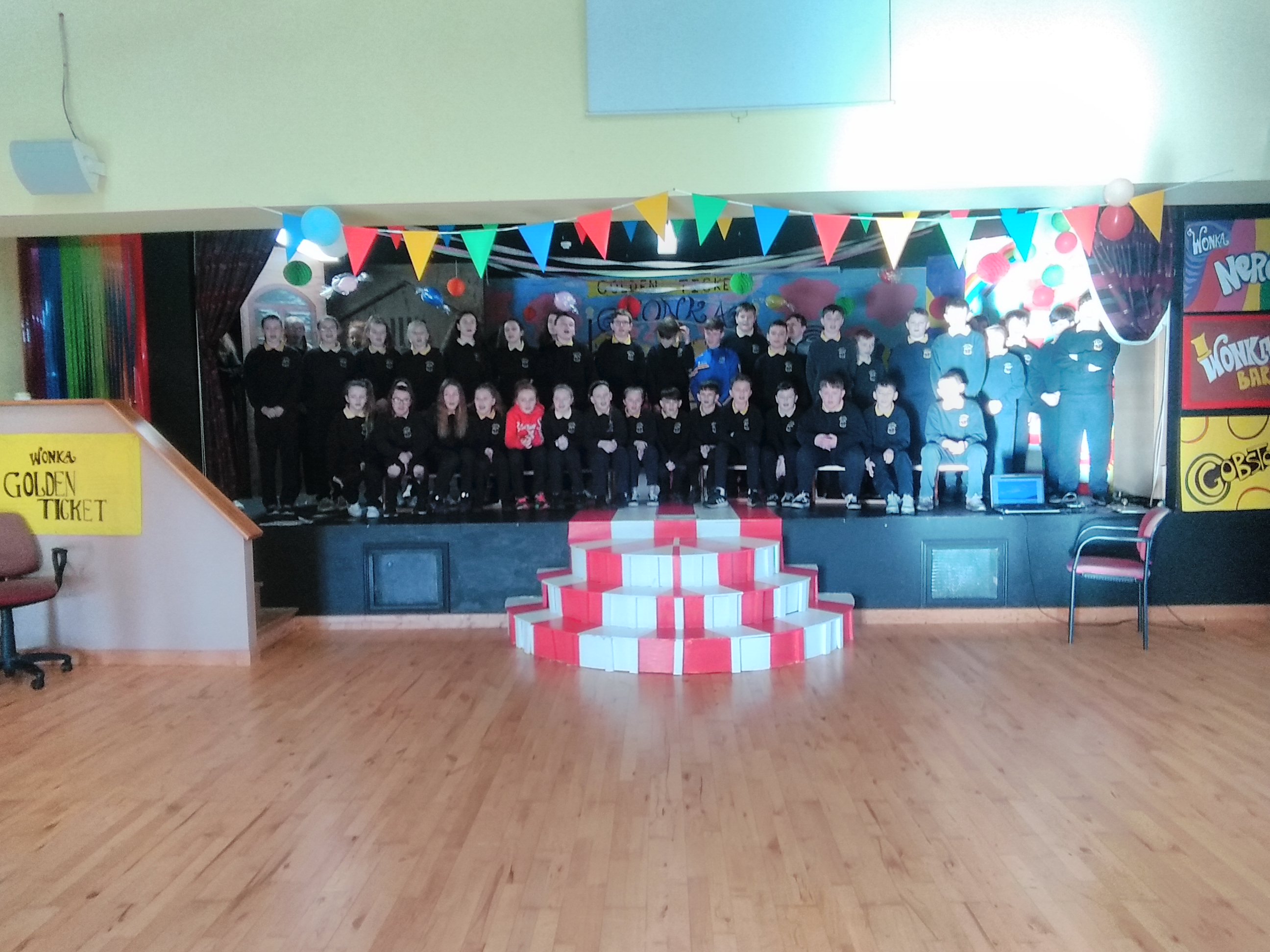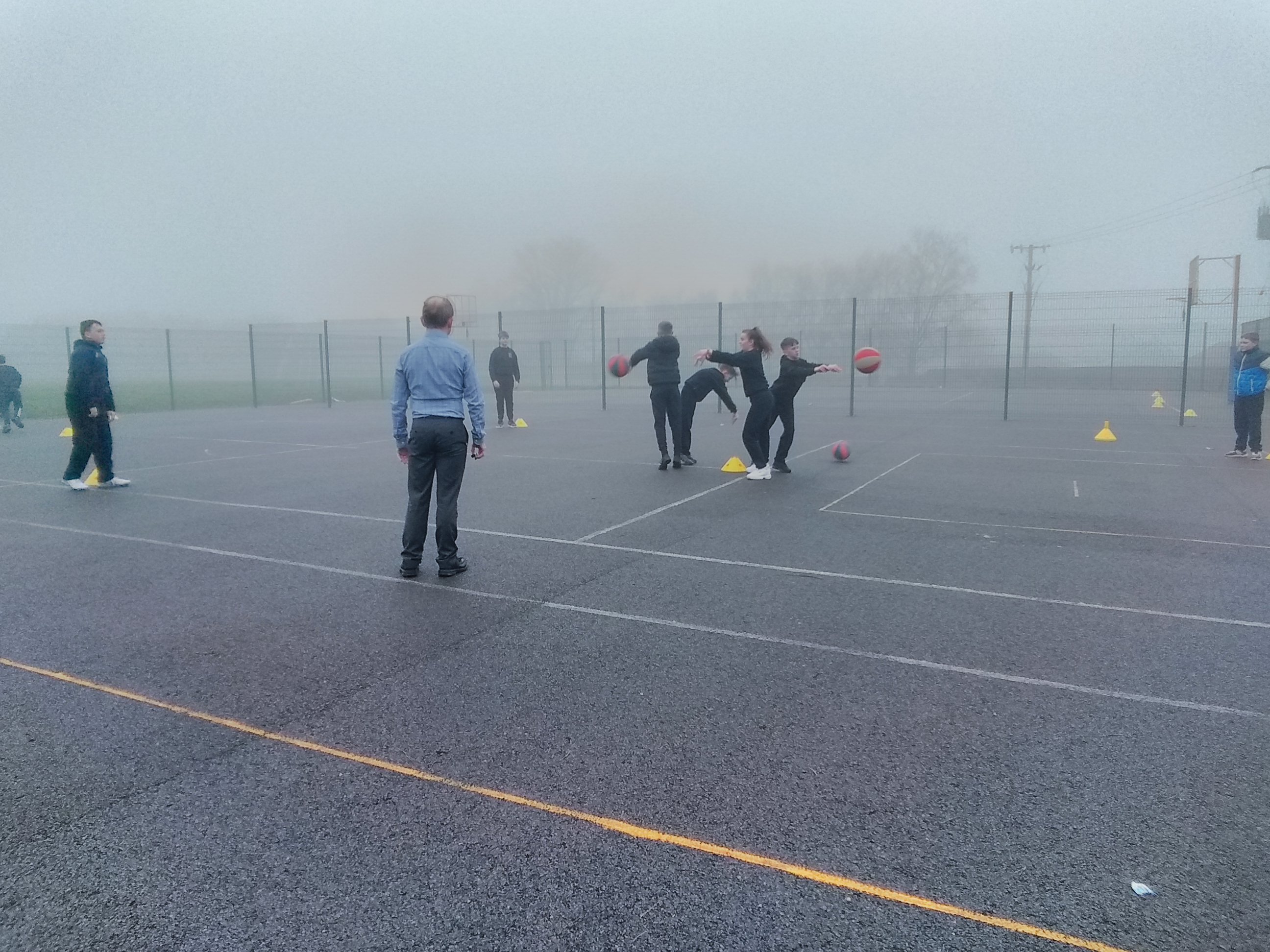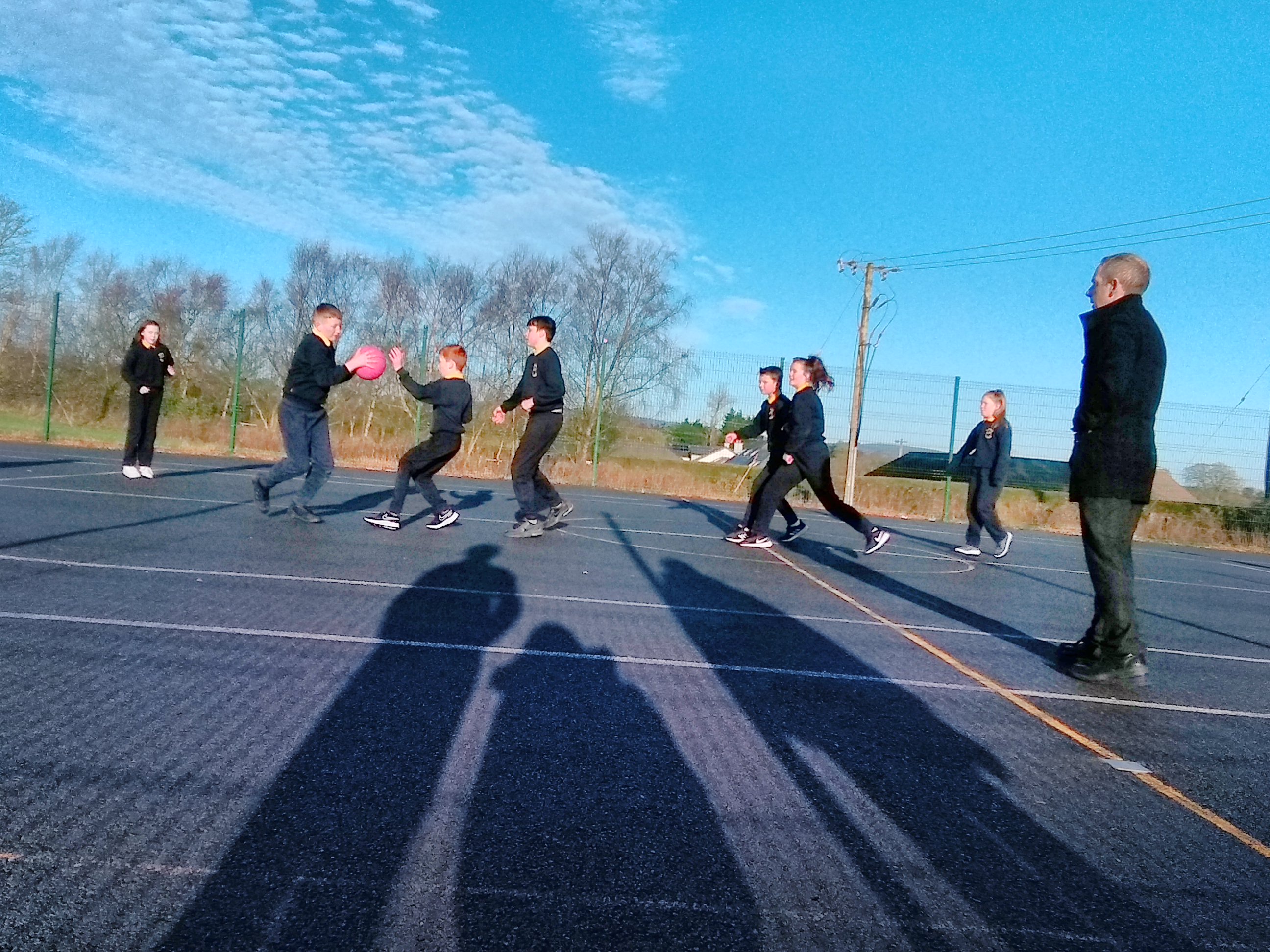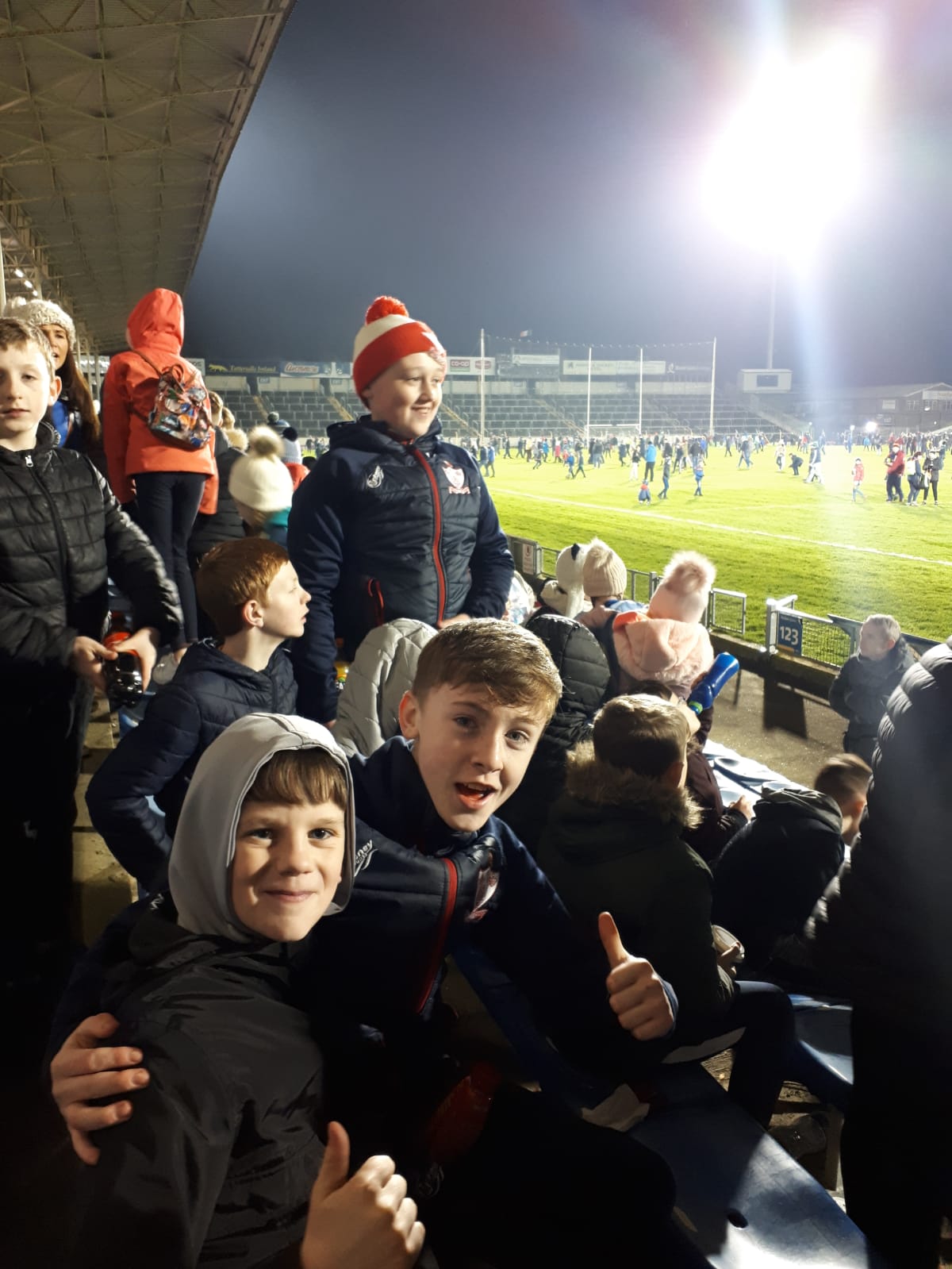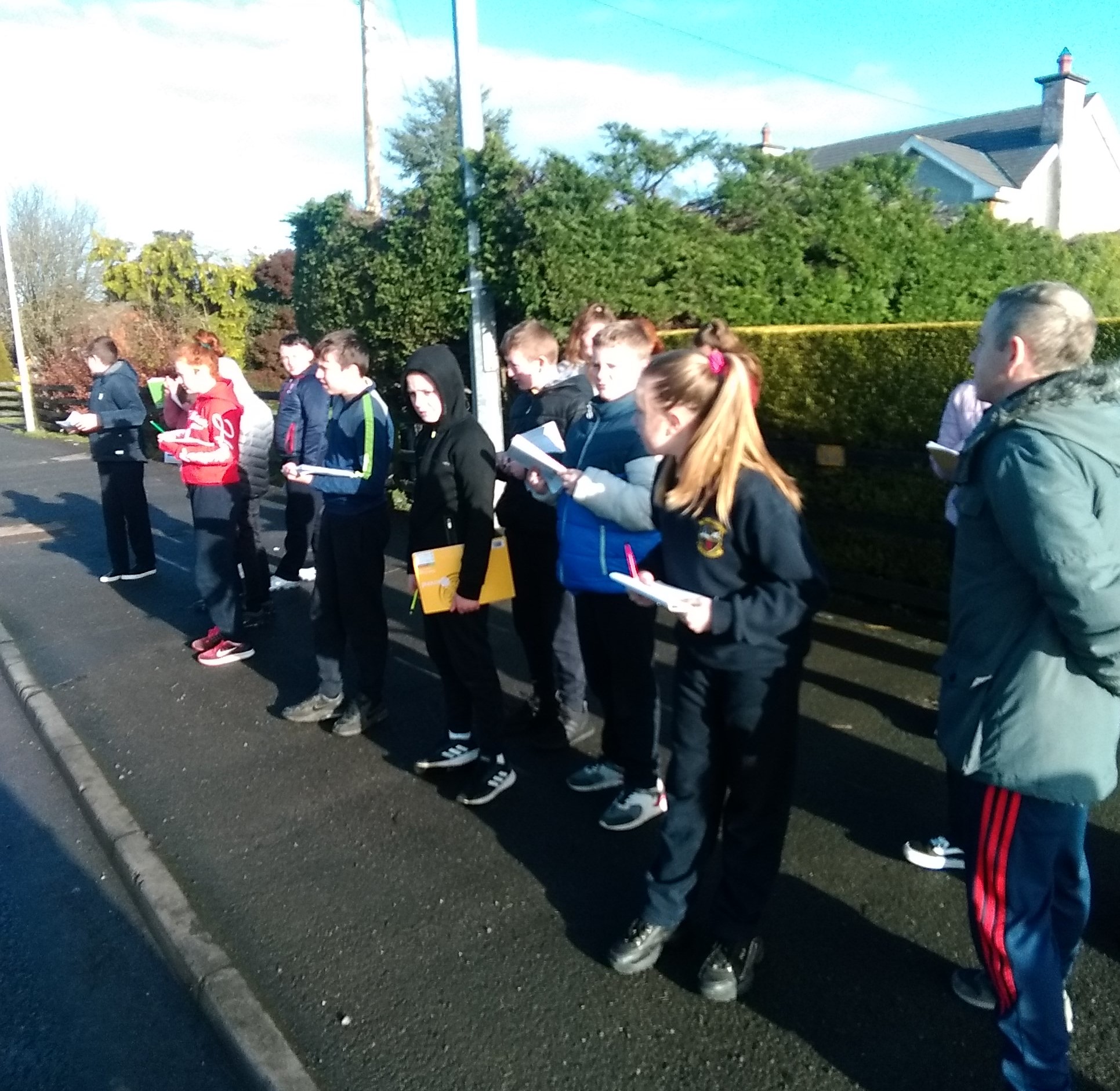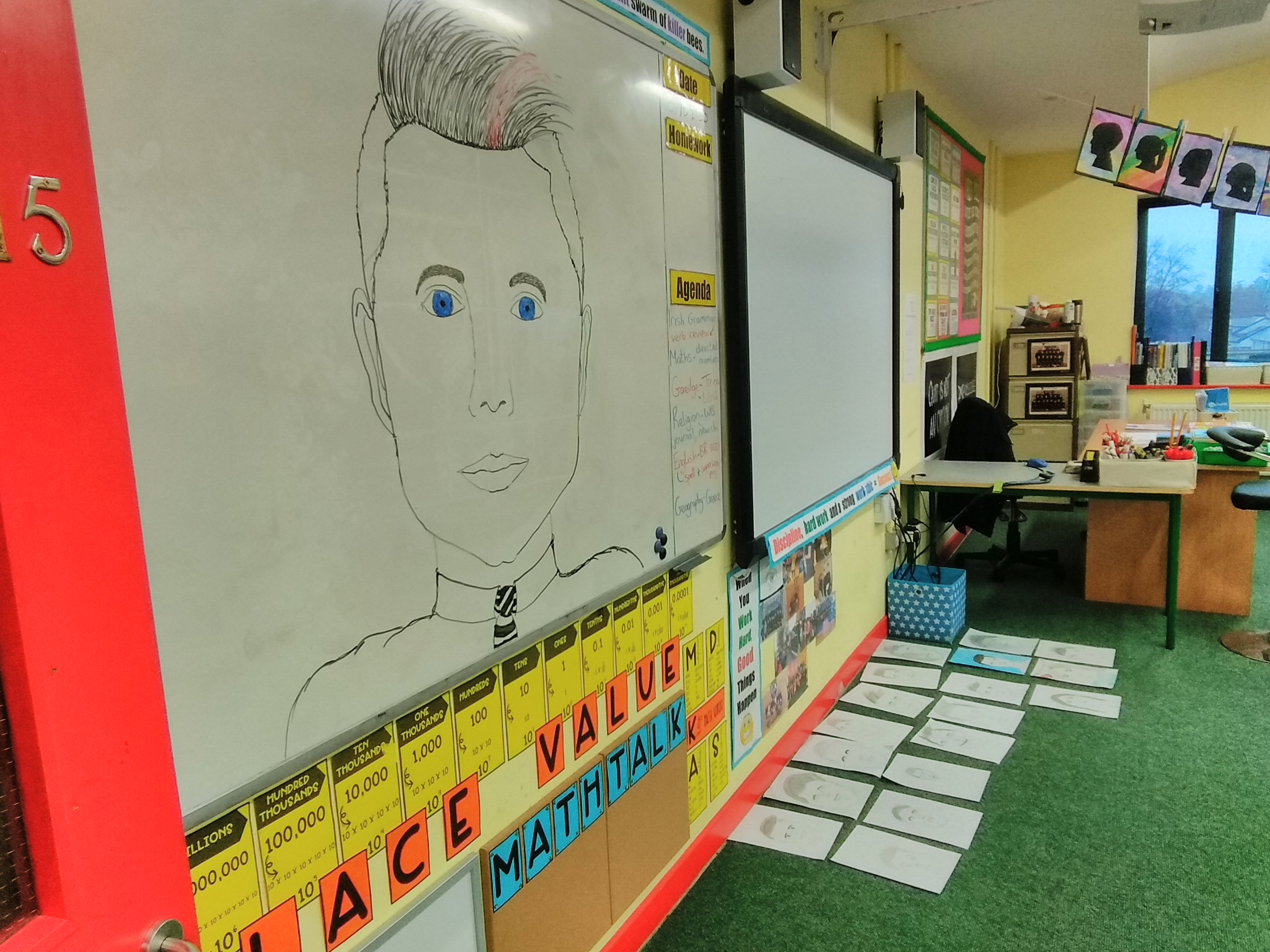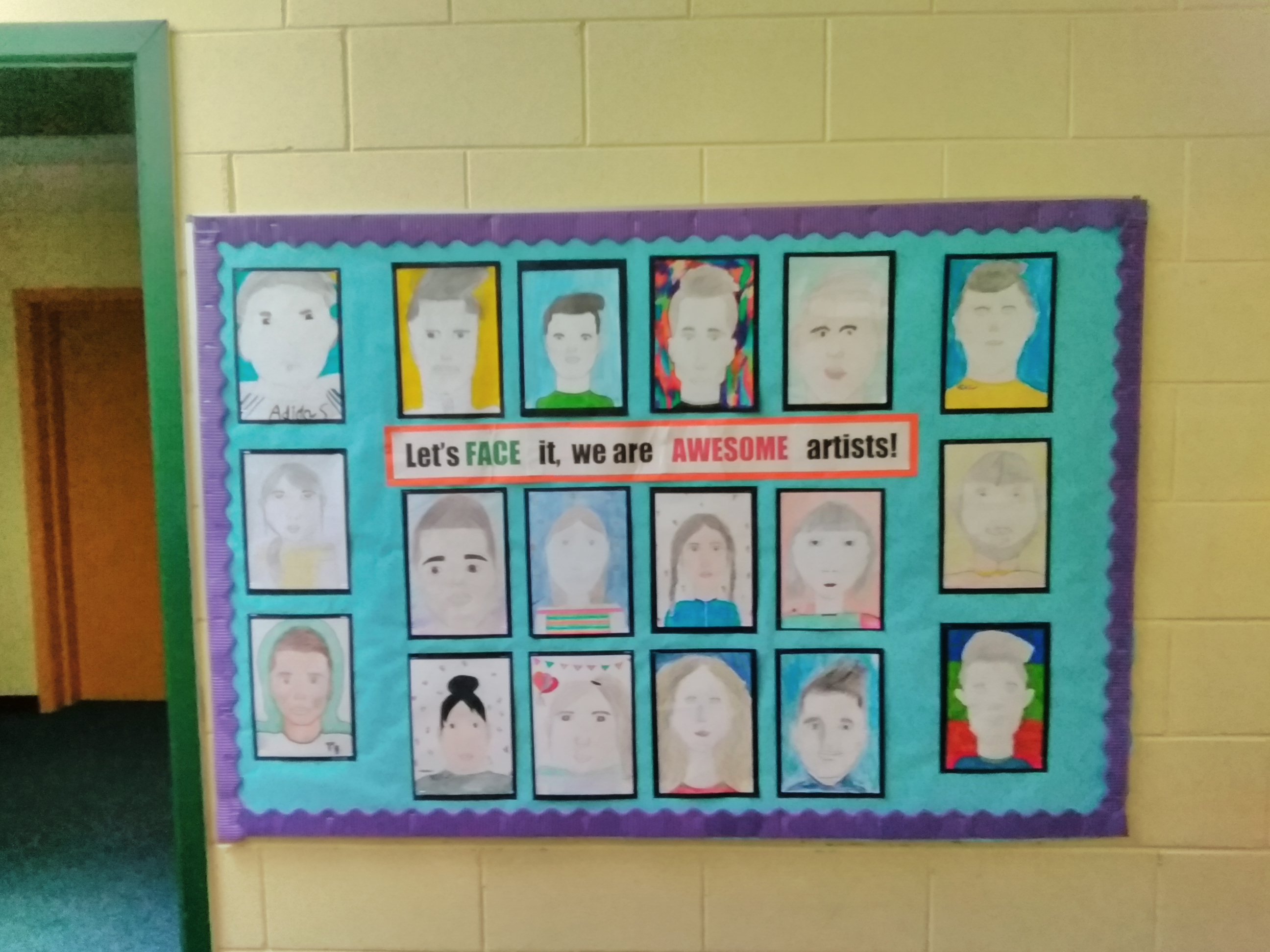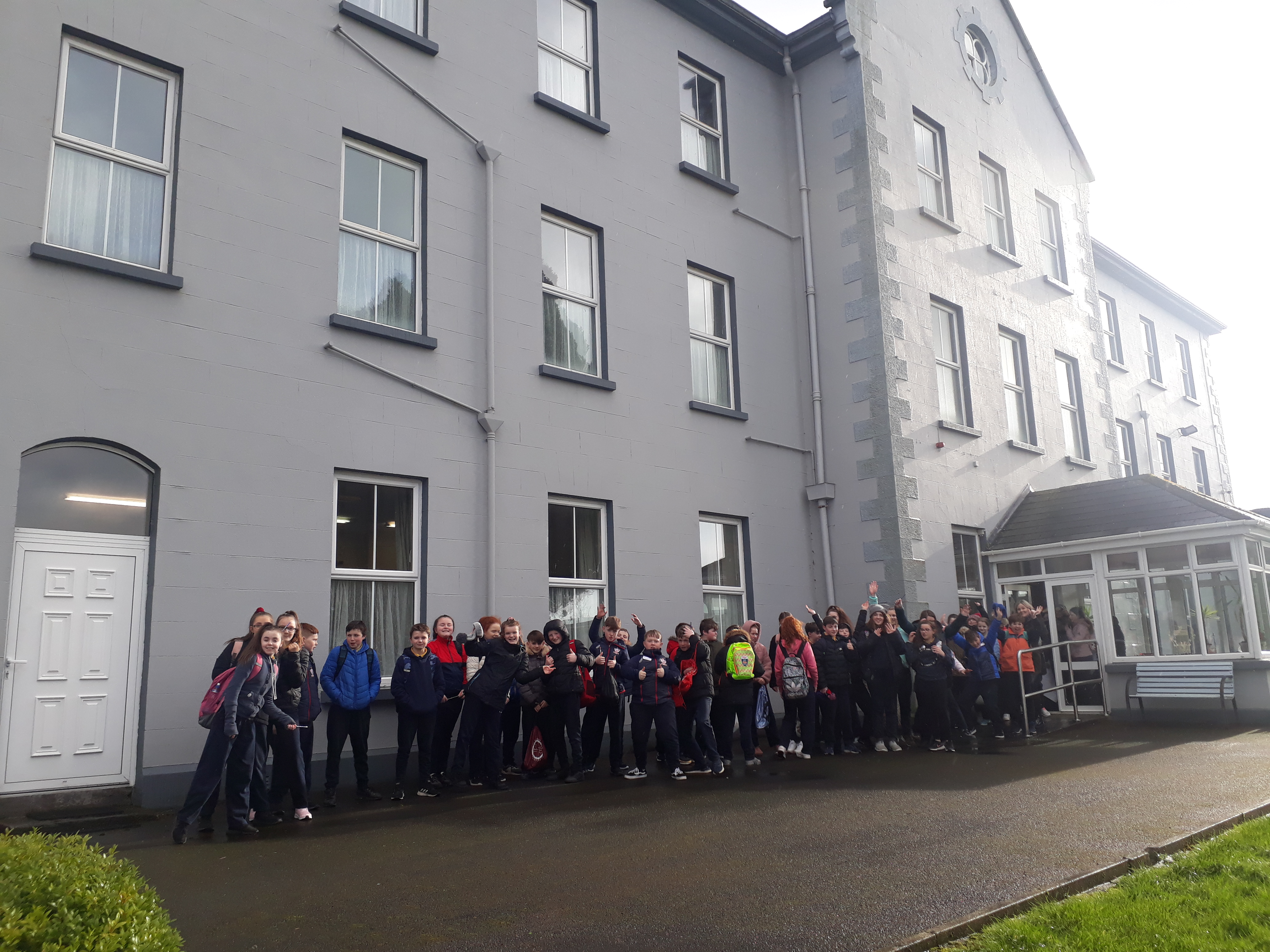 ---
Corville Updates – Term 2
We hope everyone has had a wonderful Christmas and we wish you all a Happy New Year. We are all back into the swing of things now in school. One week down and twelve more to go in Term 2. There are plenty of things to get excited about in this term with quiz, spelling bee, soccer, art and photography competitions coming up, in addition to the St. Patrick's Day parade, Confirmation, and some exciting science trips being planned. Training is already underway for hurling, camogie and soccer after school so come out and join us. It would be great if we could get a little break with the whether though! We are certainly hoping for an exciting and successful term in school but for now we will take a look back at what happened in school in the last few weeks leading up to the Christmas break.
School Musical – Willy Wonka JR: students from senior infants up to 3rd class put on a wonderful show in front of two packed out audiences. Ms. Frawley and Ms. O'Connell did an excellent job getting the students ready for the show. The stage and hall were wonderfully decorated for the night and it all added to what was a wonderful showcase of the acting and artistic talent we have in school. Well done to all involved with this production. A lot of effort goes into putting something like this together so take a well earned break now it's over.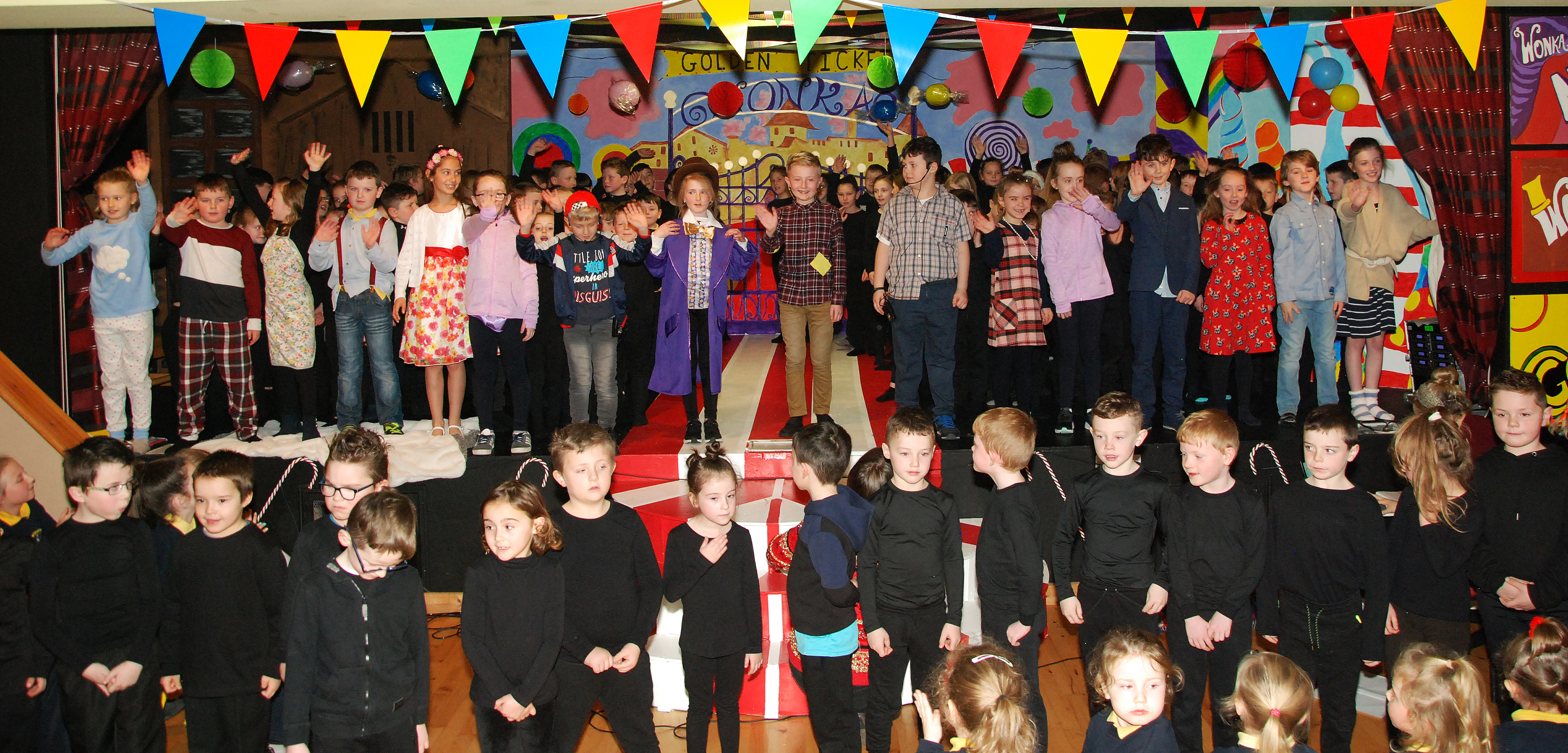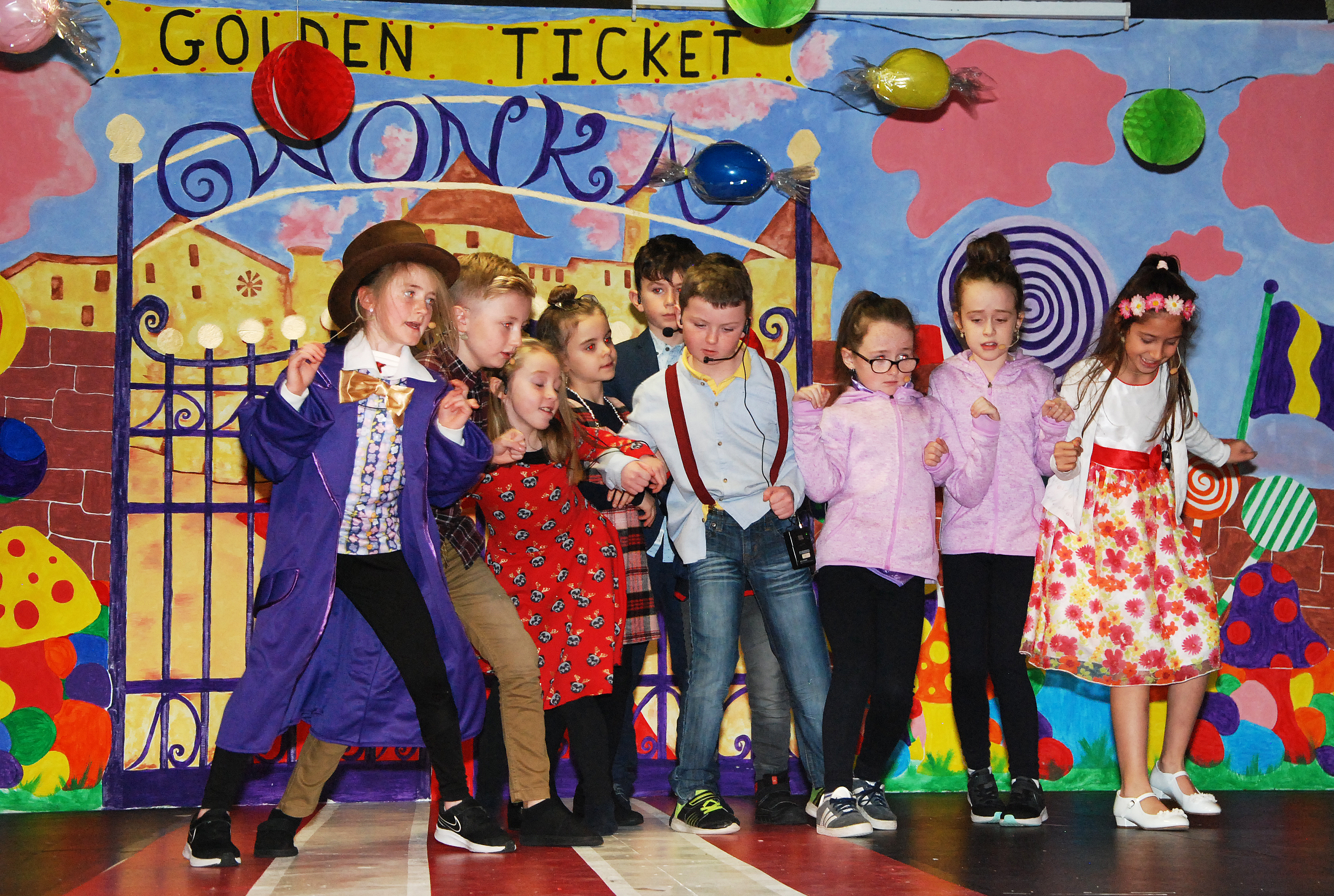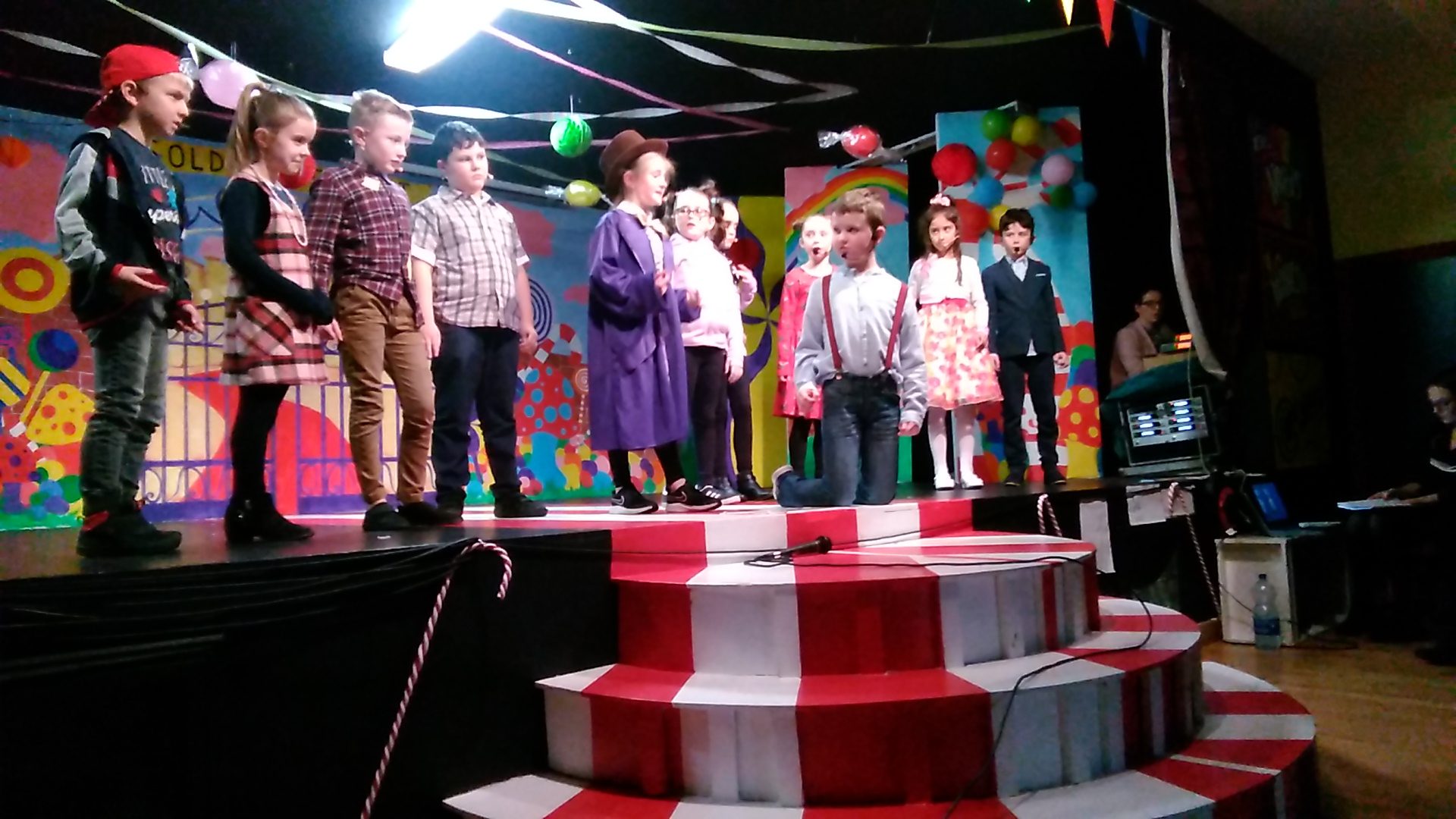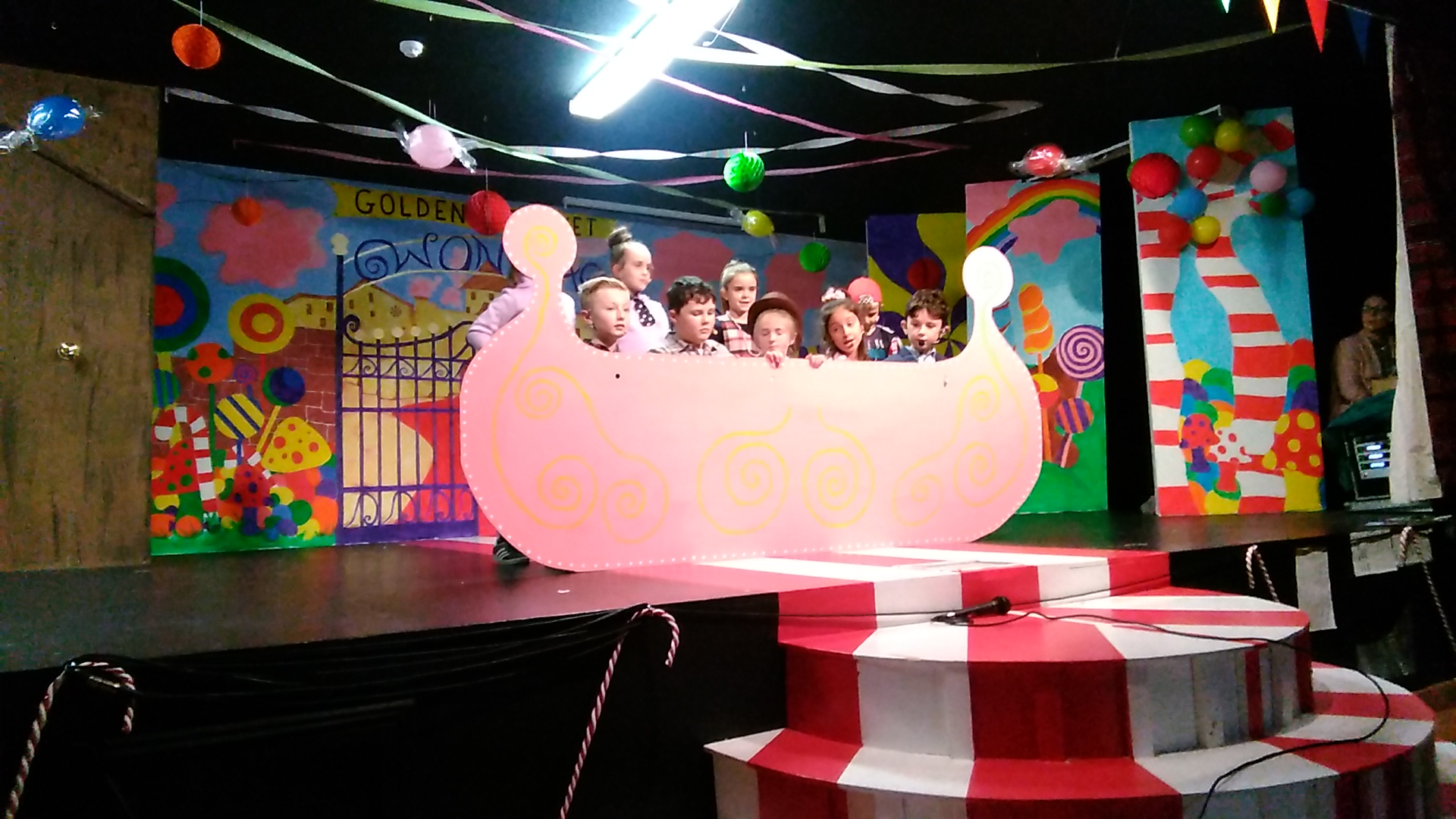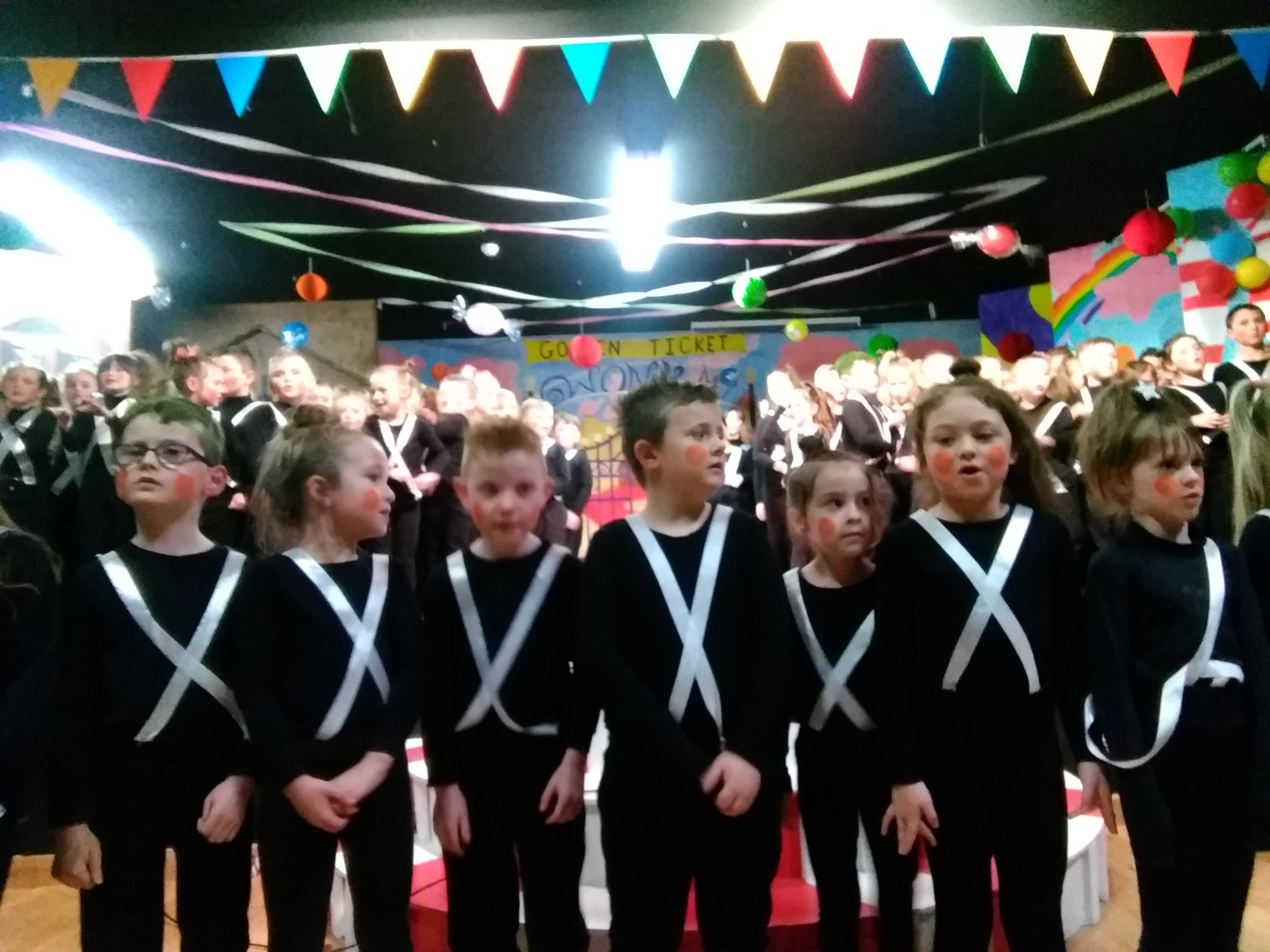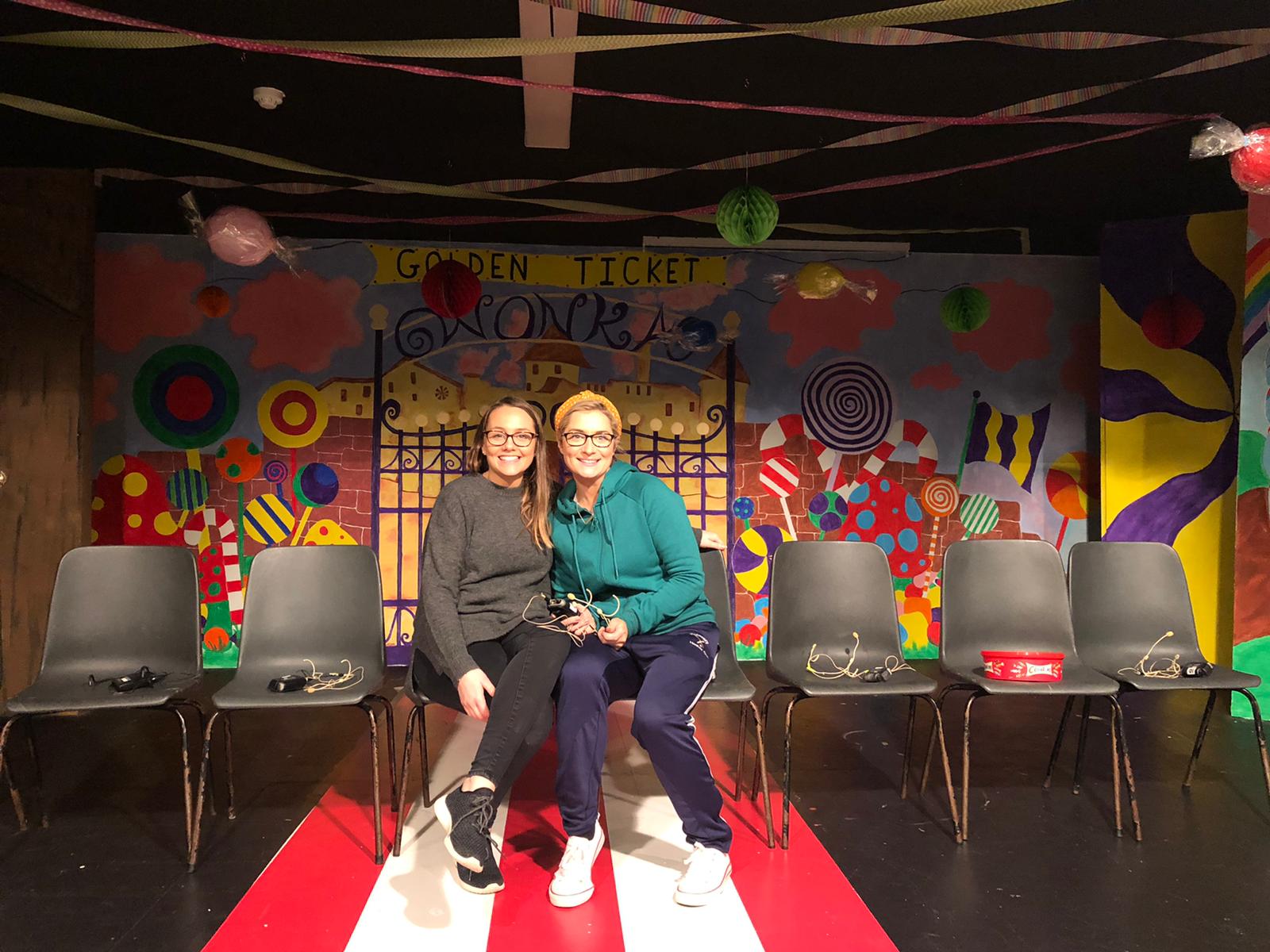 Tom on The Late Late Toy Show: everyone in school were so proud to see Tom performing on the Late Late Toy Show before Christmas. He really is a superb talent and he did amazingly well on the night for someone so young.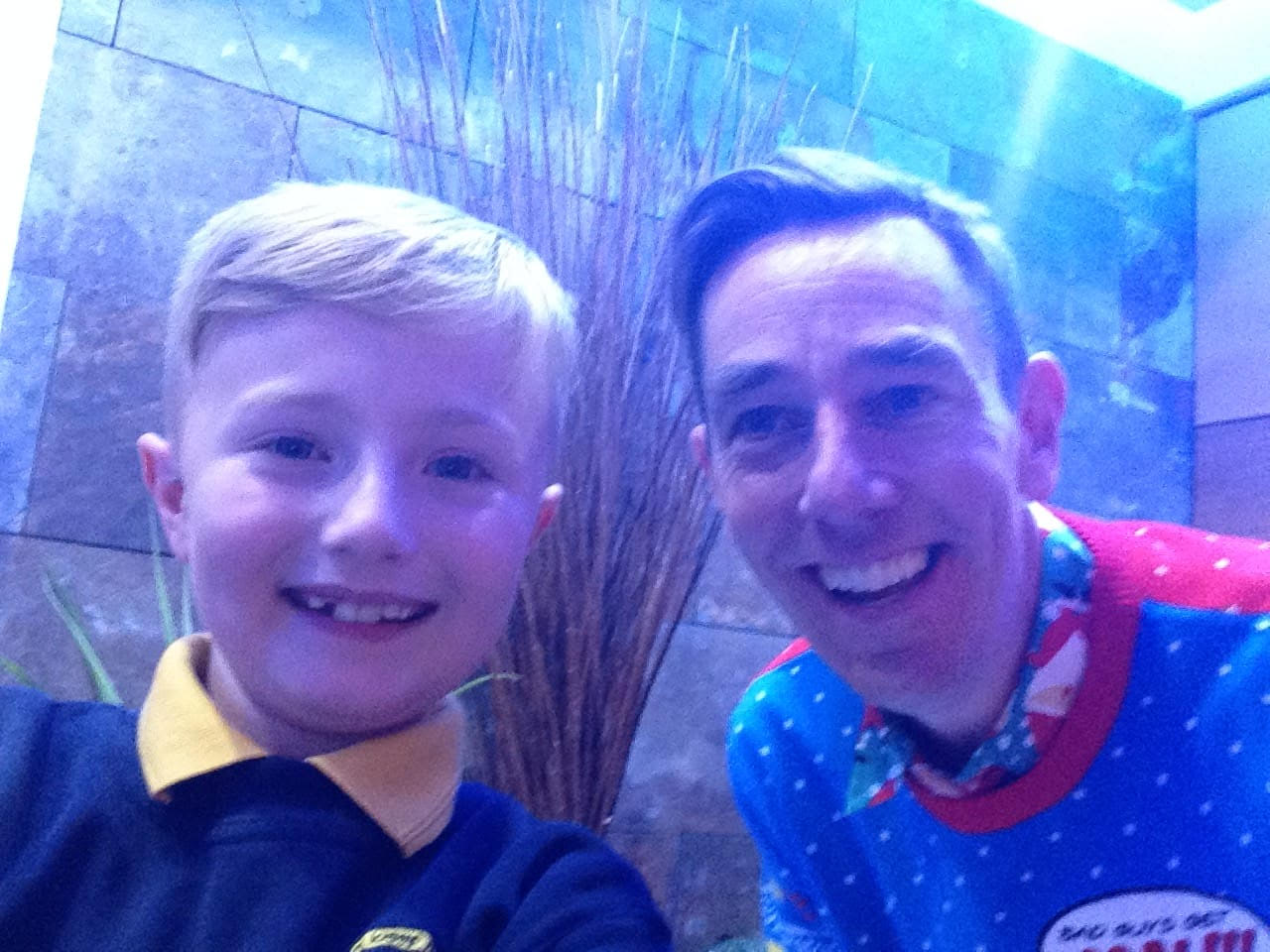 Advertising Banner: Thanks to all our sponsors of the advertising banner which is part of the school fundraising effort for an all weather pitch. Special mention to Dixie and Niall O Meara for the artwork and installing the 5m x 5m banner. We do not do small in Corville!!!!!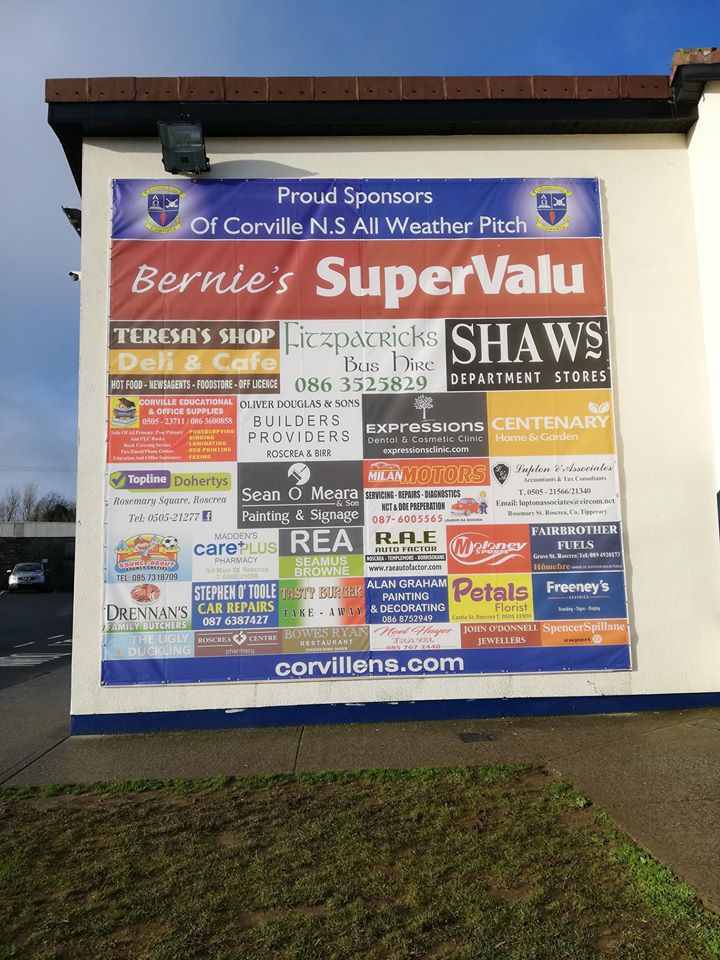 School Quiz Finals: the final week of school before Christmas is a very exciting one for our quiz enthusiasts because this is the week we host the finals of our Fastest on the Draw quiz competitions. This year there were 3 competitions. In the 5th/6th class final the team of Bailey, Rosie (standing in for Dan who was sick) and Ryan defeated the team of Rhys, Levente, and Patrick. In the 3rd/4th class competition the team of Conor, Bobby and Darragh defeated the team of Jamie, Adam and Evan. This year we also hosted a 2nd class competition. This was all about just having fun and you can see from the smiles on their faces that they certainly had that.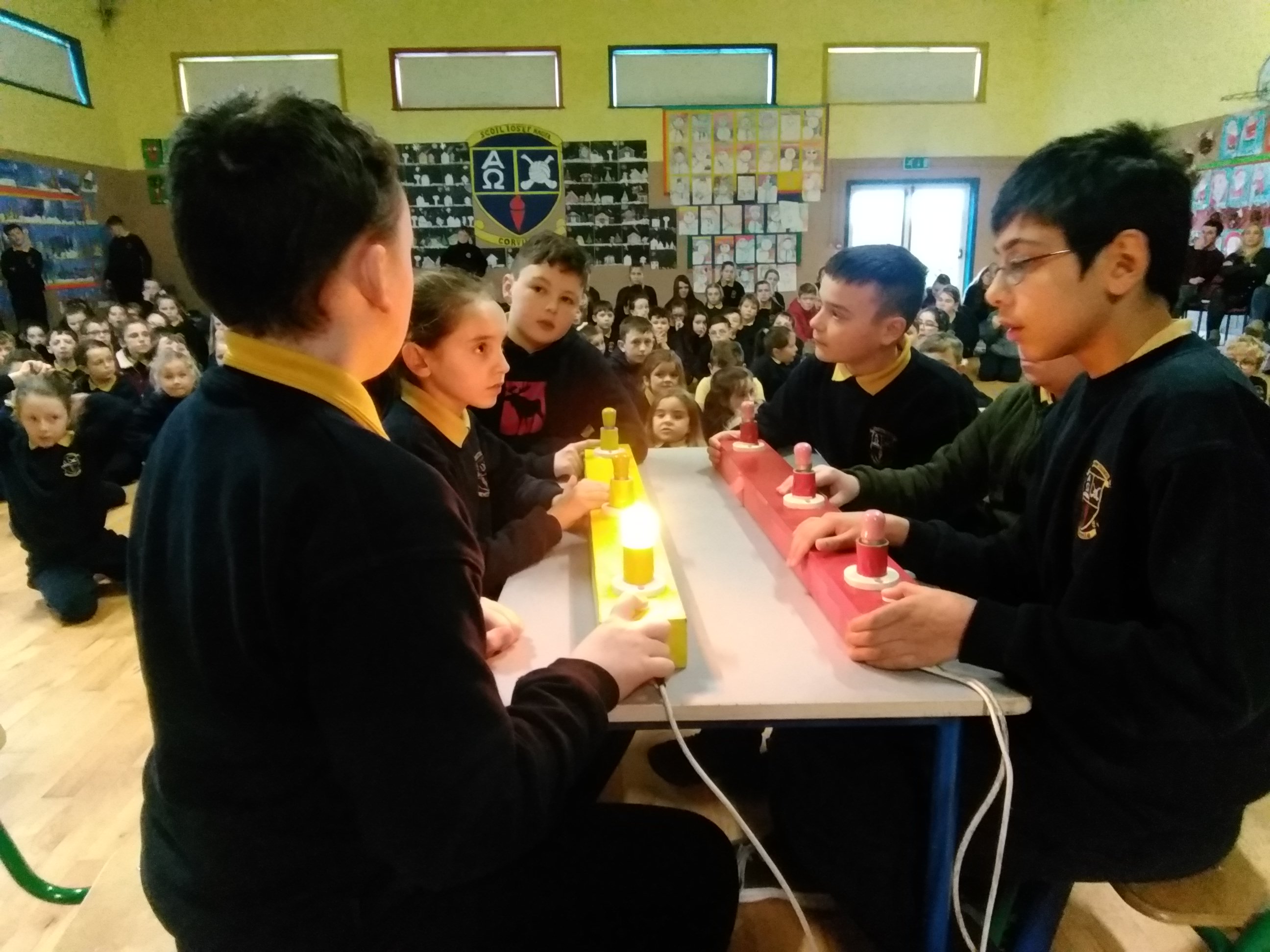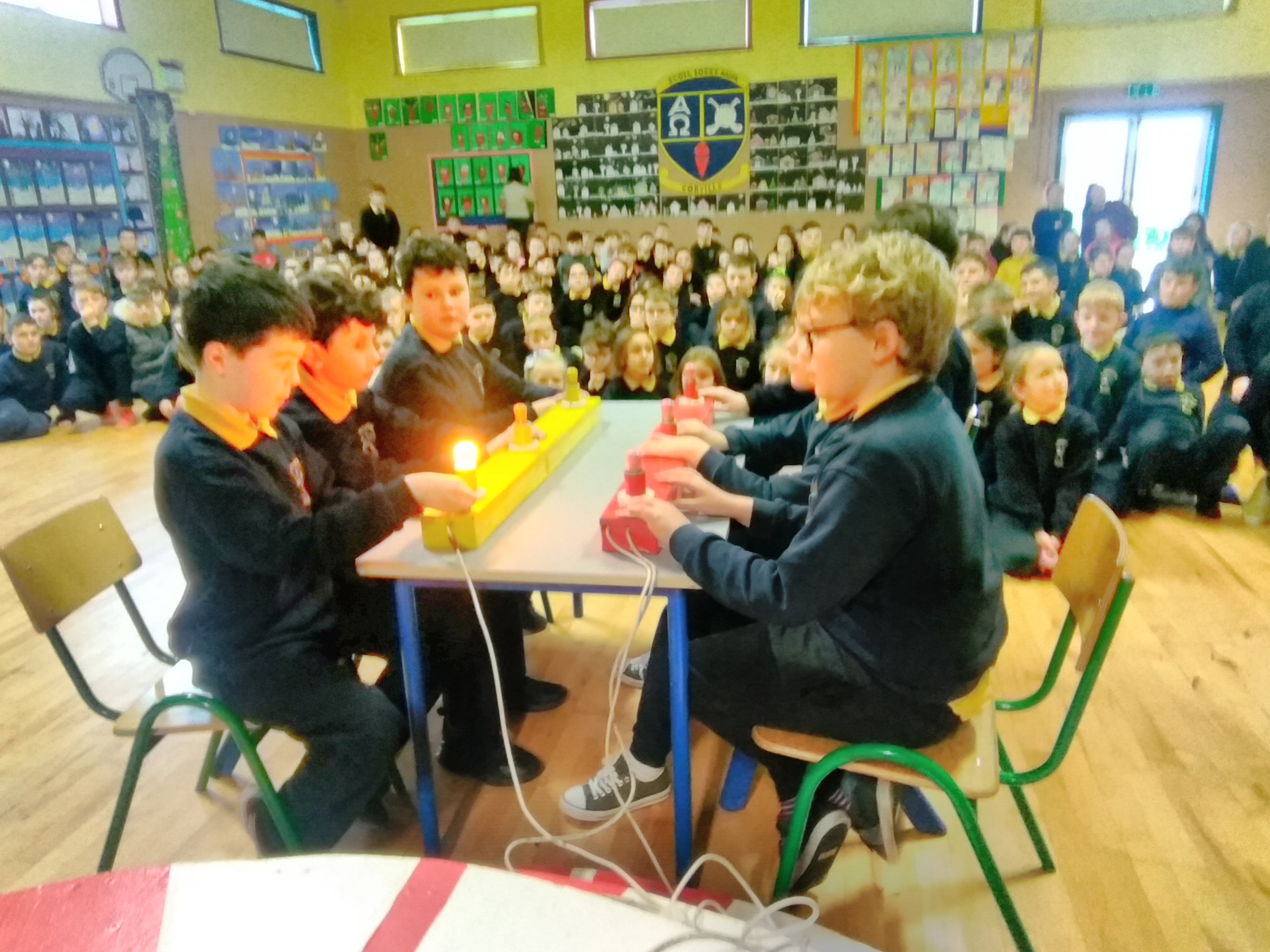 1st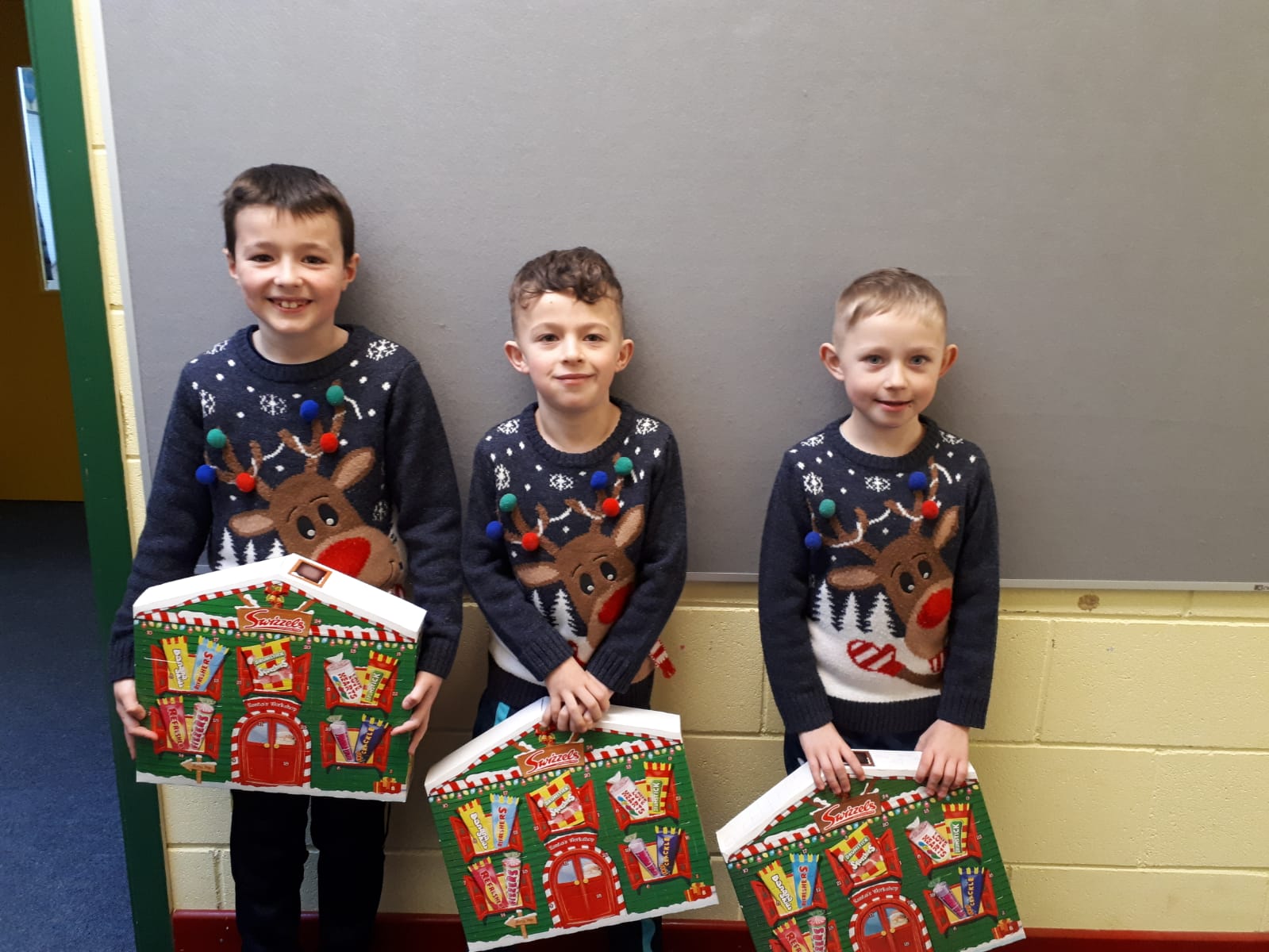 2nd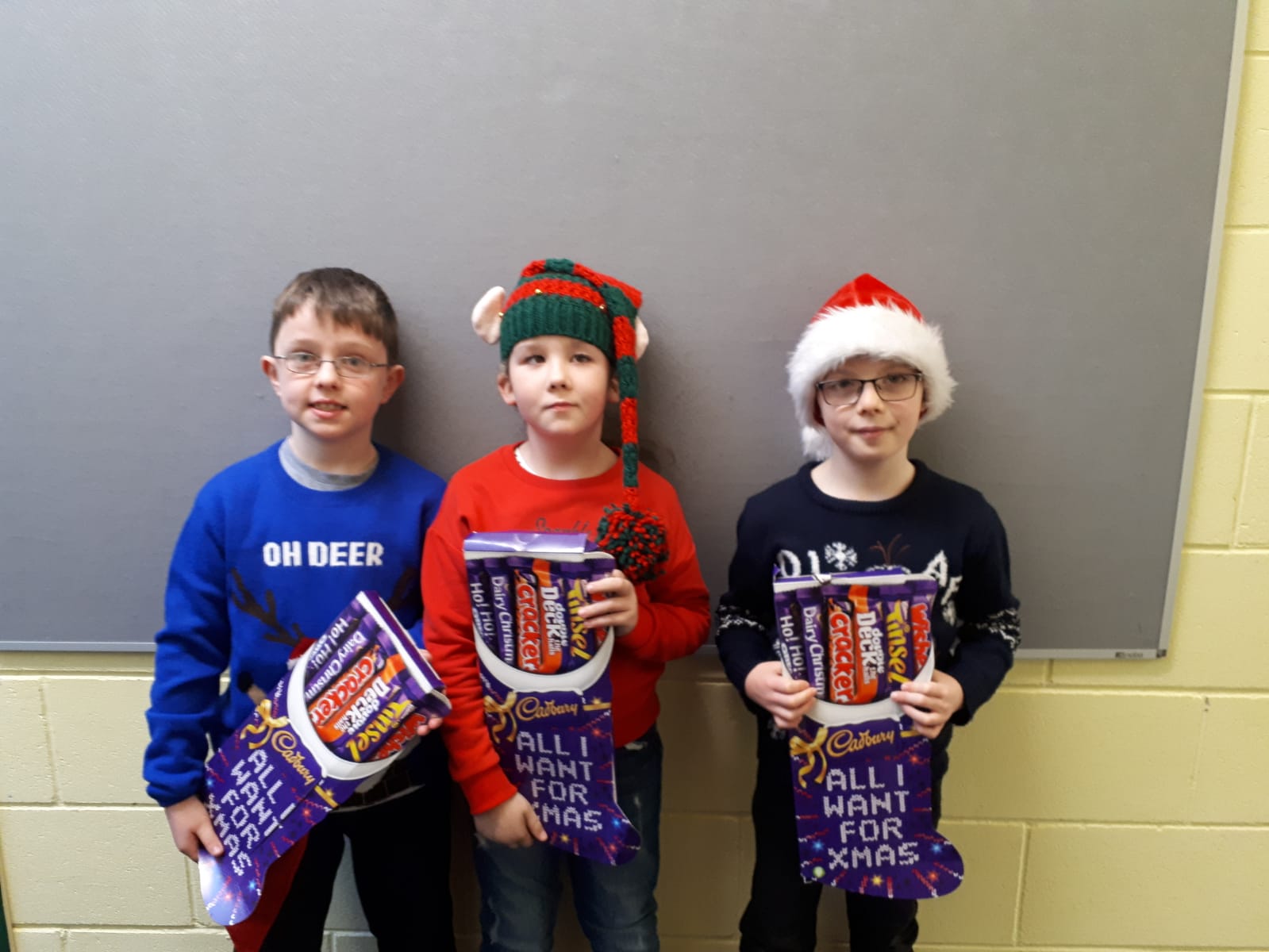 3rd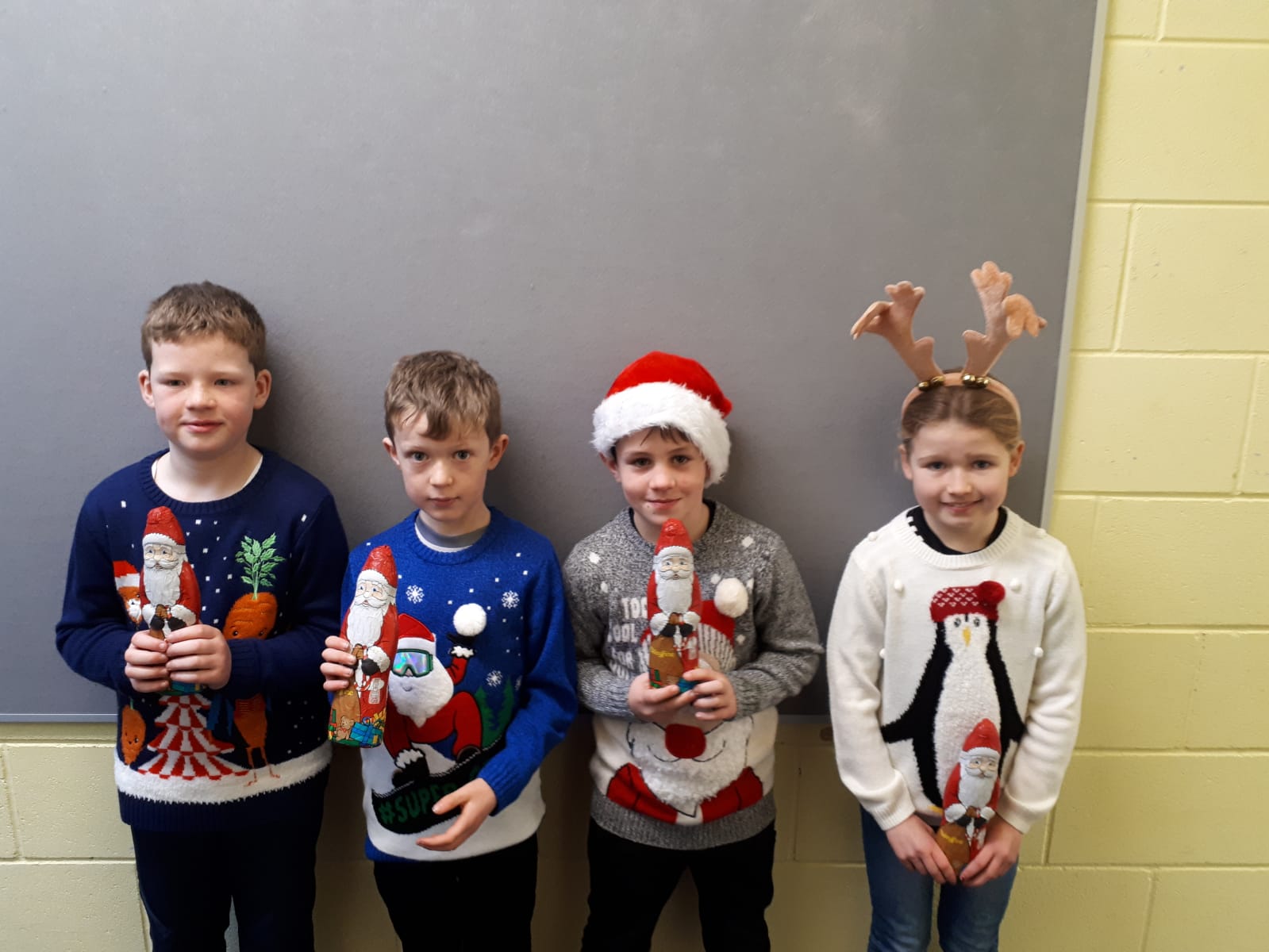 Decorating the Hall for Christmas: each class were responsible for decorating a noticeboard in the hall for the school play. A lot of work went into these displays and they turned out terrific.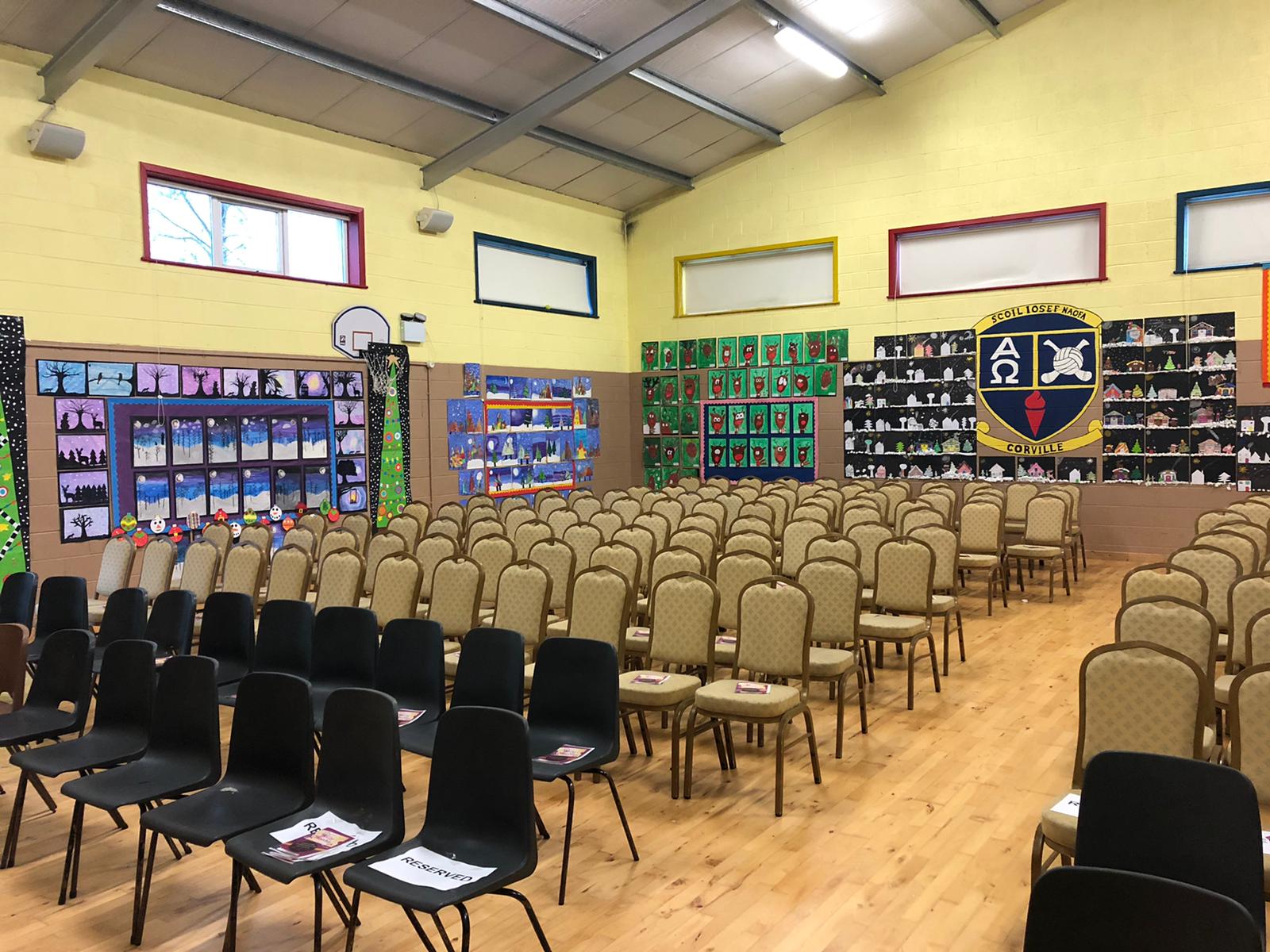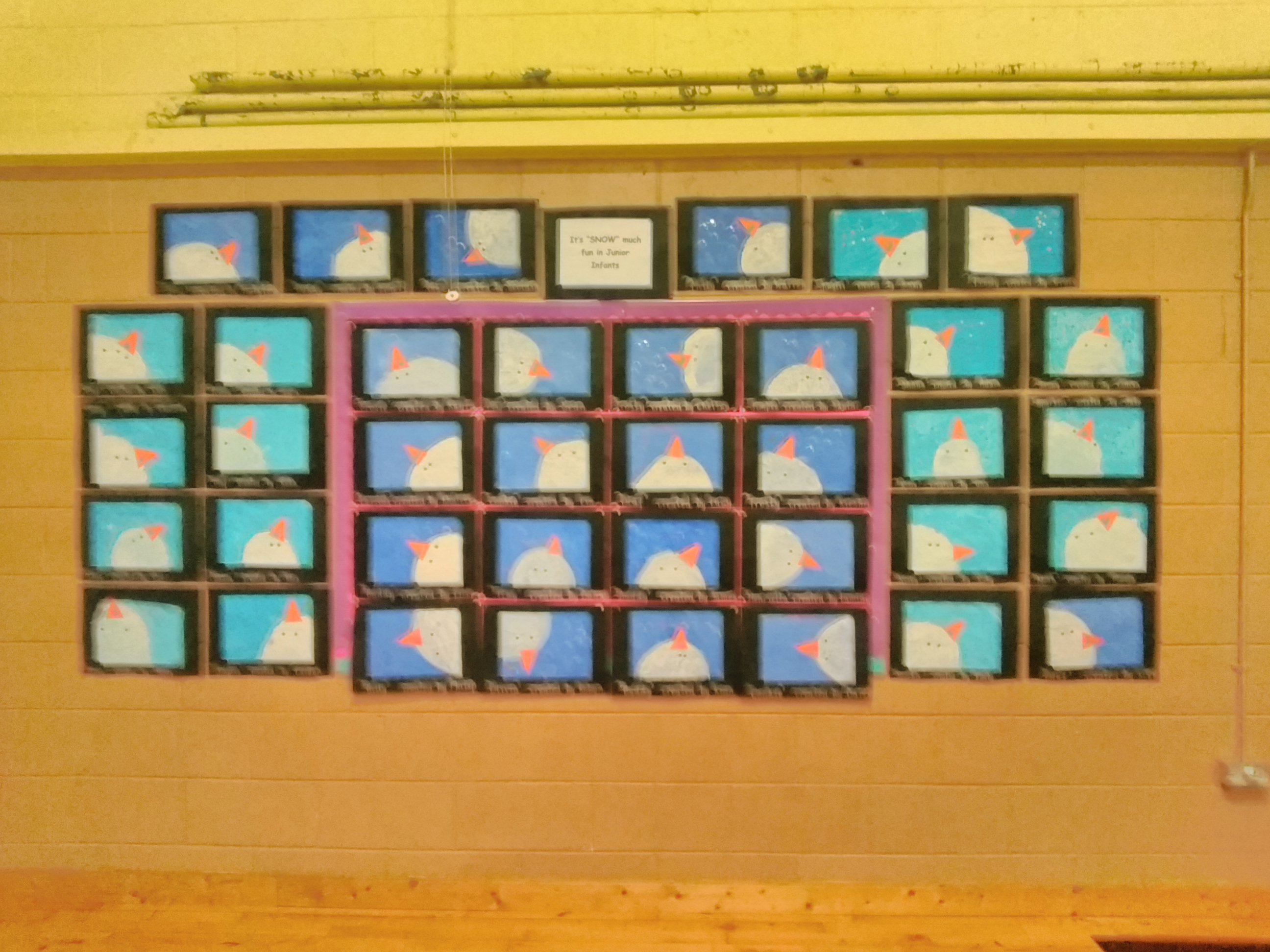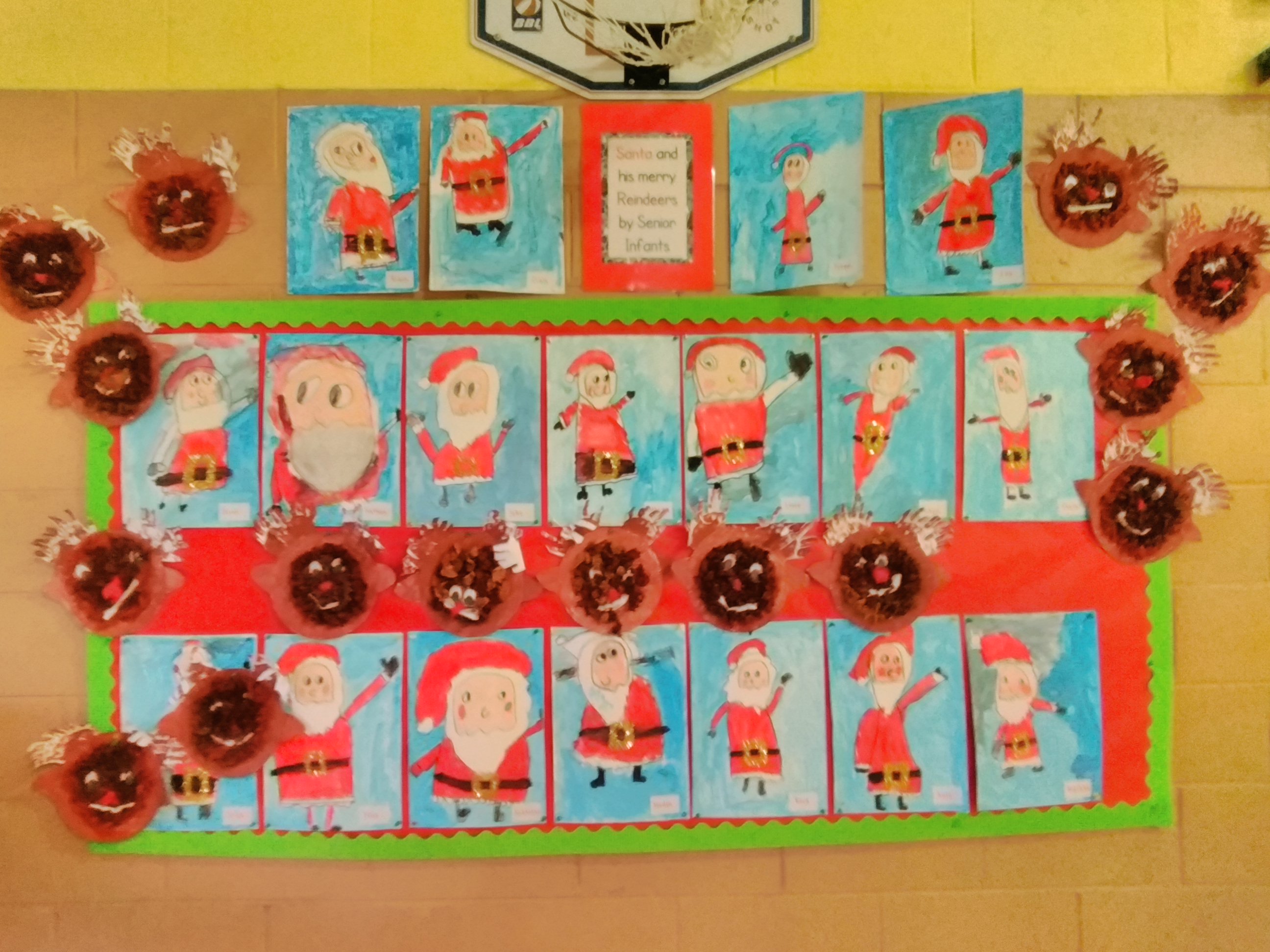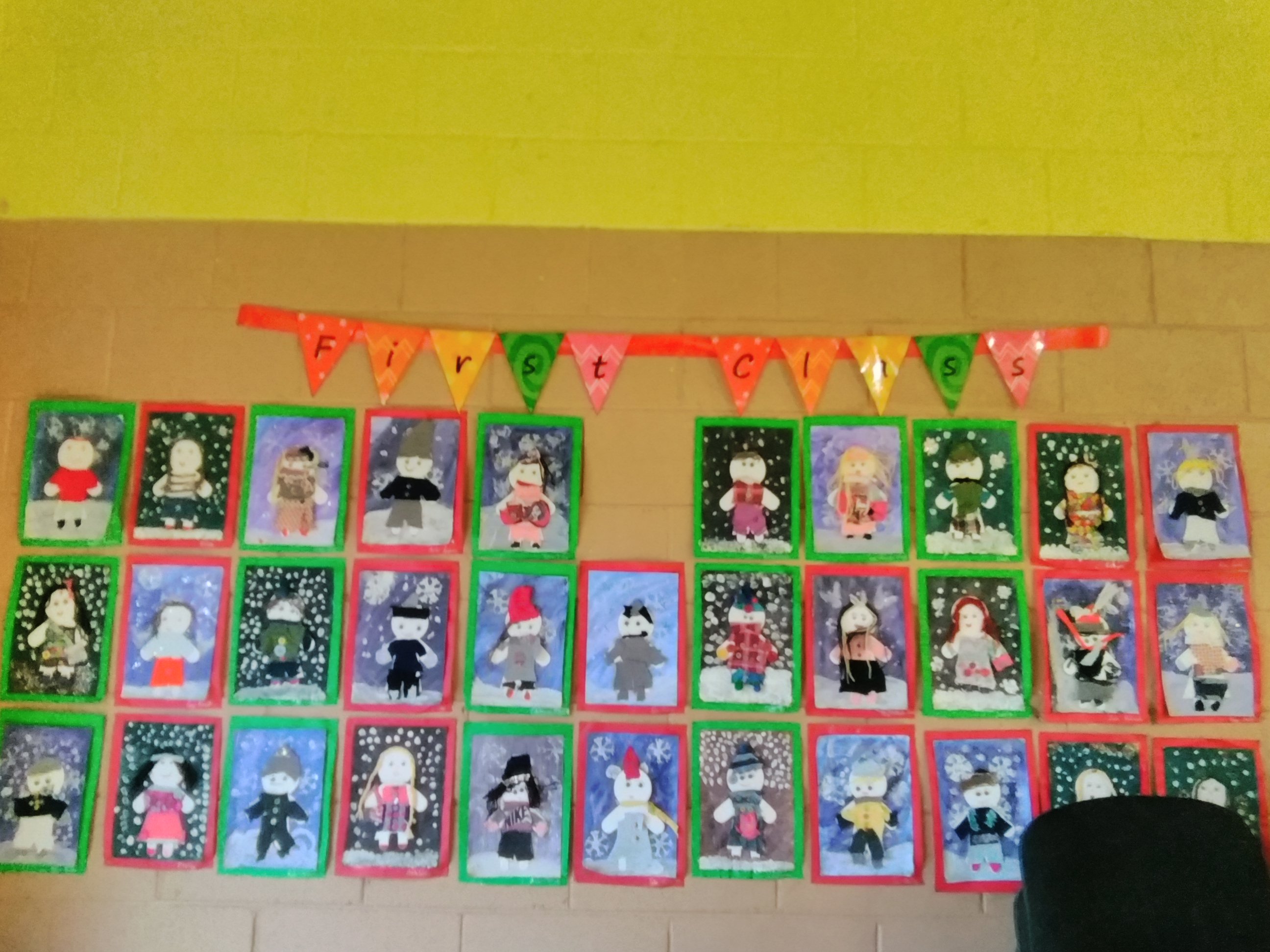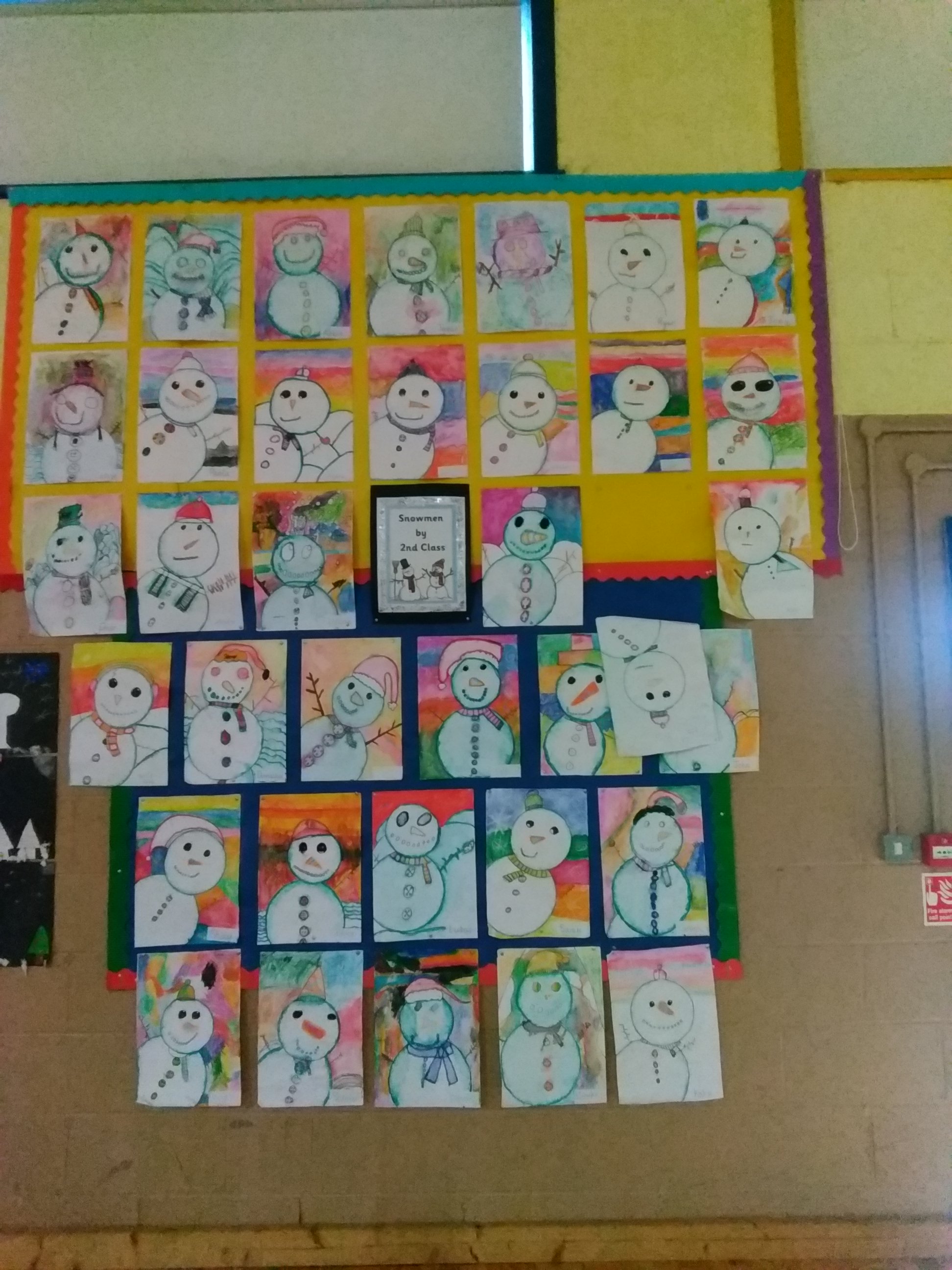 Liam McCarthy Cup in Corville: All Ireland winner Barry Heffernan arrived in to Corville with the Liam McCarthy cup recently. Each class got the opportunity to be photographed with the cup. Hopefully this will help inspire the next generation of hurling and camogie superstars in the school.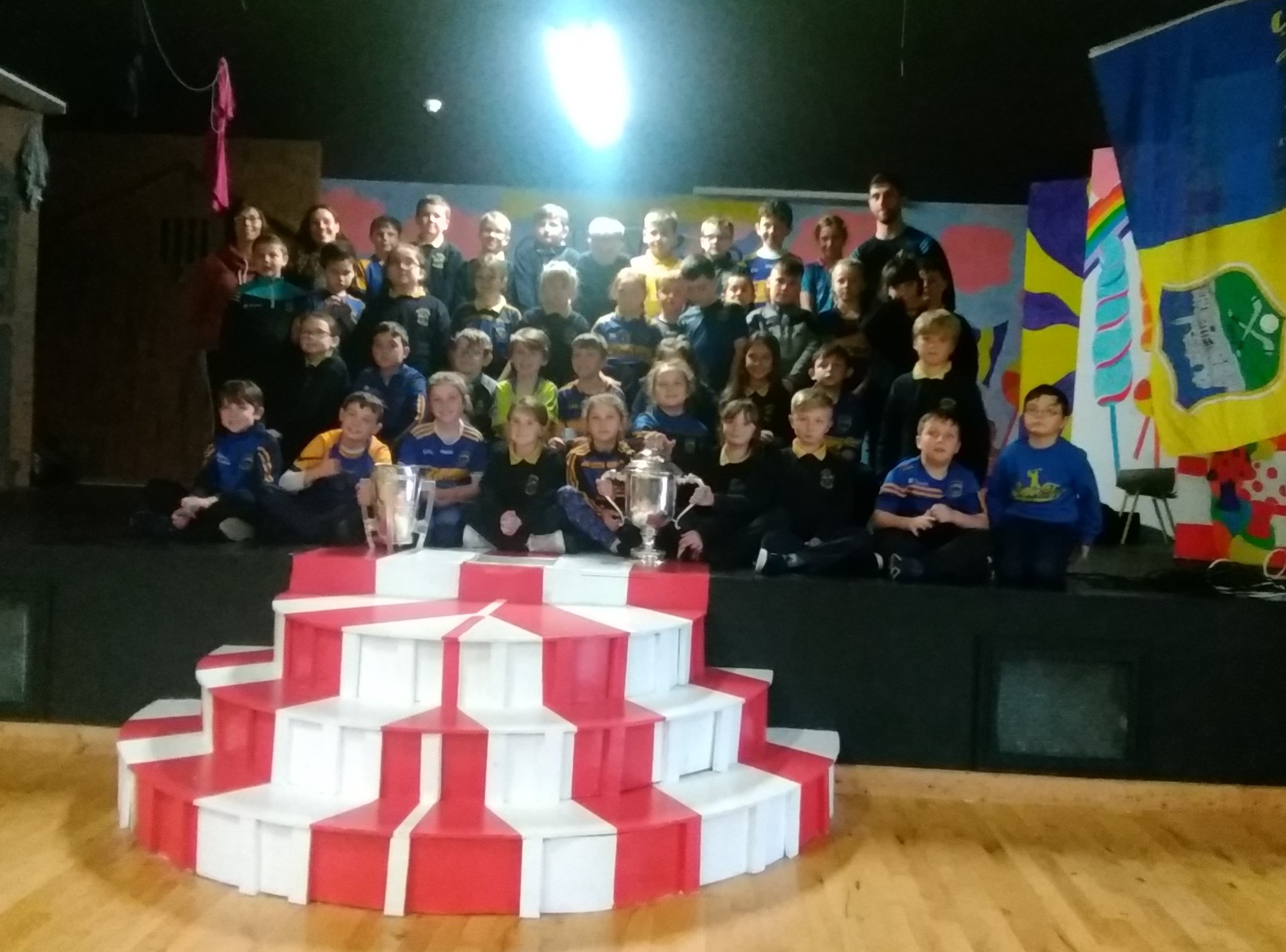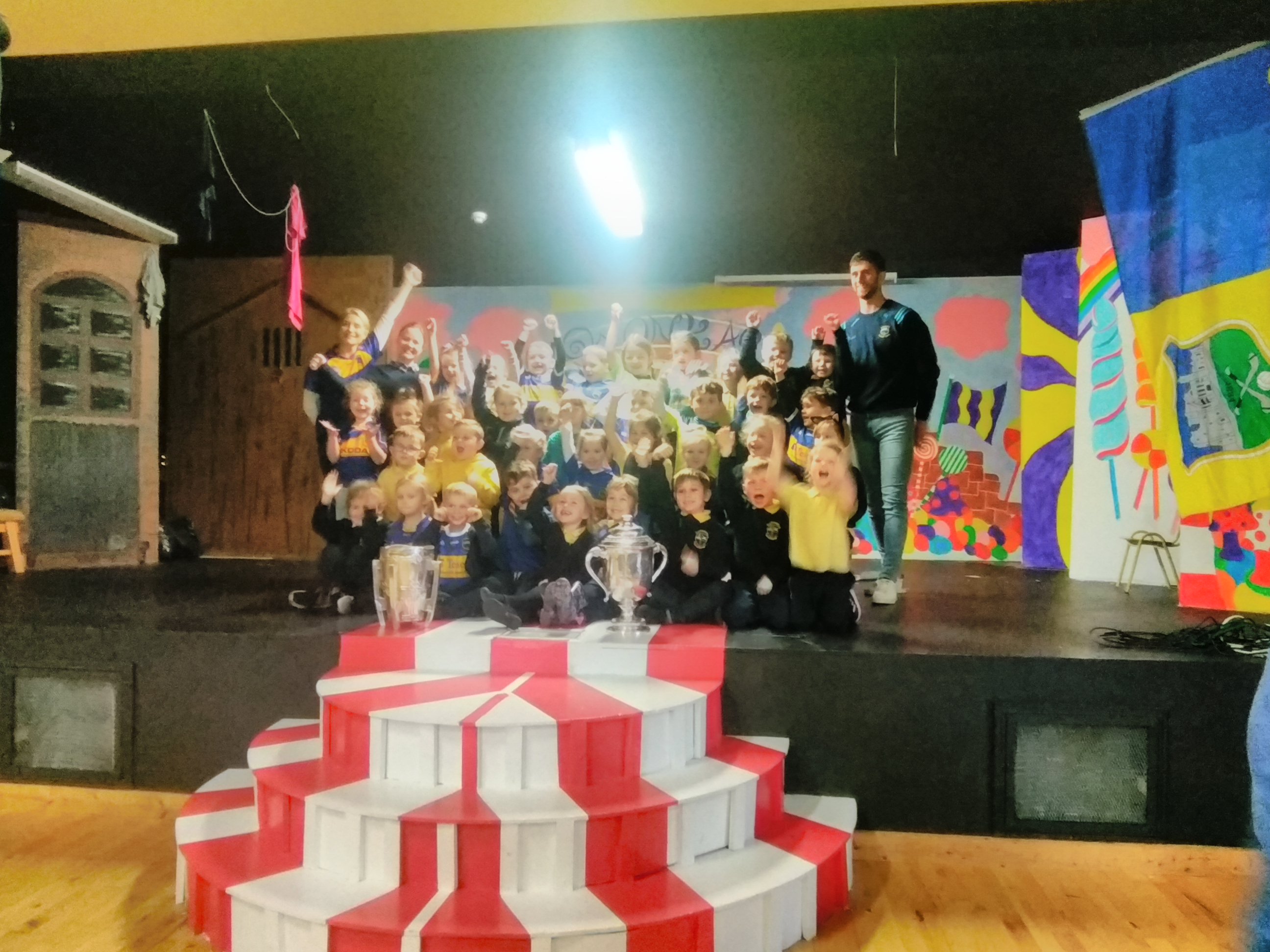 Christmas Presents: as a reward for good behaviour in Term 1 the school give out presents at our last assembly. This is always a very exciting time for all our students. Everyone wants to see their name drawn out of the envelope. Unfortunately there can be only two names picked from each class level. Congratulations to all those who got to go up on stage to rip open their present and thanks to all our students for showing great manners throughout term 1.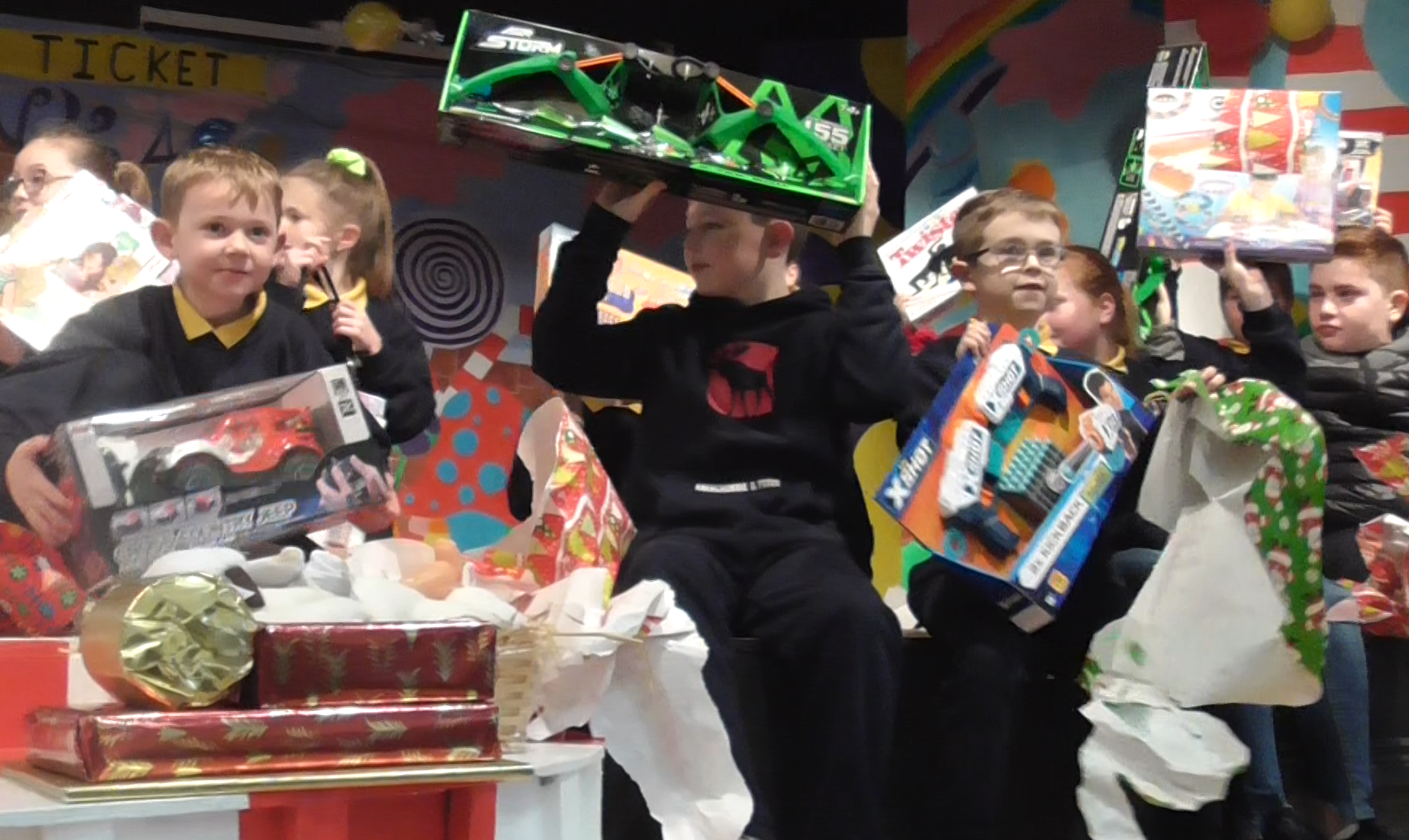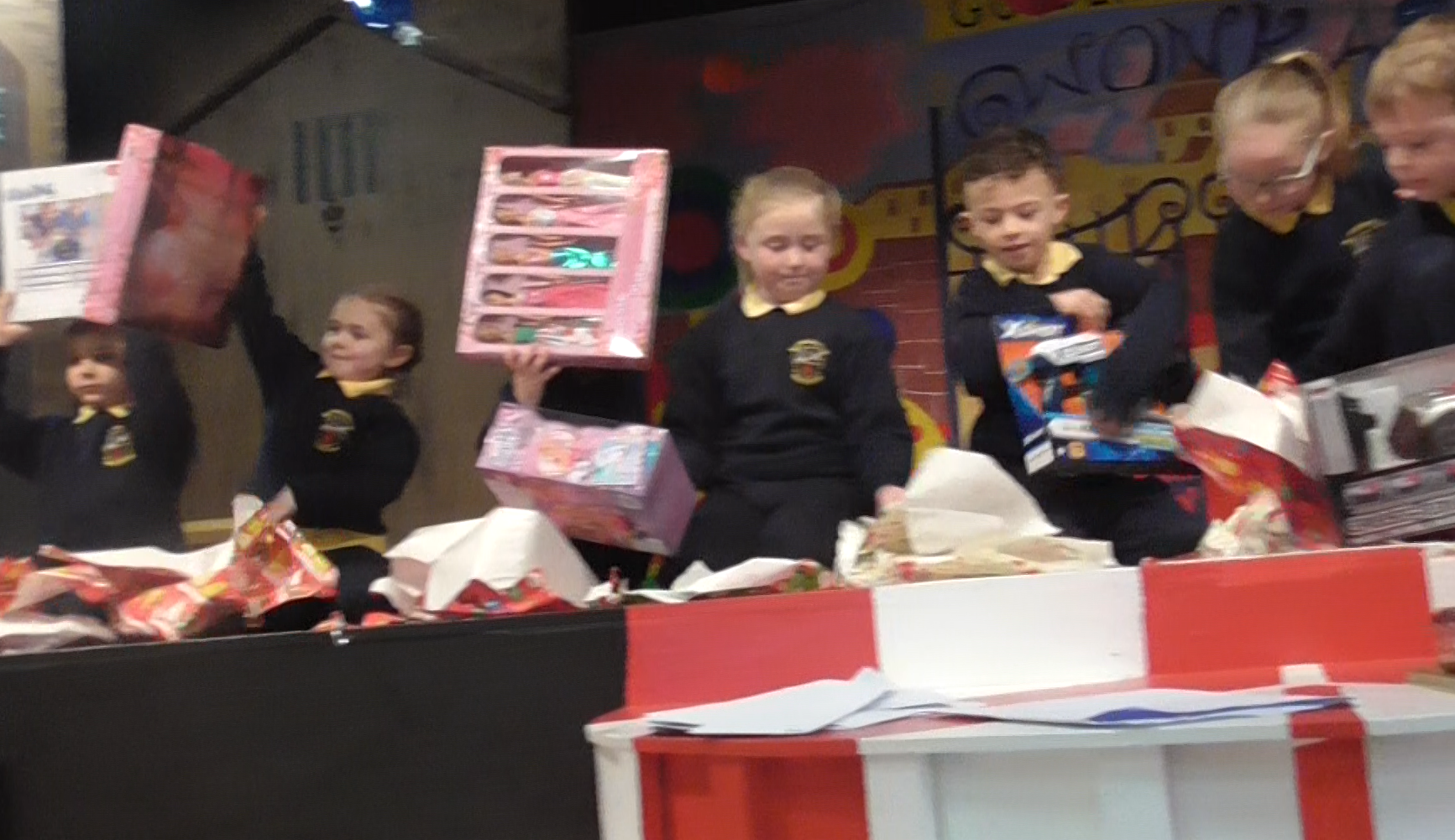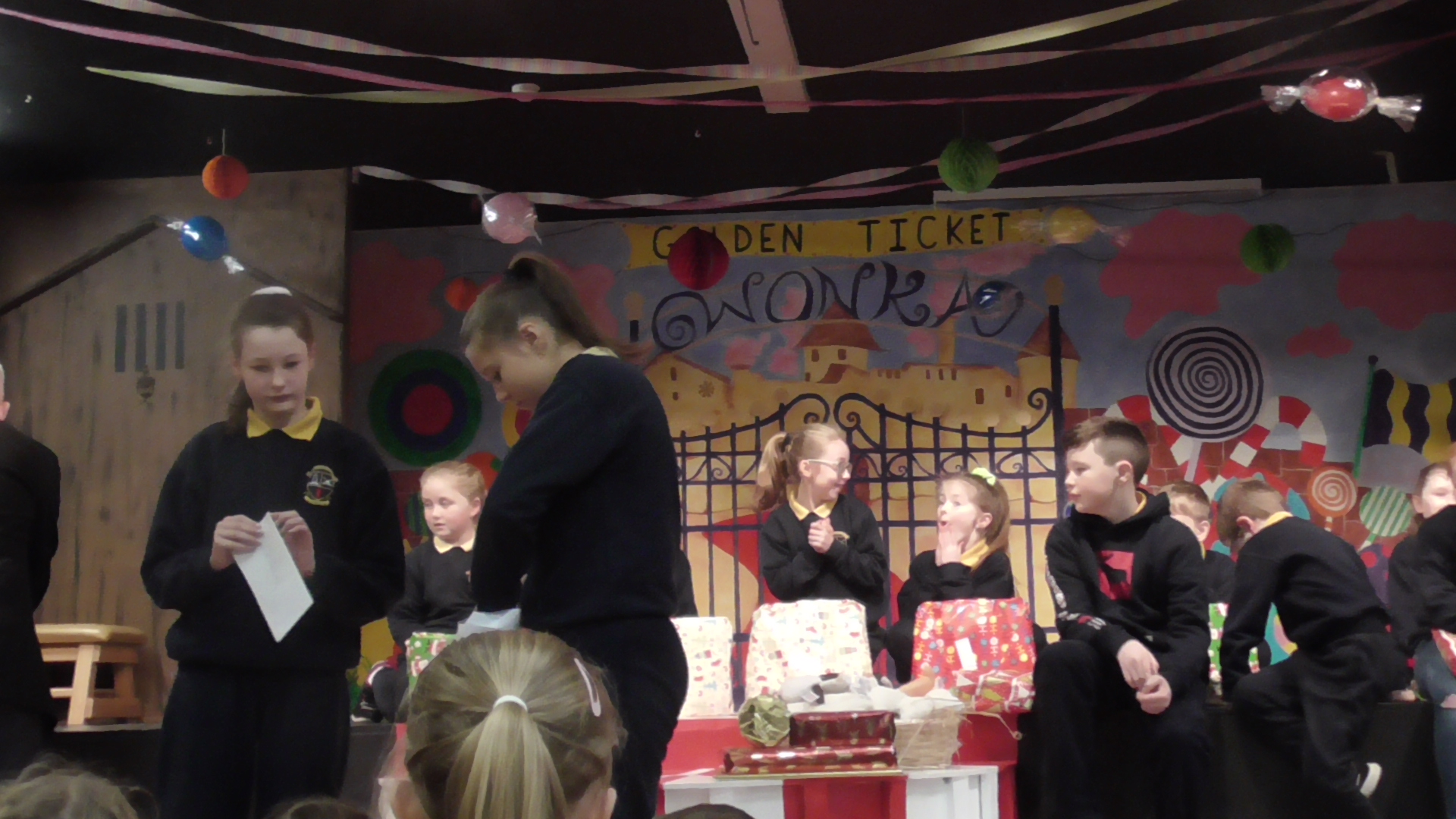 Assembly Performances: we had our final few assembly performances in December. Three times a year, each class must get up on stage and perform in front of the whole school at assembly. this is great for boosting confidence.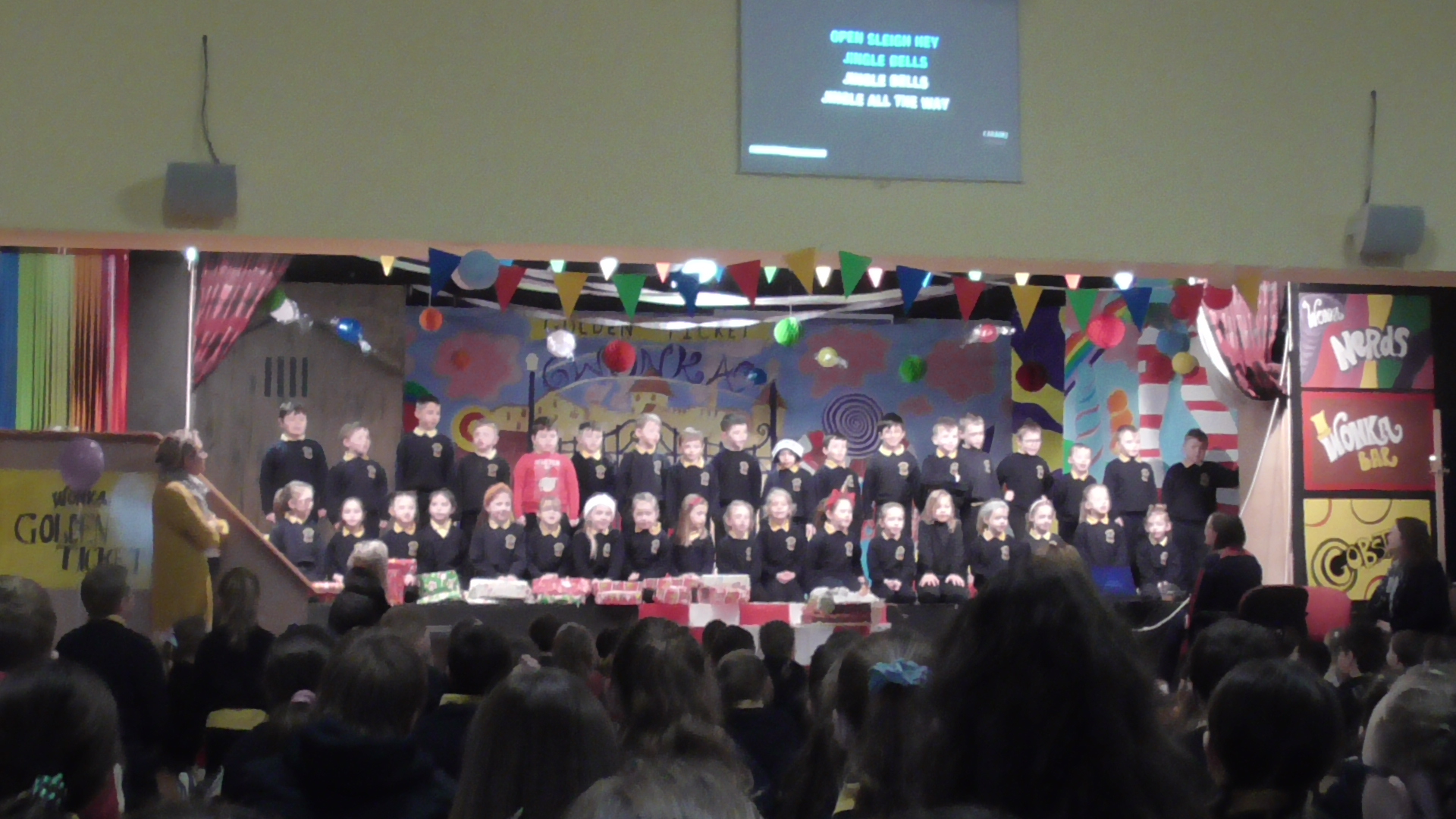 Christmas Shoebox Appeal: thanks to everyone who contributed to this appeal. We received a huge amount of boxes once again this year. It is all for a very worthy cause so we are very appreciative of your generosity.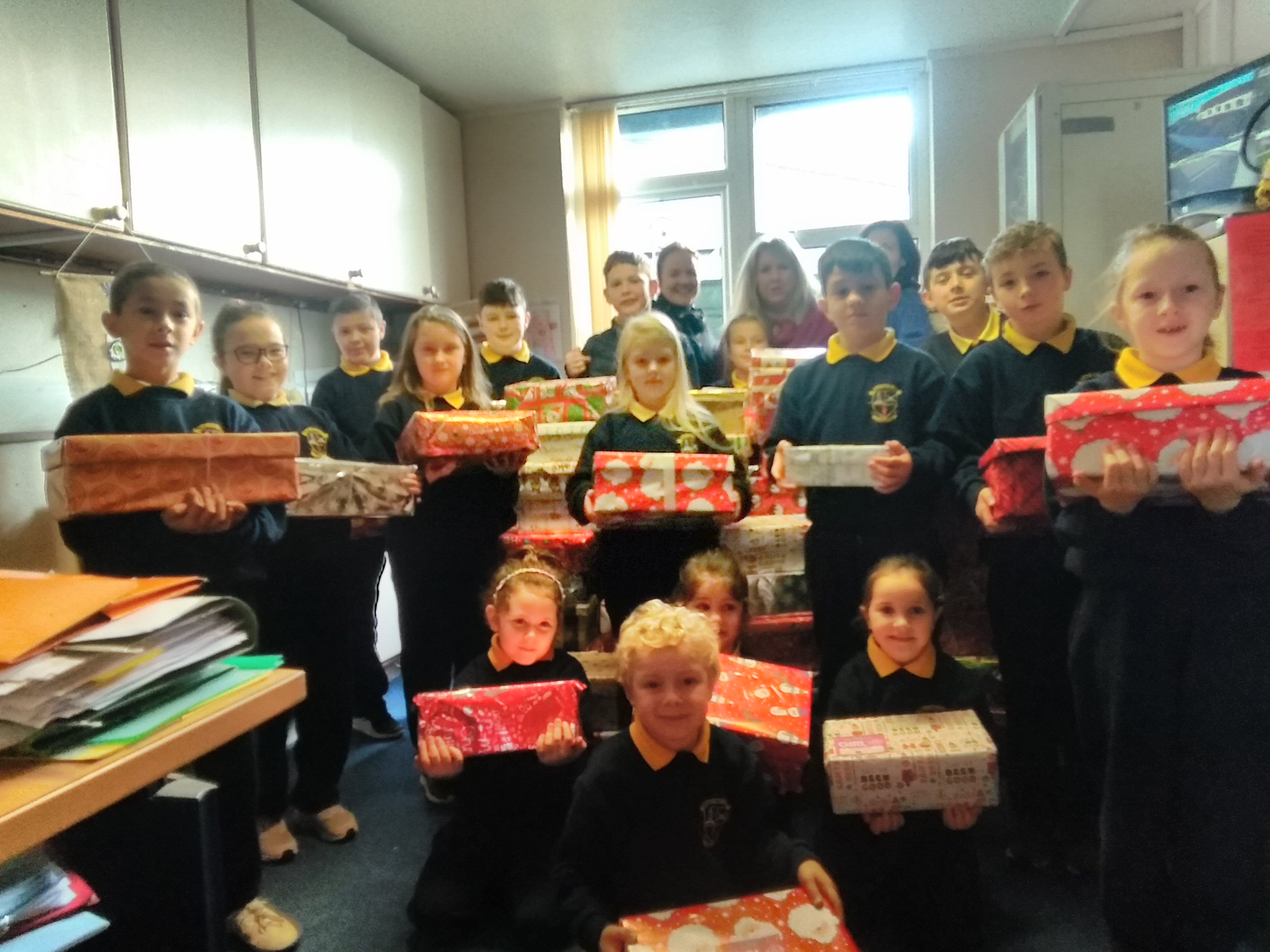 6th Class Blog: our 6th class students continue their blogging adventures. This time they blogged about art, Guess What competition, the Liam McCarthy Cu, Edgars's 'Learn Latvian' student lesson, silhouette art, and Bailey and Dan winning the Fastest on the Draw competition. You can follow their blog >> here.