Corville Updates
- 15

/

02

/

2018
The mid-term break is upon us and we hope everyone enjoys the few days off. We have a few news items to share with you as it was a busy few days for us leading into the break. Before we get into that, we urge you to visit our school Facebook page and give us a Like ( click here ). This will help you keep updated with everything that is happening in the school and there are always lots more photos available there. On with the news……..
'Songs from the Heart' CD Launch: the school choir launched their Valentine's Day CD on Wednesday. It was a very special day for the school as a lot of hard work went into this CD and we were delighted with the end product. To launch the CD we invited the Corville community into the school hall to hear our choir singing 3 songs, the highlight being a great rendition of How Far I'll Go from Moana. Tipp hurling star Ronan Maher was there to help launch the CD and he signed plenty of copies when they went on sale. The children were also featured on Tipp FM with songs from the album being played and there was an interview with Ms. Browne. We received plenty of praise for our efforts and all the student and tachers involved in the project are on cloud nine. This CD is raising much needed funds for the school and can still be purchased from the school for €10.
Here is another sample song – Bonfire Heart ( click to listen ) Enjoy!!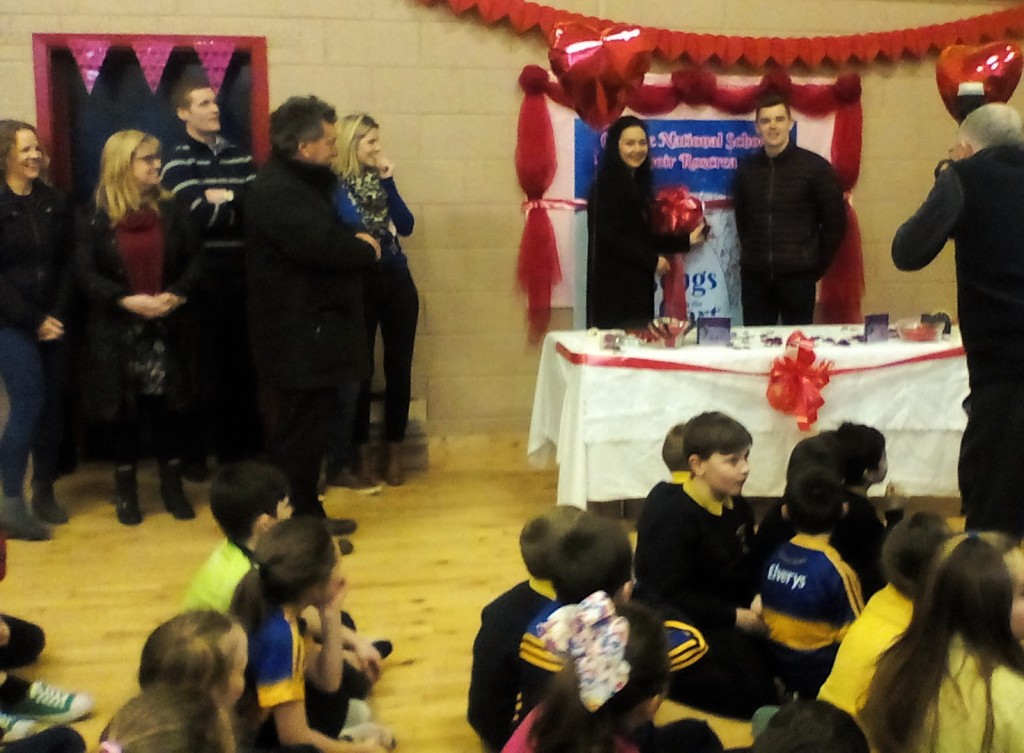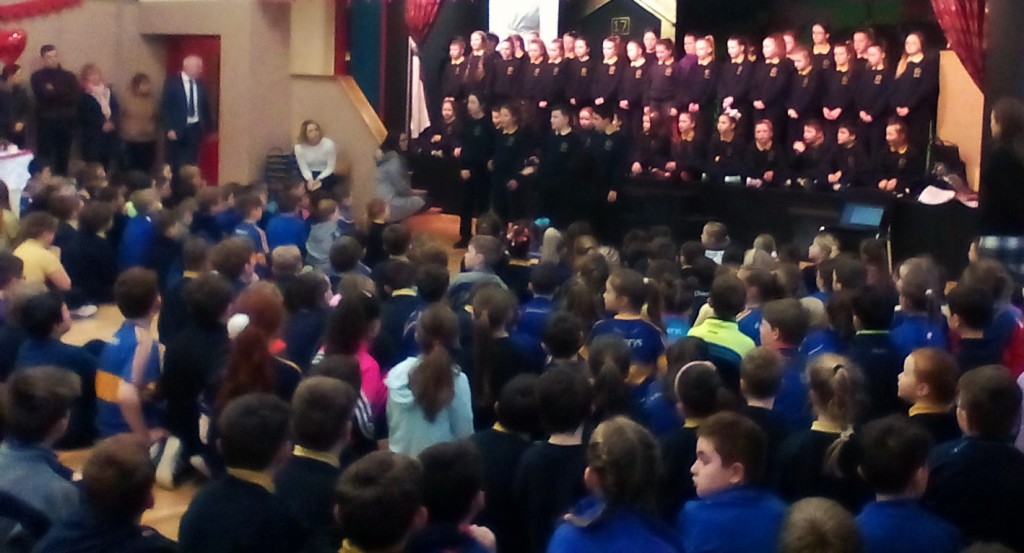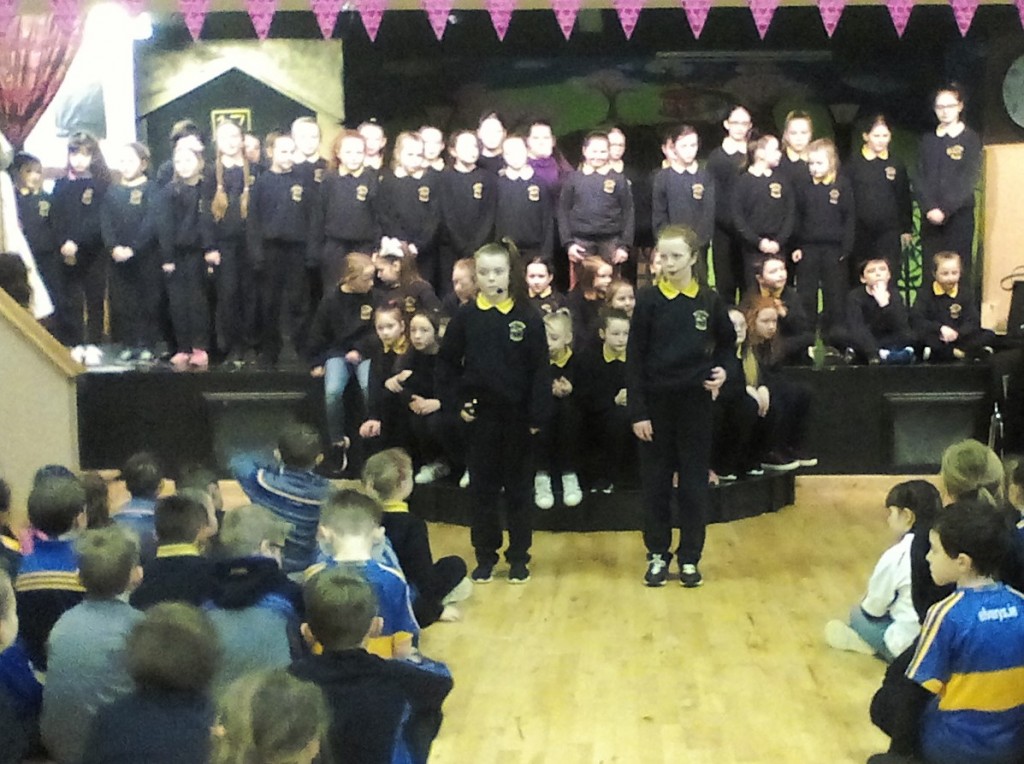 jersey signing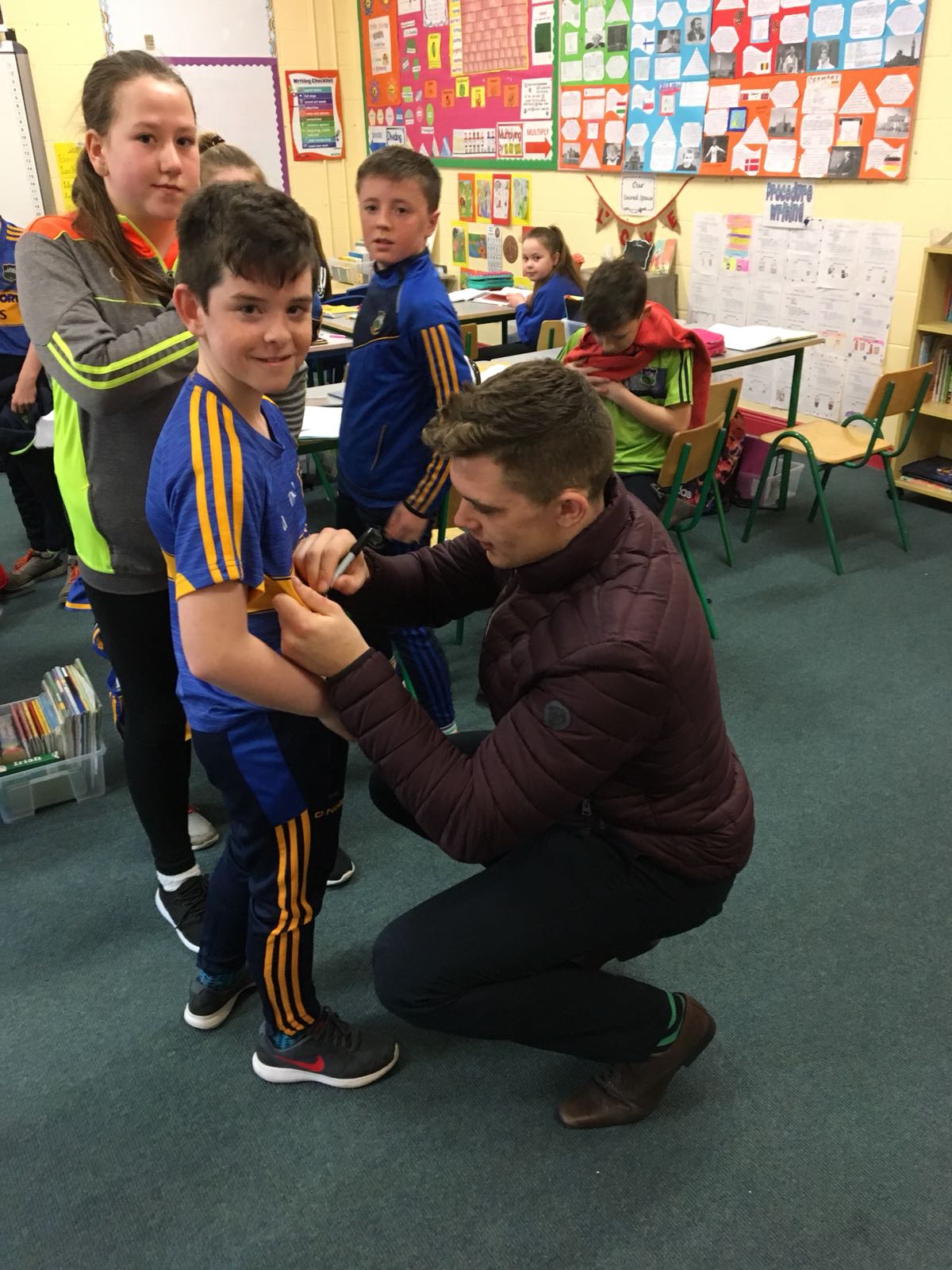 Fundraising: the school recently held a 'Crazy Hair Day' fundraiser for 5th class student Cian Kruse. We were delighted with the response from the community and the generous donations given. We managed to raise €900 from the day.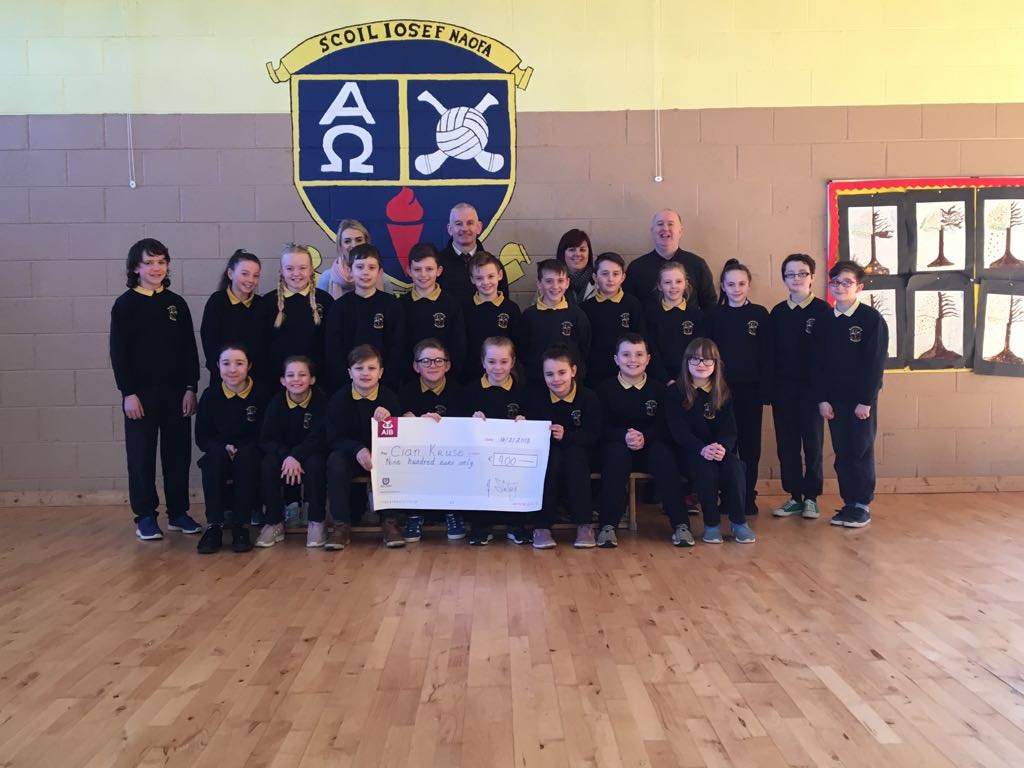 Amber Flag: Talk on Mindfulness – we welcomed teacher and author Siobhán Hackett to the school last week to give a very interesting talk on mindfulness to our 5th and 6th class students. The students learned many important strategies for dealing with the problems they might be experiencing. This chat will empower Corville children to believe that regardless of what obstacles they are presented with in life they can succeed.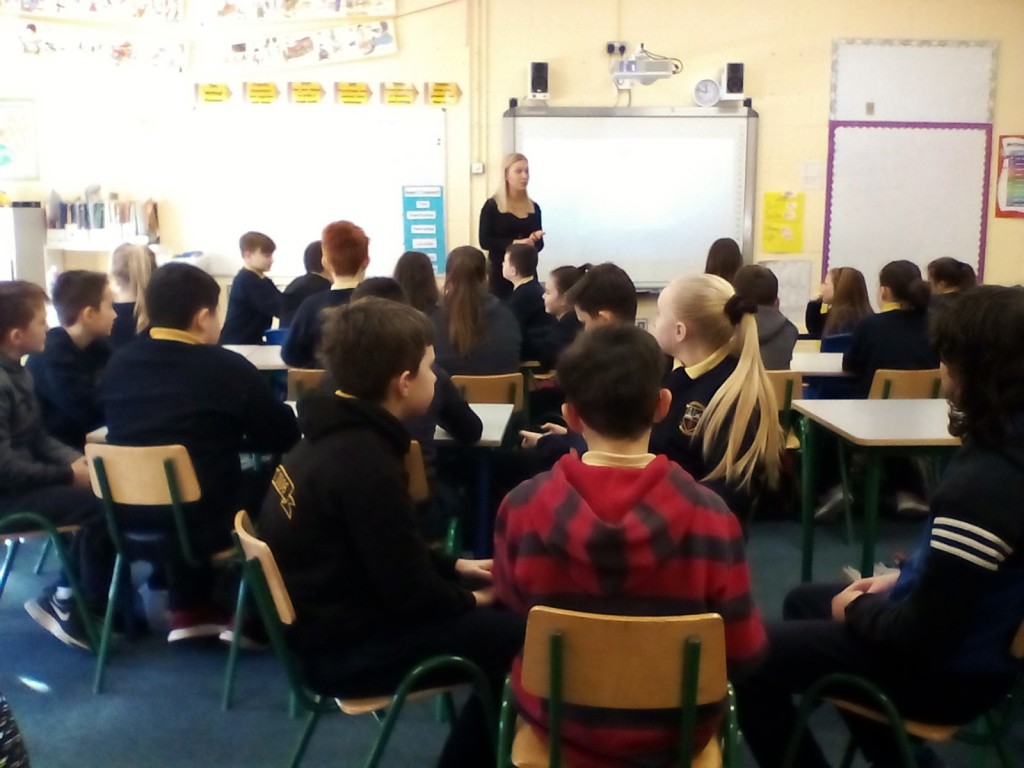 Ash Wednesday: Fr. Harding and Fr. Treacy visited the school on Wednesday and the students received the traditional ashes on their foreheads. This marks the start of Lent so hopefully all our boys and girls will try to give up something for those 40 days!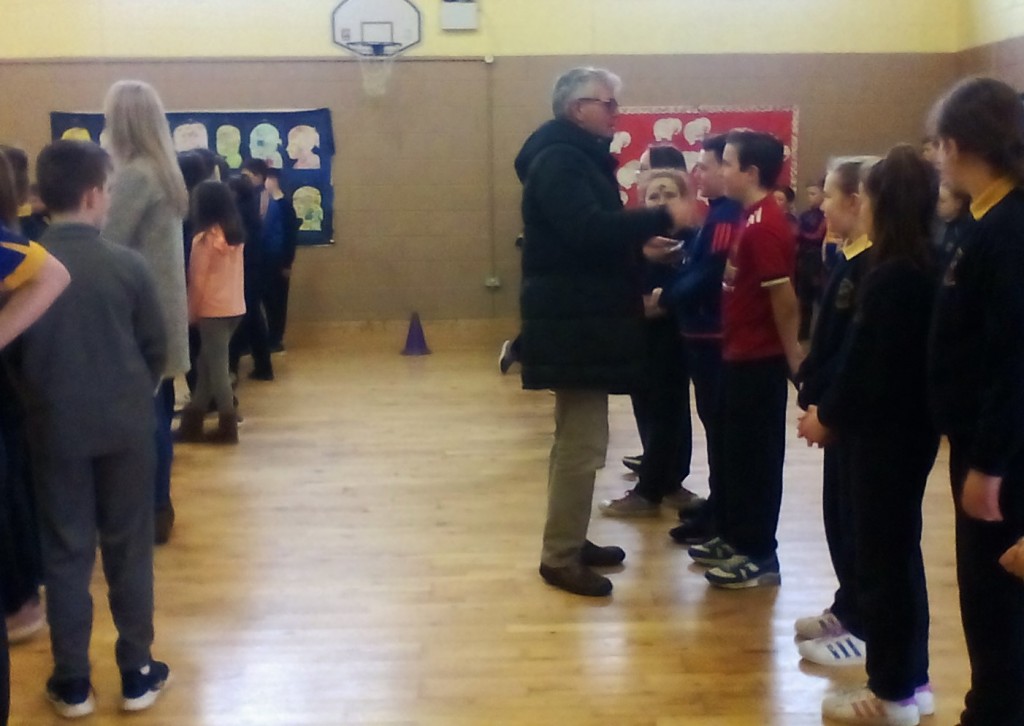 Pancake Tuesday: the unmistakable smell of pancakes hit all corners of the school on Tuesday as each classroom was treated to some pancakes. Junior Infants had the easier task of eating them, while the 6th class students had to make their own!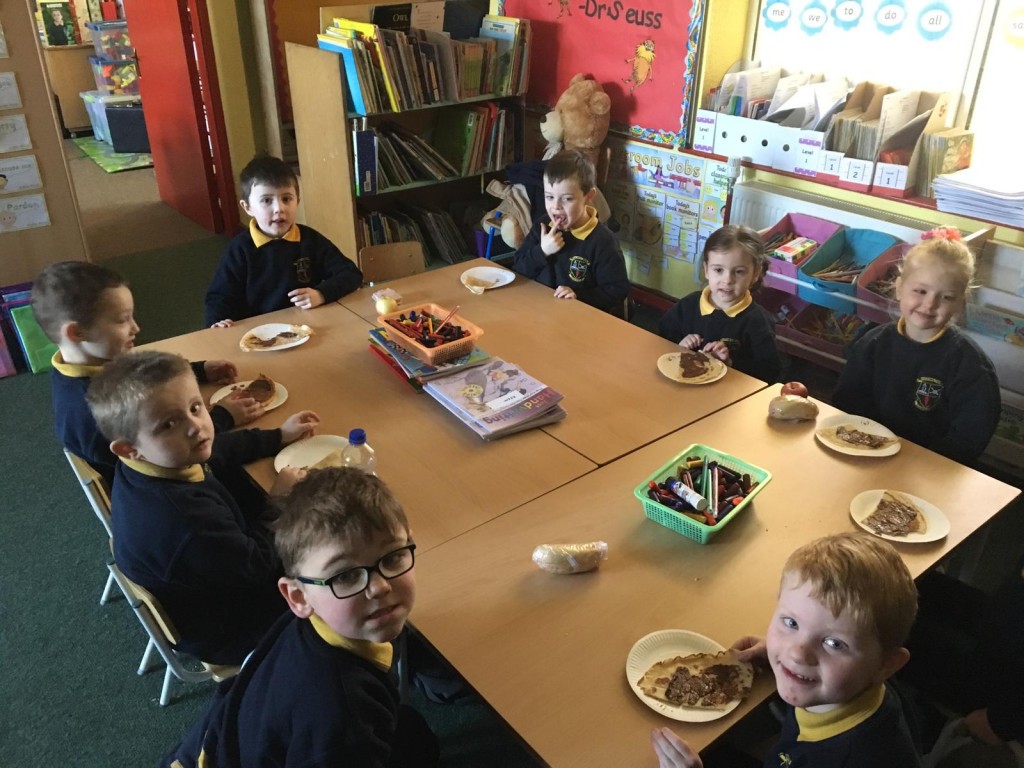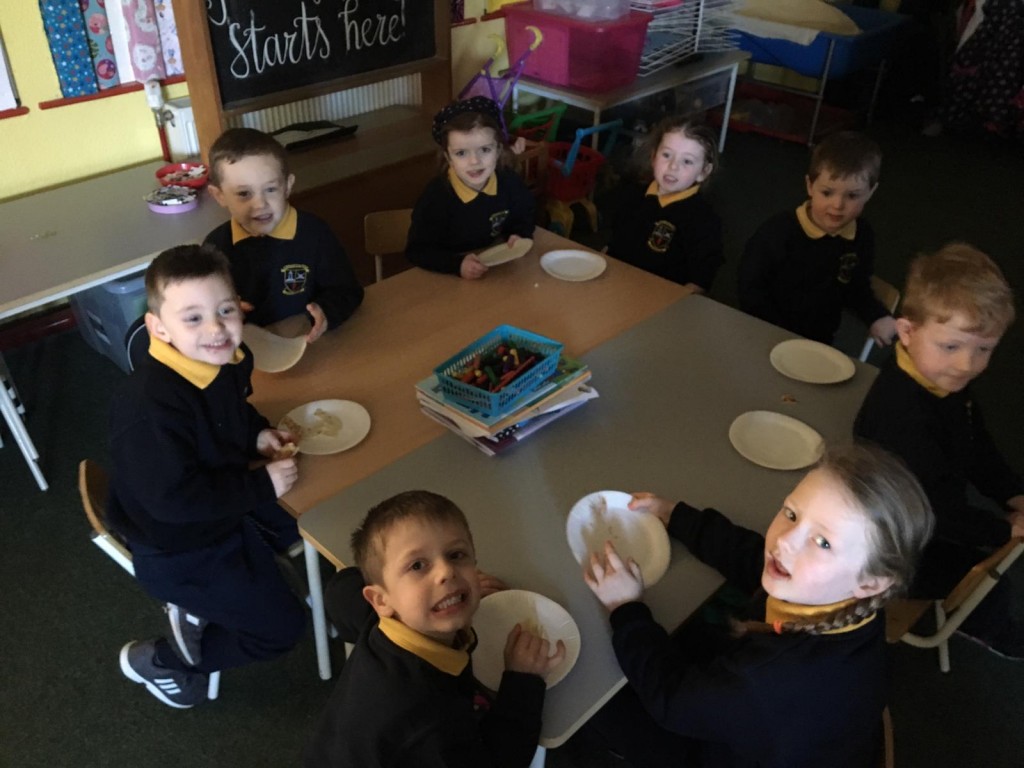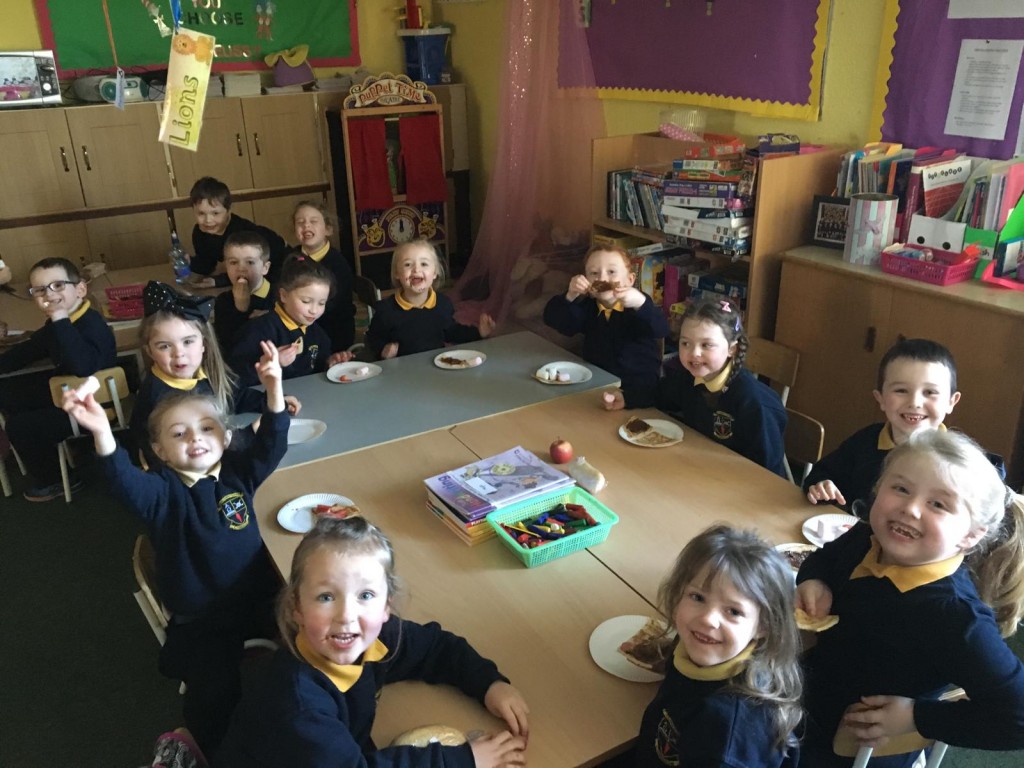 Making Slime! Mr. Phelan and his students from 4th class visited our junior infants to help them make slime. It was all pretty disgusting but the students seemed to love it!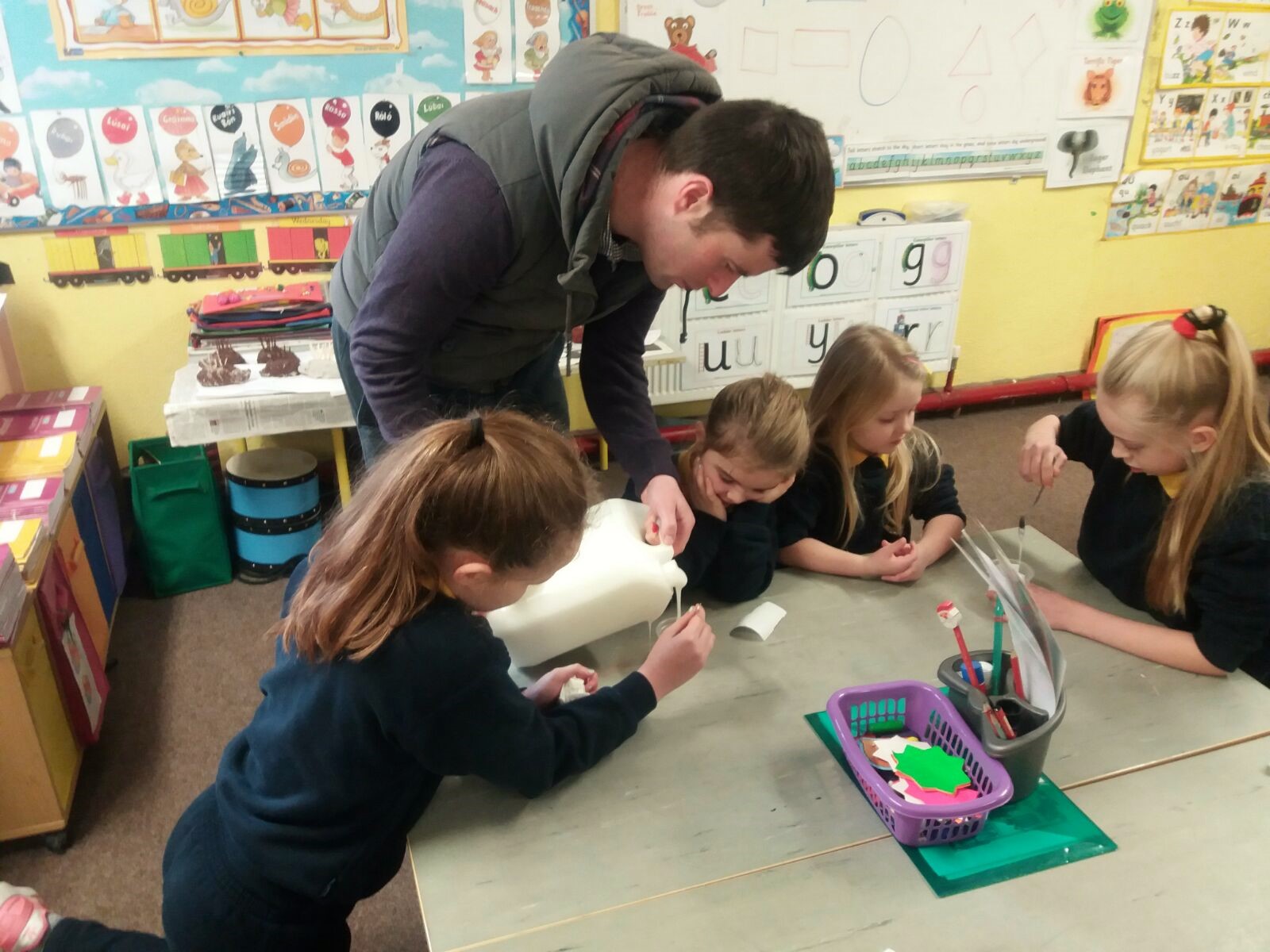 Grandparents Day: we have even more photos from Grandparents day up on our school Facebook page. Here are just a few: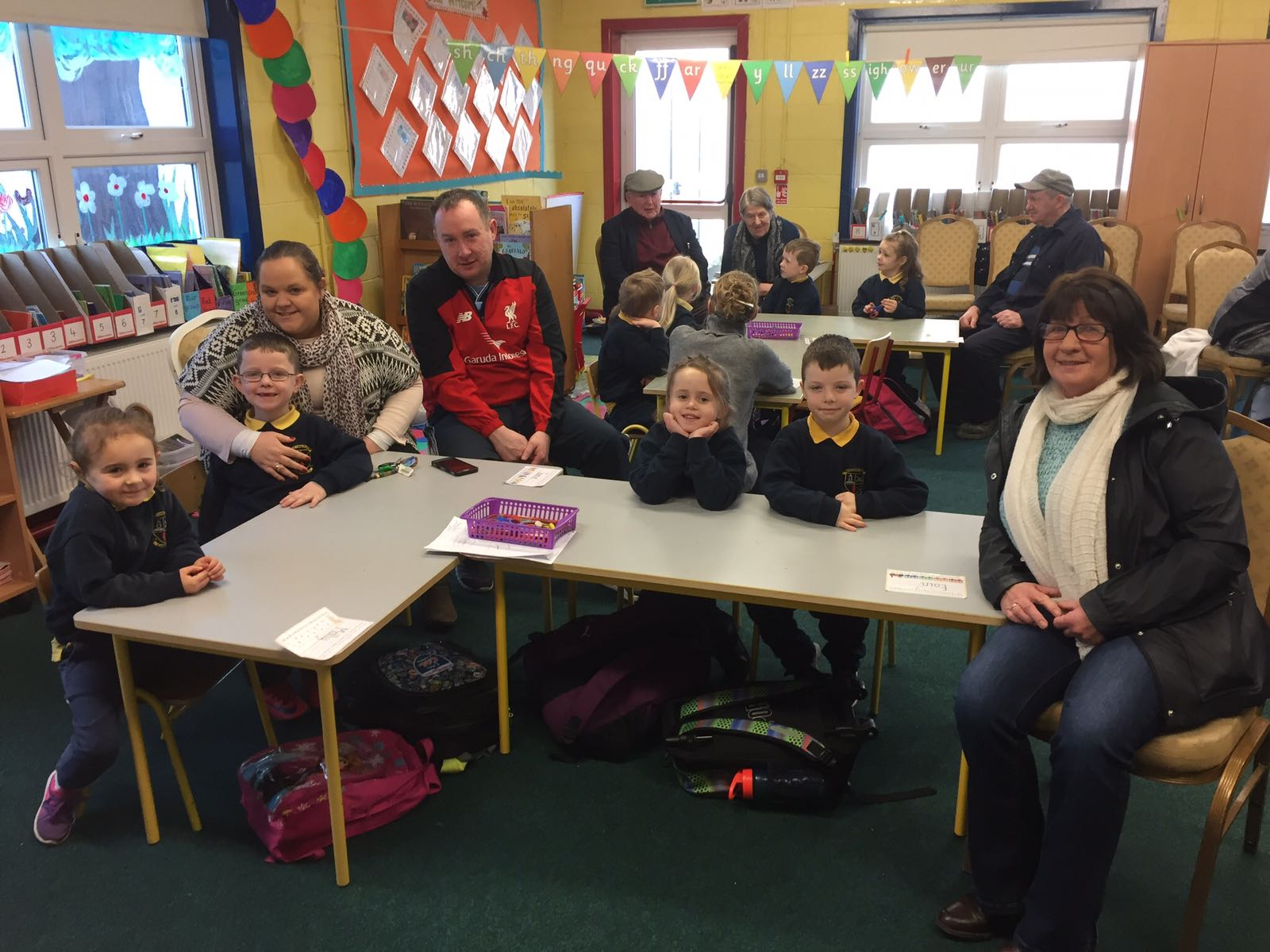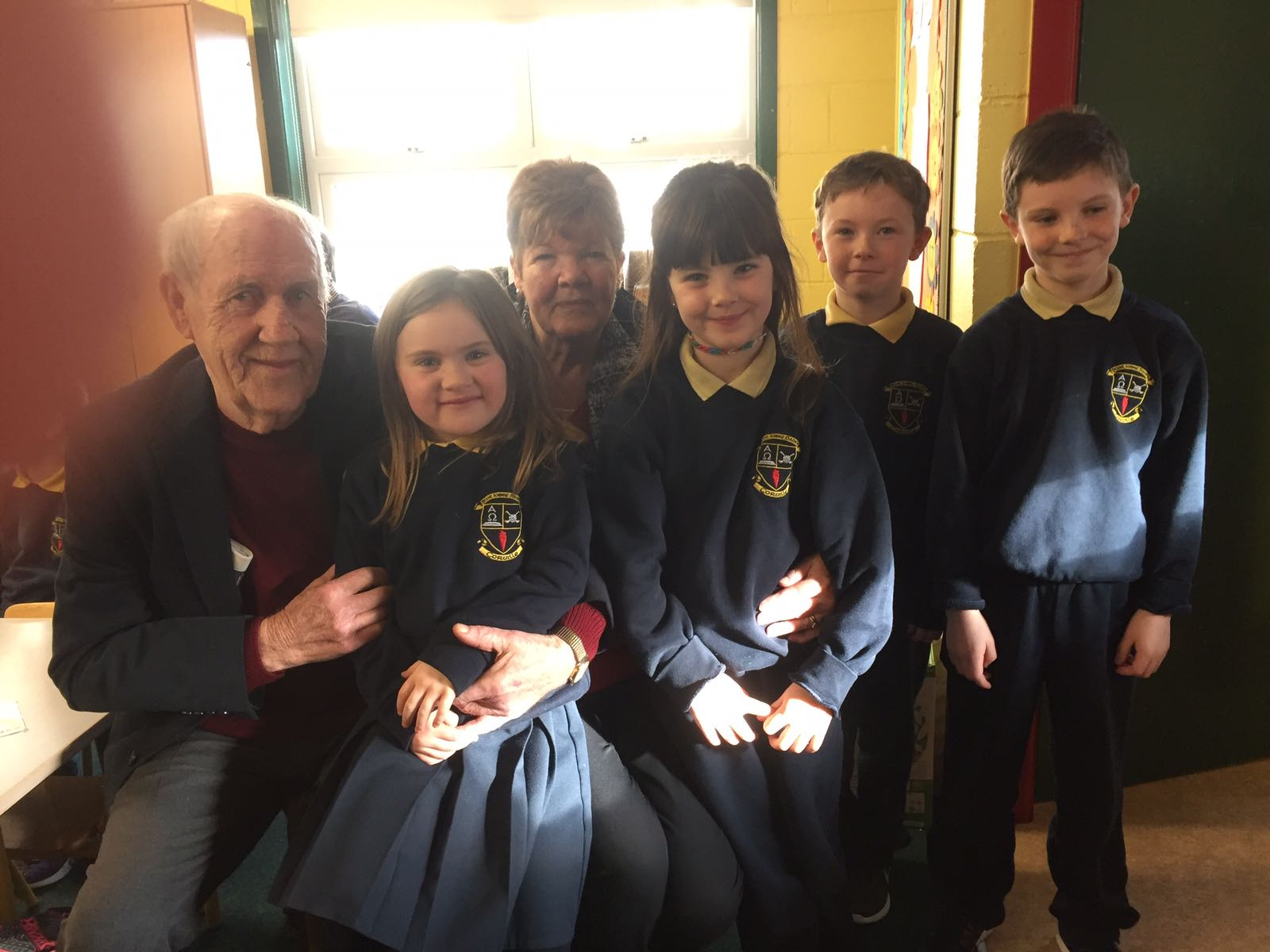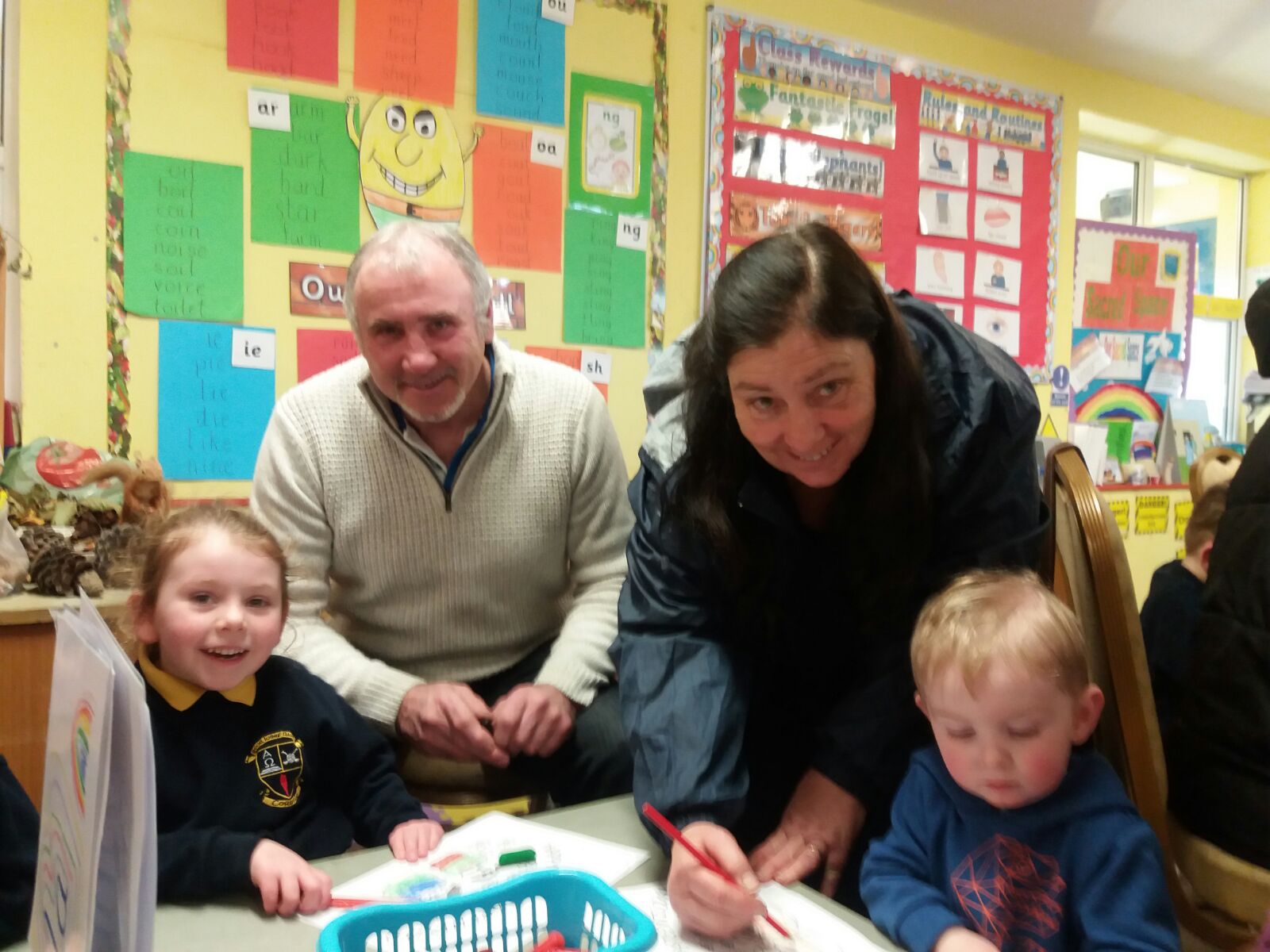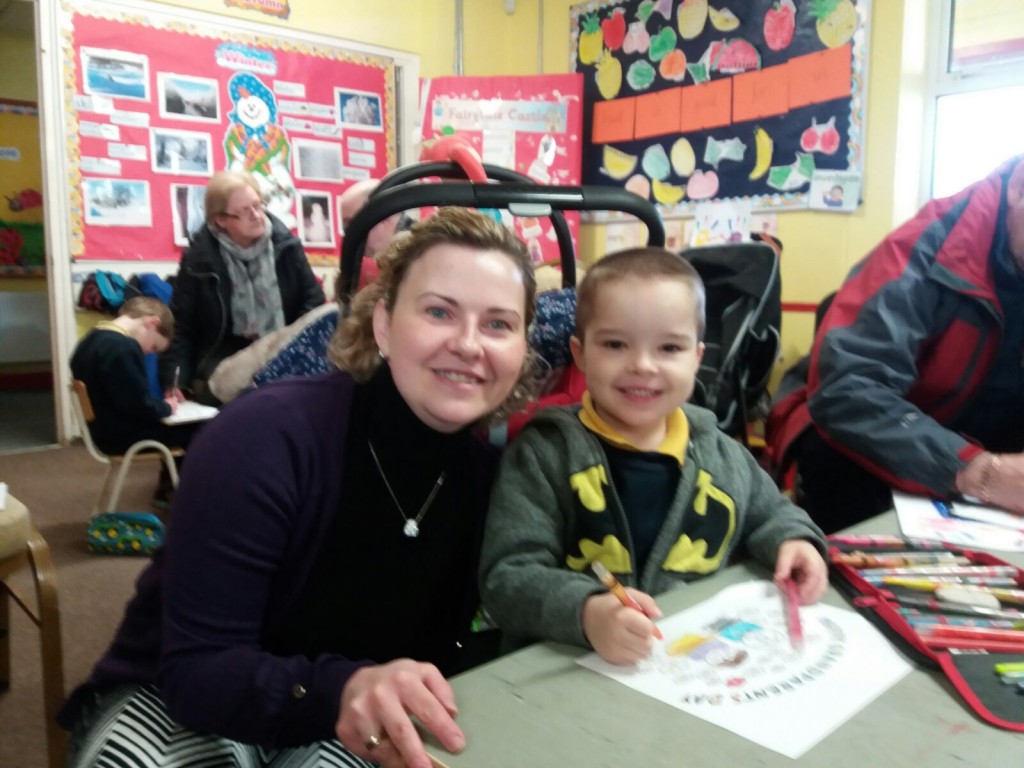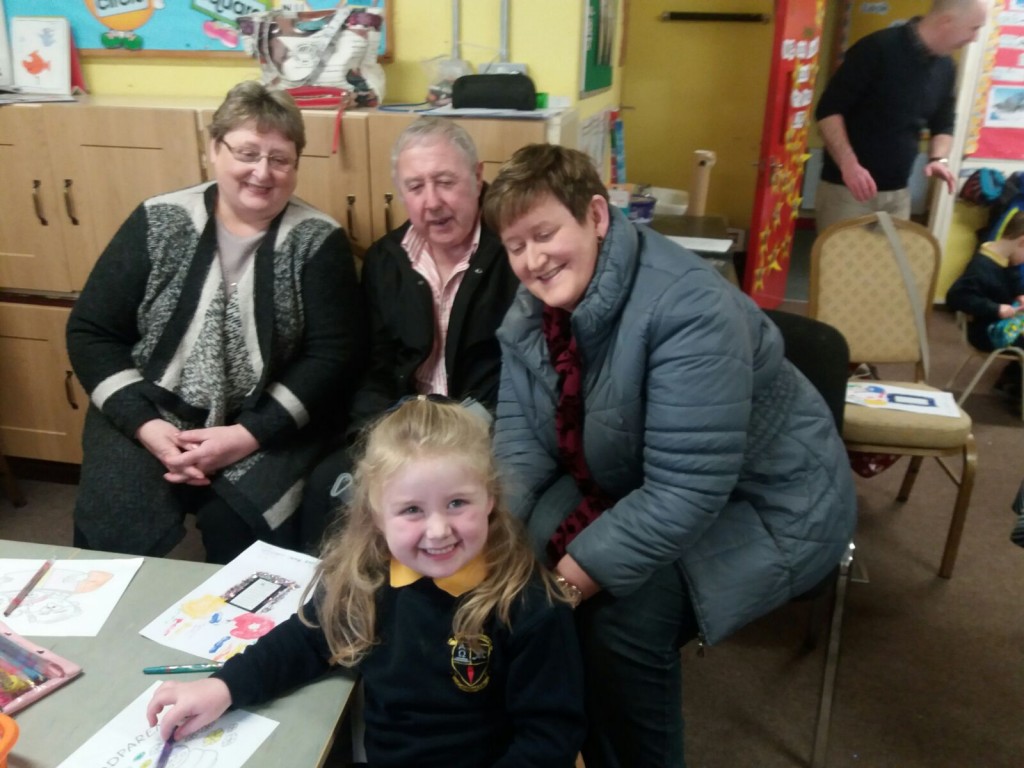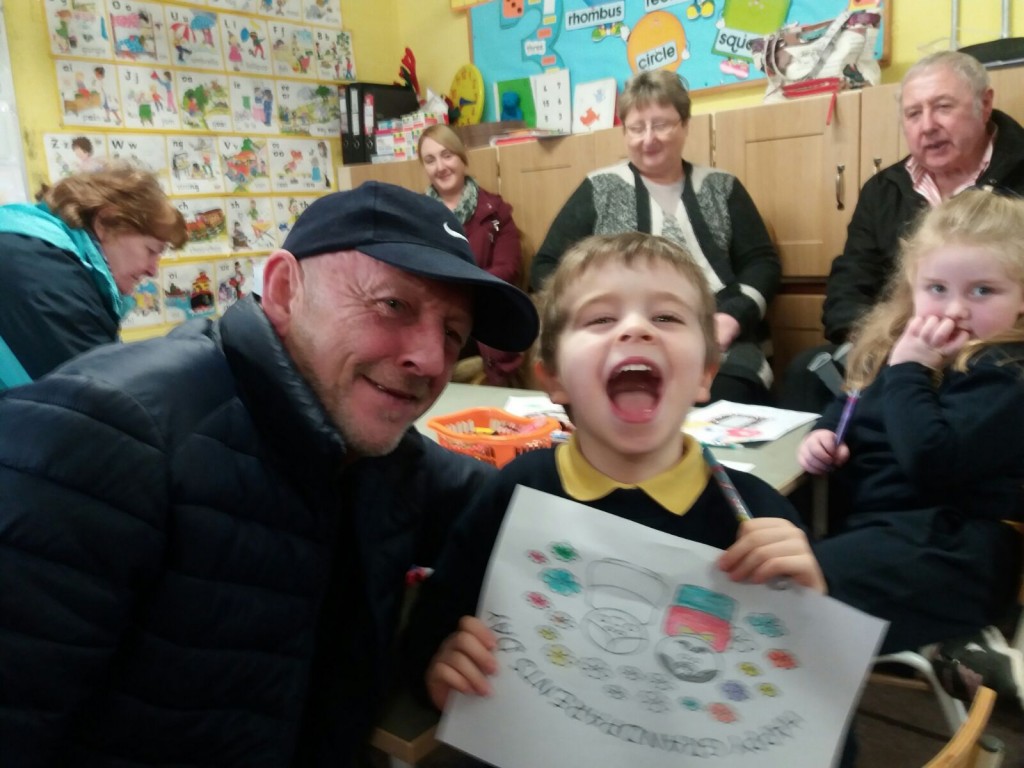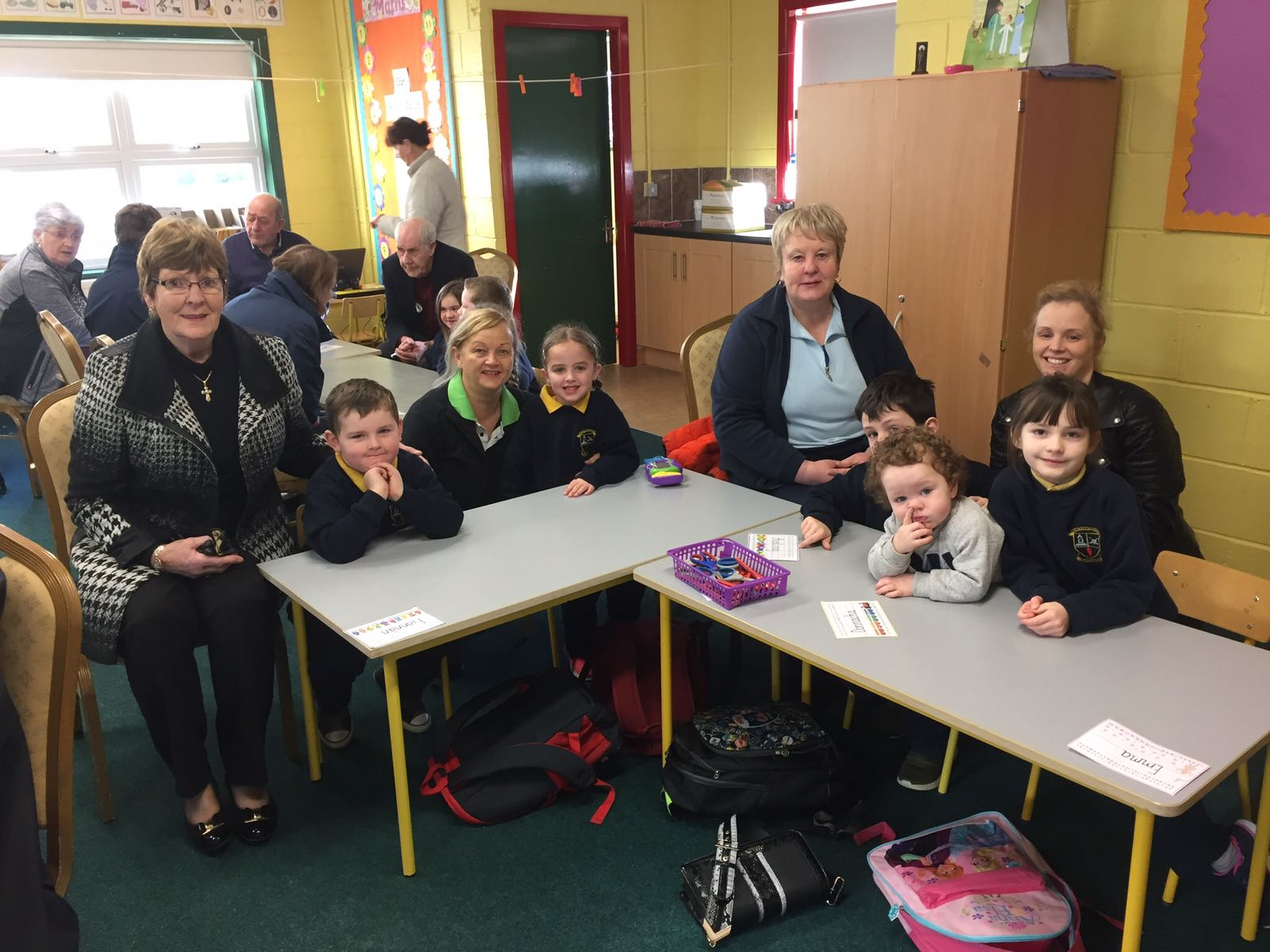 6th Class Blog: they have 1 more update on their blog ( click to view blog ). This week their student teacher was Katelyn O'Rourke Morgan and she taught a very enjoyable lesson on fingernail painting. Even the boys joined in for the laugh! There were also updates on their 'Get out of Tests & Homework' free throw and they all learned the meanings of their names e.g. Magdalena was our 2nd student teacher of the week and she taught all the class how to make pancakes. She did an excellent job. They also had their weekly meeting where they prepare for the transition to secondary school and they continued their watercolour painting work. This week they were tasked with painting rabbits!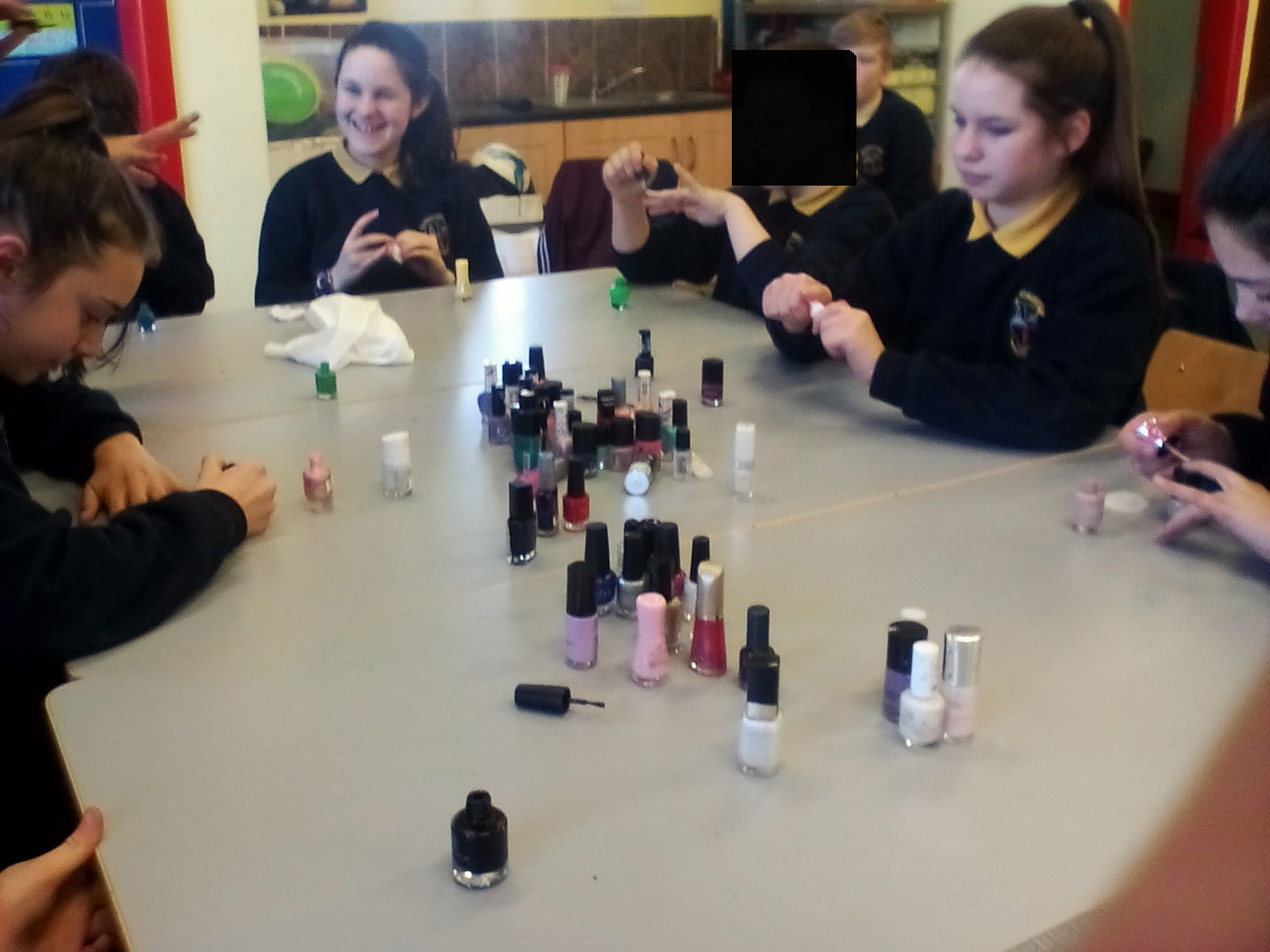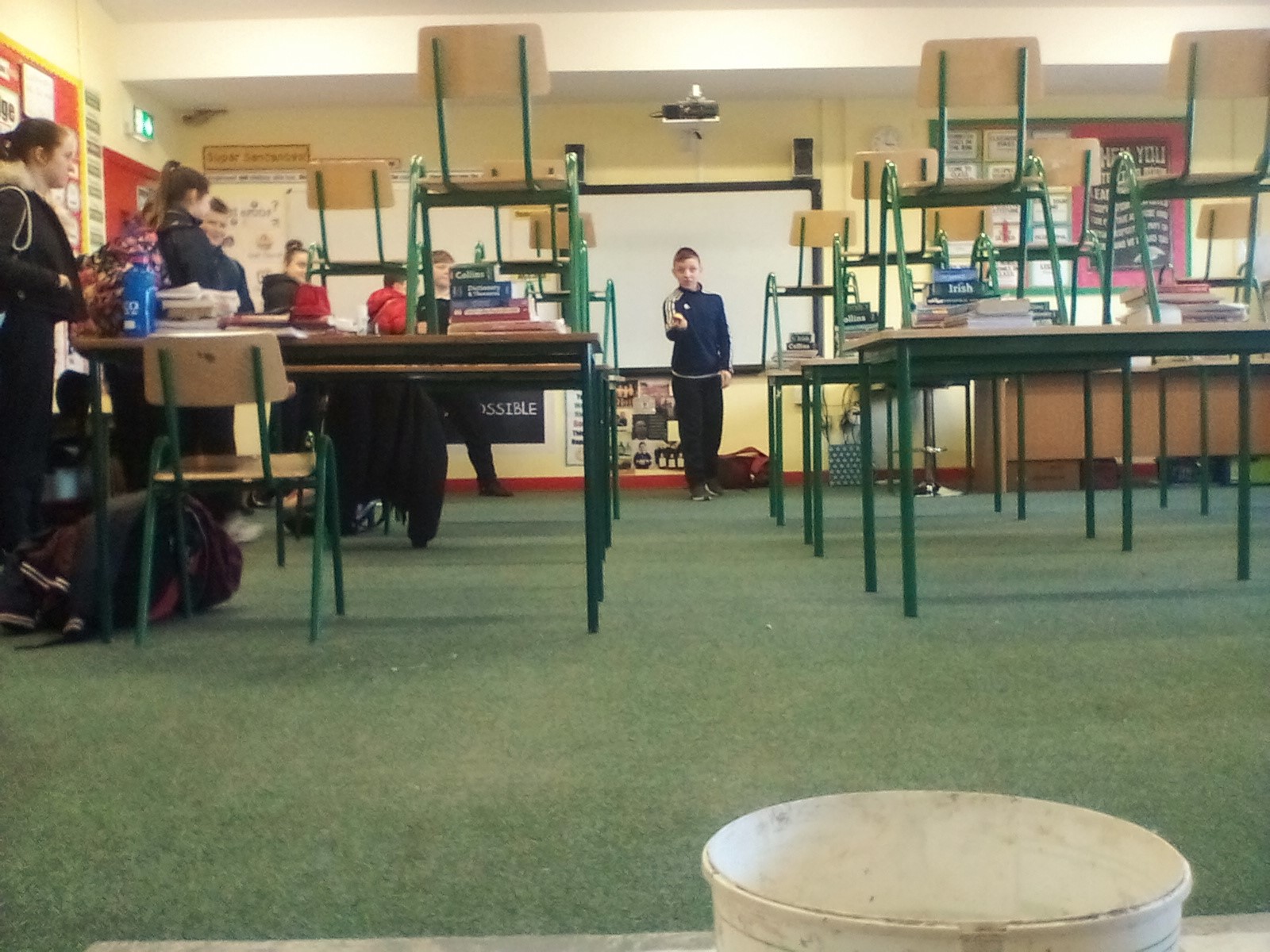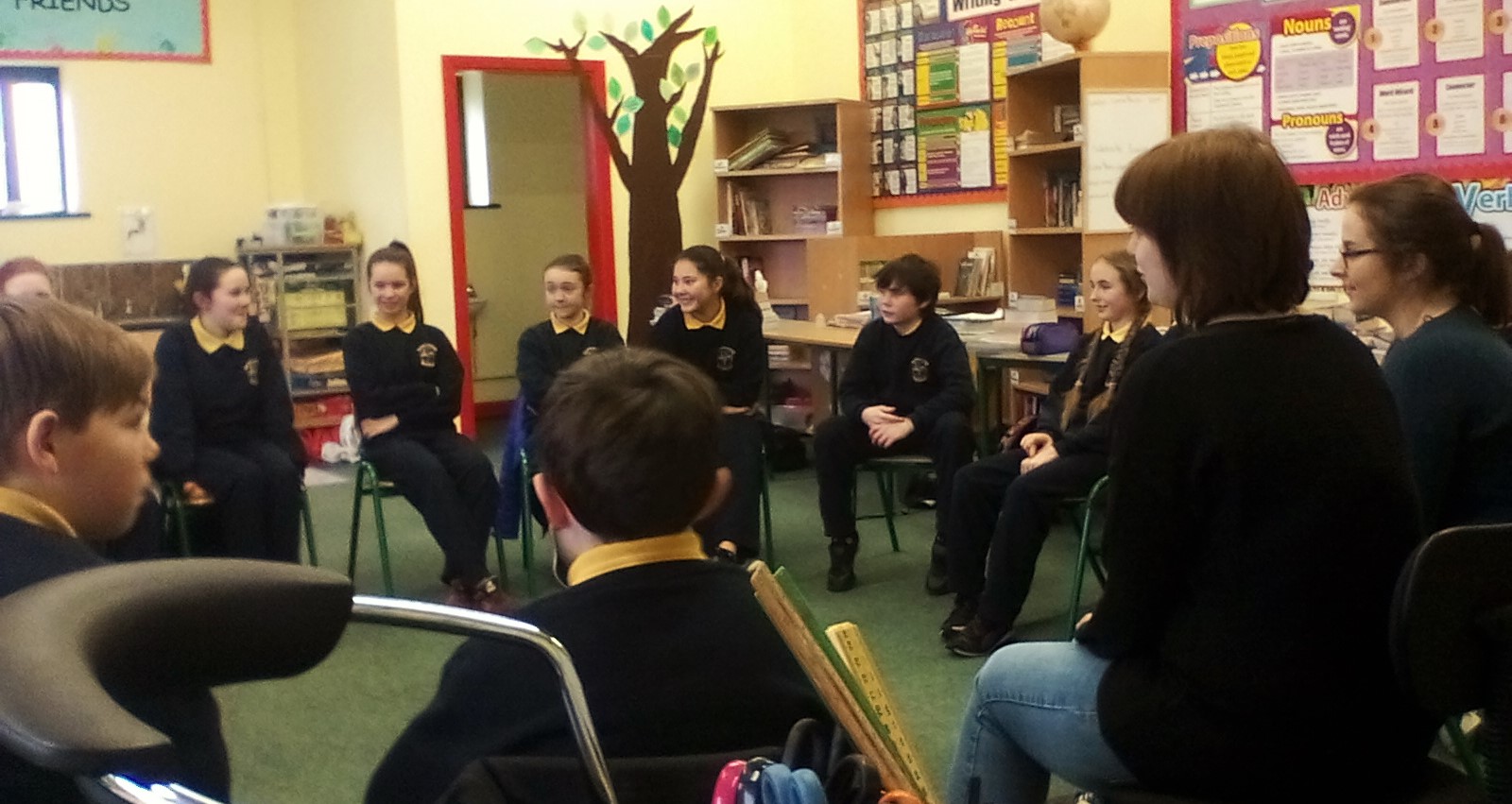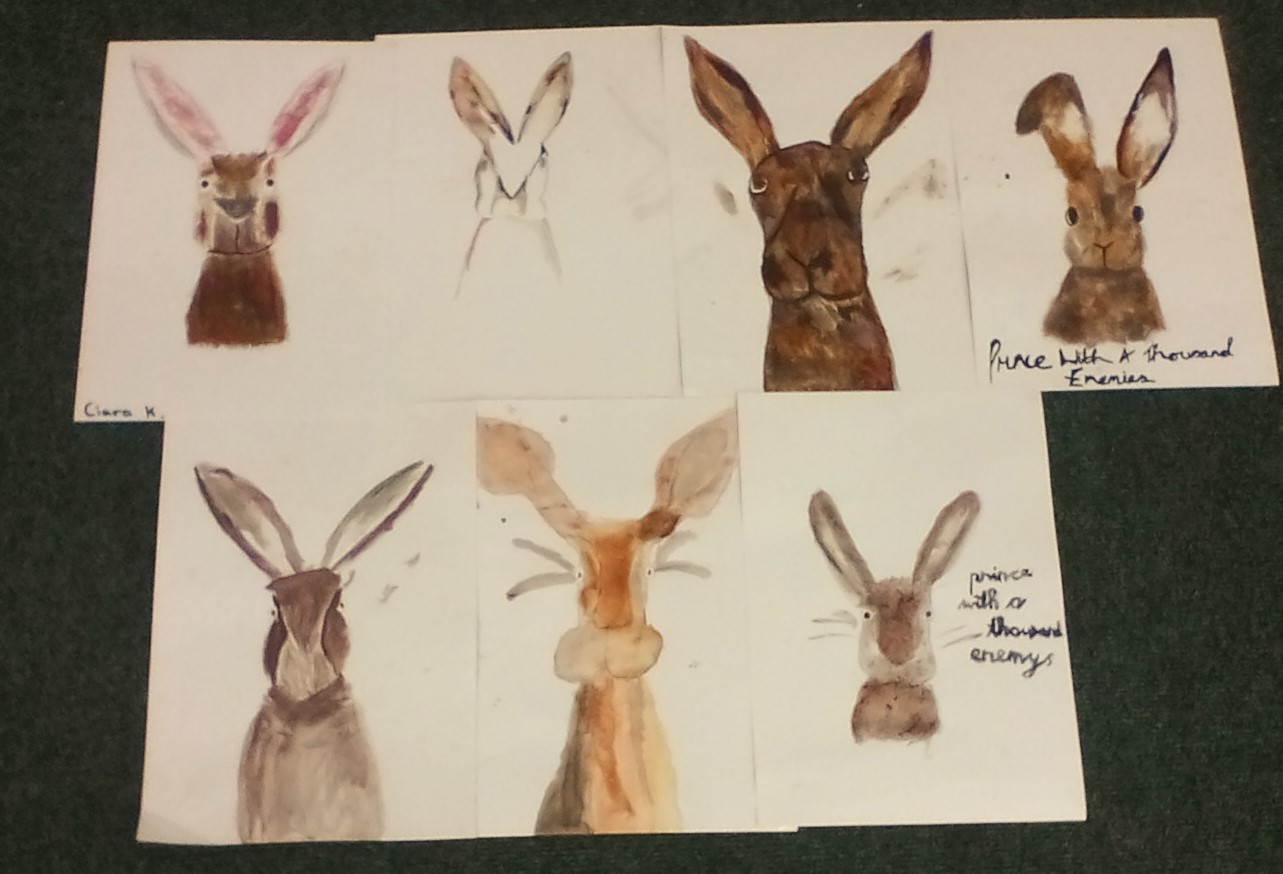 ---
Corville Updates
- 11/02/2018
Term two has got off to a great start with some great things happening in the school. The big news is the break through success of our quiz team. One of our students, Nikita, also represented Ireland in Ice Hockey recently. Our school choir have a brilliant new CD for sale for Valentine's Day. We celebrated Grandparent's Day in school. Our 6th class continue to update their blog with interesting activities and to top it all off, we had a crazy hair day in school today on Friday!
Credit Union Quiz: Credit Union Quiz: the school had a huge break through recently at the annual Credit Union Quiz. We have been putting in a big effort over the last few years to try to mix it with the best. We have come close over the last two years with two 2nd place finishes and two 3rd place finishes in the U/11 and U/13 competitions. While these were fine achievements for the school and those students that took part, only the 1st place teams progressed on to the next round. This year, under the guidance of Mr. Scully and Ms. Maher, we put in our biggest effort yet and we had great success once again.
Our U/13 team of Ross, Ryan, Kiera and Frankie finished in joint 2nd at the end of the main quiz (beaten into 3rd on a tie breaker). This was a great effort as the students were up against some excellent competition.
Our U/11 team of Senan, Karlo, Roy and Dan went one better at the end of the main quiz by finishing in 1st place. They were all absolutely delighted to have done so well. The team now progresses onto the 2nd round of 3. Hopefully they can make it to the All Ireland final, but there is a lot of hard work ahead of the team. This goes to show that Corville are a match for anyone and that talent and hard work can bring you a long way. Take a bow everyone involved – ye deserve it.
missing from photo below: Kiera & Frankie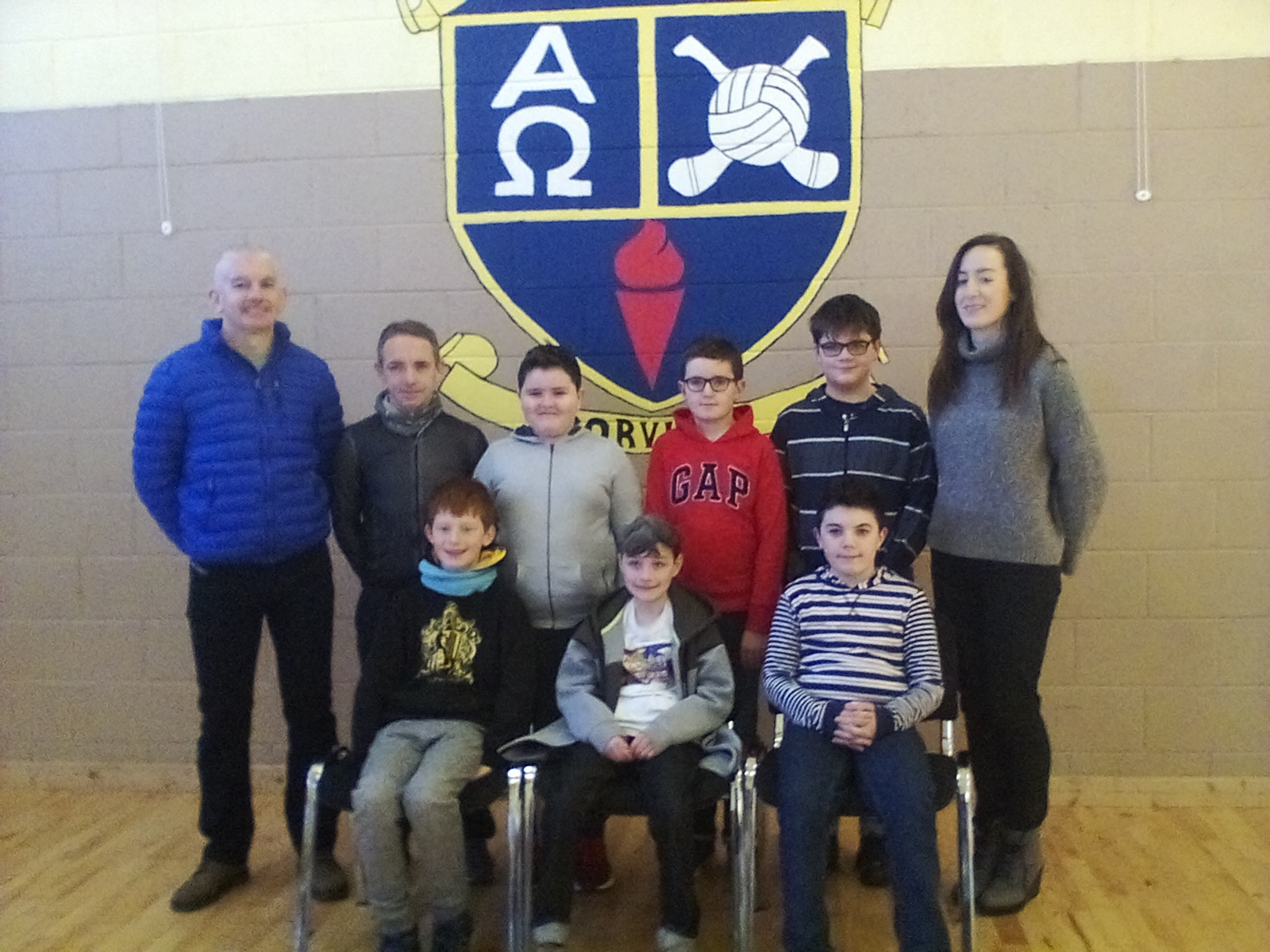 Songs from the Heart: we are delighted to announce that our new CD is ready for sale just in time for Valentine's Day. This will make the perfect Valentine's Day gift and it will also raise vital funds for the school. All the students and teachers involved in this production have put their hearts and souls into it and deserve a lot of credit. You can purchase the CD for €10 from the office.
Click to start a preview track from the CD – Falling Slowly (from the film Once)
and here is a photo of our wonderful school choir and their hard working teachers!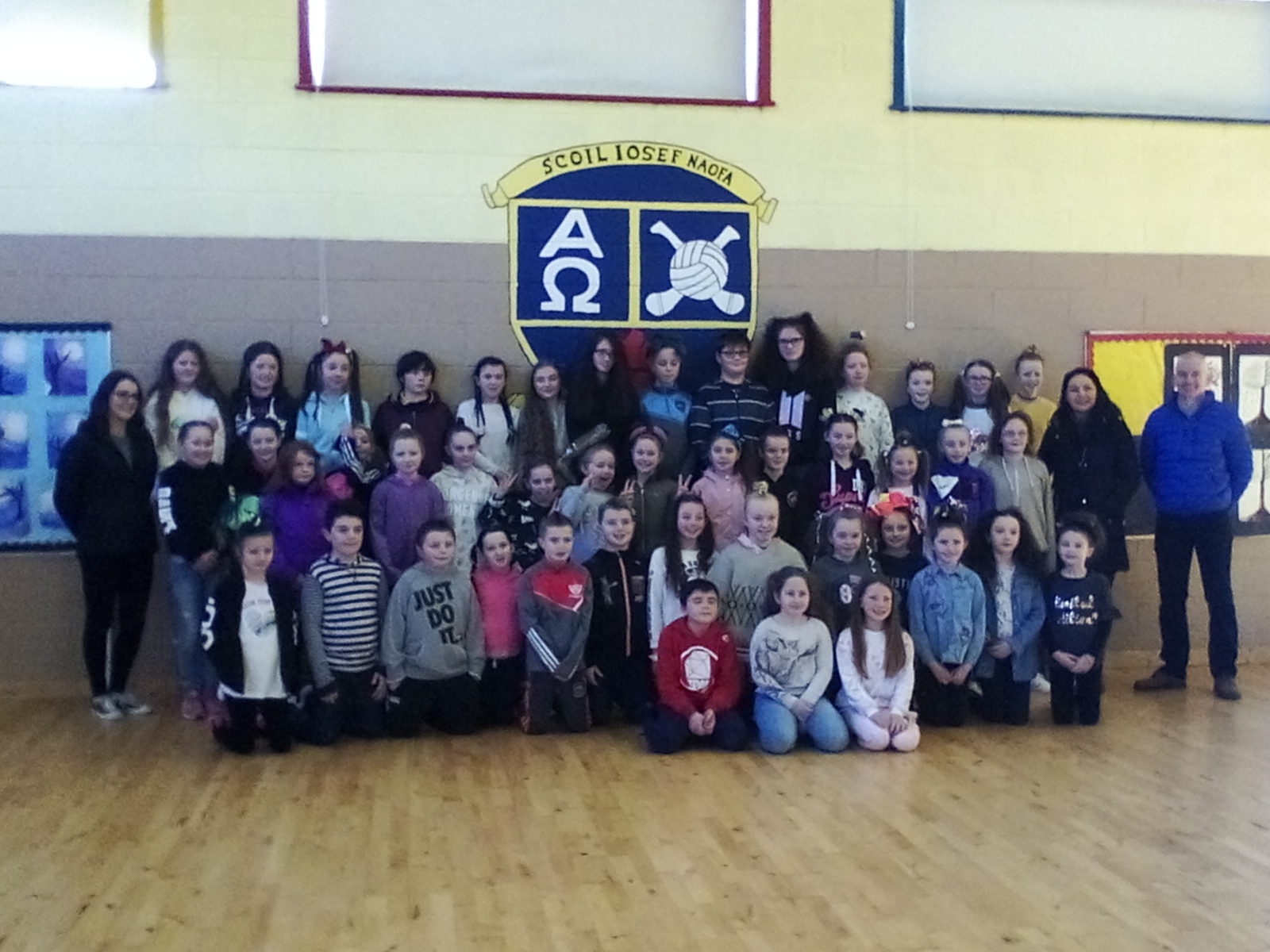 Like us on Facebook: To keep up to date with all things Corville, visit and like our Facebook page.


Ice Hockey Star! Corville celebrated another magnificent sporting achievement when Nikita Chuhunou, a 5th class pupil, travelled to Seoul, South Korea with the Irish National Hockey Team. Nikita is the goalie with the Irish team. The Irish team overcame Korea by 3 goals to 2. We are so proud of Nikita and we wish him every success in his Ice-Hockey career.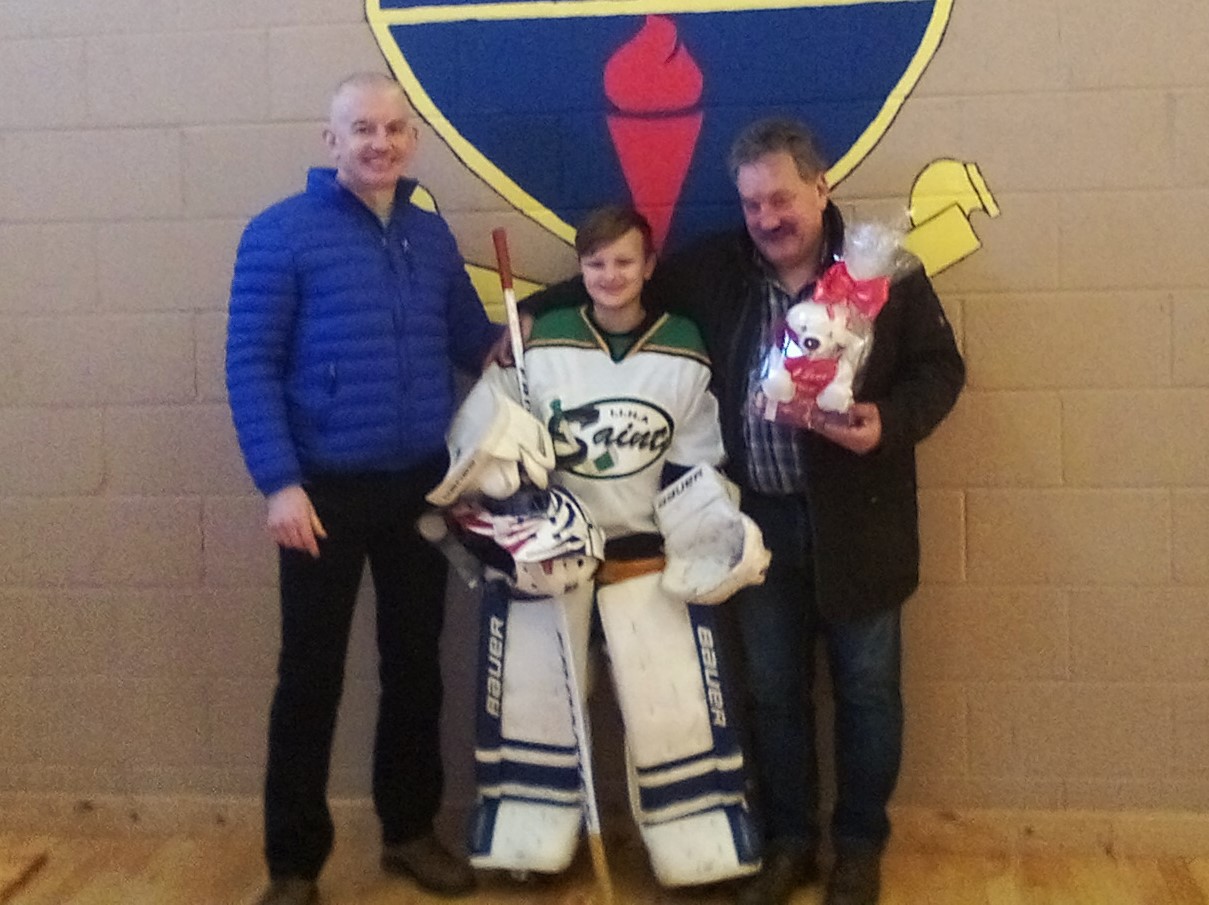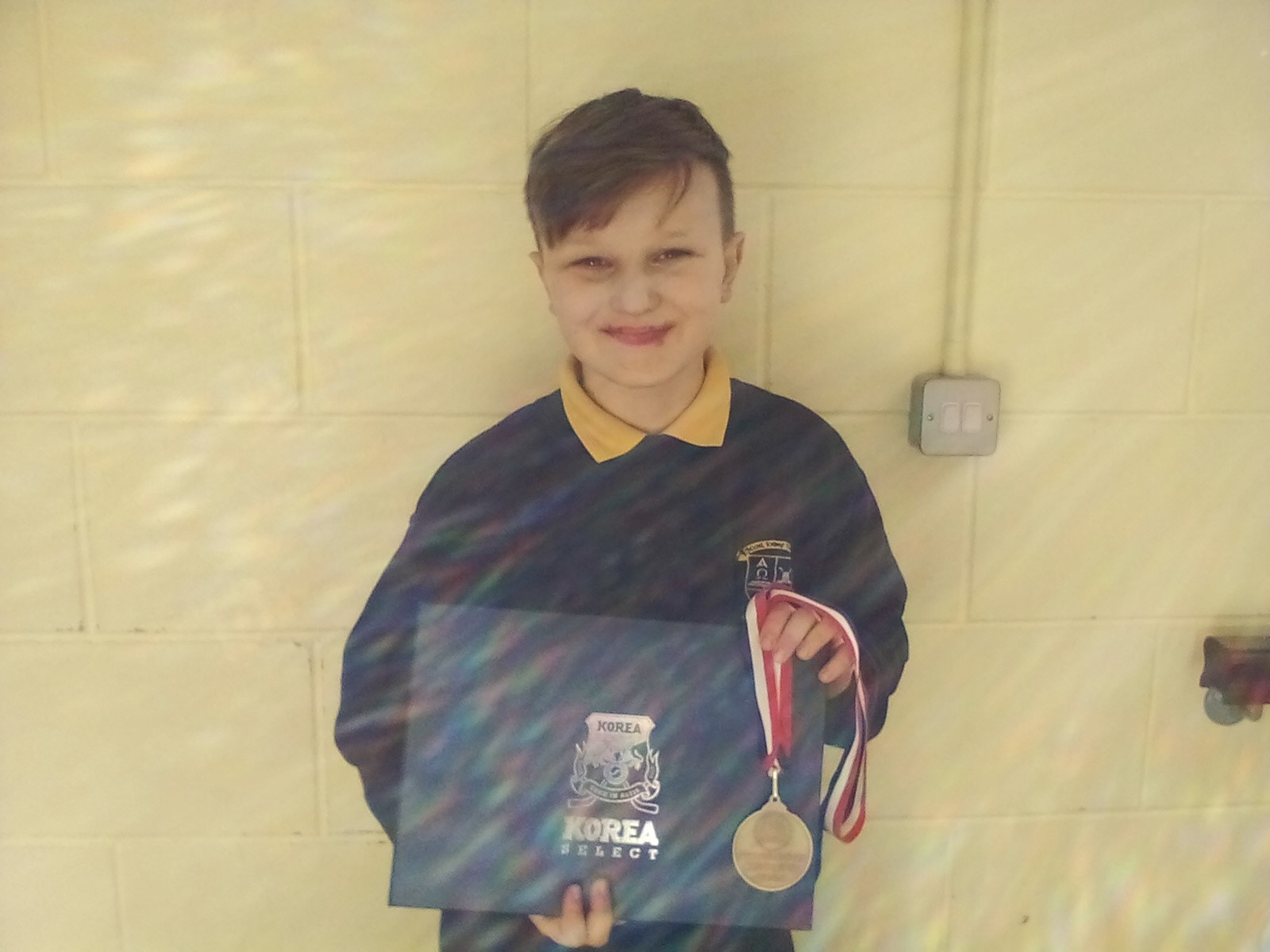 Sporting Updates: training for our sporting teams is well and truly back underway. On Mondays after school we have soccer for boys and girls 3rd – 6th. The FAI soccer tournament will be taking place in March so we need to see as many out training for that as possible. On Monday after school we also have tennis training on the courts. On Tuesday and Thursdays there is hurling and camogie for boys and girls from 3rd – 6th. The quiz team also practice on Tuesdays and Thursdays. We also have tag rugby in the school so there is plenty there for everyone. Everyone is more than welcome to come out training with us. You will get fit, have fun and make friends.
Grandparents Day: the school celebrated grandparent's day by inviting in all the grandparents of our infant class students into the school. They came in and visitied the classrooms and then went outside where we released balloons into the air. The infants were absolutely delighted to see their grandparents helping them out in class and it made for another great day in Corville.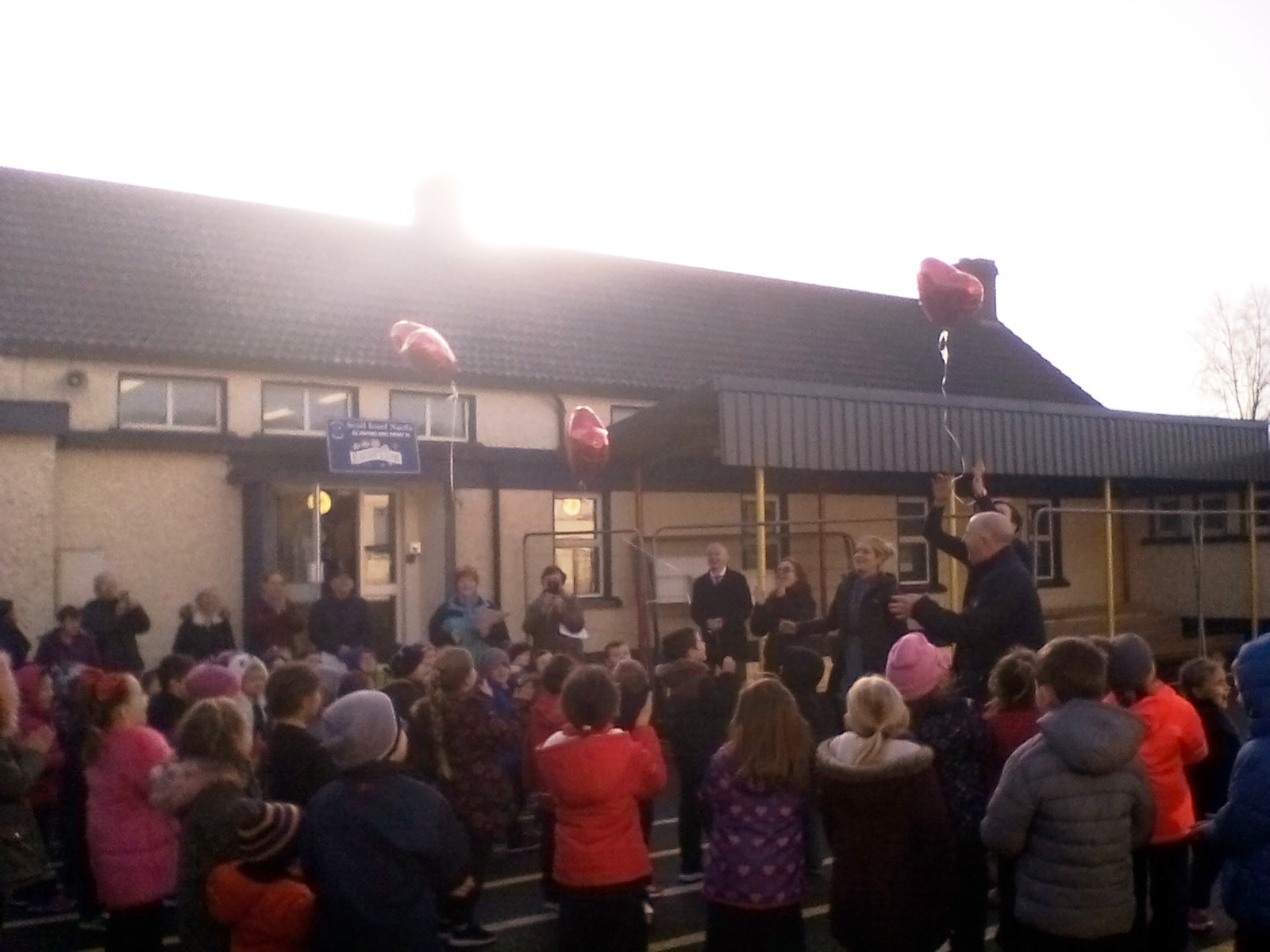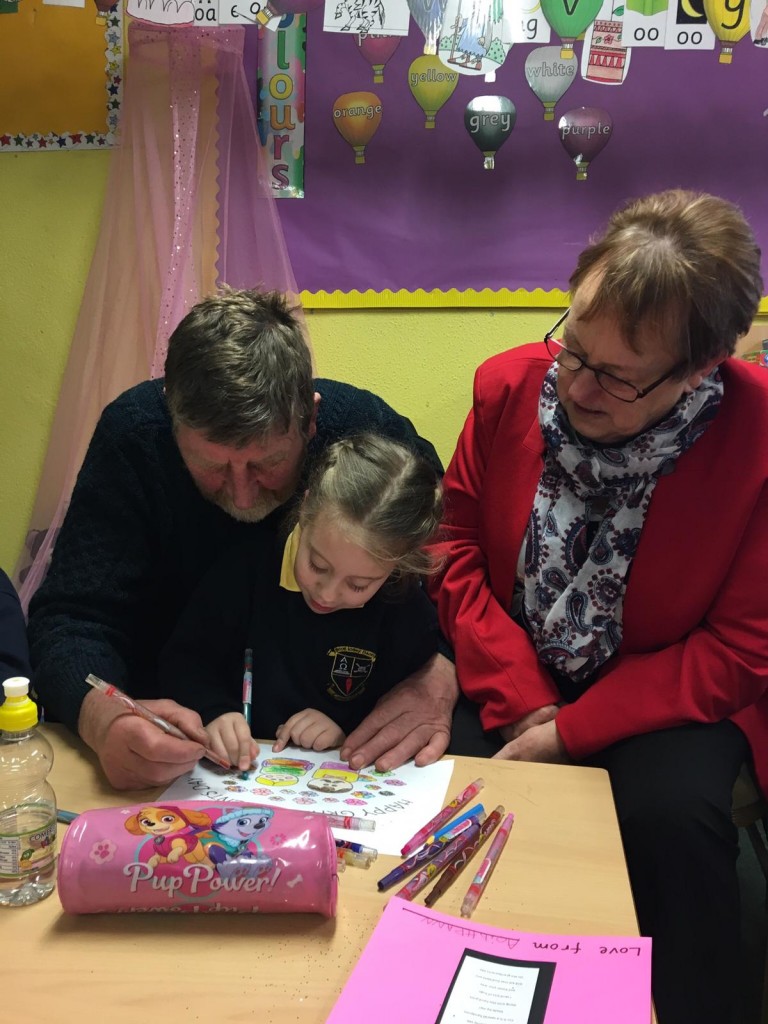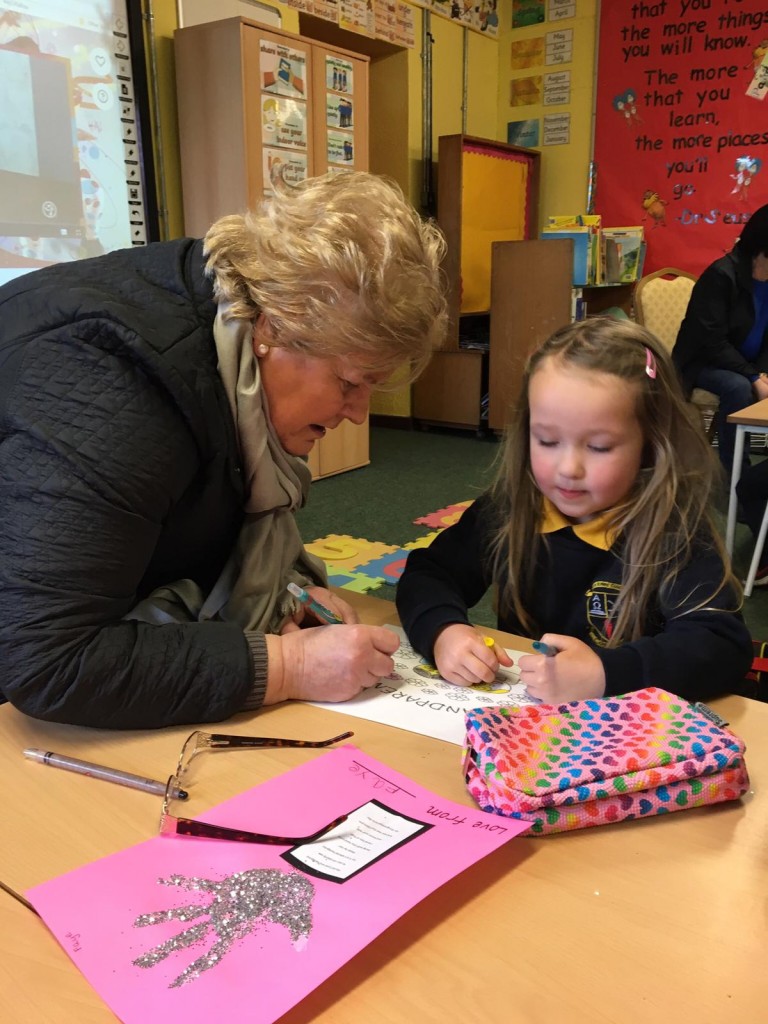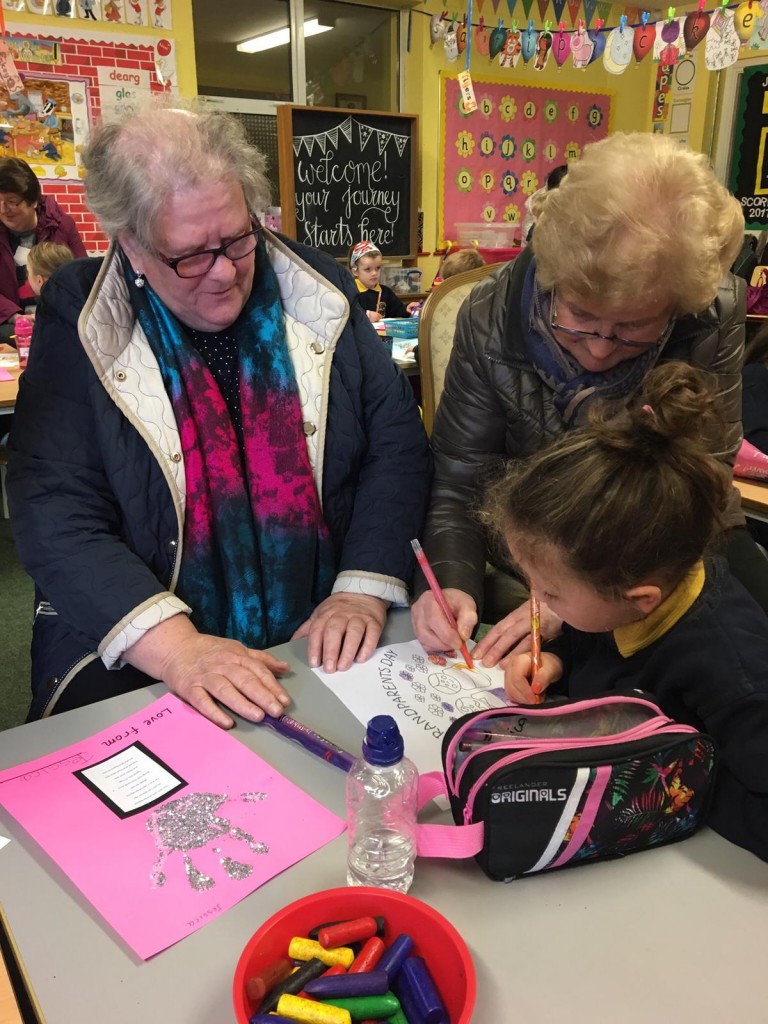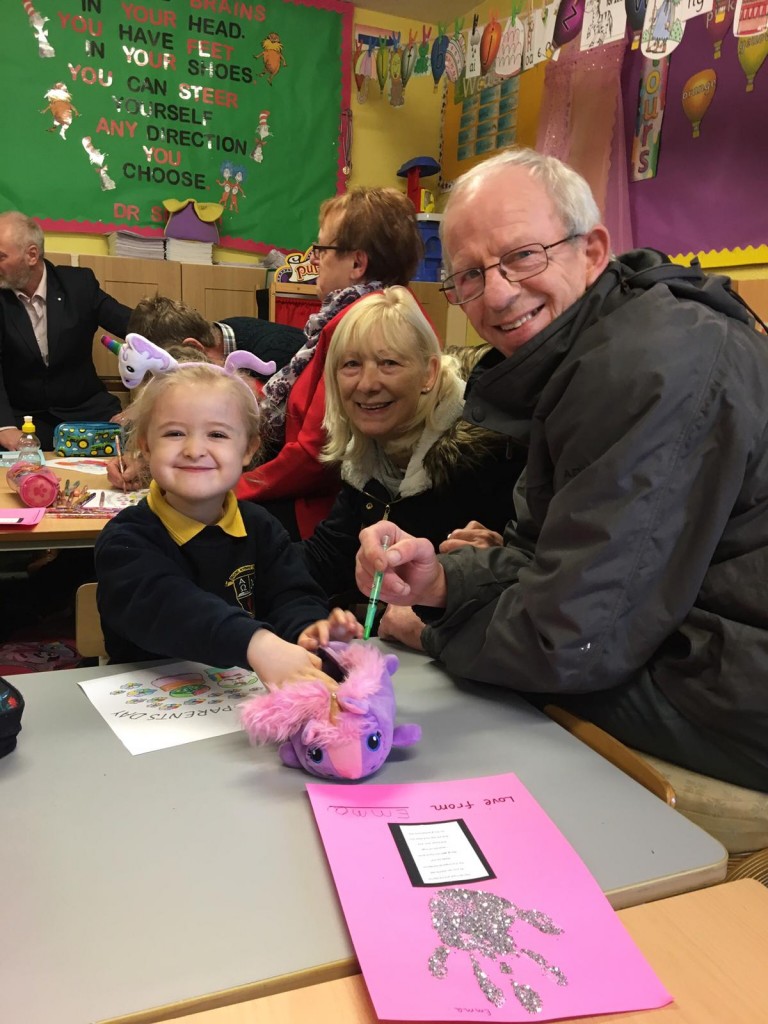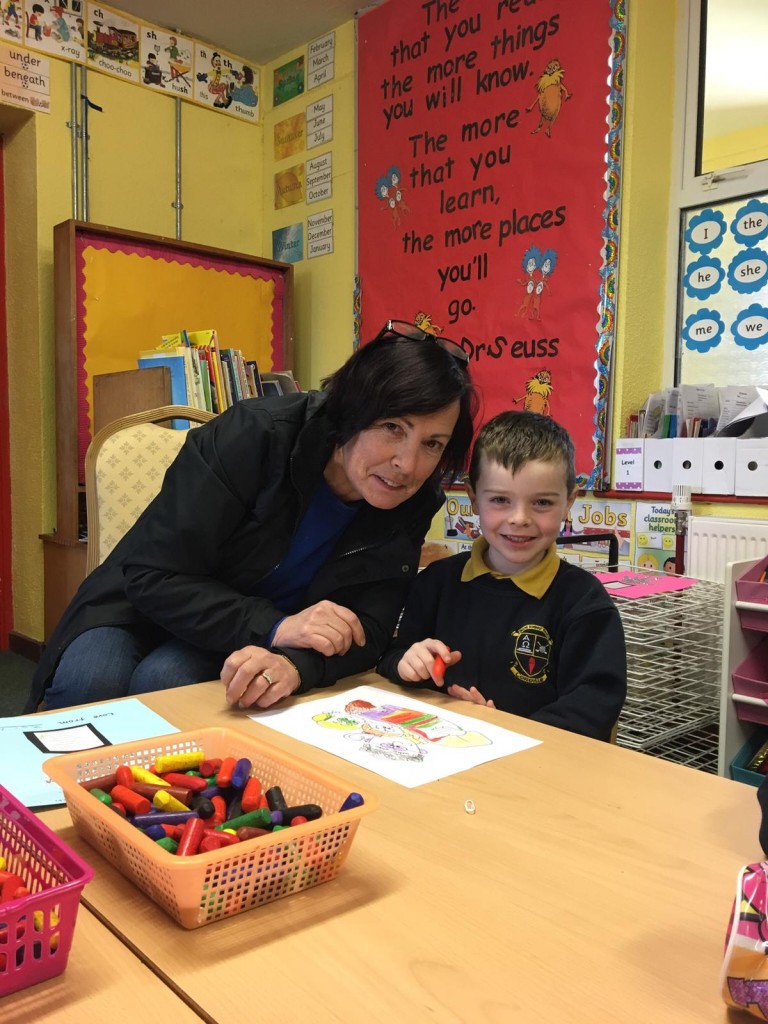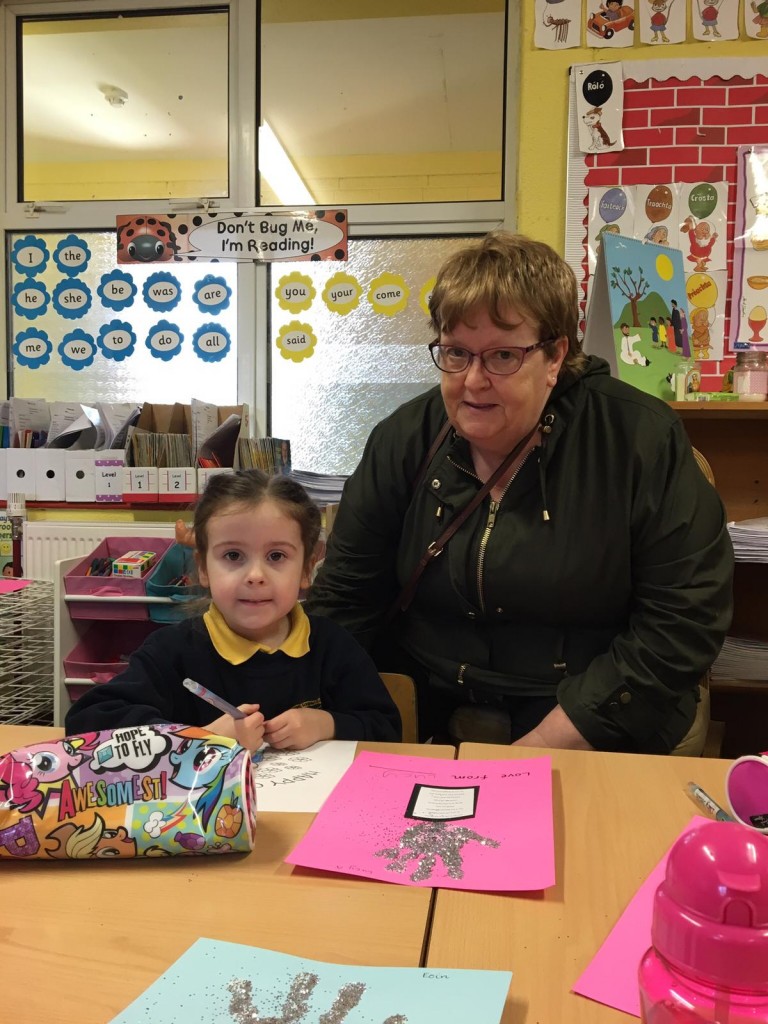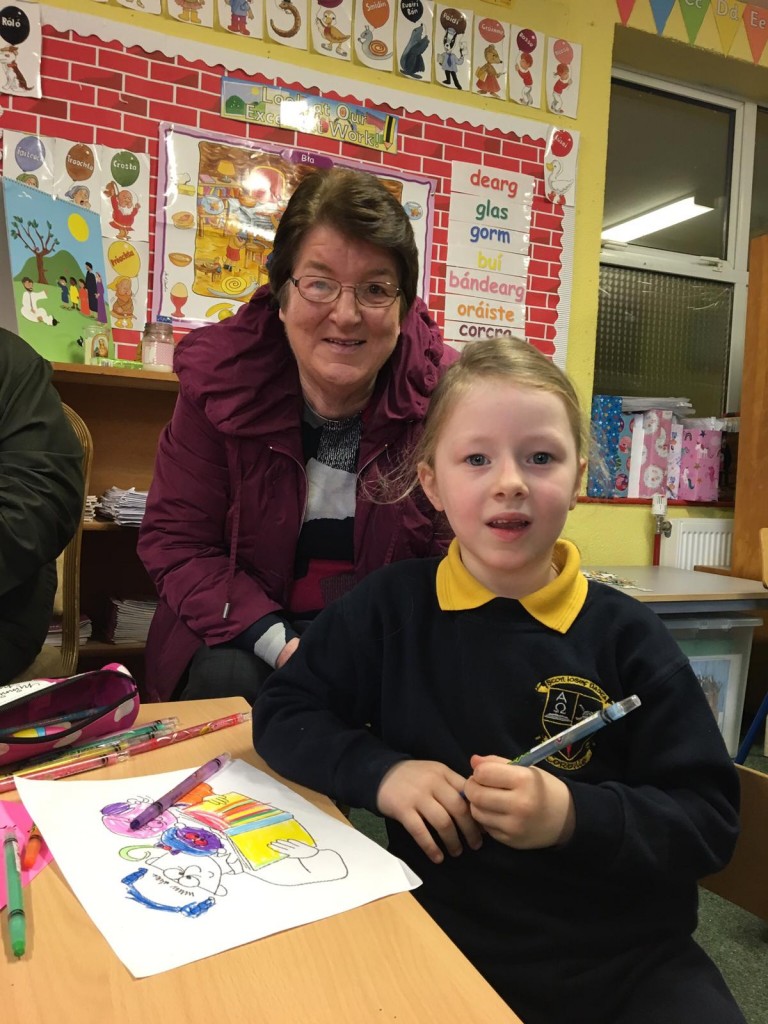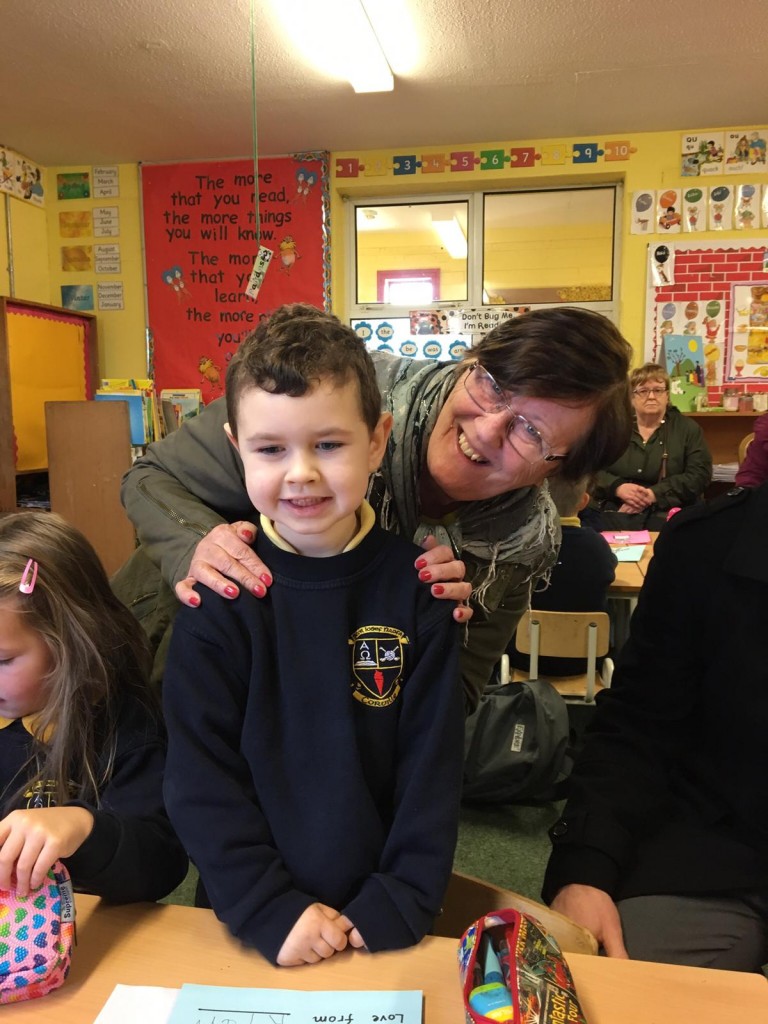 Happy 40th Birthday! Our principal Mr. Slattery was lost for words (for once) last Friday when the school surprised him with a rousing rendition of Happy Birthday at assembly. I am not sure he wanted to be reminded that he is getting old but sure it happens to the best of us!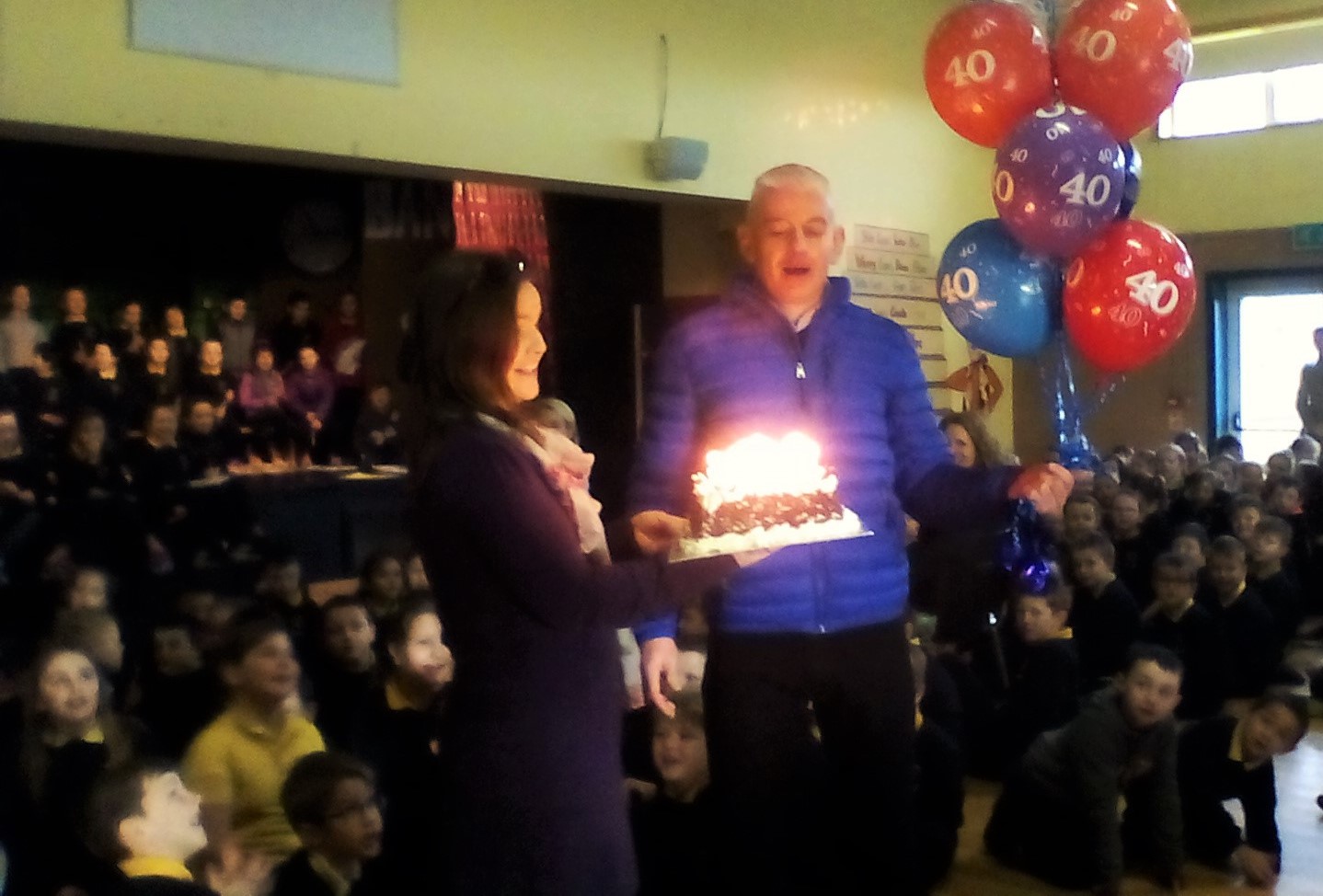 Crazy Hair Day: the students (and some teachers!) all took part in a crazy hair day in school as part of a fundraiser for one of our student's Cian Kruse (pictured below). It made for quite the spectacle. It was great to see the whole school getting behind this fundraising initiative. Kian is a very popular boy in Corville and we were delighted to be able to help out.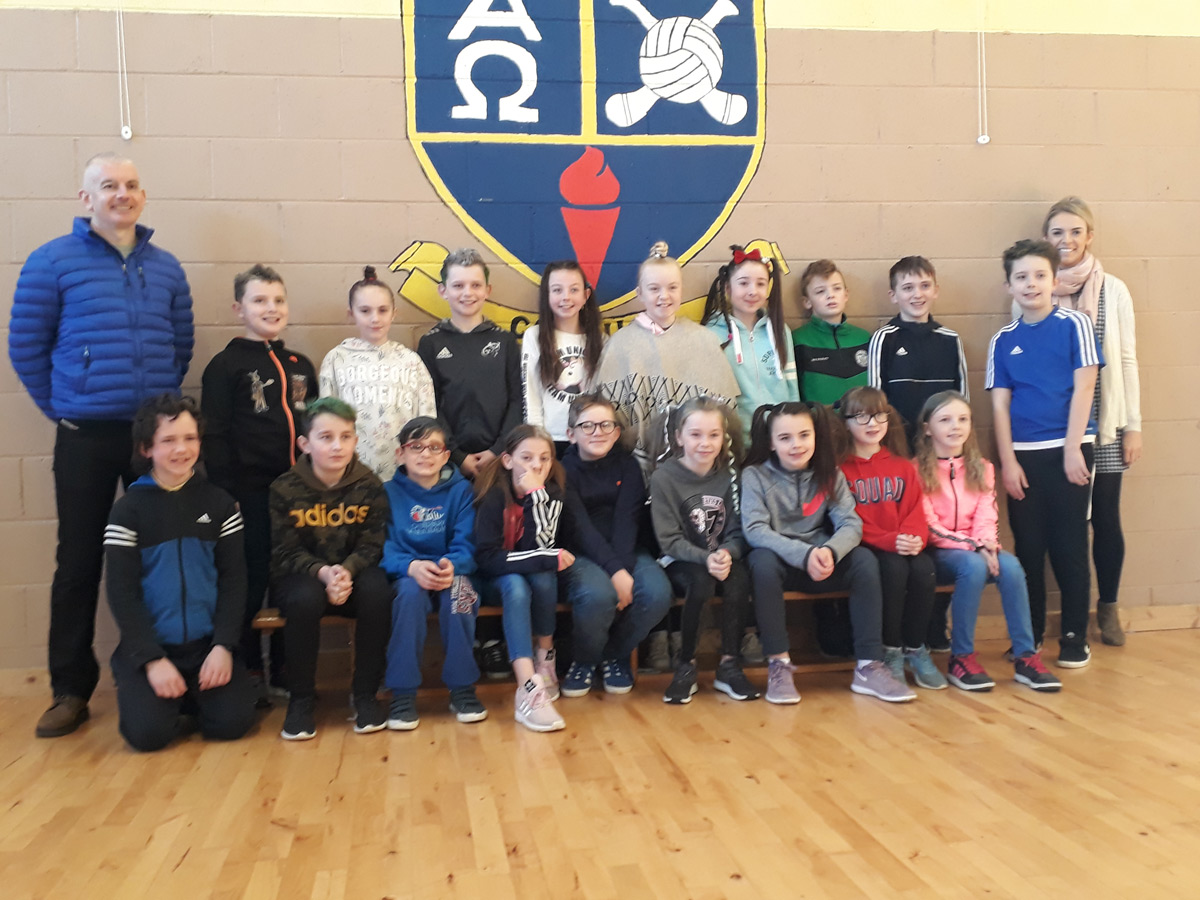 Assembly Performances: over the last few weeks we have had plenty more stunning performances on stage at our weekly assembly. The standard of performance is terrific and everyone that shows the courage to get up there and perform in front of the school should be very proud of themselves.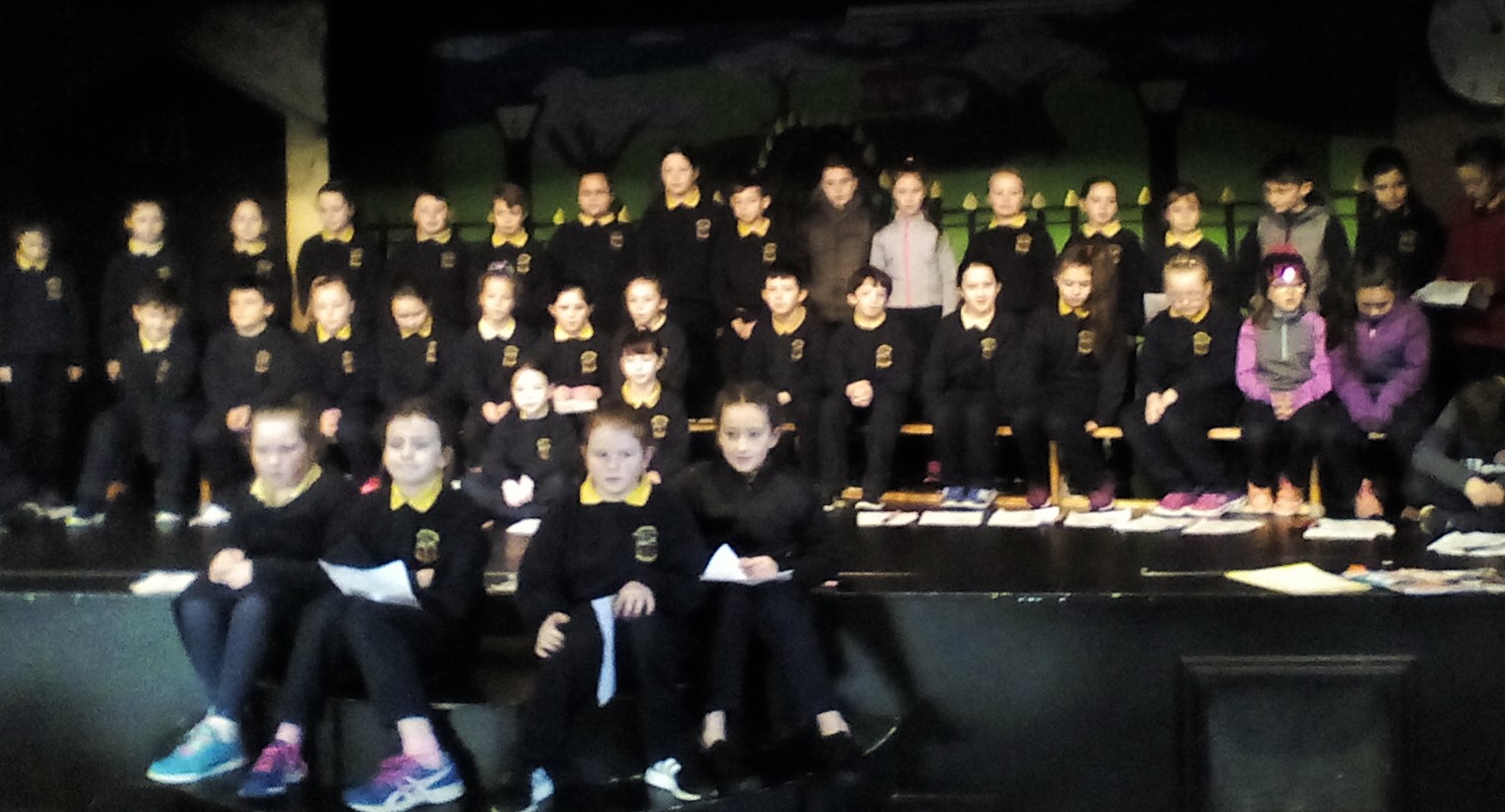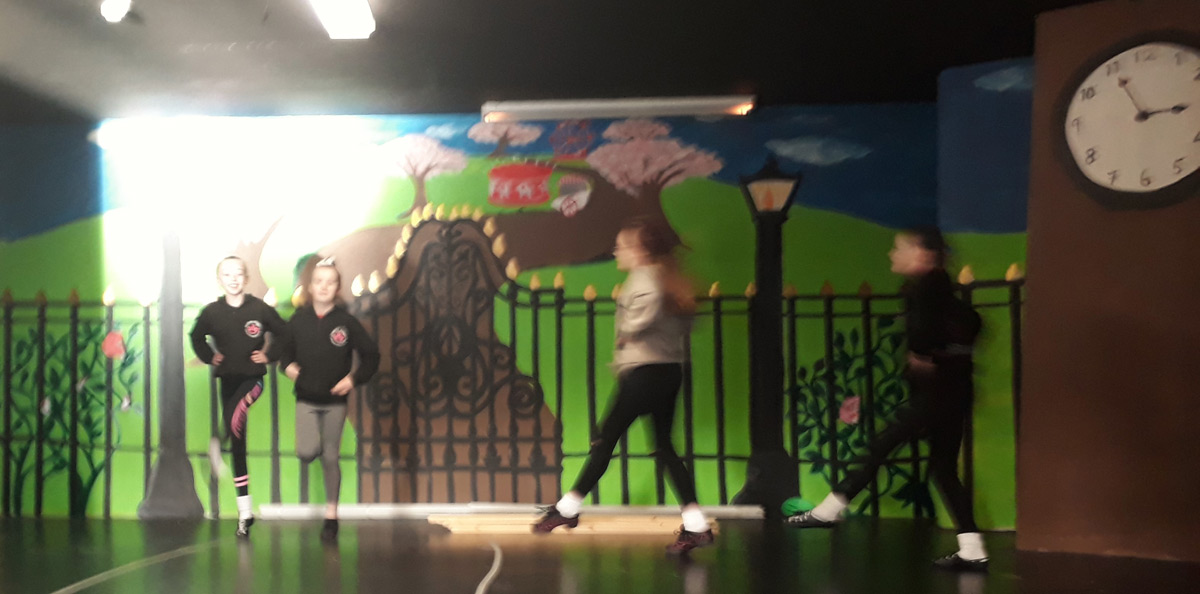 6th Class Blog: in their latest blog posts the 6th class student talk about Kiera's success in the Credit Union Quiz, Anastasia's great watercolour art lesson and they made a 40th birthday card for Mr. Slattery. They found out that 4 of them will be heading to Portugal in April as part of the Erasmus programme. Ben Fogarty Dunne taught a great lesson on table tennis, Ella taught a lovely art lesson based on friendship and the class took part in a Buddy bootcamp with Junior Infants. Previous to that, Molly taught a fun Irish Dancing lesson and a Baby Reel, they got to examine things up close using microscopes (dead flies – uugggh), and they learned that Katelyn had won the school CD design competition. Woohoo!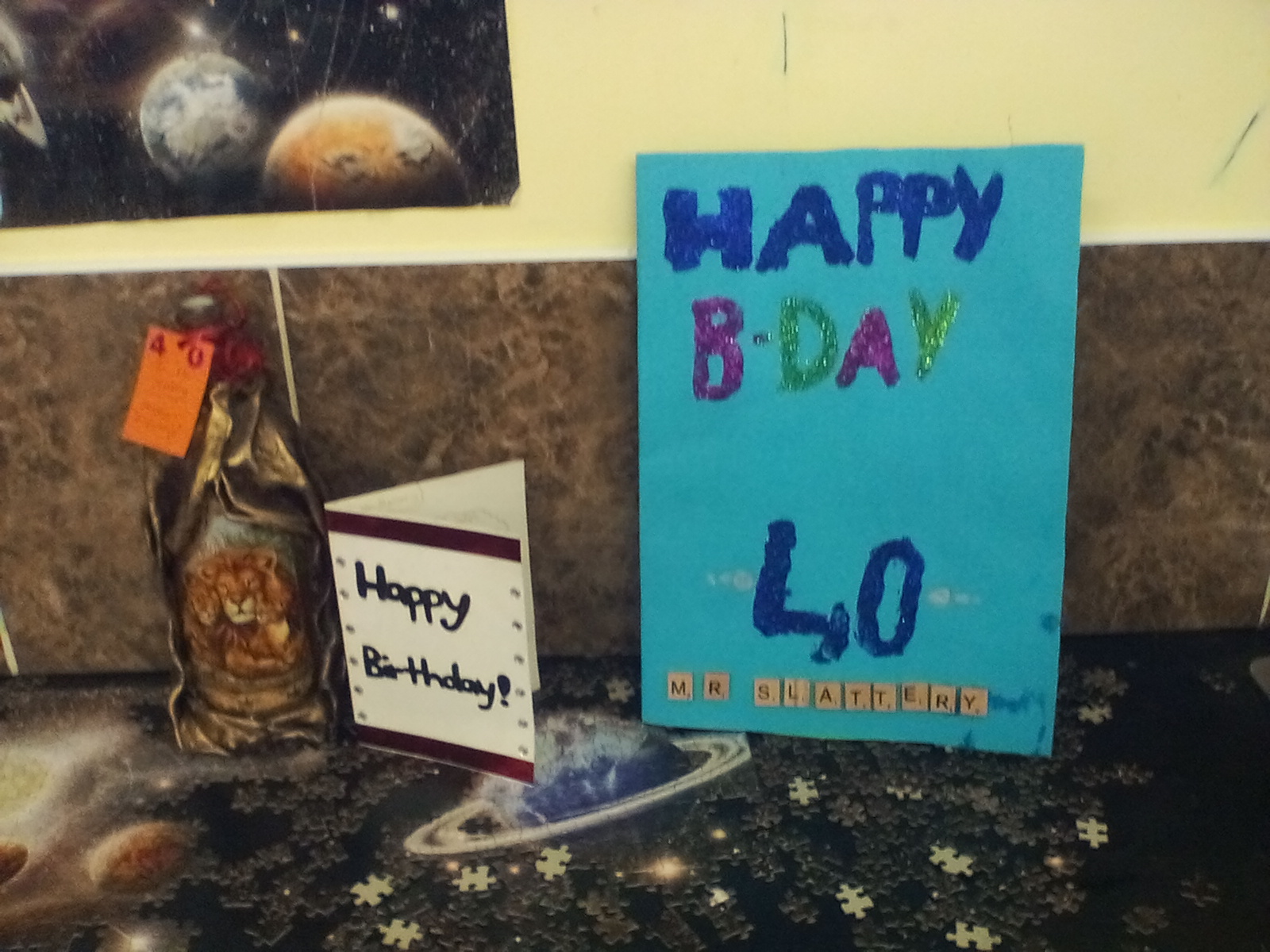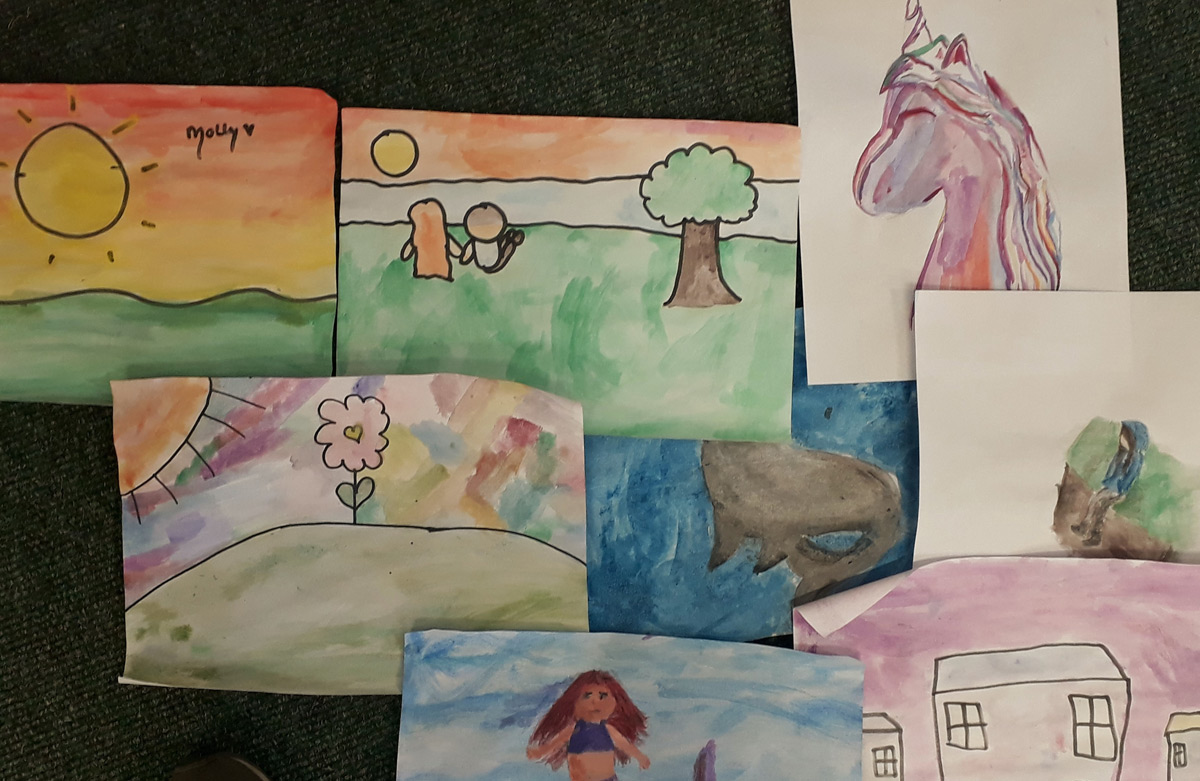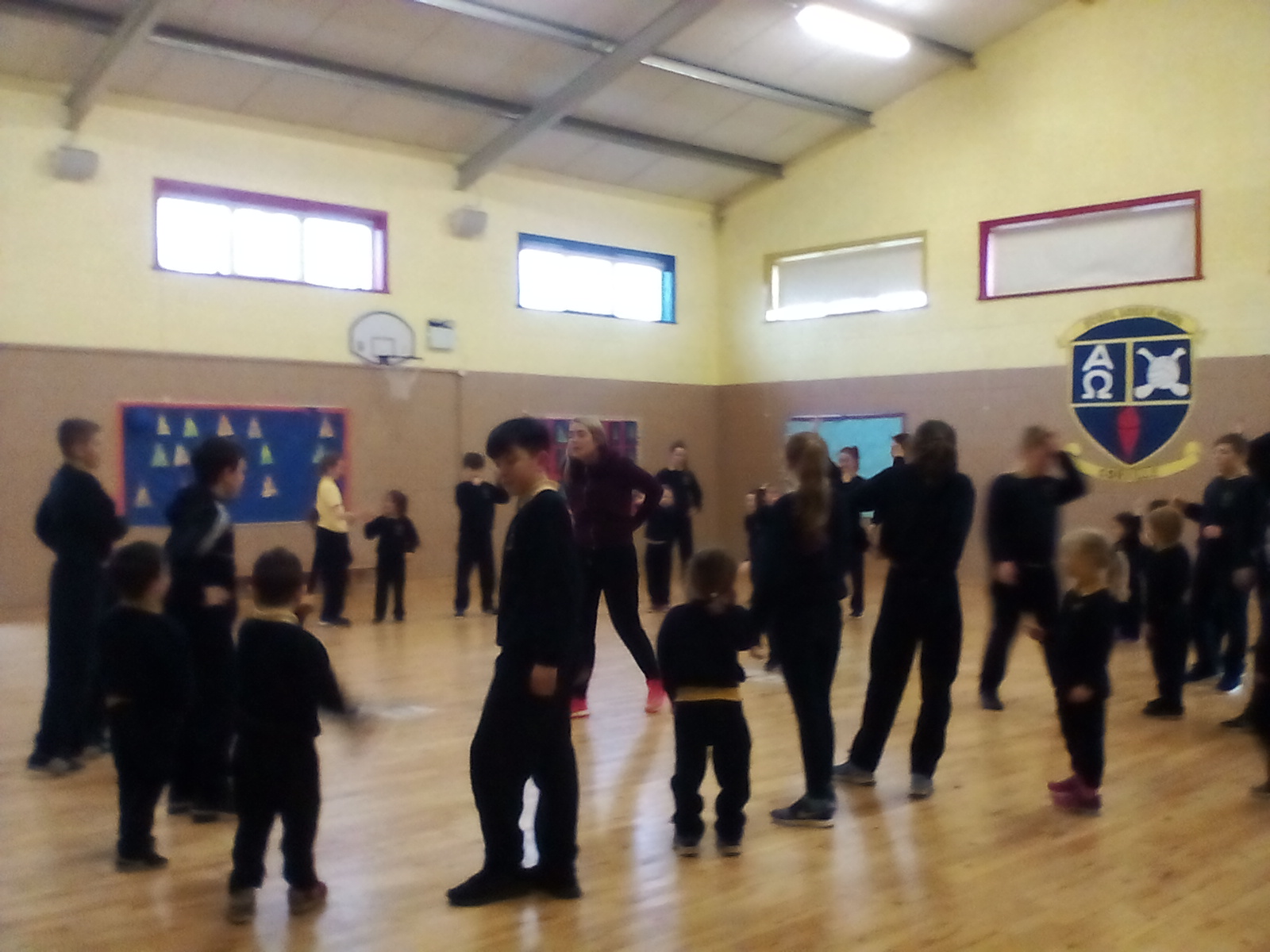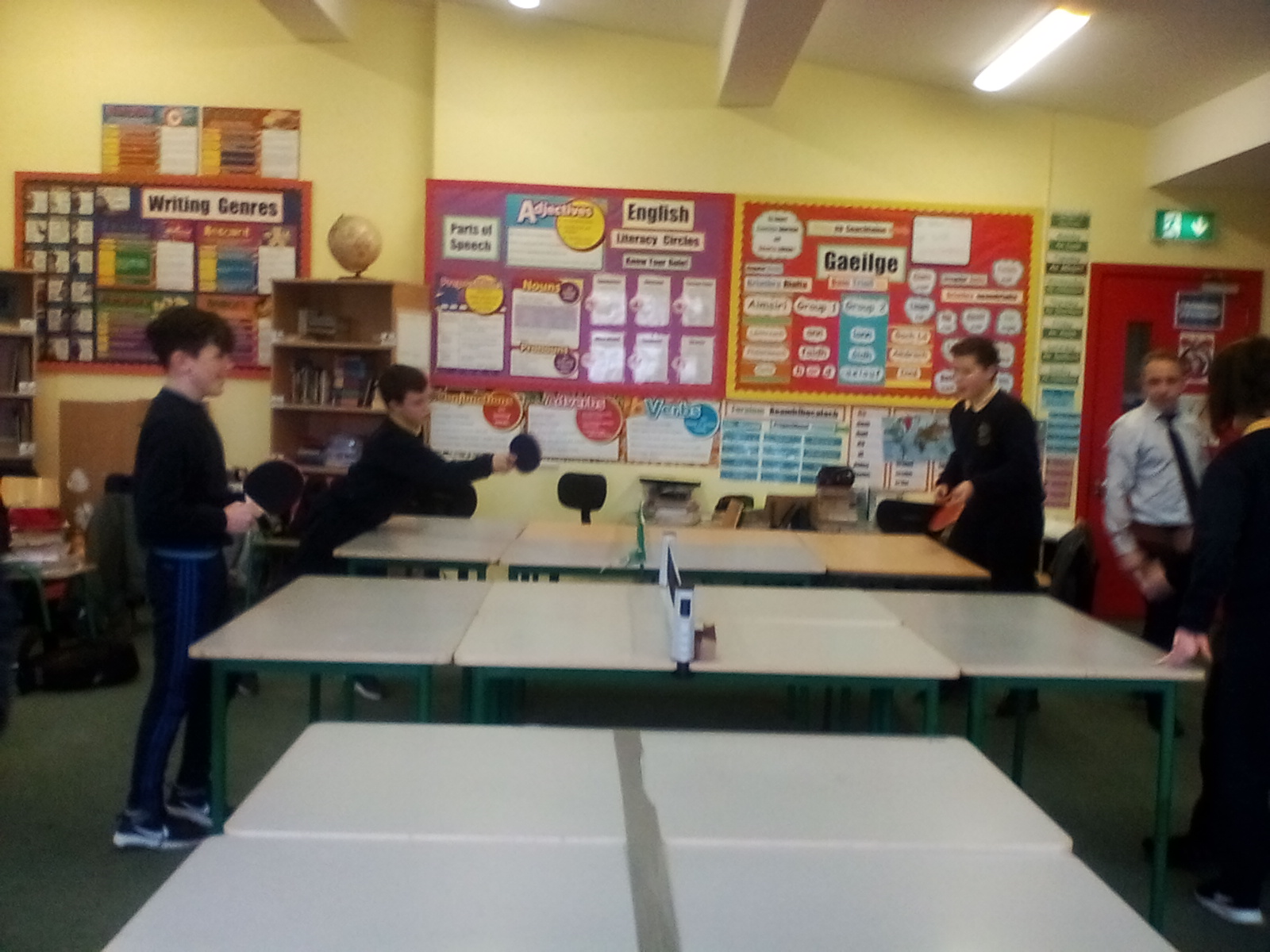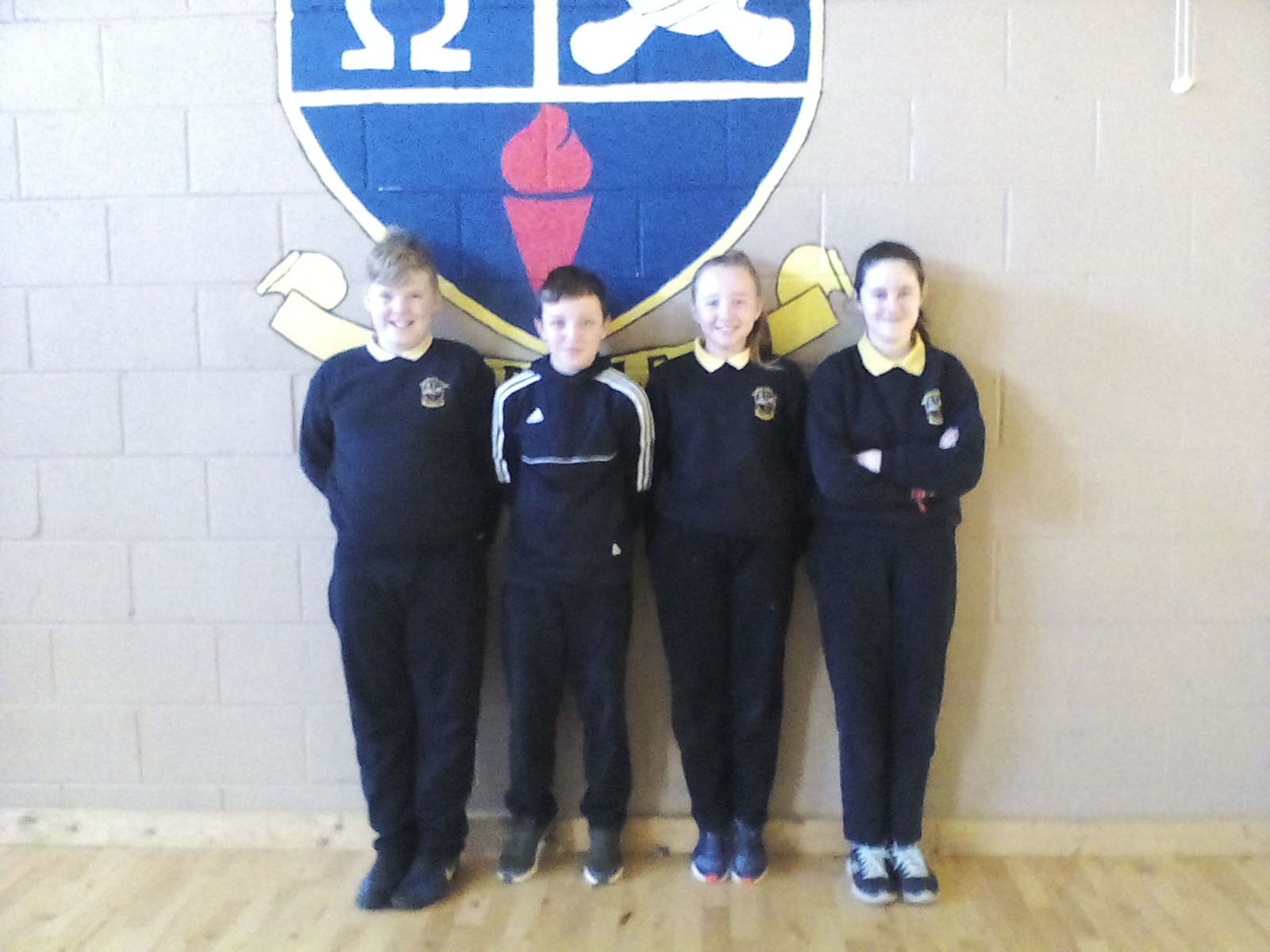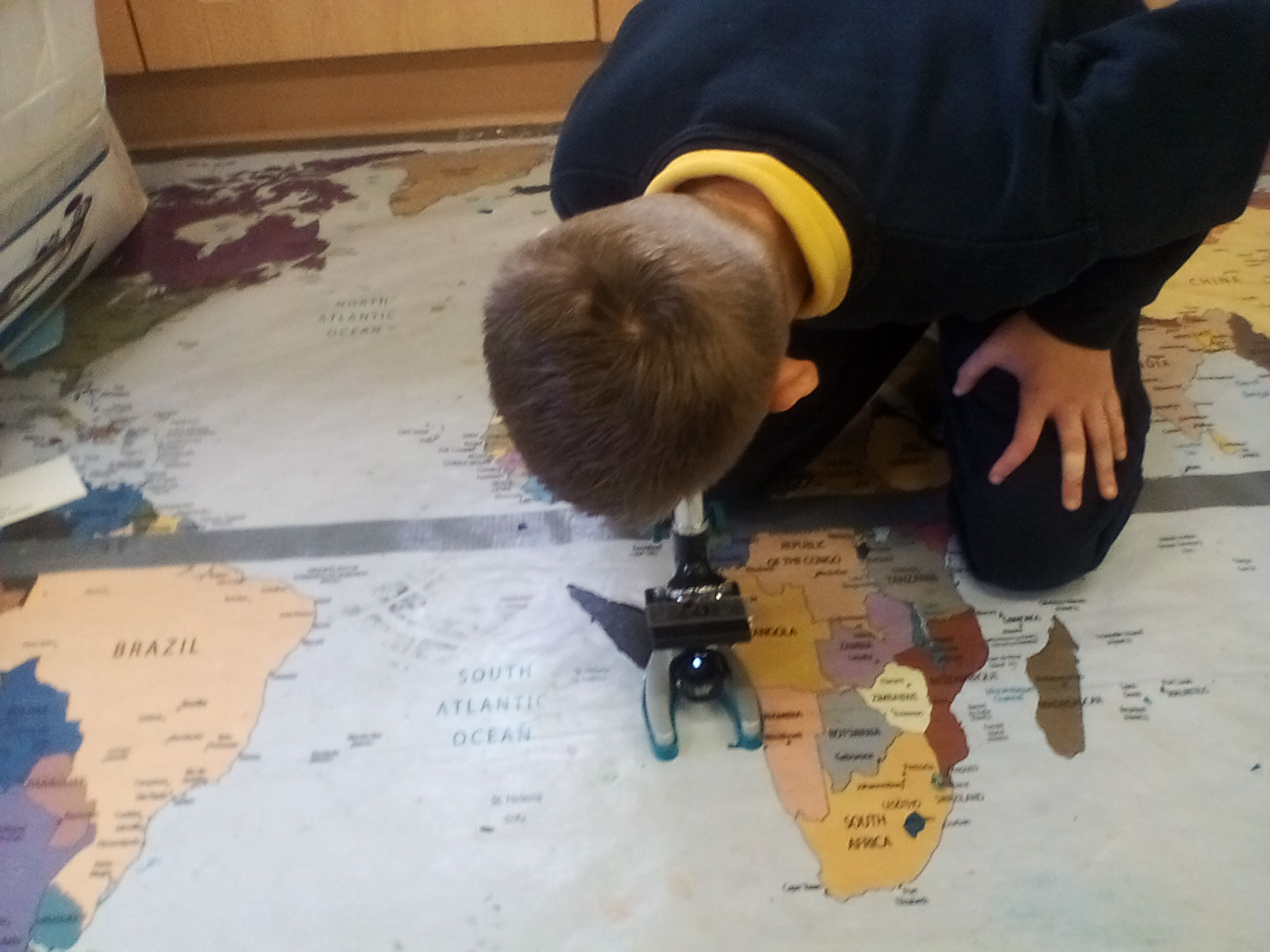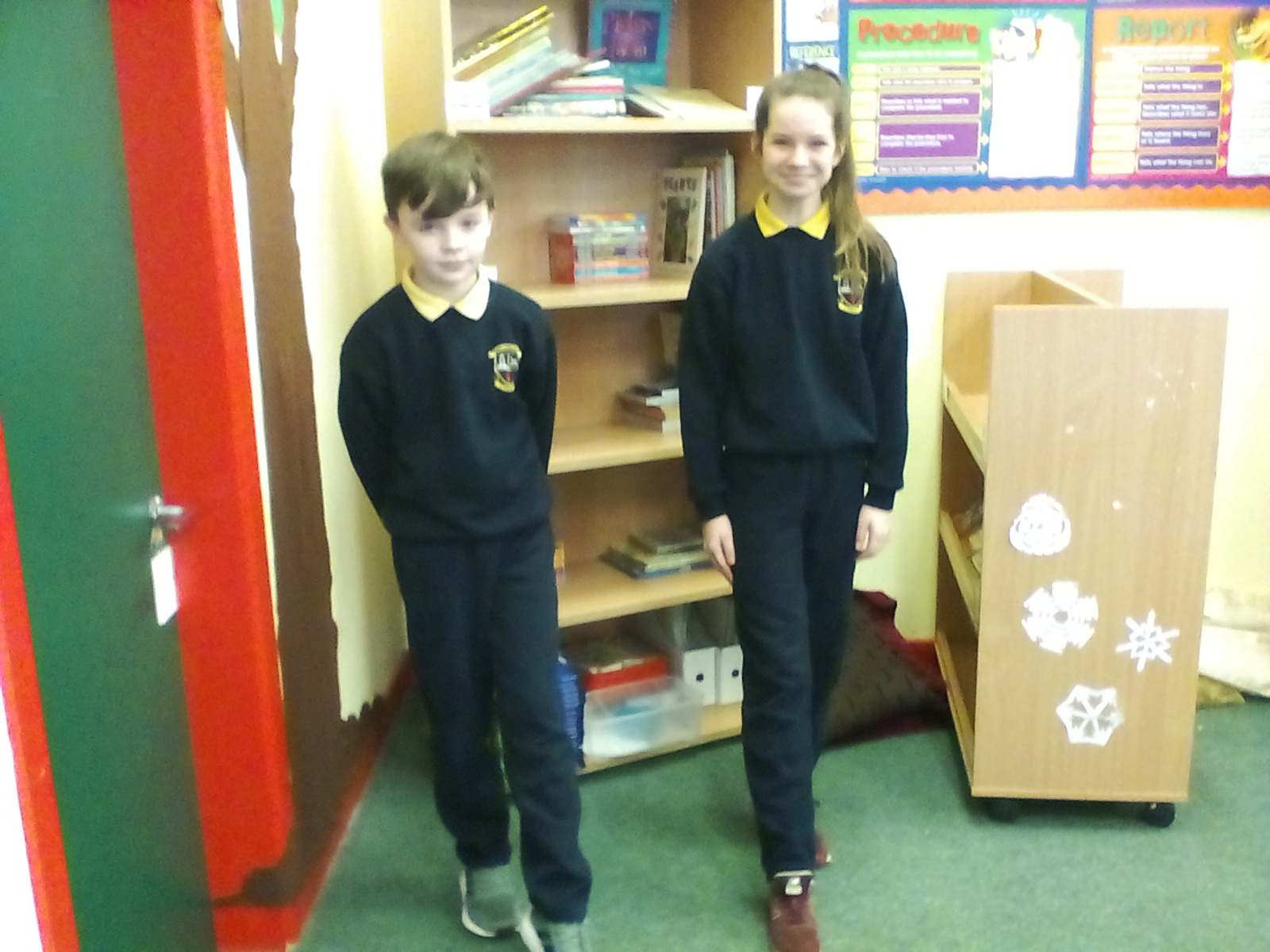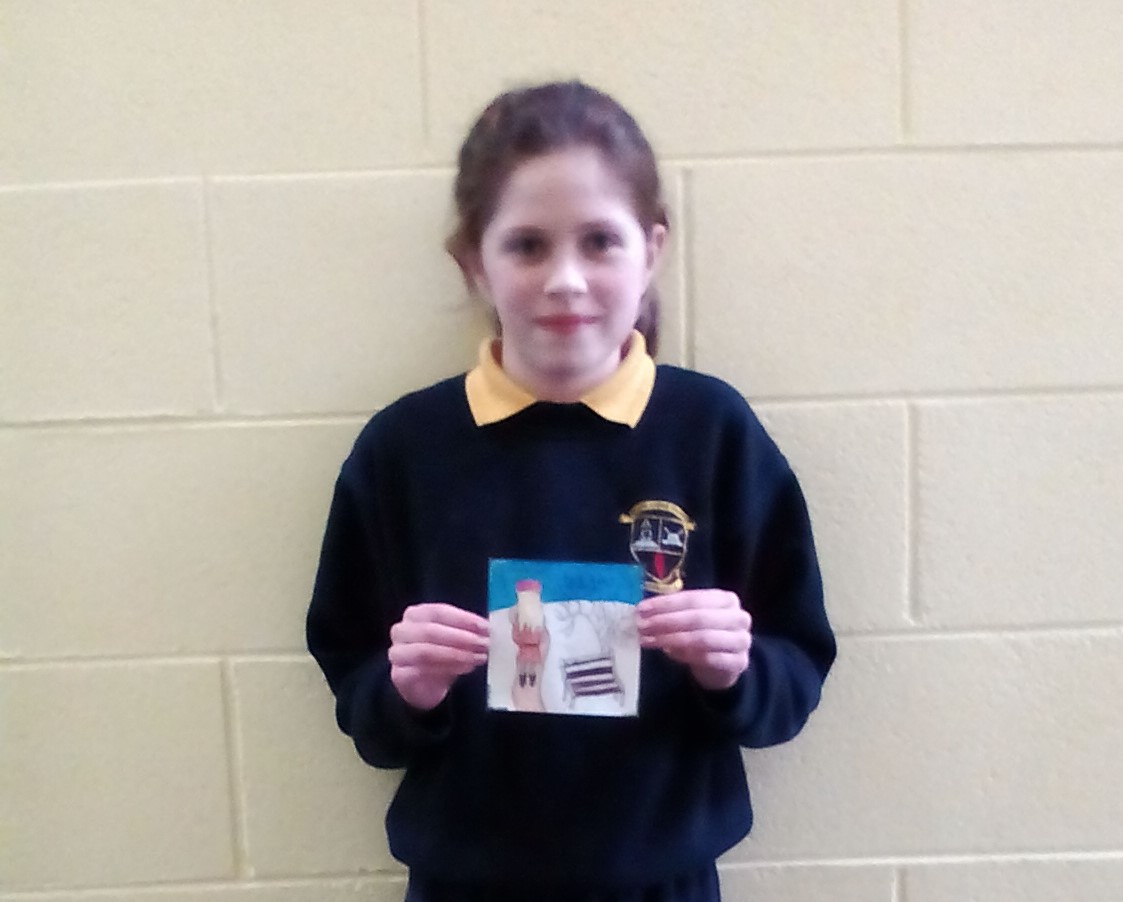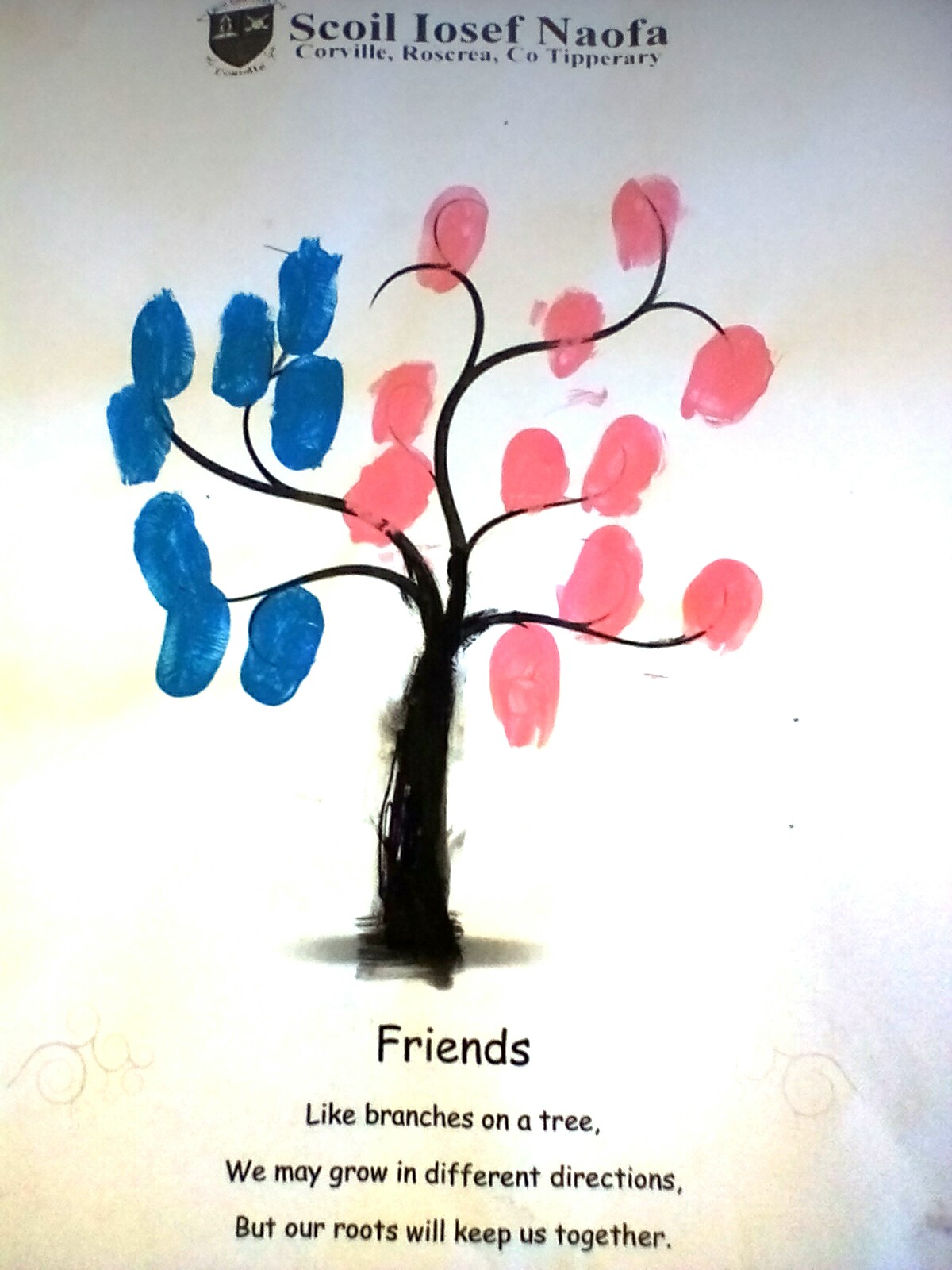 You can follow their blog by – clicking here.
---
Previous Corville News: 2017/18 Term 1 | 2016/17 Term 3 | 2016/17 Term 2 | 2016/17 Term 1