School Calendar Dates
August
27th and 28th – 2 days
August 30th – Sept 4th – 5 days
September
7th – 11th – 5 days
14th – 18th – 5 days
21st – 25th – 5 days
28th – October 2nd – 5 days
October
5th – 9th – 5 days
12th – 16th – 5 days
19th – 23rd – 5 days
November
2nd – 6th – 5 days
9th – 13th – 5 days
16th – 20th – 5 days
23rd – 27th – 5 days
30th – December 3rd – 4 days
December
7th – 11th – 5 days
14th – 18th – 5 days
21stand 22nd – 2 days
January
6th – 8th – 3 days
11th – 15th – 5 days
18th – 22nd – 5 days
25th – 29th – 5 days
February
1st – 5th – 5 days
8th – 12th – 5 days
15th – 17th – 3 days
22nd – 26th – 5 days
March
1st – 5th – 5 days
8th – 12th – 5 days
15, 16, 18, 19 – 4 days
22nd – 26th 5 days
April
12th – 16th – 5 days
19th – 23rd – 5 days
26th – 30th – 5 days
May
4th – 7th – 4 days
10th – 14th – 5 days
17th – 21st – 5 days
24th – 28th – 5 days
May 31st – June 4th – 5 days
June
8th – 11th – 4 days
14th – 18th – 5 days
21st and 22nd 2 days
Total days 183
---
Open letter – Acting Chief Medical Officer
to parents and guardians of school children and to teachers and affiliated school staff.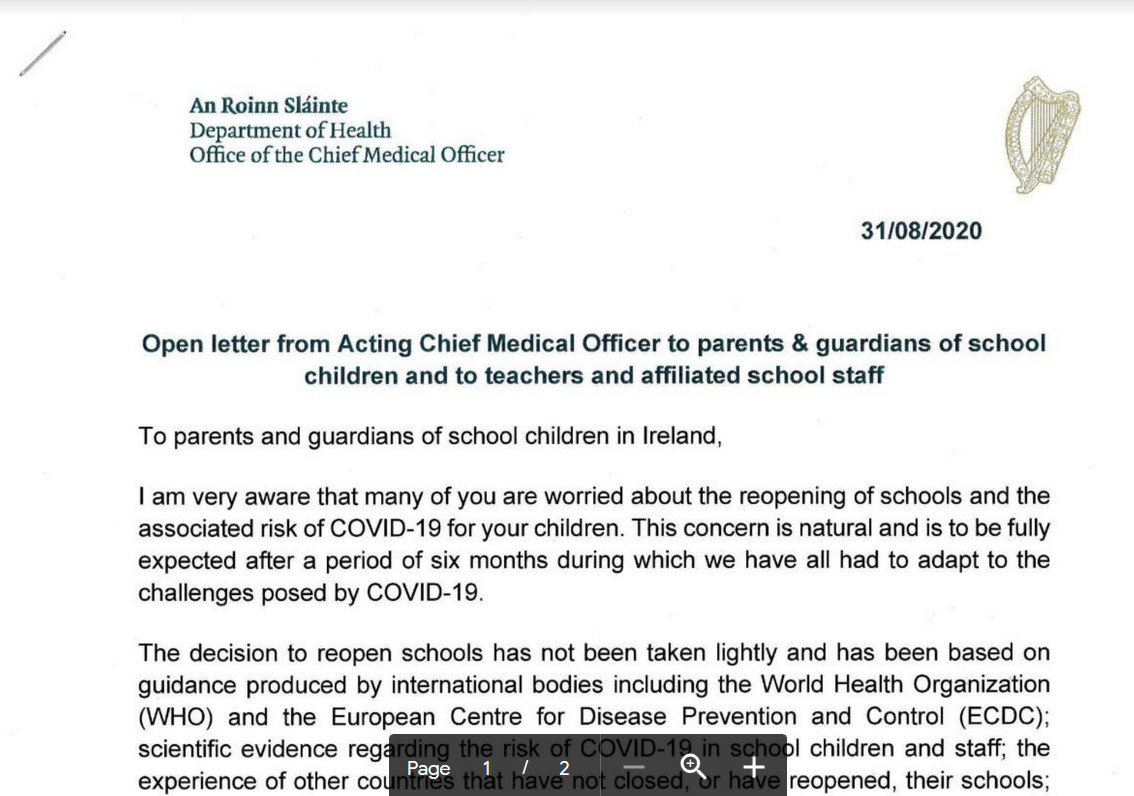 ---
Information from the HSE for Parents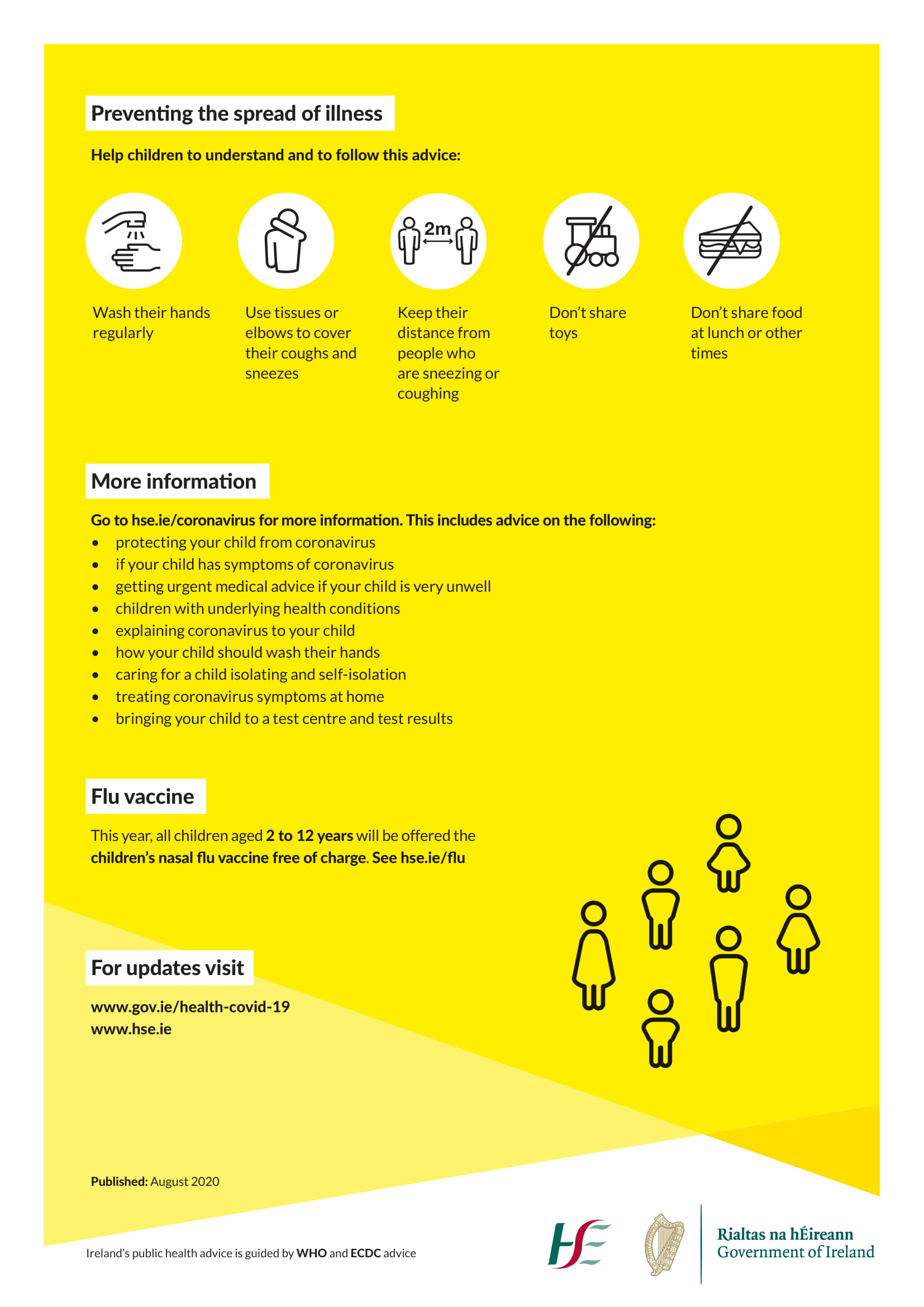 ---
Update to the Back to School Roadmap
Dear Parents and Staff,
The following protocols are announced in addition to those that we have issued previously.
1. Travel advice from the Department of Education: Please adhere to the advice below and do not return to school within fourteen days of travel from anywhere outside of the "green" countries.
Reminder to anyone attending school who has traveled abroad:
Government policy, which is based on official public health advice, continues to advise against non-essential travel overseas for everyone.
It is a requirement for anyone coming into Ireland, from locations other than those with a rating of 'normal precautions' ("green"), to restrict their movements for 14 days, and this includes school staff, parents and children or other students coming from abroad to attend school in Ireland. Restricting your movements means staying indoors in one location and avoiding contact with other people and social situations as much as possible.
Regards, Reopening Schools Section
2. Face Masks are not encouraged nor discouraged for pupils in Senior Classes
The advice of the Department of Education available
at https://www.gov.ie/en/publication/b264b-roadmap-for-the-full-return-to-school/ is as follows
"Non-medical masks may reduce transmission from individuals who are shedding the virus.
However, the extent of this benefit is unknown (especially in children) and would only be
potentially beneficial if done properly. It is not practical for many students to wear a mask
properly for the duration of a school day. Cloth face coverings are not suitable for children
under the age of 13 and anyone who
has trouble breathing
is unconscious or incapacitated
is unable to remove it without help
has special needs and who may feel upset or very uncomfortable wearing the face covering
Older students should not be requested to wear a facial covering but those who may wish to wear a facial covering where physical distancing is difficult to maintain should not be discouraged.
It is essential that those wearing a cloth face covering understand:
The purpose is not to protect themselves but to reduce onward transmission and the benefit is reliant on ensuring the mask is worn appropriately see guidance on mask wearing
Wearing a face covering or mask does not negate the need to stay at home if symptomatic.
"It is not a teachers responsibility to enforce mask use by pupils in line with the Public Health Advice, the use of face coverings/masks by pupils in primary schools by pupils should not occur"
Therefore, the position of the school is that masks or face coverings will not be discouraged nor promoted. It is entirely up to you the parents if your child wears a mask. The current advice from the Department of Education and HSE is that children under the age of 13 should not wear a mask. Should this advice change, I will update parents accordingly.
3. Uniform
All pupils are expected to present to school in their full uniform.
4. Homework
No written homework will be assigned in September or until further notice.
5. Temperature:
Please take your child's temperature every morning before leaving home. If your child has a fever they should not attend school.
6. Book Rental/ Art and craft and insurance:
Please send in any outstanding monies with your child in a sealed addressed envelope.
7. Staggered Lunch Times:
The school will operate staggered Break and Lunch times for all pupils daily. Pupils will
be informed of all changes when we return on Thursday 27th .
As always thank you for your support and encouragement
John Slattery
Back to School Roadmap
What parents / guardians & students need to know
>> click to download Roadmap Word Document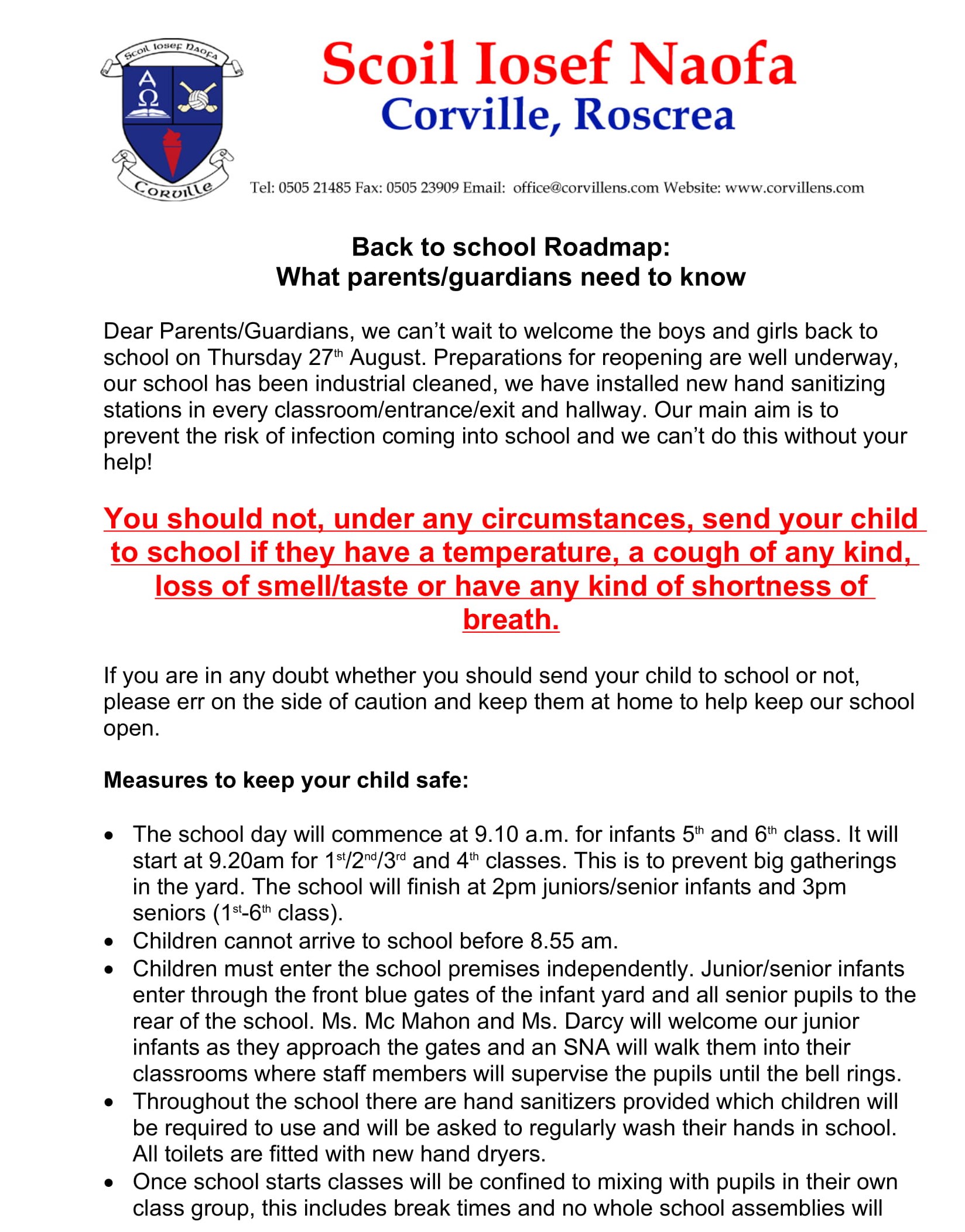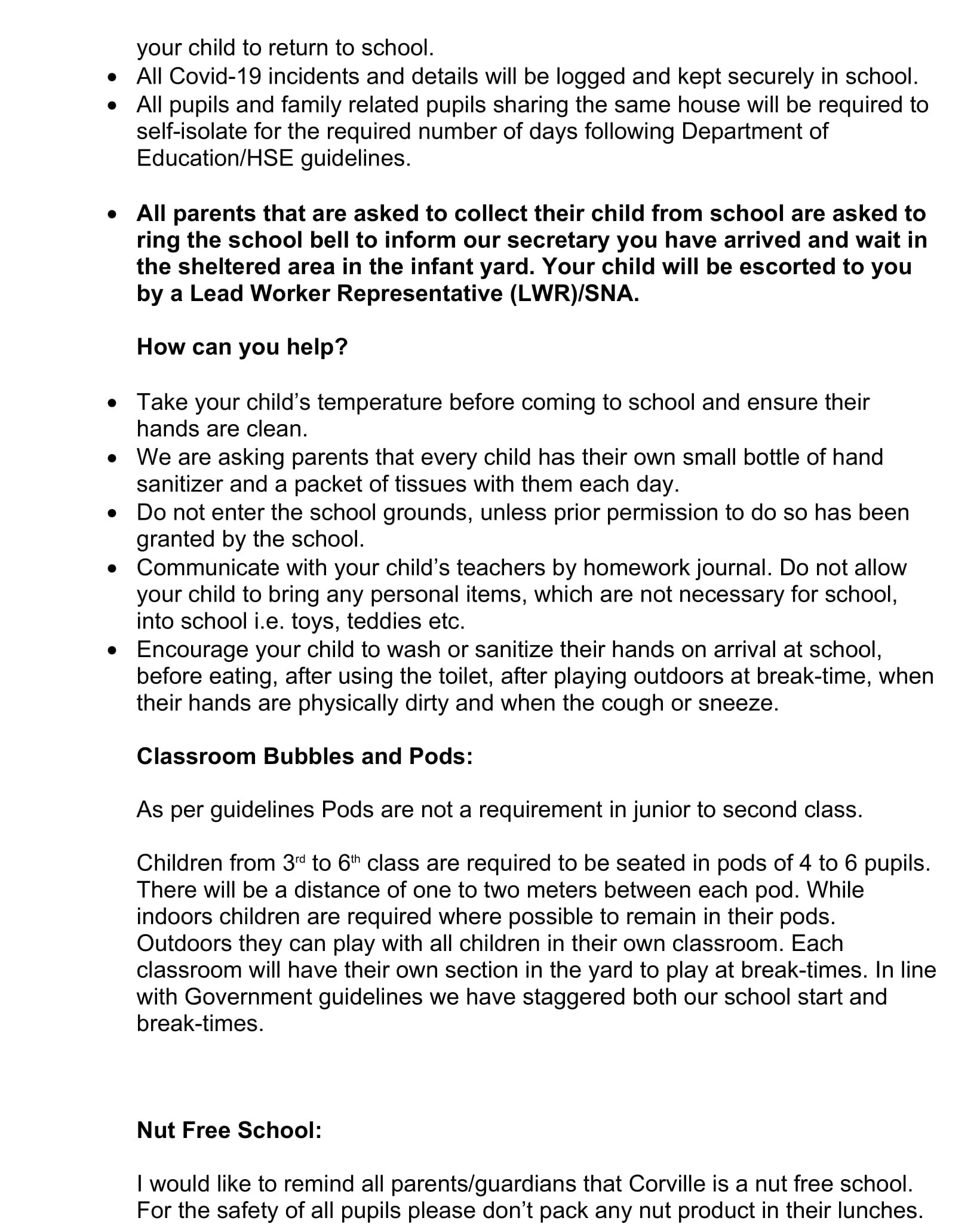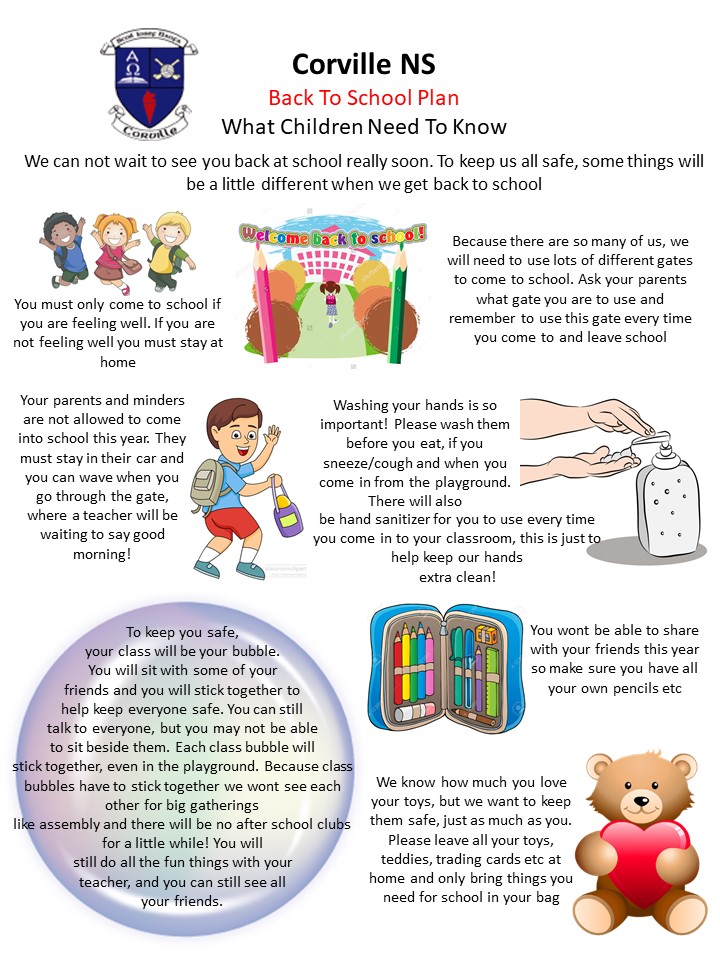 ---
Transitioning Workshop – Class of 2020
Please contact Mary Grace on 087-952 9041 to avail of this workshop or email mgrace@ntdc.ie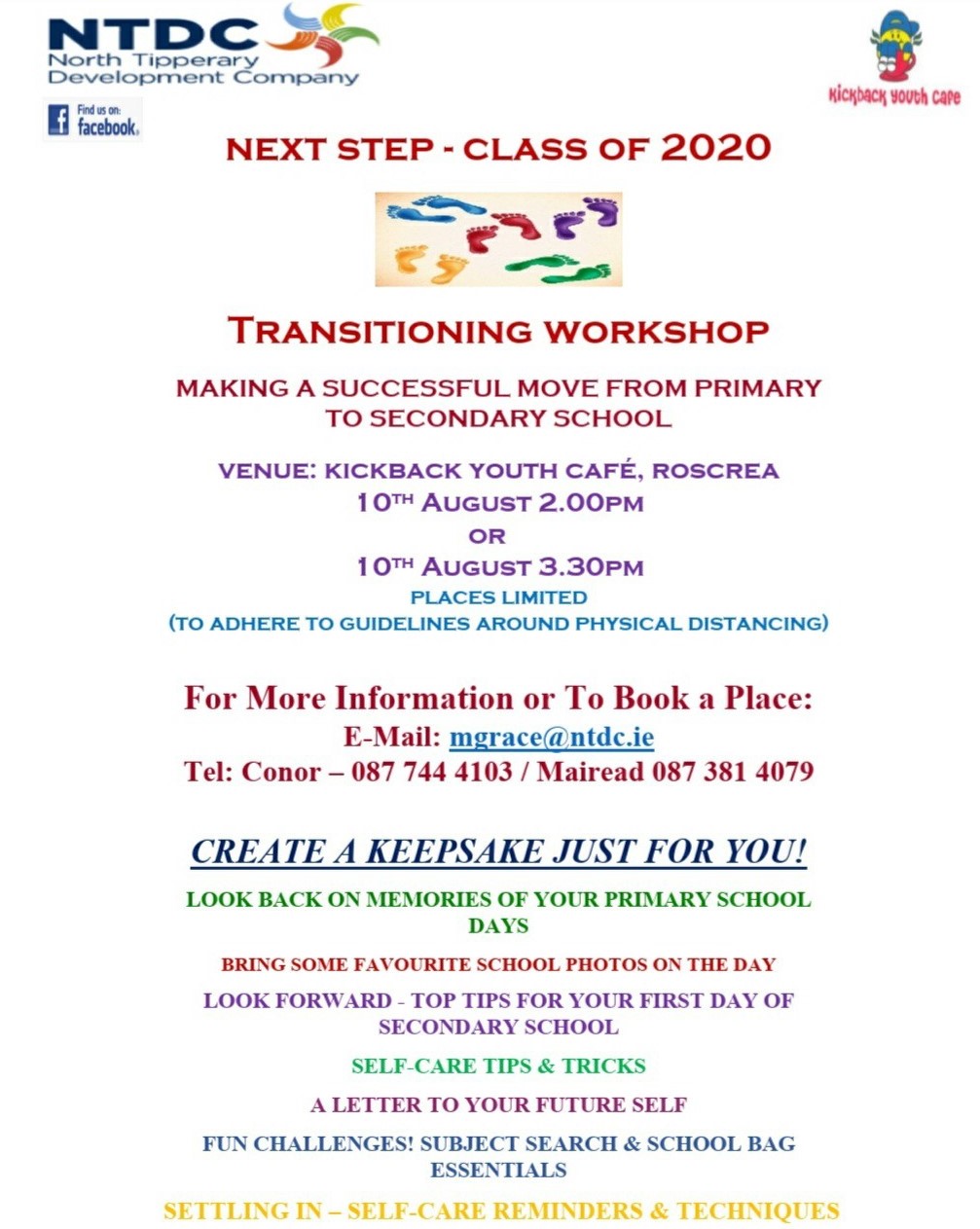 ---
Previous News: 19/20 T2 |19/20 T1 | 18/19 T3 | 18/19 T2 | 18/19 T1 |17/18 T3 | 17/18 T2