Corville Updates – 09/11/19
Welcome back to all our students after the Halloween break. The Nov/Dec period in school is always a hectic one so we better bring you fully up to date with everything that has been going on and what to expect in the coming weeks as we finish up term 1 and Christmas draws near. On the sporting front, the focus has been on Gaelic football with our U/11 and U/13 boys and girls in action, our 1st and 2nd classes all took part in a blitz recently too. There was a 3rd/4th class Futsal blitz in Thurles, and the County Cross Country races took place too. You can found out how we did below. The school are aiming to earn a big science award for our school in 2020 and we have been very busy with stuff for that. Our choir put in a huge amount of work for their Late Late Toy Show entry, but it was one of our students, Tom, that managed to earn a spot on the upcoming show. Finally, auditions and our first rehearsals have taken place for our Christmas Play – Willy Wonka and the Chocolate Factory.
Halloween in Corville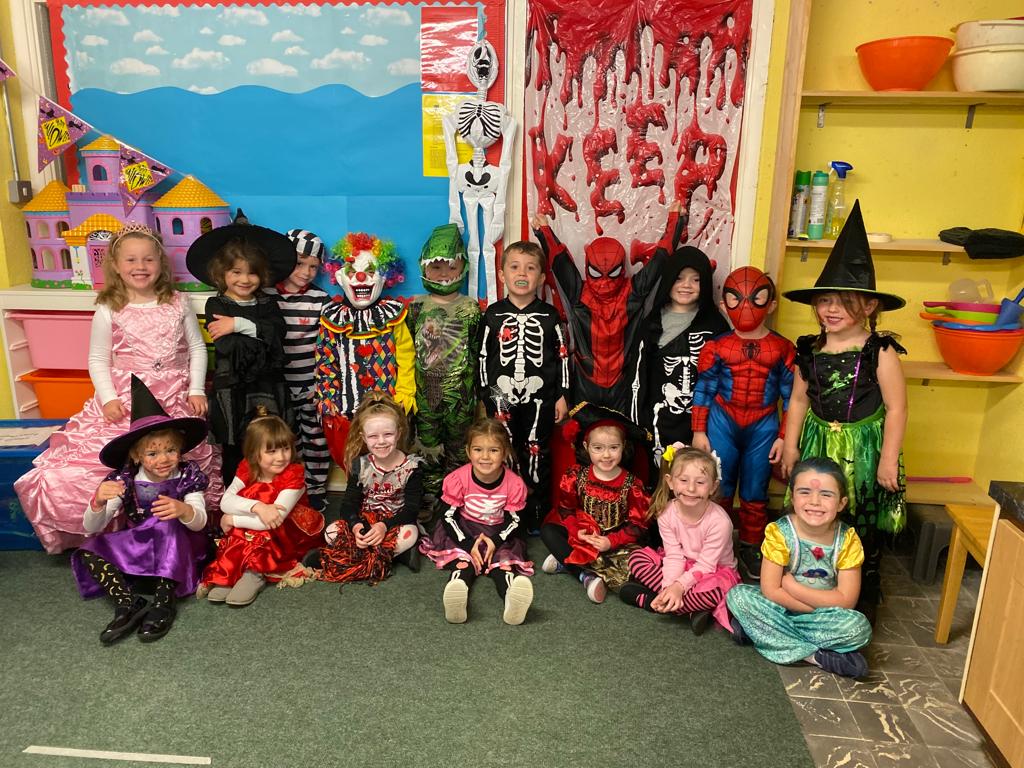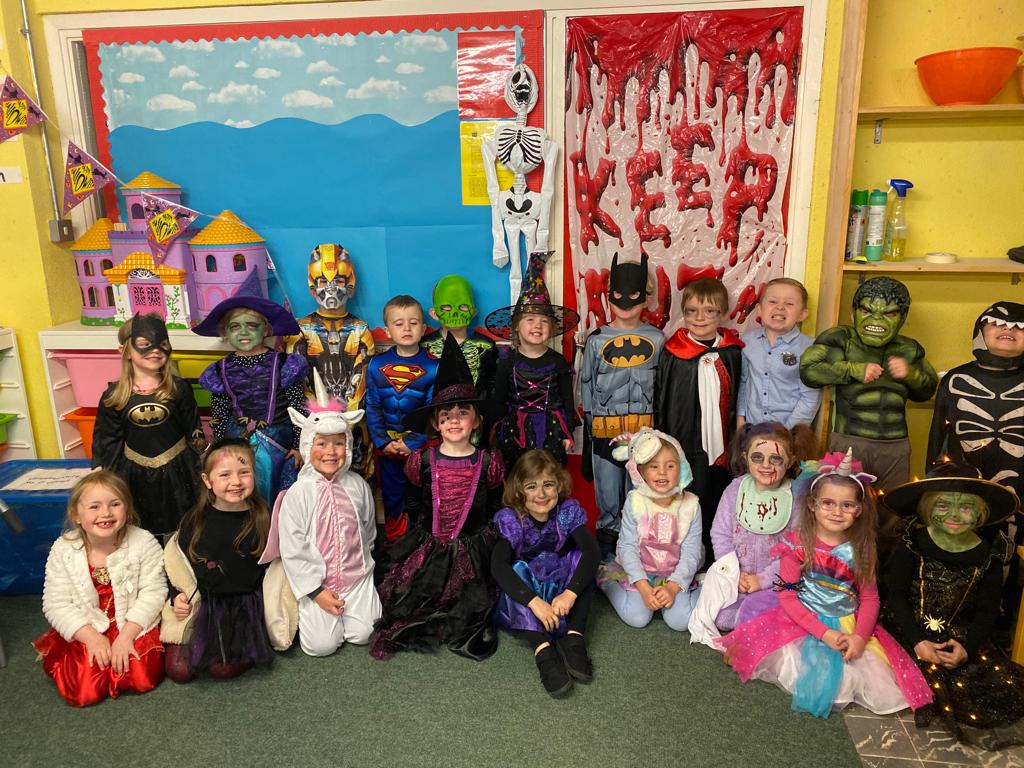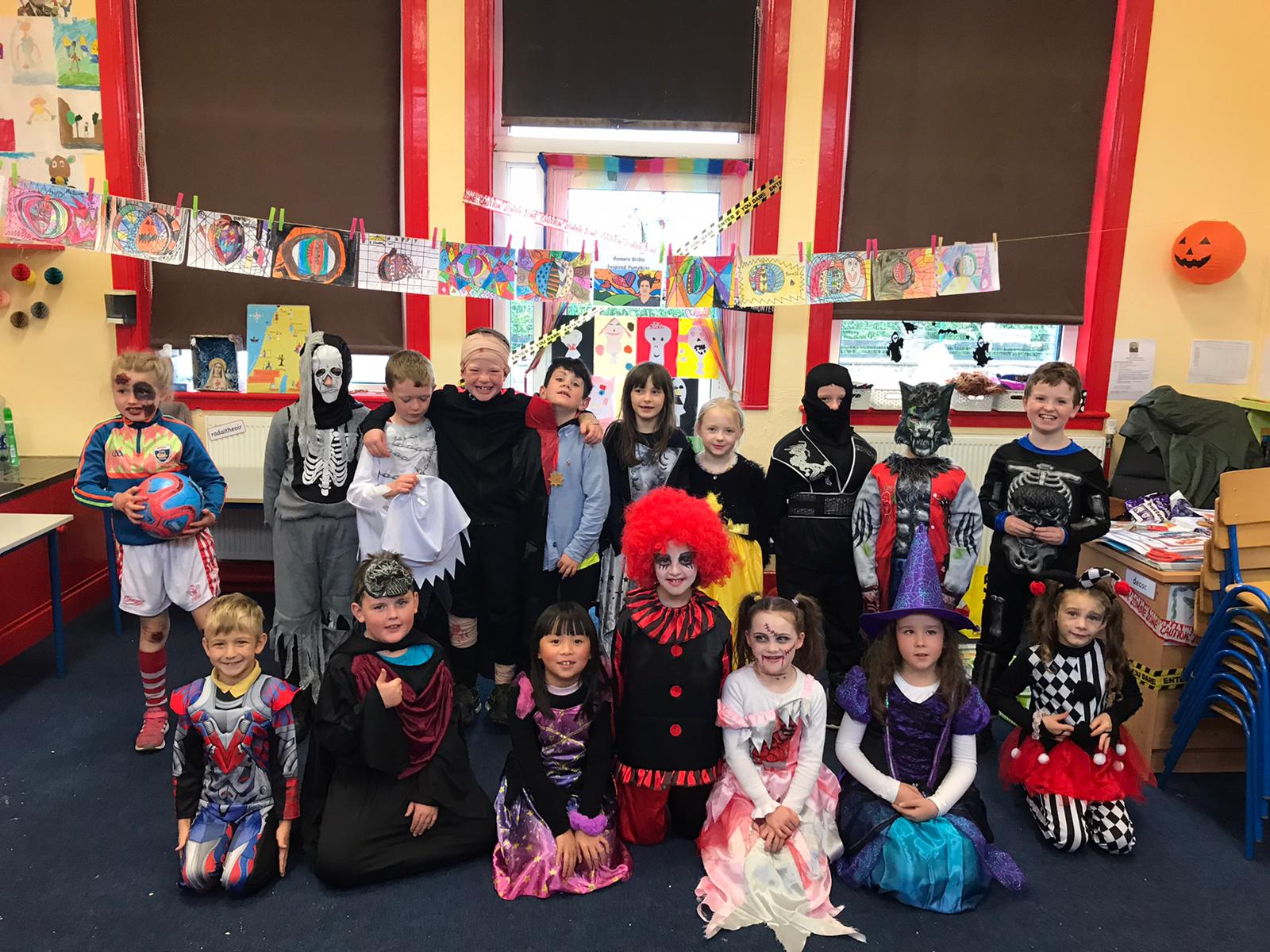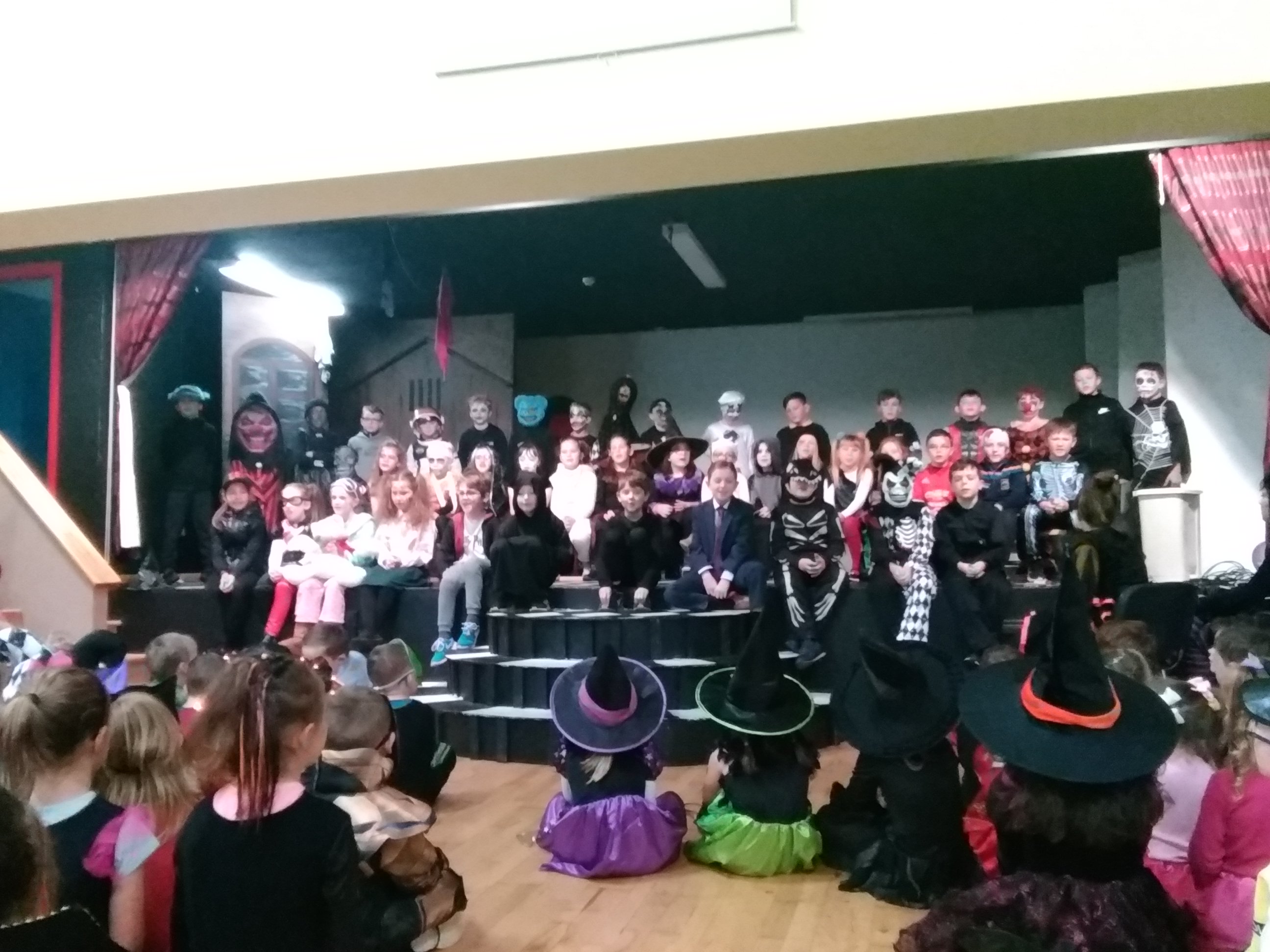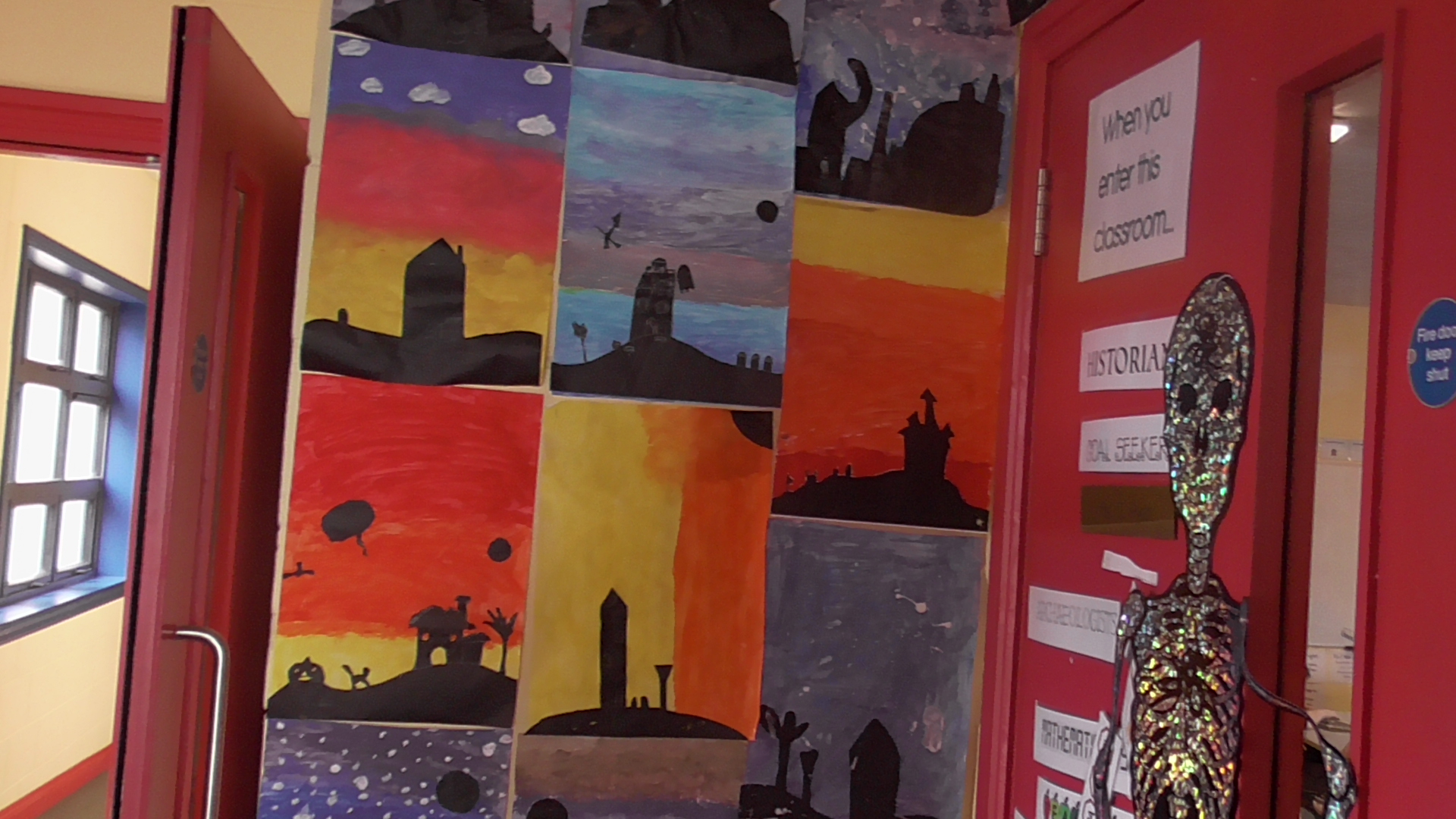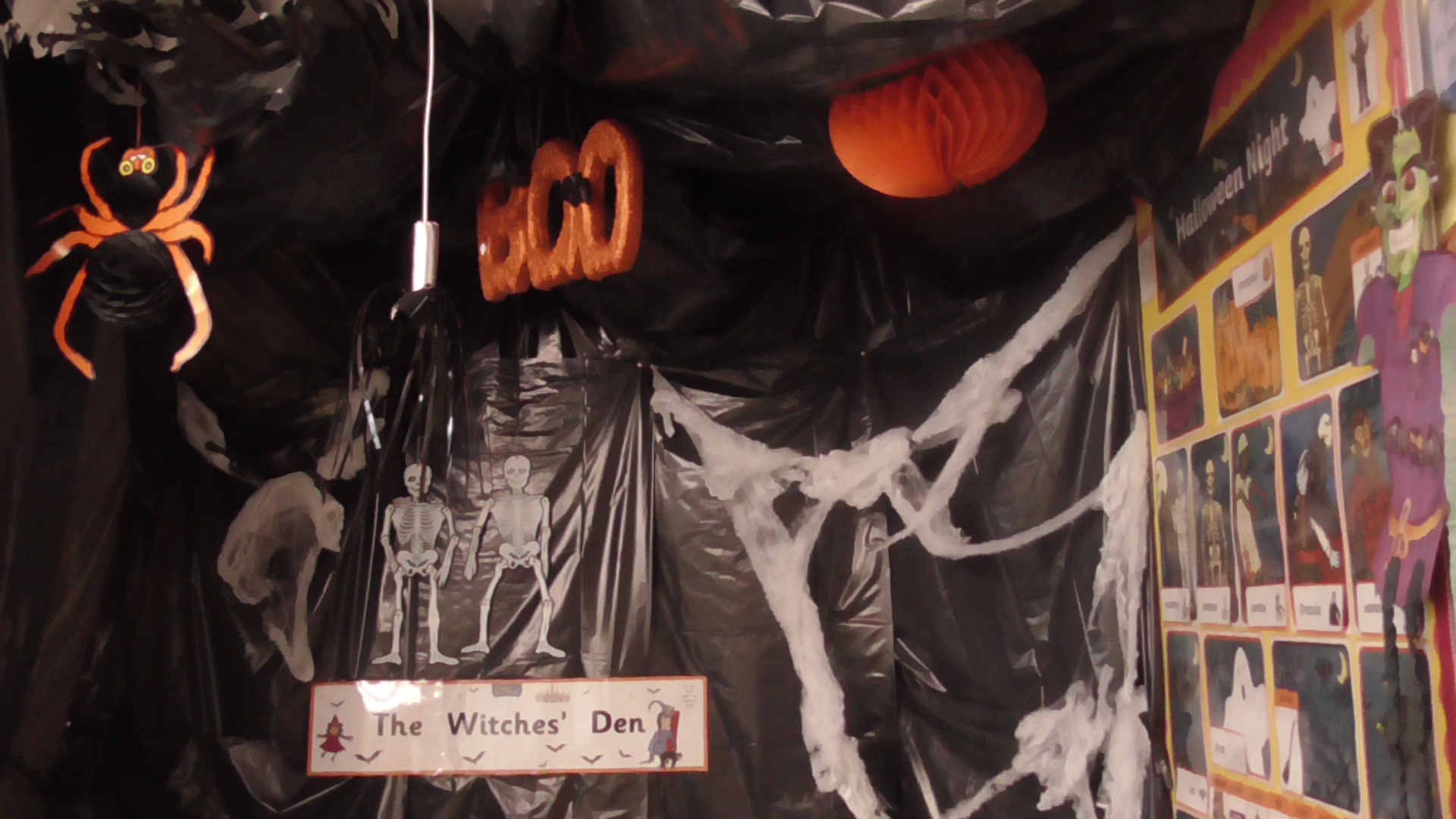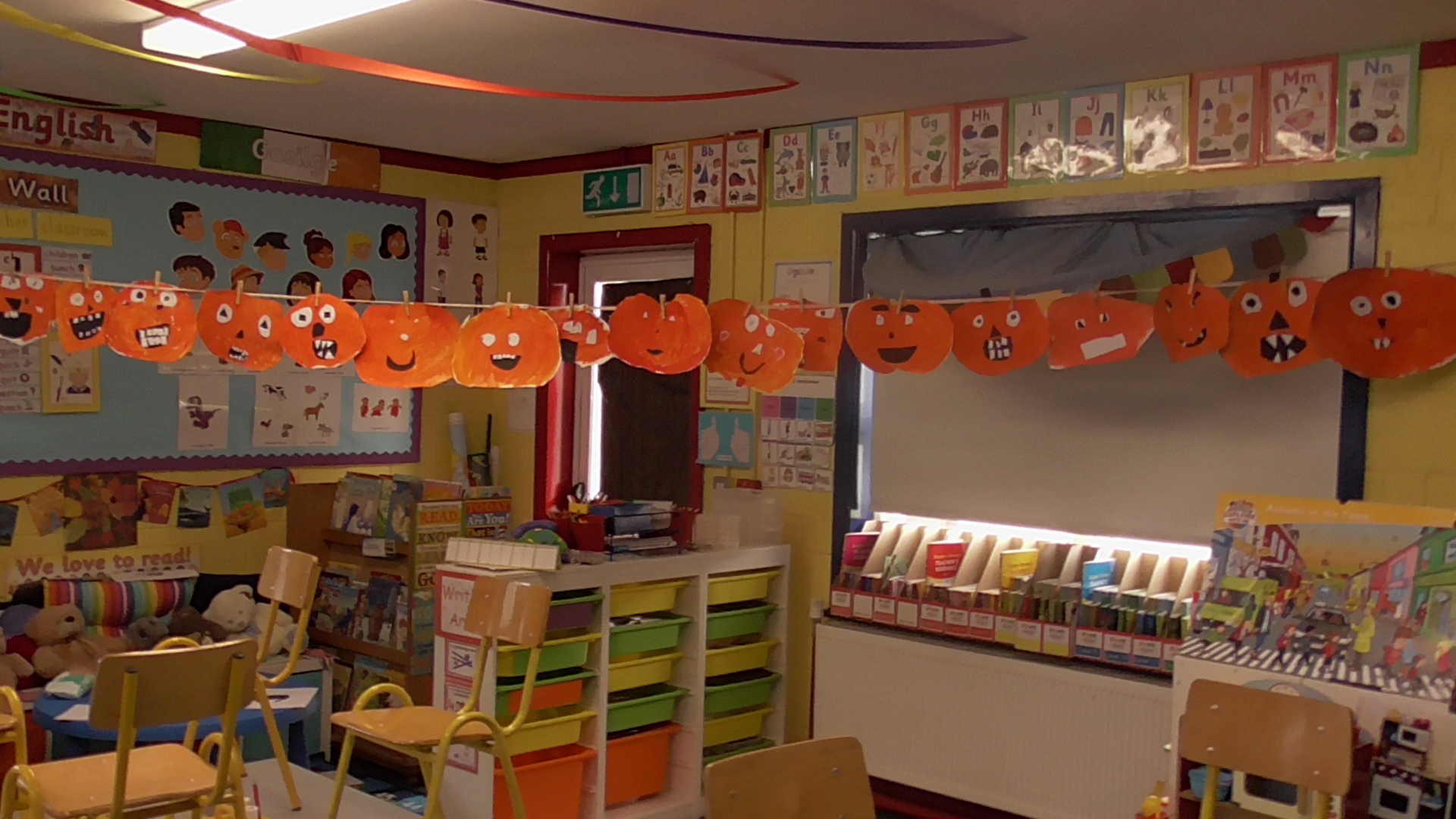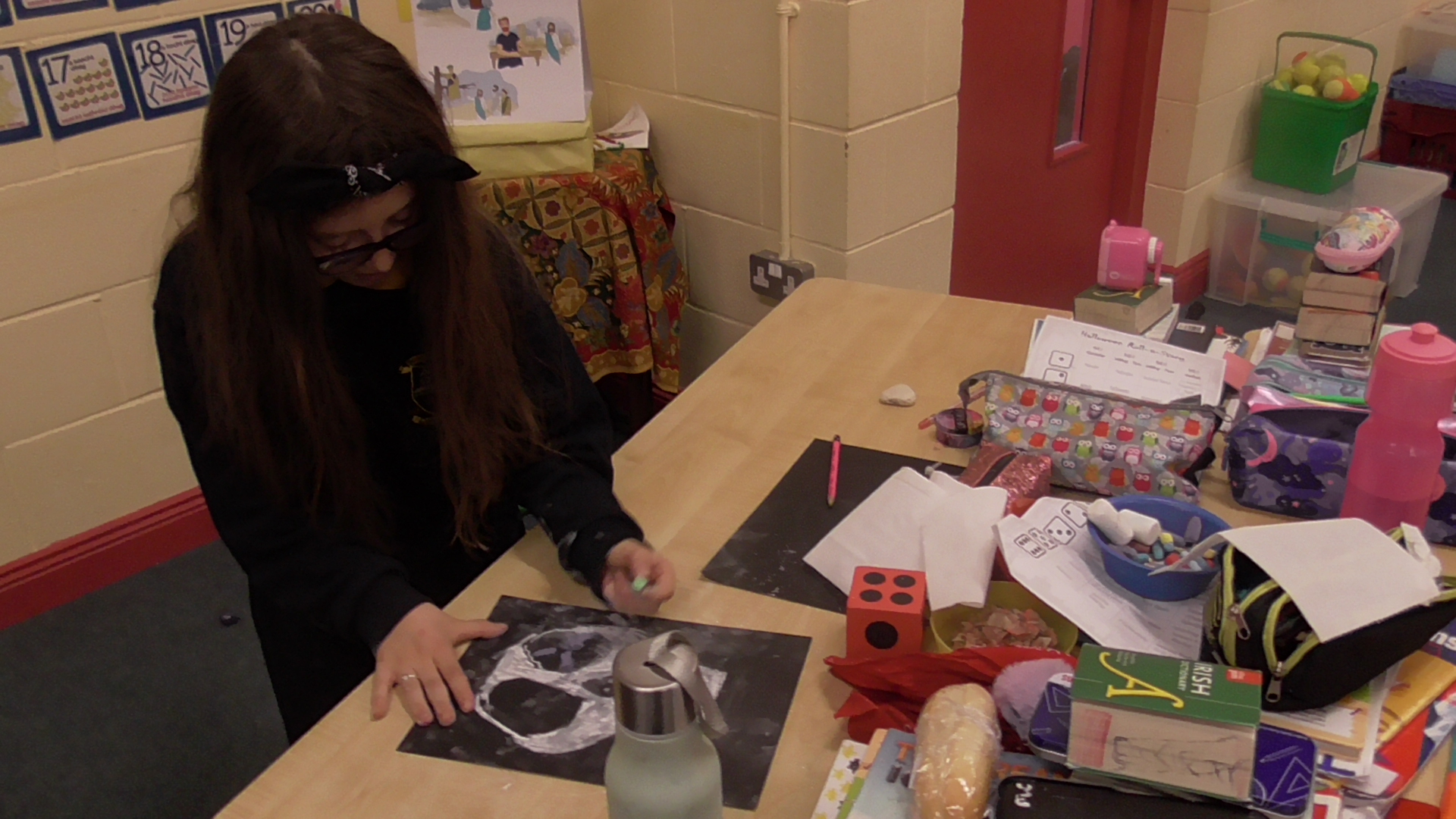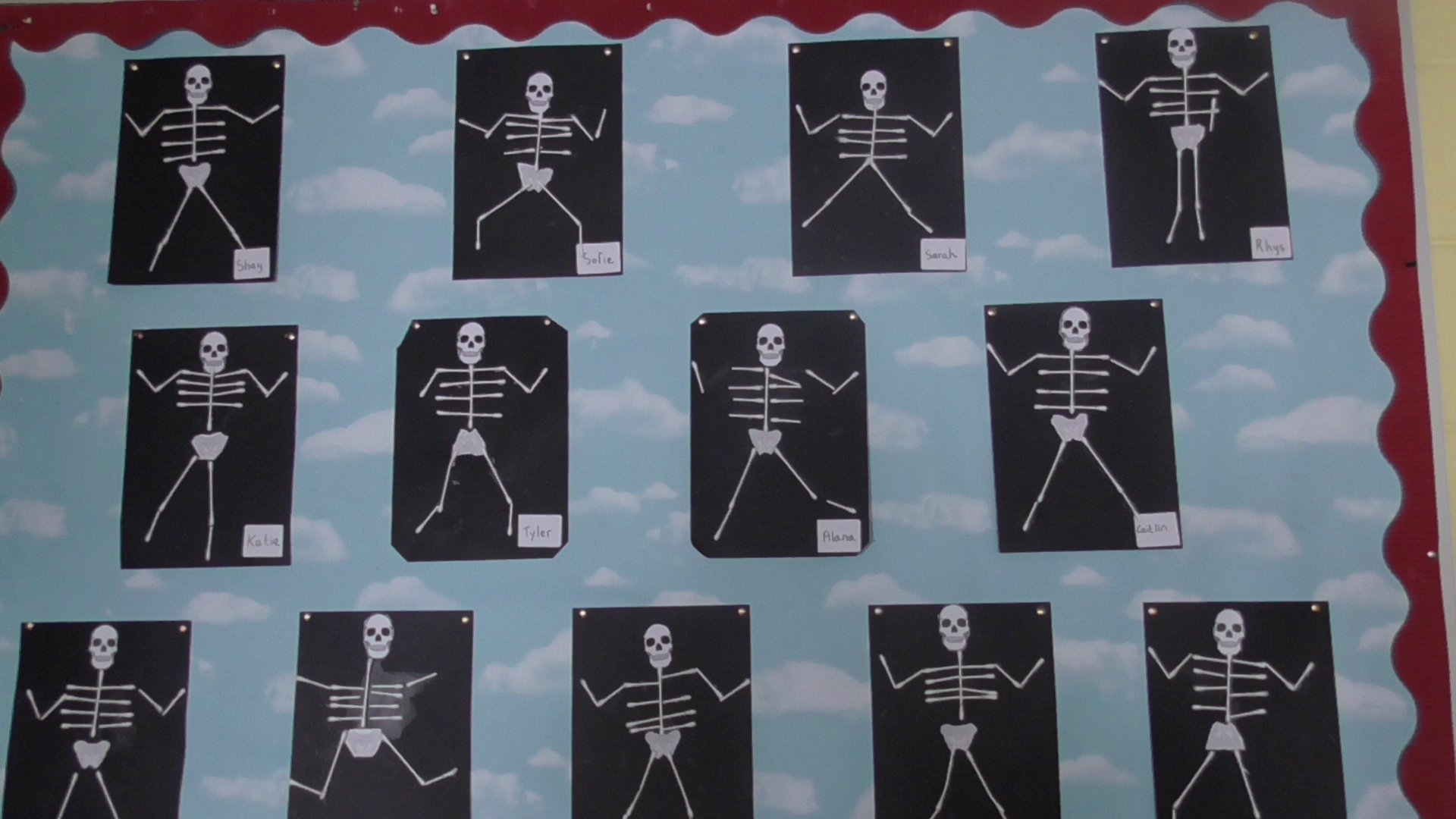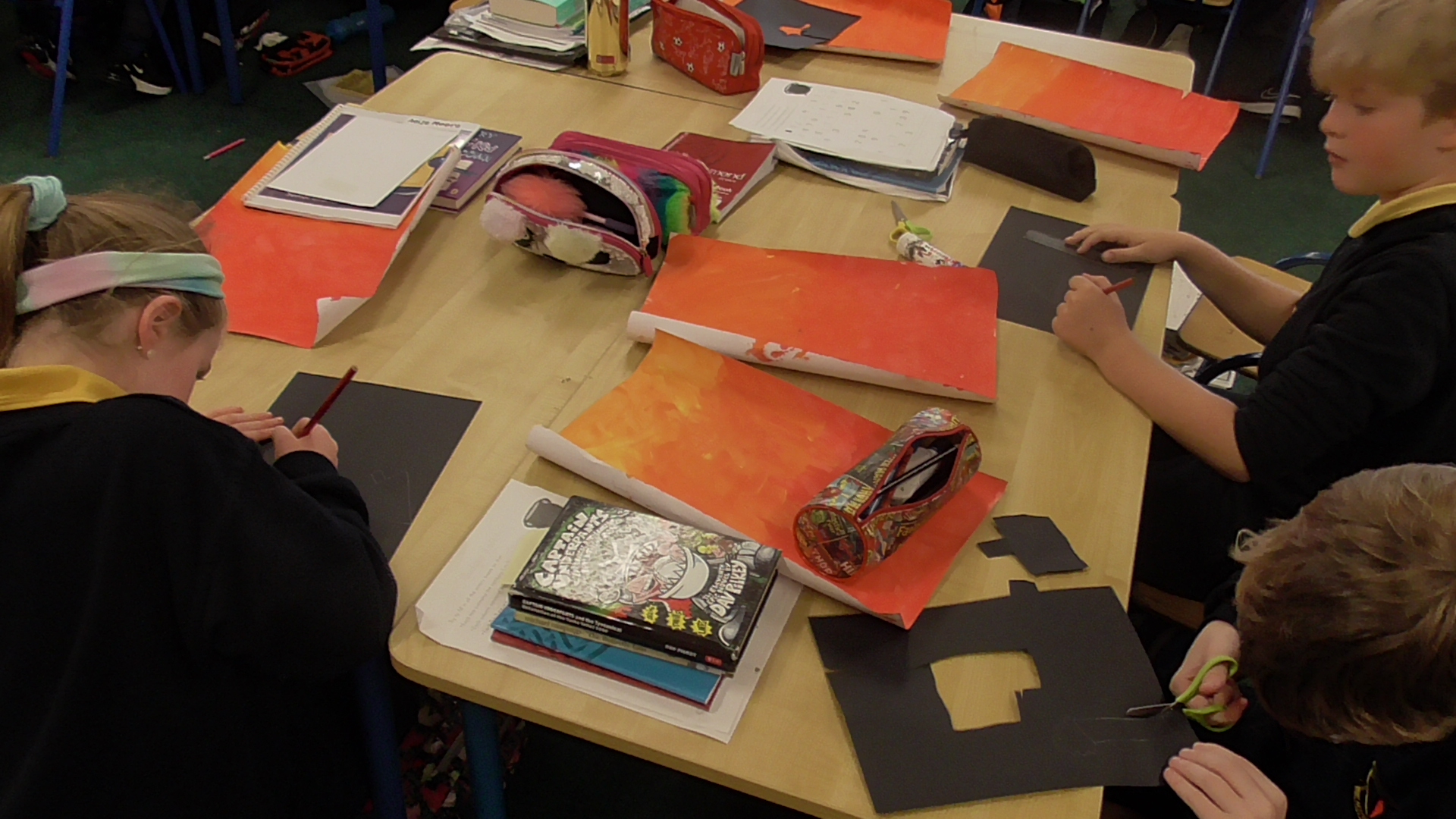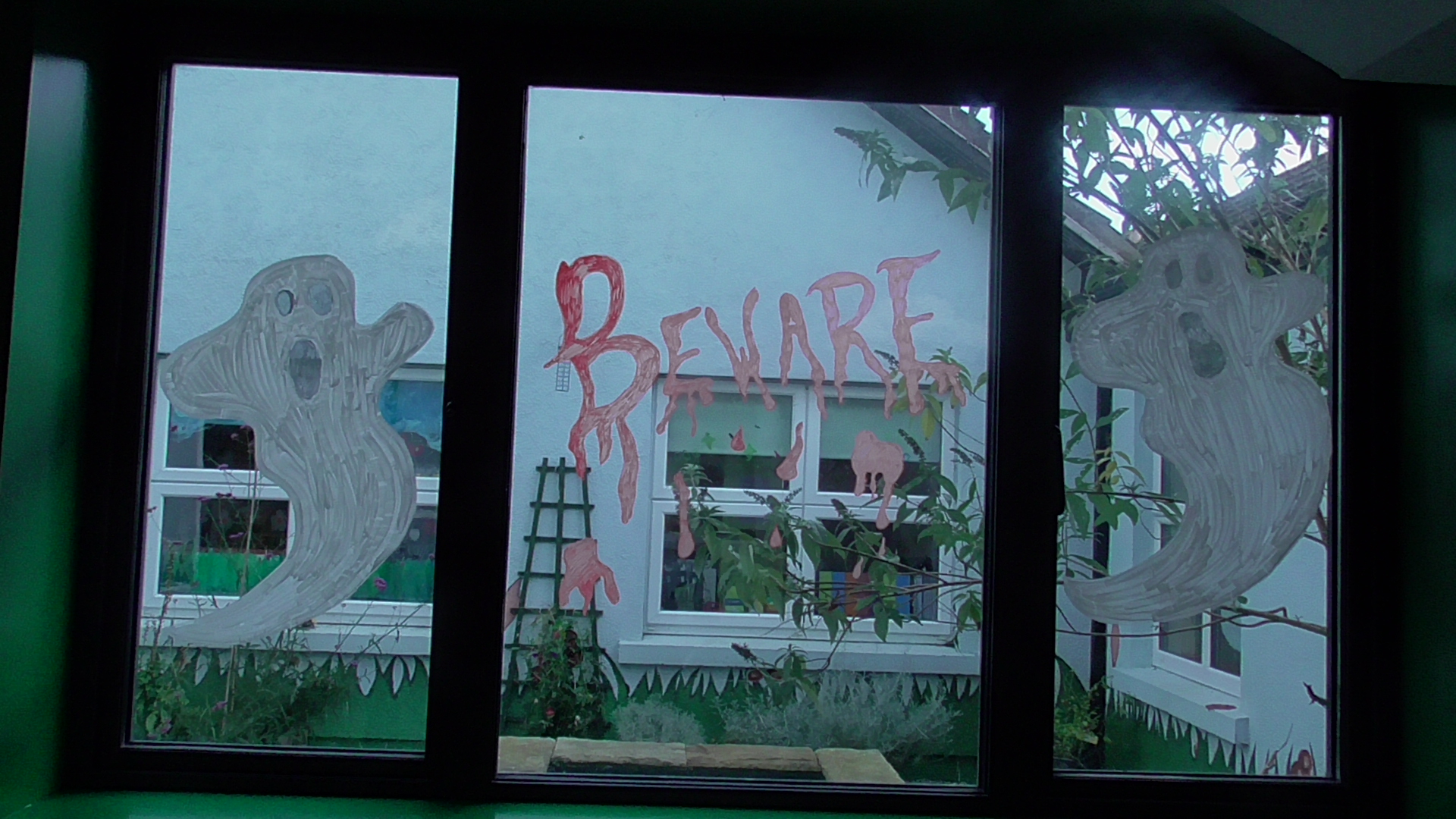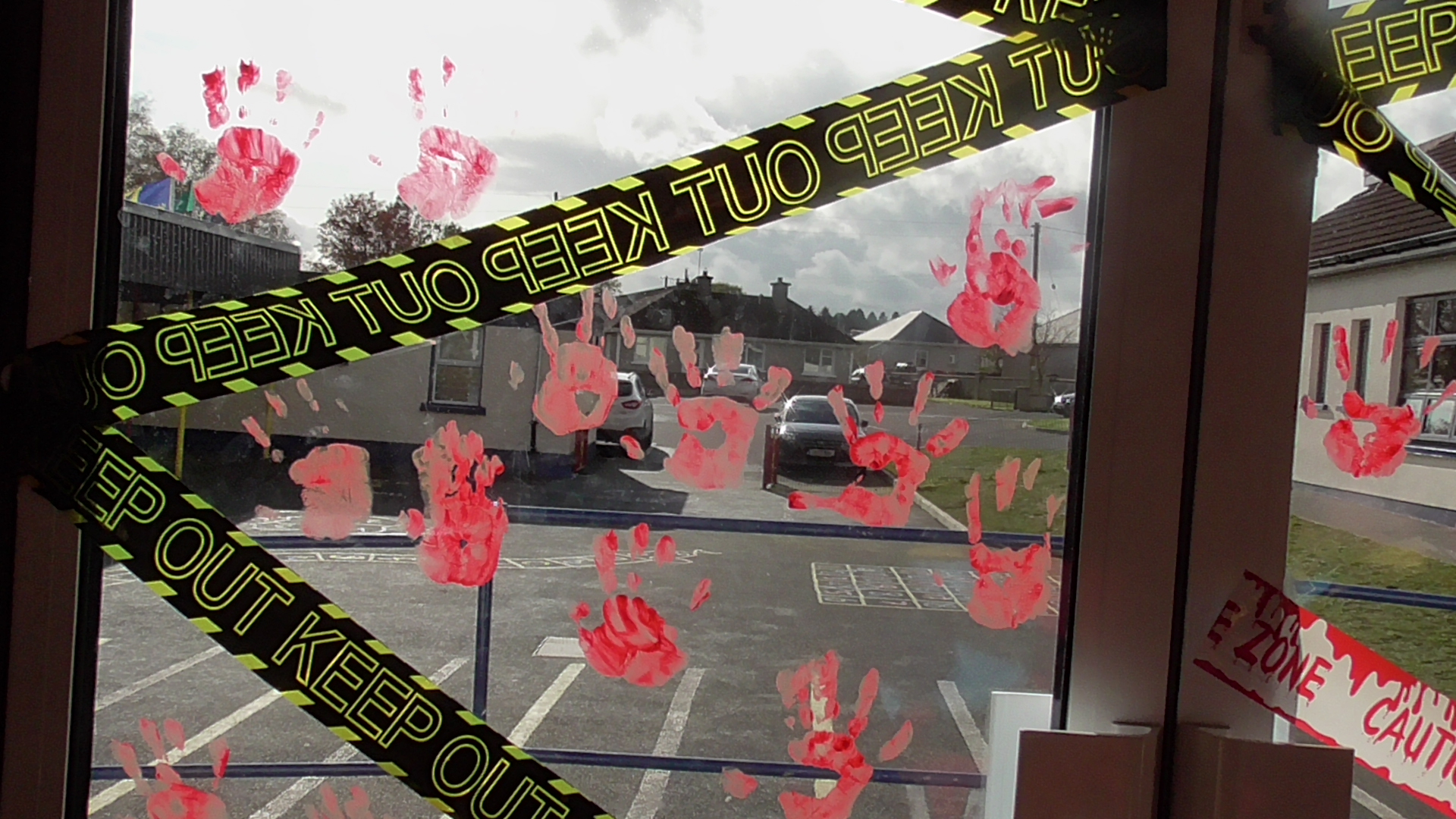 Pumpkin Carving: Ms Frawley's Senior Infants had a spooktakular morning carving pumpkins with their parents. This amazing school crest pumpkin was carved by Jake Dunne and his sister.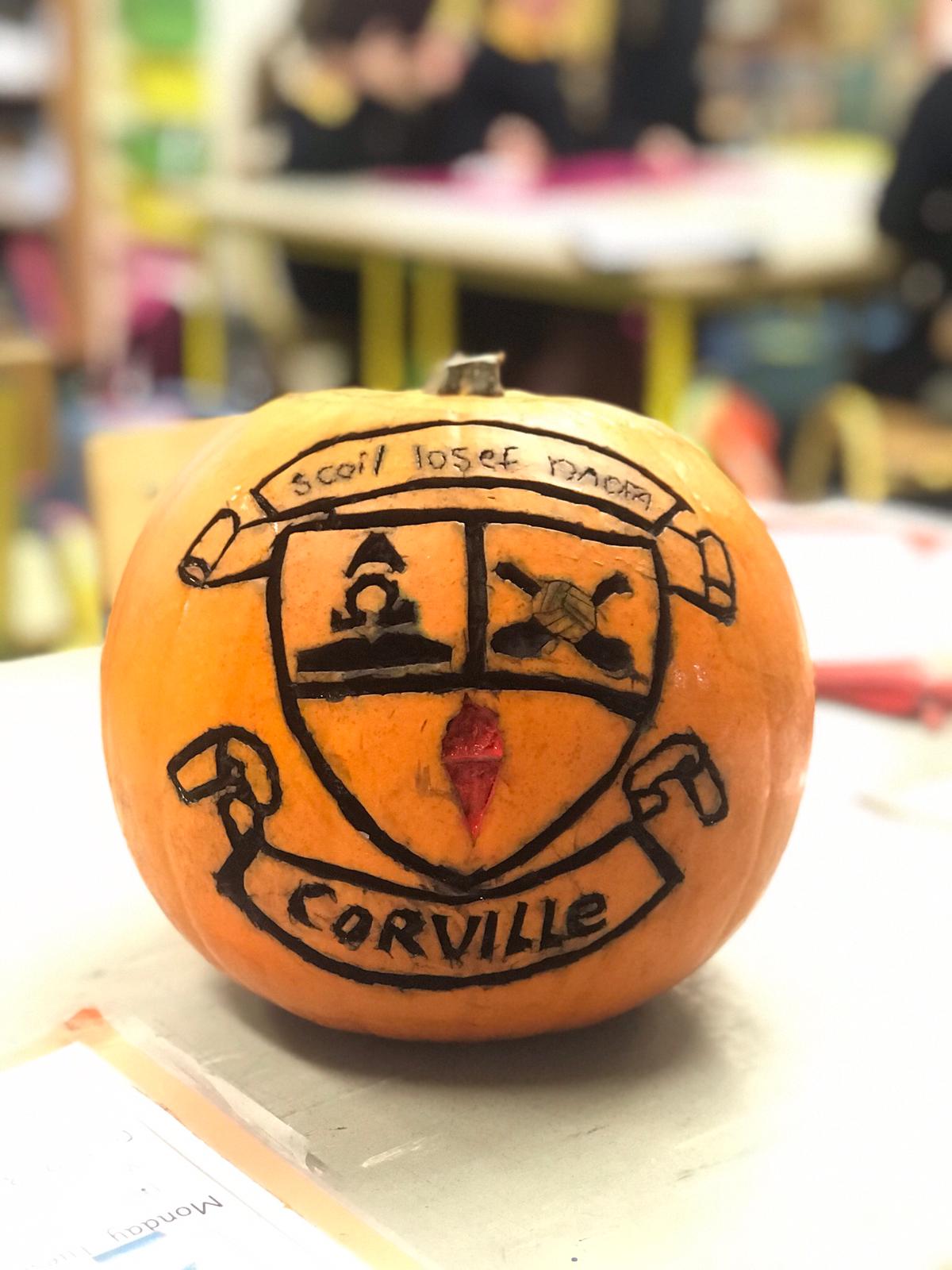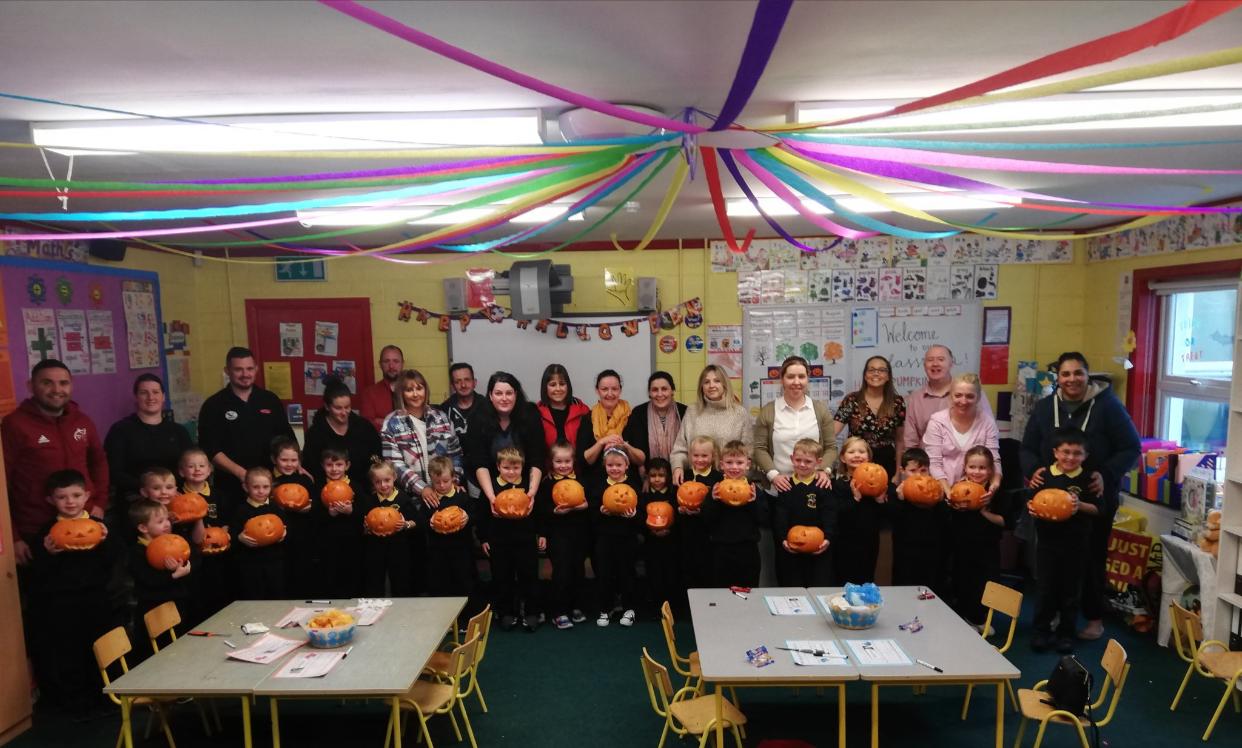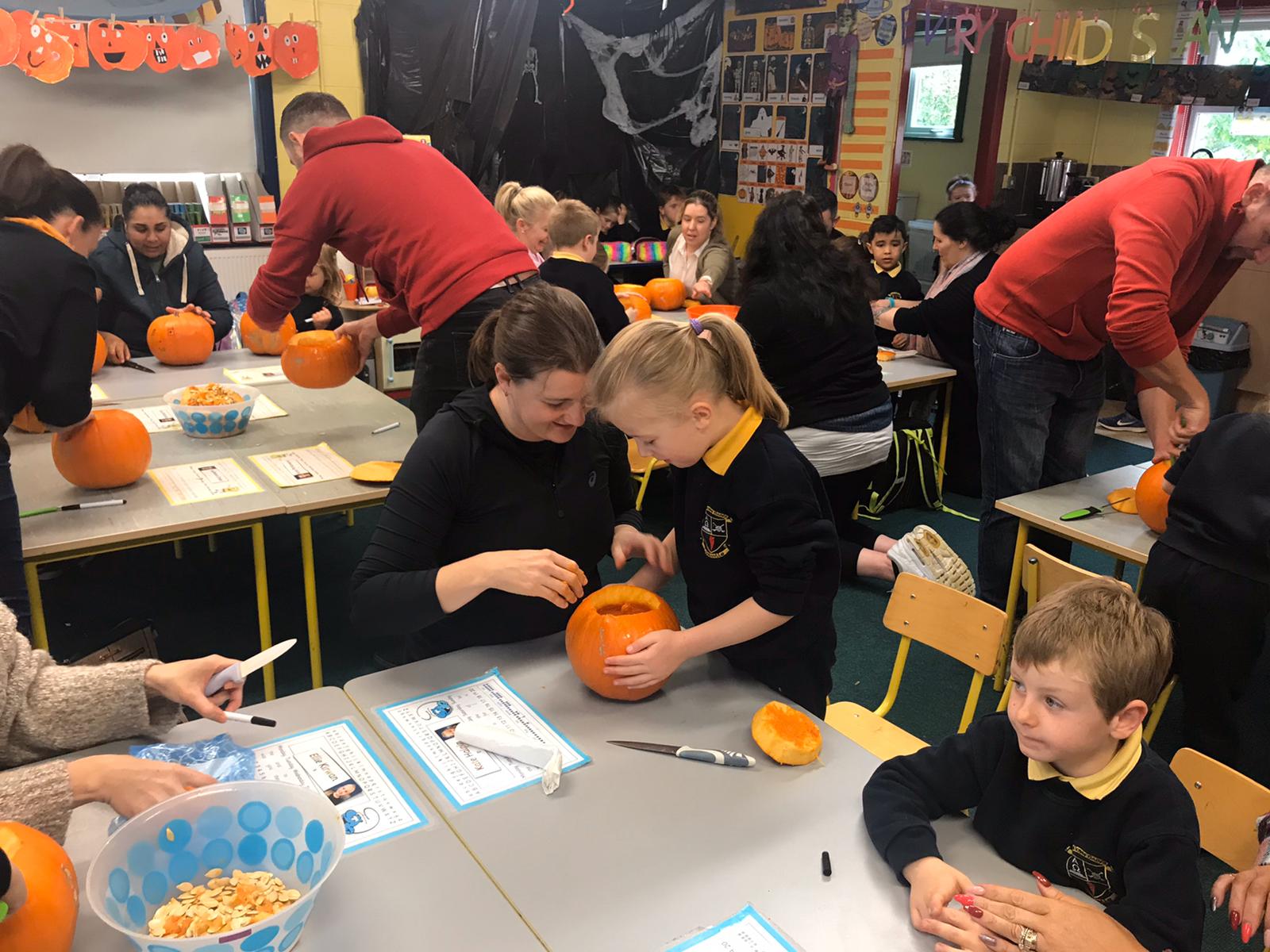 Gaelic Football: all our teams put in a mighty amount of training this year for the football season. Every Tuesday and Thursday we had over 50 children out on the pitch working hard. Most of our teams are in the A divisions now so the competition for County Titles is fierce, but our Roscrea teams never fear anyone and on our day we can beat any team. Here is how we got on….
Boys: our U/13 team won their local north blitz and qualified for the County Semi Final where they took on a strong Fethard team. Our lads battled bravely but didn't quite have enough on the day to get to the county final. Our U/11 team were eliminated in their blitz. Every match they played was a tight one, with some wins and losses but in the end they were narrowly eliminated.
Girls: our U/13 girls are still going strong having qualified from their blitz and reached the County Semi Finals. The girl's showed great heart and determination to beat Ballina and Cashel to qualify. They will be faing a strong Clonmel team in the semi so they will need to be in tip top shape for that. We had one of our strongest ever U/11 teams in action recently too. They played in a 5 team blitz with only the winner to qualify for the county final. The team won their first 3 matches well but were unlucky to lose out to a strong Templemore team by a single point in the final game of the blitz. That small margin meant they went out of the competition but they can hold their heads up high at the quality of their play and never say die attitude.
the date for the Girl's U/13 semi final is next Thursday at 11:00 in Thurles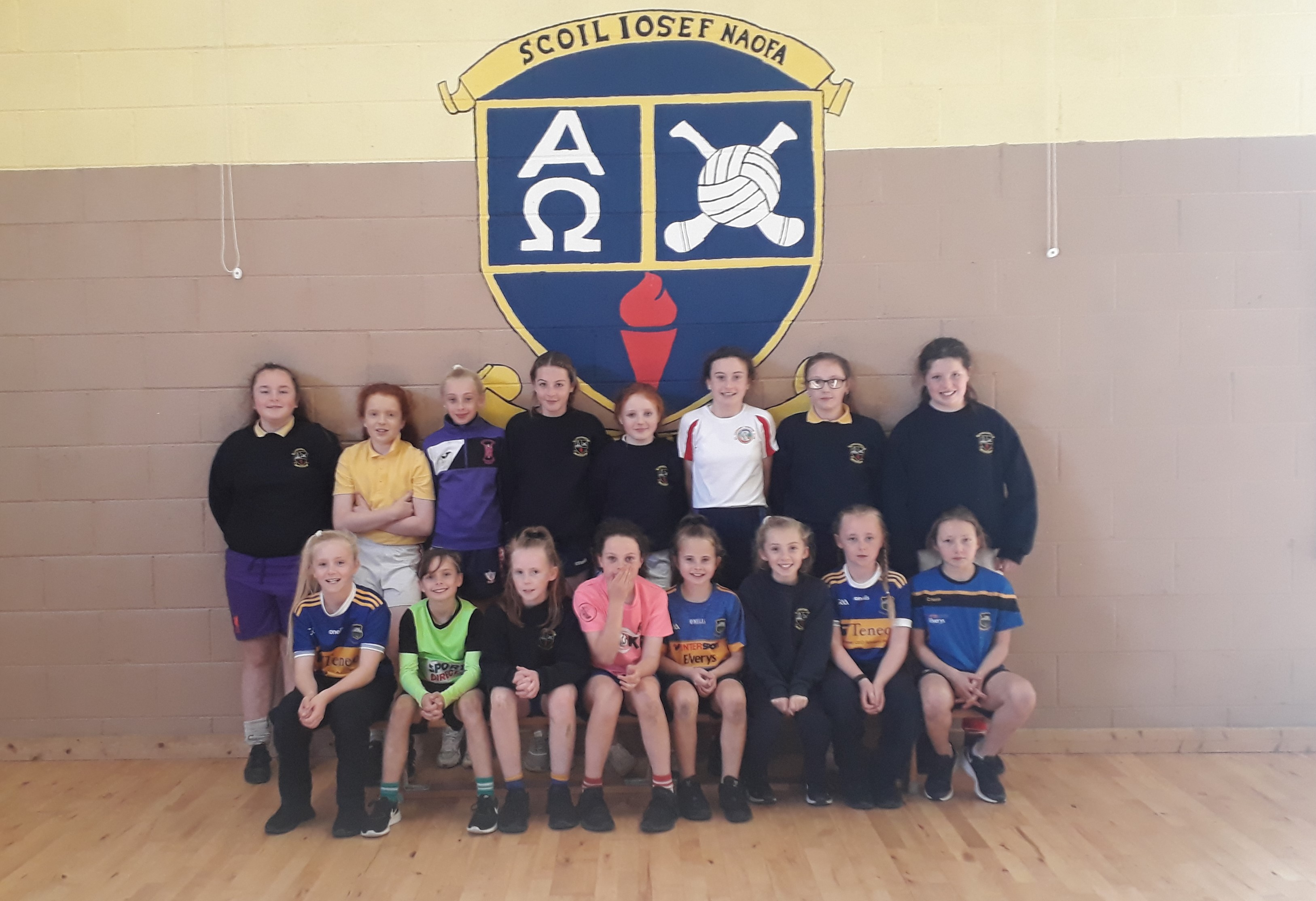 Dublin Marathon 2019: Bishop Fintan recently took part in the Dublin City Marathon and wore a Corville Autism Unit singlet for the race.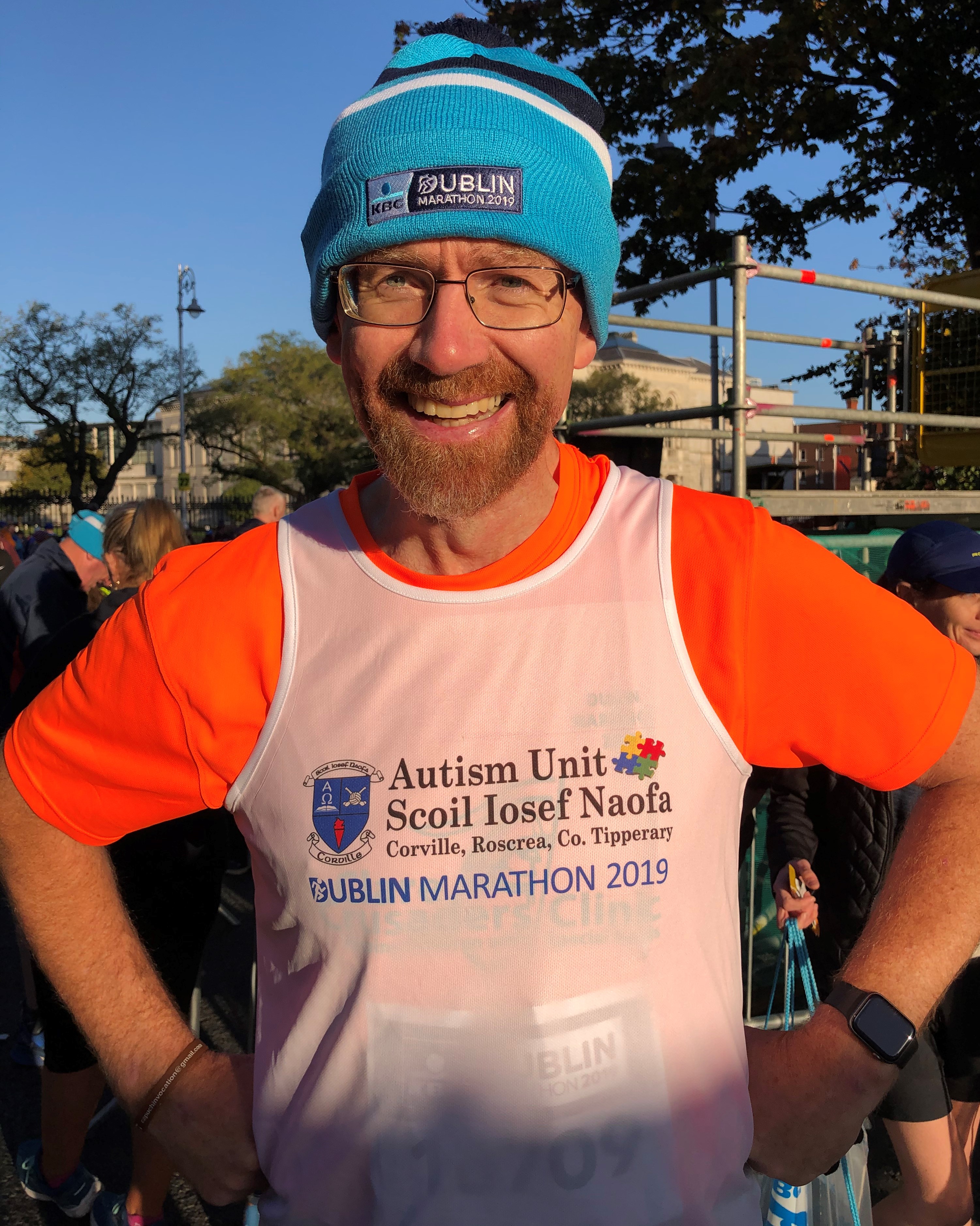 1st / 2nd Class Football Blitz: 1st and 2nd class were very busy before the holidays. We attended a Gaelic football blitz in Kildangan GAA grounds. We had great representation with over 60 students in the Corville colours. It was a fantastic and fun blitz. We can't wait until our next day out!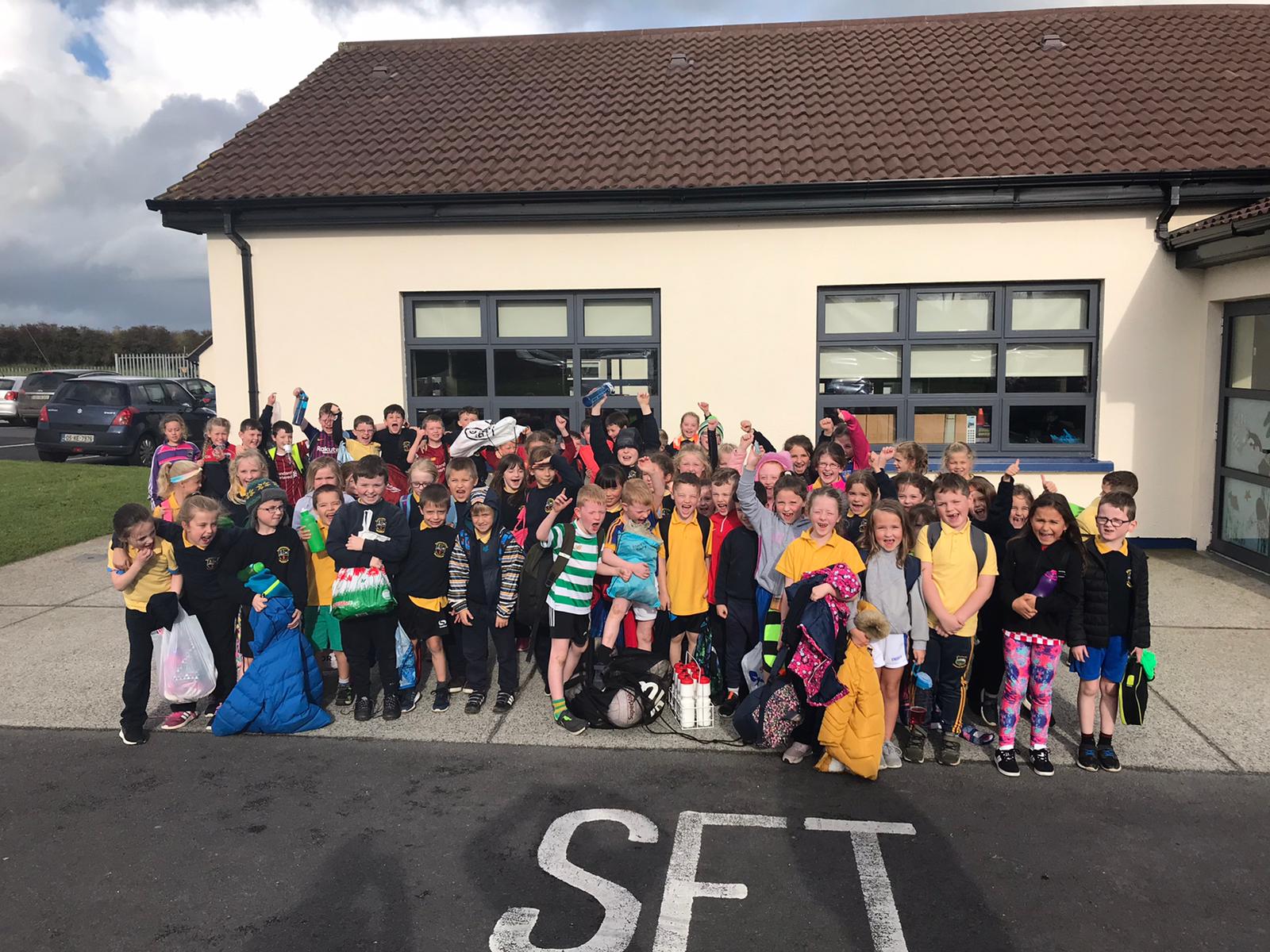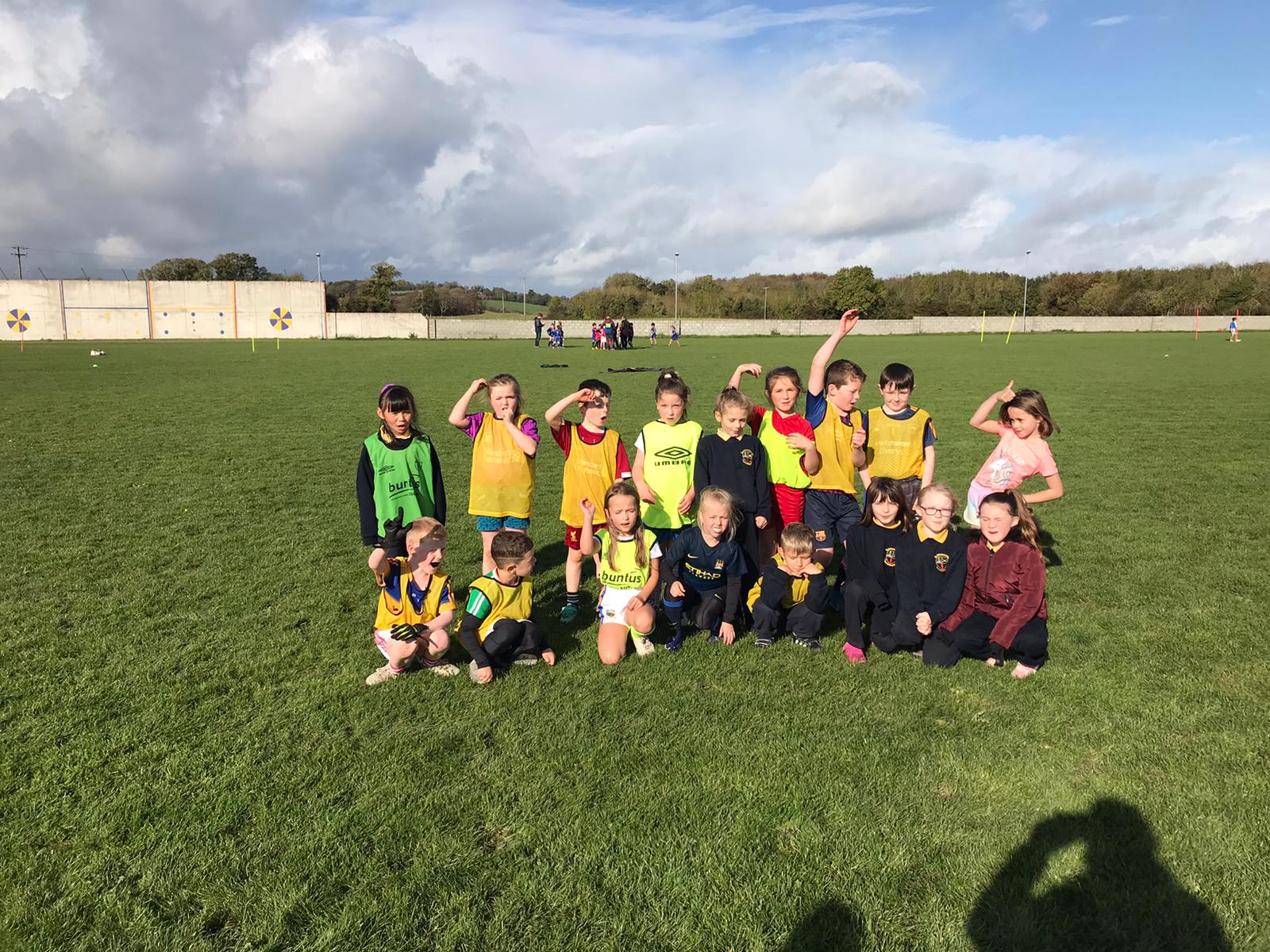 FAI Futsal Tournament: this annual 3rd/4th class futsal tournament took place a few weeks ago in Thurles. We entered in our largest amount of students ever this year with 5 teams entered (5 a-side + 3 subs) and 40 students going on the bus. Between the work being done in the school and with local club Killavilla, Corville are flying it at the soccer. Out of the 15 matches that we took part in we managed to win 14, but at this age it really is just about the kids enjoying playing and they all certainly enjoyed the whole day = mission accomplished!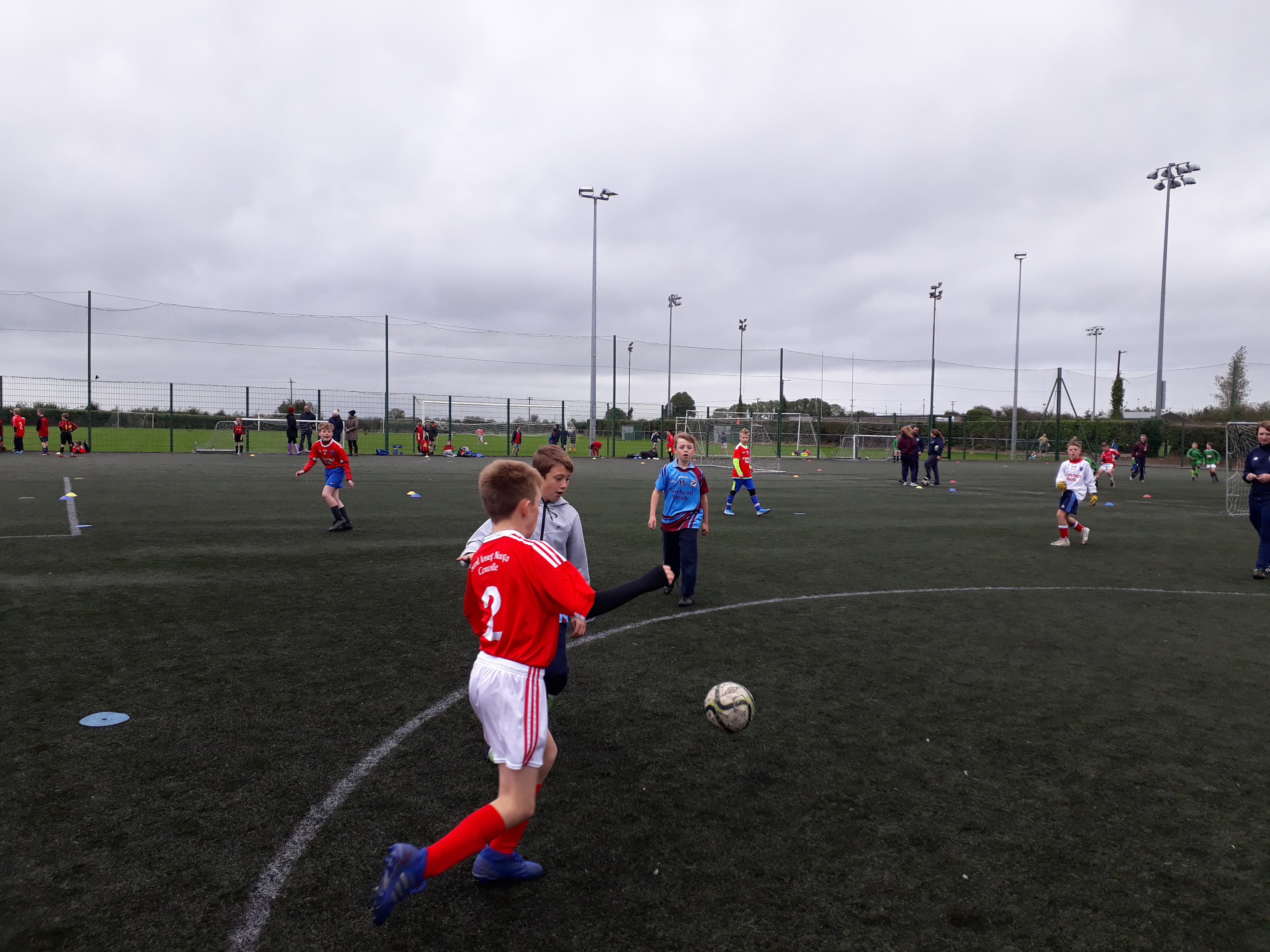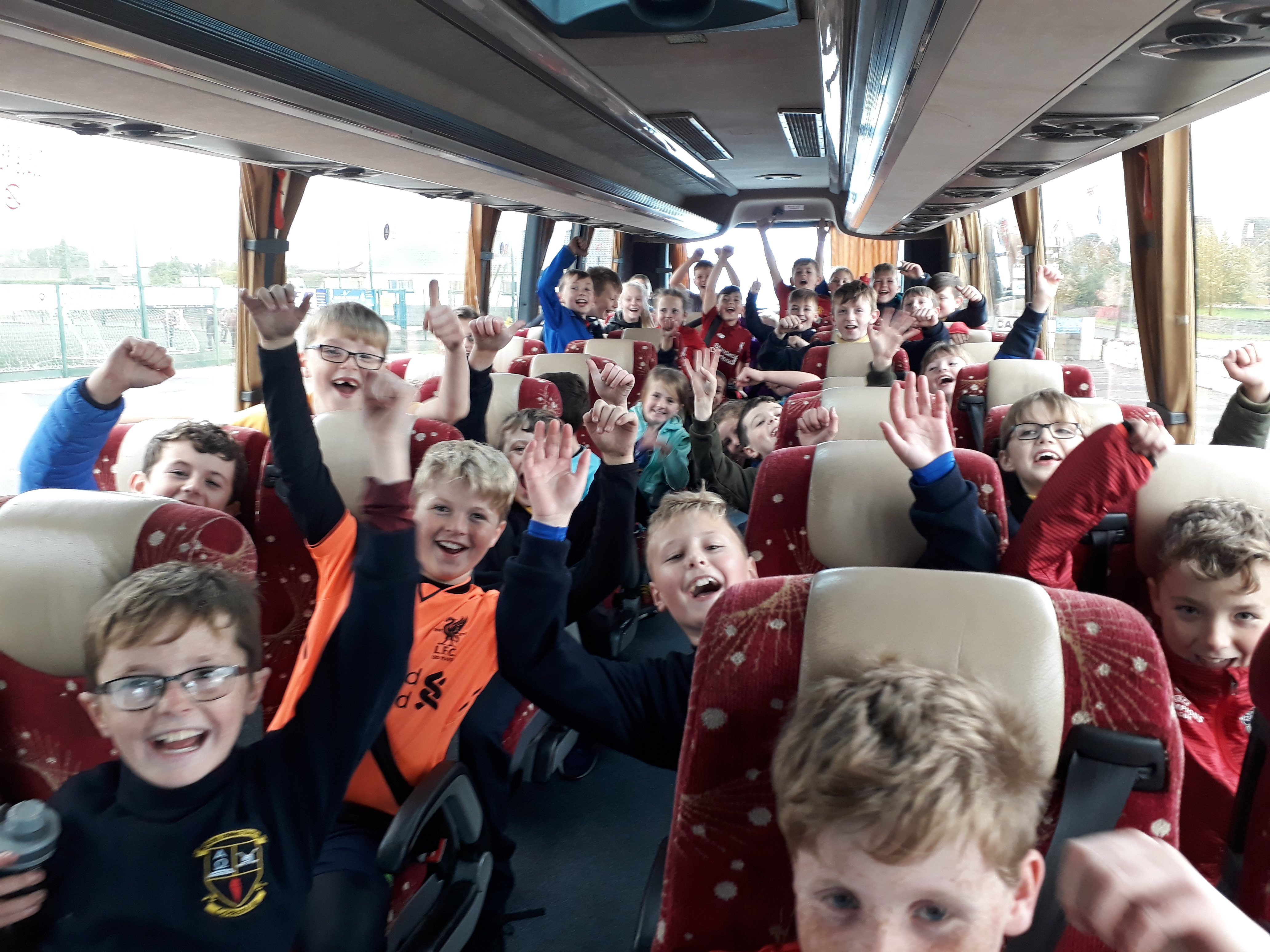 Cross Country: well done to all our teams that ran in the red of Corville a few weeks ago over in Thurles. We sent over 52 runners to take part in this tough event and came away with some success. Top individual performance came from Saoirse B who came 2nd in her race. Brodie L came 4th in his race. In the 5th/6th girls we came 4th. In the 5th/6th boys we came 5th. In the 3rd/4th girls we came 12th. In the 3rd/4th boys we came 10th.
Credit Union Art Competition: students from our school did very well in this art competition based on the theme 'Walk of Life'. We had 4 prize winners across the various age categories. Well done everyone!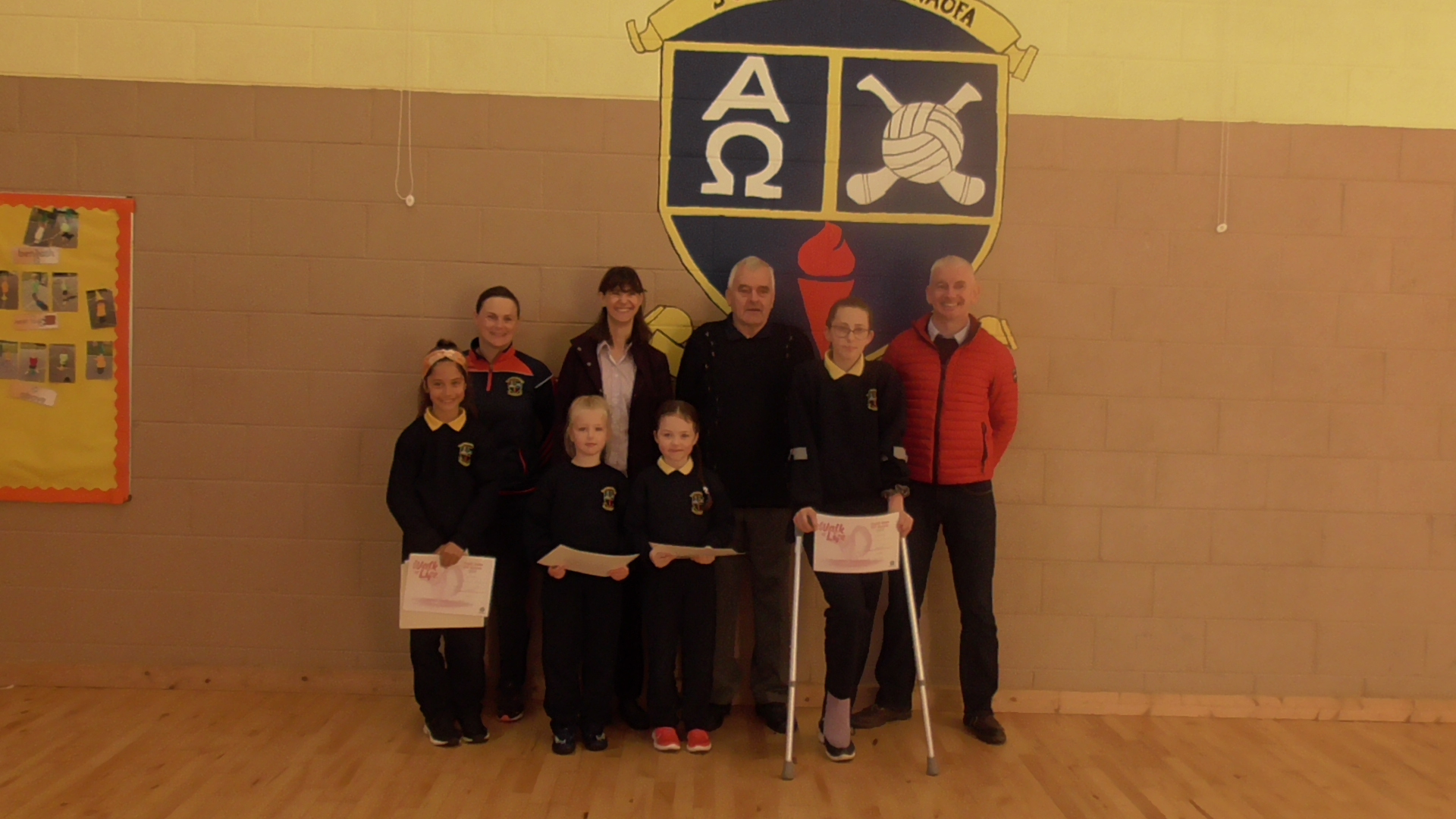 Late Late Toy Show: congrats to Tom for qualifying to star on the Late Late Toy Show. The school can rightly be very proud of this young man. Tom starred in our very own entry and he did a wonderful job. Well done to all those involved with the choir for our own entry and for having a helping hand in developing the fantastic singing talent that is Tom L. We look forward to seeing you on the tv in a few weeks time. Below is a recent recording of Tom singing the Irish song 'Grace' solo at assembly.
Science Foundation Ireland – Discover Science & Maths Award: there is a huge amount of incredible science, STEM and maths work being done in the school. This year we are hoping to gain official recognition of our efforts through Science Foundation Ireland. We have applied to be considered for a plaque of STEM award. This will require our students to take part in investigations, go on trips, have speaker visits, present at our science exhibition during science week, enter science competitions like the Junior Scientist of the Year etc.
So far we have put together a committee of students and teachers who will work together to maximise the use and enjoyment of STEM subjects in school. We undertook our first science exploration trip with a trip to the Cabragh wetlands near Thurles. Our students were very well behaved and took a great interest in what they saw; special mentions were made about Ryan and also John Patrick on their insight and knowledge .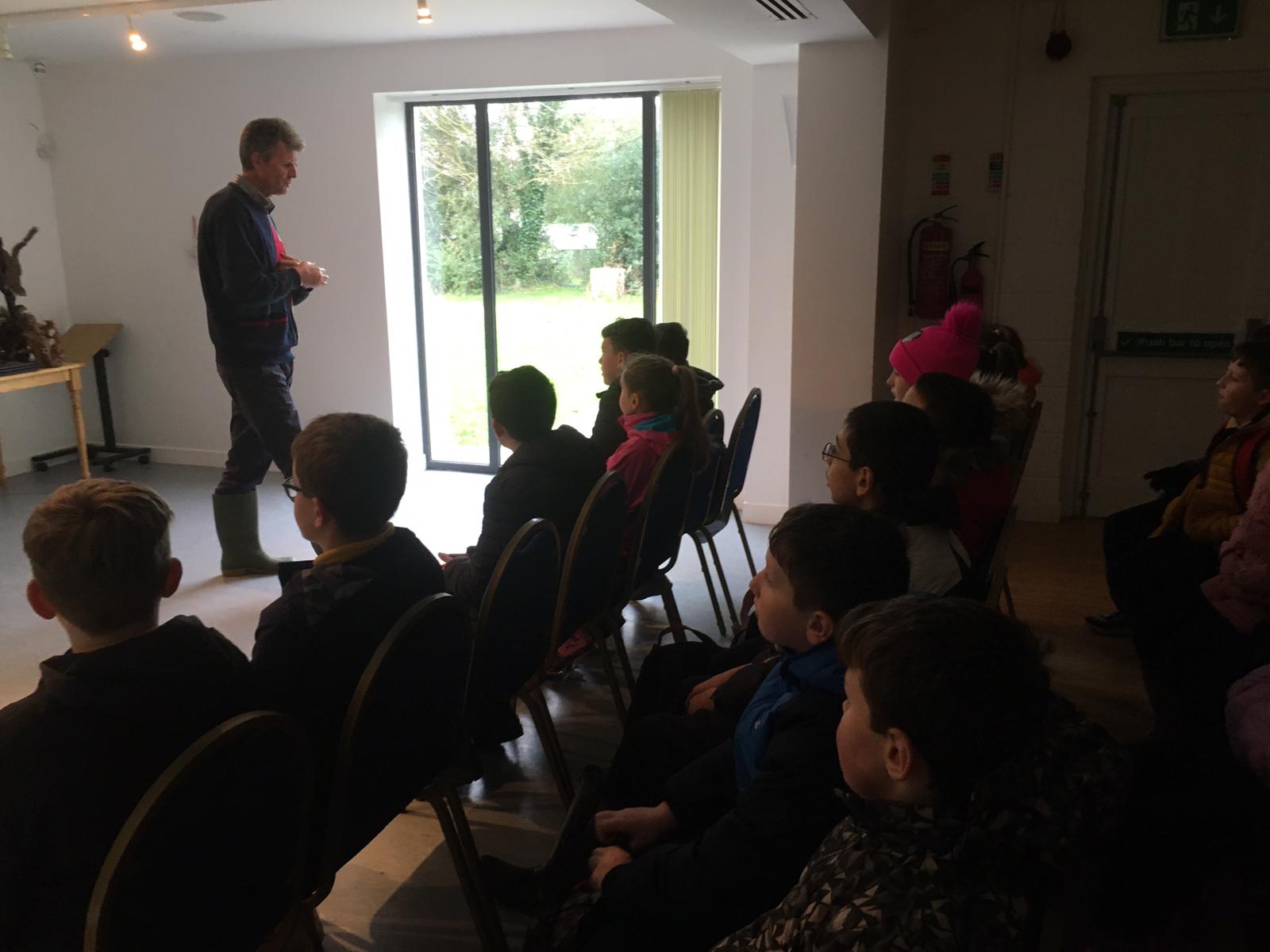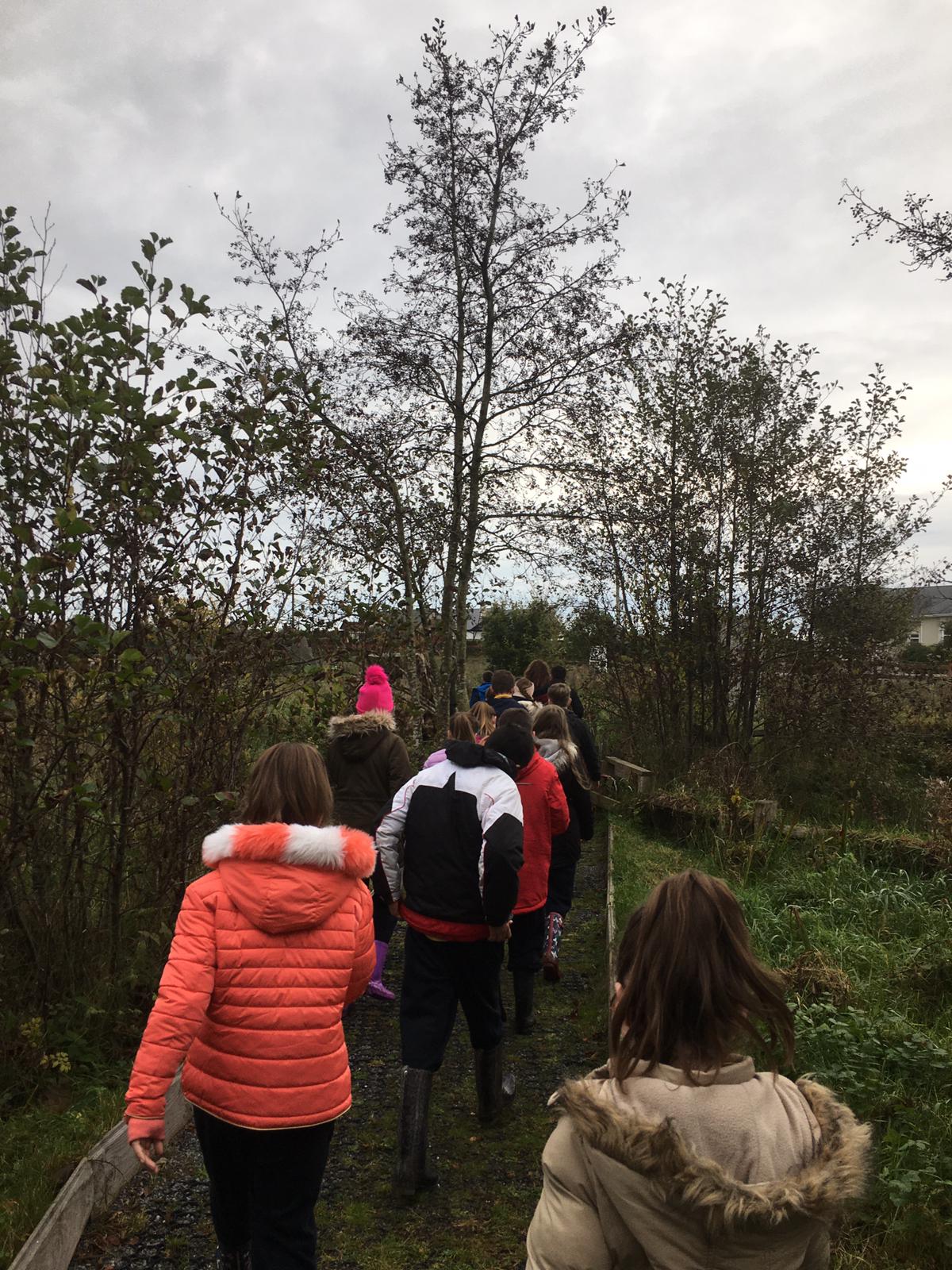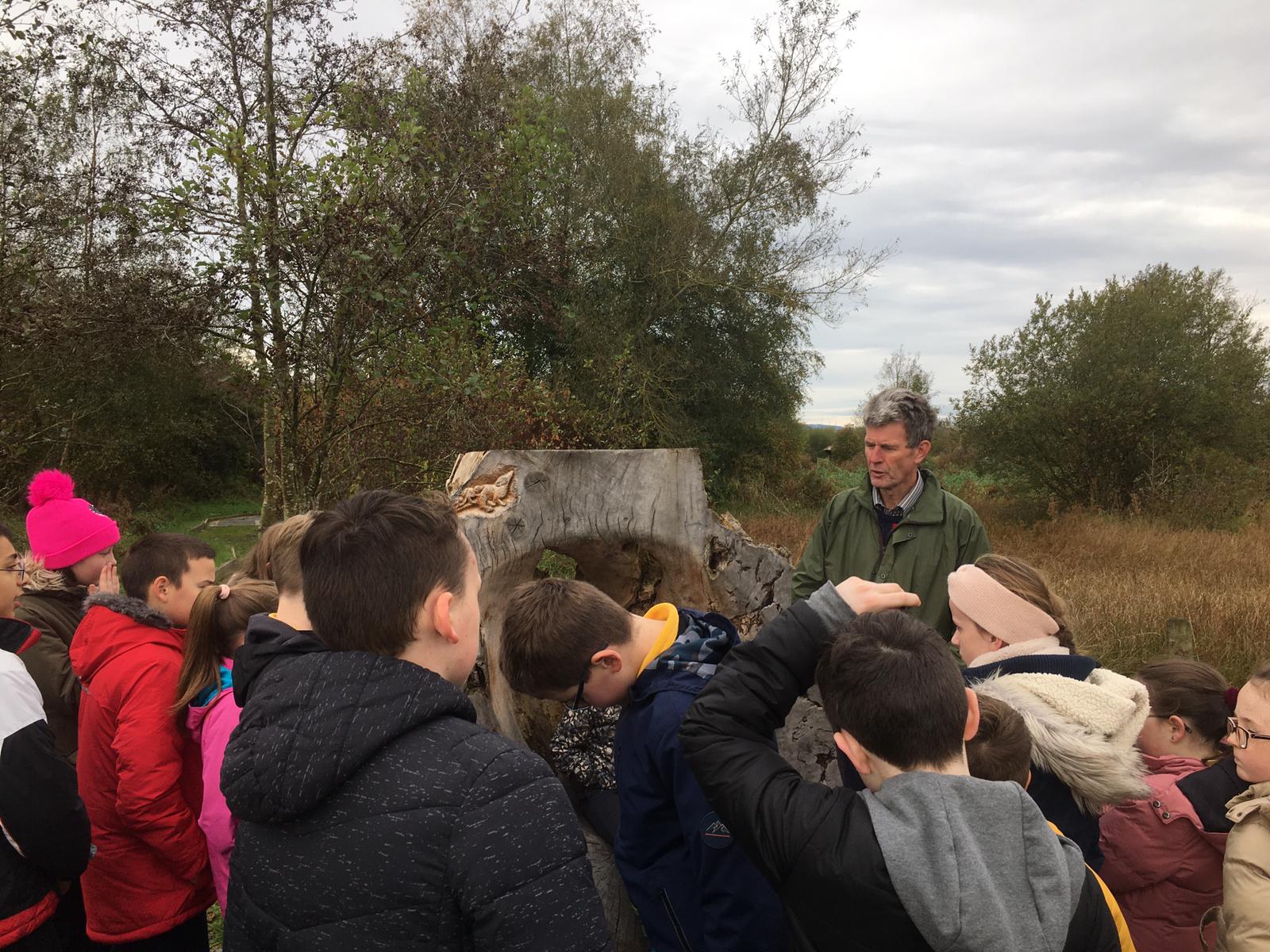 We took part in European Coding Week too. The photos below are of our hour of coding where we completed the Scratch project "Animate your name". We also did some offline coding work in all our classes. Space week also took place last month and our students enjoyed learning all about the universe.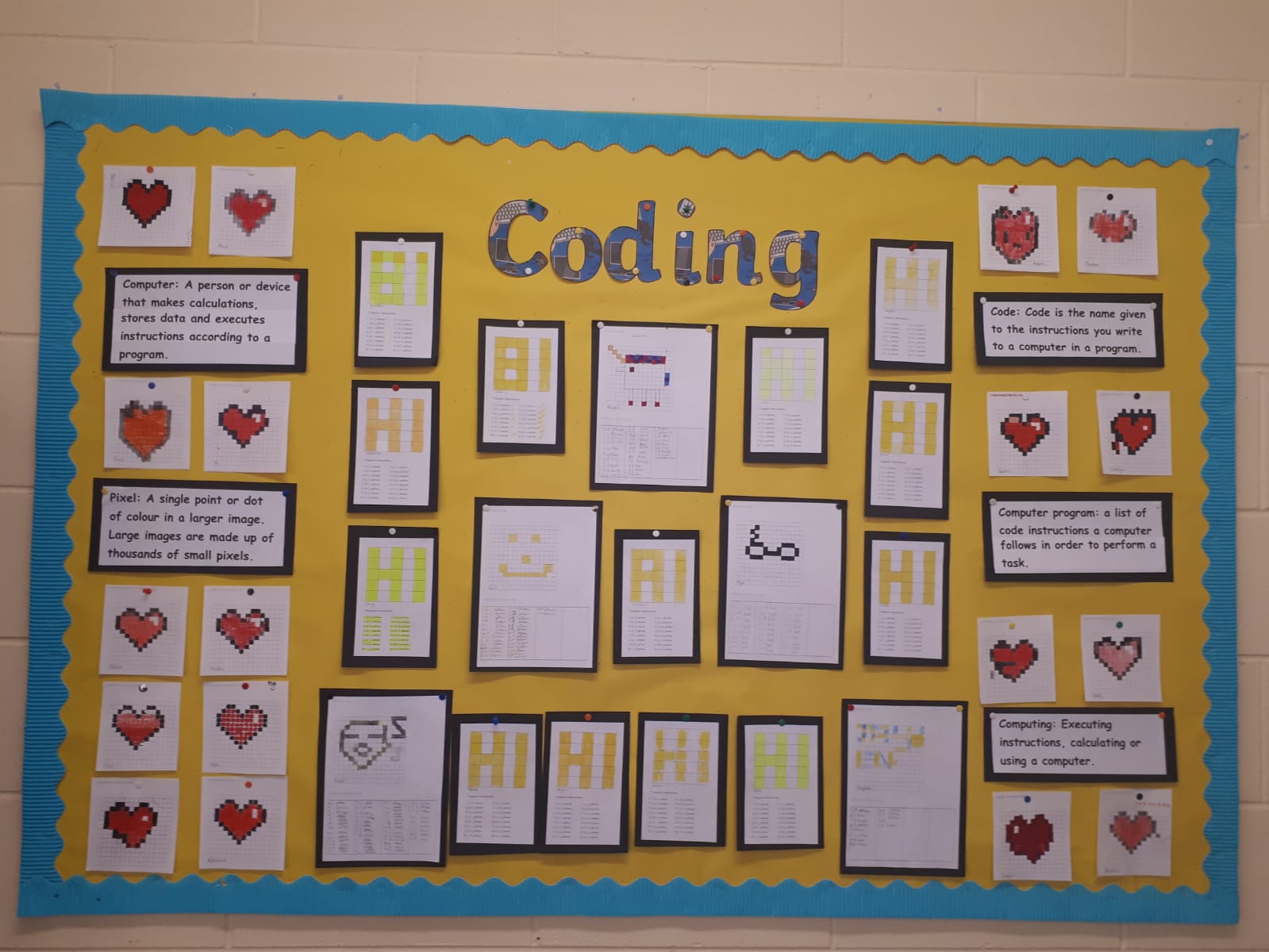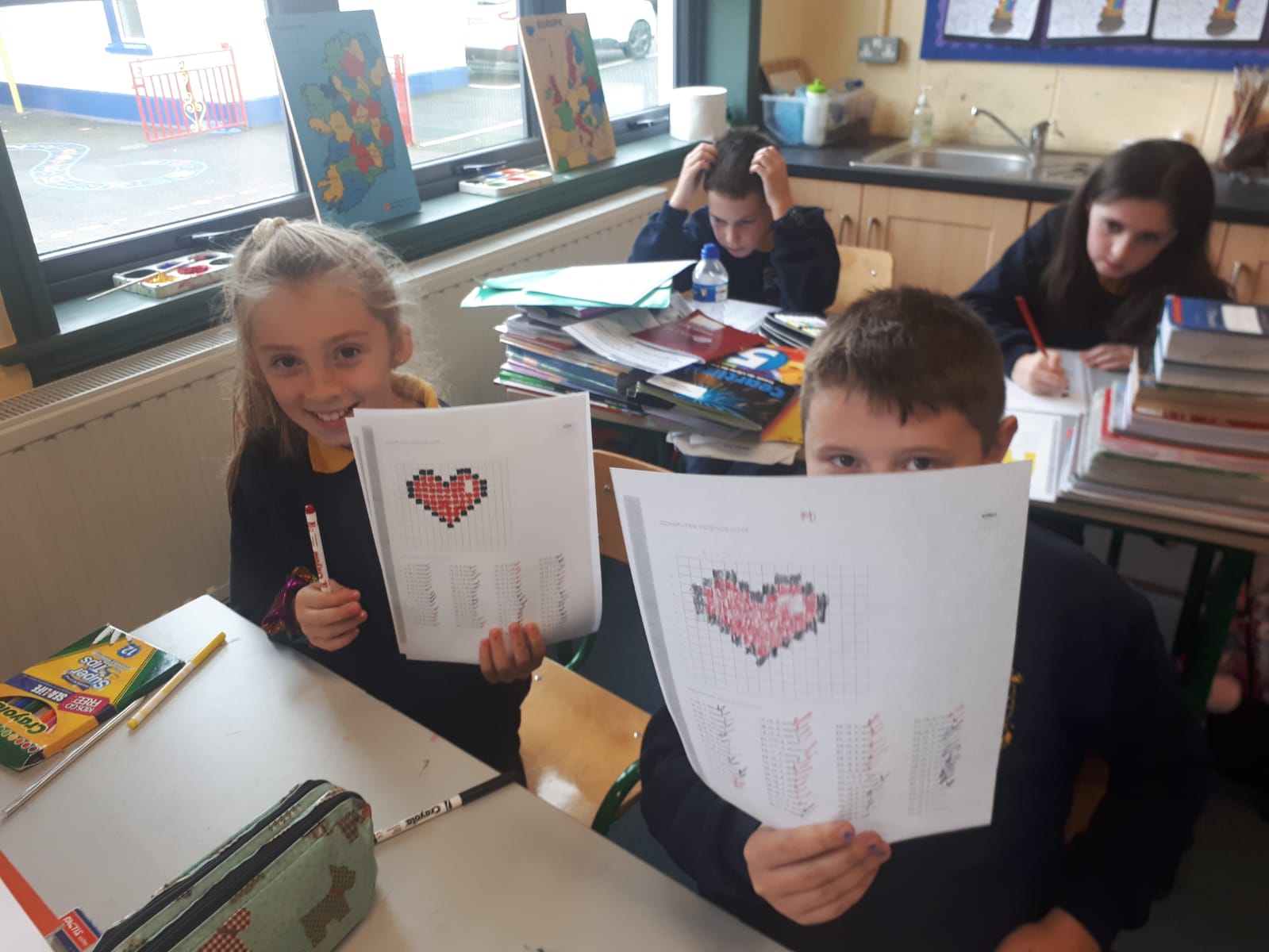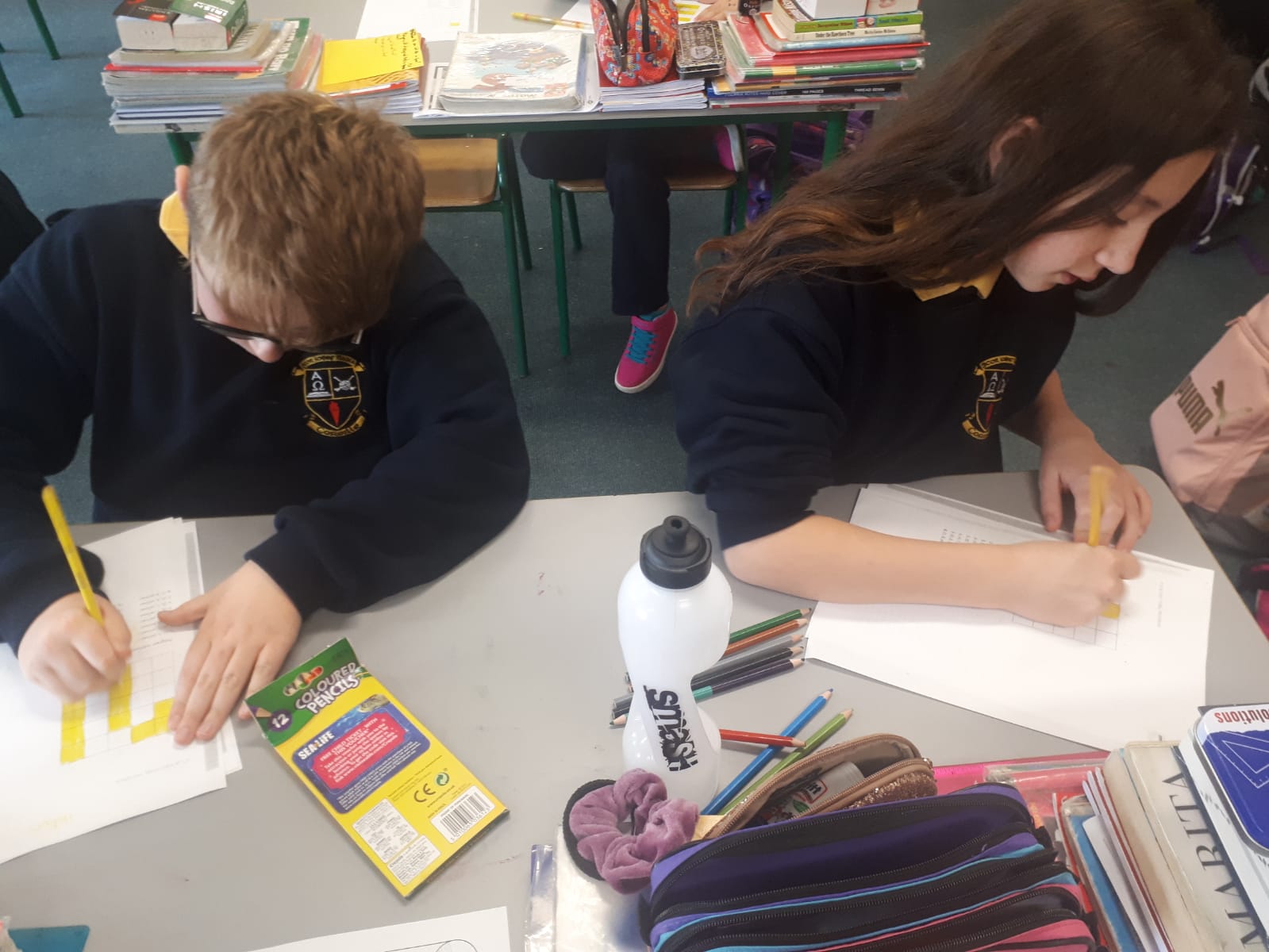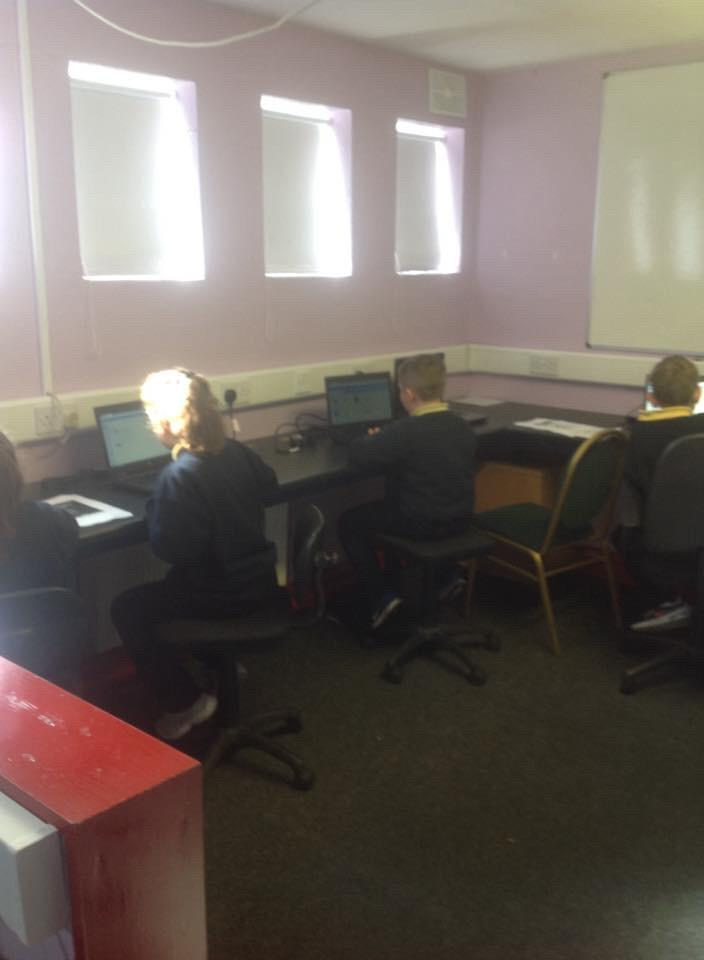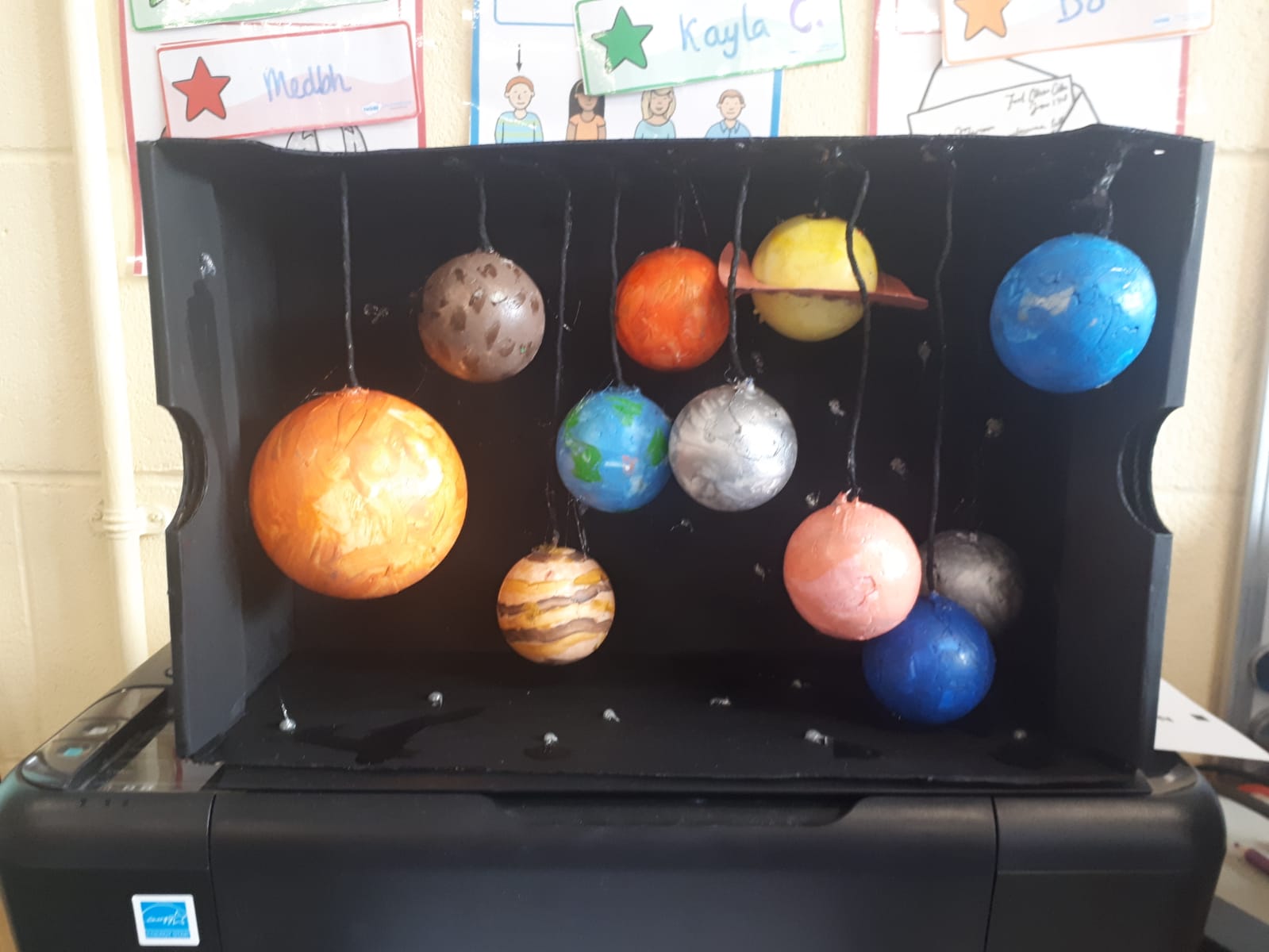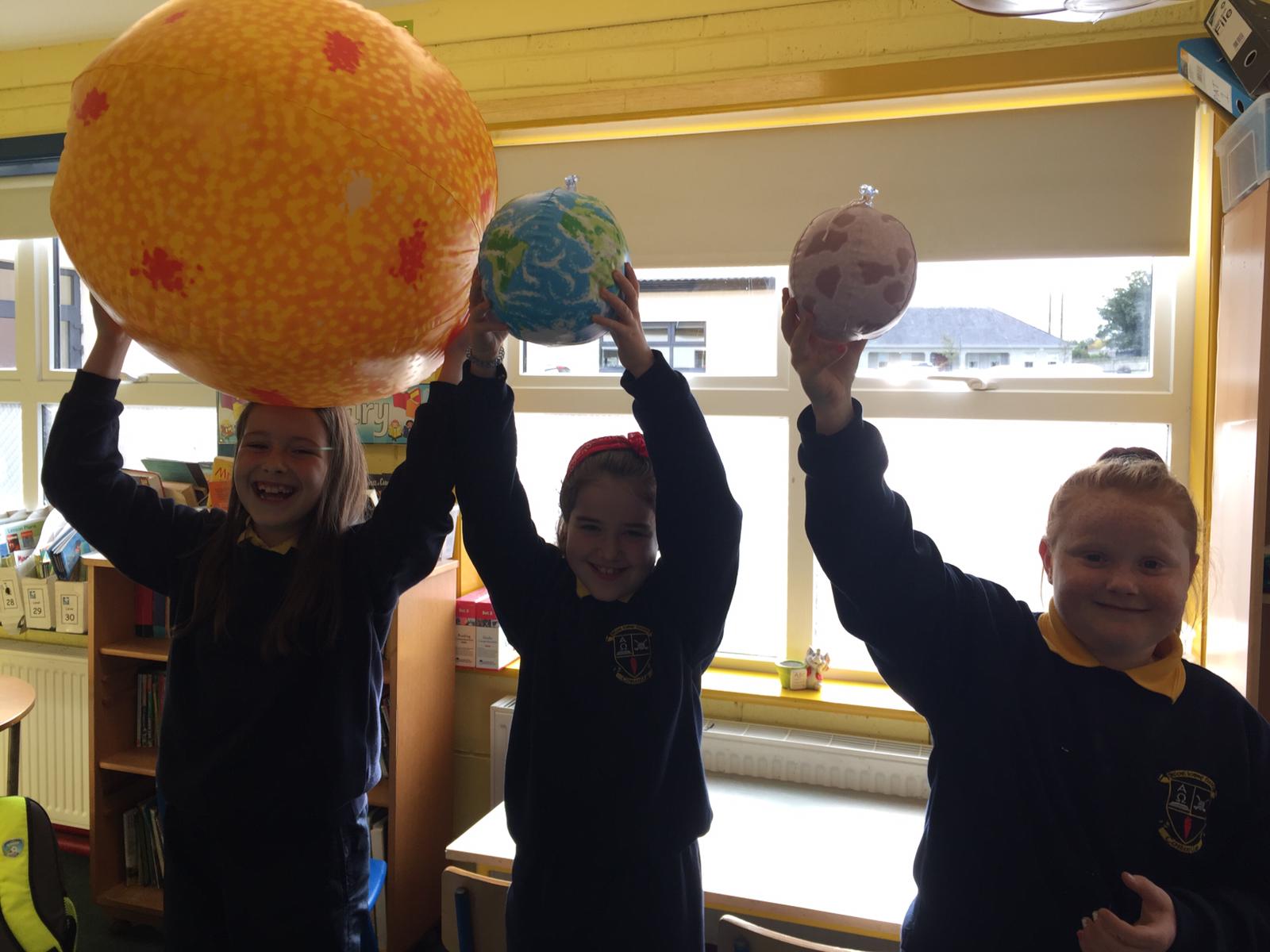 Fota Wildlife Park: both 5th and 6th classes visited Fota Wildlife Park in Cobh last Wednesday. The trip was kindly sponsored and put together by Jacqueline O'Brien. It was a wet day down in Cork but that didn't dampen our spirits as we were treated to a great tour with some very knowledgeable tour guides leading us around the park. Our brains were full of animal facts at the end of the day. It was wonderful seeing all the animals up so close and a great time was had by all.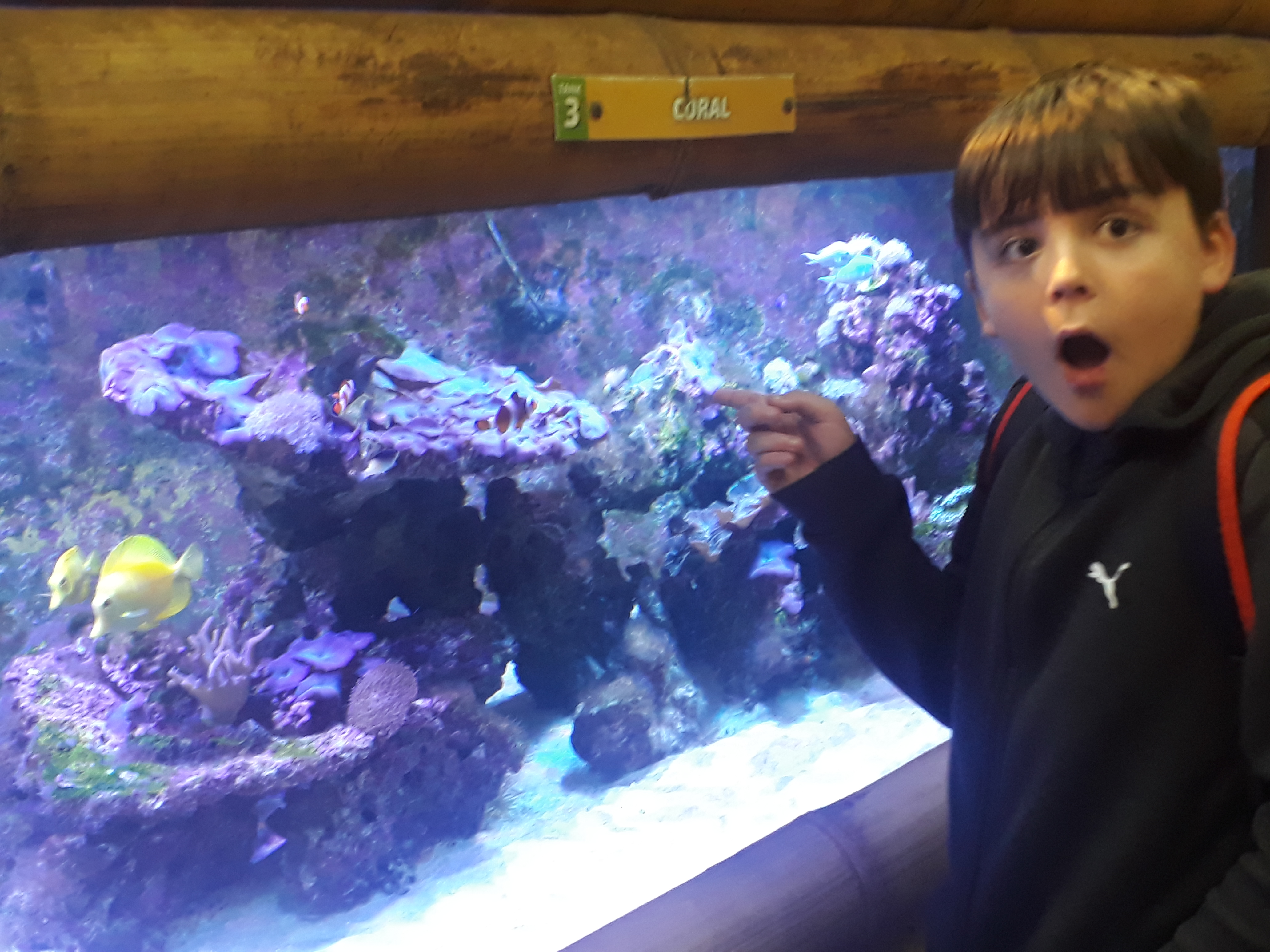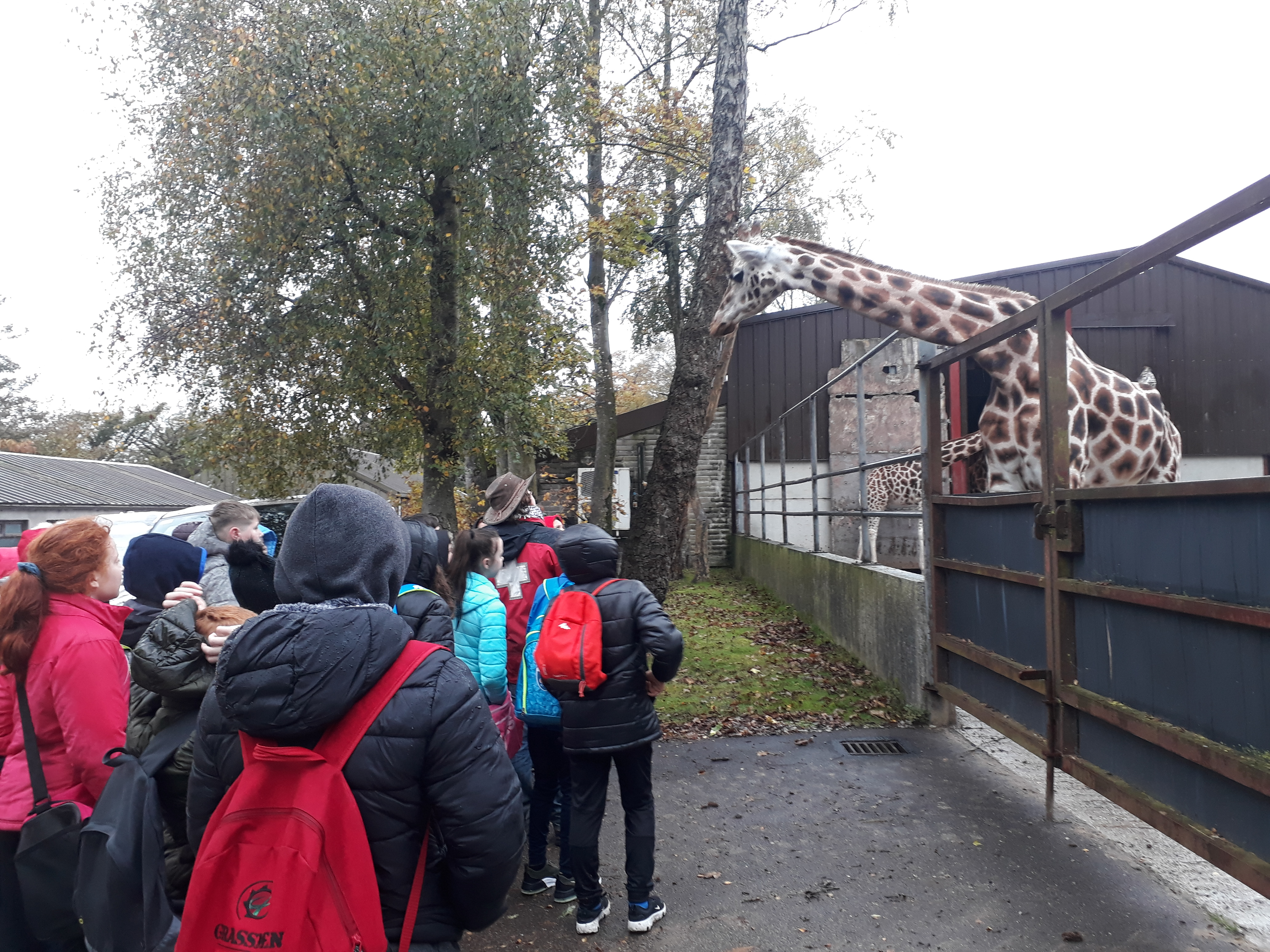 Maths Week: just before the mid-term break we had maths week in the school. The students and teachers took part in maths quizzes and competitions throughout the week and at the end of the week each class selected a mathematician of the week. Well done to all the prize winners from the week.
Coming up soon: Science week (10th – 17th November) to prep for.
Erasmus Logo Competition: we had a huge entry for our Erasmus logo competition last week. The students were tasked with creating a logo for this European education programme that the school are invoved with. The standard was very high and in the end the students all voted on the top 3 entrants. Well done to the winners and all who took part.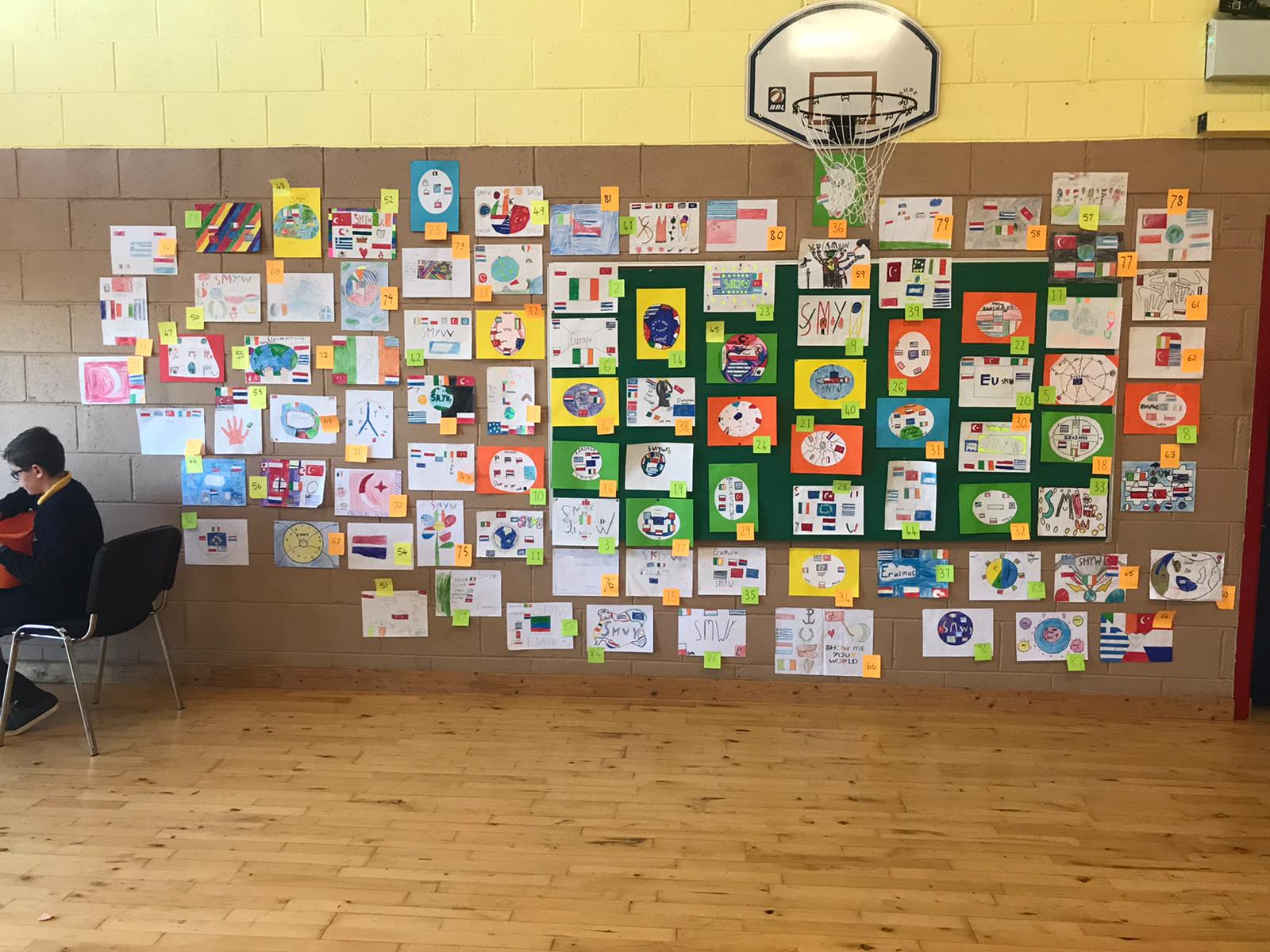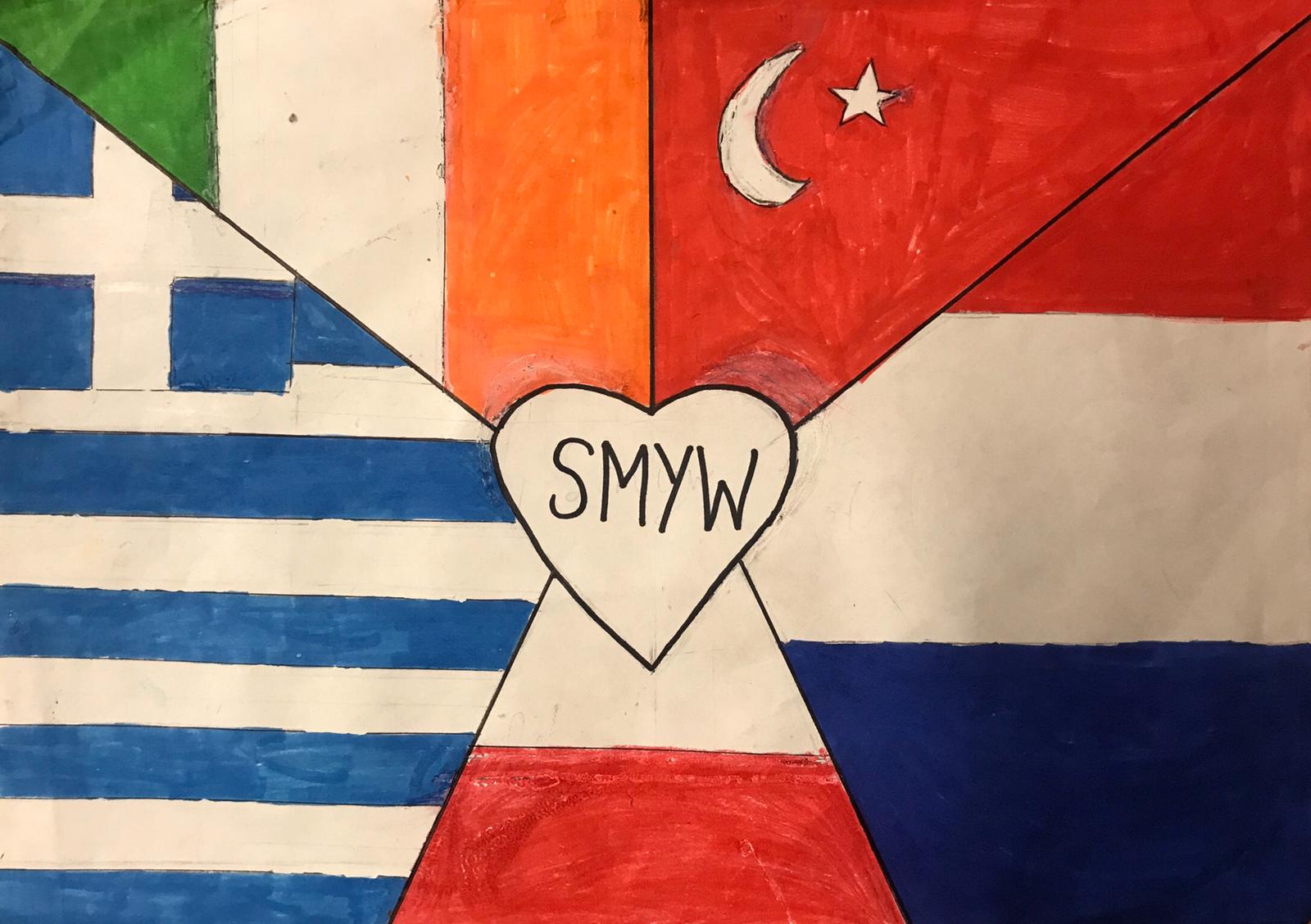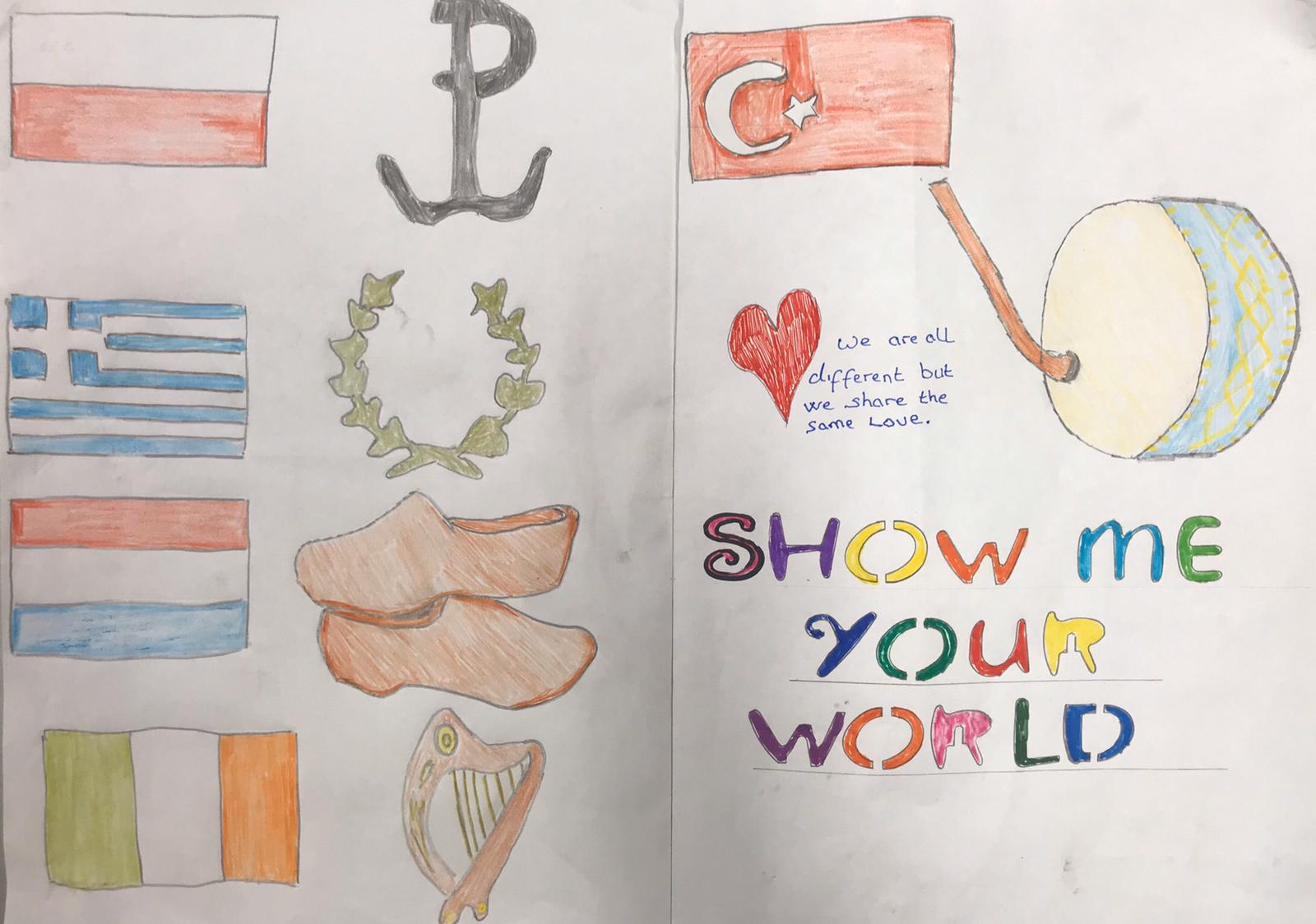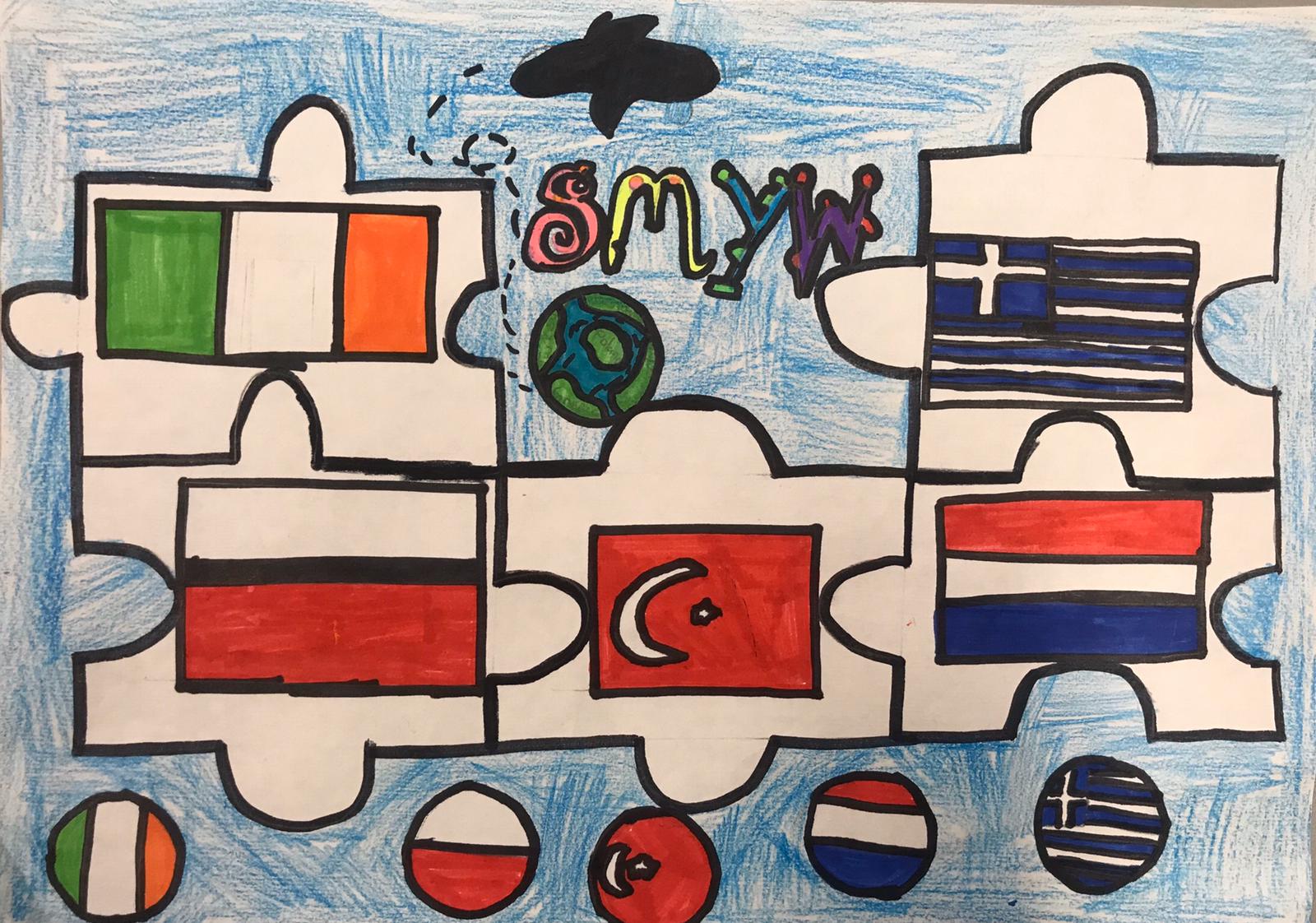 Dancing: our Junior classes are getting the opportunity to participate in dance classes for the next few weeks. Claire Nealon will be their instructor and we are sure all the students will really enjoy learning a wide range of dances.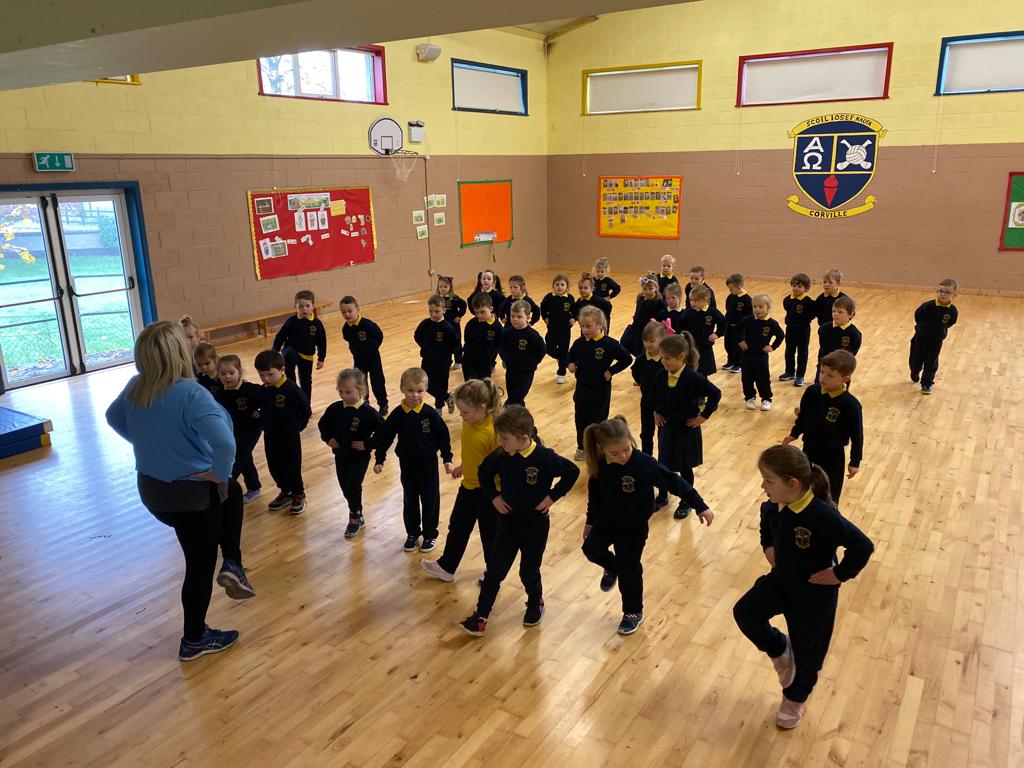 Gardening Club: We recently held an apple juice sale in school. We raised €75 that has gone towards buying new equipment and seeds for the garden. We picked our carrot crop on Wednesday and will be making carrot cake next week. Daffodil bulbs planted in prep for spring colour.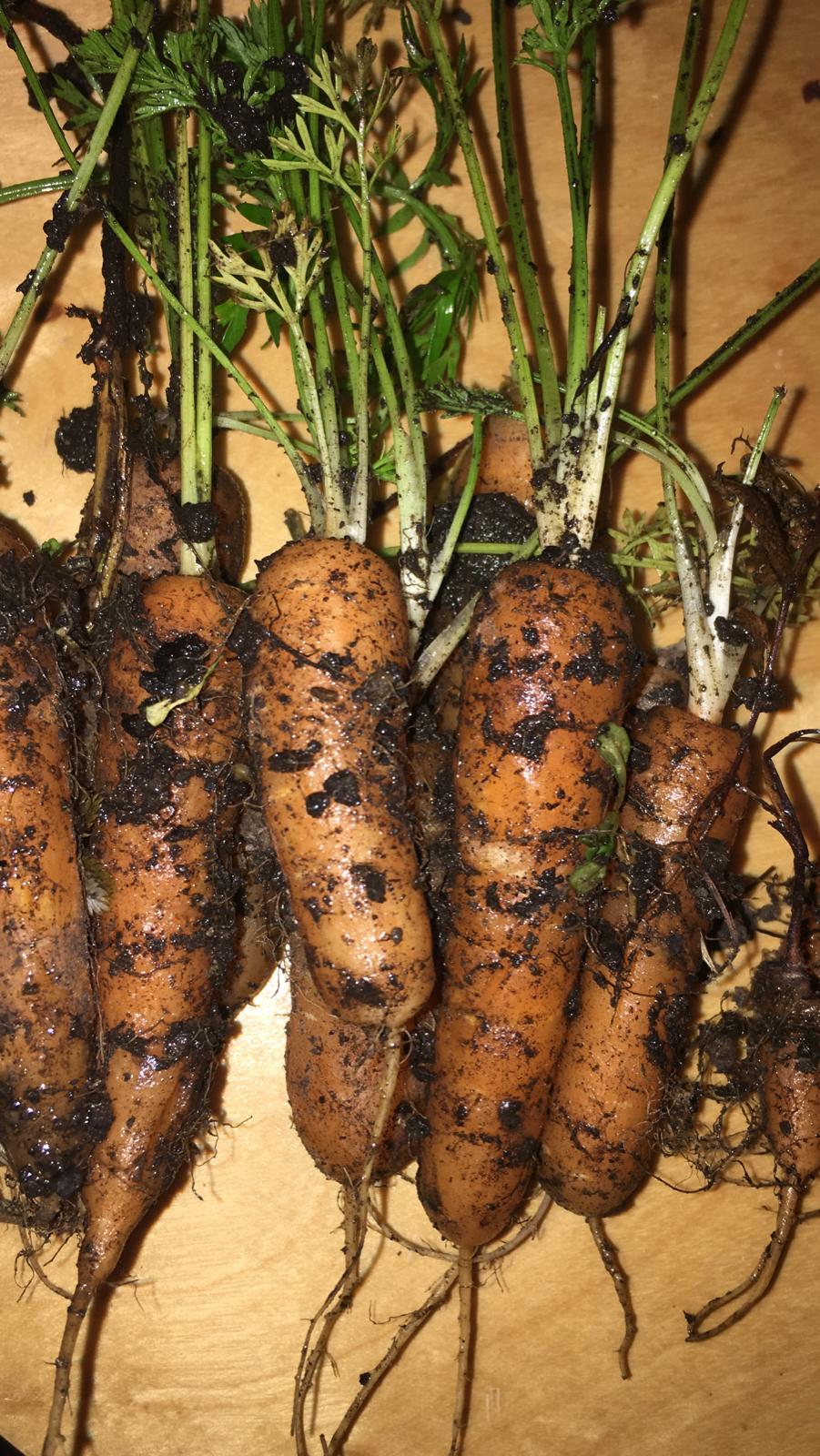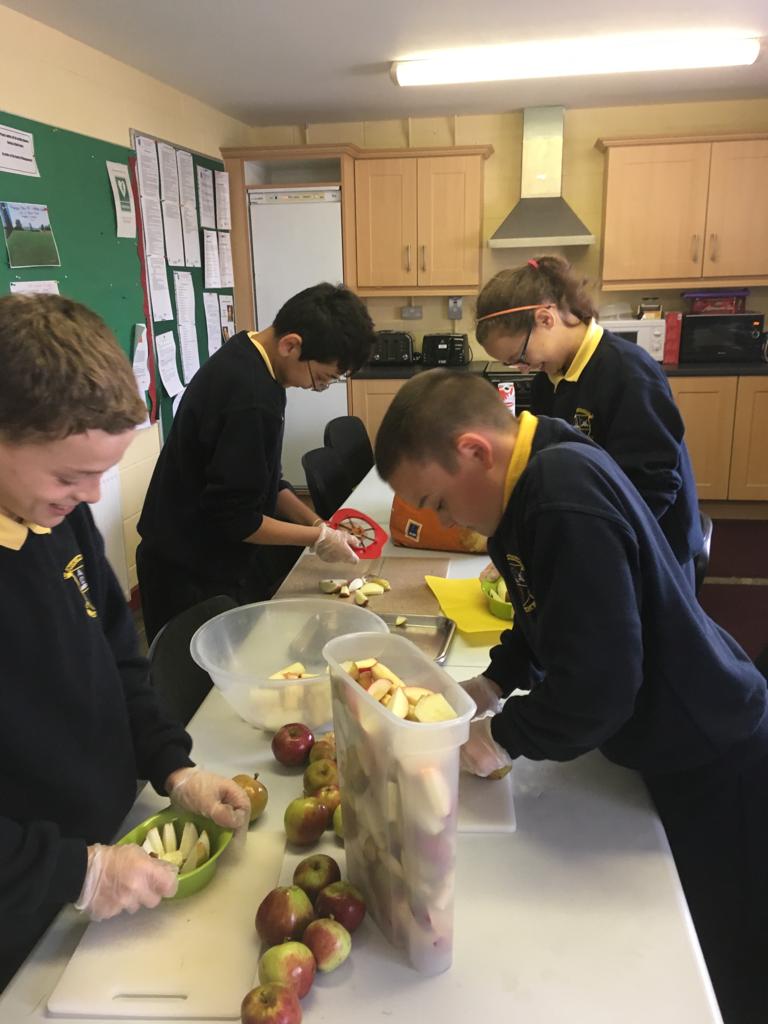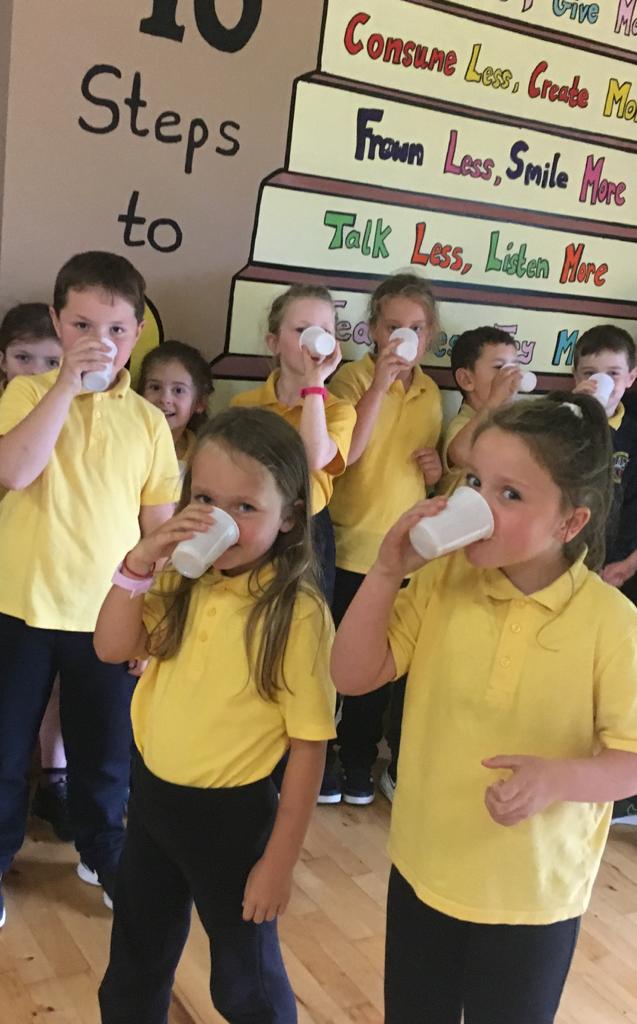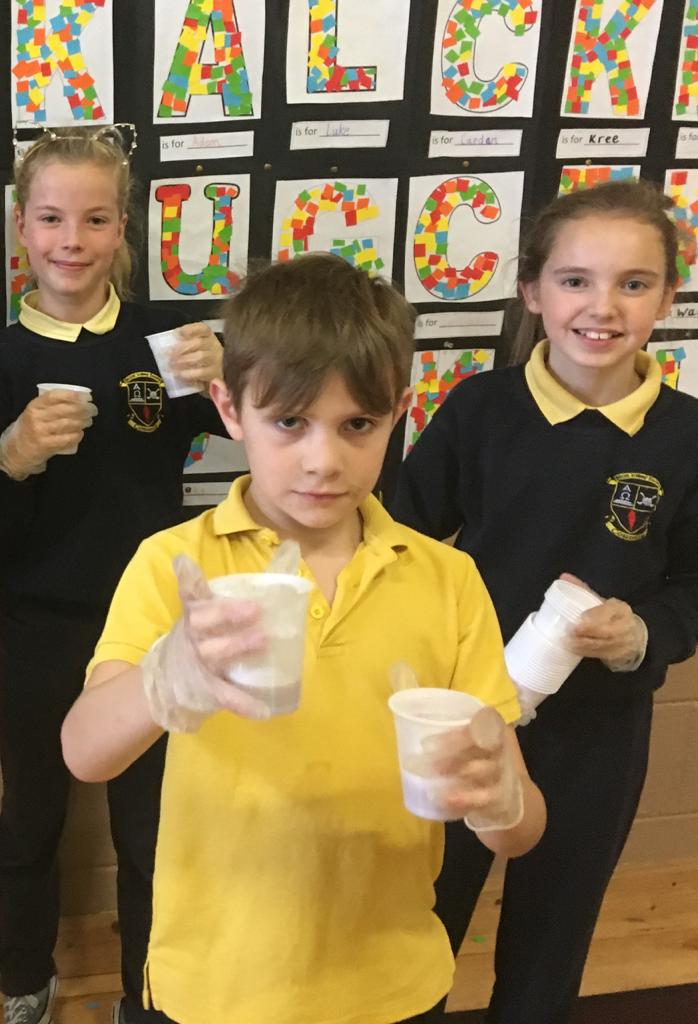 Buzzer Quiz: our very popular buzzer quiz, Fastest on the Draw, kicked off in school. It will take place over the next few weeks with the final being played just before we break at Christmas. There is two competitions – one for 3rd and 4th classes and one for 5th and 6th classes. It is a knock out competition so you are going to have to think of the answers quickly if your team want to stay in the competition right to the end.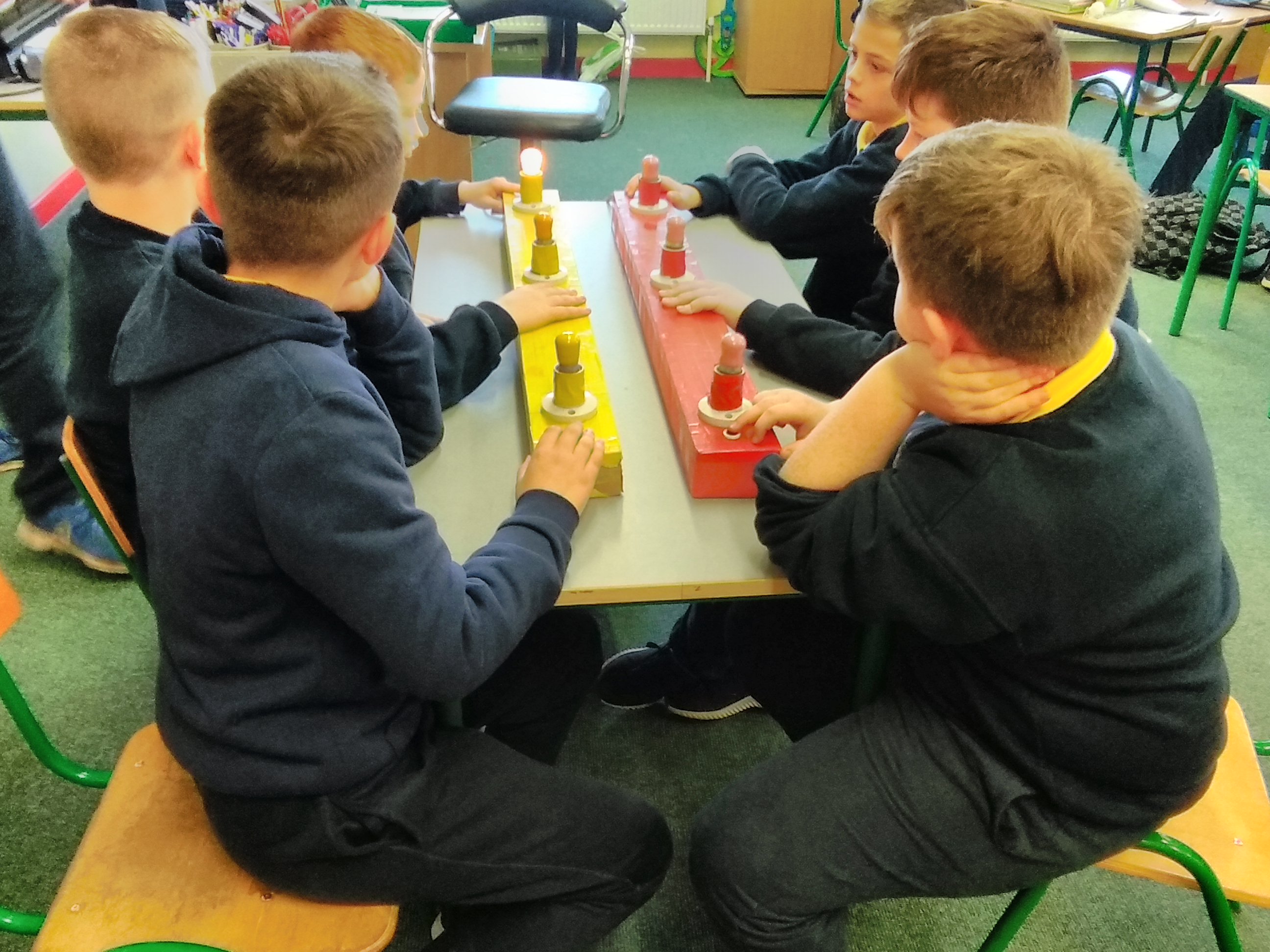 6th Class Blog: our 6th class students continue to update their class blog. This week they tell us about Hayley's student lesson, Sarah winning the Credit Union art competition, their Poet Tree and the students selected for the Science squad. Click here to read the blog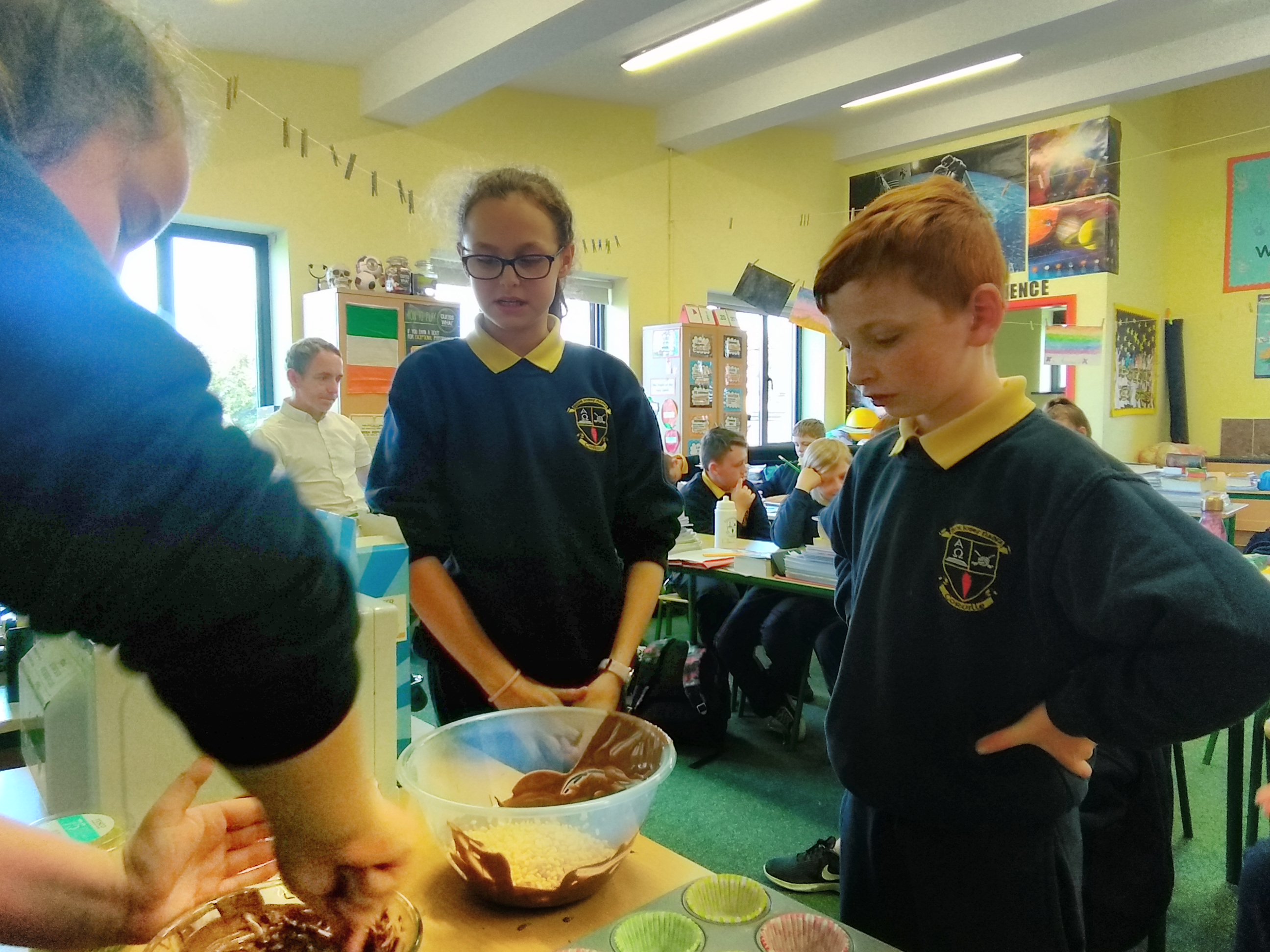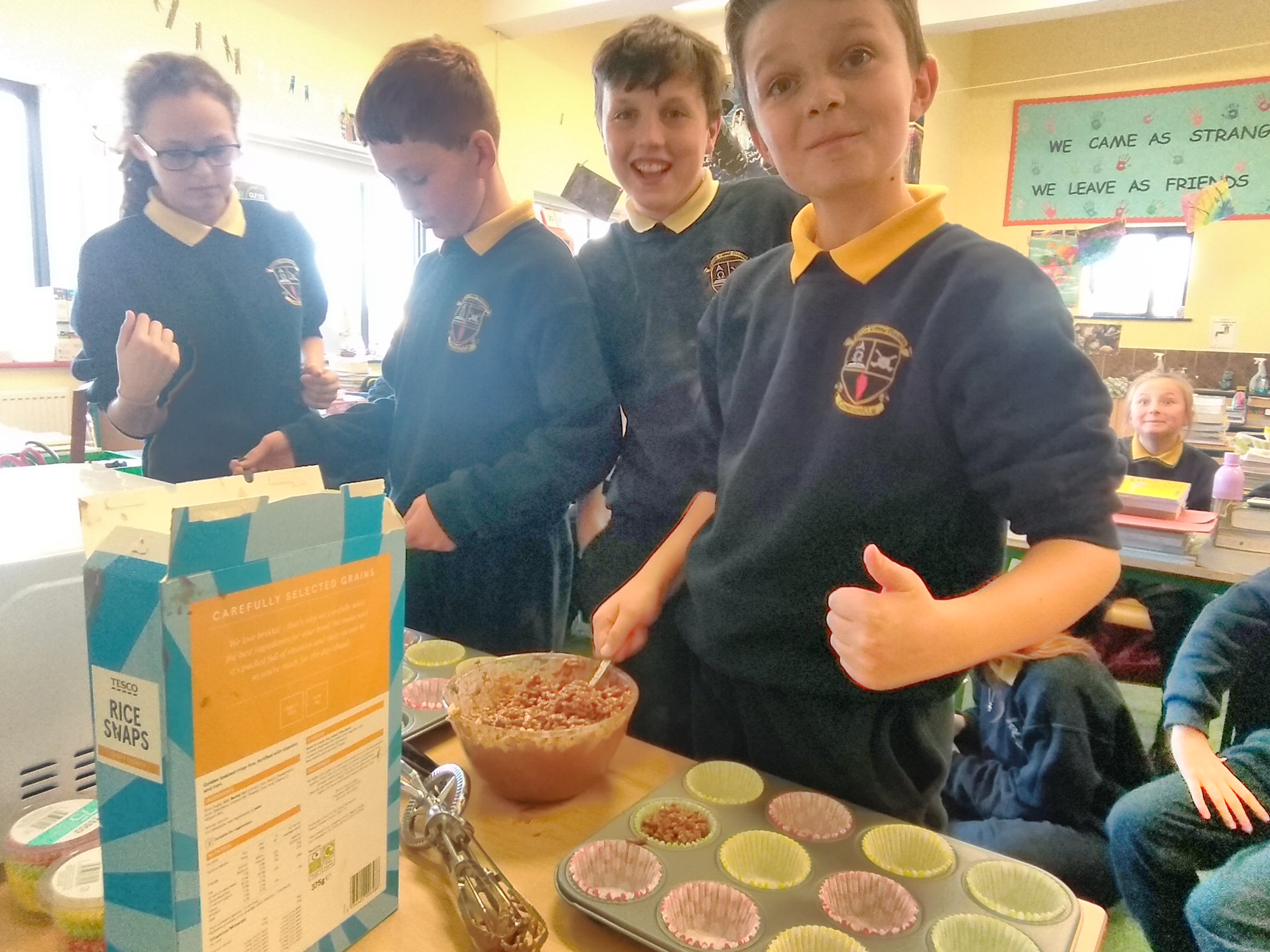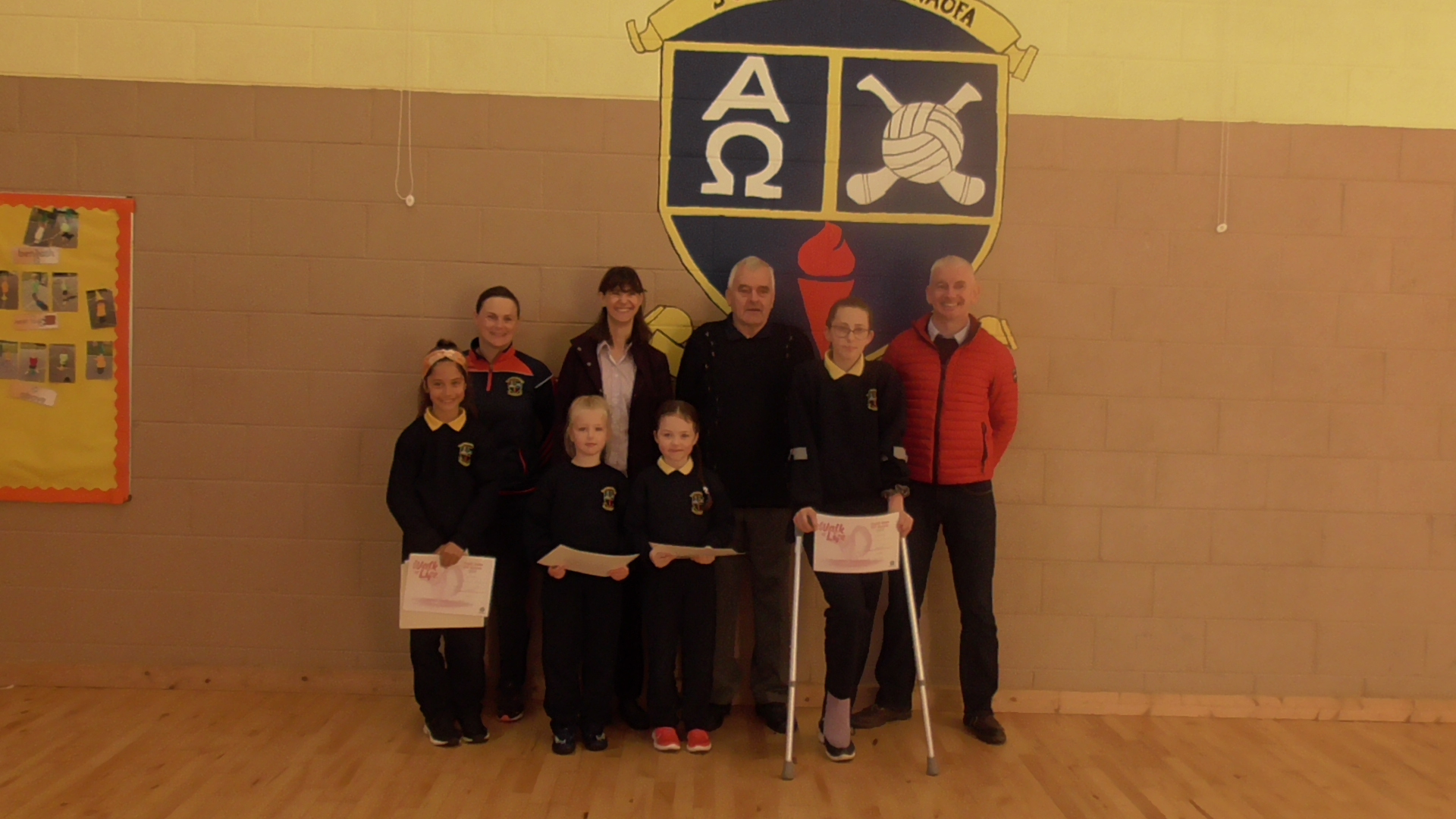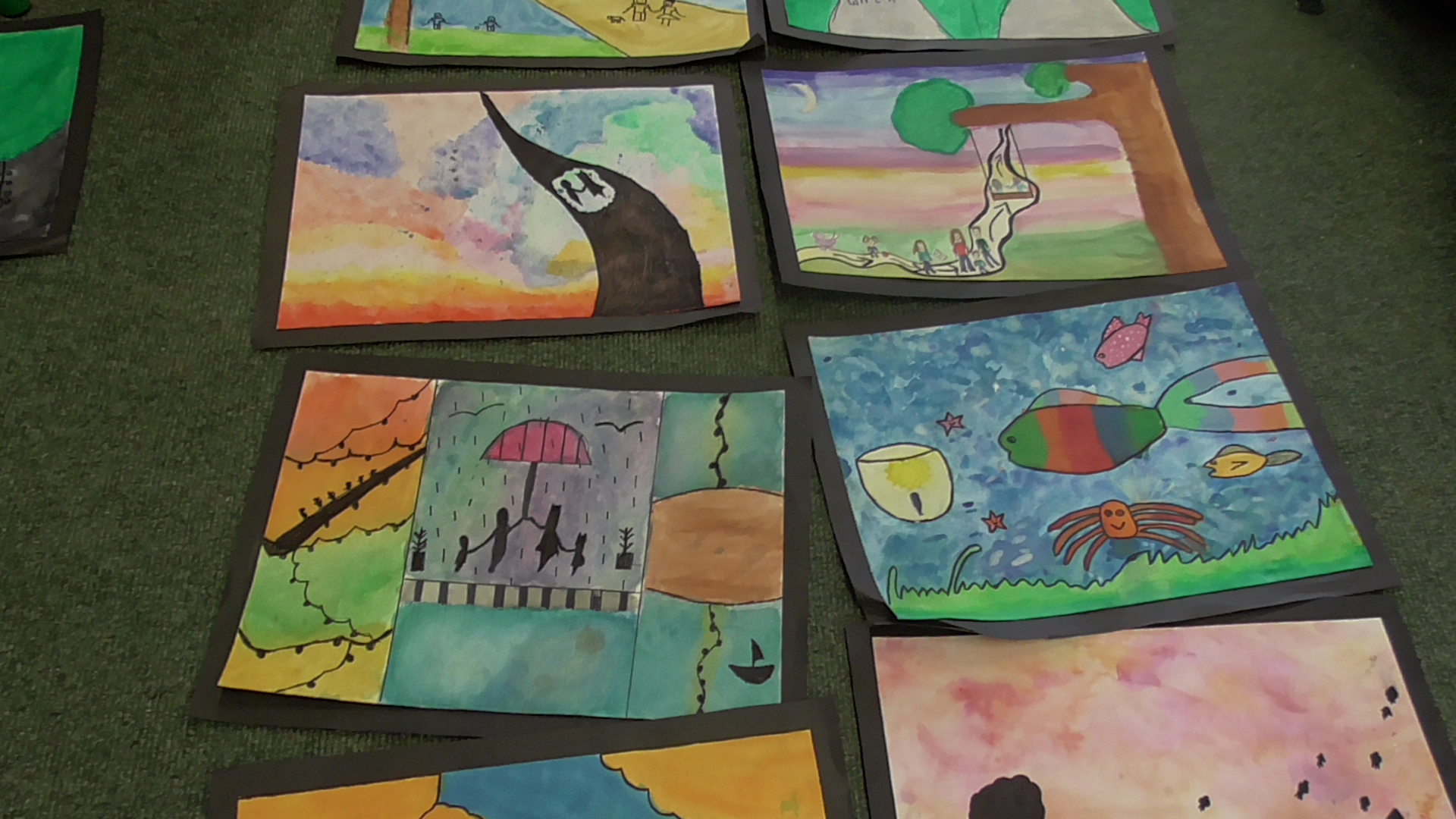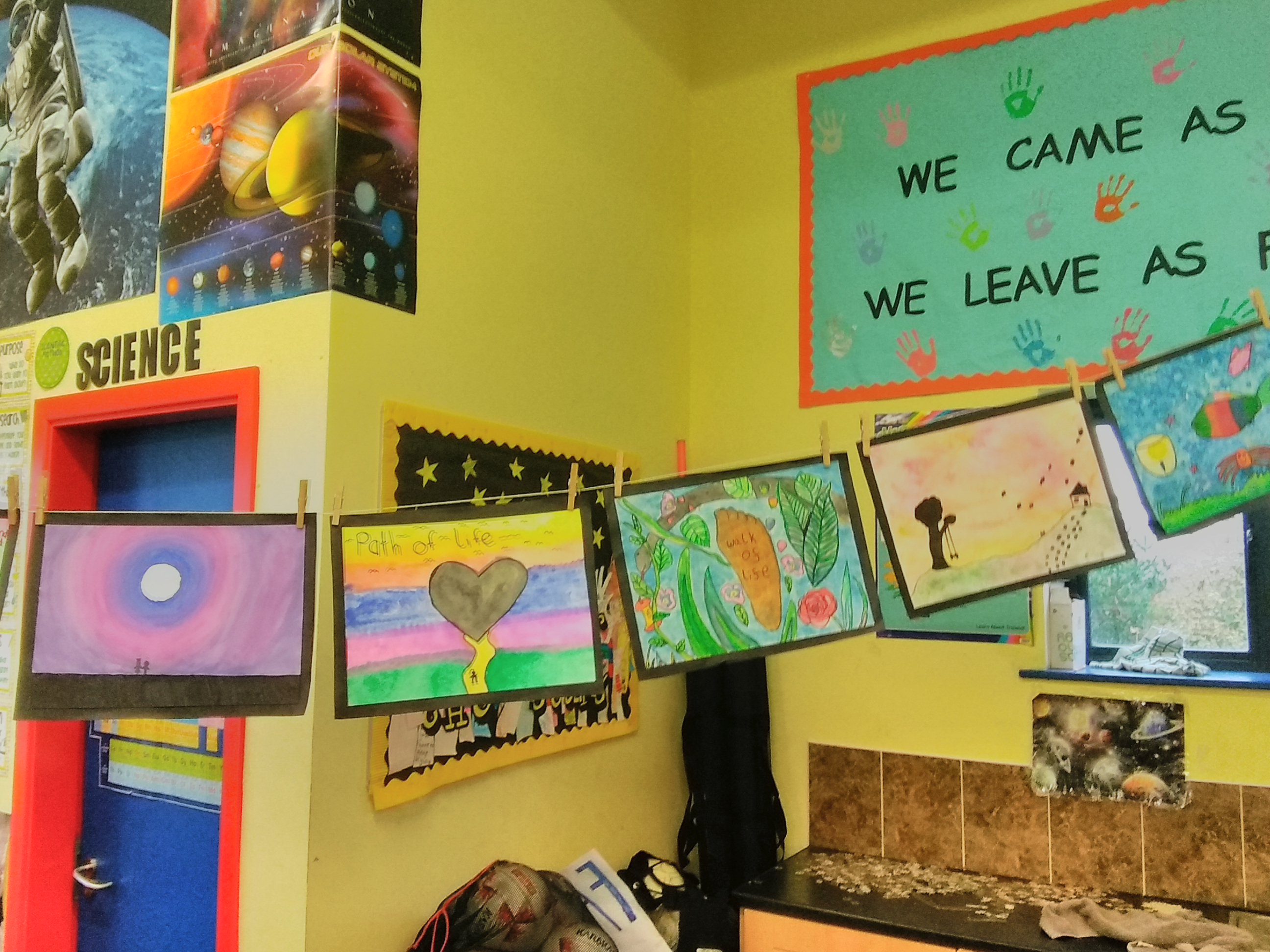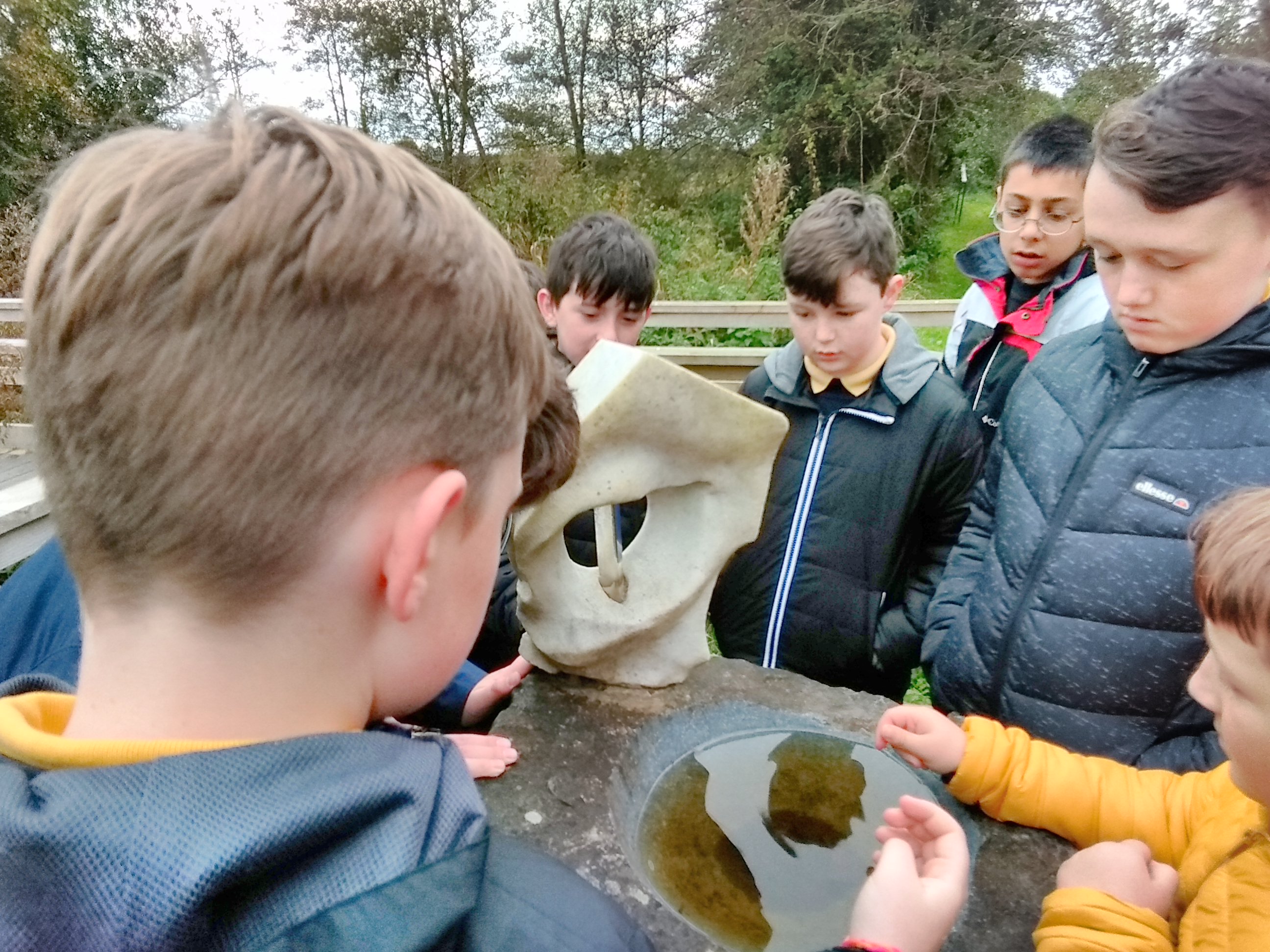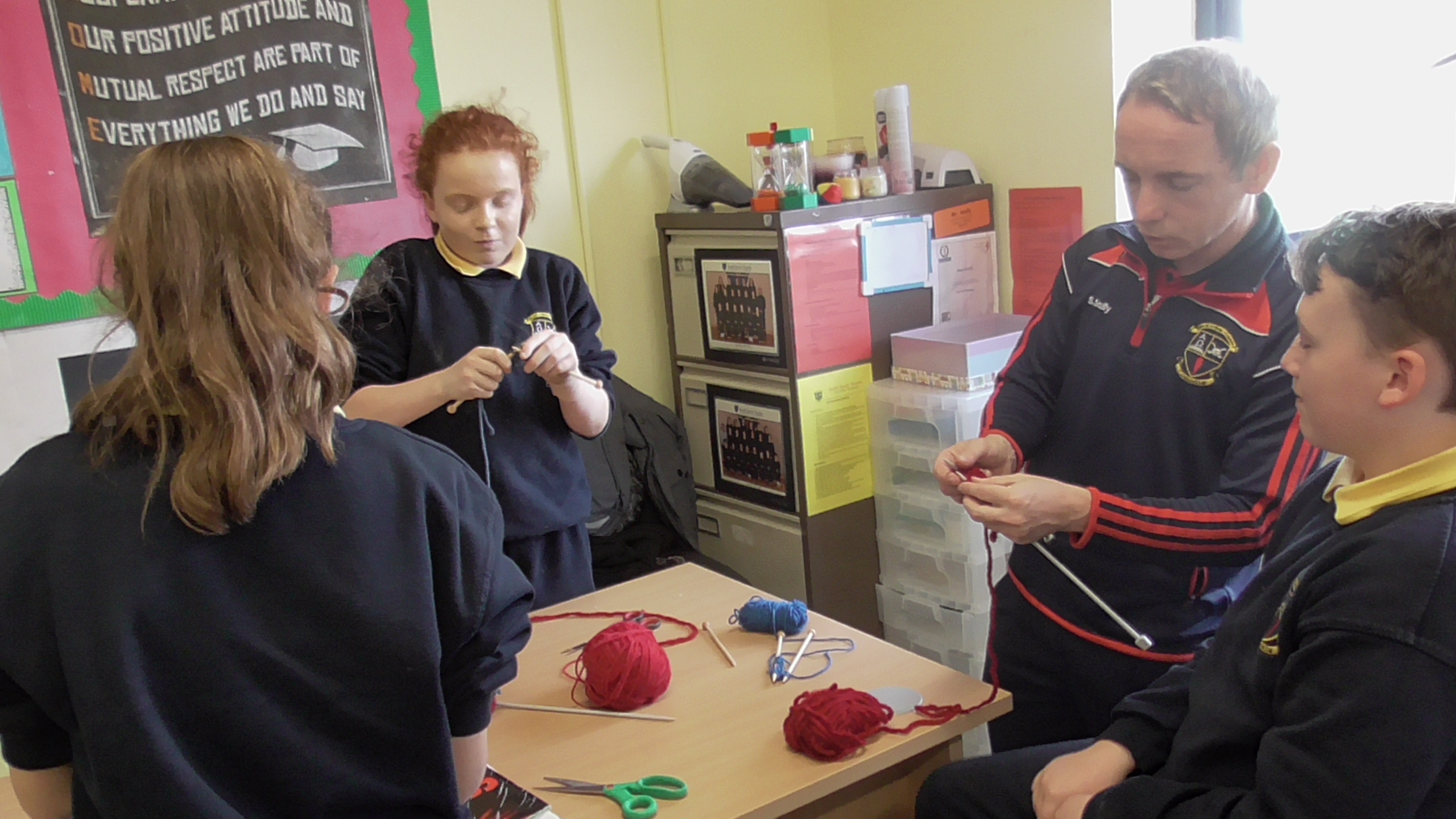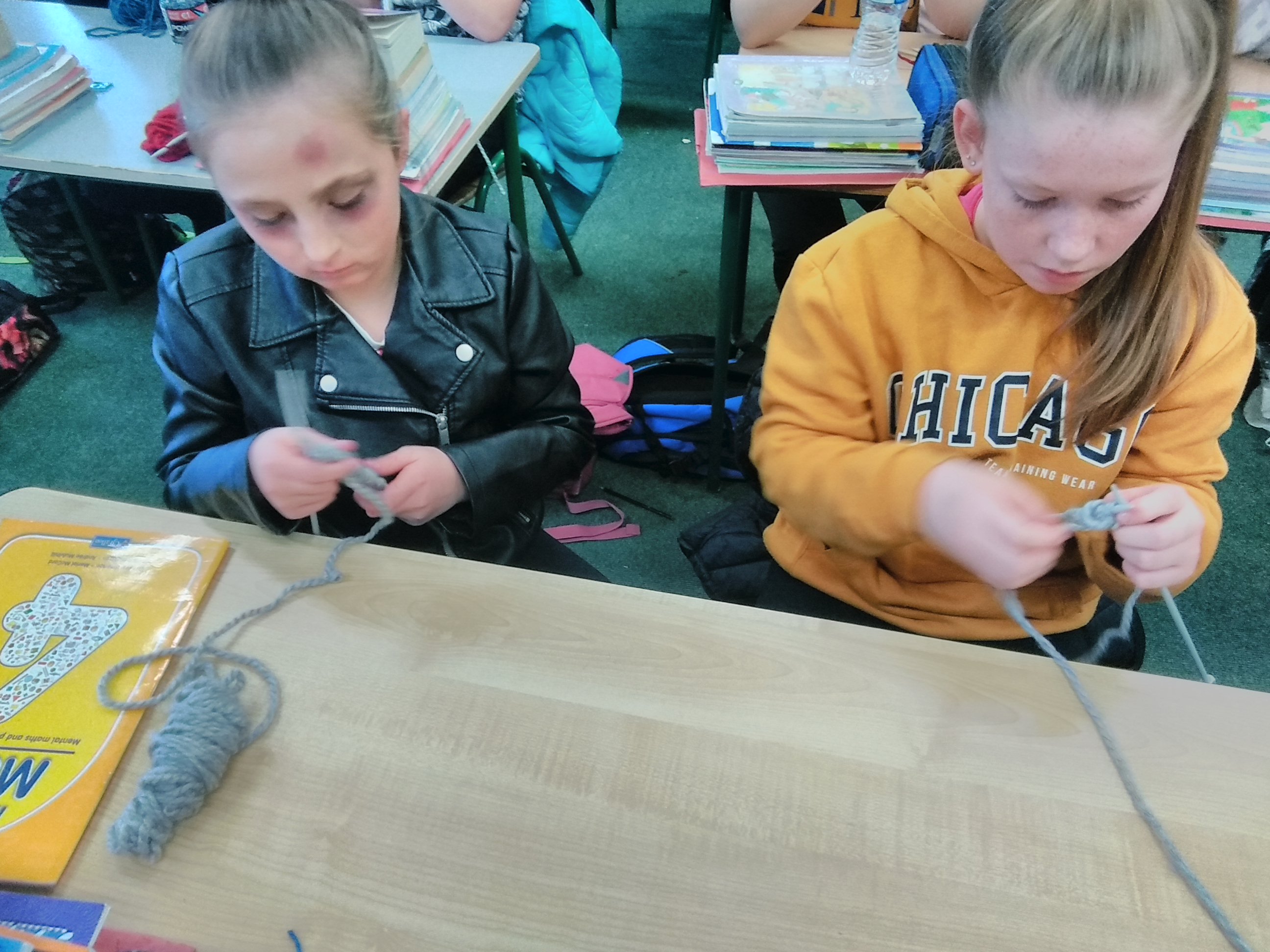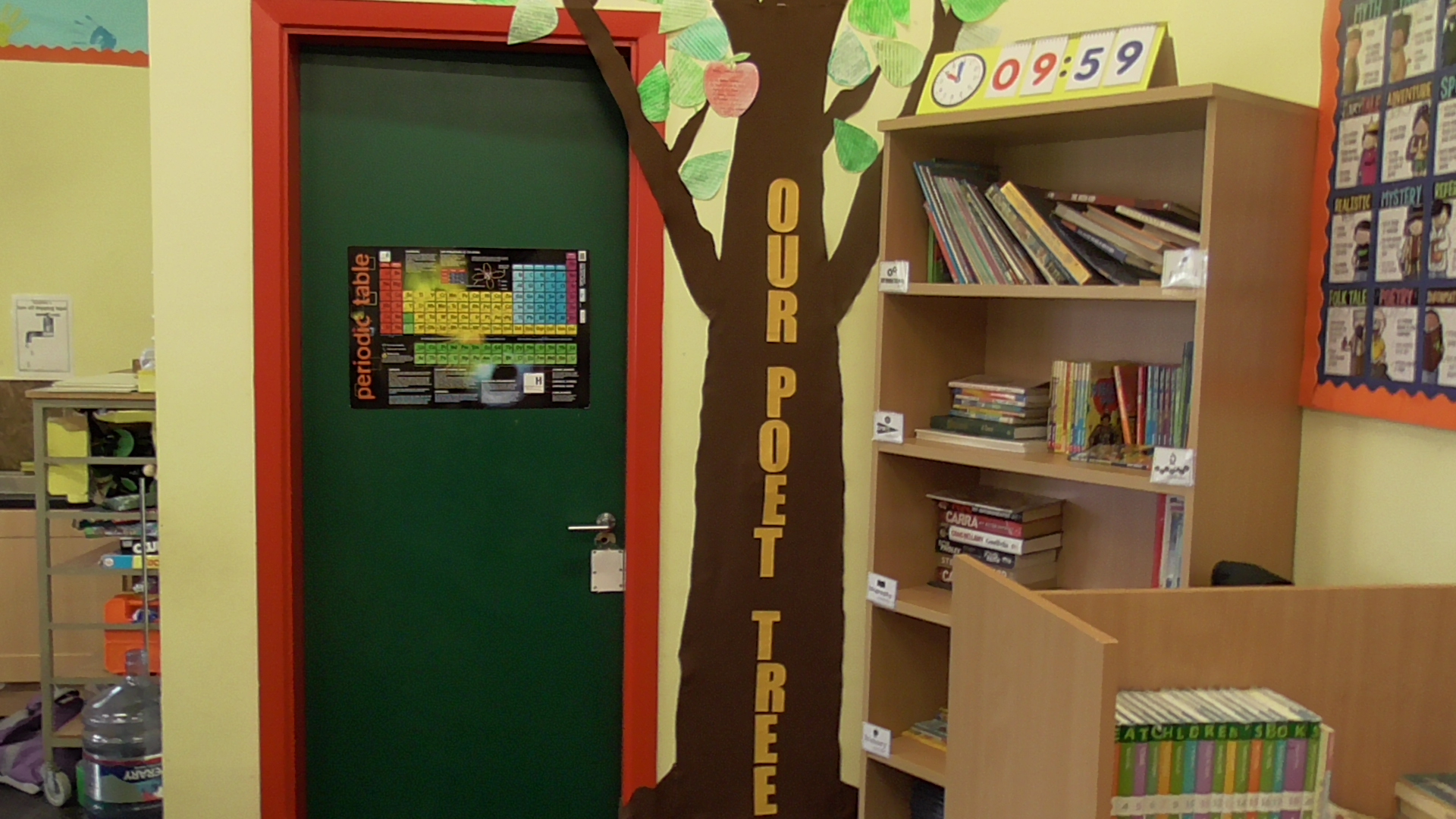 Displays Around the School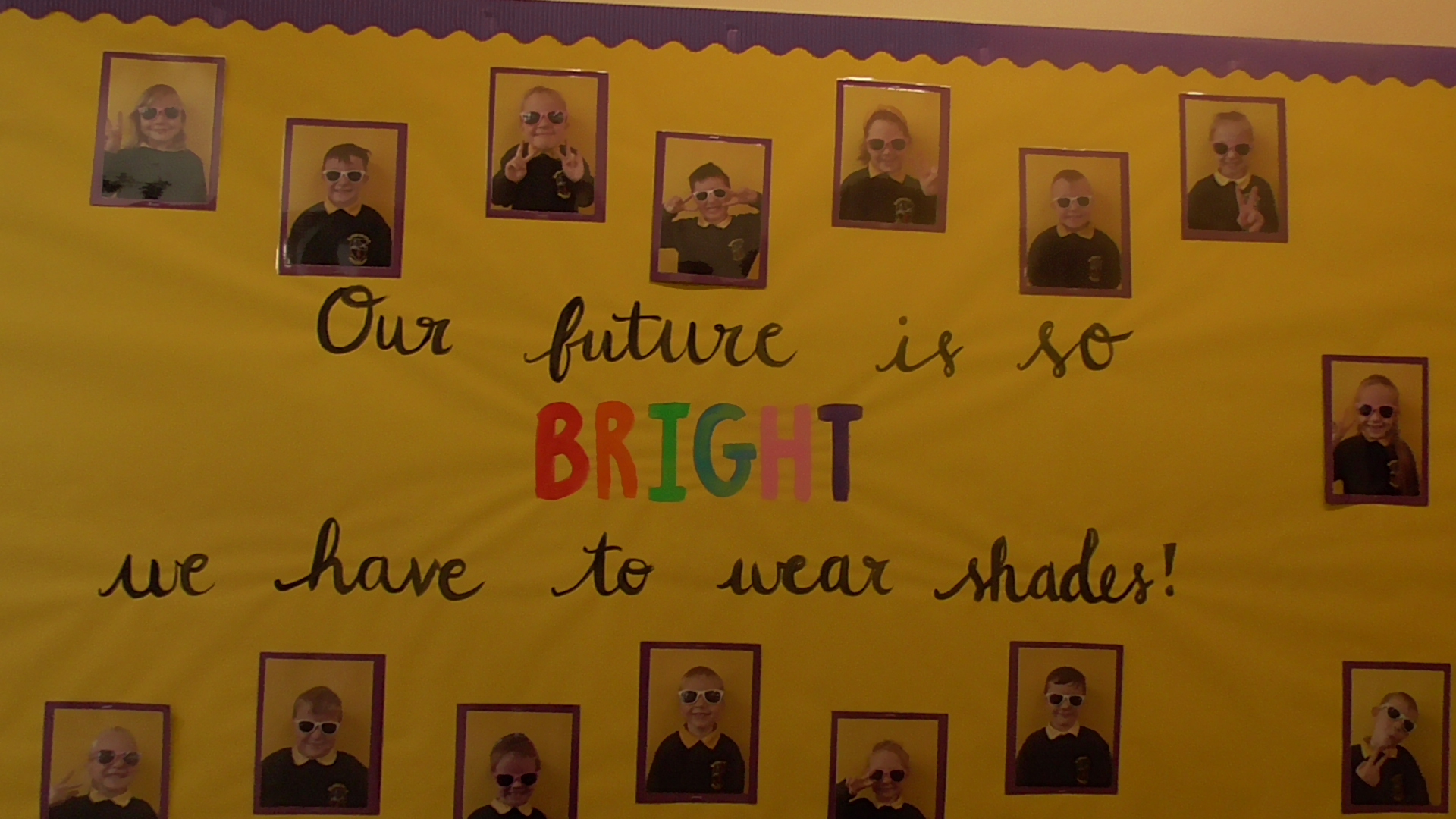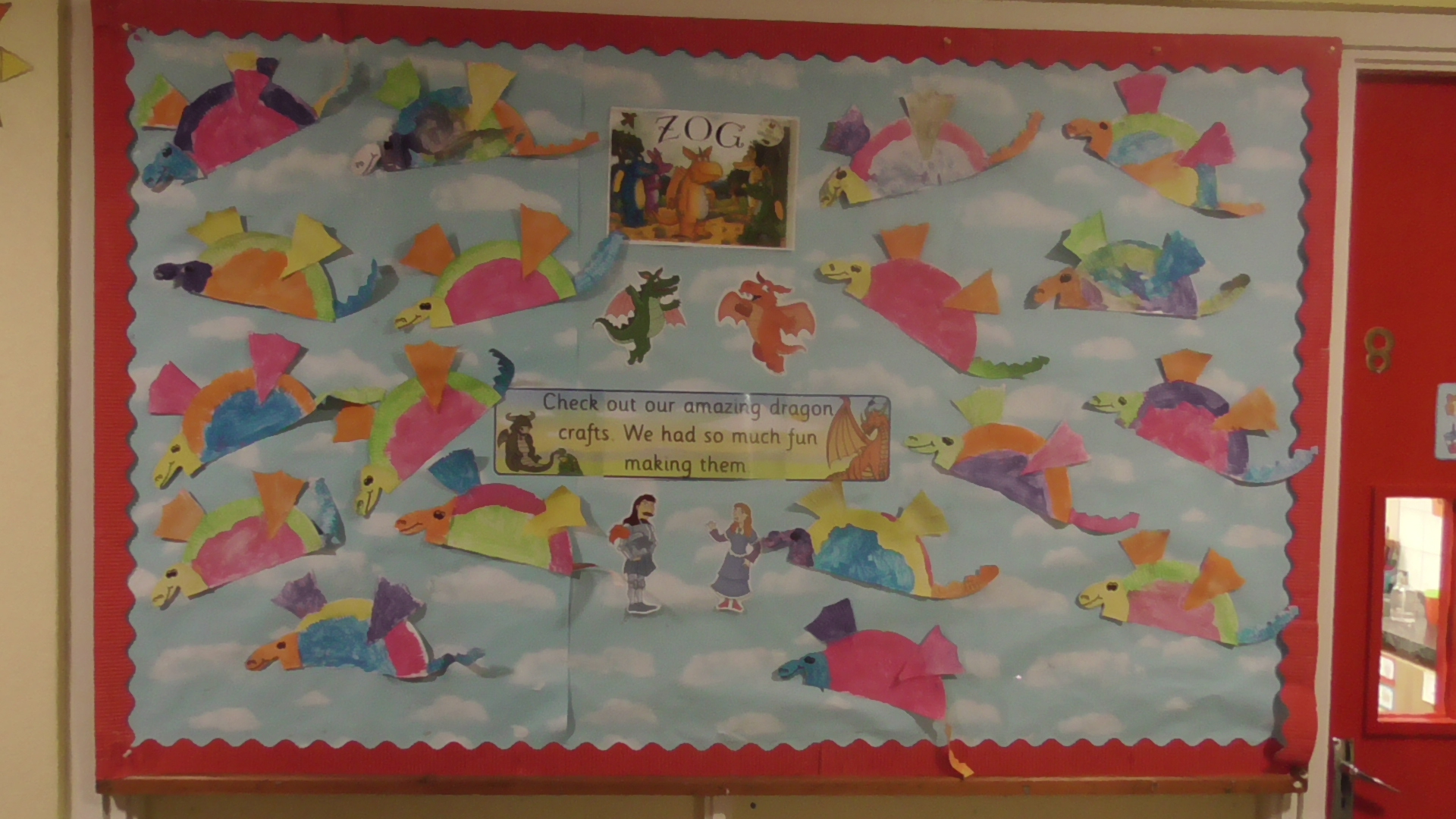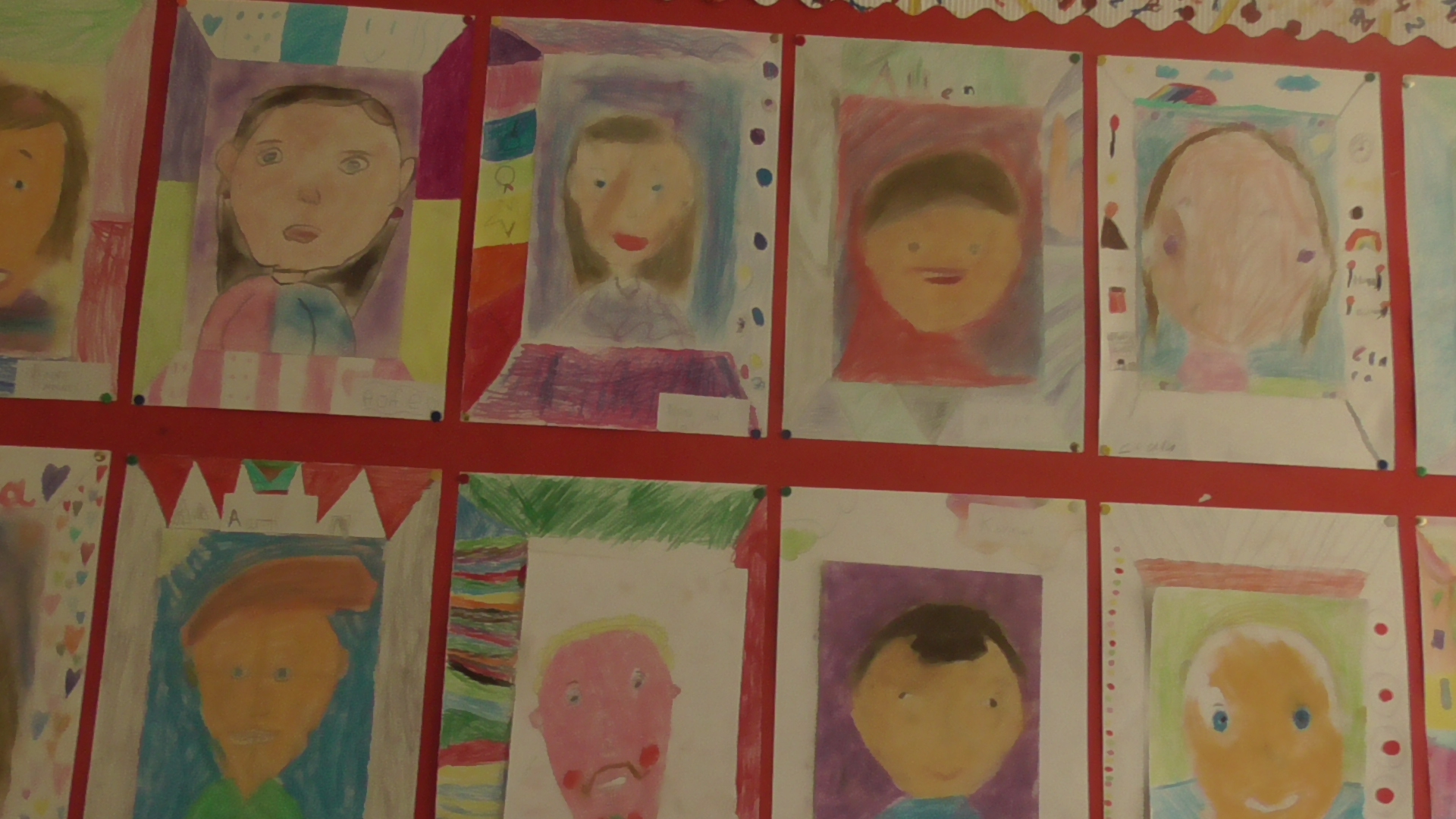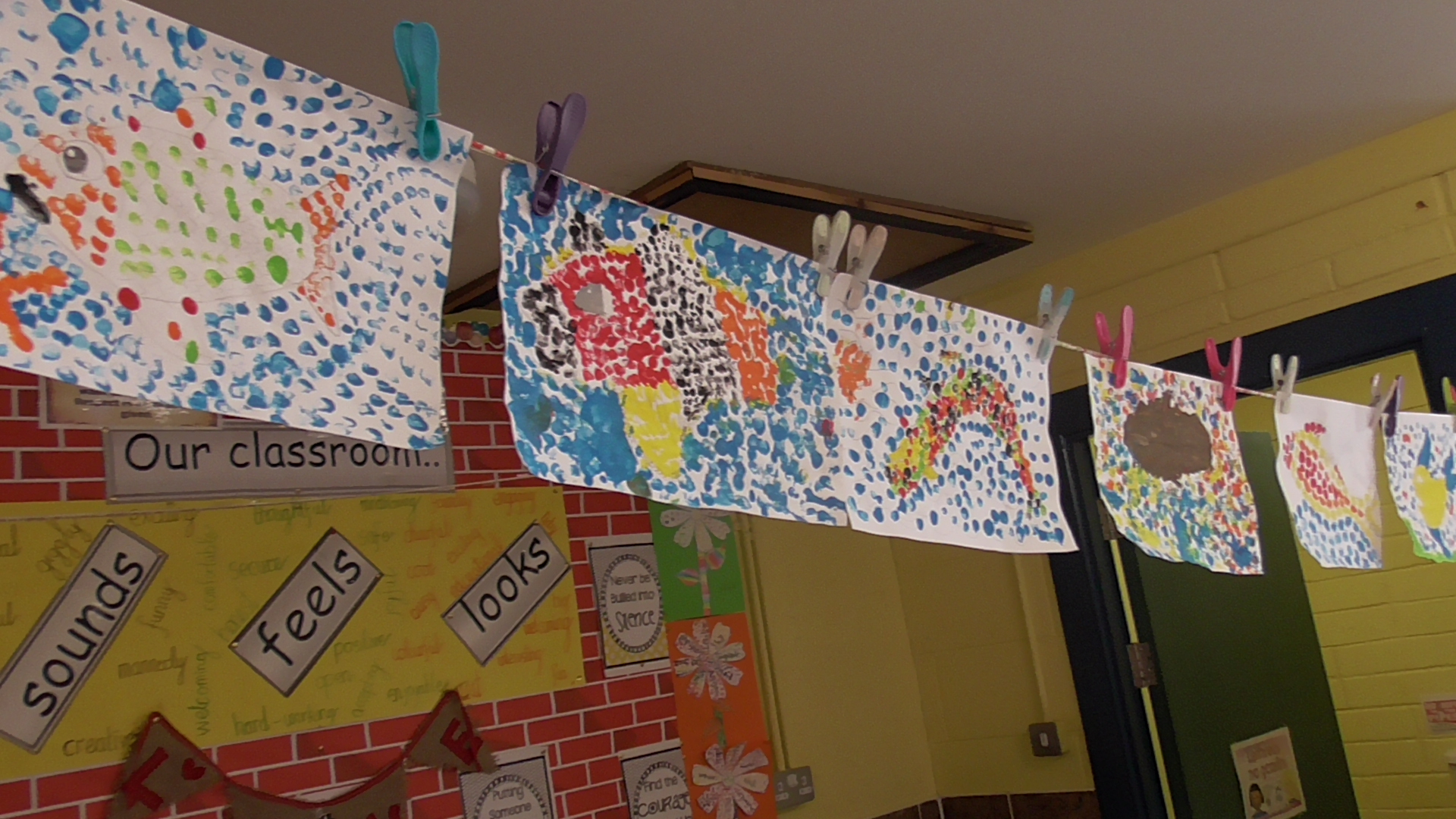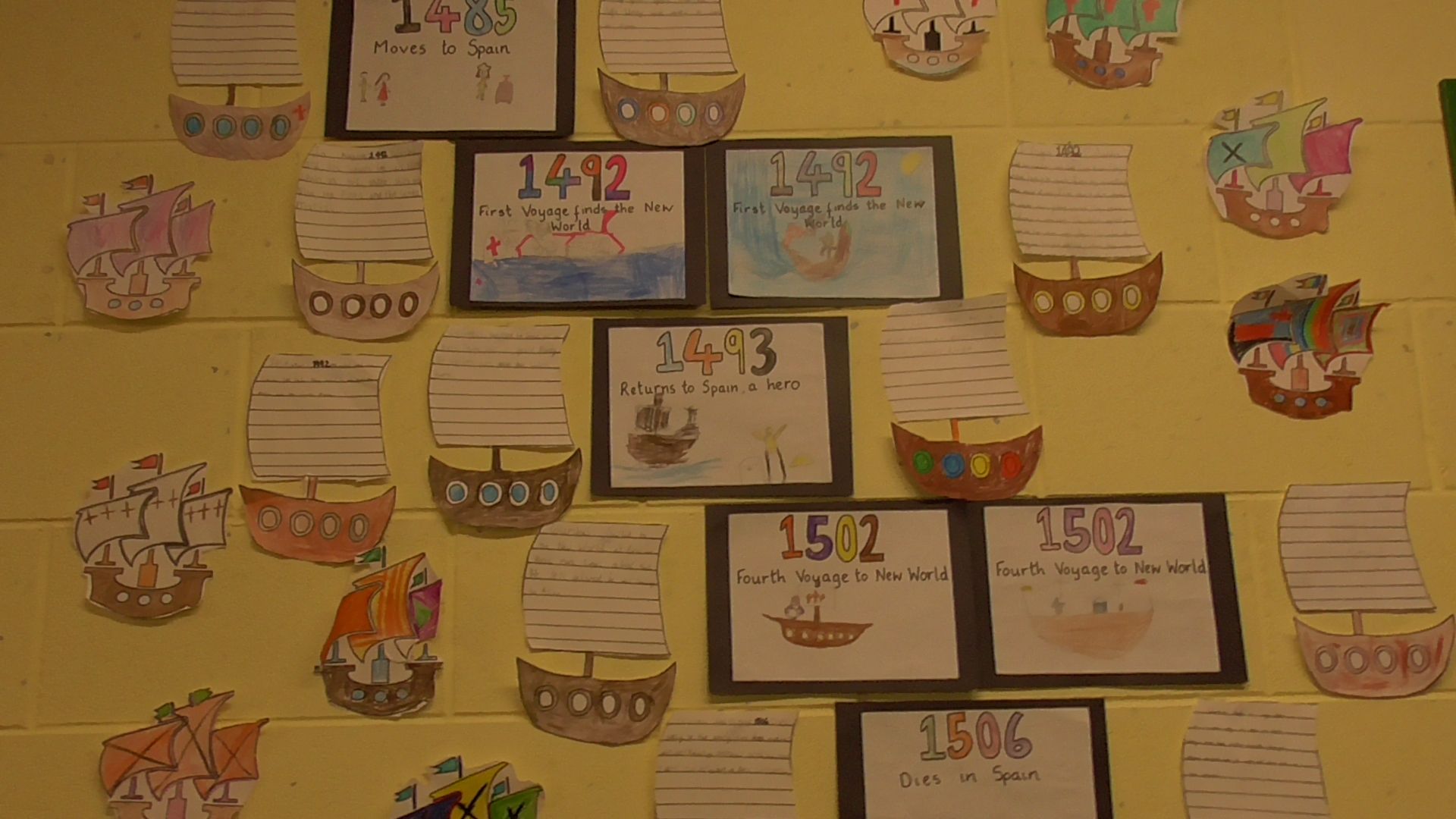 ---
Corville Updates – 21/09/19
The first 3 weeks back at school have flown by and all our students are settling in well especially our new Junior Infants. The 2019/2020 academic year promises to be another big one for the school. Many of our extra curricular activities have already started and we urge all our students to get involved with as many things as possible. To keep up to date with all things Corville we urge you to pop over to our Facebook page and 'Like' our page.
Our First Friday Assembly: this year our Junior Infants were brave enough to join us for our first Friday Assembly. Each Friday, one class level has to get up on stage and either perform a song or tell us the news from their classroom for that week. So far 6th class have been on stage singing and giving class updates and last Friday 4th class got up on stage to tell us their news.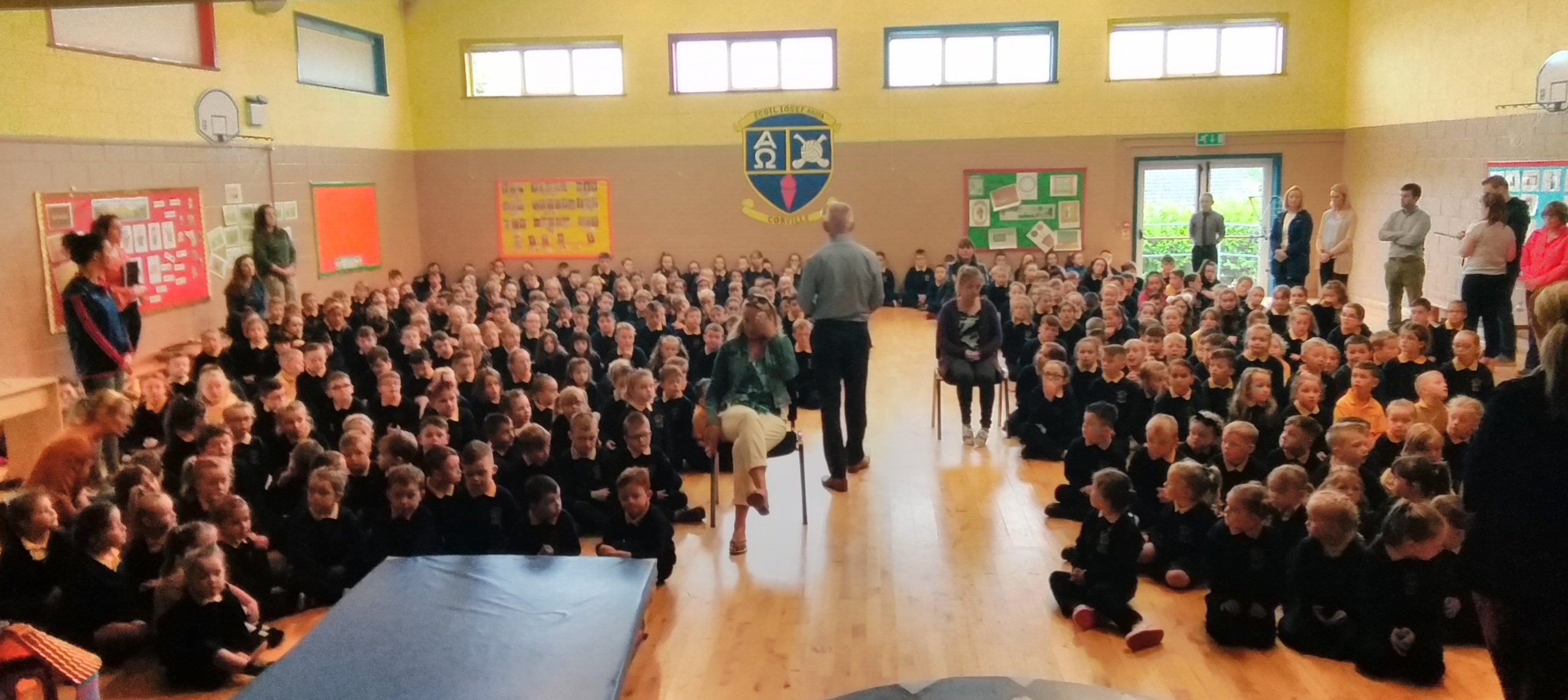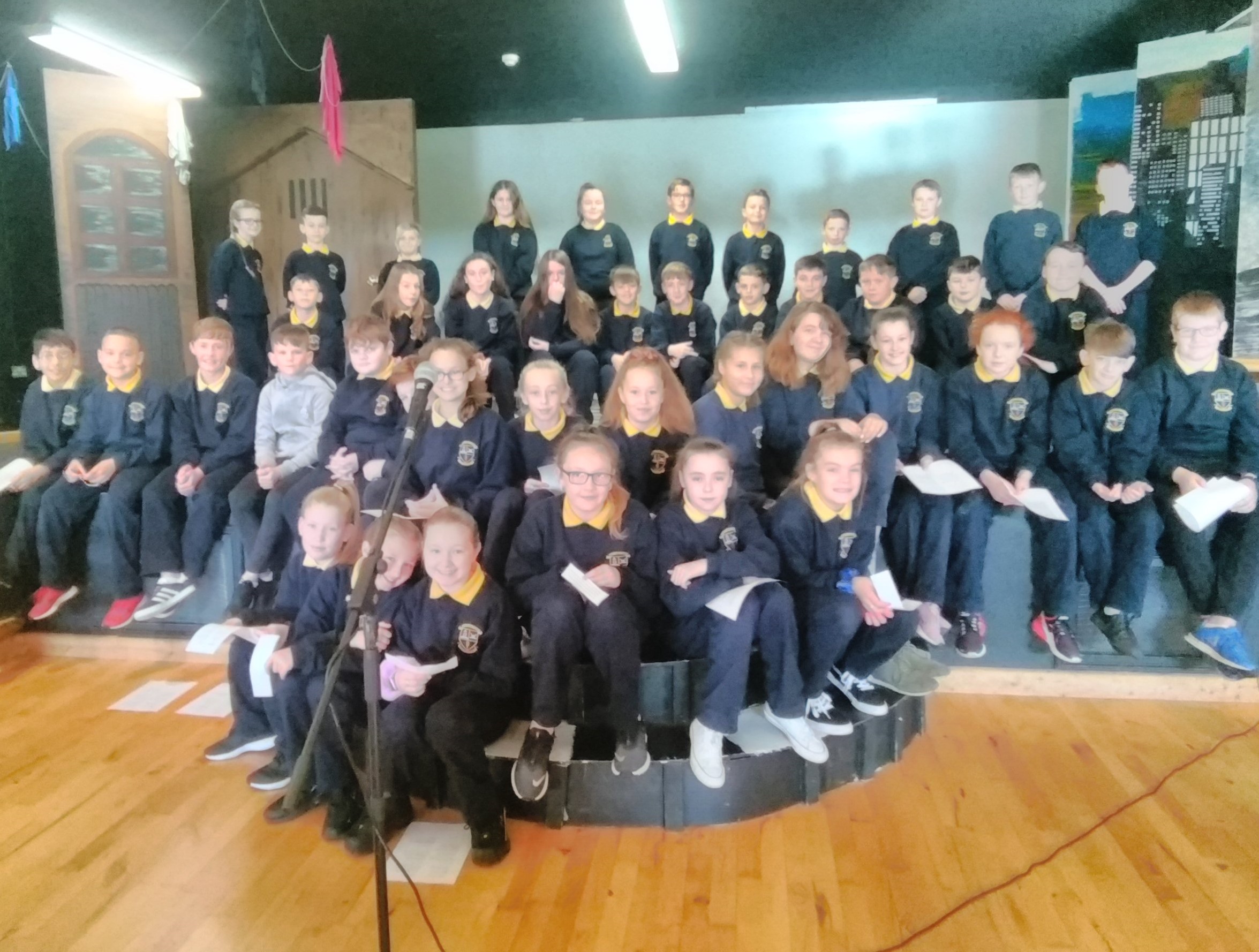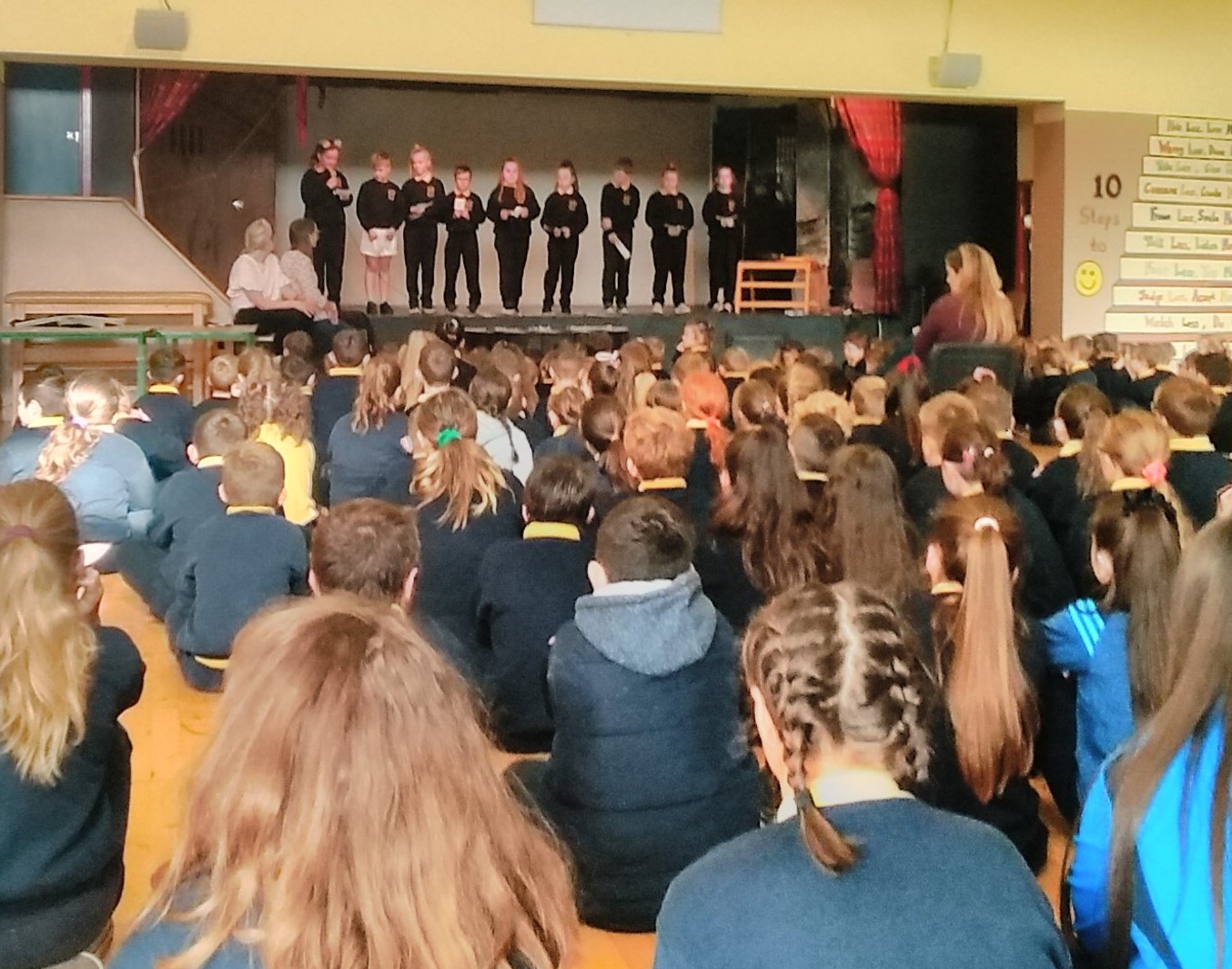 School Calendar: our 2018/2019 calendar is available to view on our website – click here. Make sure you are aware of all important dates.
Senior Tipp Hurler: All Ireland winning hurler, Barry Heffernan, is currently working in the school and we used this opportunity to get some photos with each class!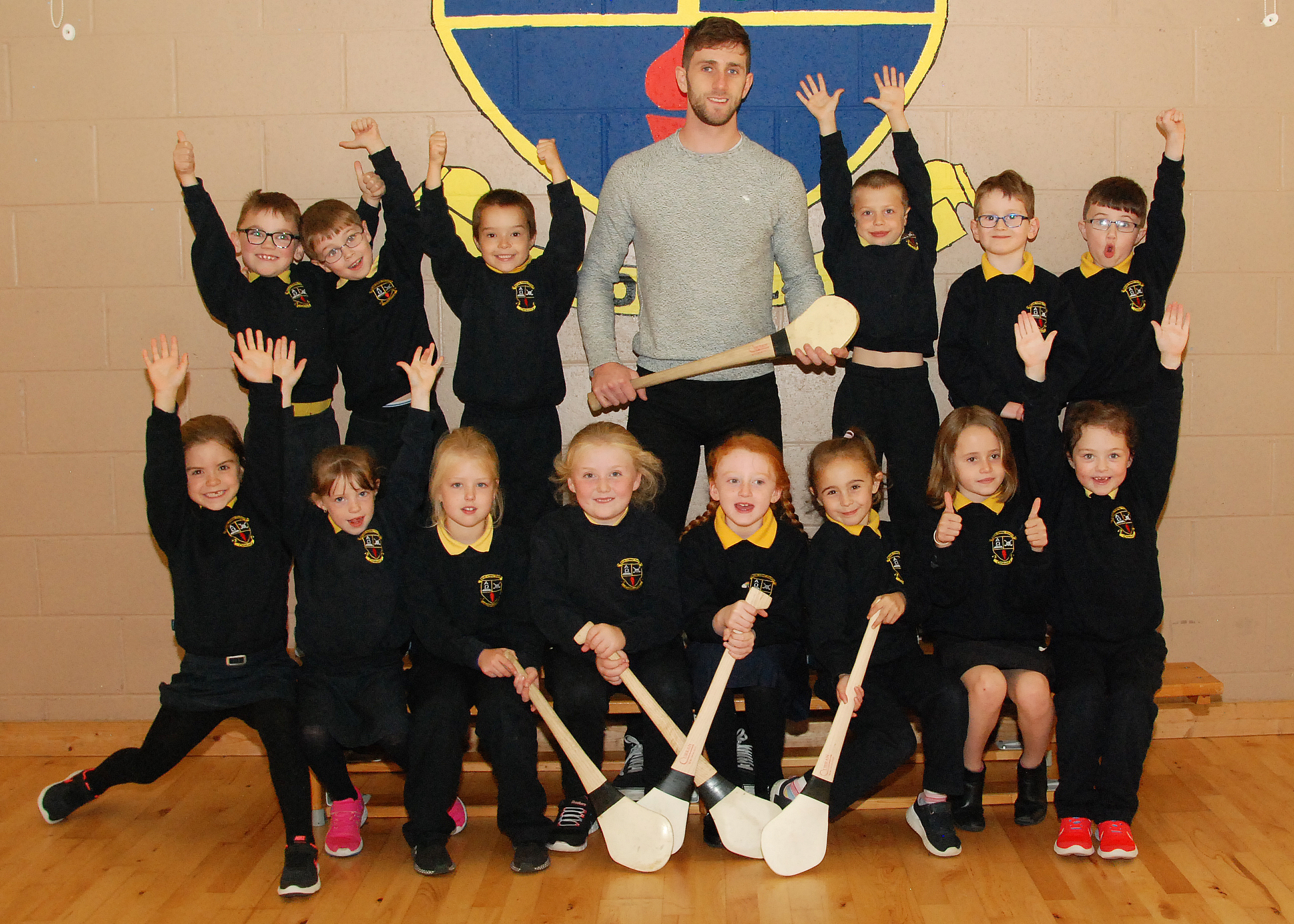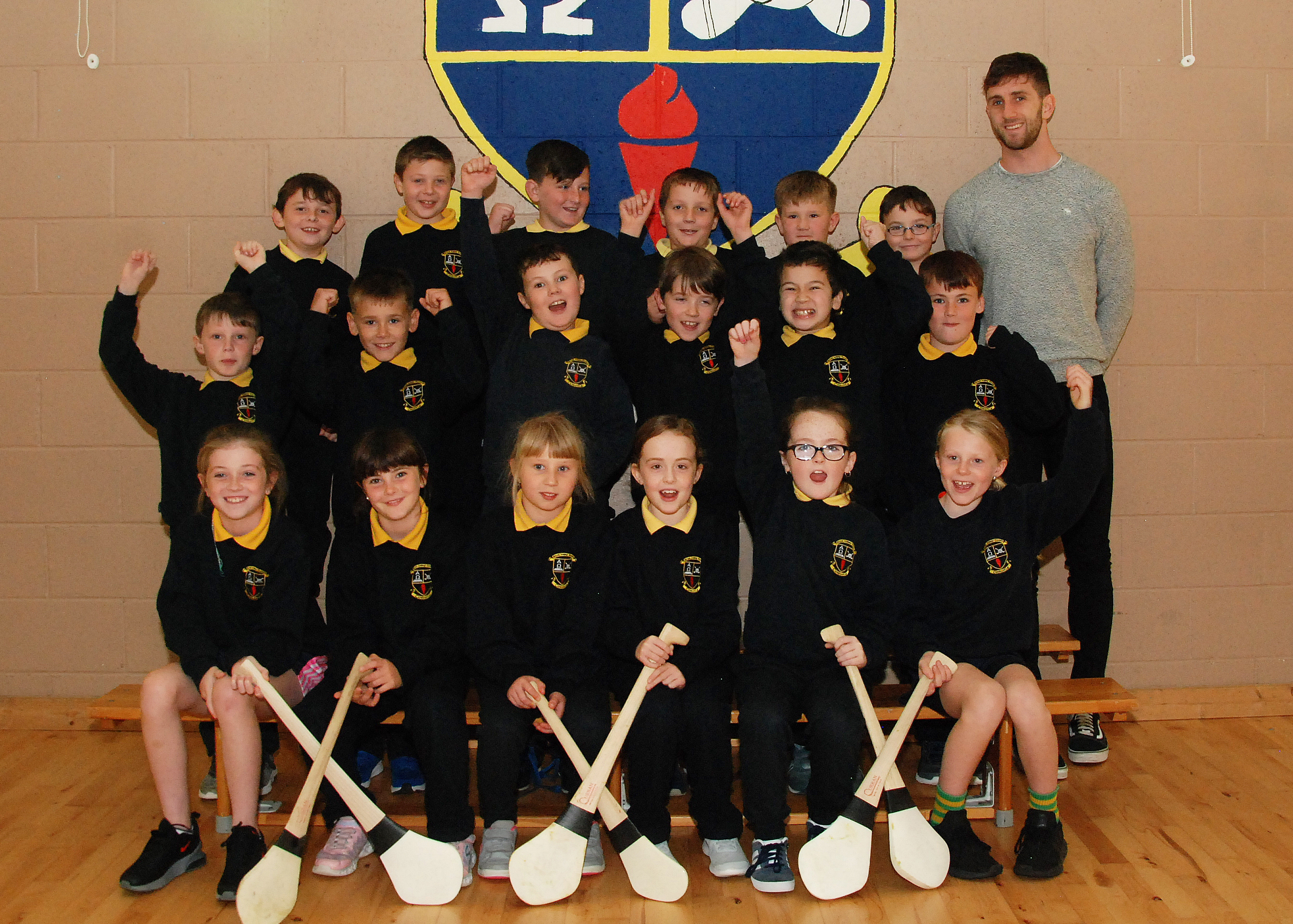 Students of the Week: each Friday a student is selected from each class to be the student of the week. To win this award student's must display good manners and excellent behaviour. Congratulations to those that have been awarded so far.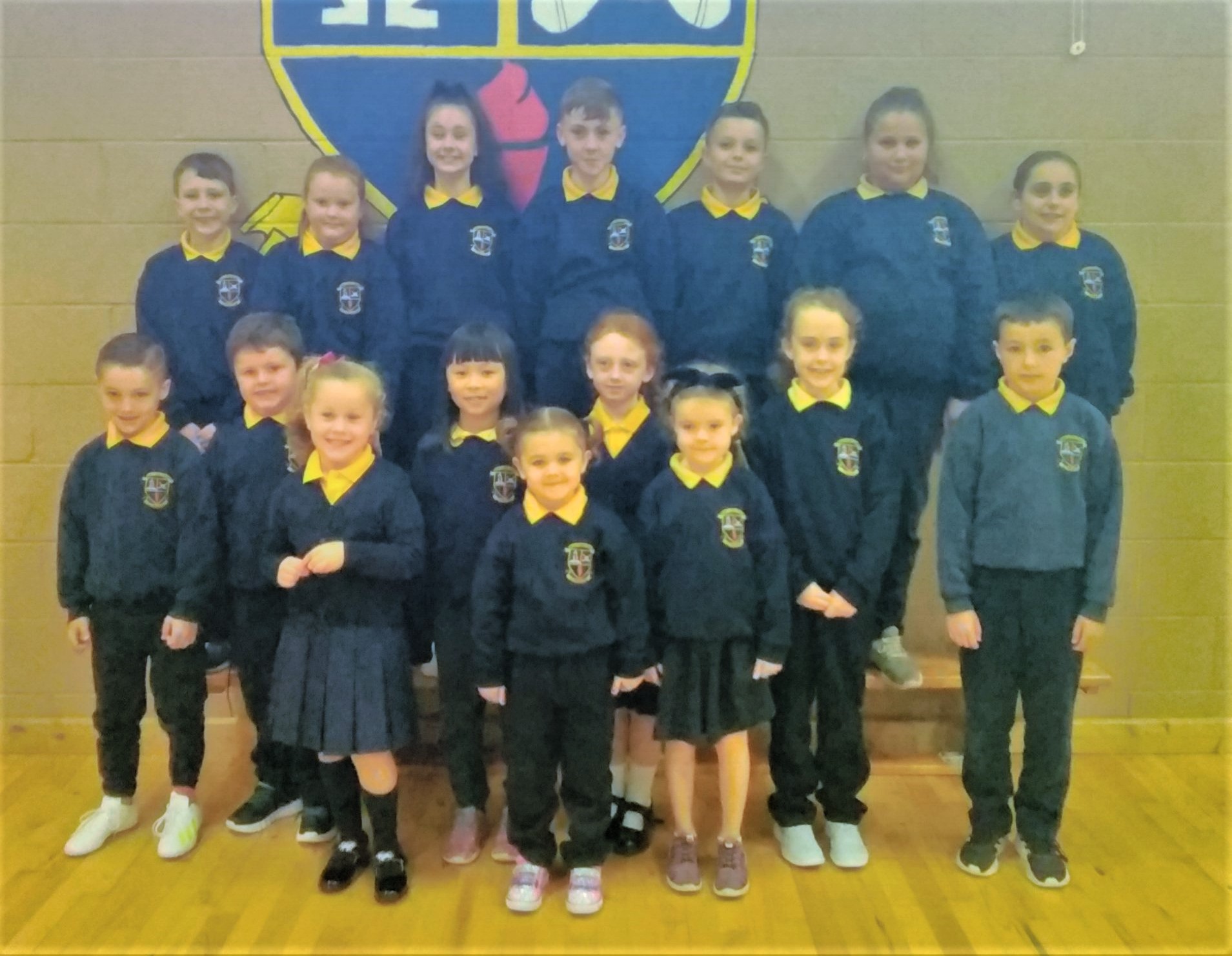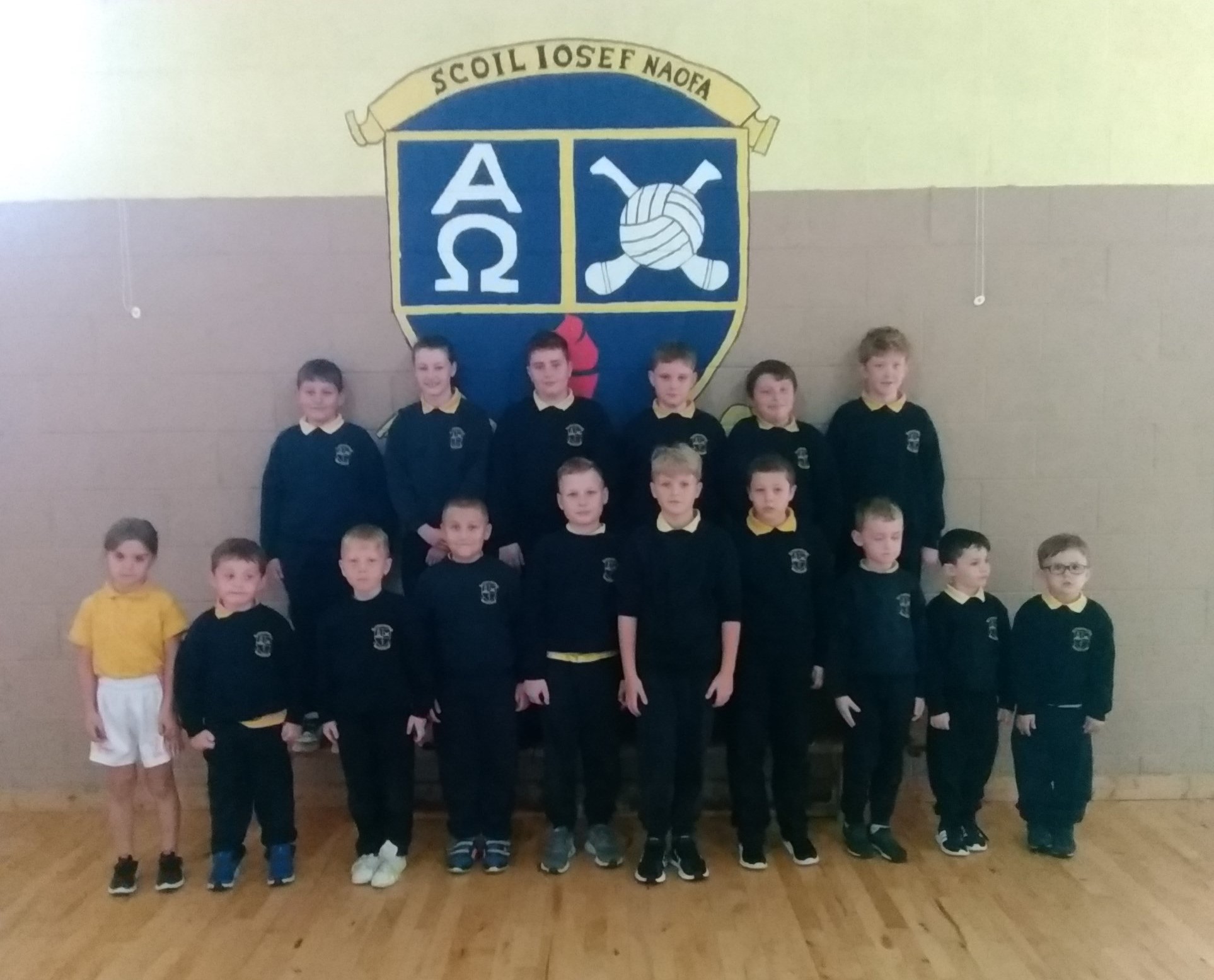 Extracurricular: football, tennis, soccer, quiz, choir, craft club, rugby, cross country and gardening clubs are all up and running already in school. Some of these take place at lunch and some after school. If you are interested in any of these then we would be delighted to have you. We have a busy week of matched coming up this week with our Girls U/13 football team playing on Wednesday, 3rd/4th/5th/6th classes are going to the Tipperary Primary Cross Country on Thursday and the Boys football team are playing on Friday. We will let you know how we get on via Facebook.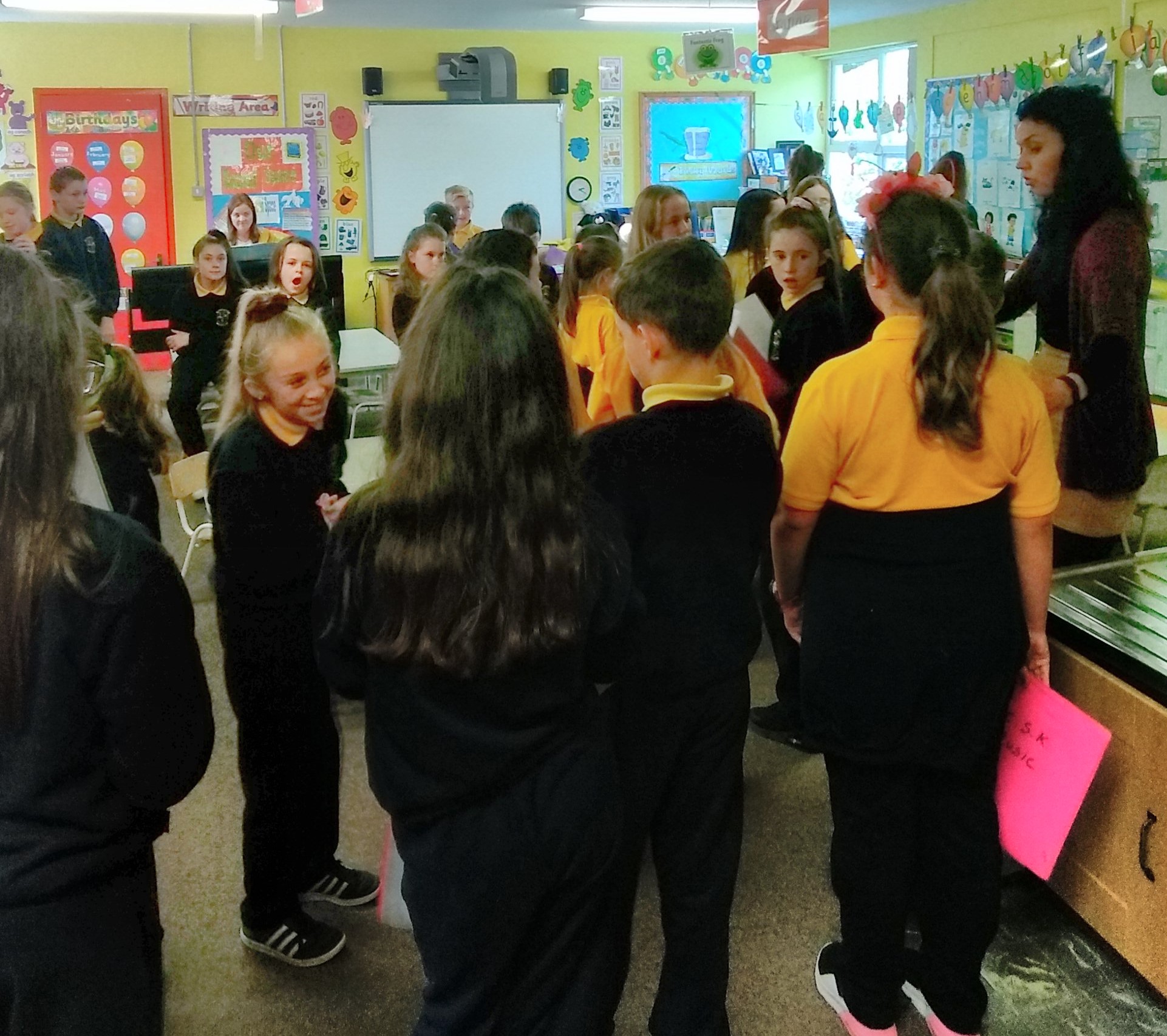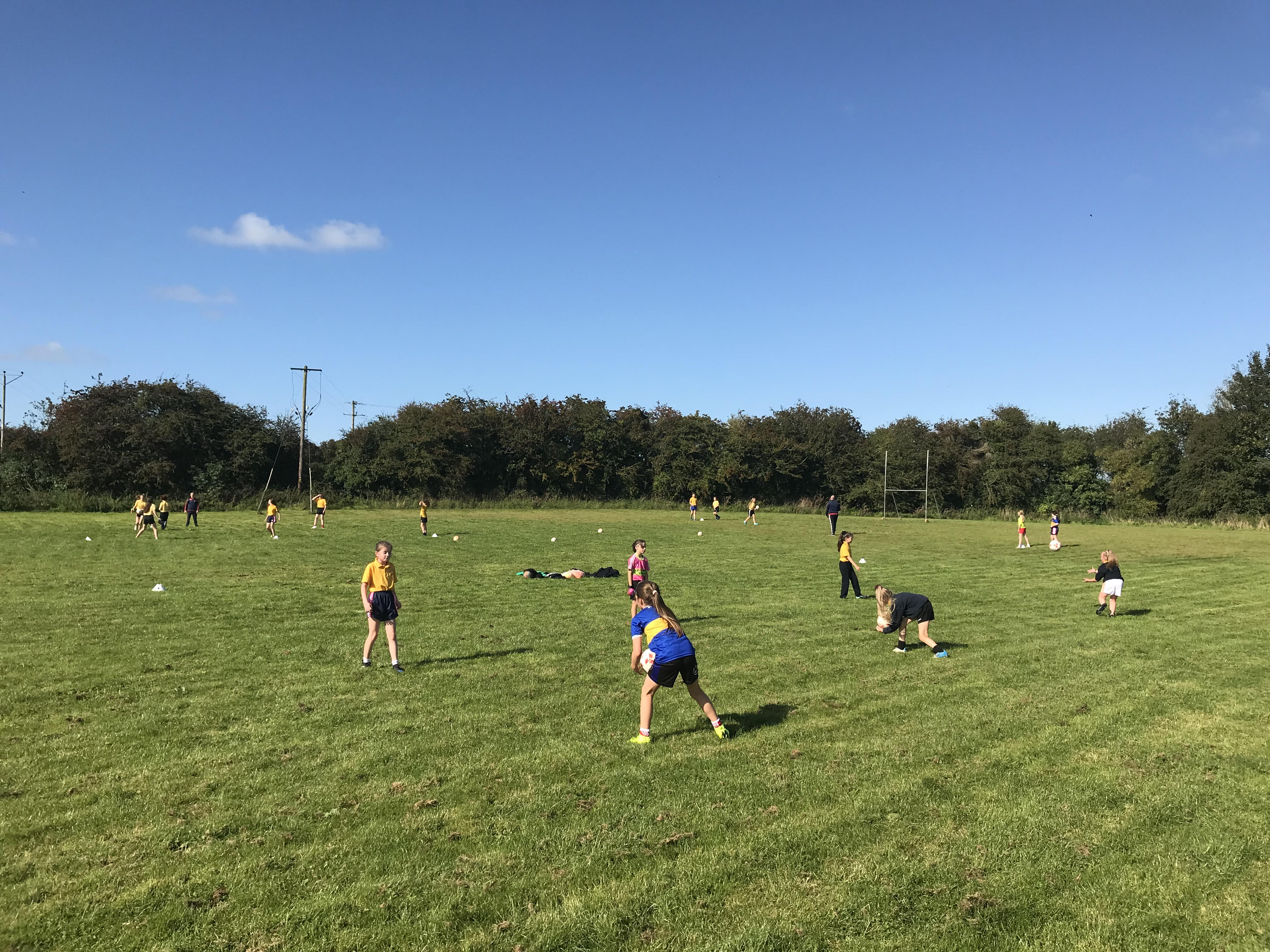 Swimming: every Thursday the students are brought swimming in the Roscrea Leisure Centre. Swimming is an important life skill and it helps to boost fitness. We strongly urge all our students to take part.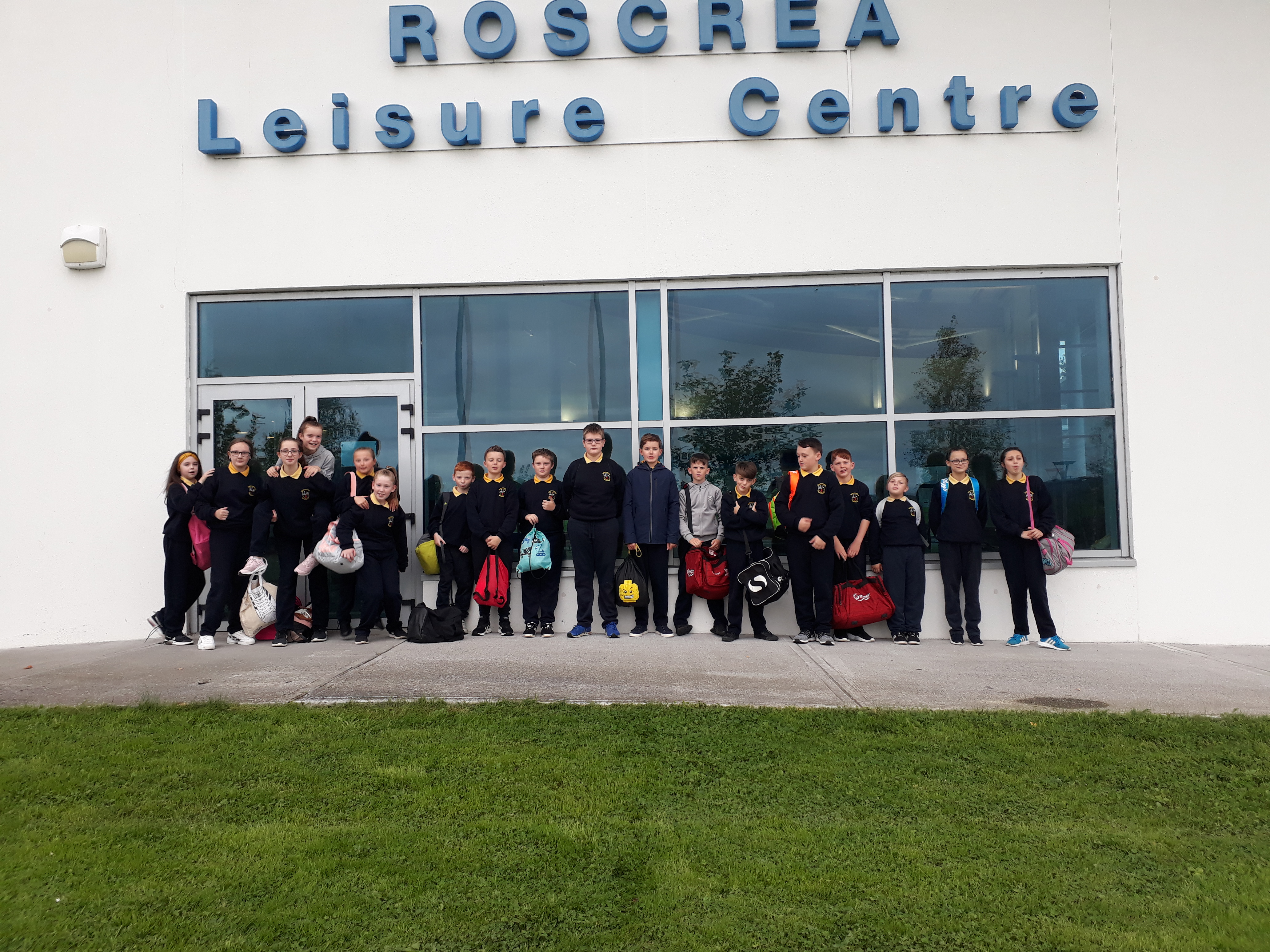 Junior Infants: our two junior infant classes are settling in very well. They are enjoying doing Buddy Reading with 6th class, they also love aistear and they are making great progress with their maths! Their first day at school seems a long time ago now.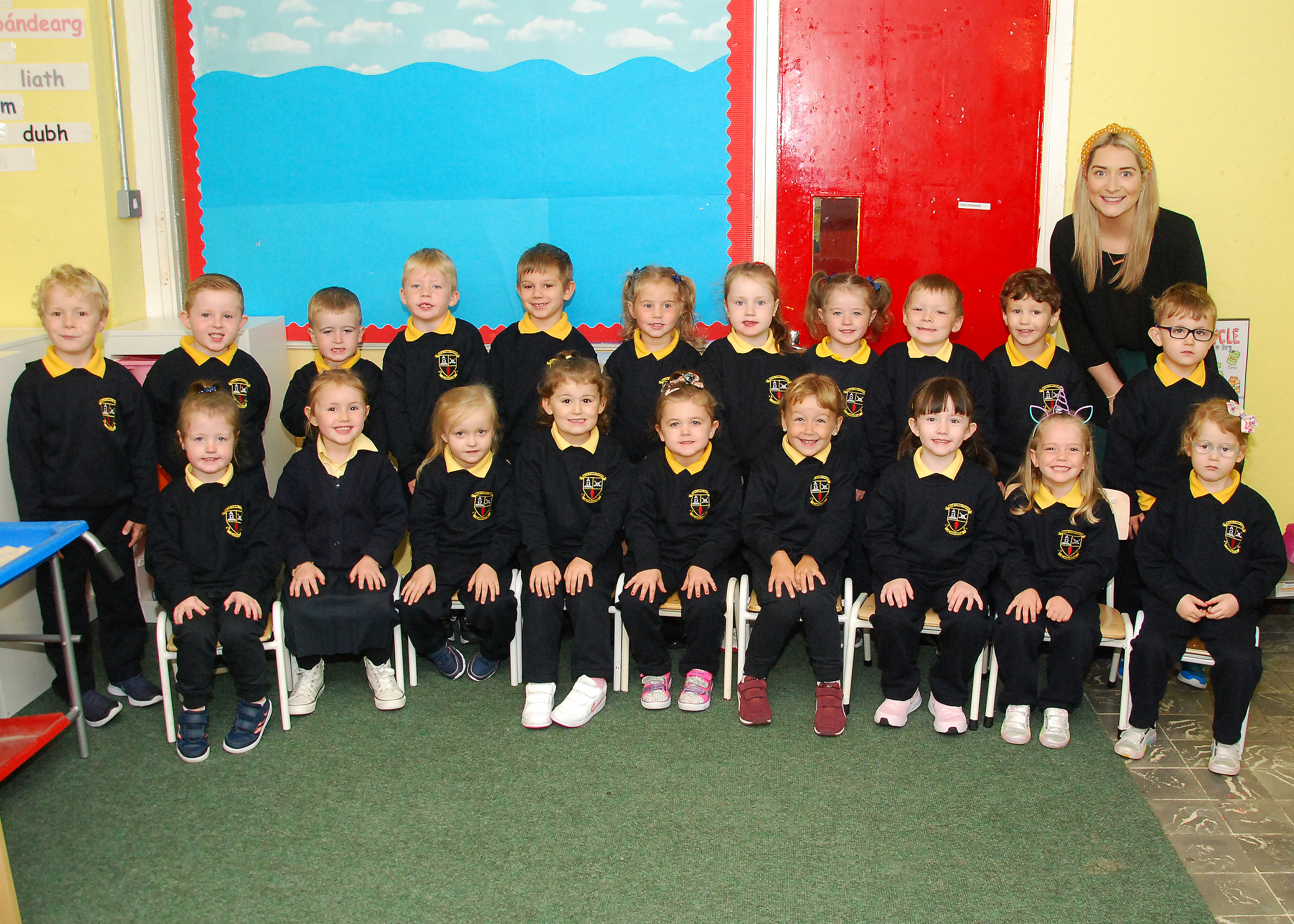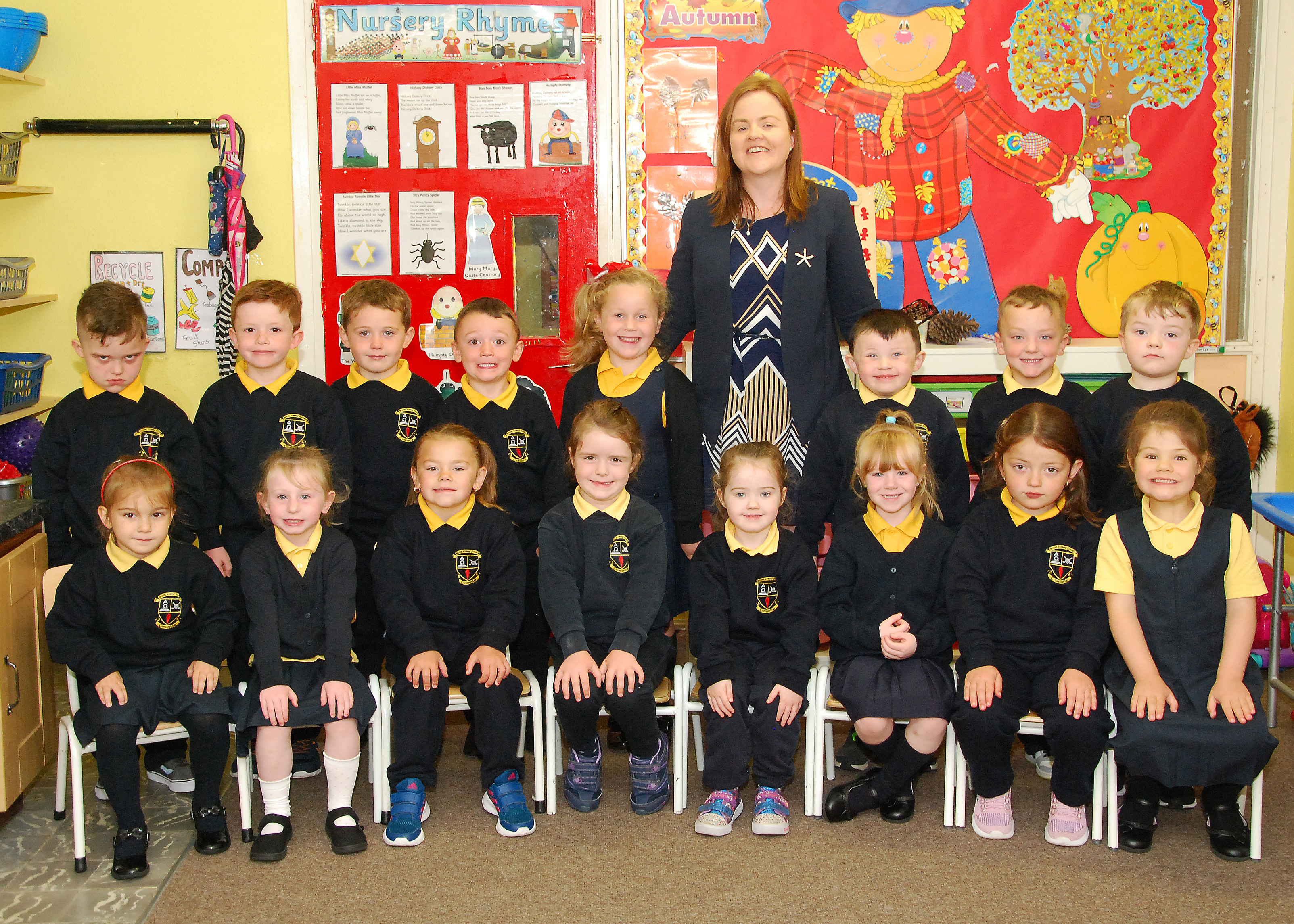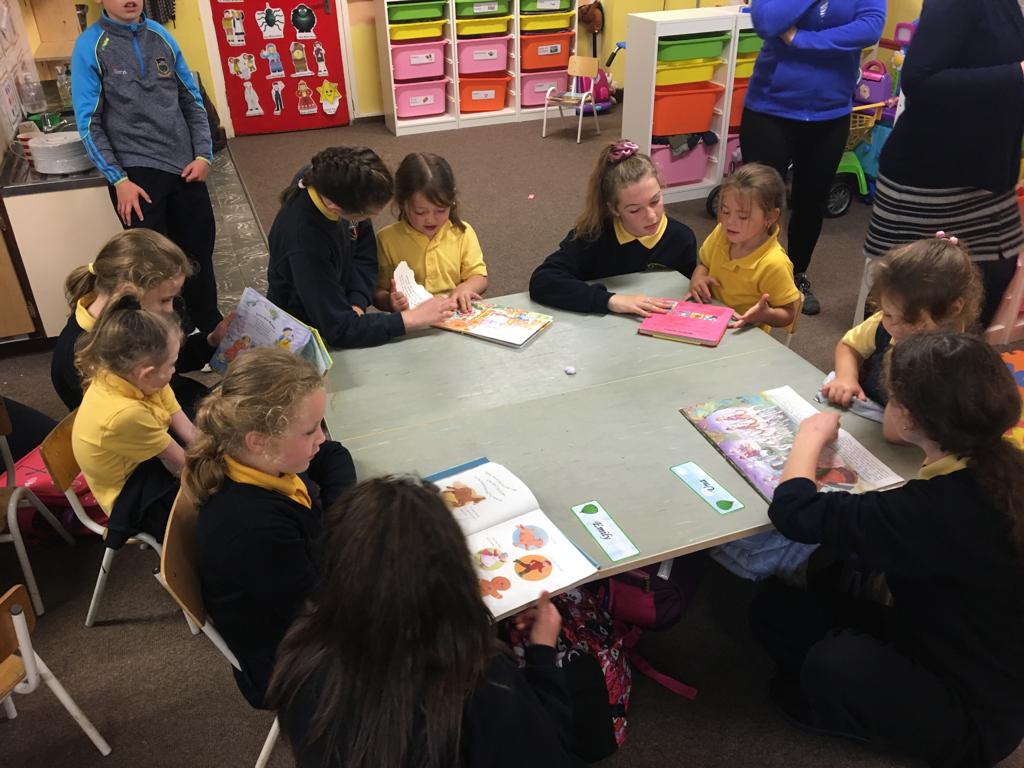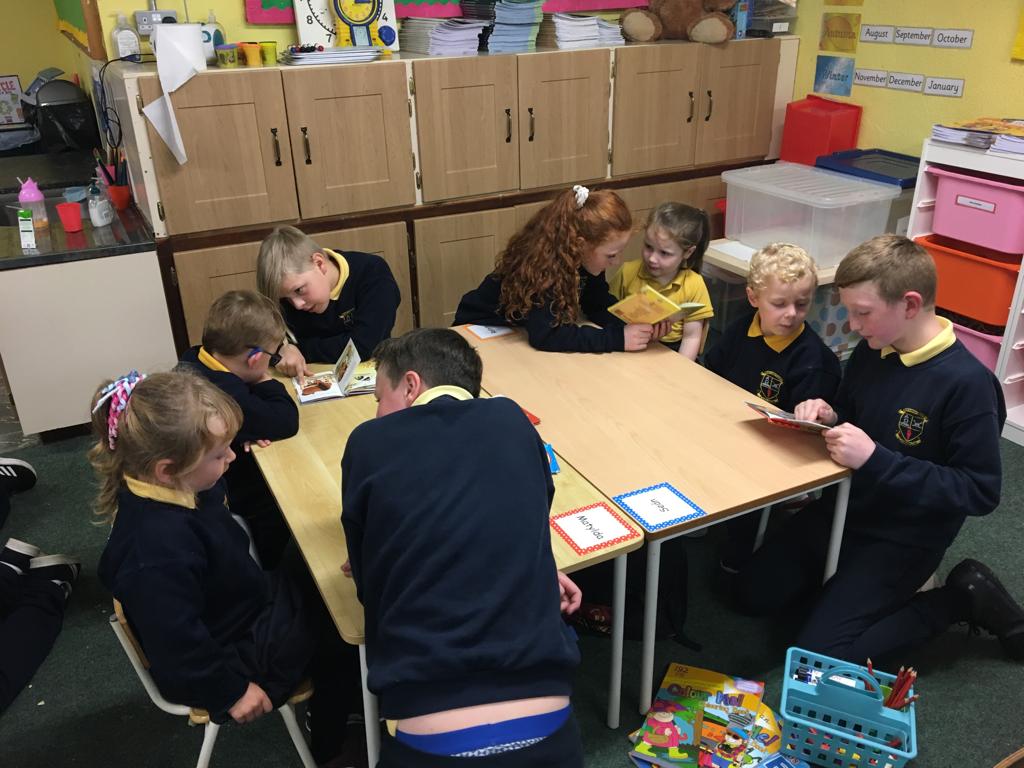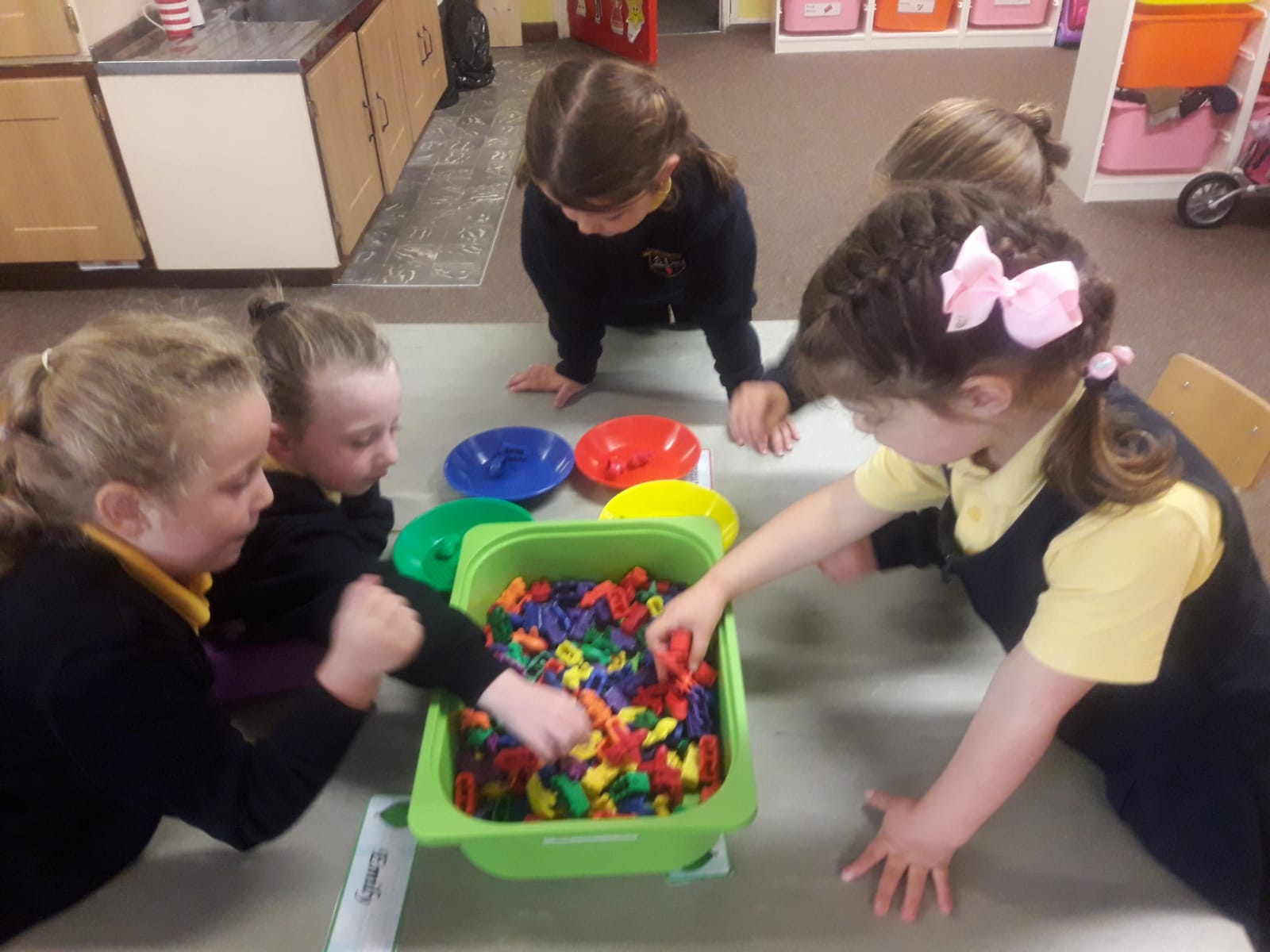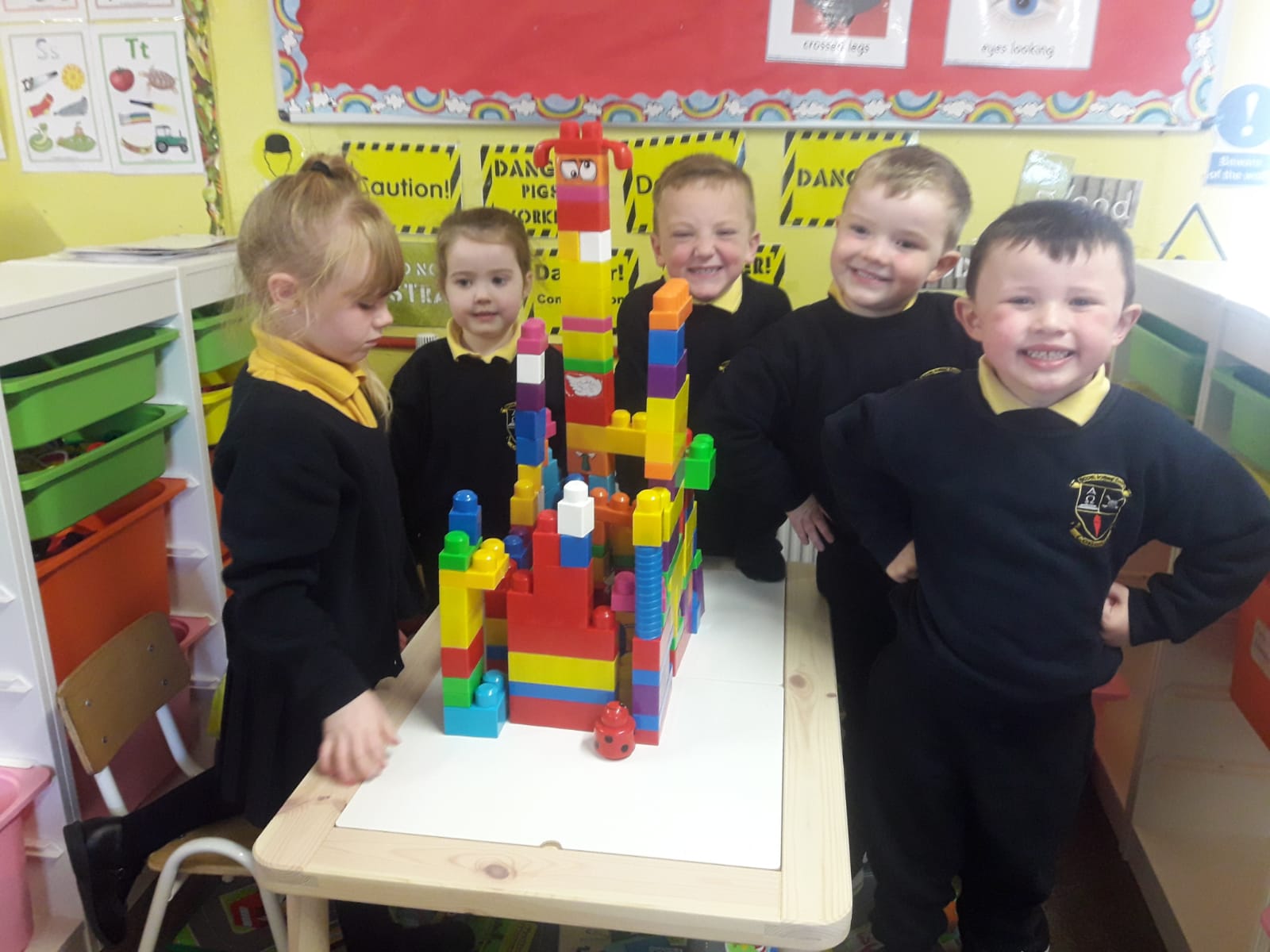 6th Class Blog: we have a new 6th class blog in operation. Mr. Scully's class have taken over the task of capturing the every day goings on in Corville and in 6th class. They will help update the website and their own blog with interesting stories from the previous few weeks. They will learn important coding, photography, photo manipulation,blogging, editing and proof reading skills throughout the year. Their latest blog post includes updates on their Reach for the Stars project, tag rugby, watercolour painting and swimming.
To view the blog > click here.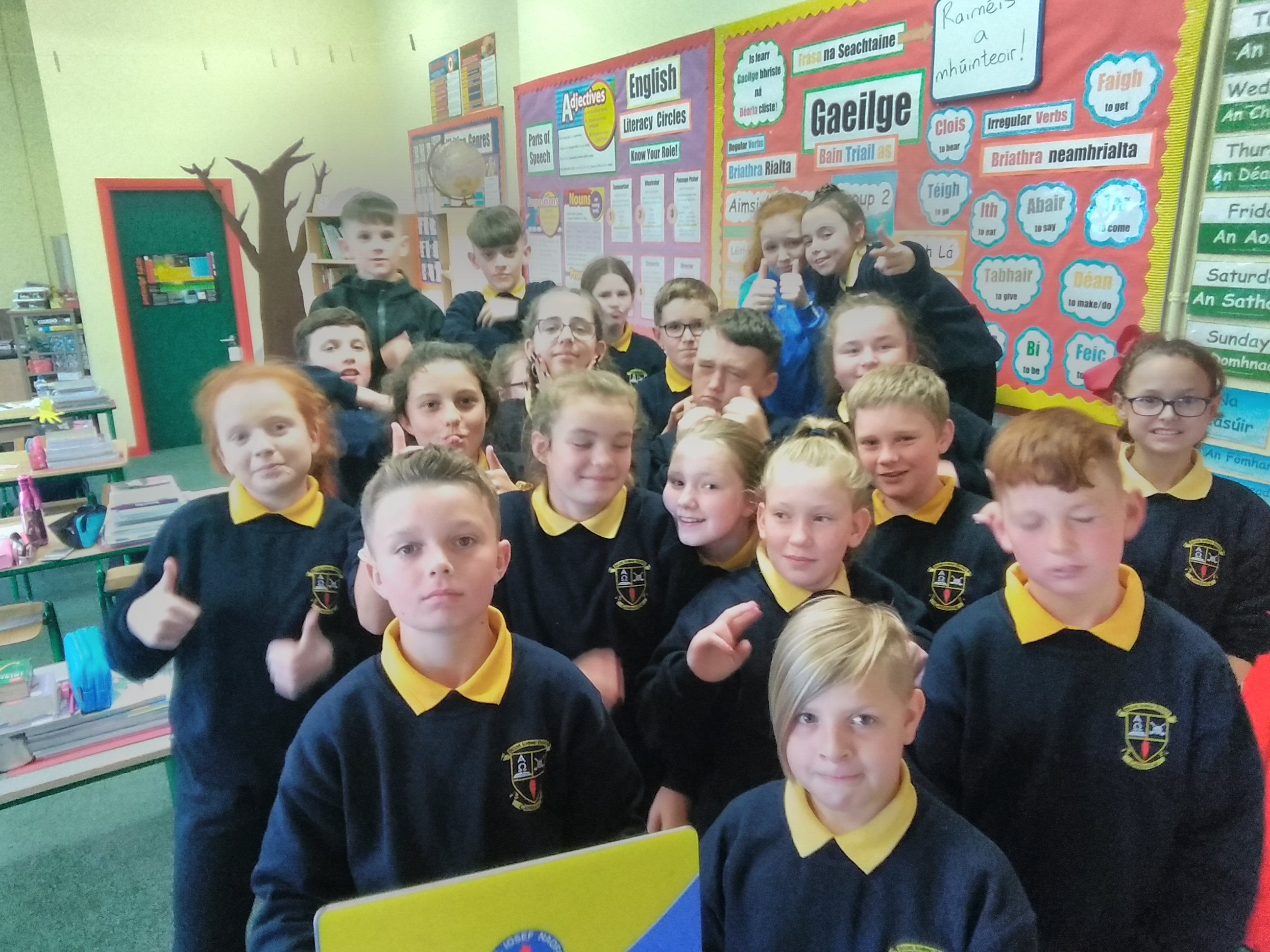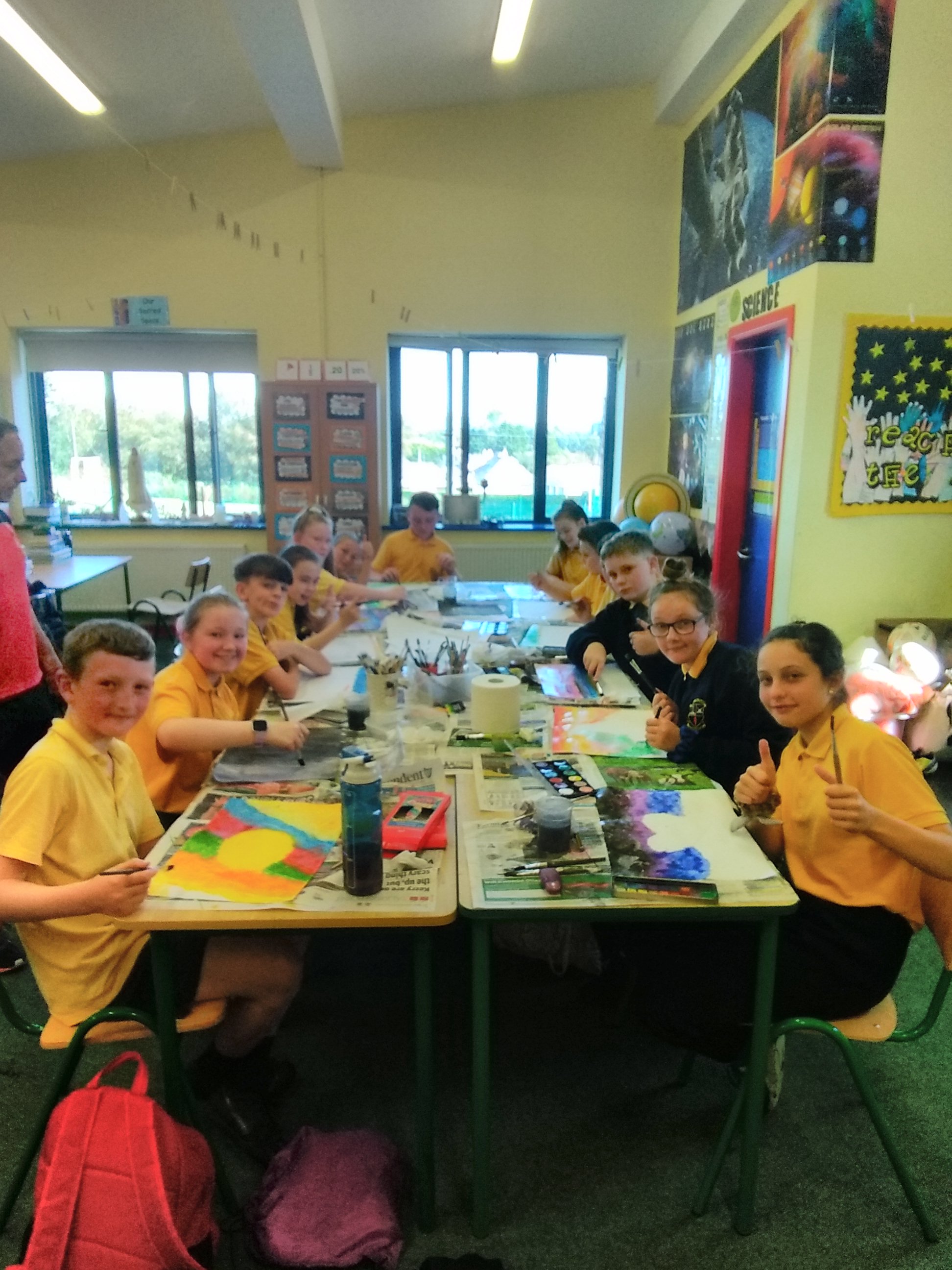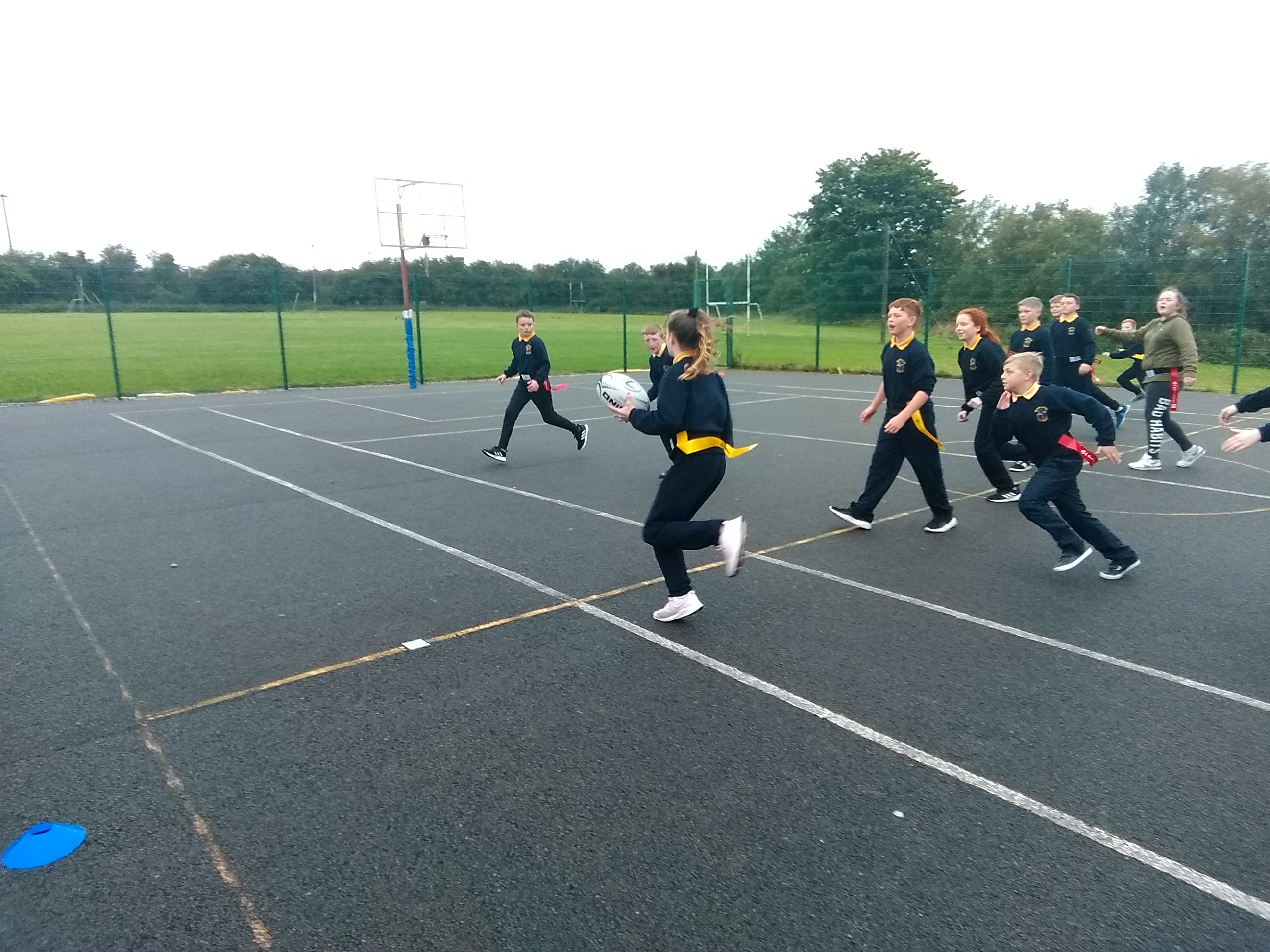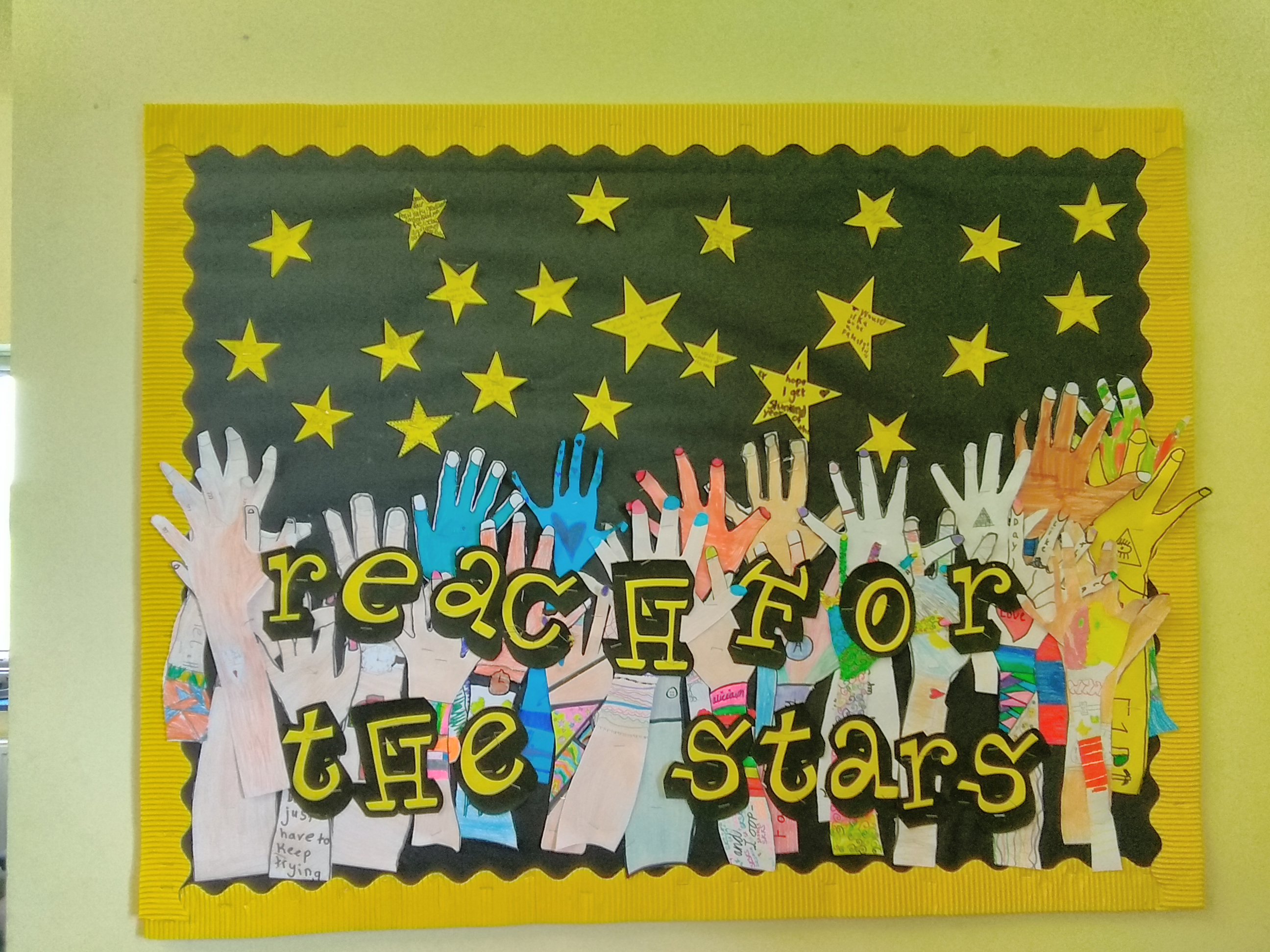 Previous News: 19/20 T1 | 18/19 T3 | 18/19 T2 | 18/19 T1 |17/18 T3 | 17/18 T2