Corville Updates – 26/11/2018
With less than a month to go to Christmas it's time we gave you all an update on how things are going in the school. In short, our school is starting to look all Christmassy, we are now the County U/11 Boy's Football Champs, preparations are well underway for our Christmas concert Annie, our 5th class are taking part in the Junior Entrepreneur Programme (JEP), it was science week last week, we had 4 winners in the Credit Union Art Competition, our school choir sang in Thomond Park, we have a special visitor coming to the school in January as part of our Blue Star project with 4th class, our Green Flag committee are targeting their 7th Green Flag, our quiz teams have been very busy, our gardening club were hard at work and we had the usual assembly performances and 6th class blog updates too. That short intro wasn't actually all that short but then again this is Corville and we always have plenty of big news!
Making the School All Christmassy!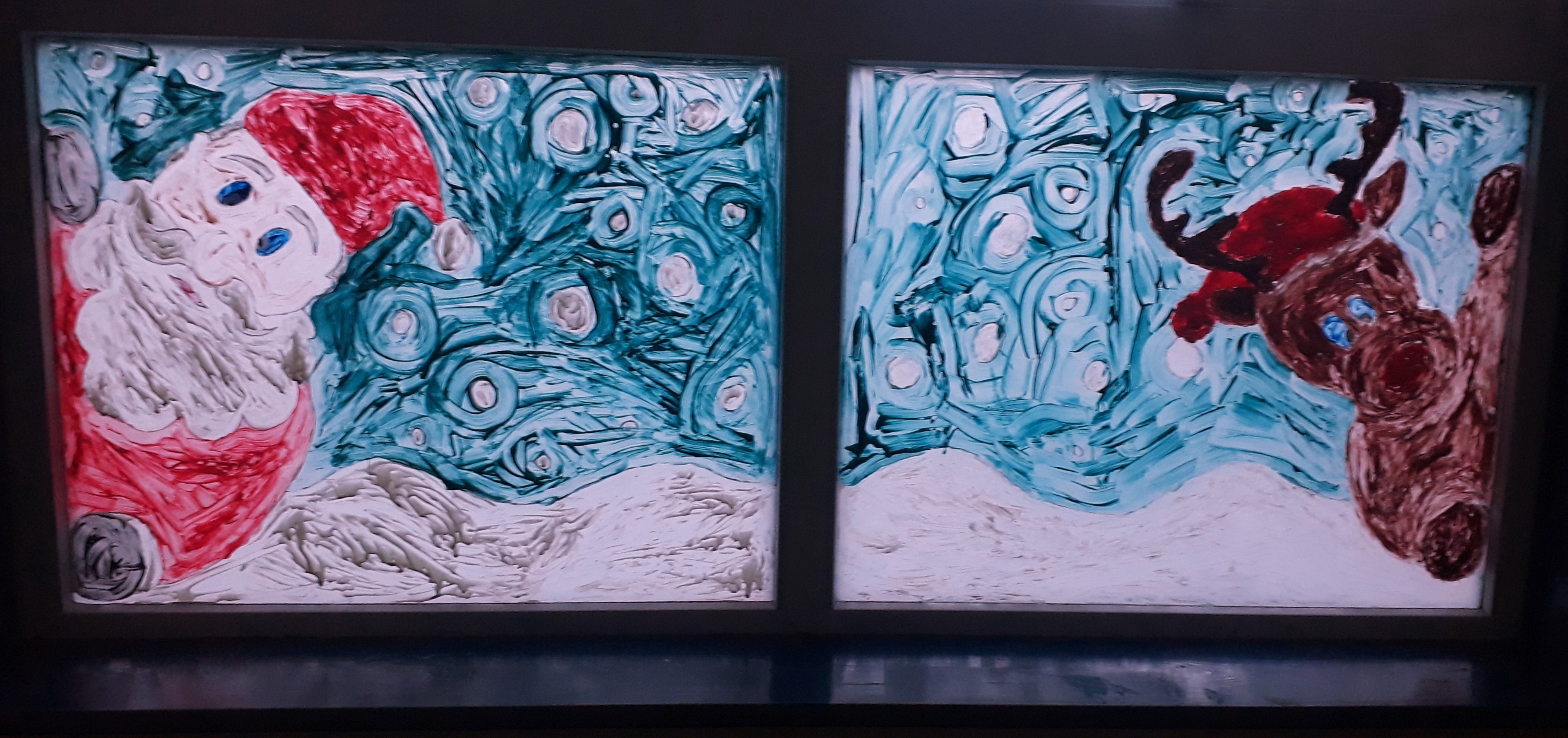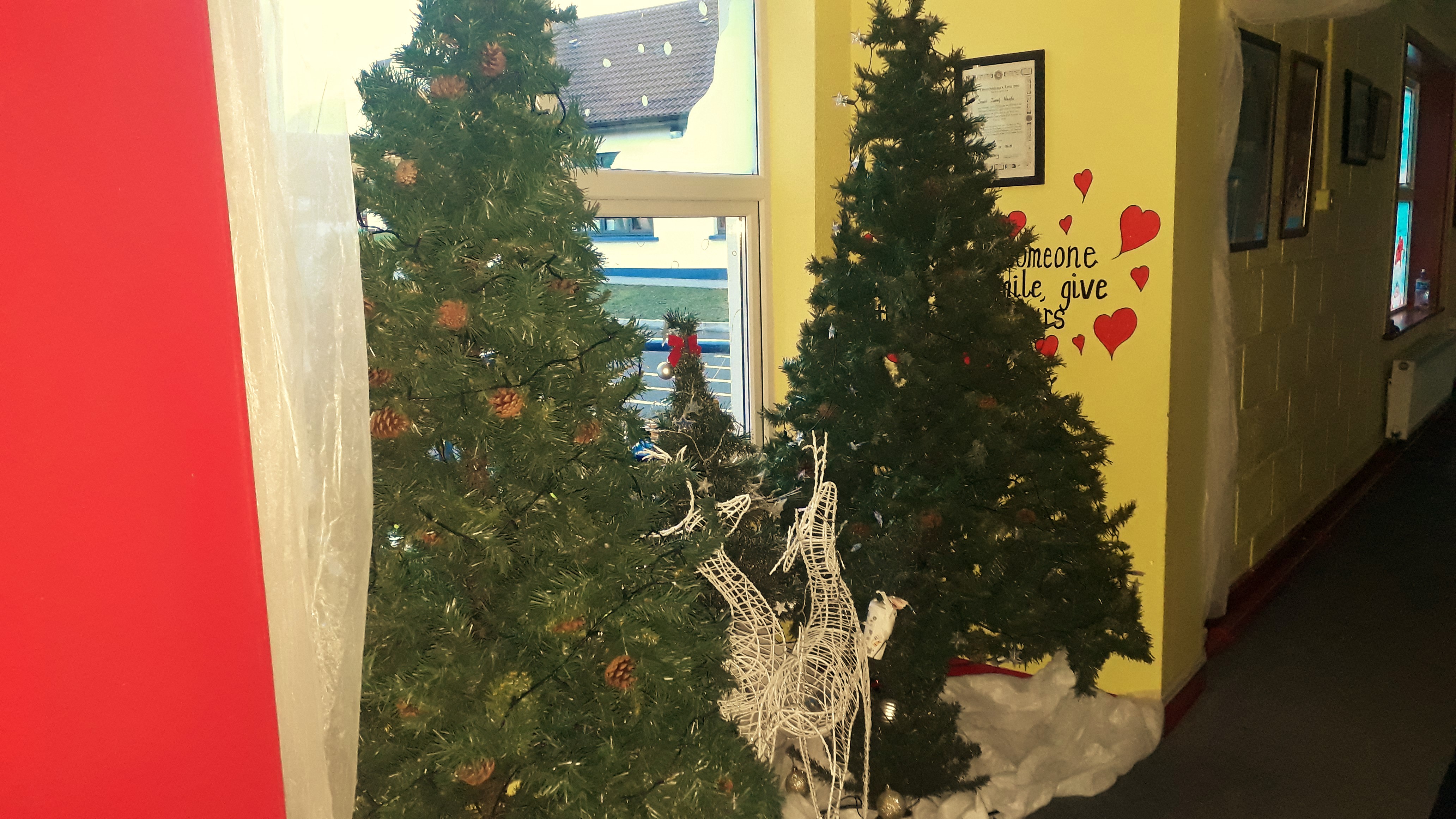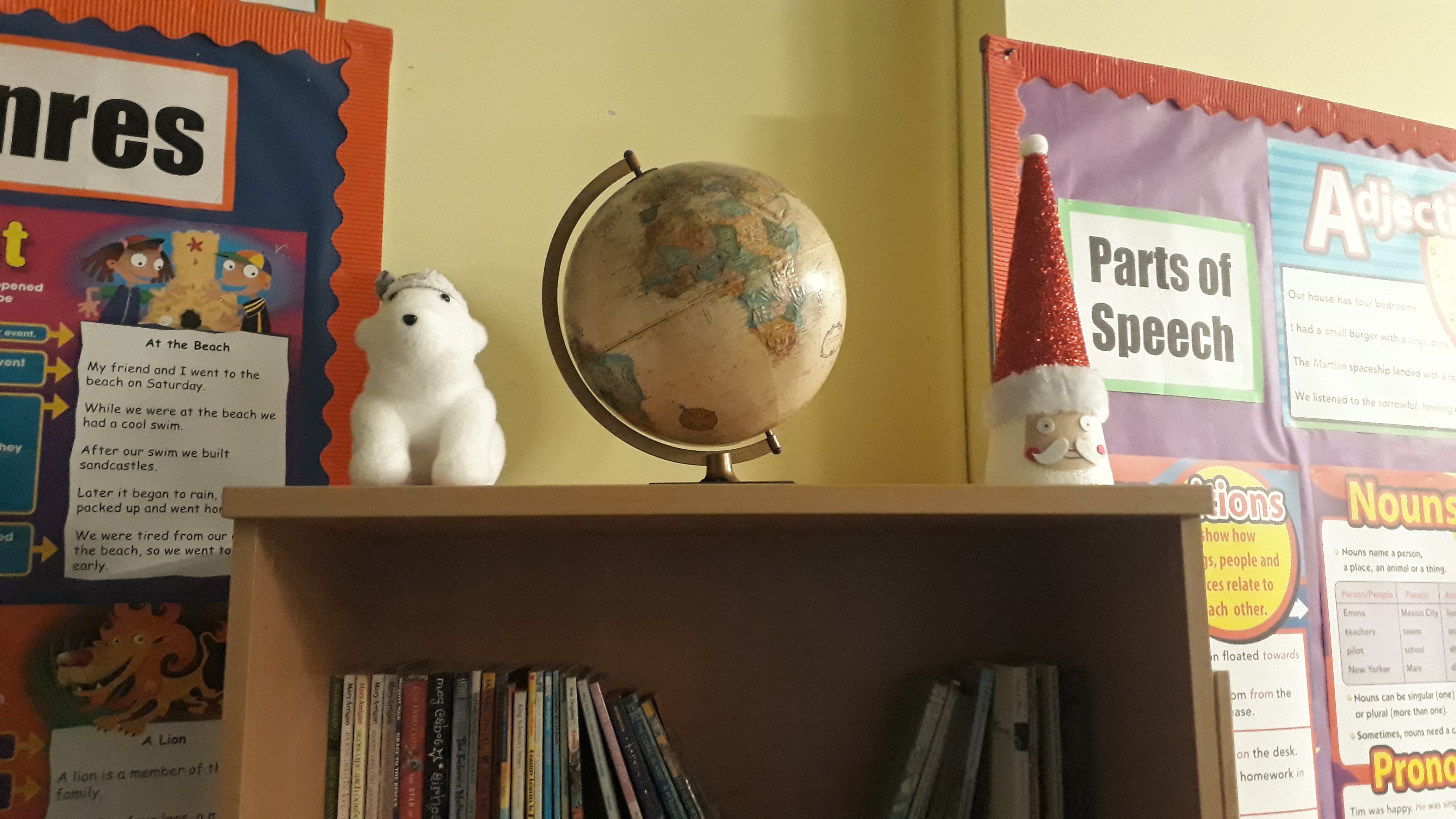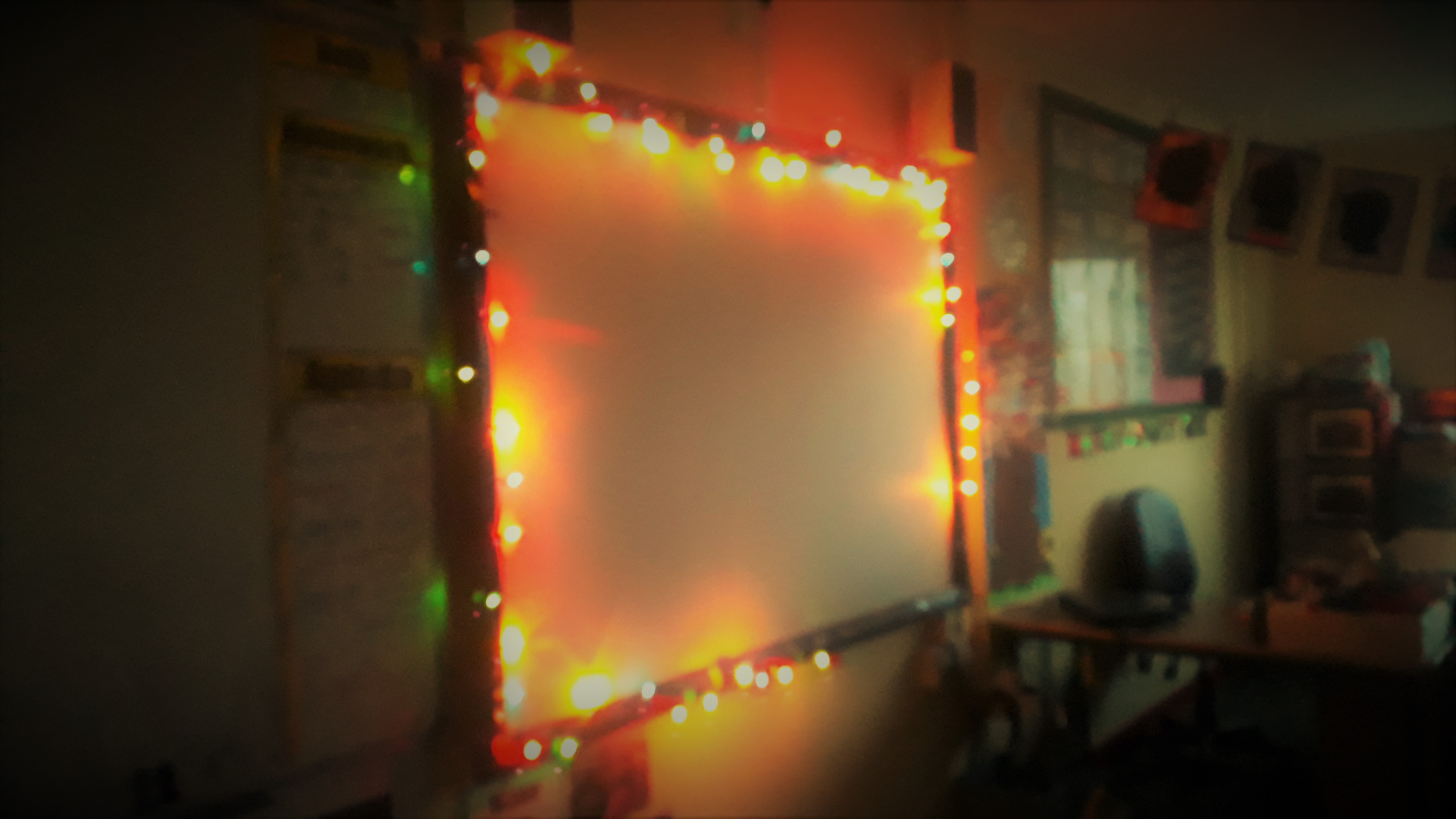 County Champs! Boy's U/11 Football: Congrats to our U/11 team that triumphed in last week's county final in Semple Stadium versus Rosegreen. Our boys played some super stuff and were well deserved winners in the end. On the team were – Liam, Jack, Marco, Brodie, Jayden, Oisín, Seán, Callum, Michael, Jack and Christopher. Well done to our coaches for putting in a great effort with all the teams this year. The future is looking bright.
School Choir Sing in Thomond Park: it's not everyday a school gets chosen to sing at a Guinness PRO14 rugby match in Thomond Park. So congrats to all the girls and boys that were selected to sing at the Munster Vs Glasgow Warriors Guinness PRO14 rugby match a few weeks ago. It was a cold day for singing and rugby but our choir helped inspire The Red Army to victory with a last minute penalty sealing the win.
Science Week: it was science week in school last week and it was great to see experiments taking place in every classroom. This is an important time of year for 6th class as they are expected to put on a science exhibition in the school hall. This year, the students put a lot of effort into organising their exhibition and everything went very well on the day. There were 8 experiments to visit and each class got a chance to pop down to the hall to see them. The students had to present their experiments nearly 40 times throughout the day and they were all wrecked by 3 o'clock. Special awards were given to the Volcano and Foam experiments for the quality of their presentations, but I have to say, all the students really deserved an award for the effort they put in. We definitely have some budding teachers in our 6th class.

MEP Luke Ming Flanagan to Visit School: he will be visiting on Friday the 25th of January. It's as part of the Blue Star project which 4th class are working on at the minute. They are doing a project called 'Running Through Europe', where they run laps of the yard, then add them together to reach a European landmark.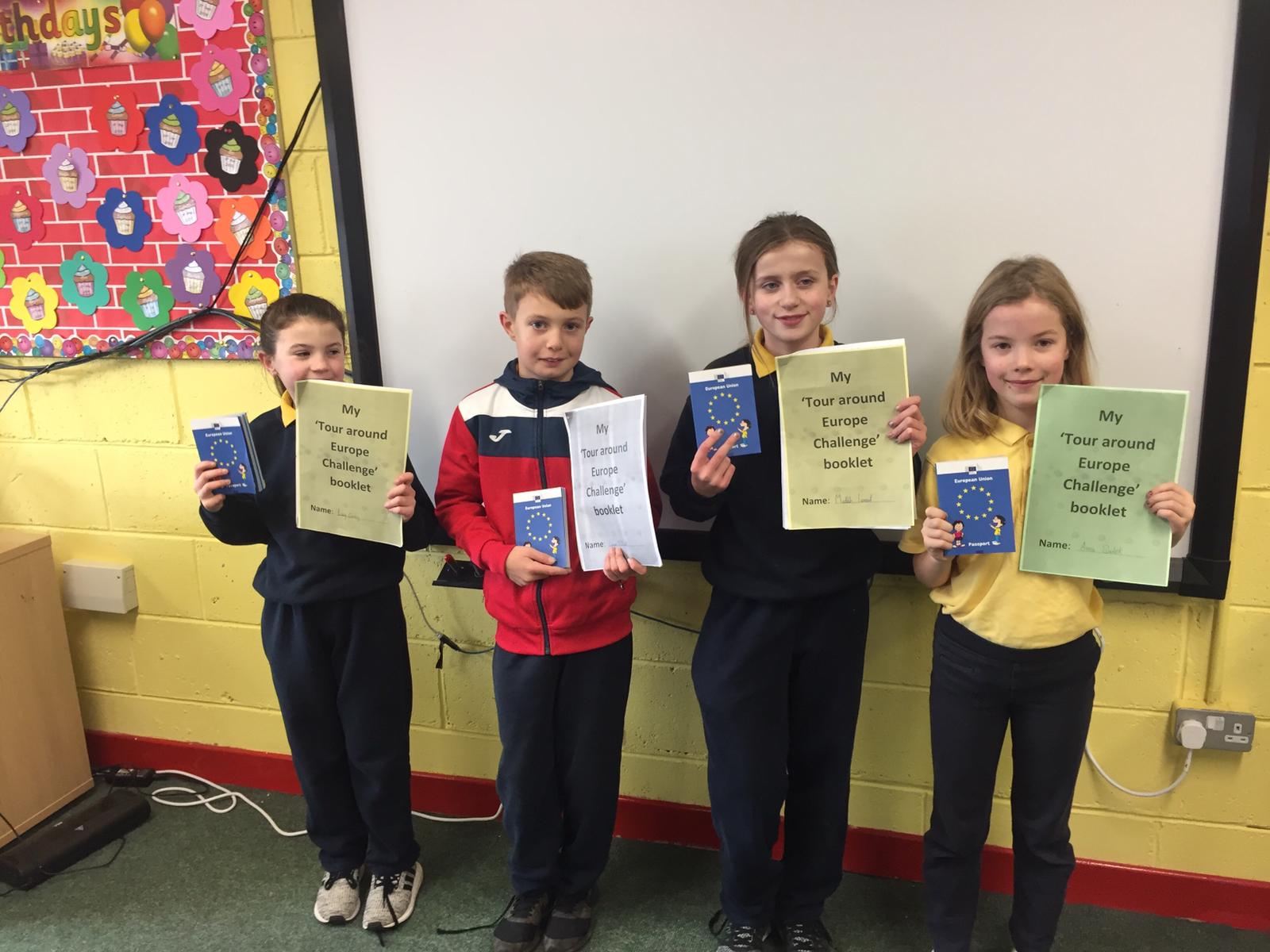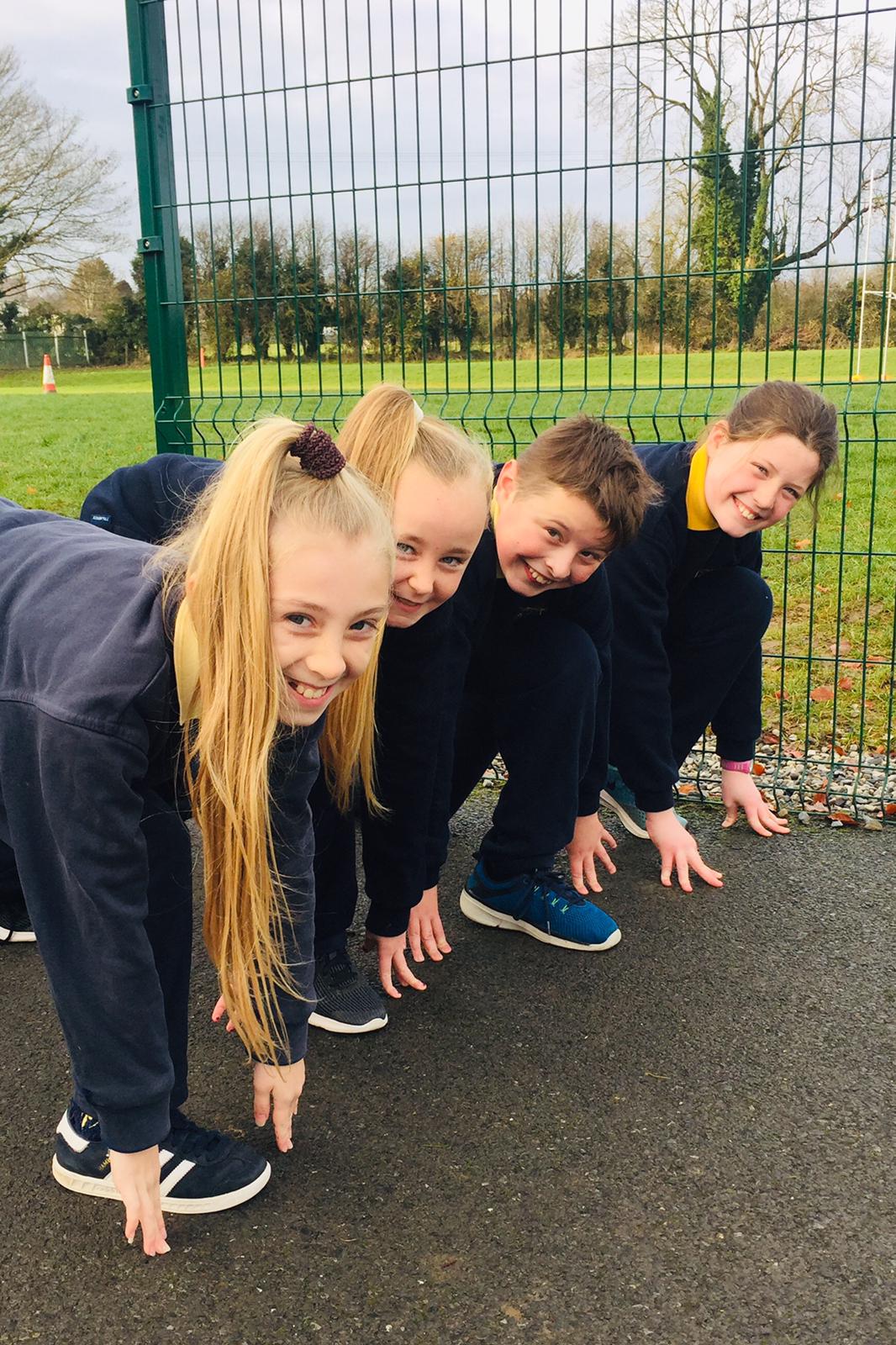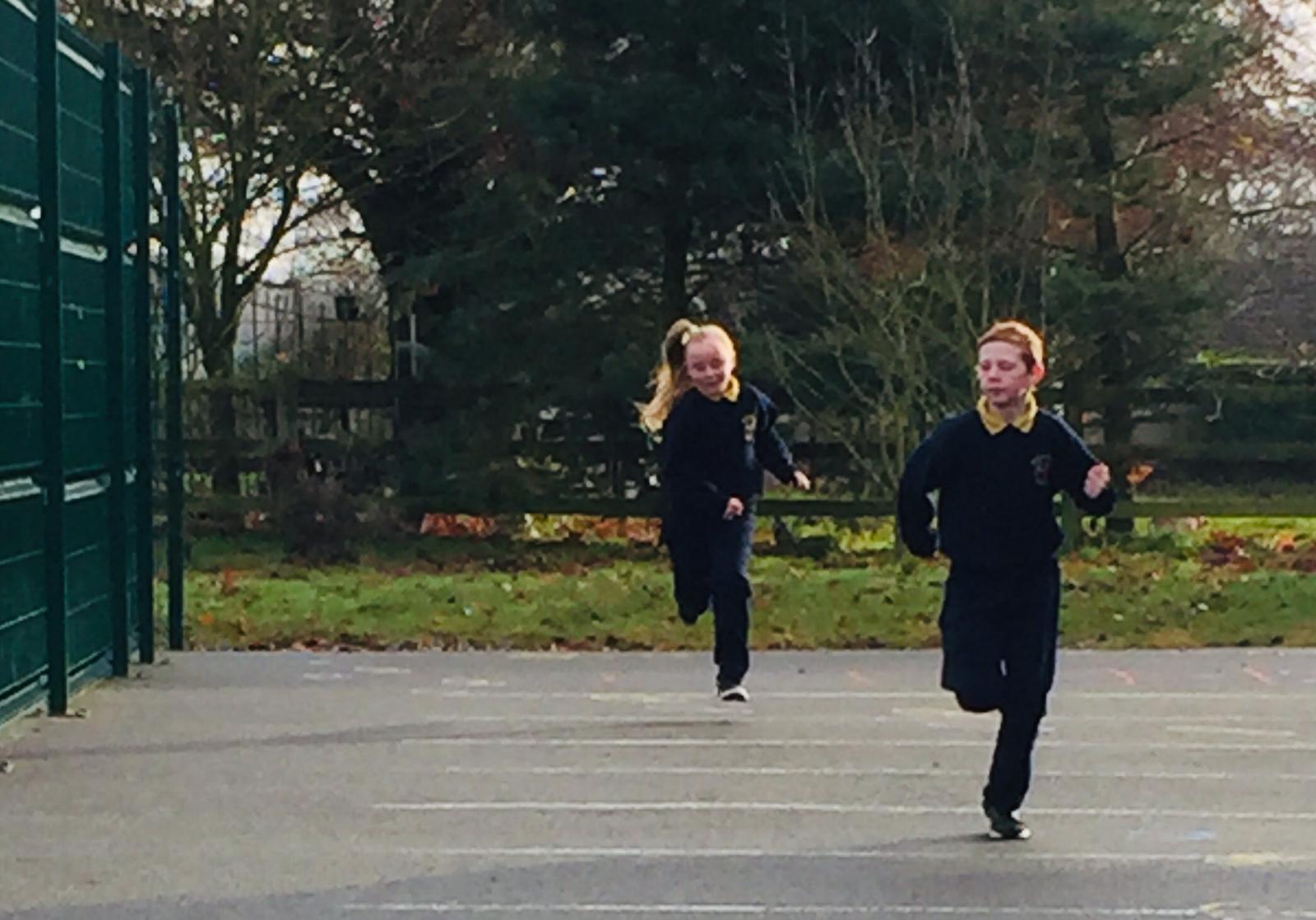 School Concert: we are just 1 week away from the start of our school concert Annie. Our middle and senior classes are very busy rehearsing for the big day. It is all looking and sounding great so far so we expect everything to be alright on the night.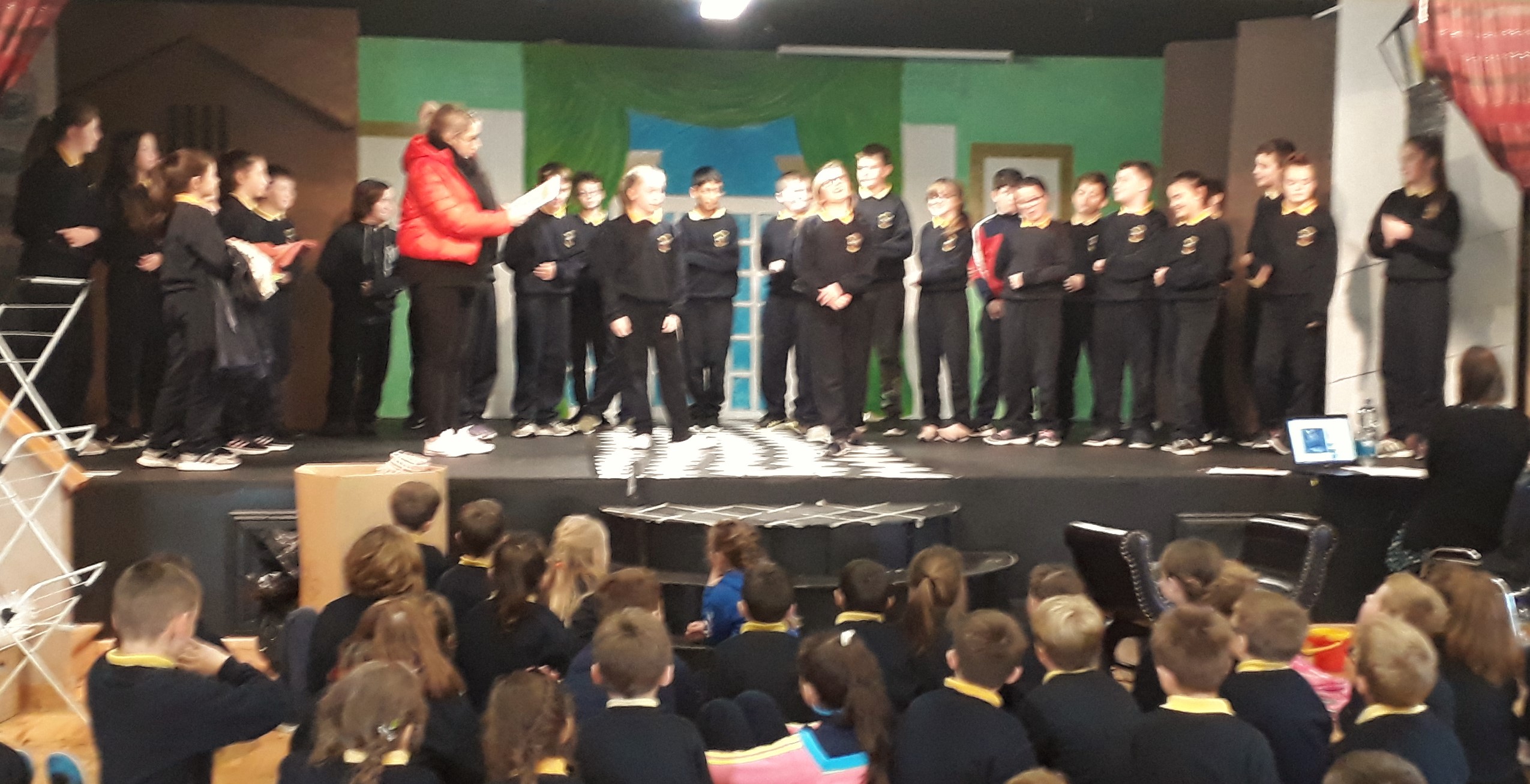 Credit Union Art Competition: the school celebrated 4 prize winners in the Credit Union Art Competition. The theme of this year's competition was 'Force of Nature'. The whole school put a big effort into this year's competition and it was great fun. Well done to all.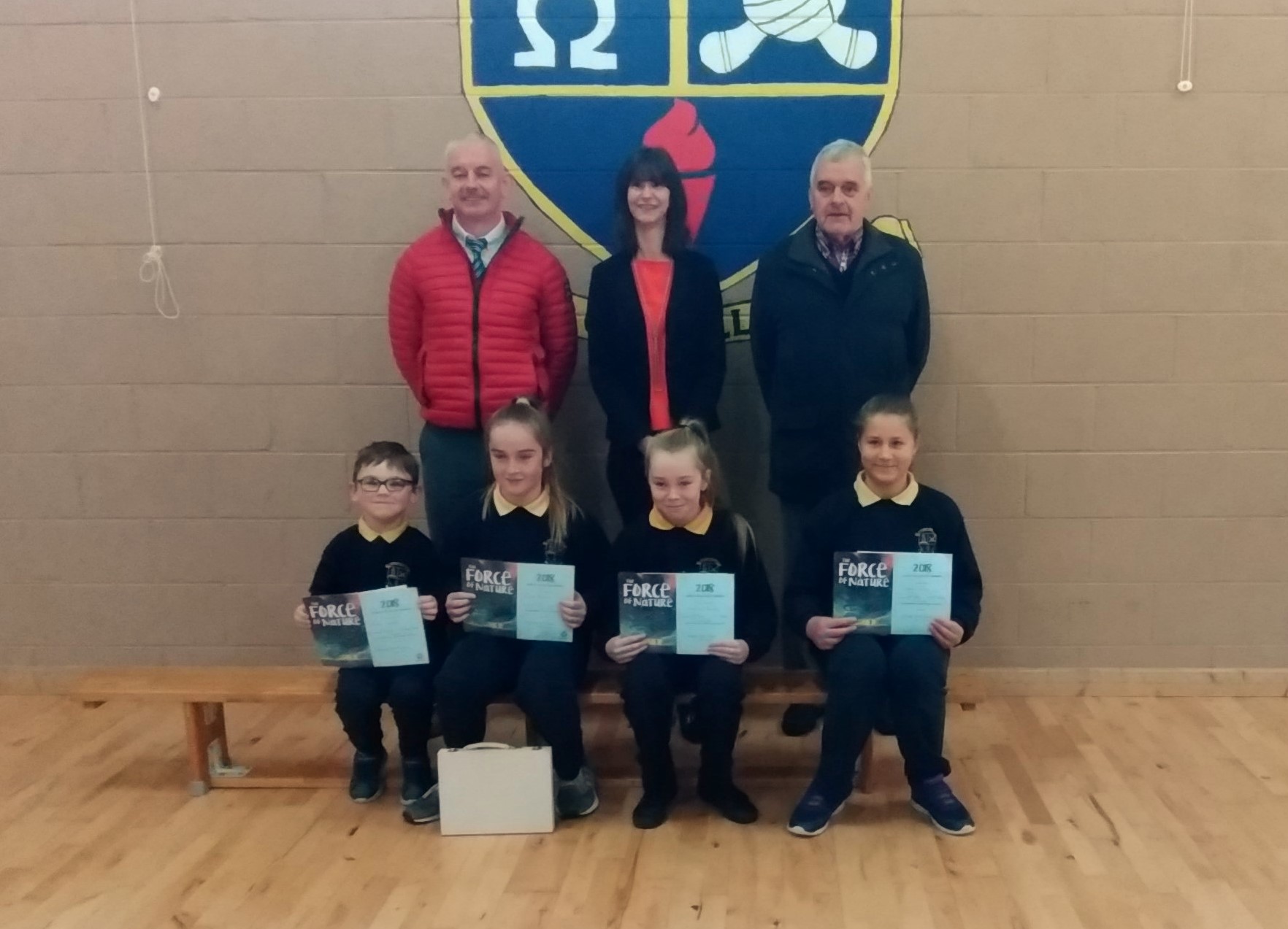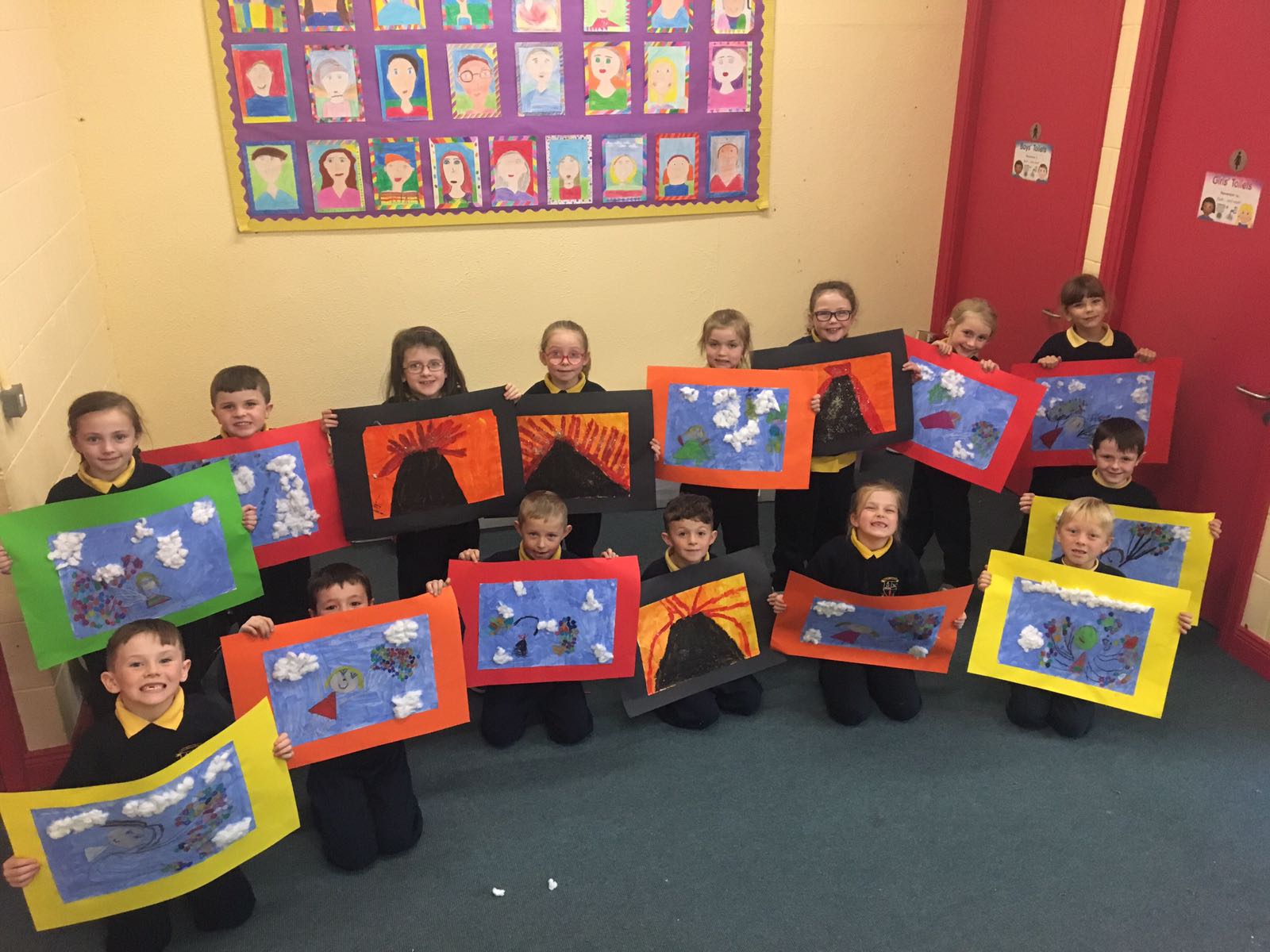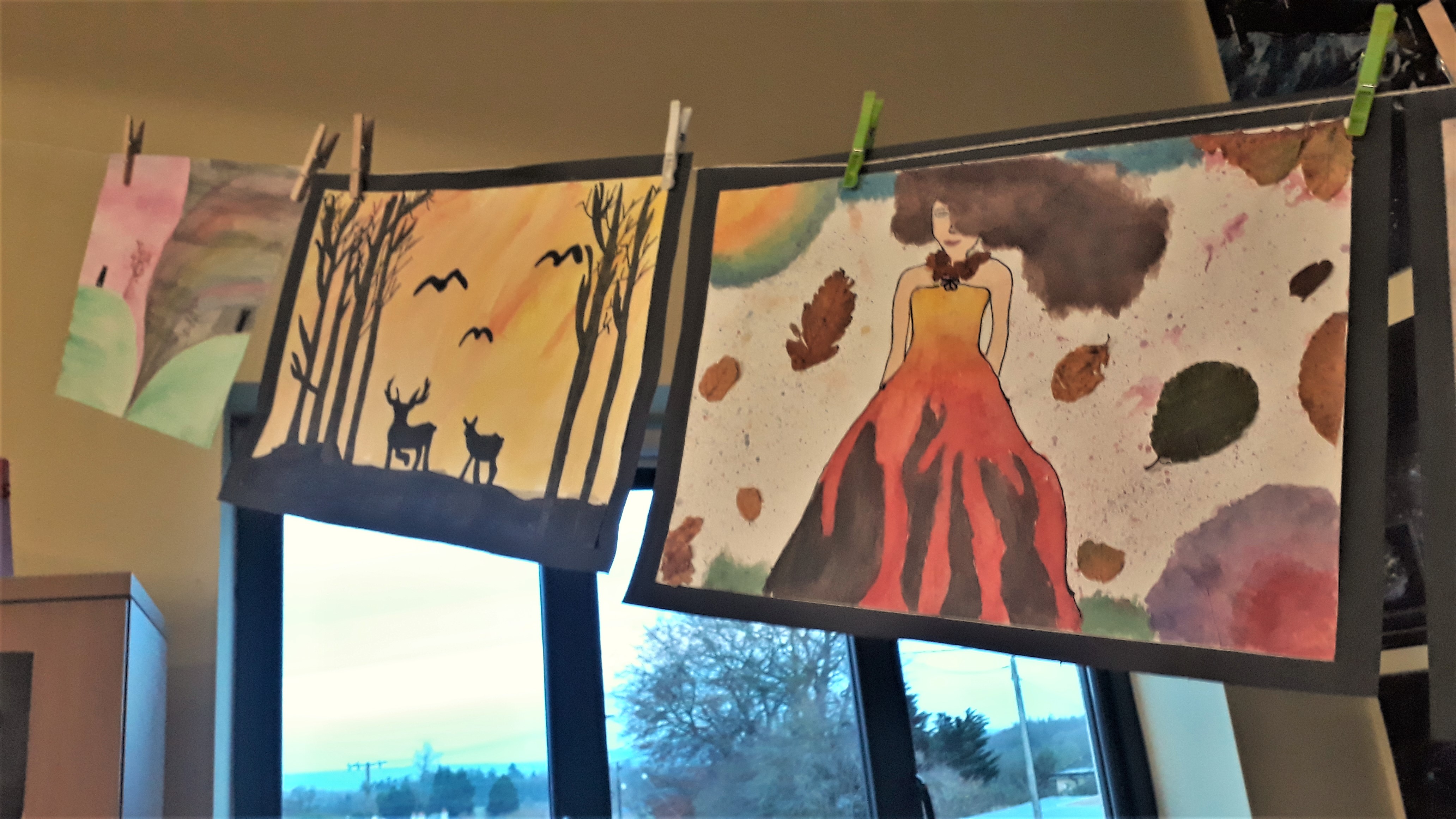 Green Schools: In October our new Green Schools Committee was elected for the next green flag term. We have started work on getting our 7th green flag which is "Global Citizenship and Energy". Our Energy Squad have started checking each class making sure lights and projectors are turned off when we leave the room. We hope that these efforts will reduce our energy bills in school. We are asking everyone to become more energy conscious so we can all save money and the environment. Some energy saving tips at home:
Turn off the light when leaving the room.
Don't charge tablets/ phones overnight.
Close all windows and doors to conserve heat.
Turn appliances off at the switch and not leaving them on standby.
Gardening Club: our Gardening Club had great fun creating a habitat for ladybirds this week!! They were also helping to weed the front garden. Great stuff everyone!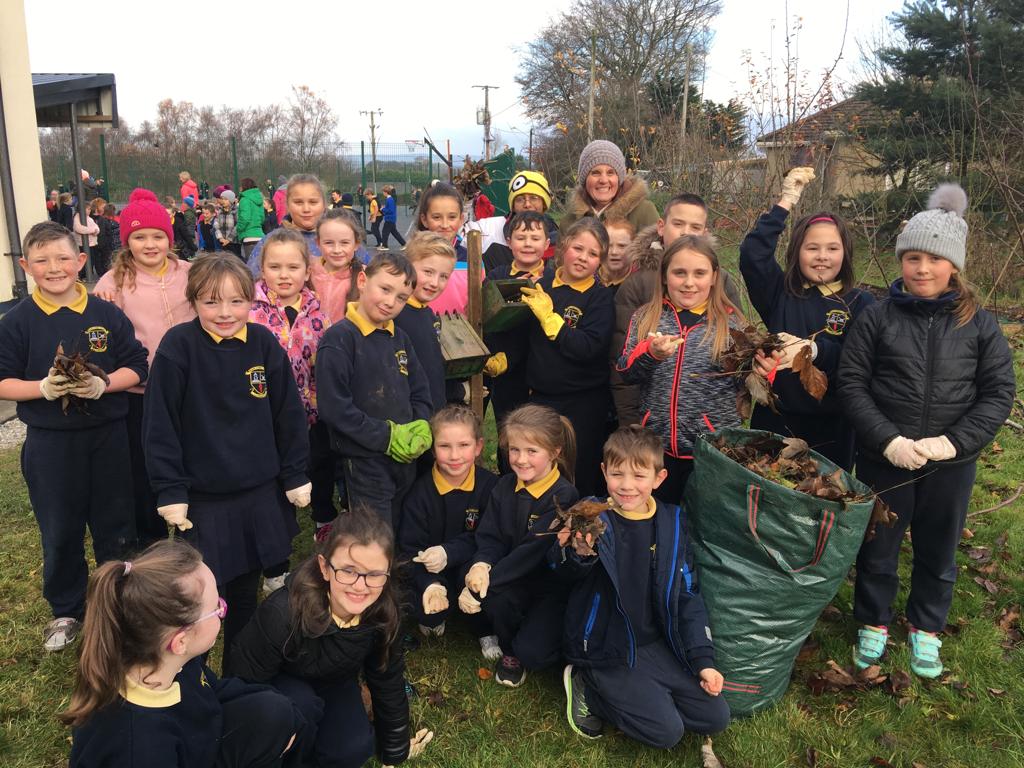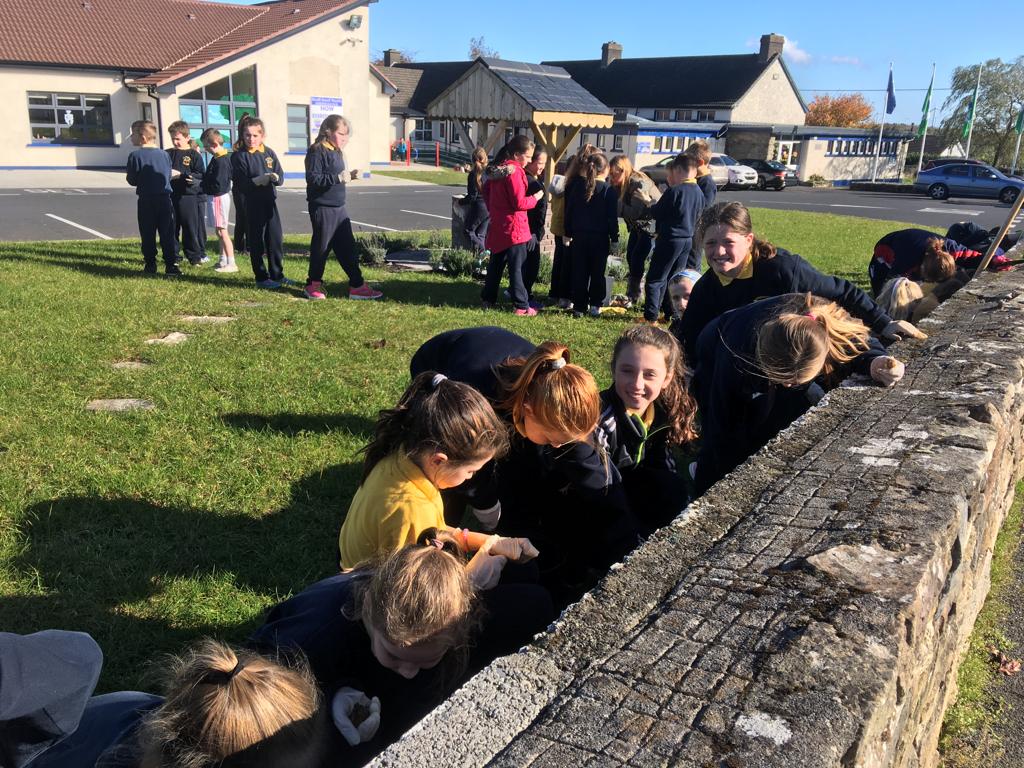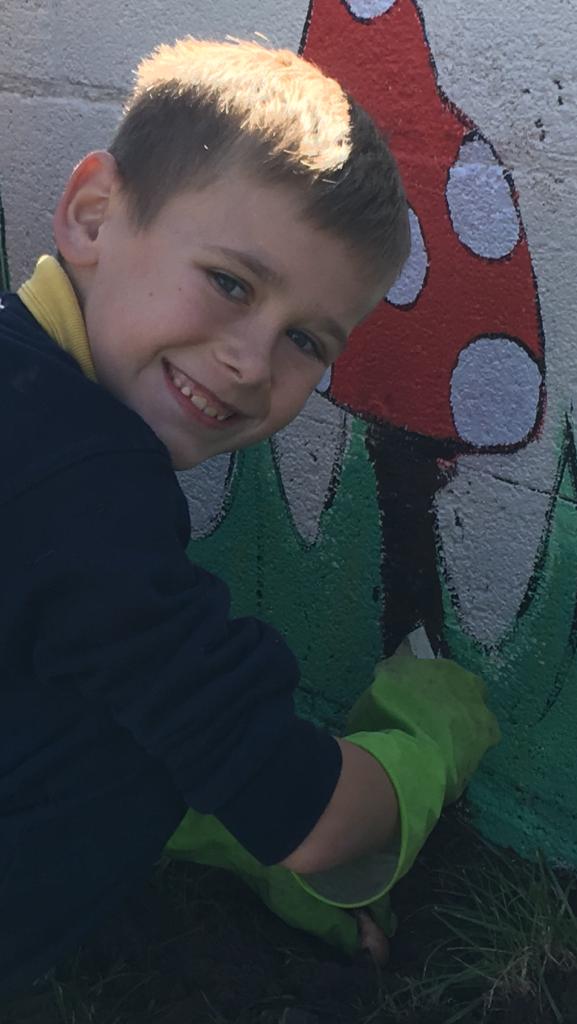 1st Class Updates: at the bottom of this web page you can see a junior, middle and senior class division segment. When you click into these you can see updates and photos from various classes. The most recent update was from 1st class > Click here to visit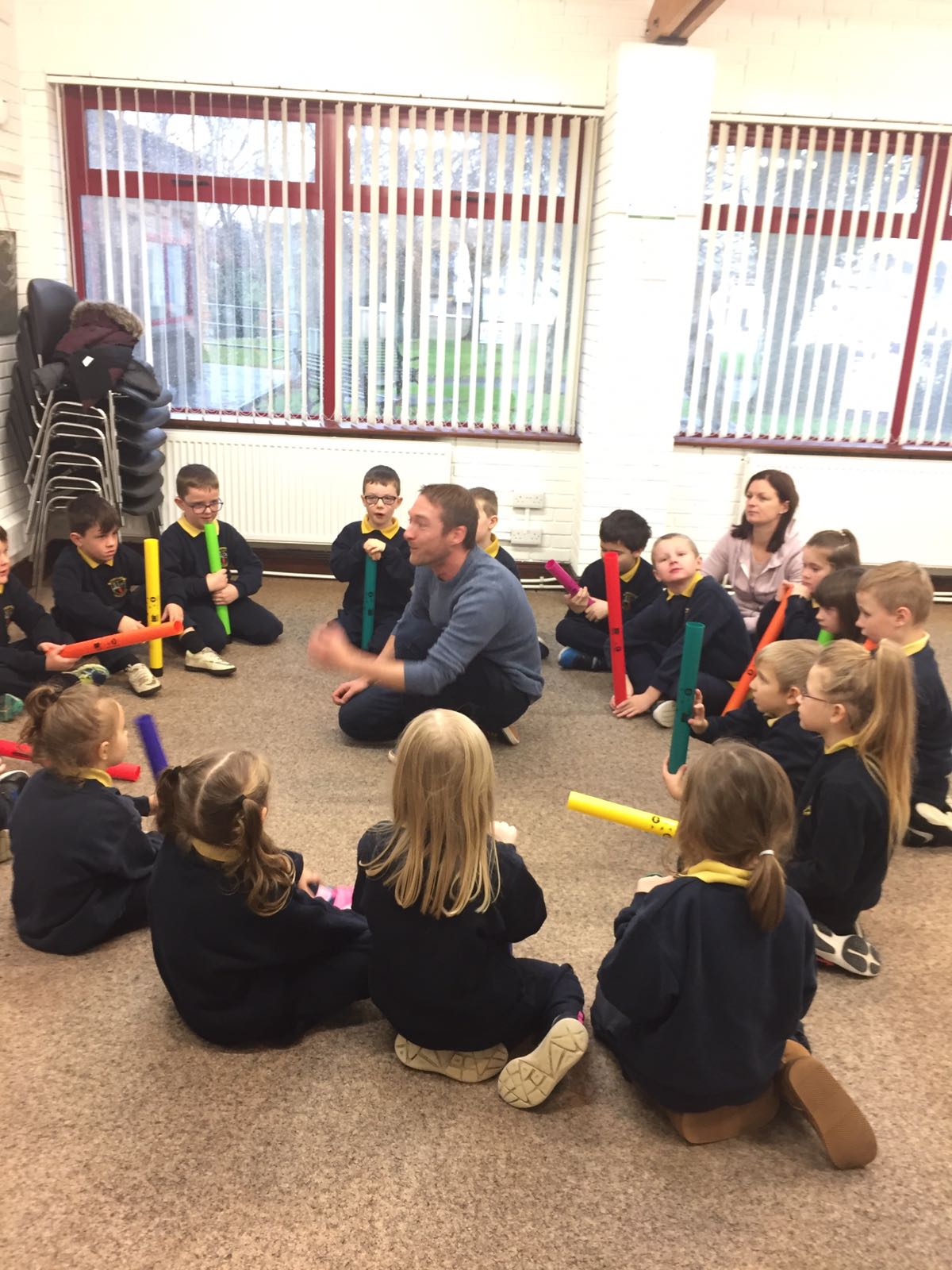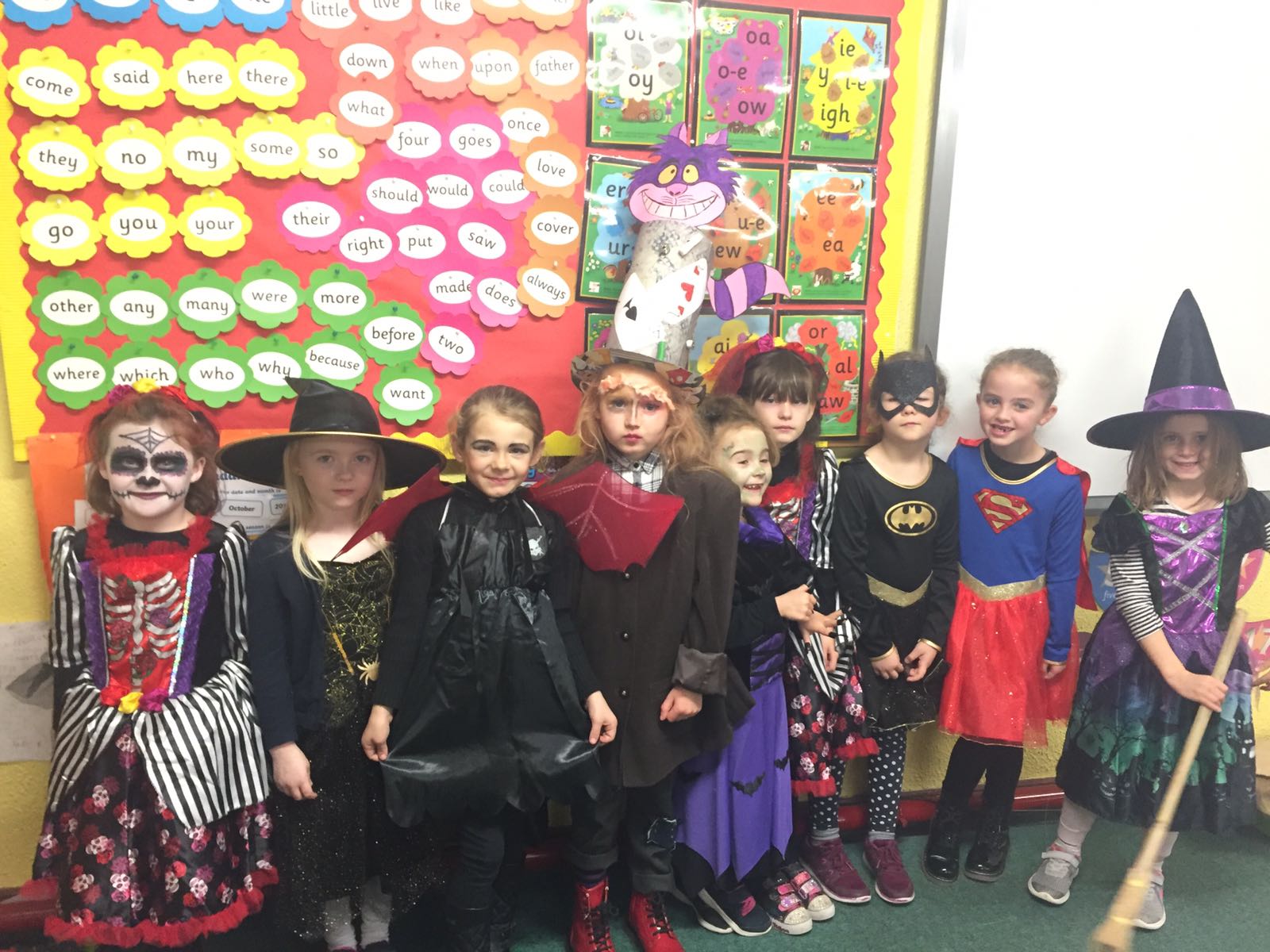 Battle of the Brains Quiz Competition: this quiz came to its conclusion two weeks ago. We have crowned new U/13 and U/11 school champions and they are Senan and Sheena (joint first), with Karlo in 3rd place in the U/13 and in the U/11 competition the winner was Bailey with Rosie in 2nd and Darragh in 3rd. The top 6 from both age groups qualify for the quiz squad which will meet up each week to practice for the upcoming Credit Union Quiz competition in January. Well done to everyone that took part.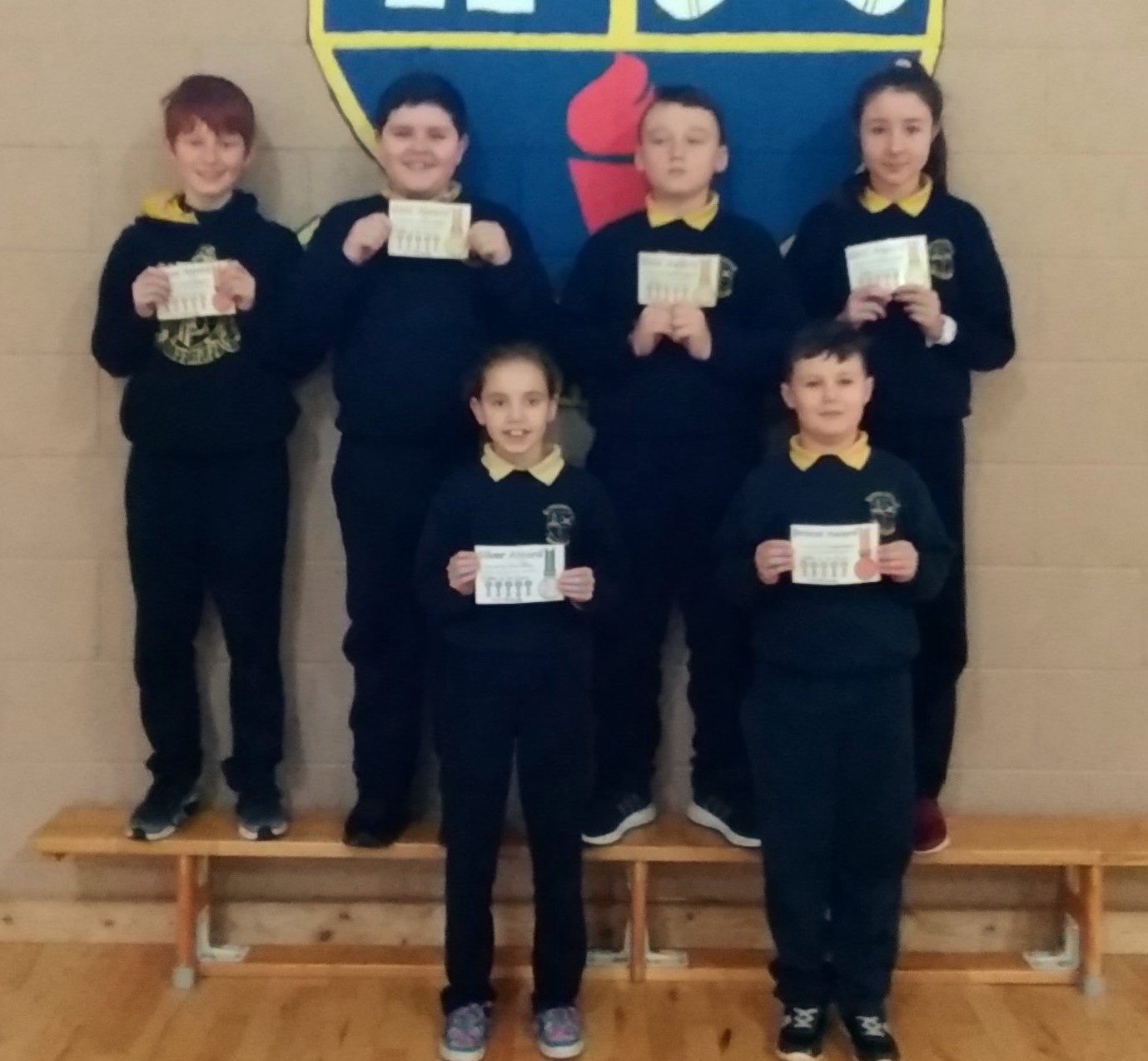 Our final in-school quiz competition – Fastest on the Draw – is currently under way. This quiz is a knock out buzzer competition for teams of 3 from 3rd to 6th class. Once again there was a huge entry this year with 40 or so teams entered. The winning teams will be crowned the week before Christmas. Fingers on your buzzer!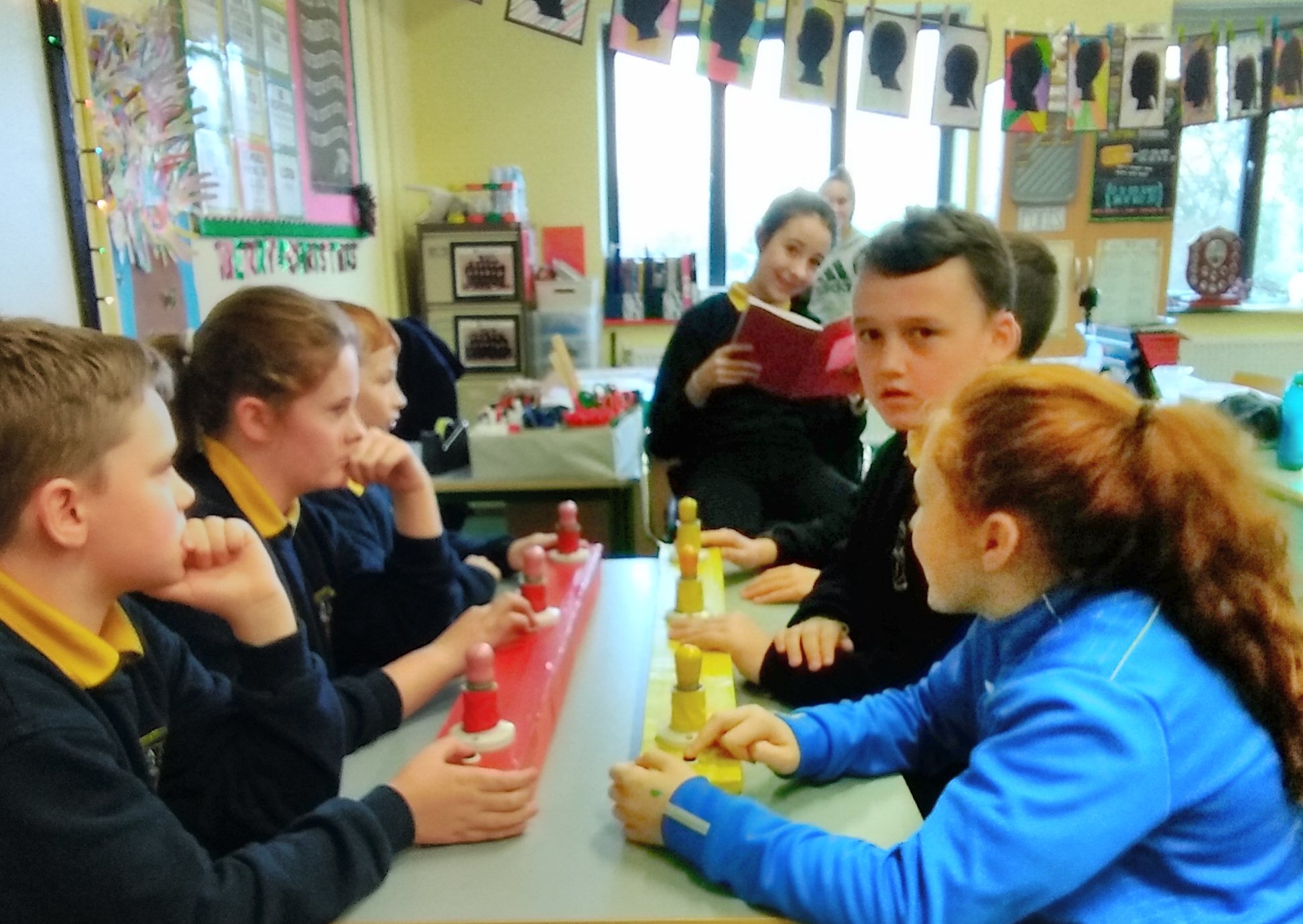 2nd Class Quiz Competition: a new 2nd class quiz competition kicked off this year. It was a buzzer quiz and it was great to see such enthusiasm from all those that took part. There are plenty of brain boxes in 2nd class, that's for sure. The winners of the competition were Conor, Corey and Donnacha.
Maths Week: the students had to engage the logical sides of their brain's 3 weeks ago for maths week. Each day they had to solve various puzzles and they took part in some cool maths games and competitions. Below we see teams from 5th and 6th class taking part in a maths quiz.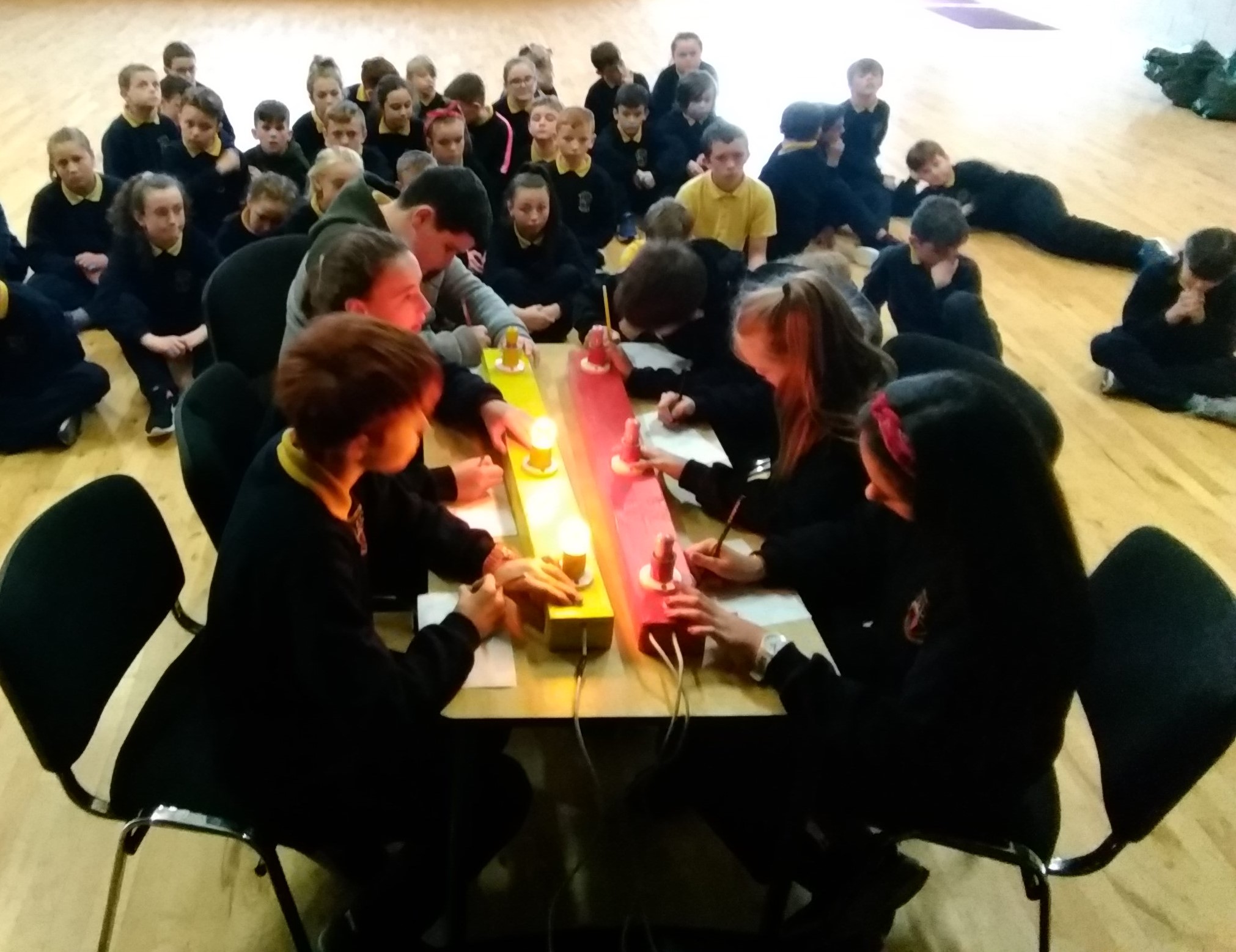 Maths Quiz Winners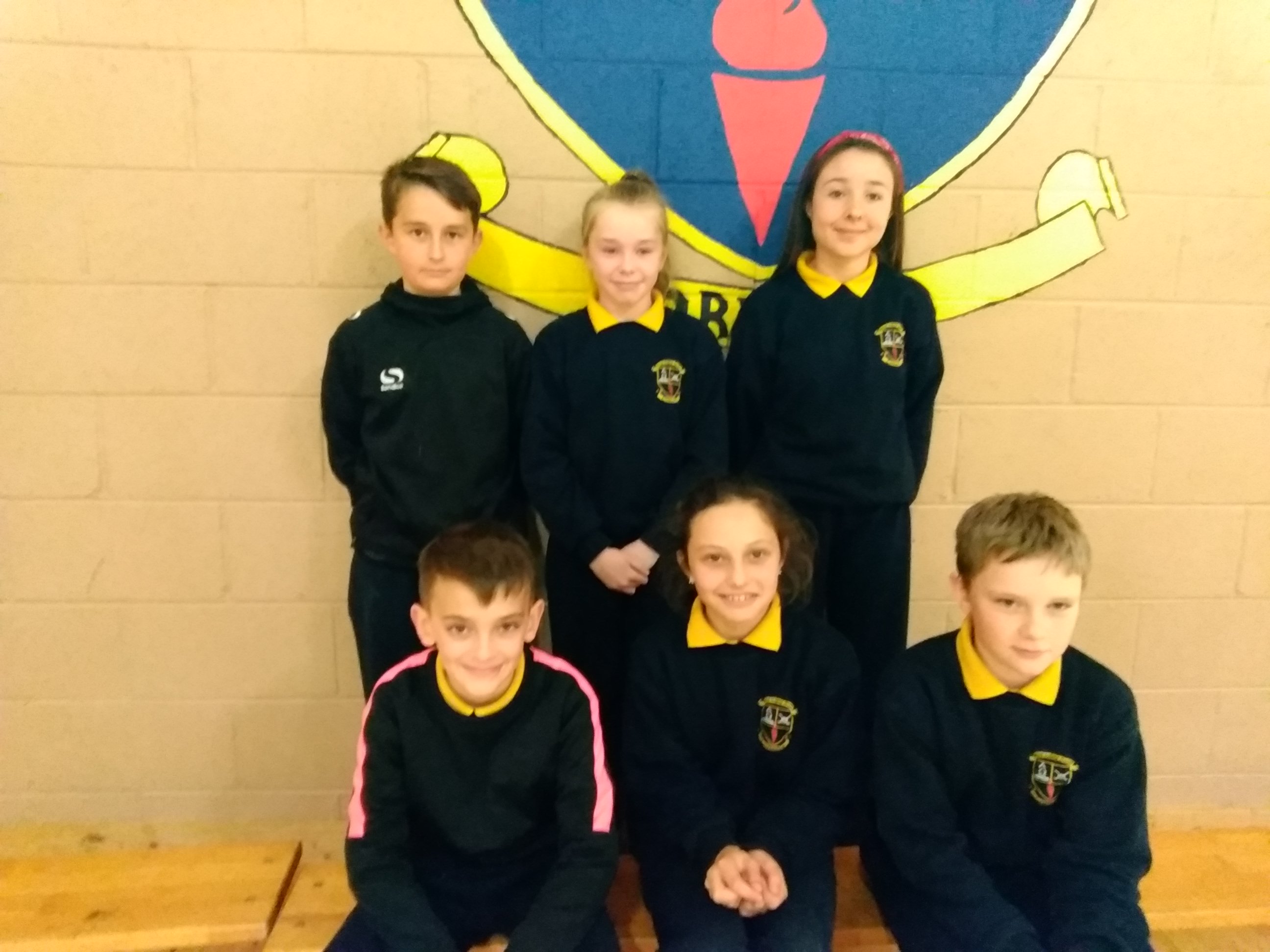 Maths Fun: Ms. Fitzpatrick's 6th class were out and about learning all about maths outside the classroom. They conducted surveys, collected data, made measurements and had fun while doing it all.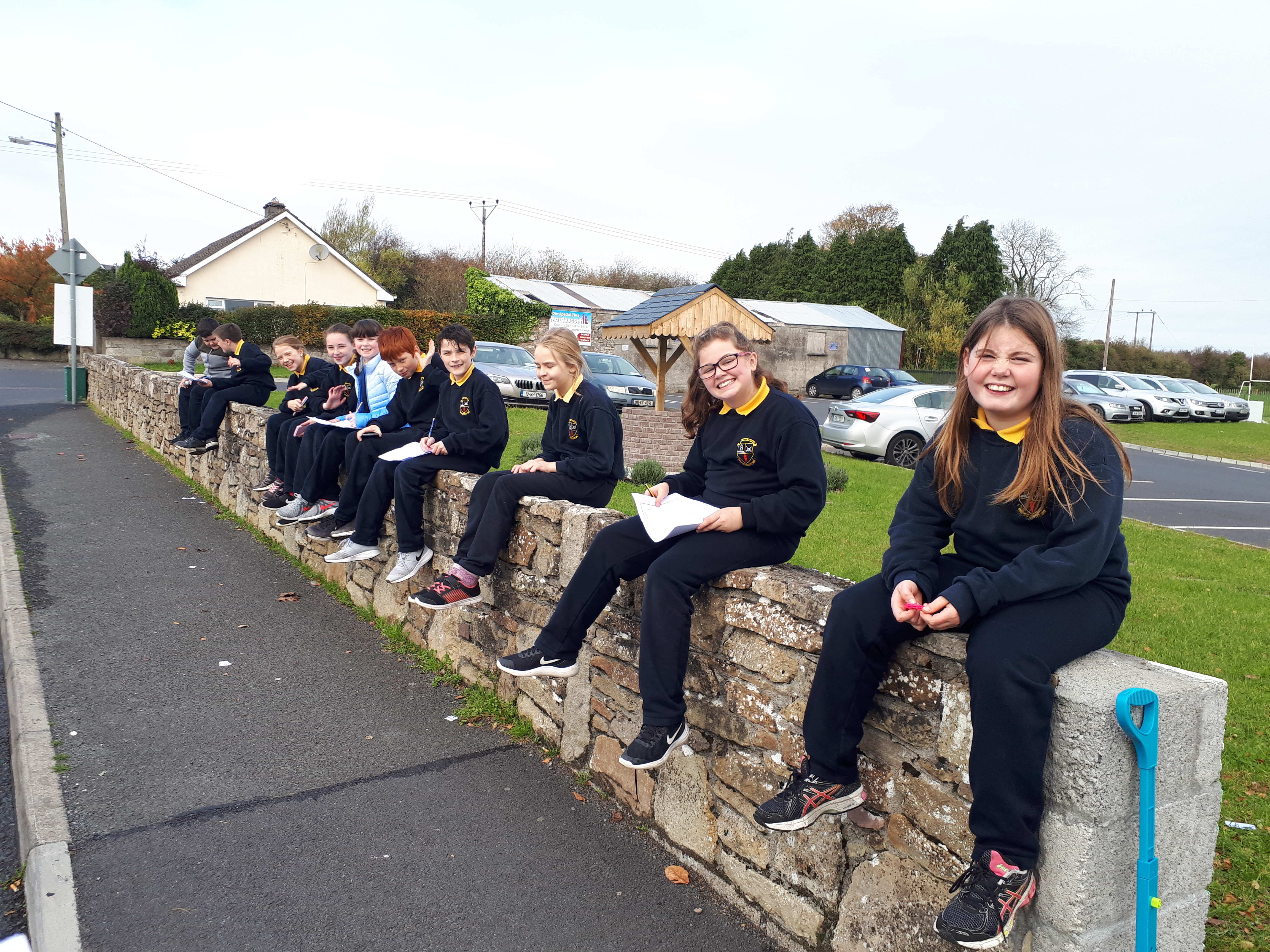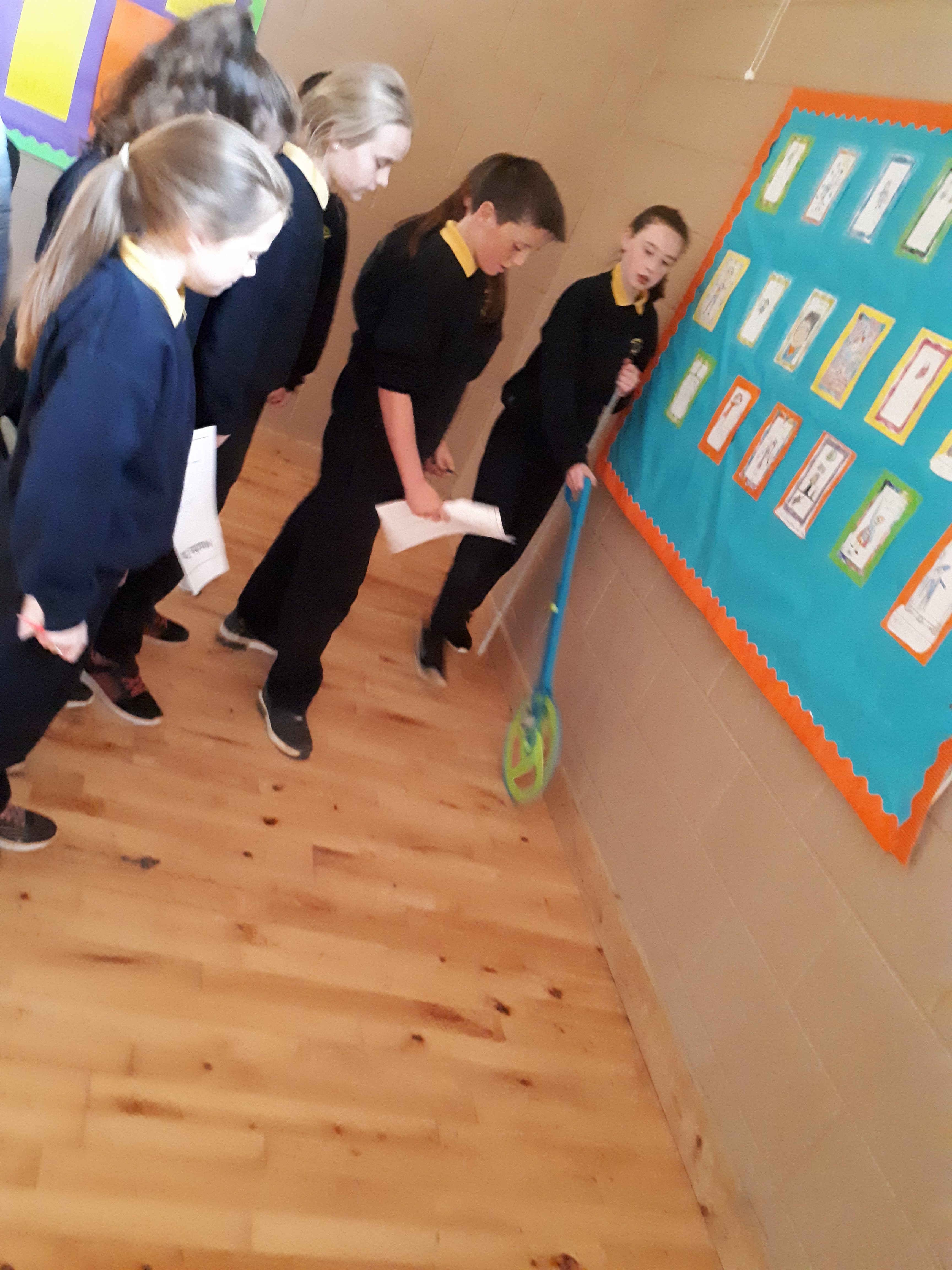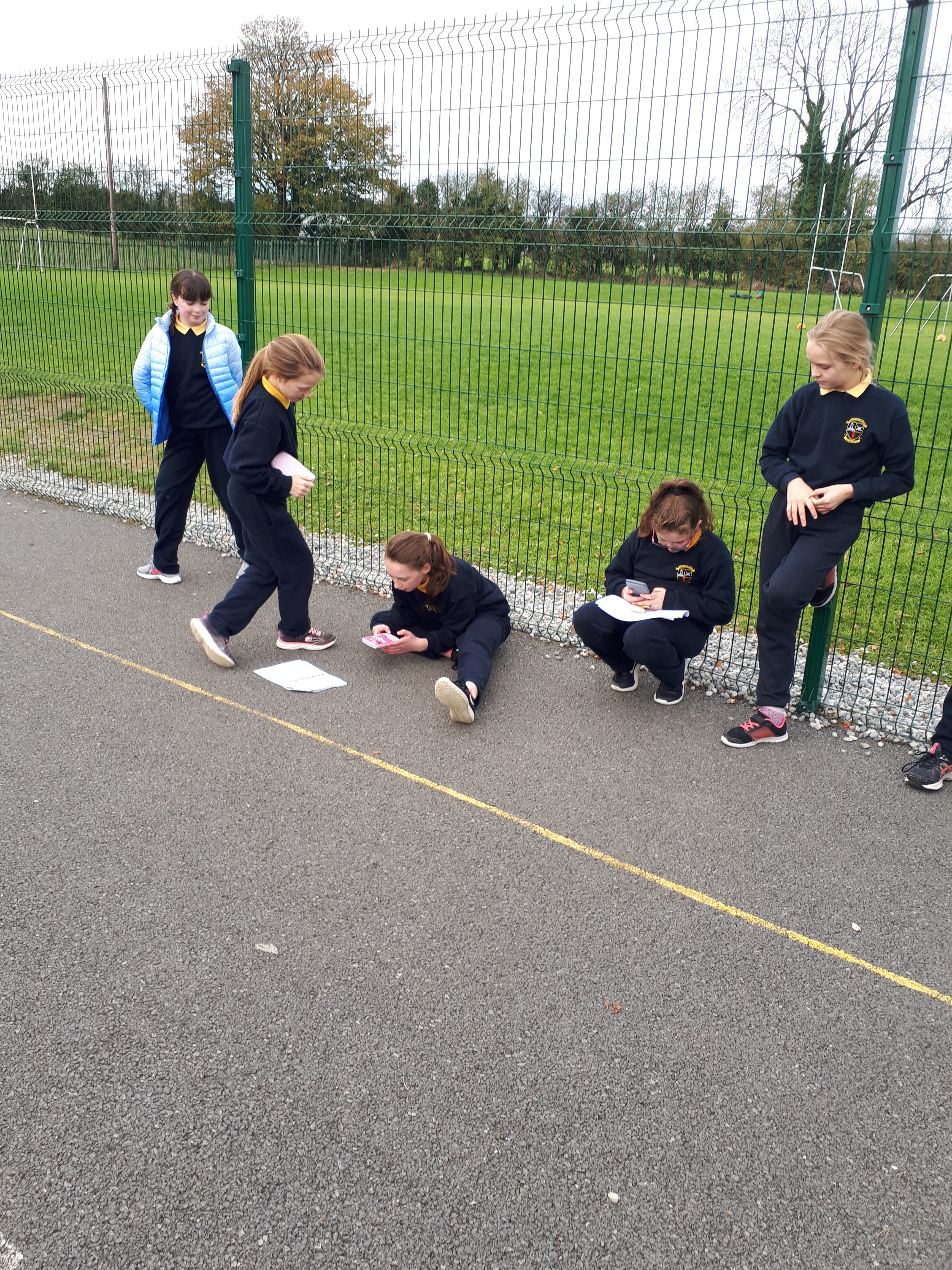 6th Class Blog: we have had two students lessons – golf & wrestling, plus we got our room ready for Halloween and then Christmas. We were delighted that Madison won a prize in the art competition. We have all been very busy rehearsing for the school concert. Our science exhibition was cool but oh so tiring!
To follow this year's 6th class blog – click here
Here are a few photos to give you an idea of what they have been blogging about…..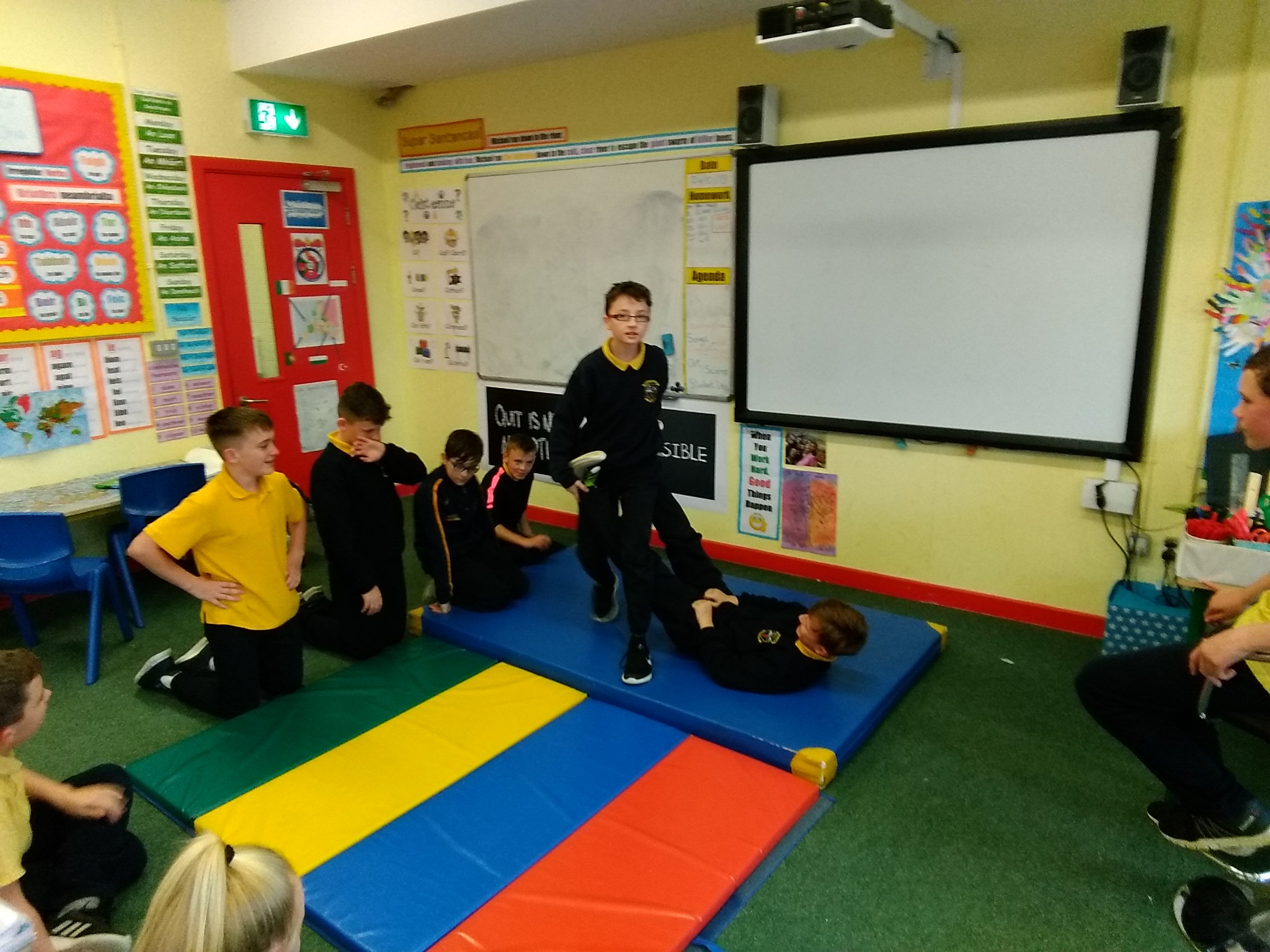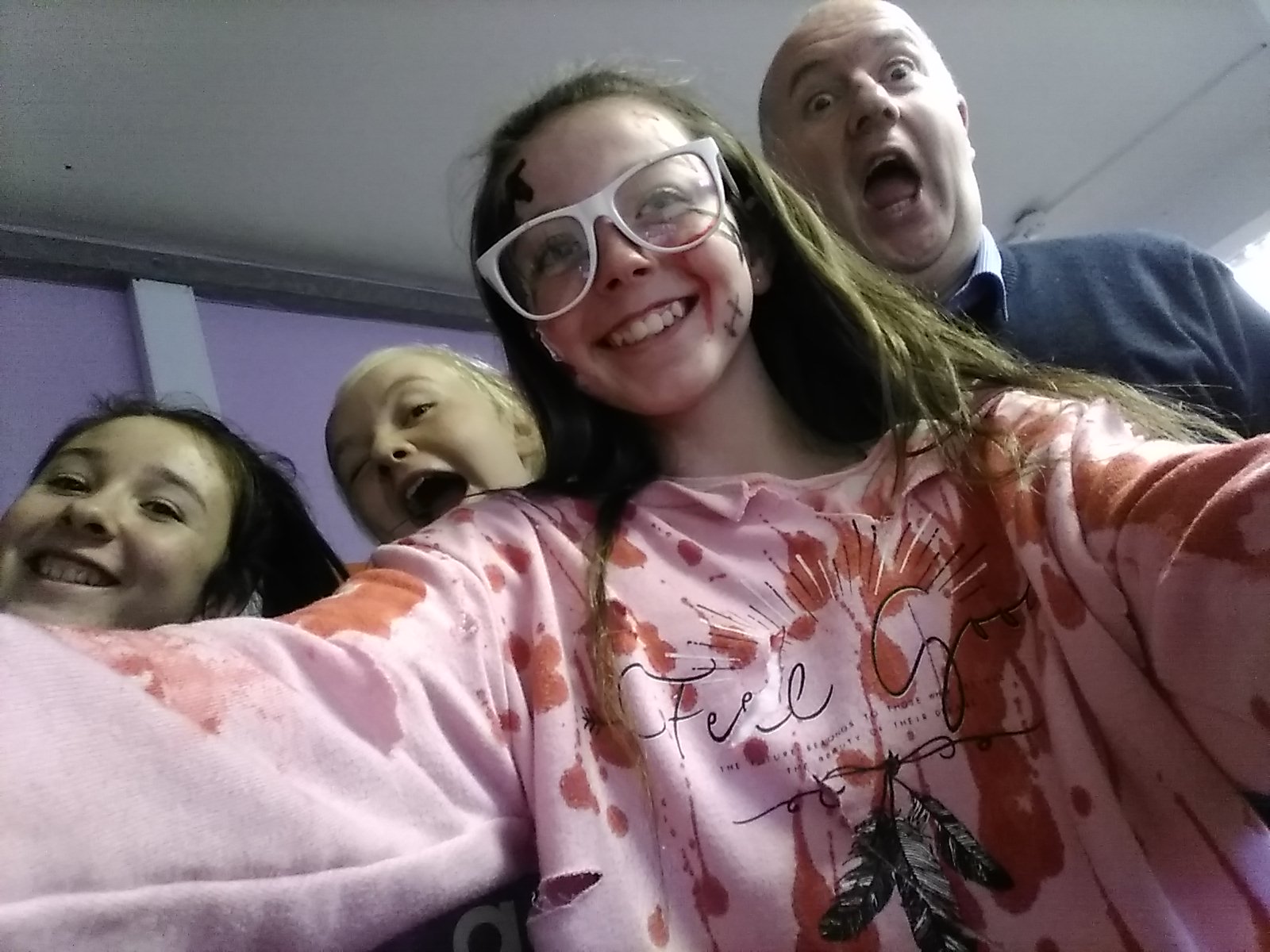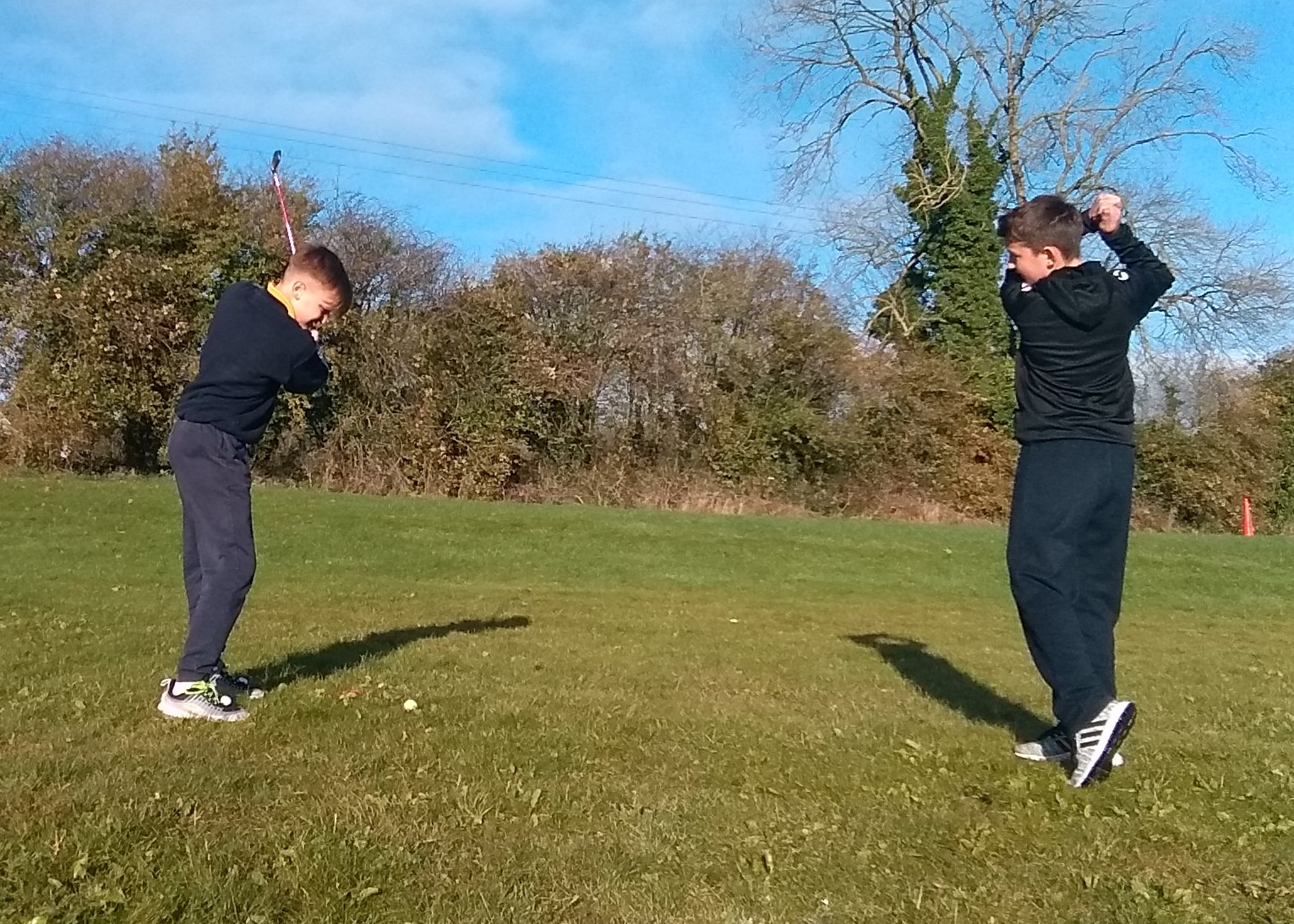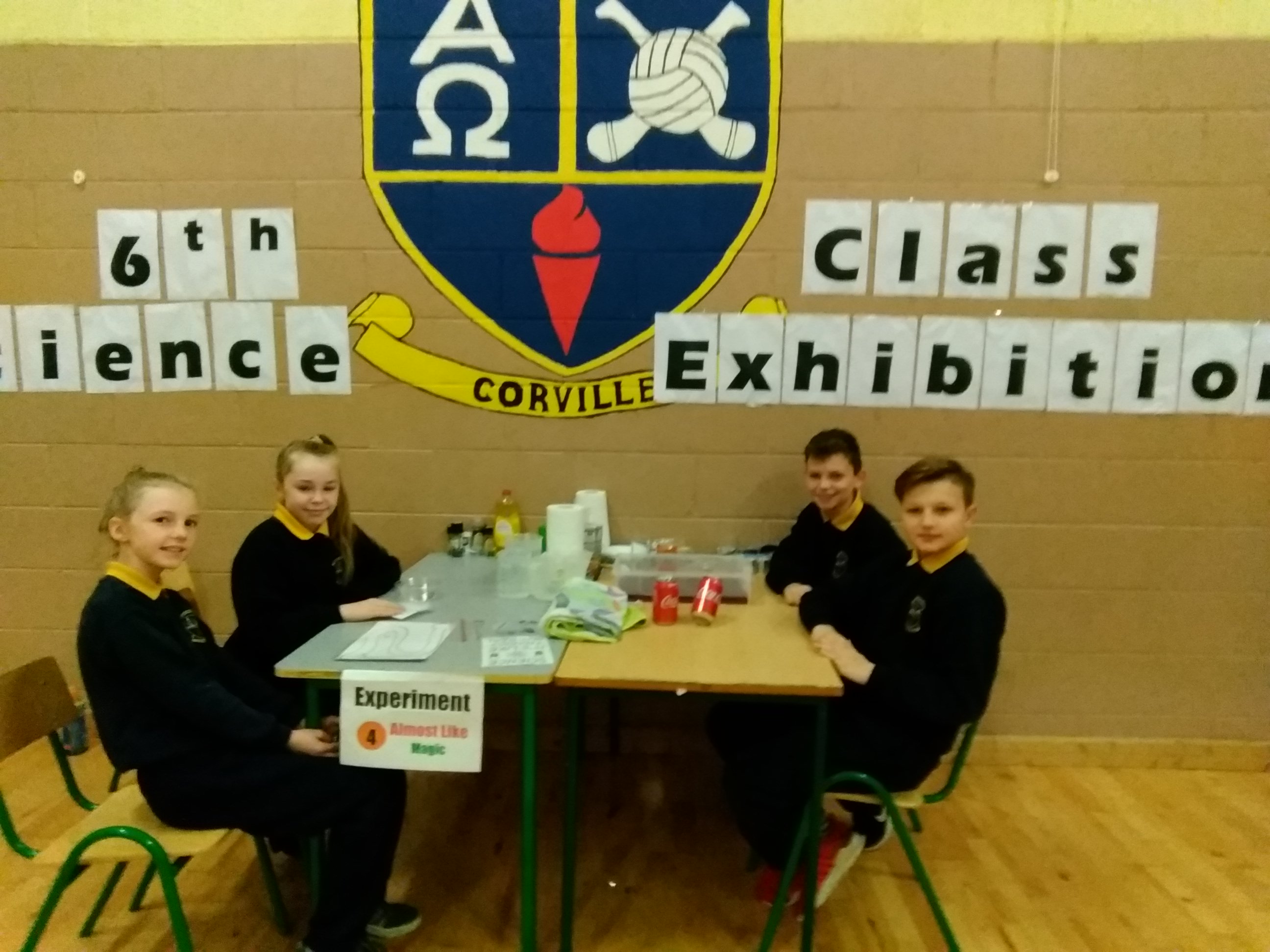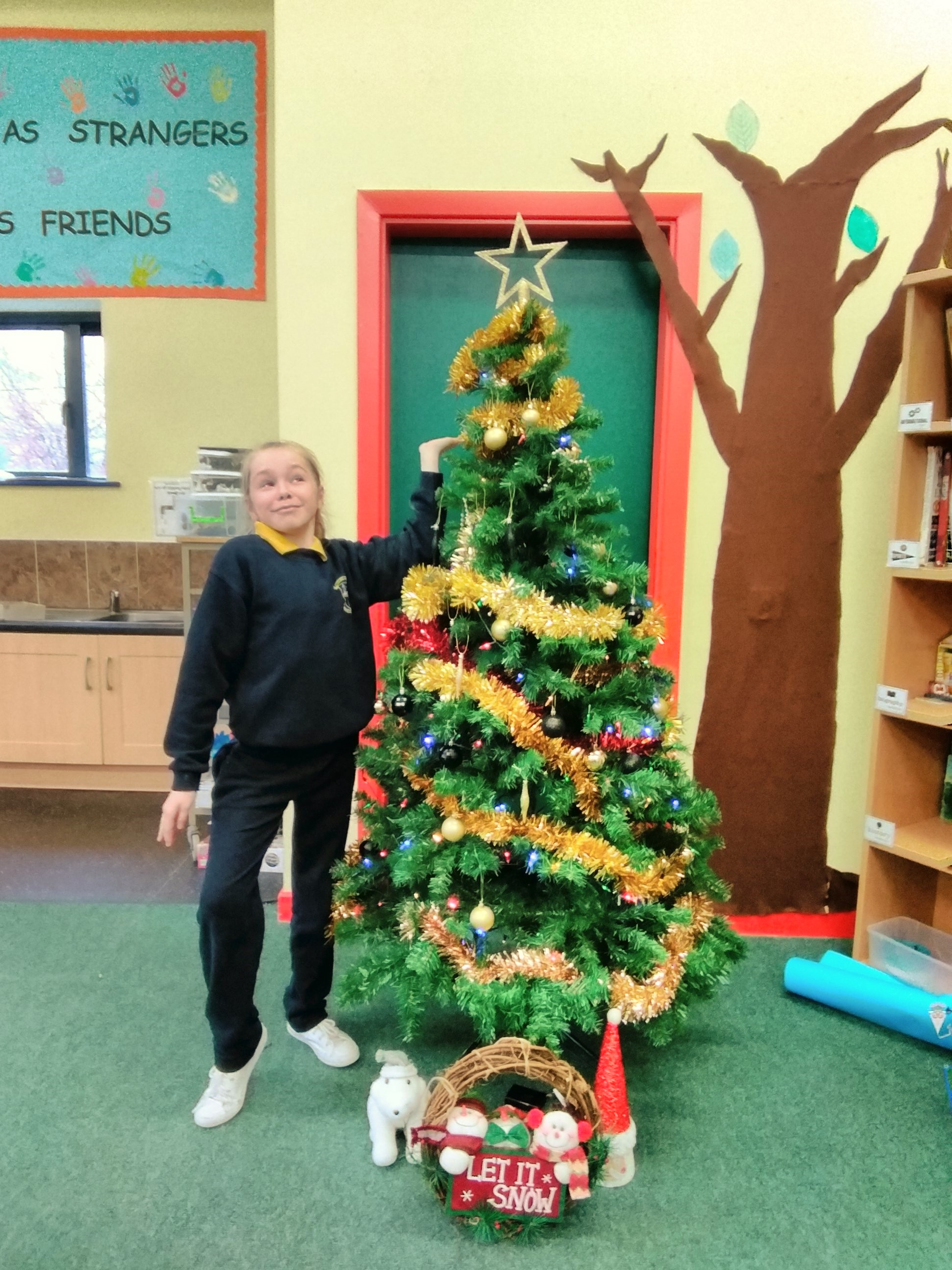 More photos from around the school………….
Guess who's just turned 60!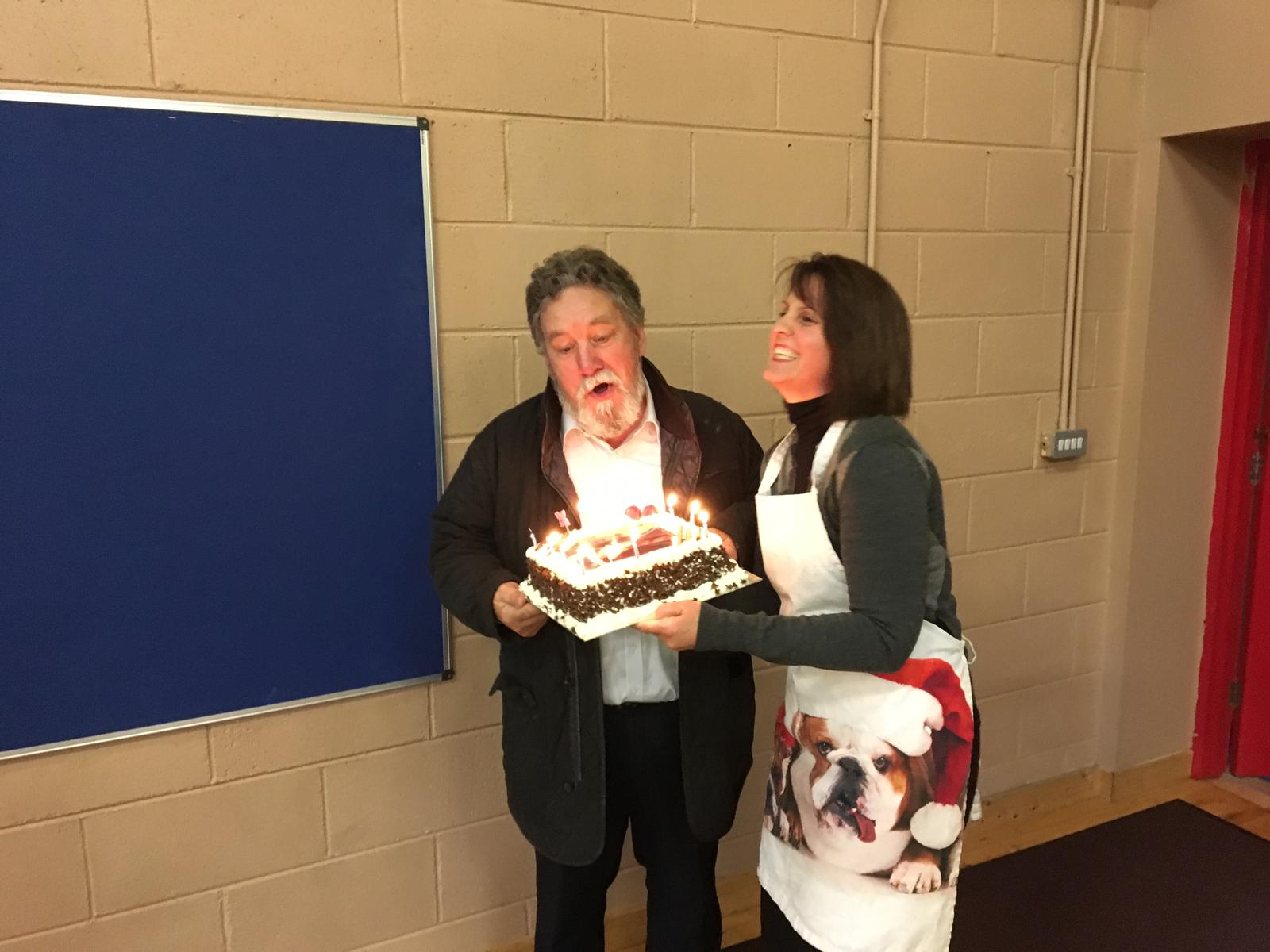 Marco and Tommy having fun baking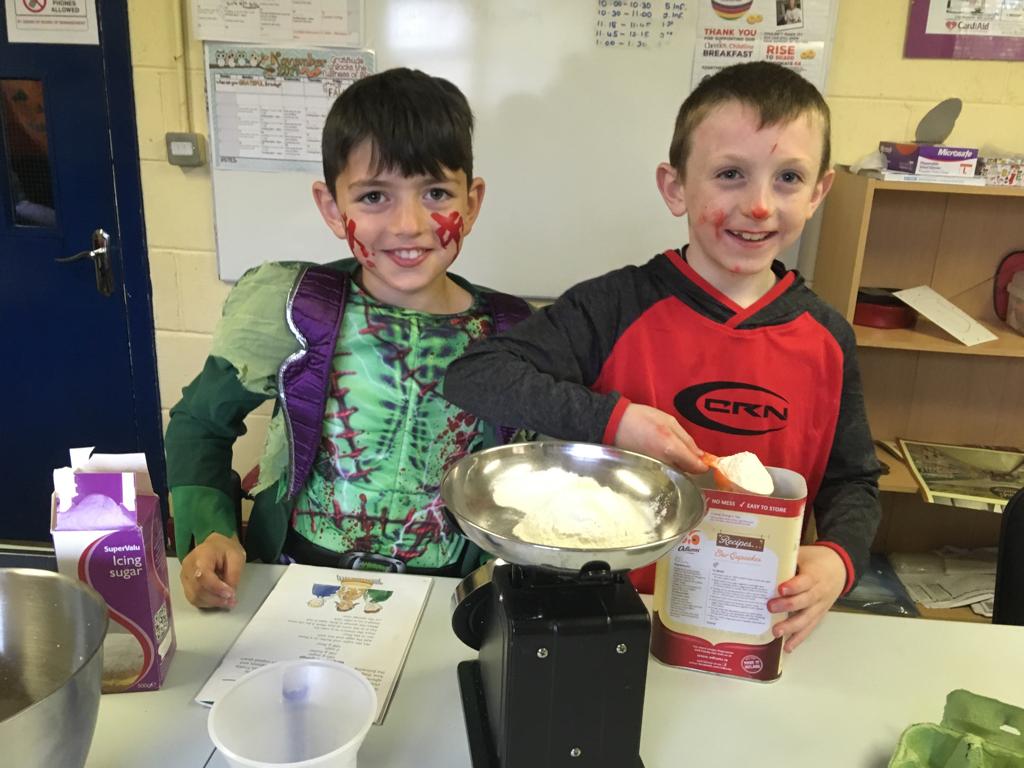 1st Class Assembly performance – You've Got a Friend in Me!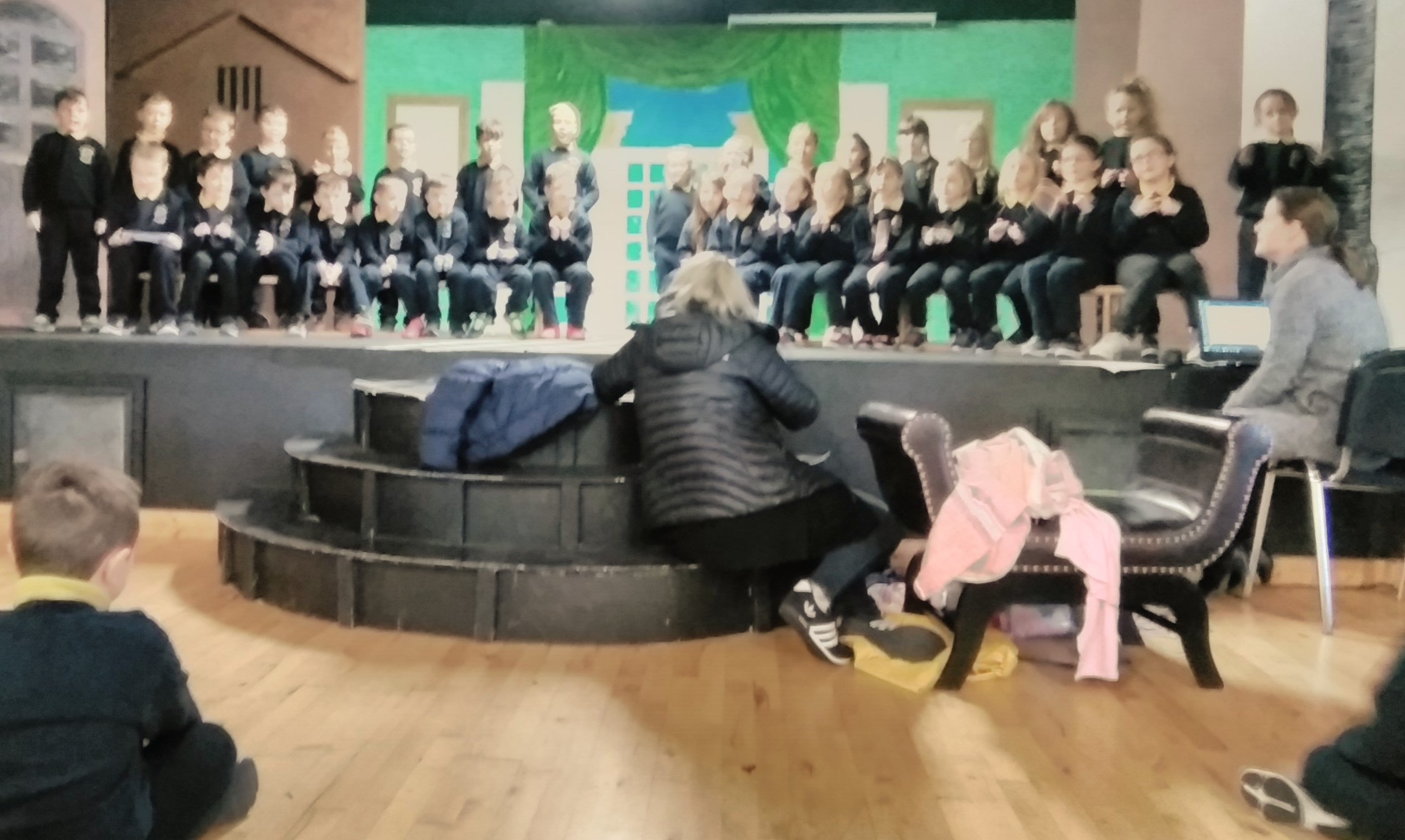 Junior Infant Ladybirds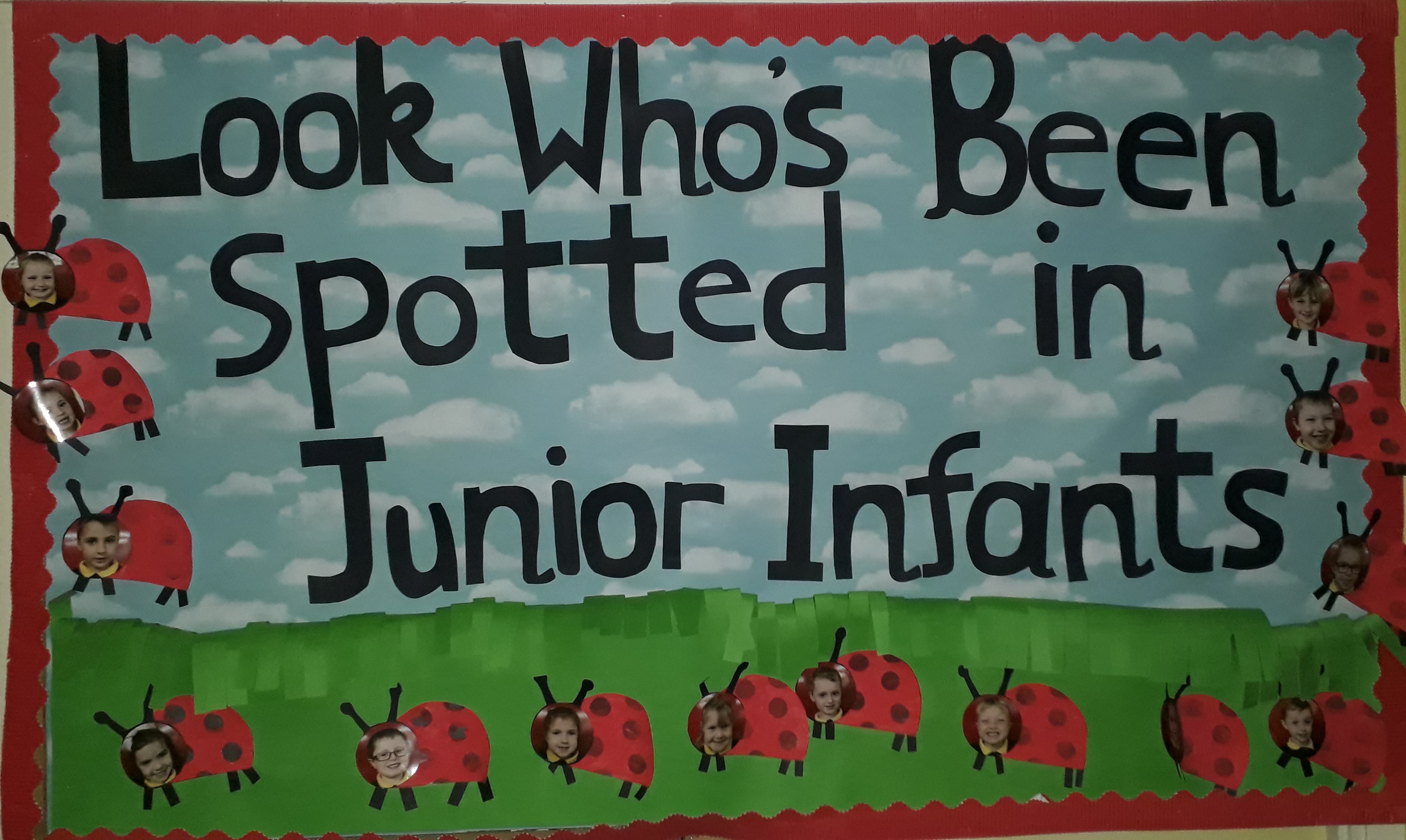 ---
Corville Updates –
15

/

10

/

2018

There is plenty of news to update you all on as we edge closer to the Halloween break. In sport, our footballers and soccer players were in action recently. Our choir were very active as they took part in the Tipperary Peace Proms and they recorded a beautiful song for the Late Late Toy Show entry. Our gardening club have been busy weeding, and planting. Our school has been a hive of dancing activity with dance classes taking place for the lower classes and some of our 6th class students are now teaching dancing at lunch too. Our budding artists were busy putting the finishing touches to their Credit Union Art Competition and also taking time out to help decorate the school for Halloween. That's a brief summary of what's happening but there is plenty more to read below…………

Rise and Shine for Childline: This Wednesday (October 17th ) every single child in our school will Rise and Shine for Childline by having a bowl of Cheerios in school. We would recommend that children have breakfast as usual at home and treat this bowl of Cheerios as a mid-morning snack!! We are very excited to be taking part in this year's Cheerios Childline Breakfast to raise much needed funds for Childline. Please note, the children are not required to bring in money as the school staff will be donating on behalf of the school.

Hope you are as excited as we are!

Our hall is all ready for our infant's breakfast tomorrow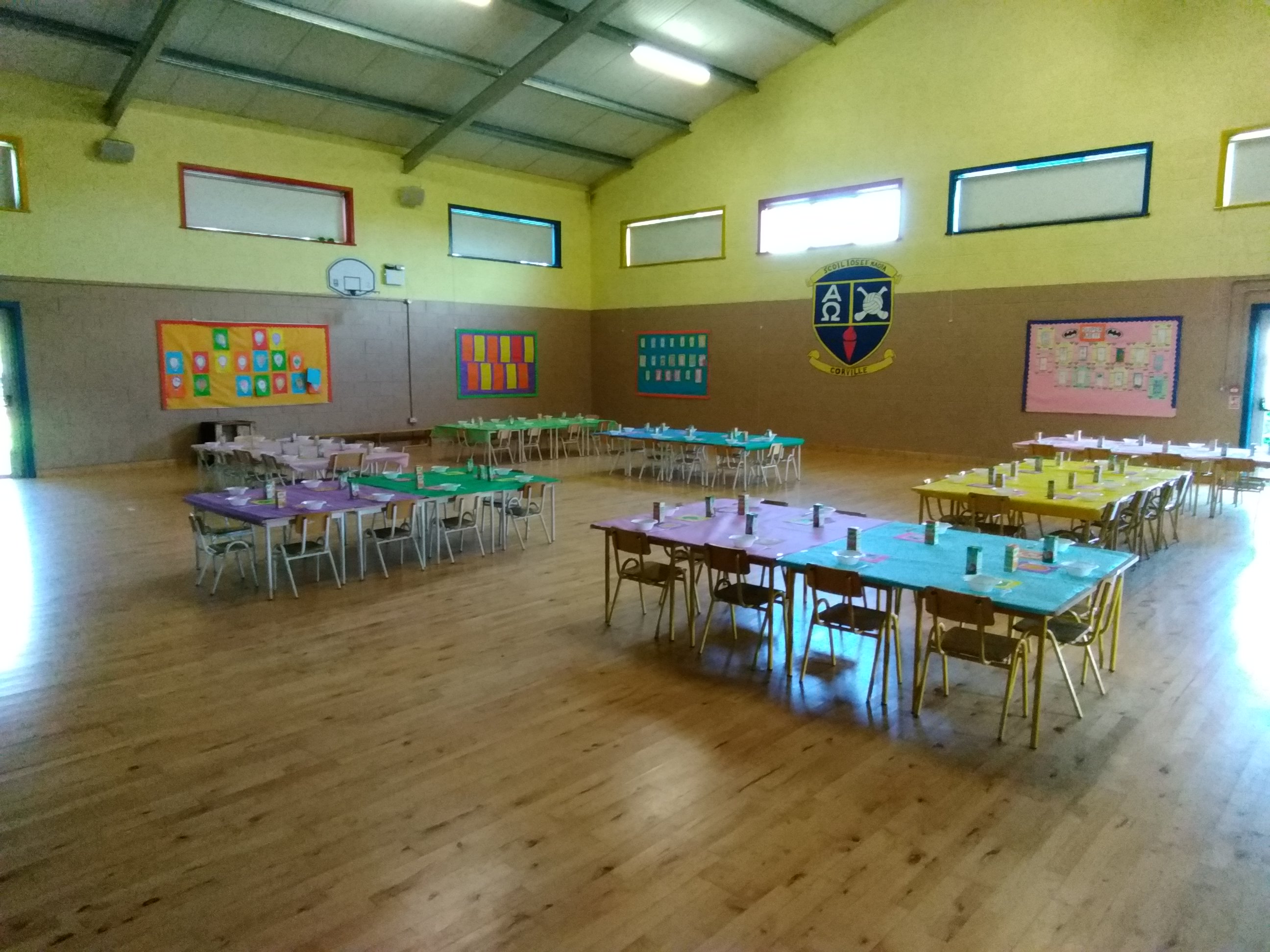 School Choir: Our school choir have been very busy so far this year. They have been practicing very hard and are sounding fantastic. We have so many excellent singers in the school that we had to divide them into multiple groupings that will target different events.
The first event they had to get ready for was the Late Late Toy Show entry. The choir got to visit a recording studio to record the song From Now On from The Greatest Showman. They also shot a great video for this song. The final entry looks and sounds tremendous and we hope it does well.Click on the song for yourself and take a listen.
Here are the photos from the recording studio. Looks like everyone had great fun!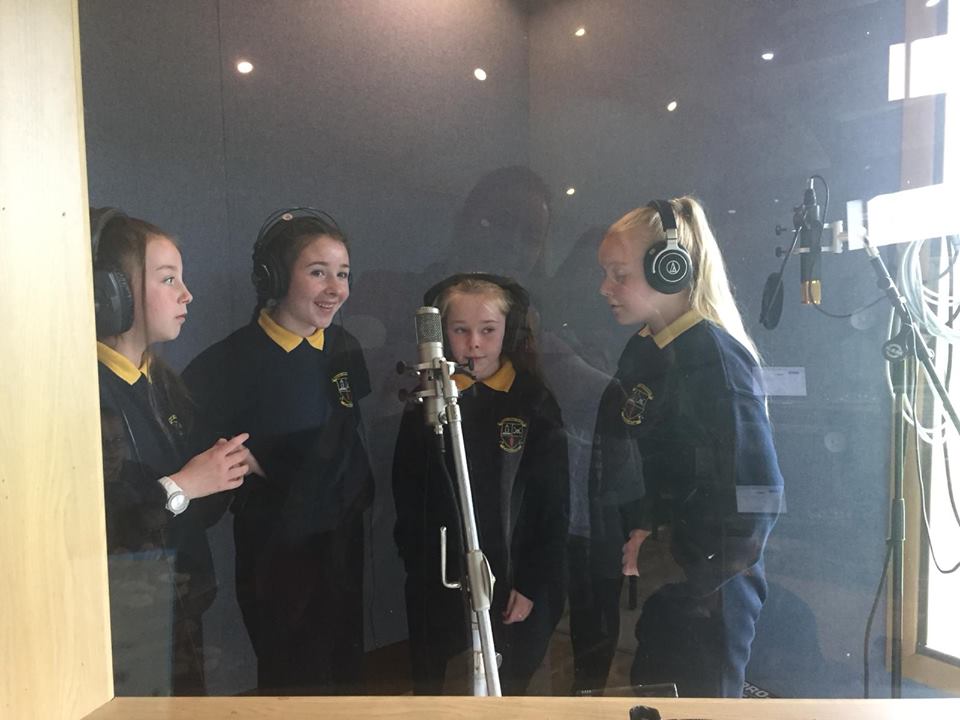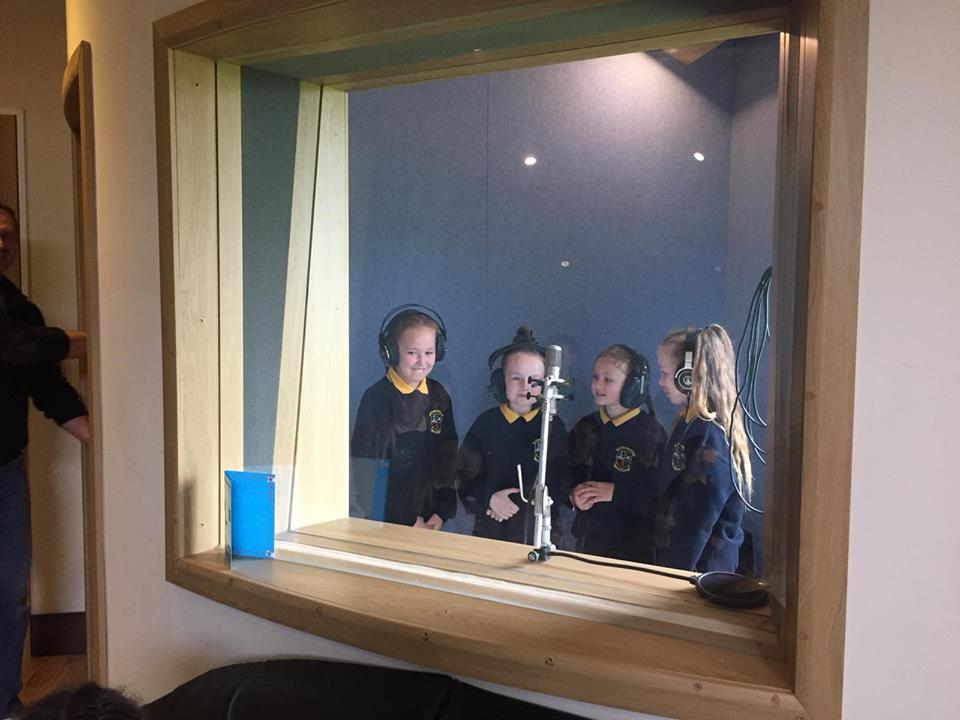 Tipperary School Peace Choir: congrats are due to all our students involved in this recent choir competition held in Tipperary Town. This was our first time entering the competition and we were delighted with our effort. We came joint 2nd but the choir are all winners in our minds. Well done to all involved.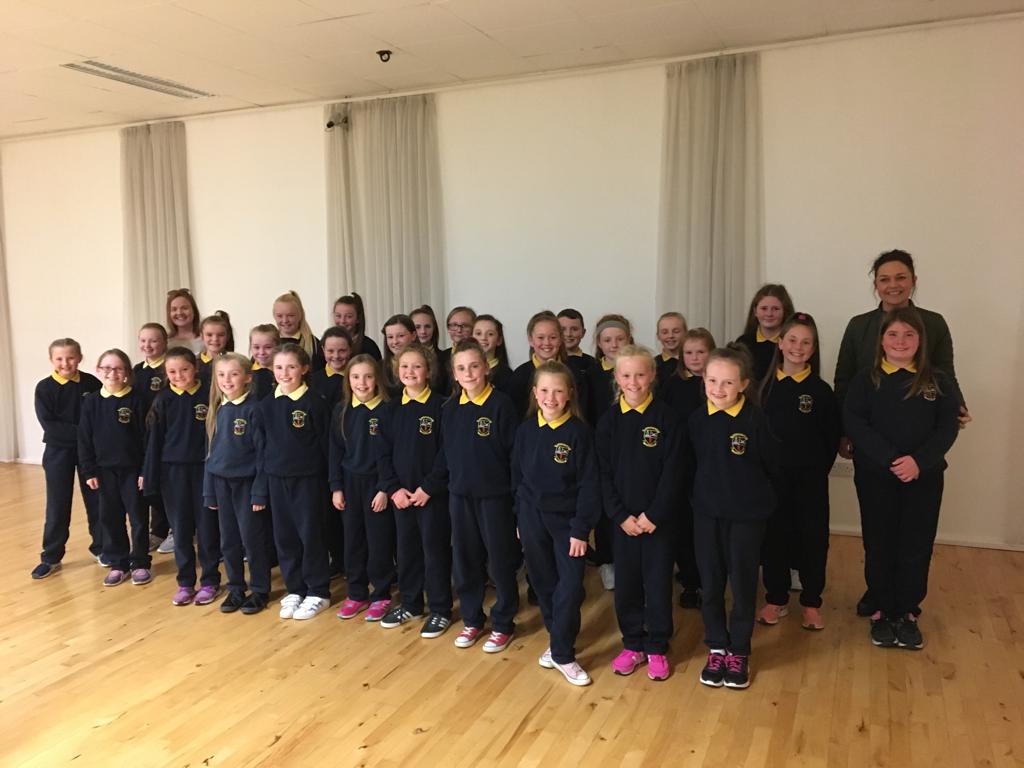 Erasmus Trip to Turkey: over the last few years the school has been able to send our students all over Europe as part of the Erasmus programme we are part of. We link up with different schools from all over Europe. This time students and teachers from the school travelled to Turkey. It made for a wonderful change coming from a wet, windy and cold Ireland to a sun drenched Istanbul. Everyone involved had a great time.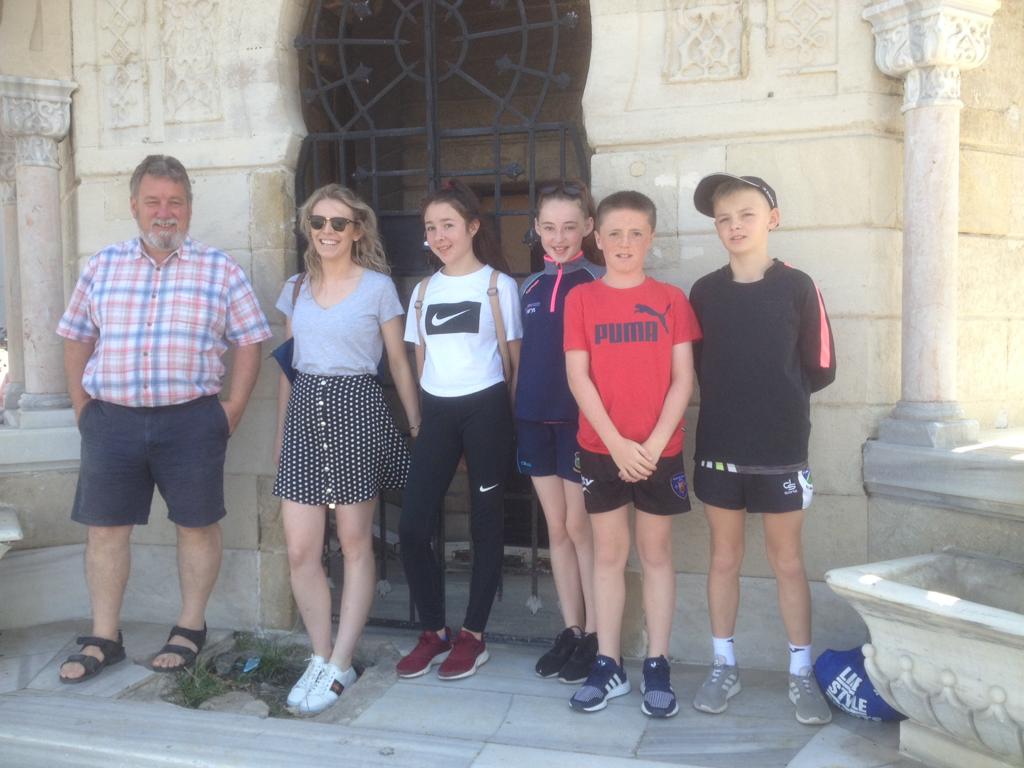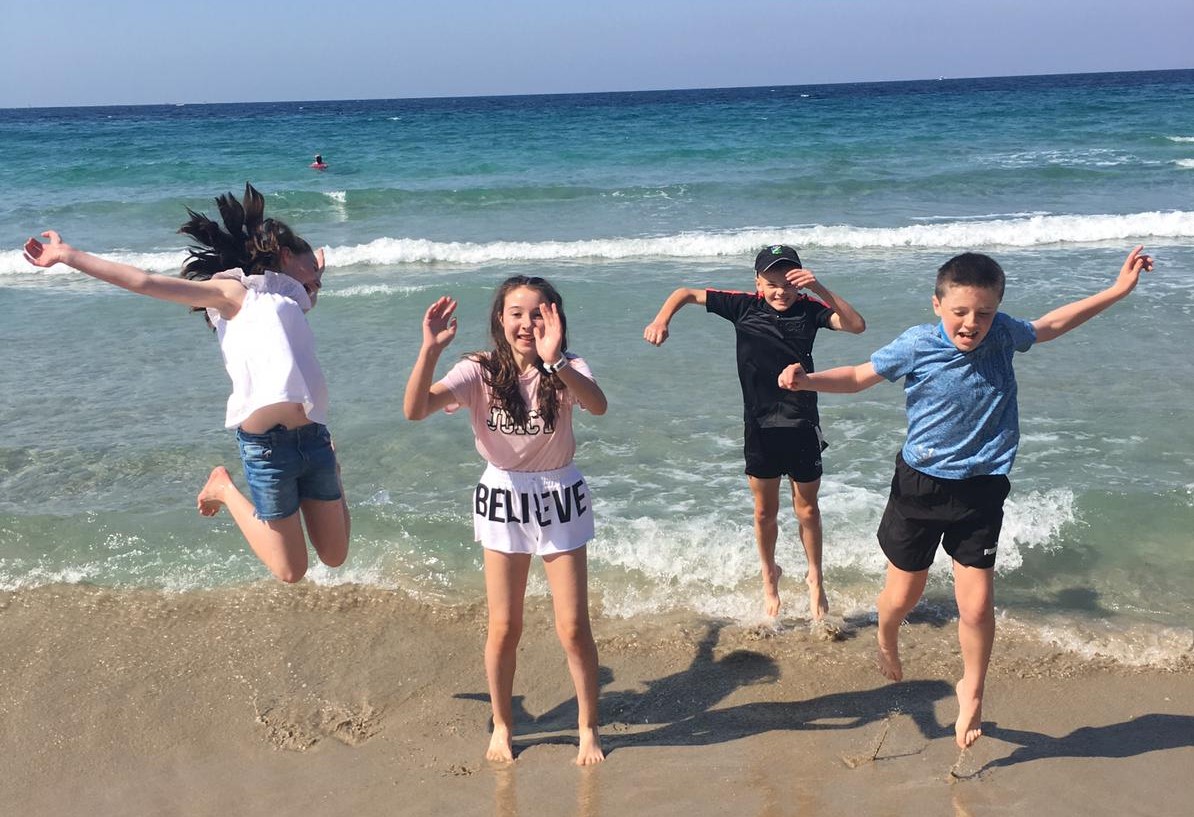 Past Pupils: we love hearing our past pupils getting on well after they leave the school. You might be gone but never forgotten. Congrats to Nicole, Hannah and Lucy on representing Munster recently. You give all our girls in Corville something to look up to. We hope you come back one day and help out with coaching once you are famous!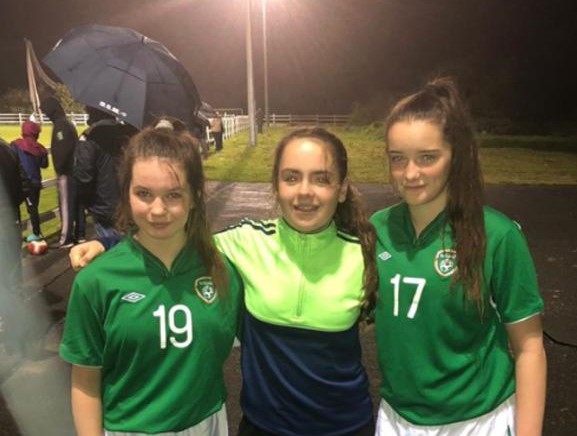 Football
U/13 Boys: our boys were in action twice over the last two weeks. First up was a North blitz which was very competitive. We played some great stuff and managed to qualify out of the blitz for the North Final. The North Final was played a week later vs Borrisoleigh. In the final, we never really got going and we were defeated. We want to thank the boys for the huge commitment shown so far this year. The football might be over but now the focus turns to other sports.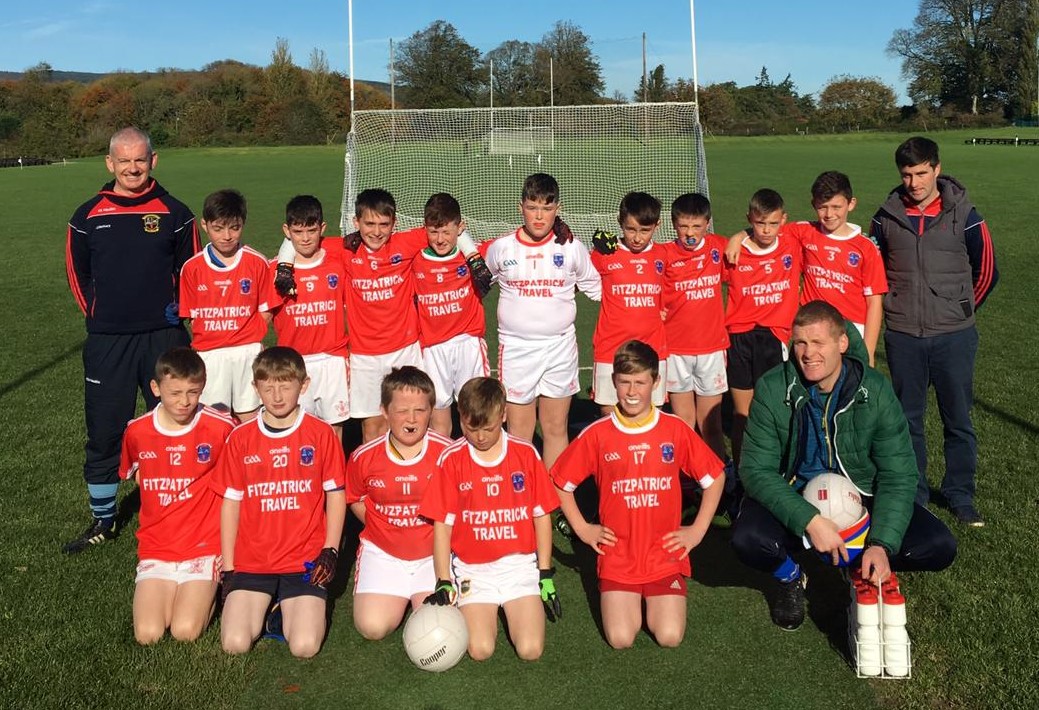 U/11 Boys: our U/11 boys are through to the county final which will be played sometime before Halloween. The boys showed great heart to win their blitz, coming from behind on many occasions including in the final match which went to extra time. They have a never say die attitude and if luck goes their way they could easily become county champs in two weeks time.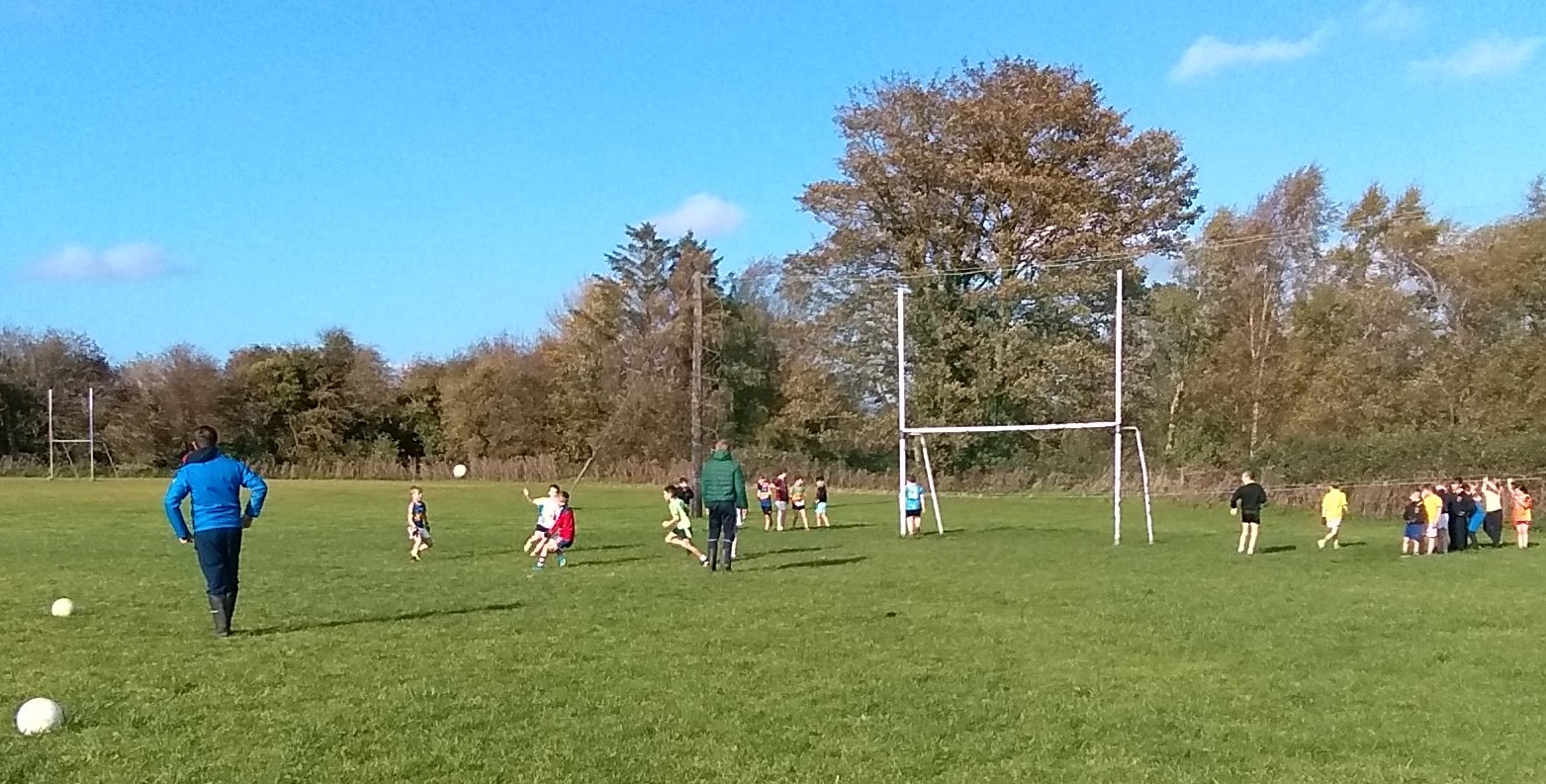 U/13 Girls: our U/13 girls bowed out of the competition in the blitz phase. They faced two strong team in Thurles GNS and Upperchurch. They narrowly lost one and narrowly won the other but that wasn't enough to see them through to the final. A little bit more luck and we could have gotten there as there wasn't much in it.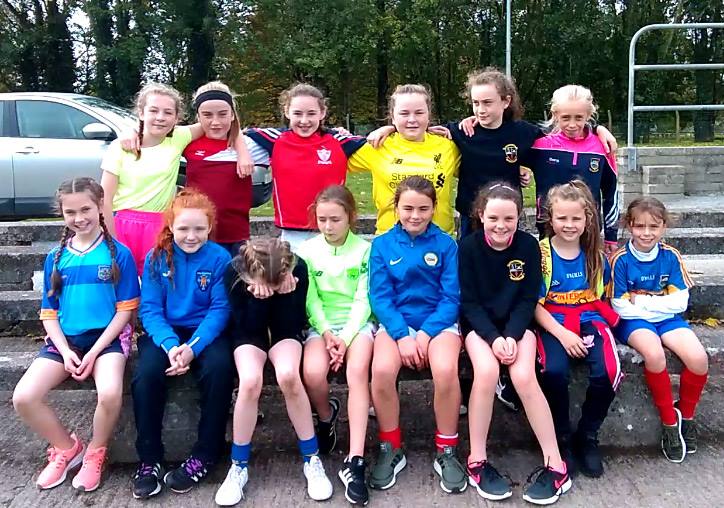 U/11 Girls: took part in their A division blitz in Thurles today. Our girls played some fine football throughout the tournament and won their first two games. It came down to a decider between ourselves and Thurles GNS for a spot in the final. In what was a very close and hard fought final our girls were unfortunate to lose out by a score in the end. We had our chances to win but sometimes you have to lose won before you win one. These girls are destined for big things in the future. It's some achievement to be so competitive in football in Tipperary especially considering the lack of a club team in town.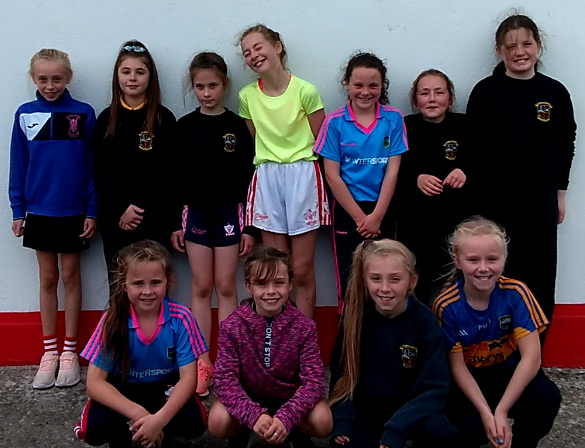 FAI Futsal Tournament: the school sent 4 teams to this 3rd/4th class competition held in Killavilla last week. This competition was held in a non competitive environment but it was still great to see some top quality play from all our teams. Out of 12 matches our teams won 11 and everyone that came along got plenty of game time. The future definitely looks bright with these kids coming through. Kepp turning up to training and the sky is the limit.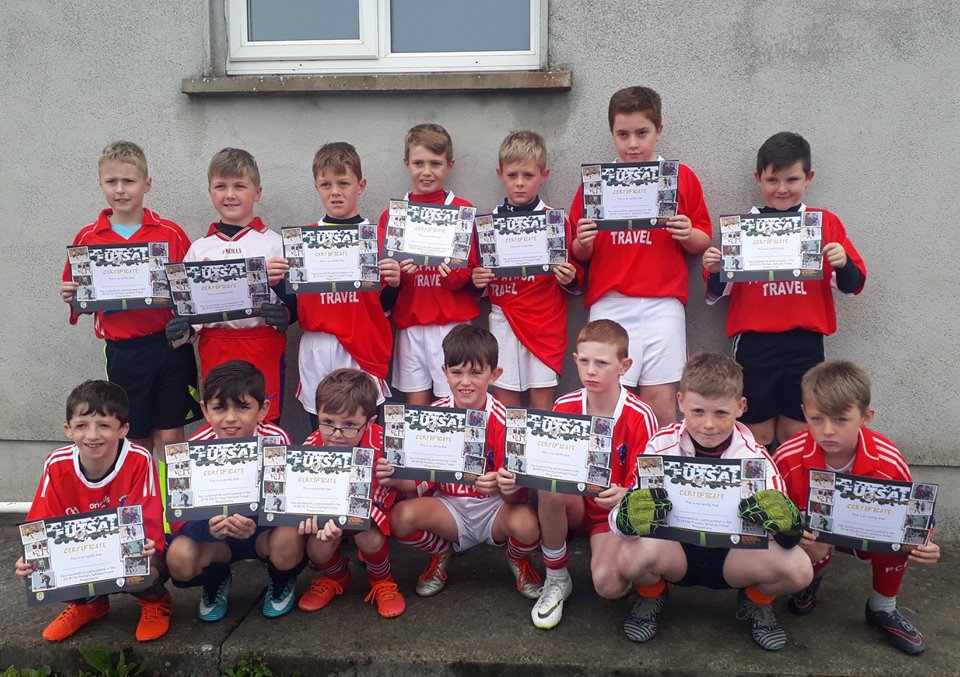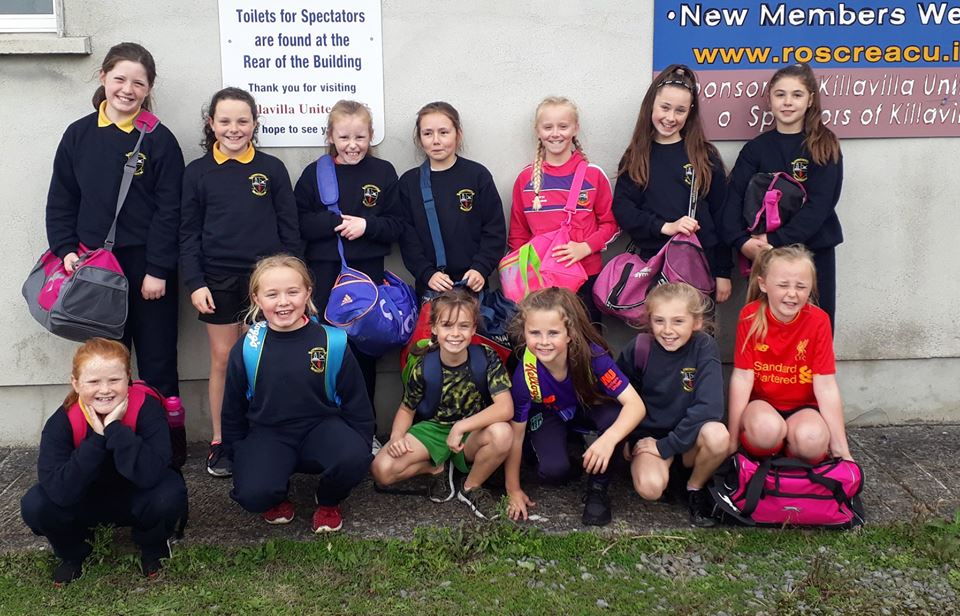 Cross Country: well done to all our boys and girls that made the trip over the Thurles a few weeks ago for the Primary County Cross Country Races. Our teams did great with the boys coming first in the 3rd/4th class competition. We also won 3 individual medals through Lily Ann, Brodie and Conor. Great stuff team!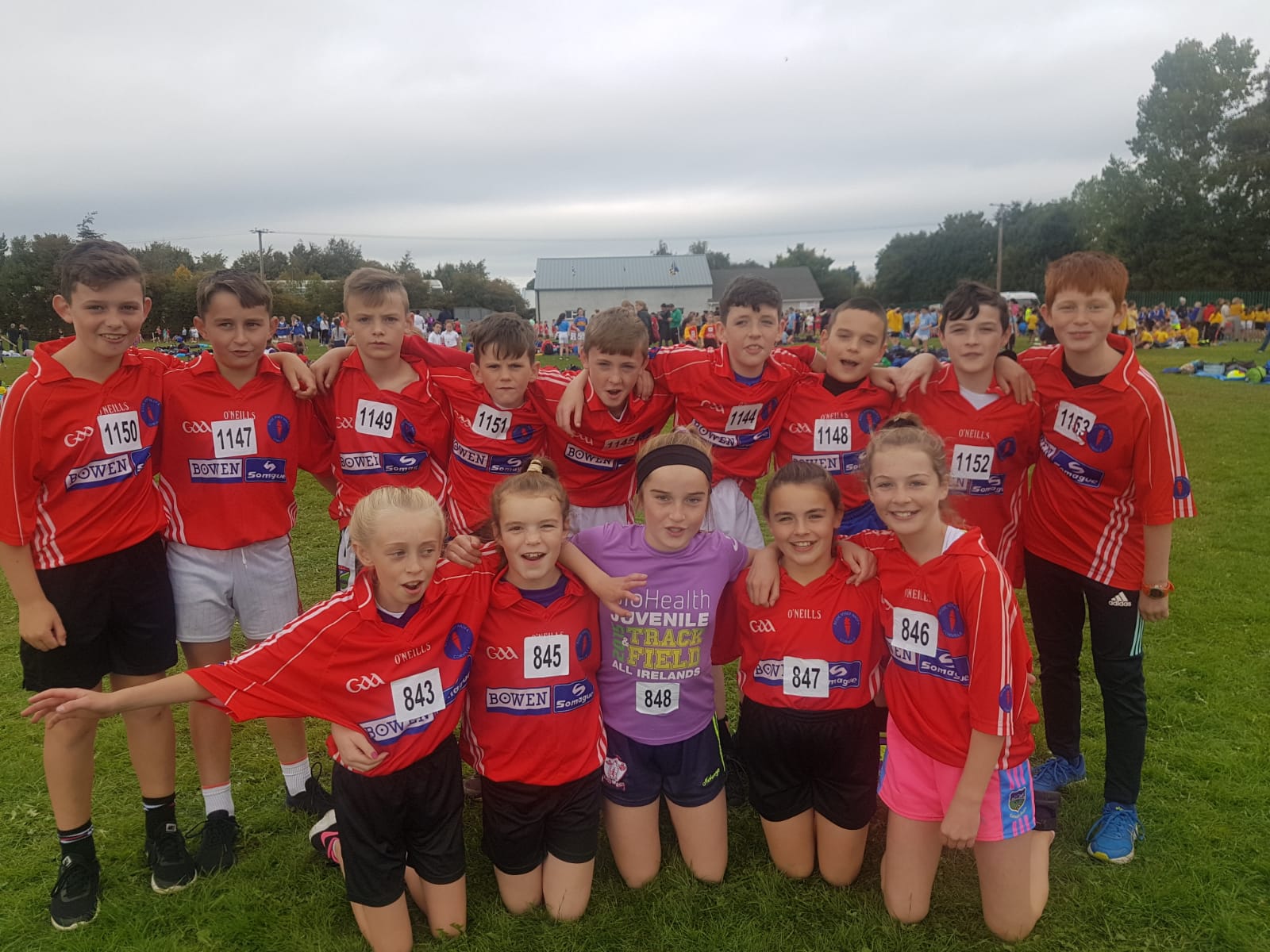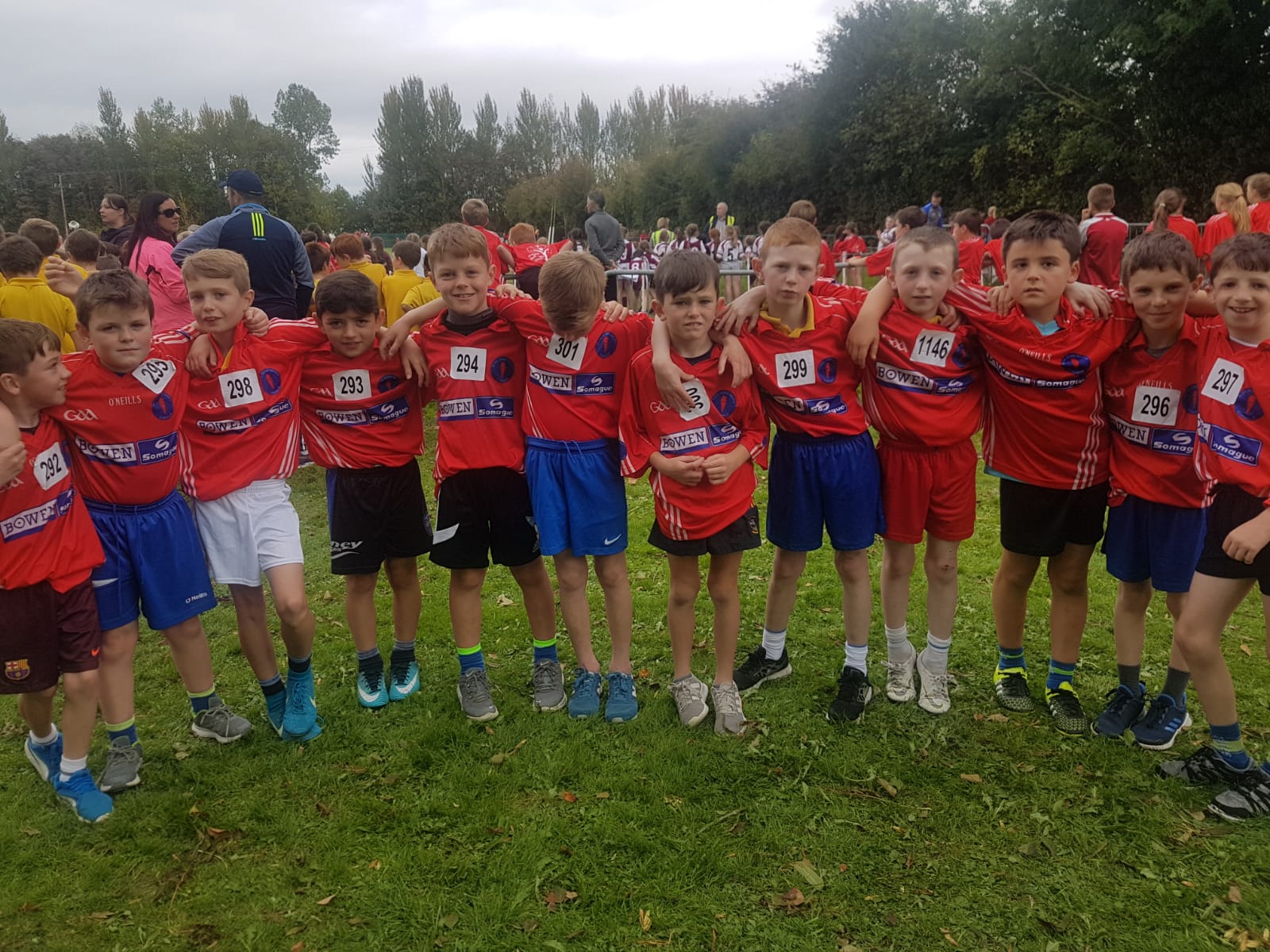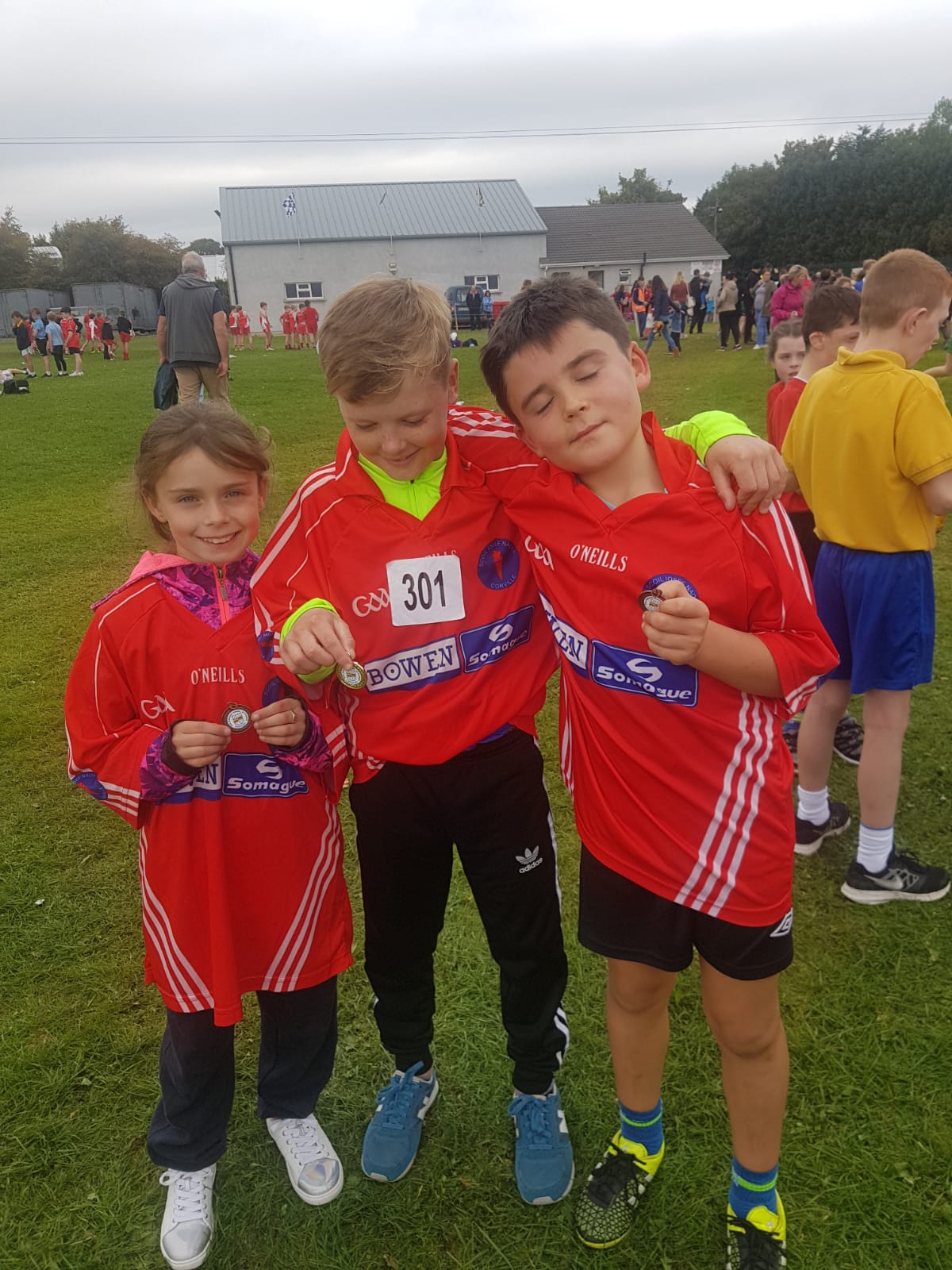 Positive Mental Health Week: last week the school celebrated positive mental health week. We are trying to promote the importance of positivity and being thankful for what you have. We had an assembly each day and examined the many different parts of our lives that we can be grateful for. Each day our students read out some words of thanks and gave examples of how they appreciate the work being done for them by parents, teachers and the whole community.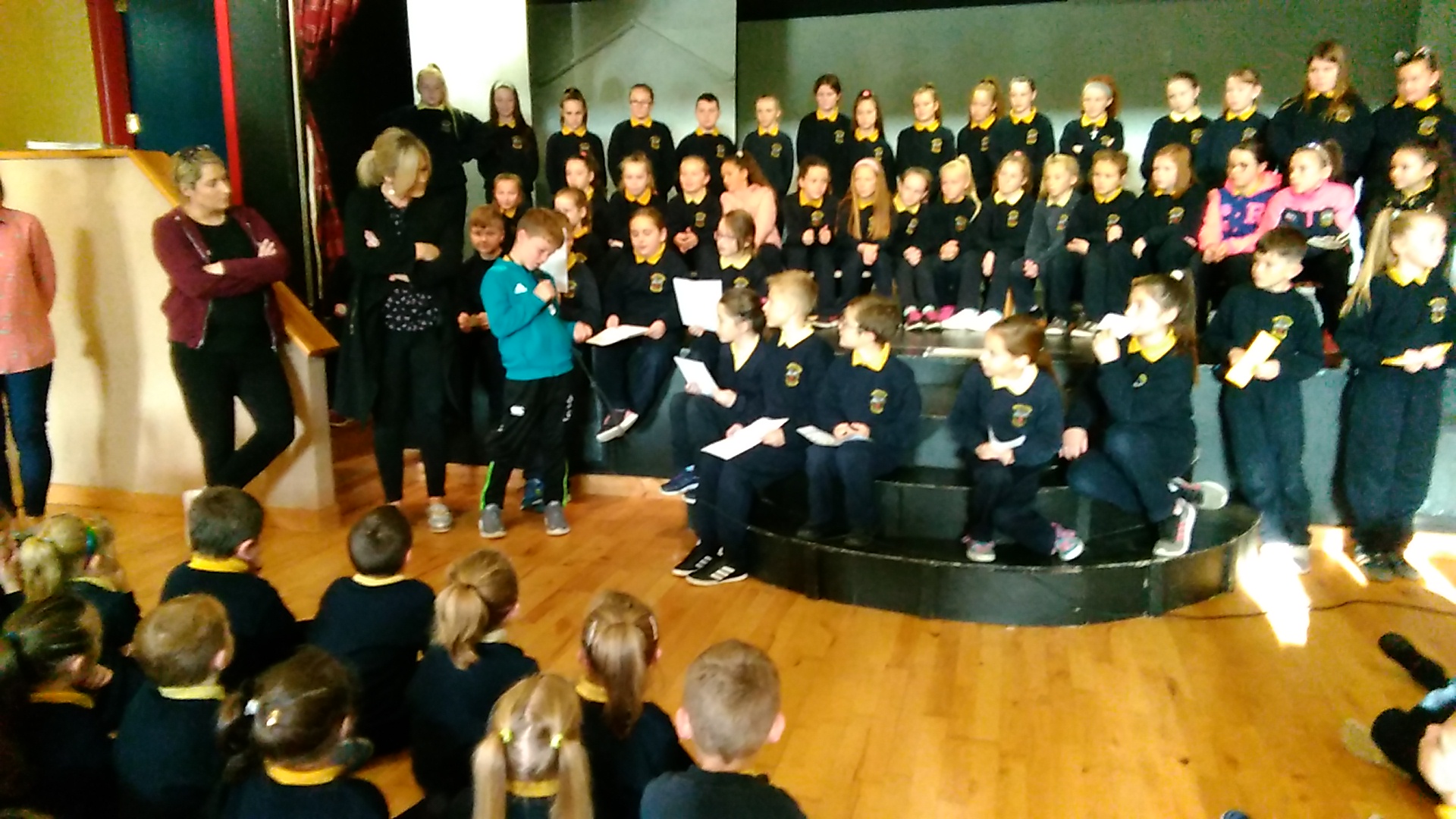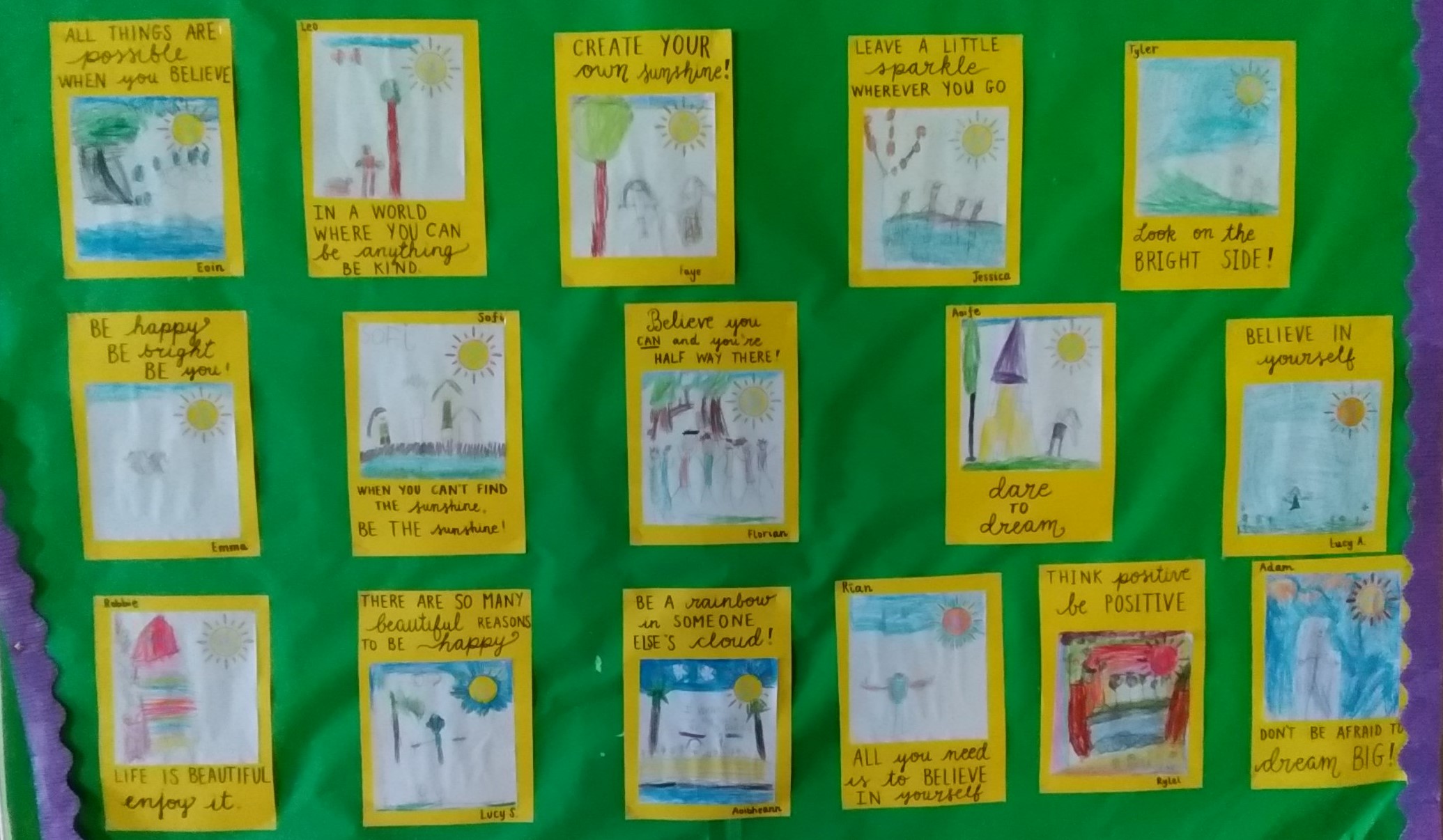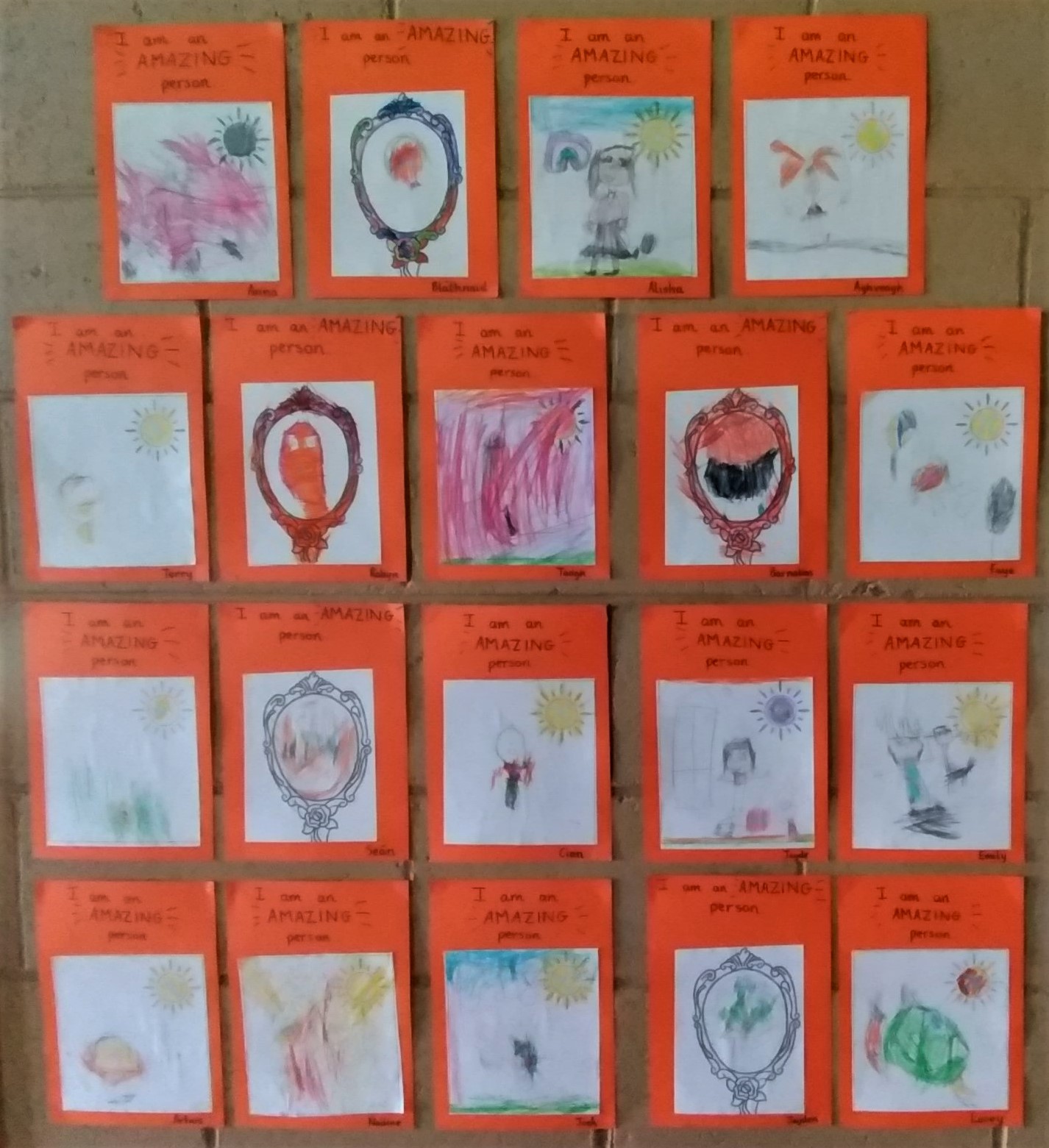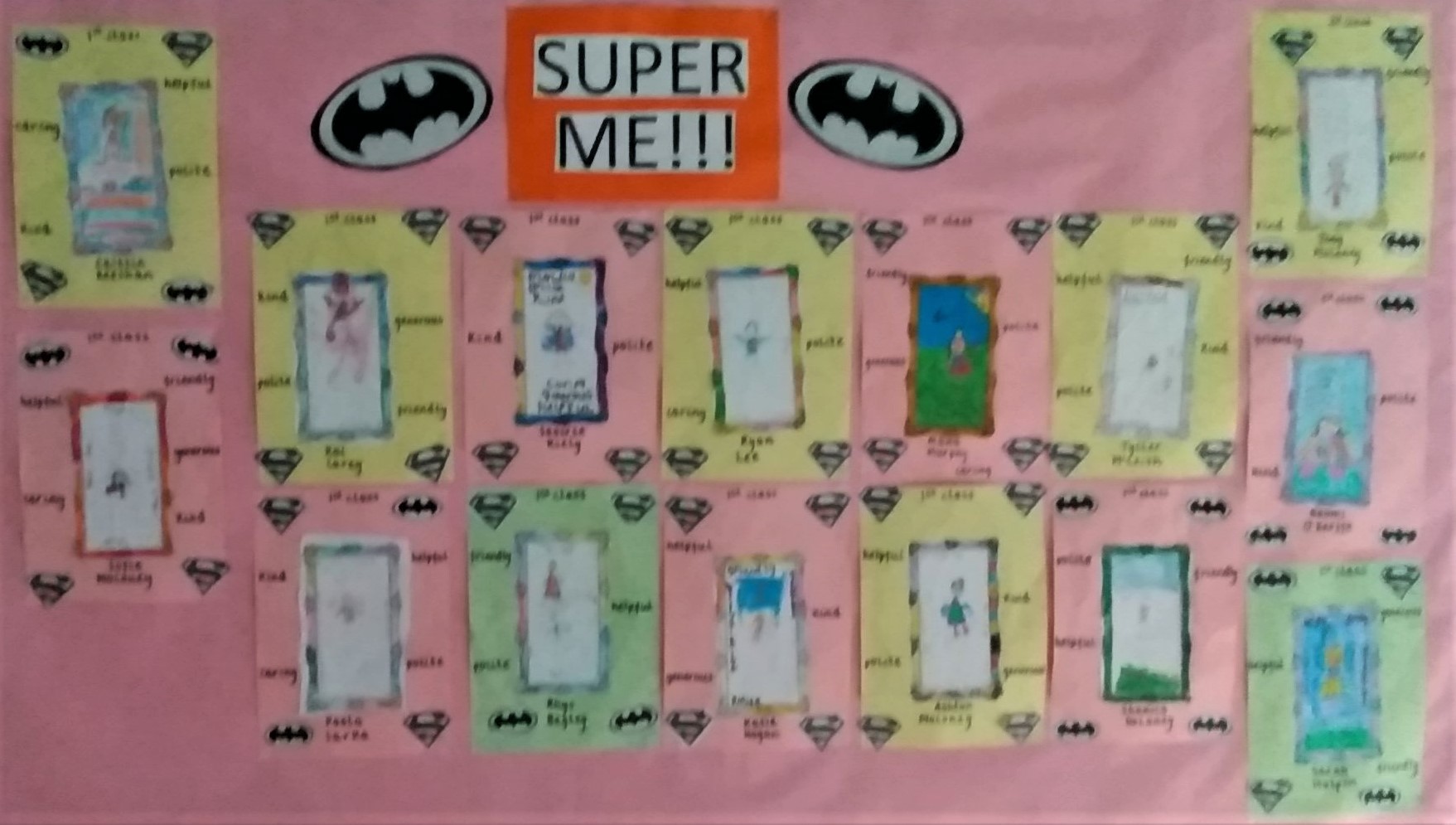 Battle of the Brain Quiz Competition: our annual BotB competition is almost over and things are very tight at the top in both the u/13 and u/11 quiz. There is just 1 more round left before we find out who wins. The top 5 or 6 from each competition qualify for the school quiz squad. They will practice together and target national school quizzes later in the year.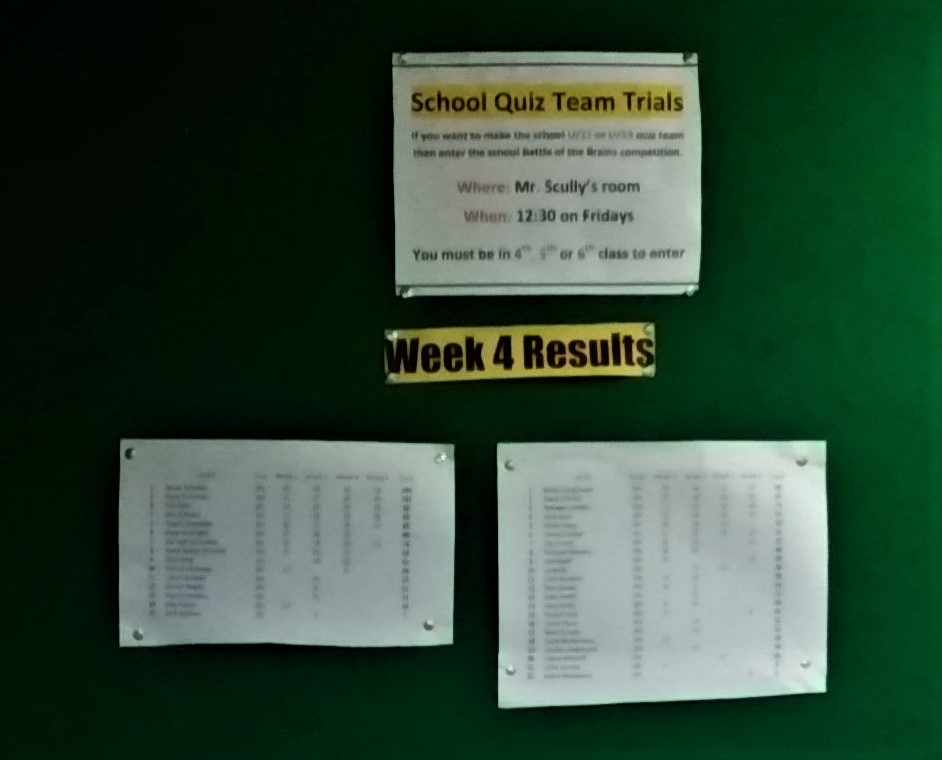 Junior Entrepreneur: our 5th class are taking part in this year's Junior Entrepreneur Programme. This is a great experience for all those that take part. The students get to see how a business works from coming up with an idea to putting that plan into action. they also make a tidy profit at the end too! David Mitchell was kind enough to pop into the school to talk through his experiences as a small business owner in Roscrea. The students had loads of questions and now have a good idea of the amount of work involved to make their projects a success.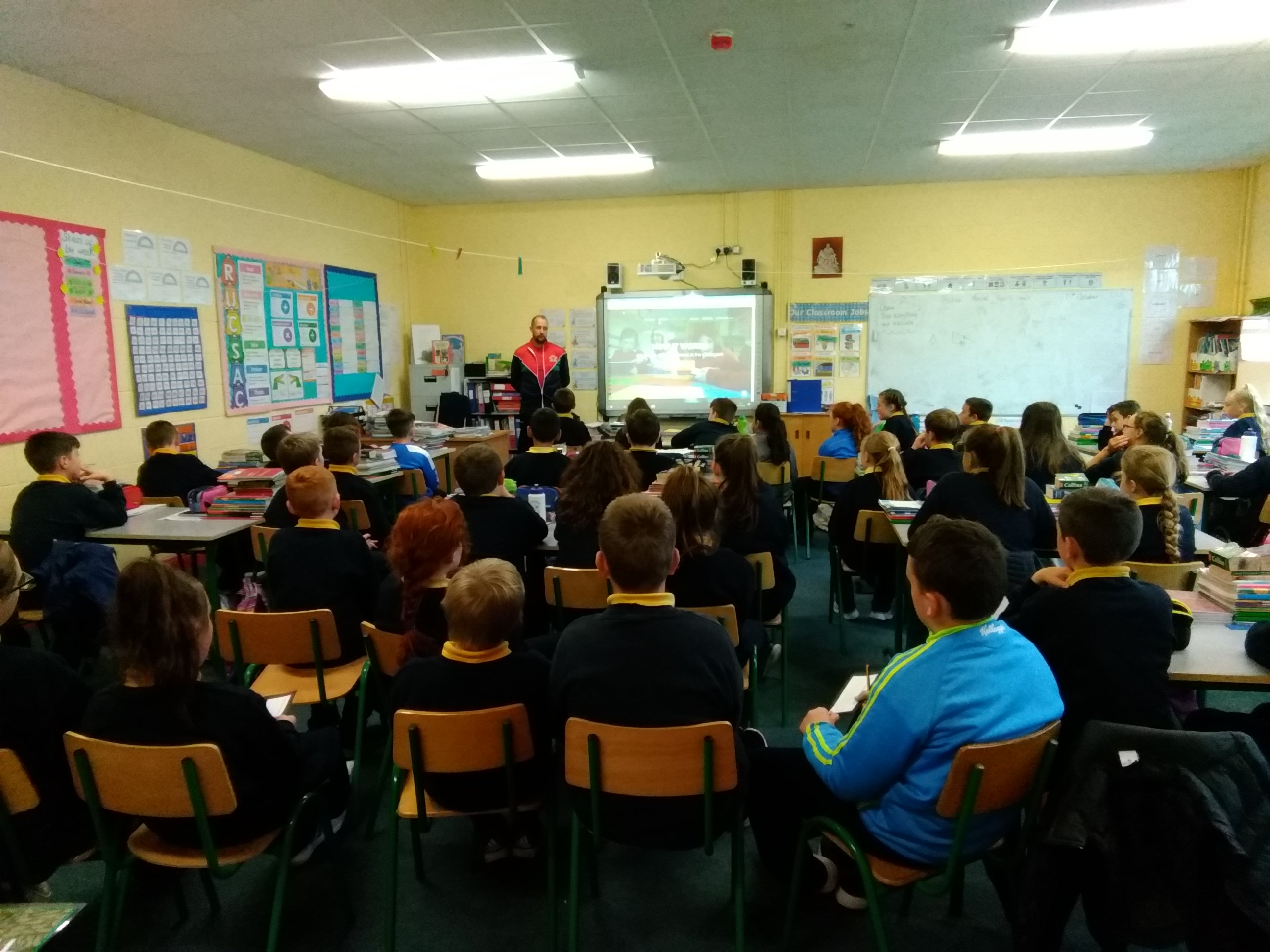 Food Art: 6th Class made some fantastic 'Food Art' this week… including an edible volcano! The creativity shown during this project was astounding. Well done to all.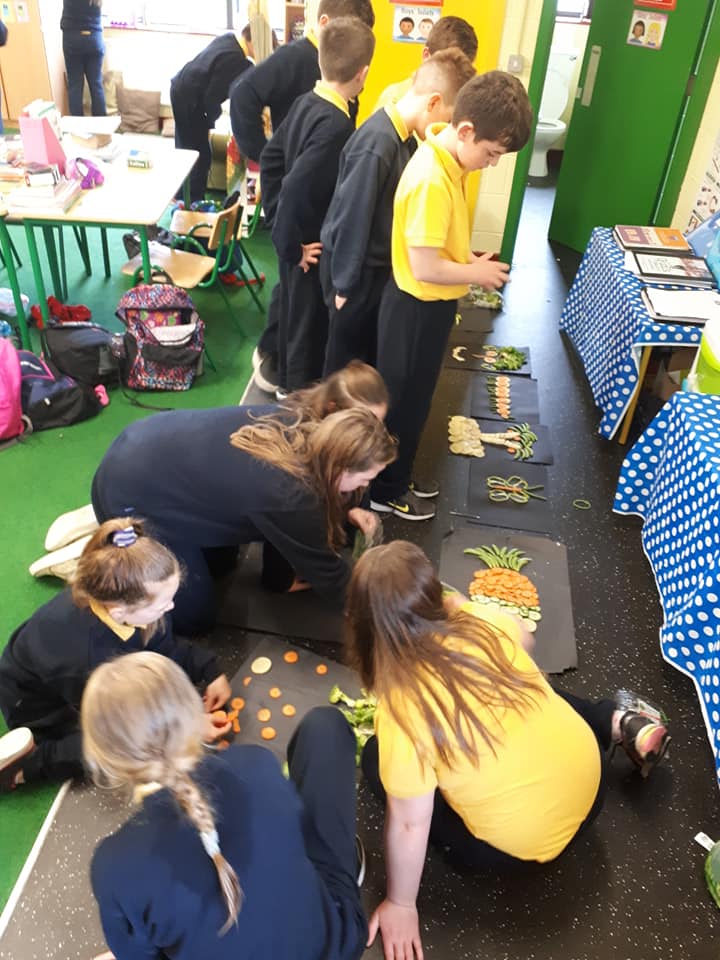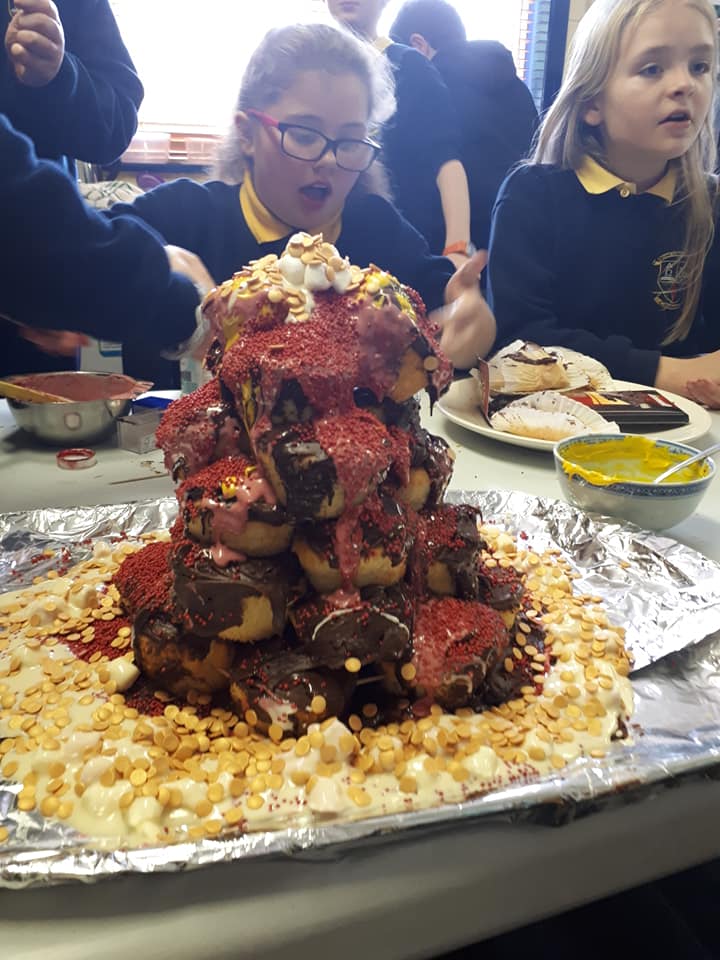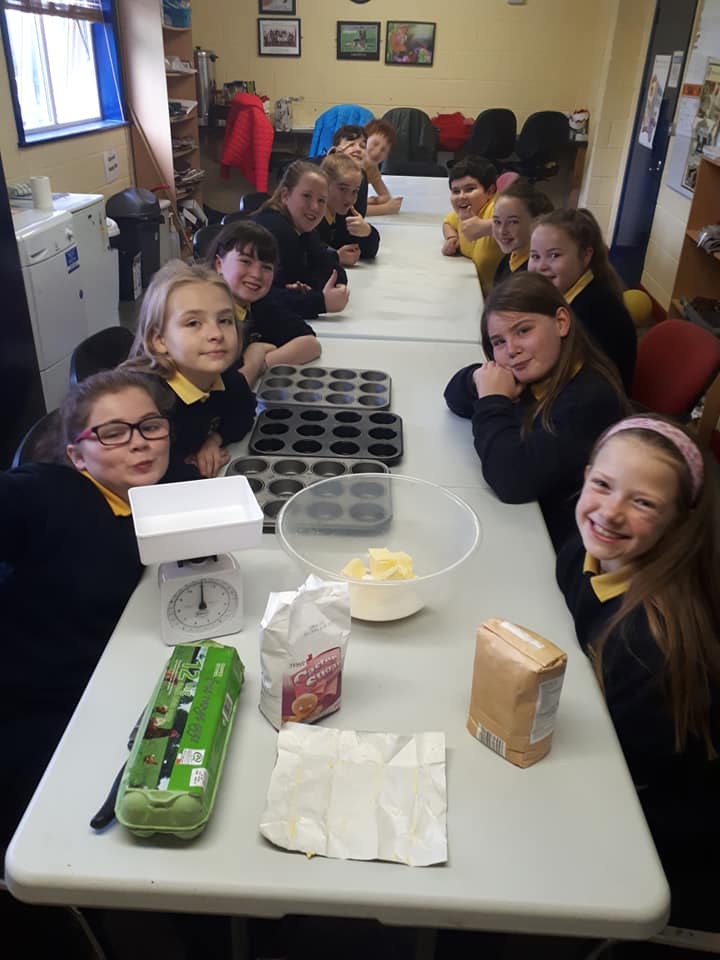 Assembly Performances: each week different classes perform a song or dance on stage in front of the school. This helps to build confidence and allows the students to overcome their fears. Being very brave were senior infants who showed no nerves as they got up on stage to perform a brilliant dance number. It was also the turn of 4th class to sing a song and they performed This is Me'. Lastly, our choir jumped on stage to show us what we were missing from the Tipperary Peace Choir Competition.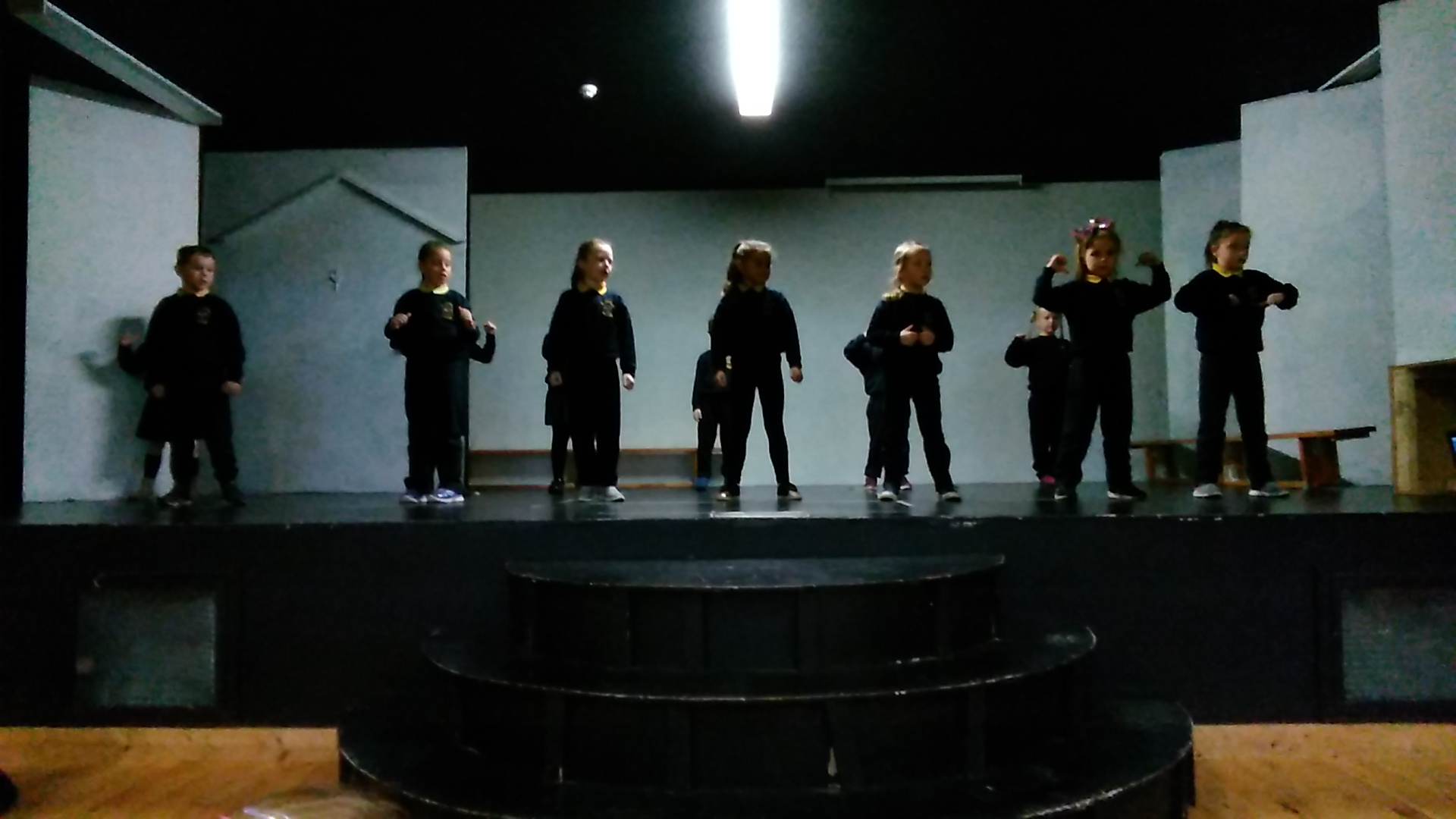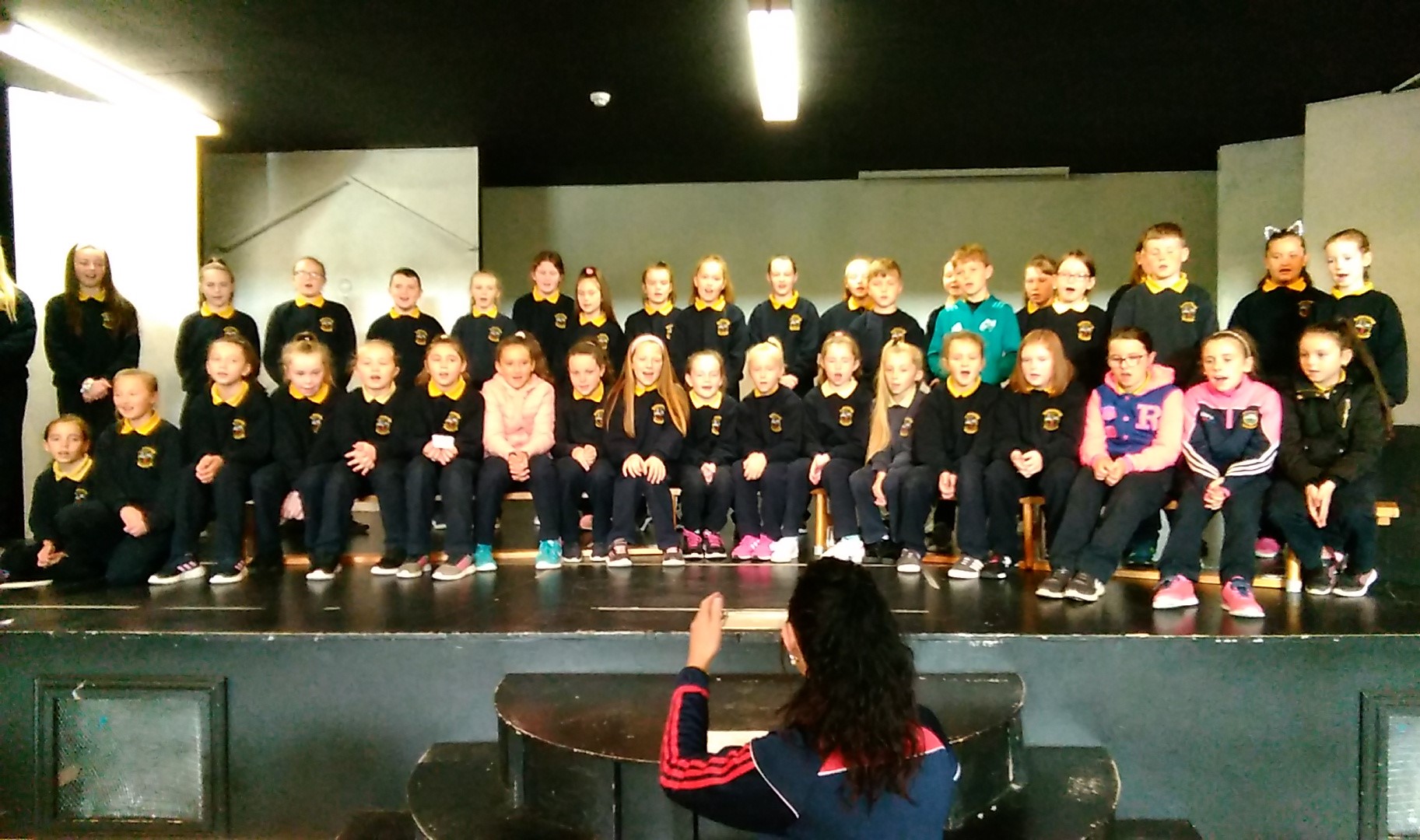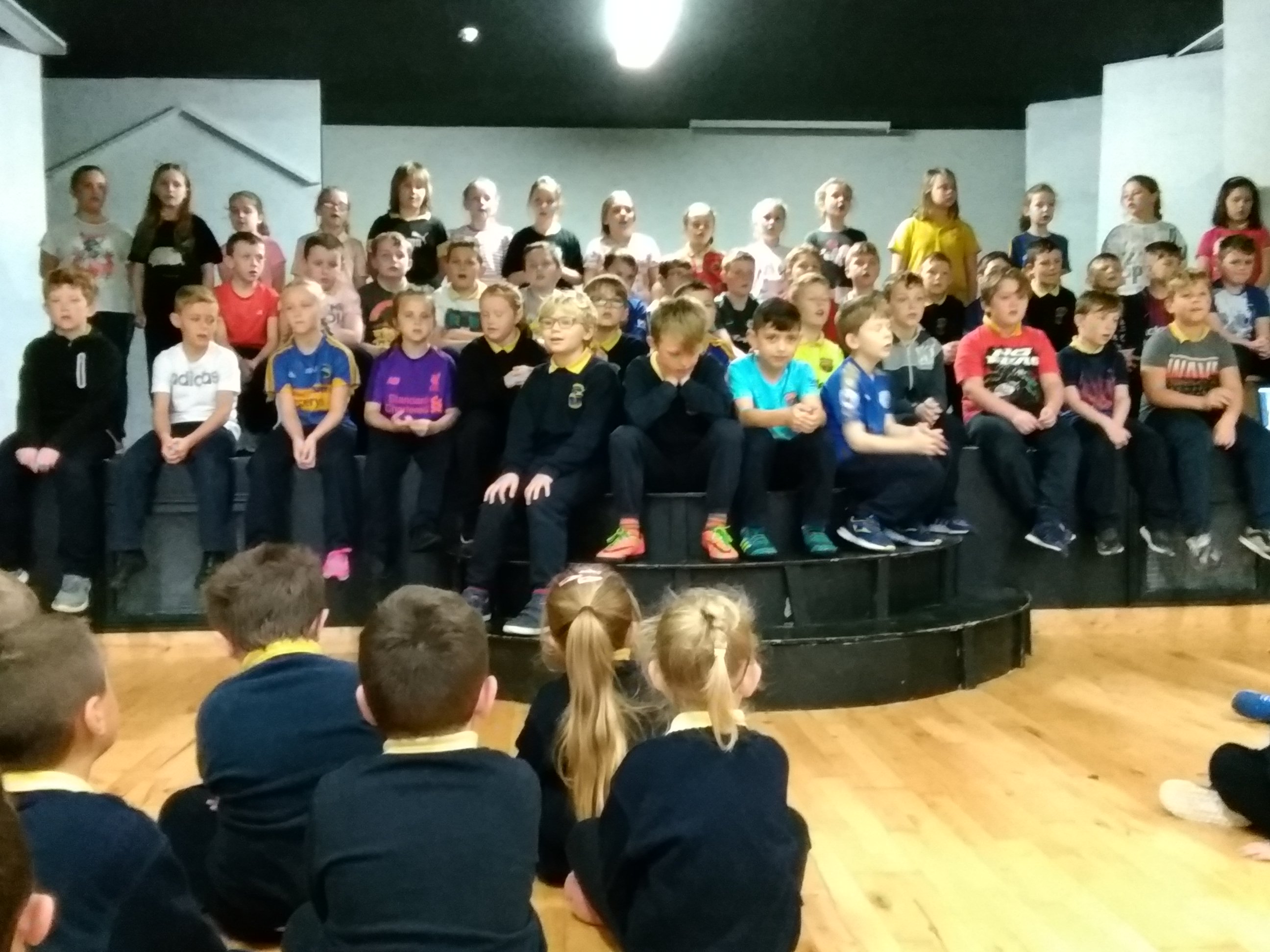 6th Class Blog: as always, our 6th class students continue to blog about the weekly shenanigans that take place in their classroom. Since their last update on this website they have been: water colour painting, Reaching for the Stars, visiting Turkey, creating silhouette art, Late Late Toy Show practicing, and they welcomed the first winner of the Guess What? sweet draw.
To follow this year's 6th class blog – click here
Here are a few photos to give you an idea of what they have been blogging about…..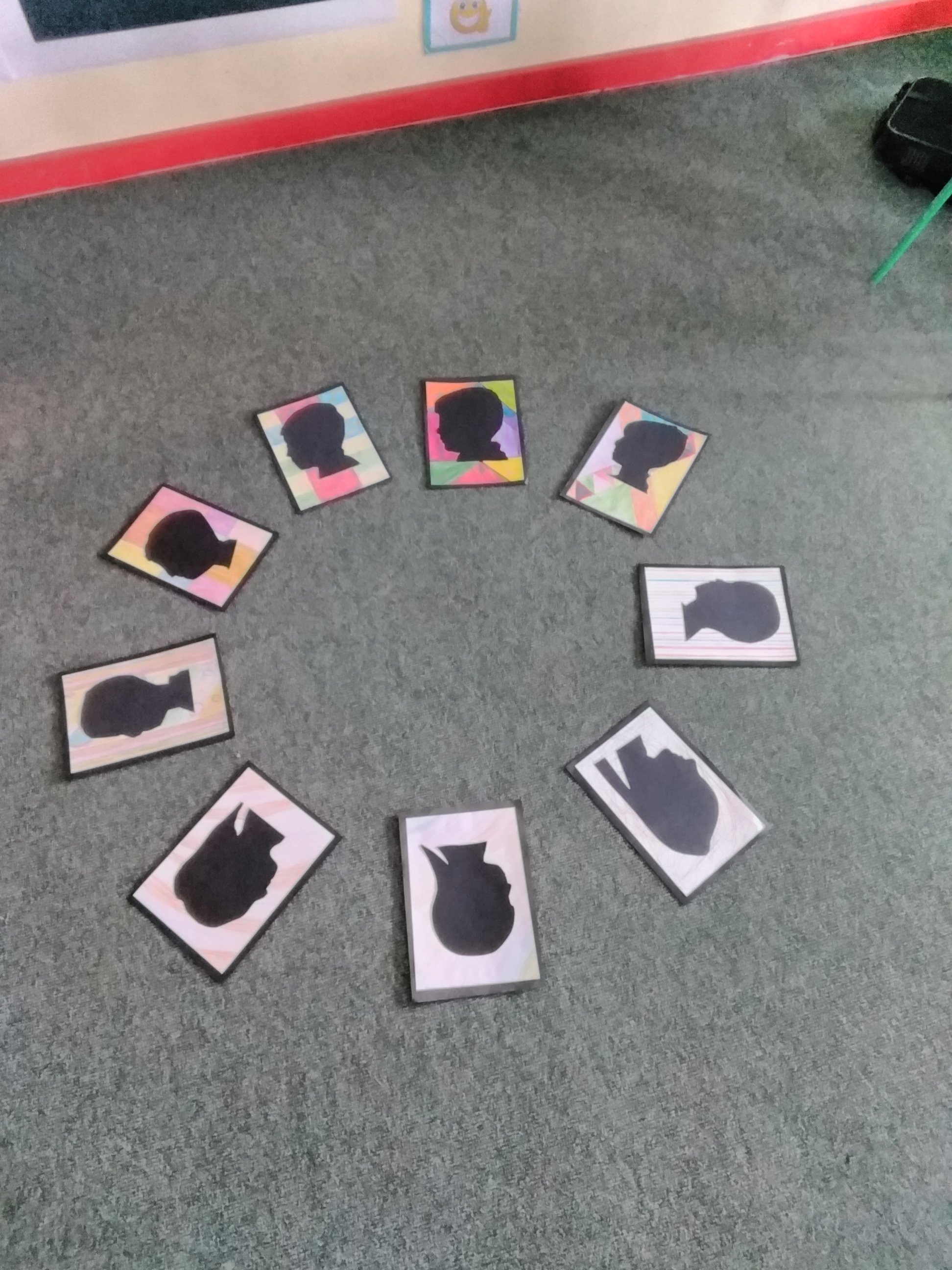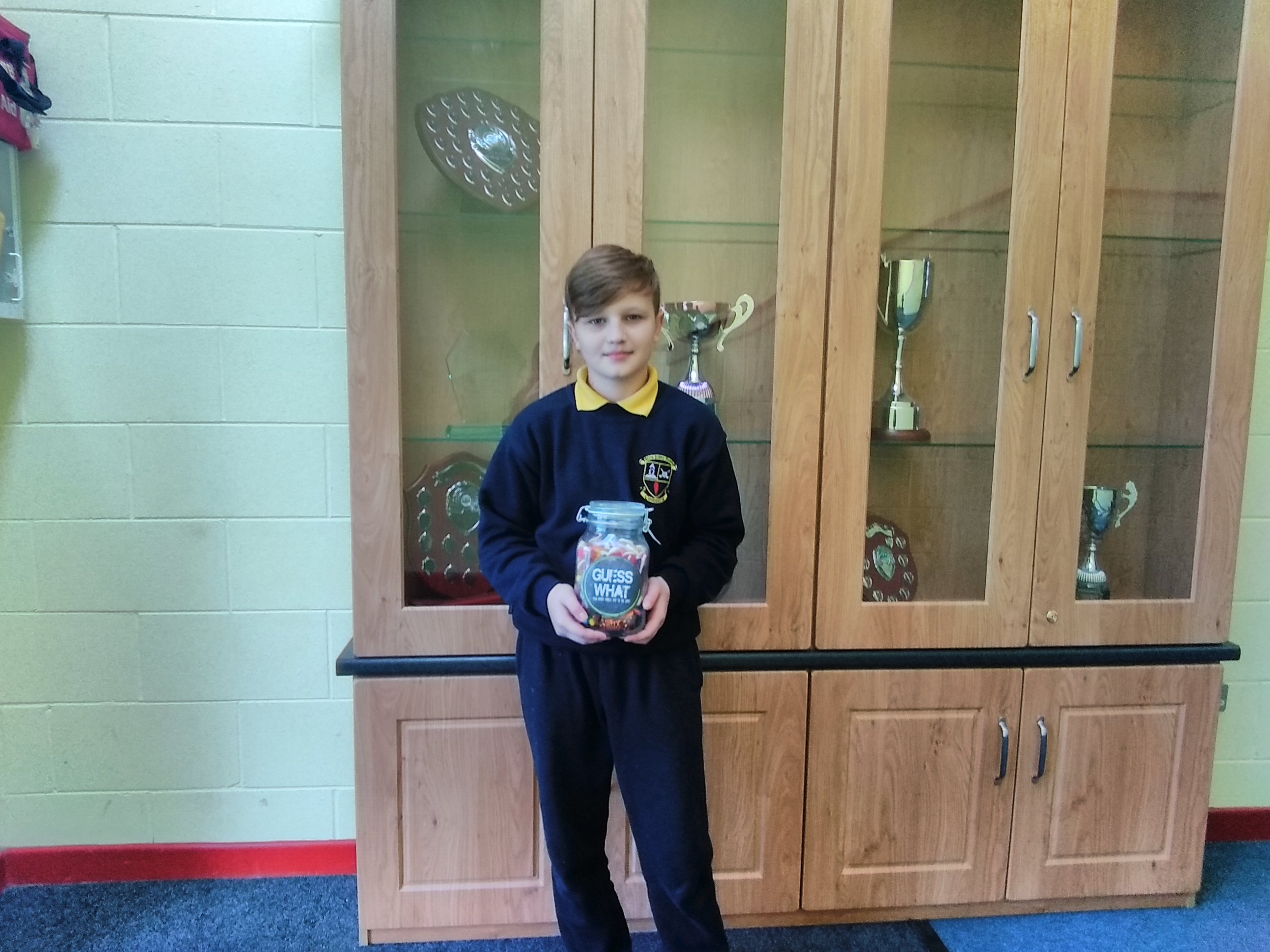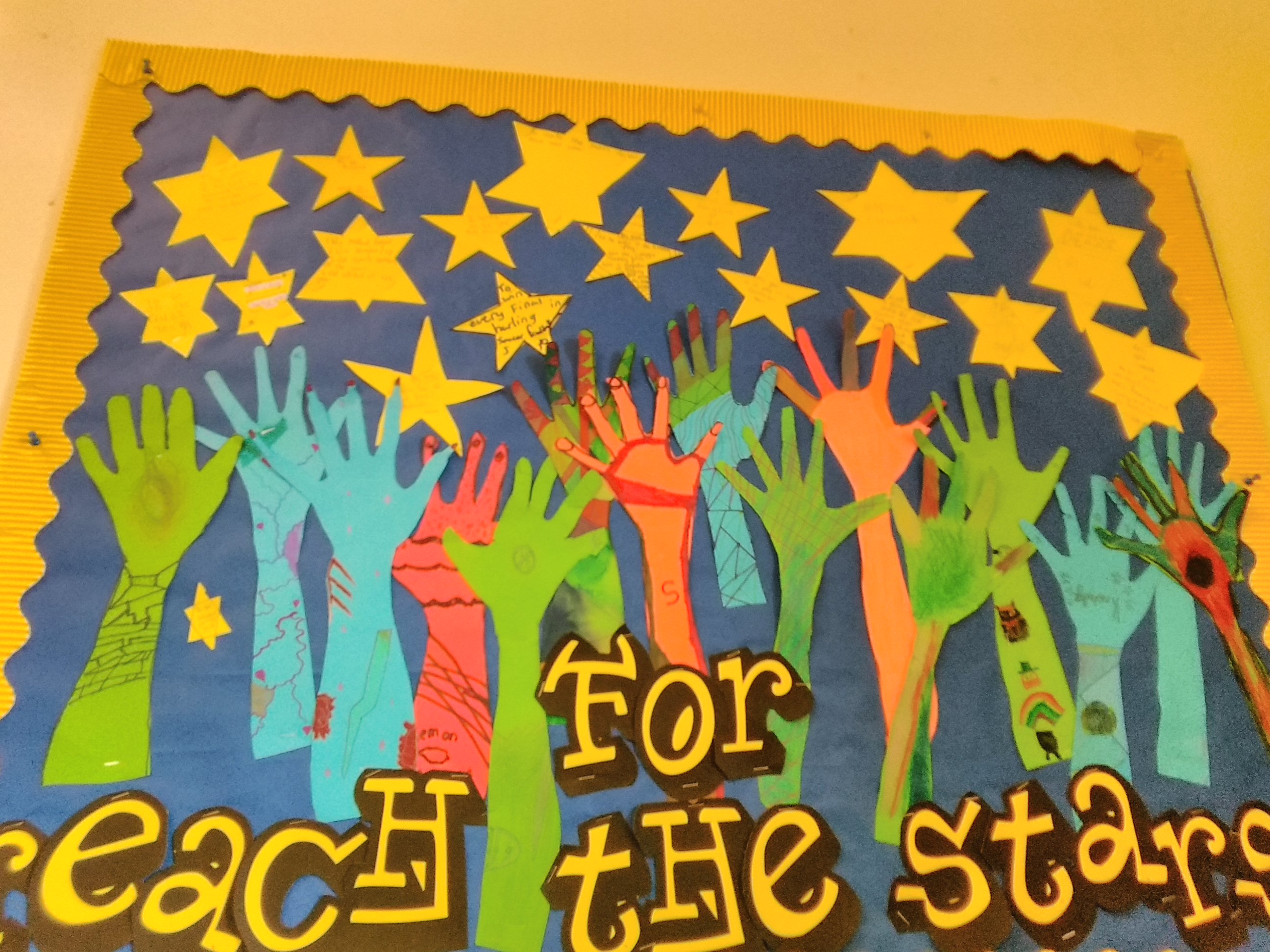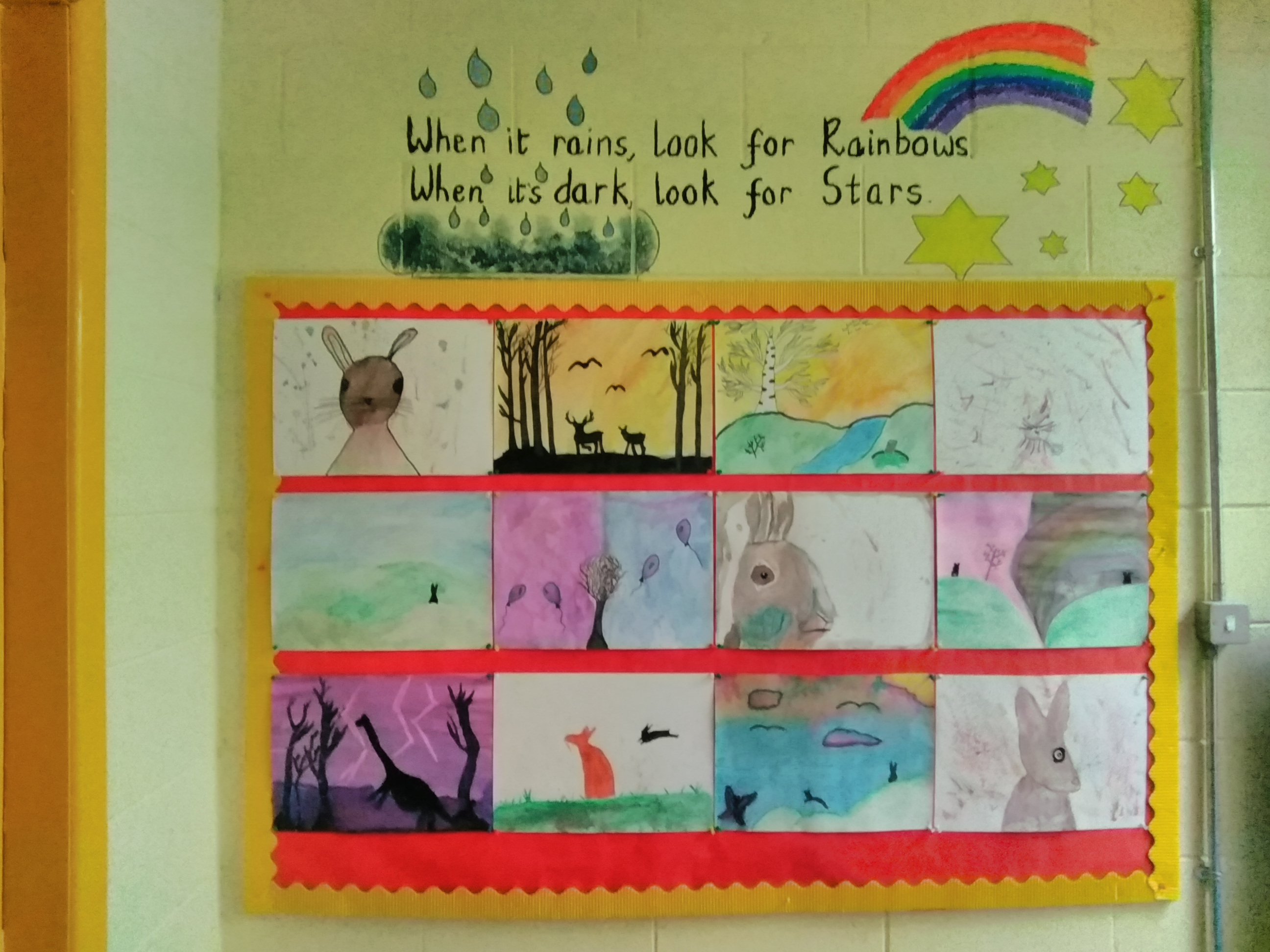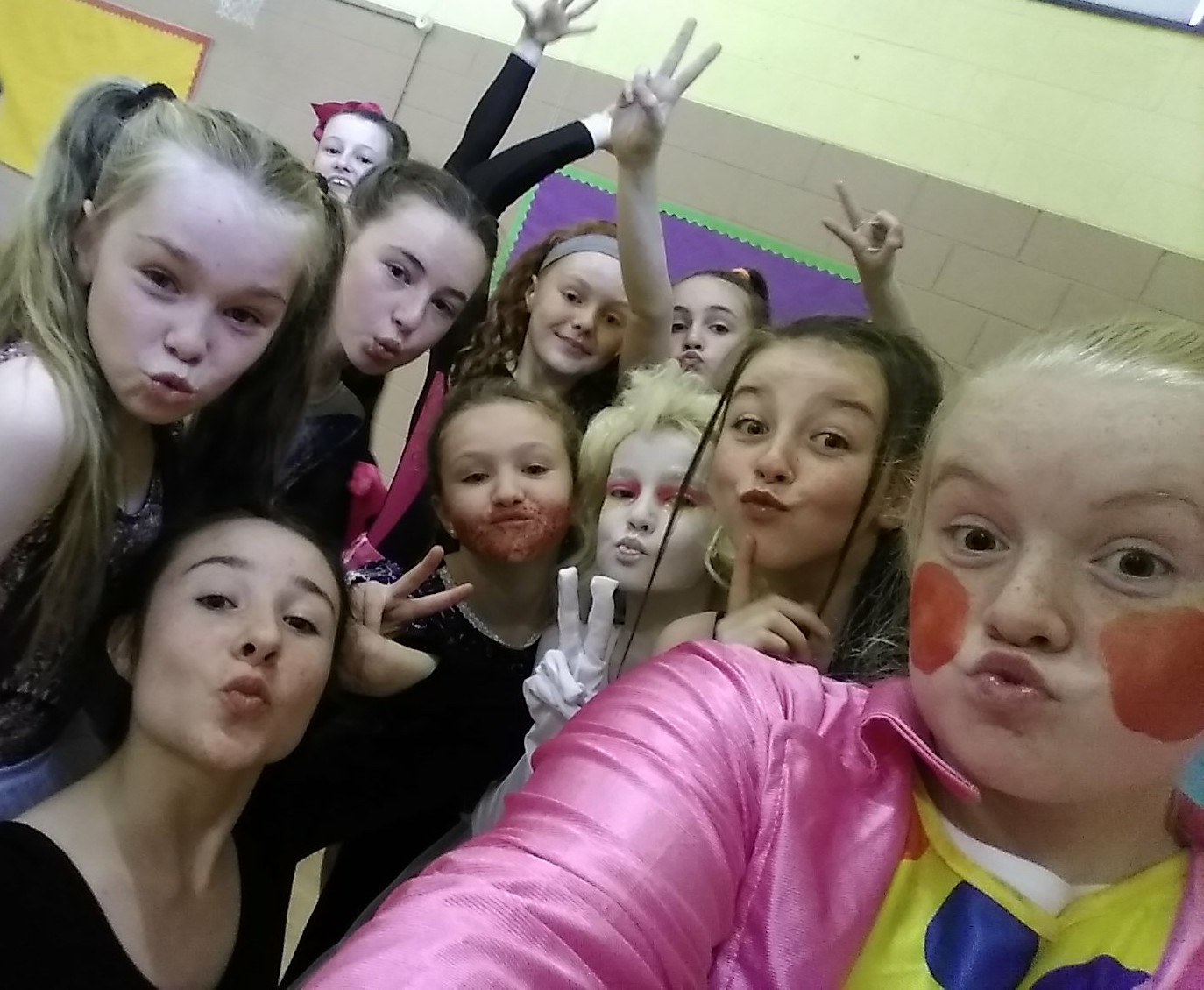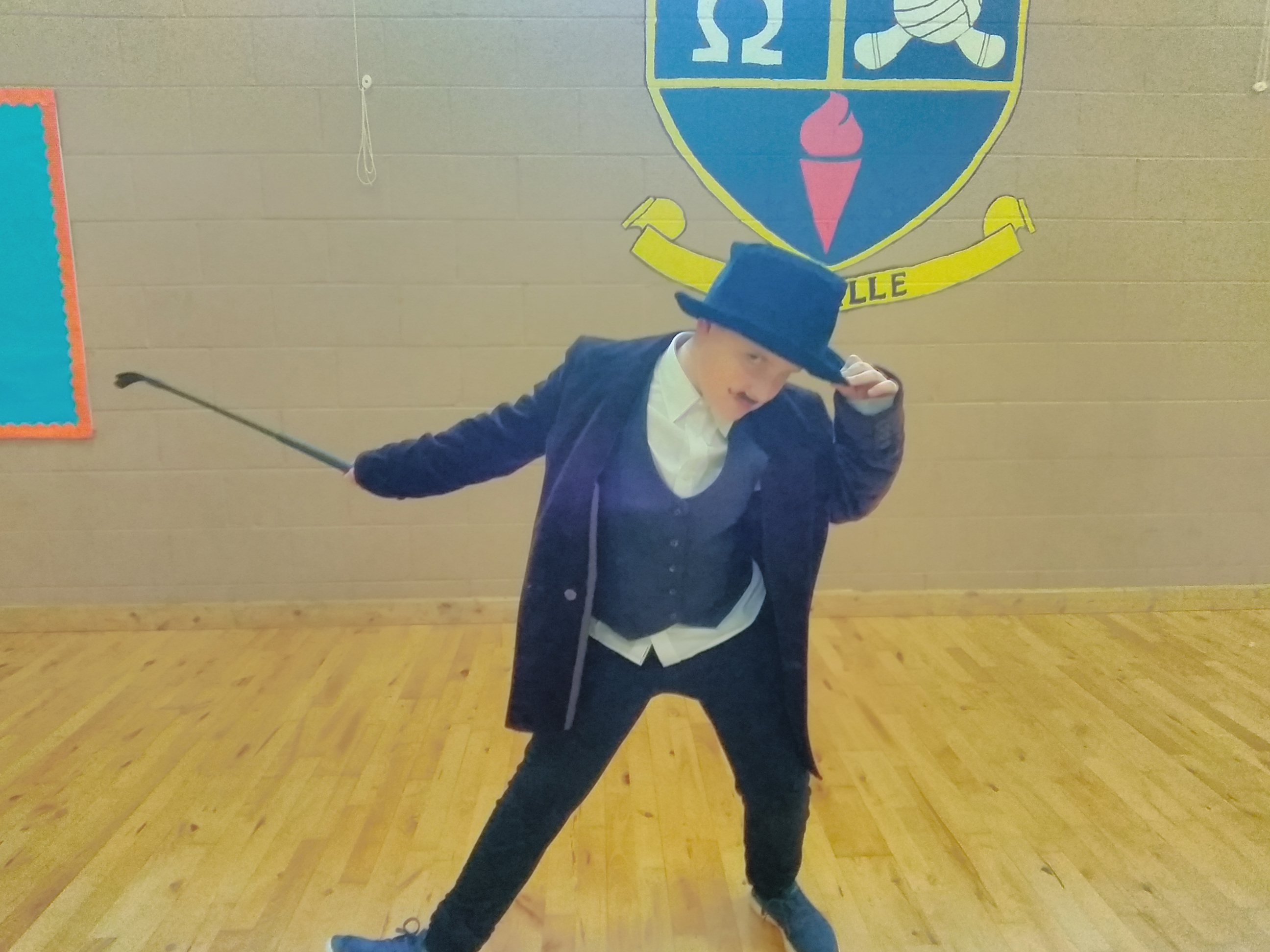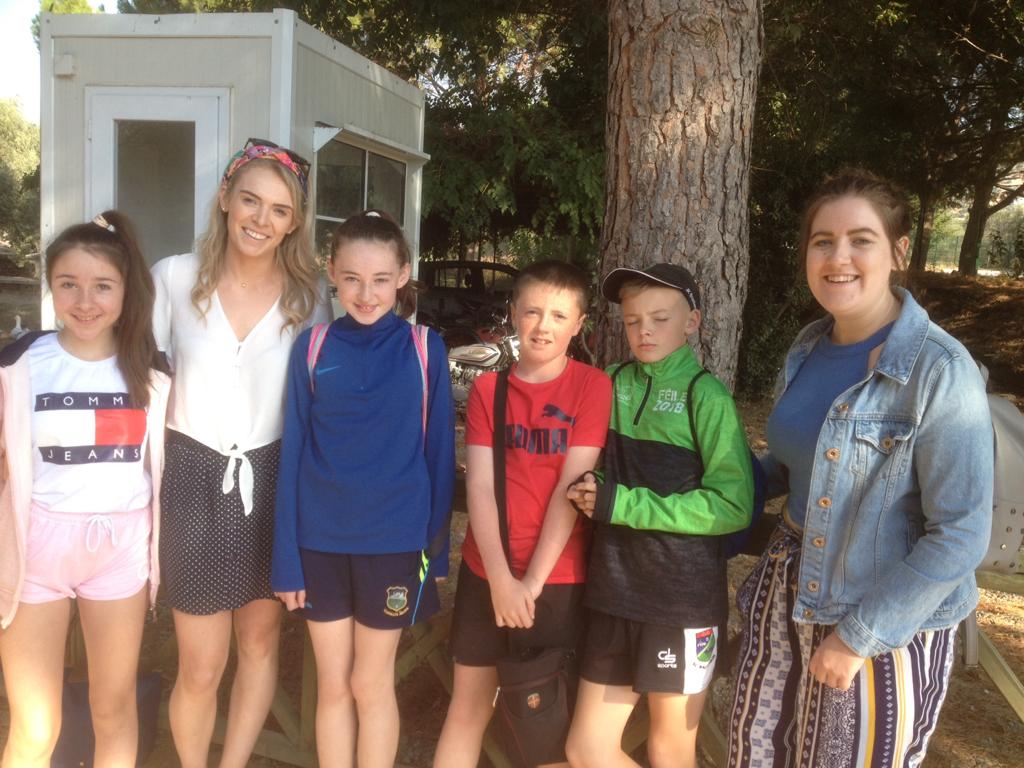 More photos from around the school…………..
Getting Ready for Halloween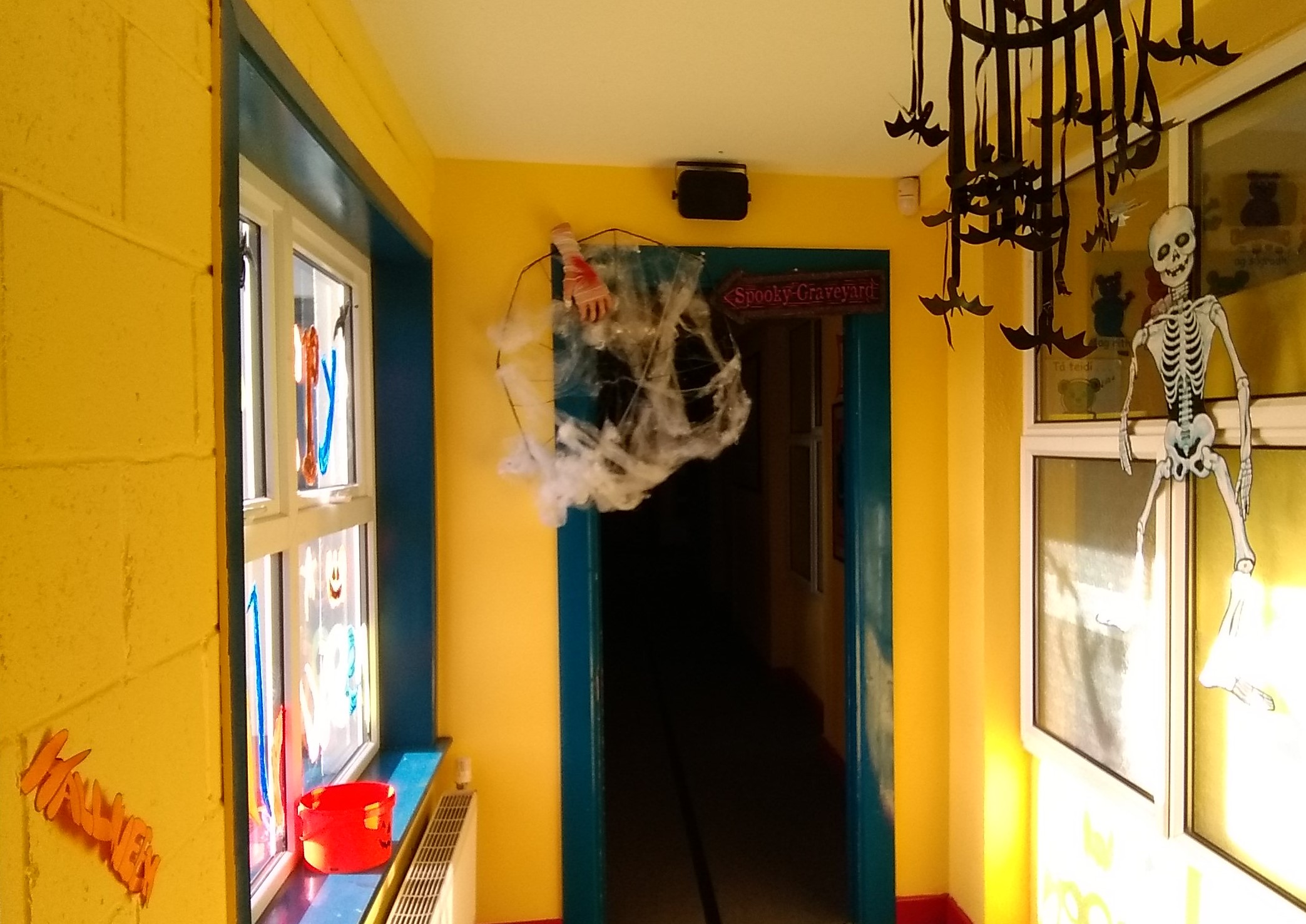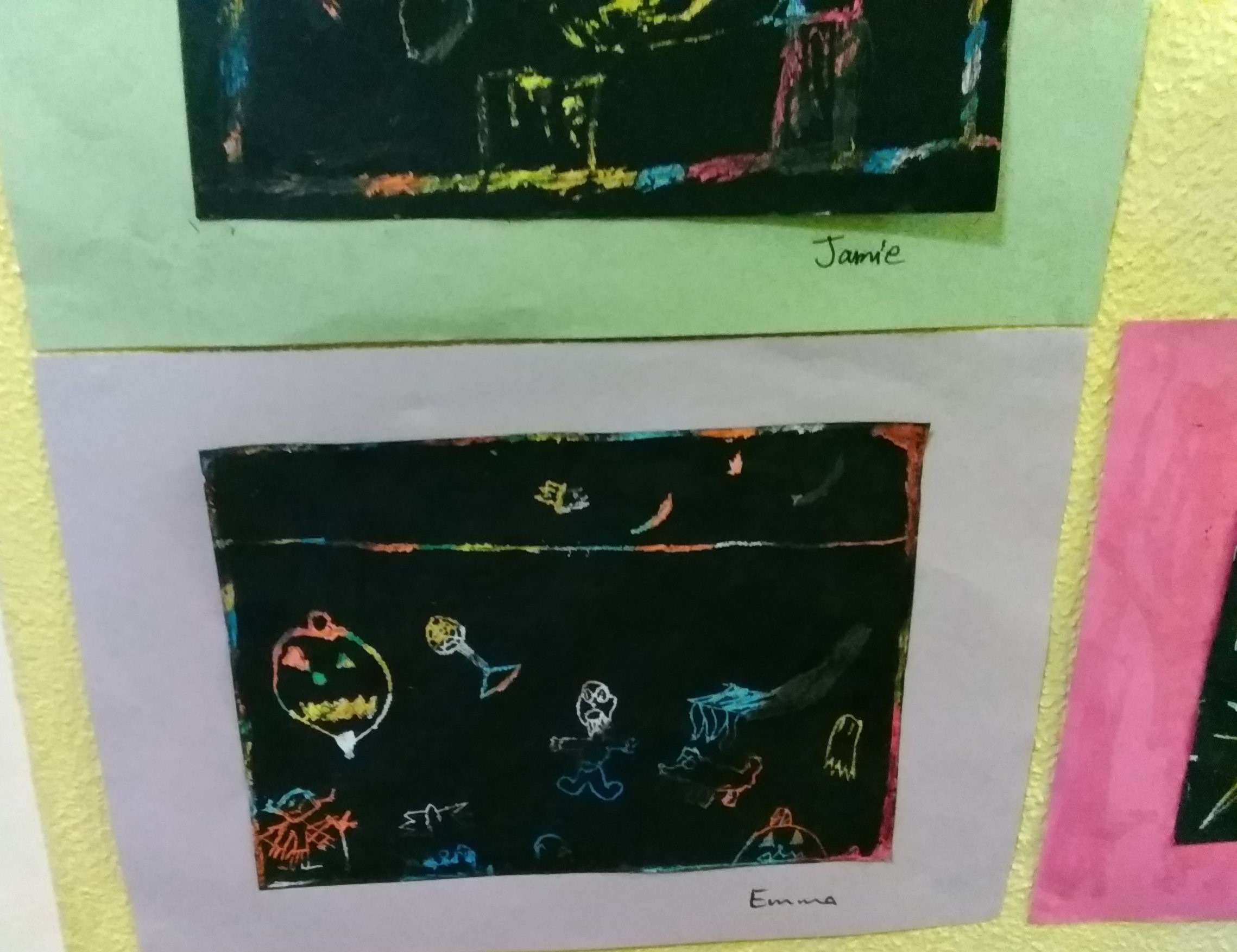 Junior Infants in the garden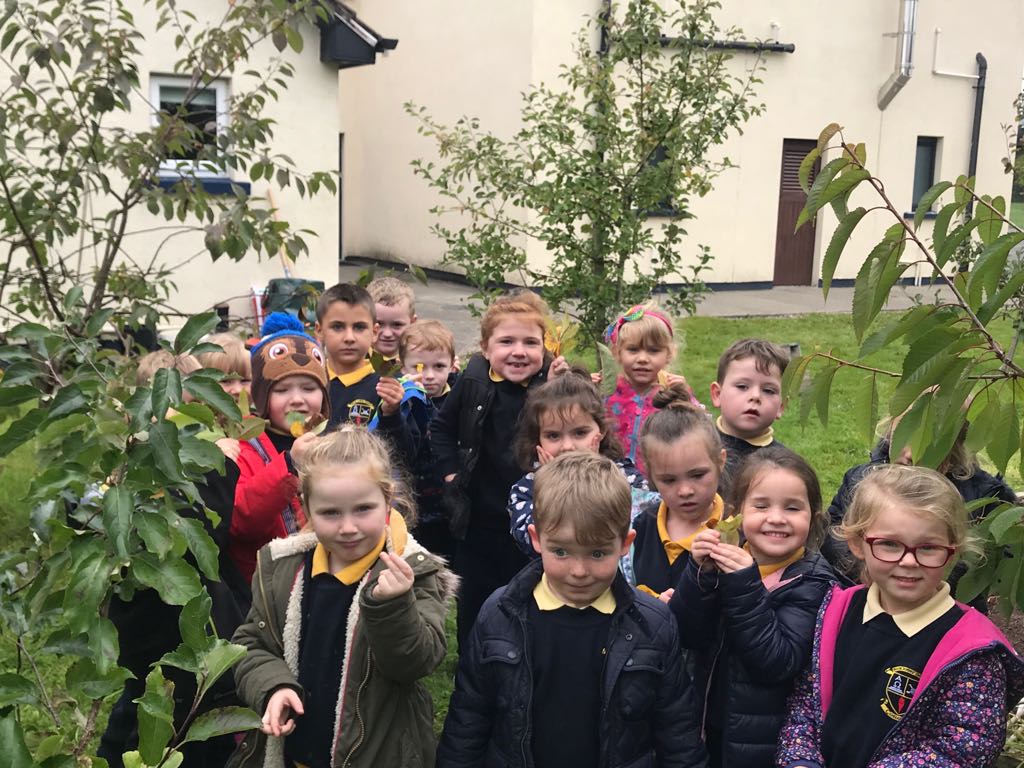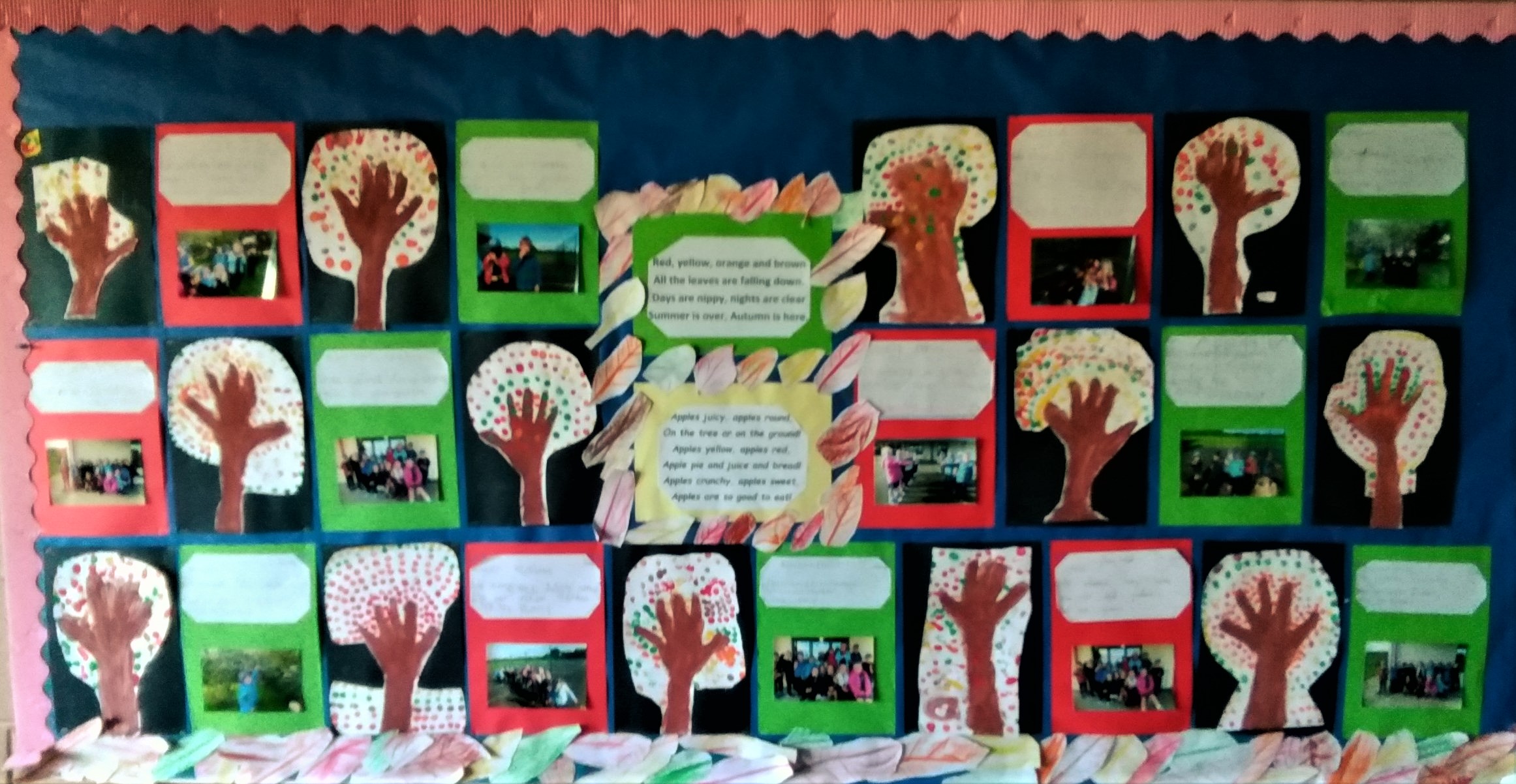 Junior Infants at the library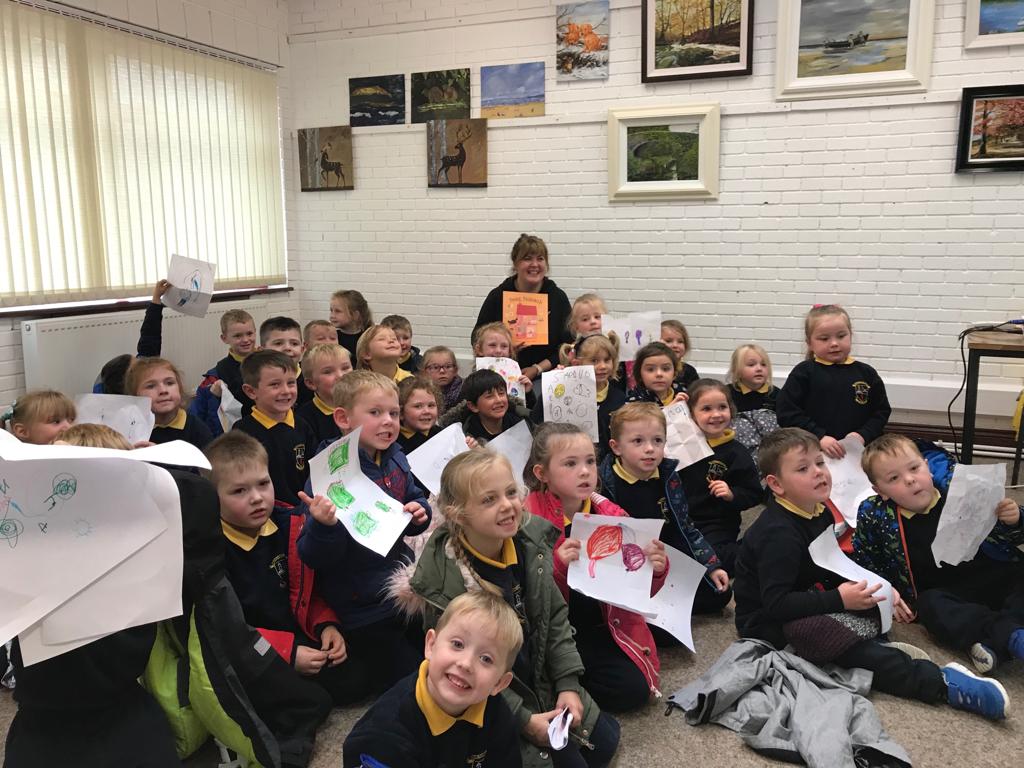 Irish Station teaching in 3rd class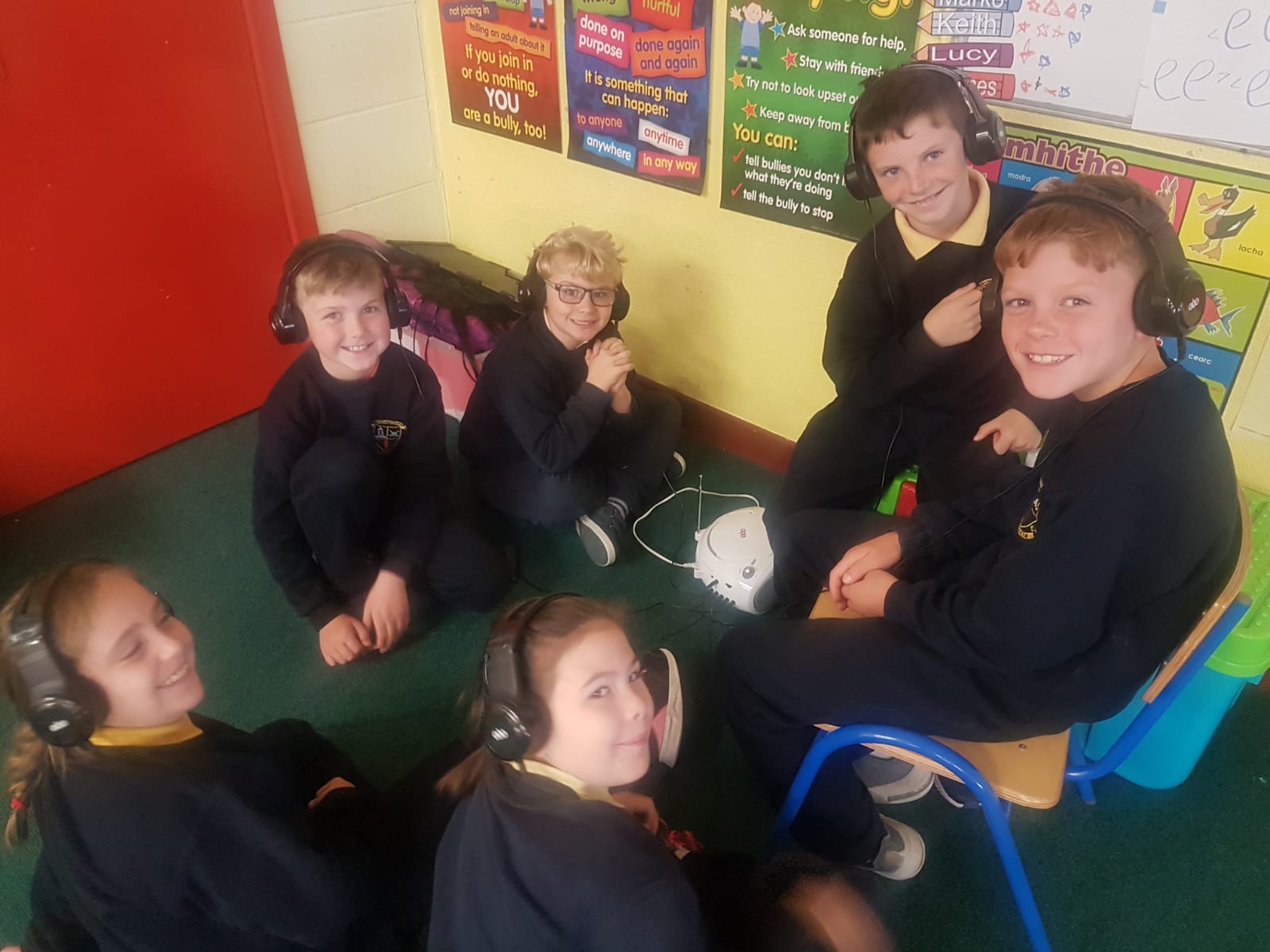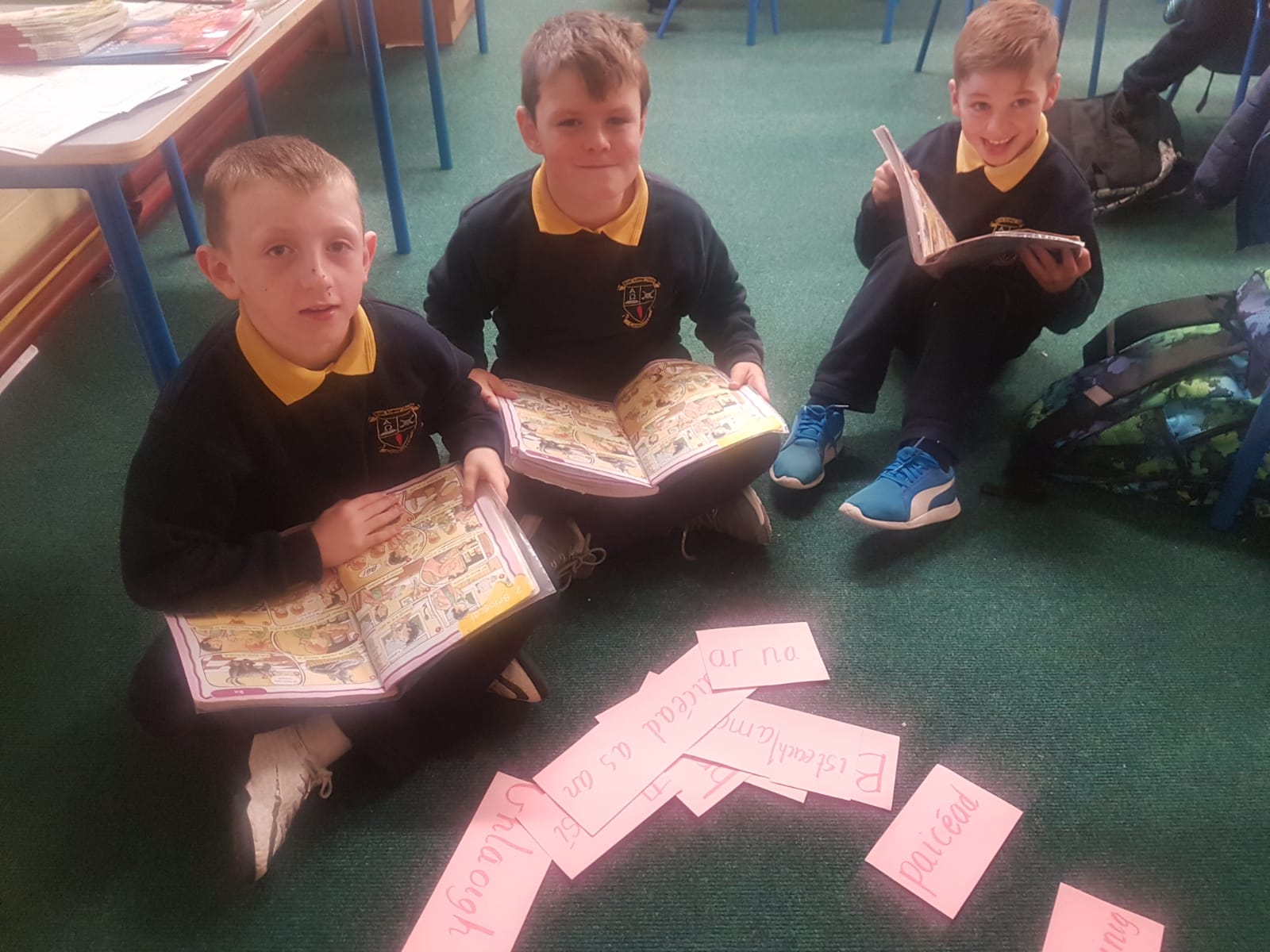 Getting our Credit Union Art projects ready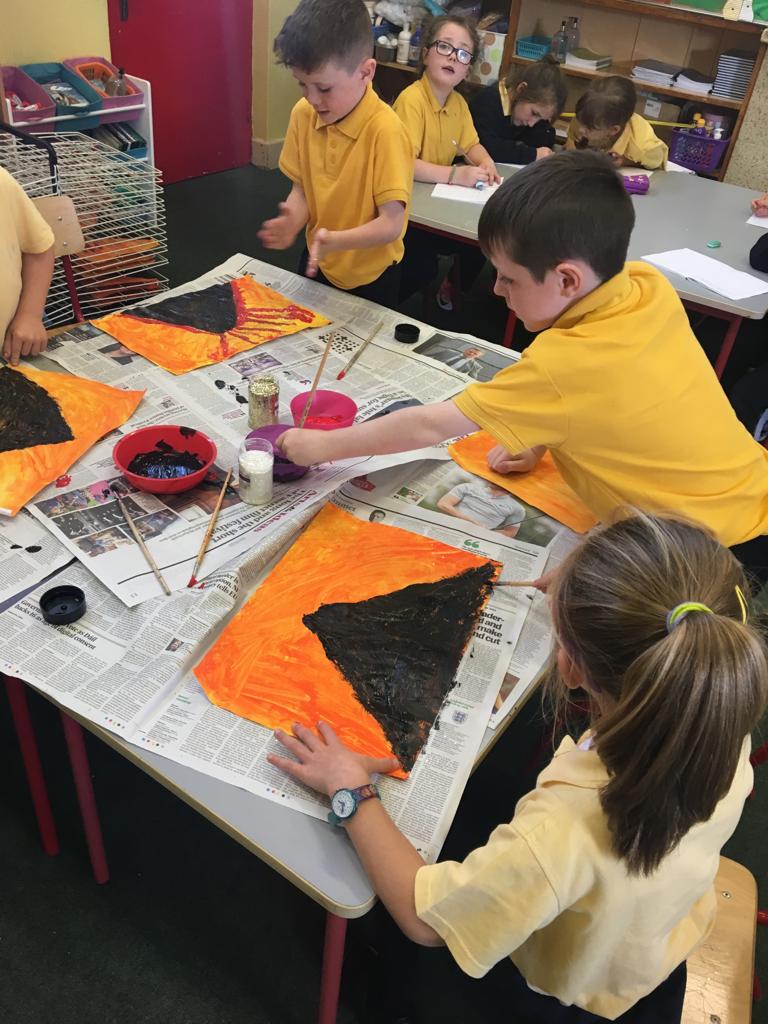 Camogie with Stephan Aherne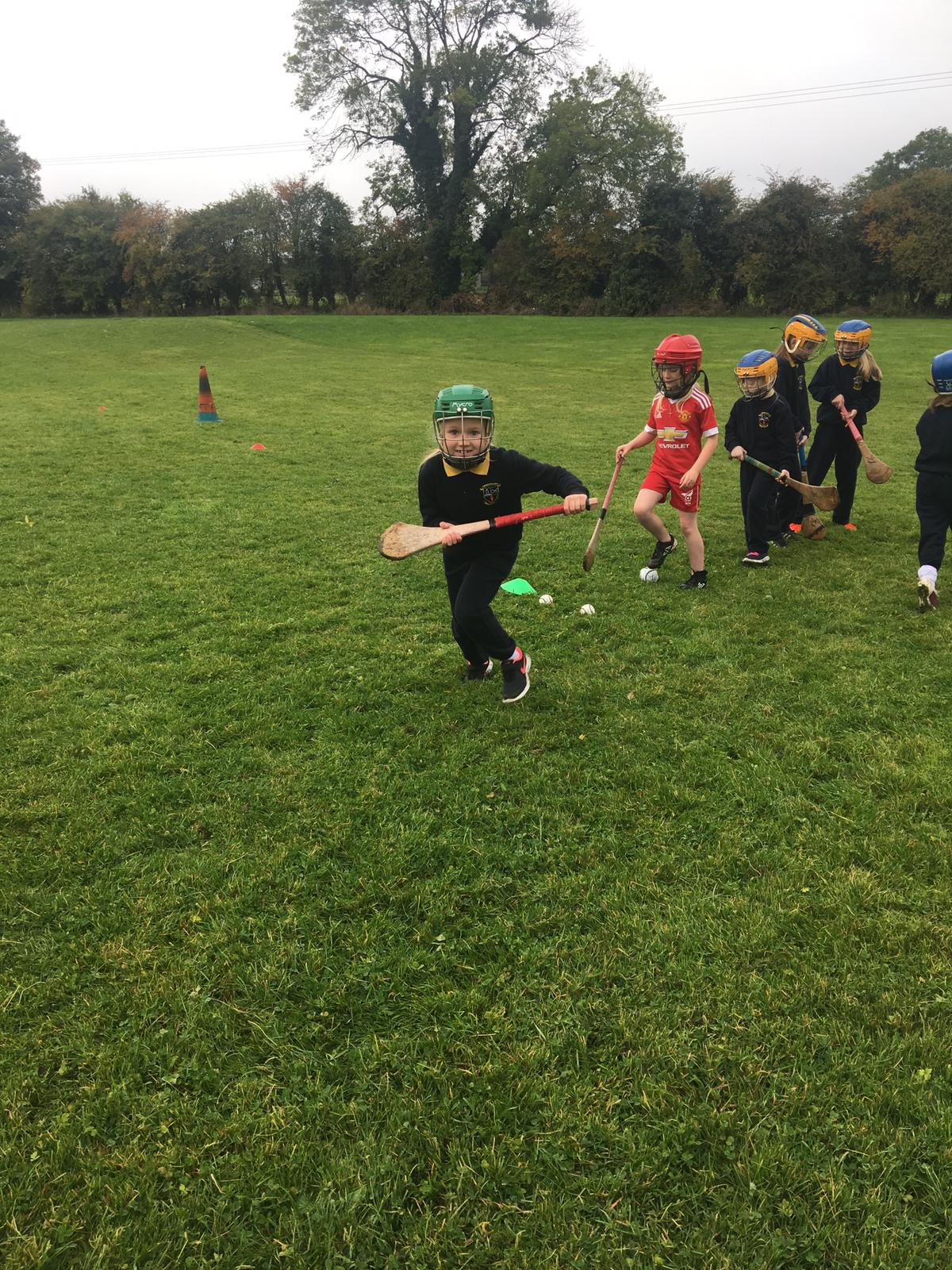 Literacy Lift Off for 1st Class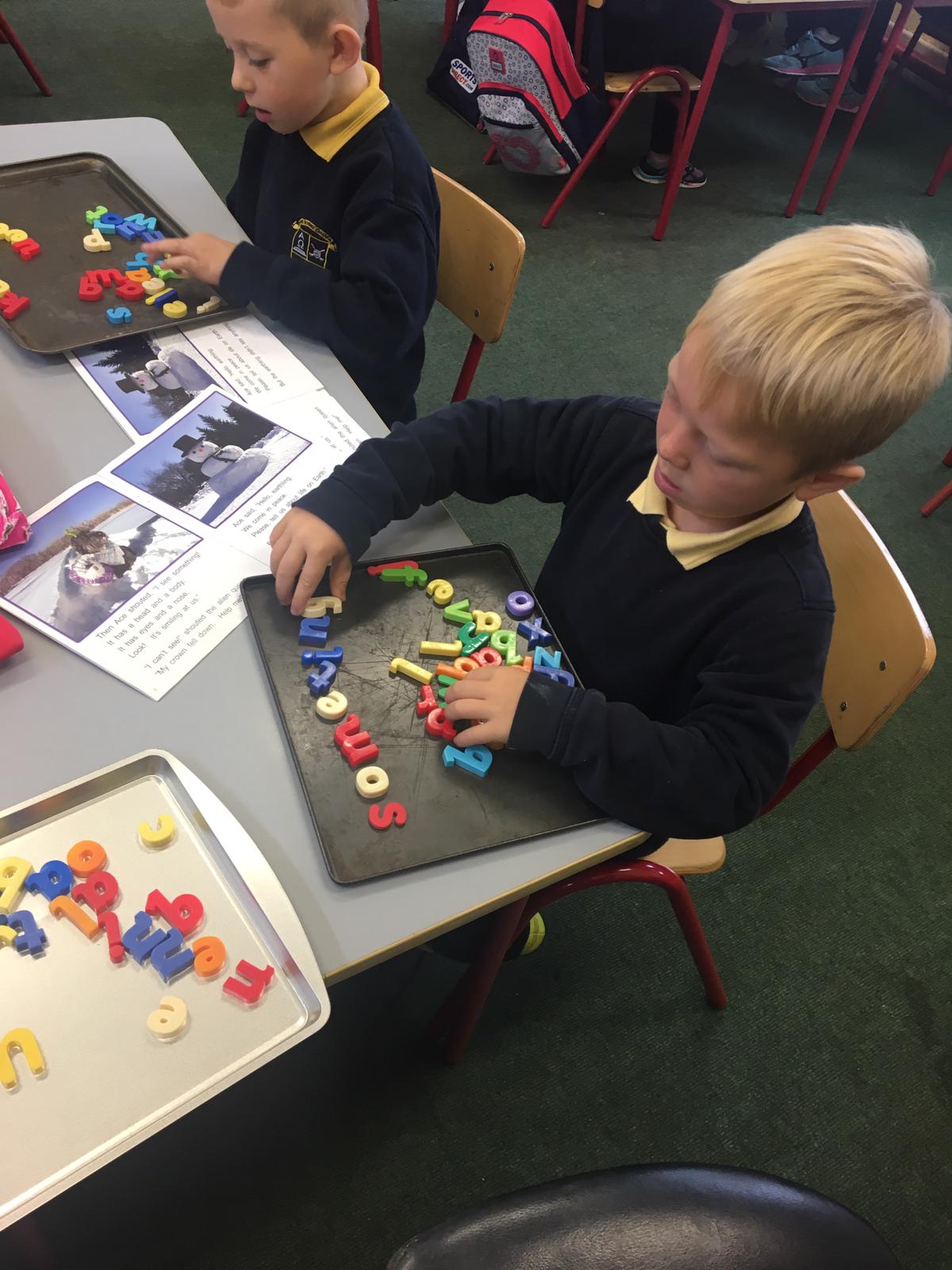 First class enjoying dancing with Claire Nealon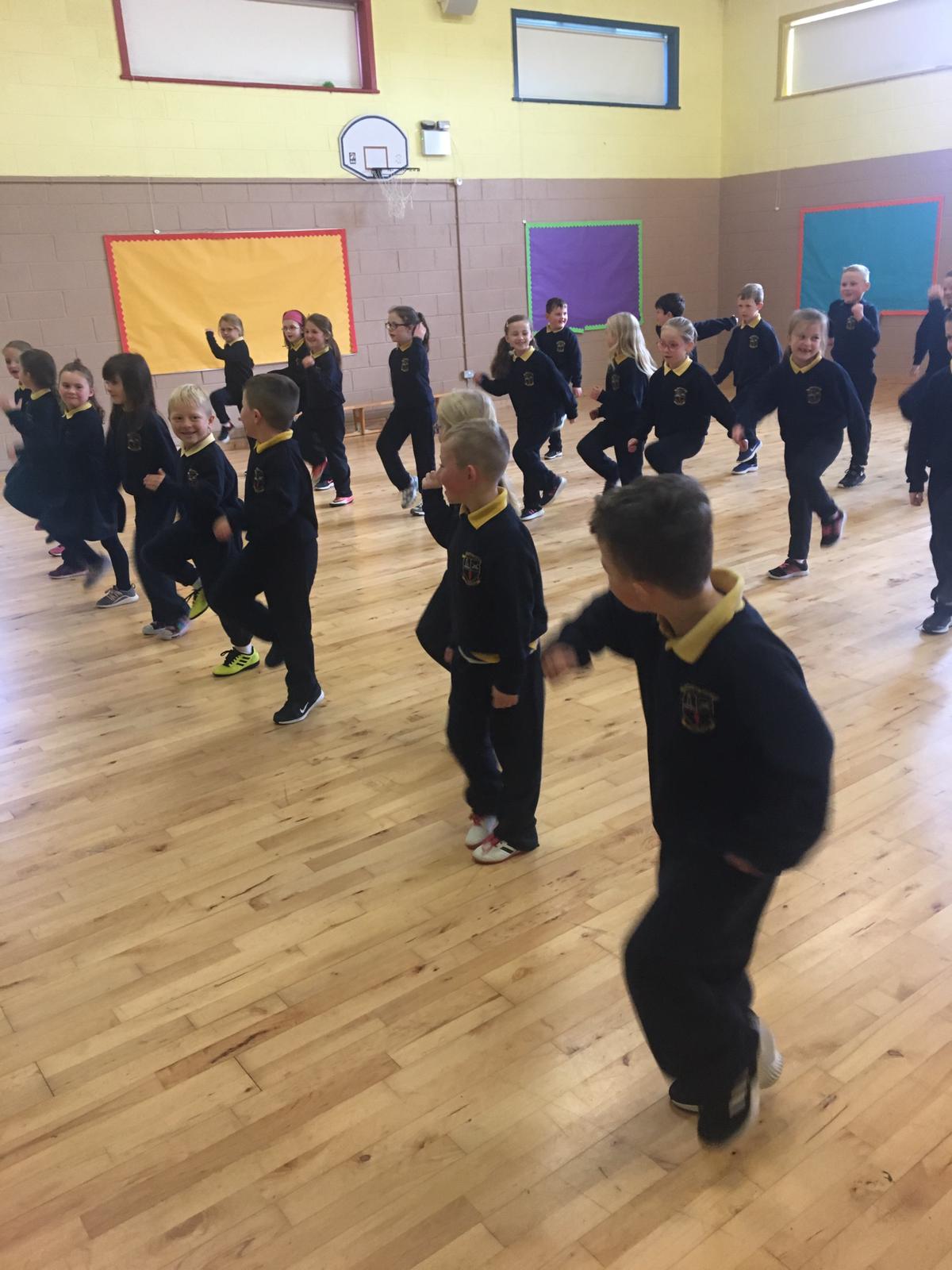 Senior Infants out picking apples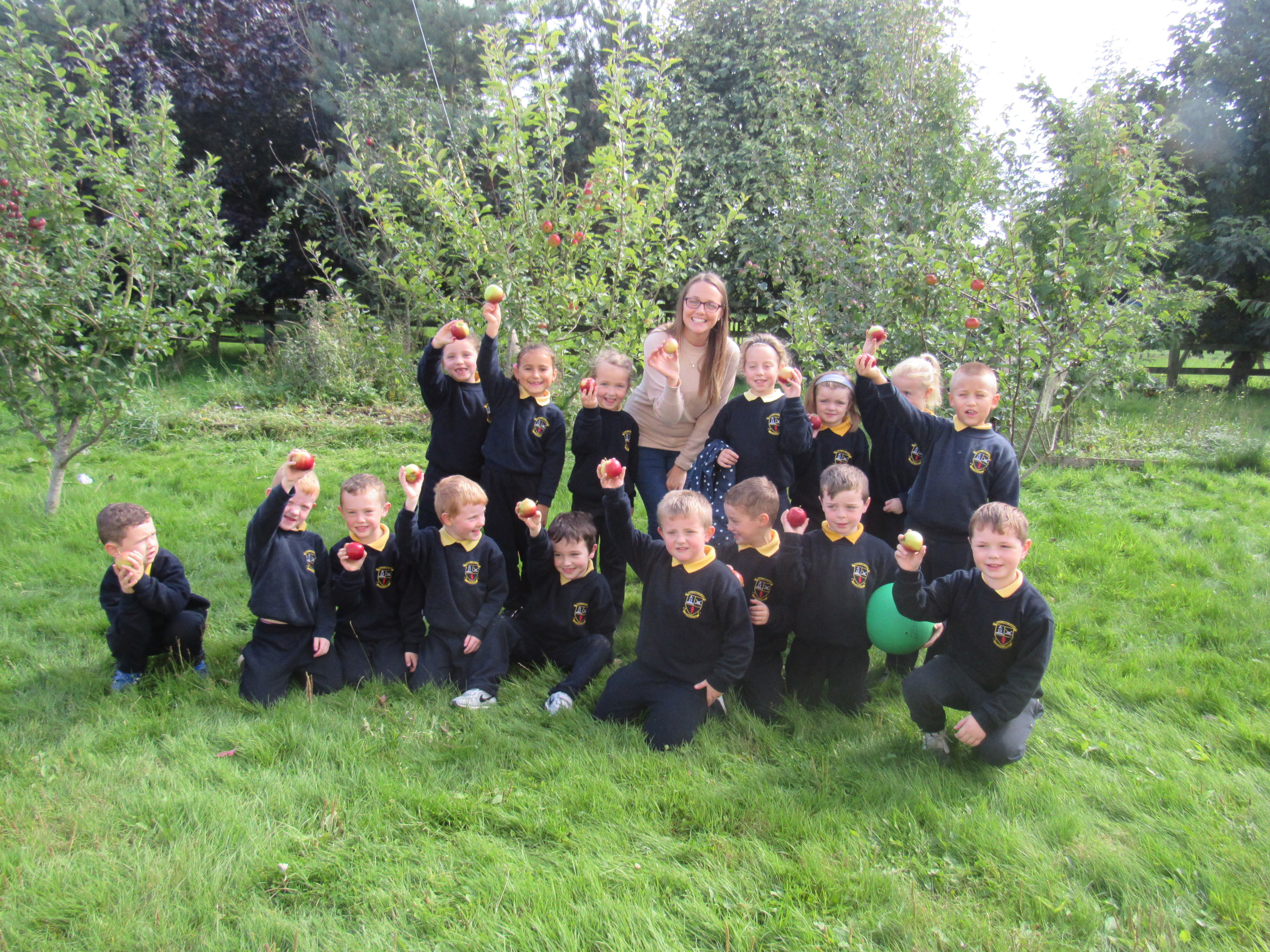 ---
Corville Updates –
24

/

09

/

2018

Term 1 at Corville is well under way at this stage and everyone has settled back into school life very well. It is shaping up to be a big year with students and teachers working hard together to make big things happen! As always the school offers numerous extra curricular activities for the students to partake in and we encourage all our students to take advantage of this. At the moment we have football, soccer, tennis and quiz taking place after school. We now have 3 choirs on the go and our senior students are practicing and auditioning for our upcoming school play – Annie. Our gardening club and dance group are also very popular and with craft clubs, homework club and computer clubs about to start up soon, if you can't find a club in Corville to suit your interests then you just aren't looking hard enough! Here is what has been going on in the school so far………

First Assembly in Corville with our new Junior Infants

Facebook: we invite you to pop over to our school Facebook page and give us a like. It is a great way of keeping in touch with what we are doing in school and we typically upload a lot more photos onto that platform.
Link: https://www.facebook.com/CorvilleNS/
Assembly Performance: each week a class gets the chance to perform a song on stage in front of the school at assembly. It is great for the shy students and natural performers alike. So far we have had 6th class and 5th class on stage performing Shotgun by George Ezra and Lost Boy by Ruth B.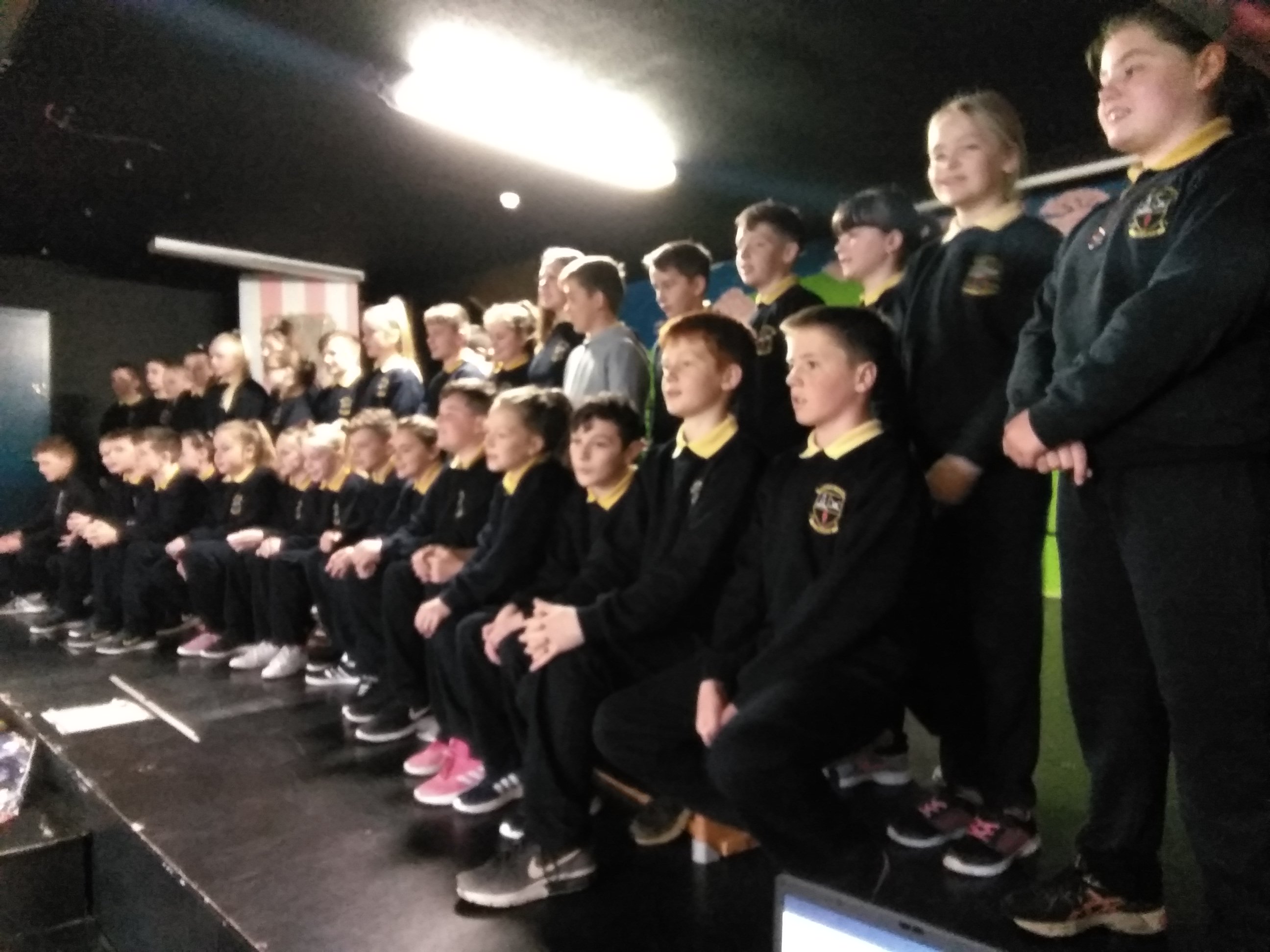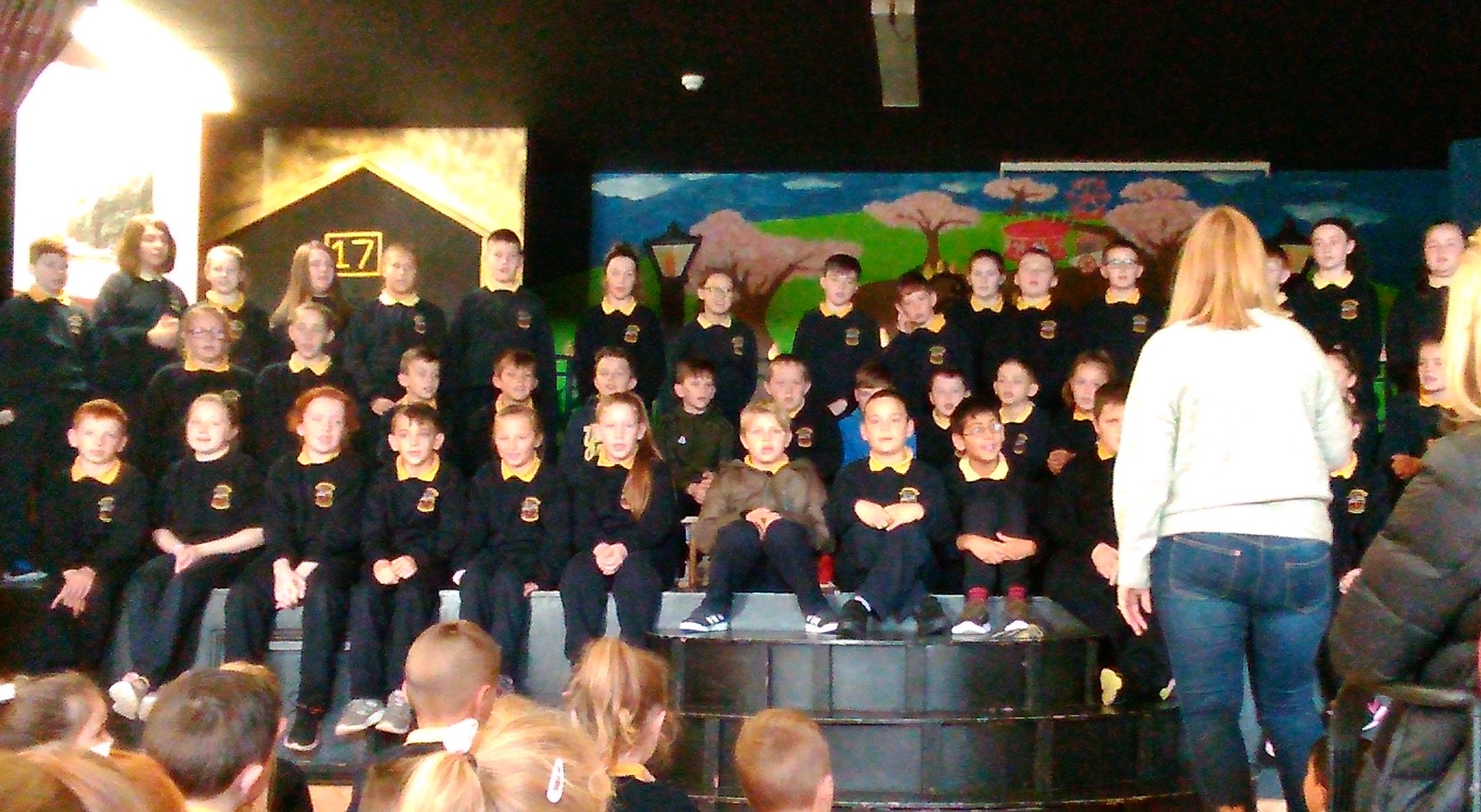 Junior Infants: our junior infants are settling in very well into the school. They are being very brave and their enthusiastic, little smiles are brightening up the corridor every morning. They are loving Buddy Reading which started this week; this involves 6th class students partnering up with junior infants to help them with their reading. Aistear and art lessons are two other favourites of theirs. We have uploaded lots more photos to our school Facebook page > www.facebook.com/CorvilleNS/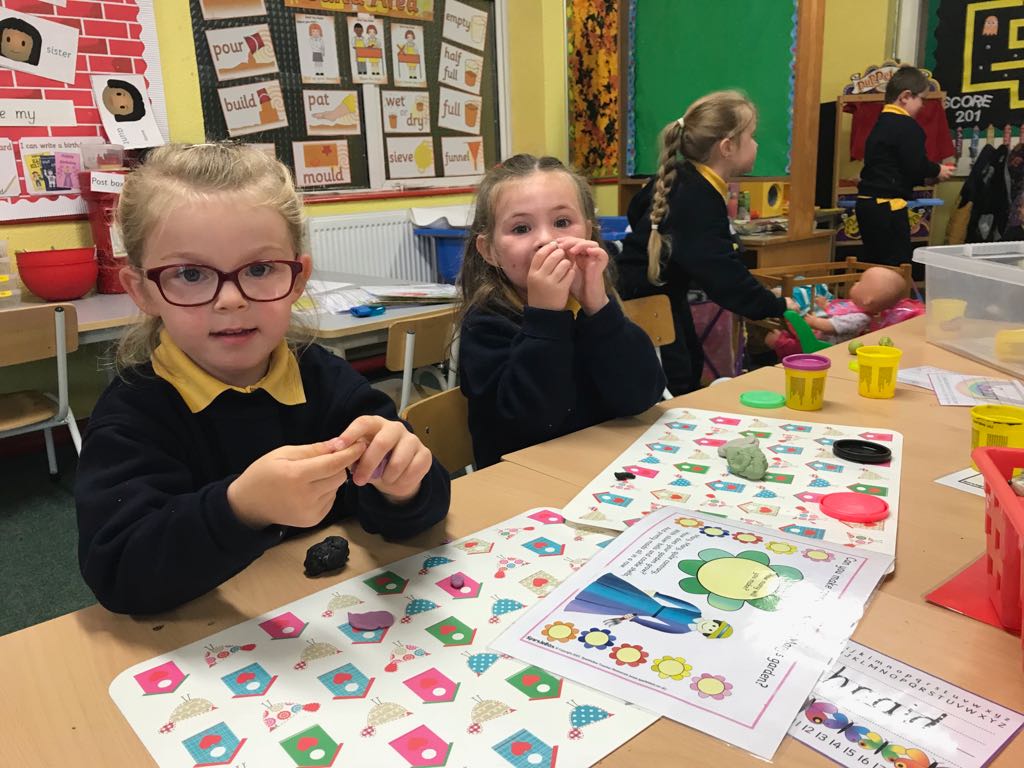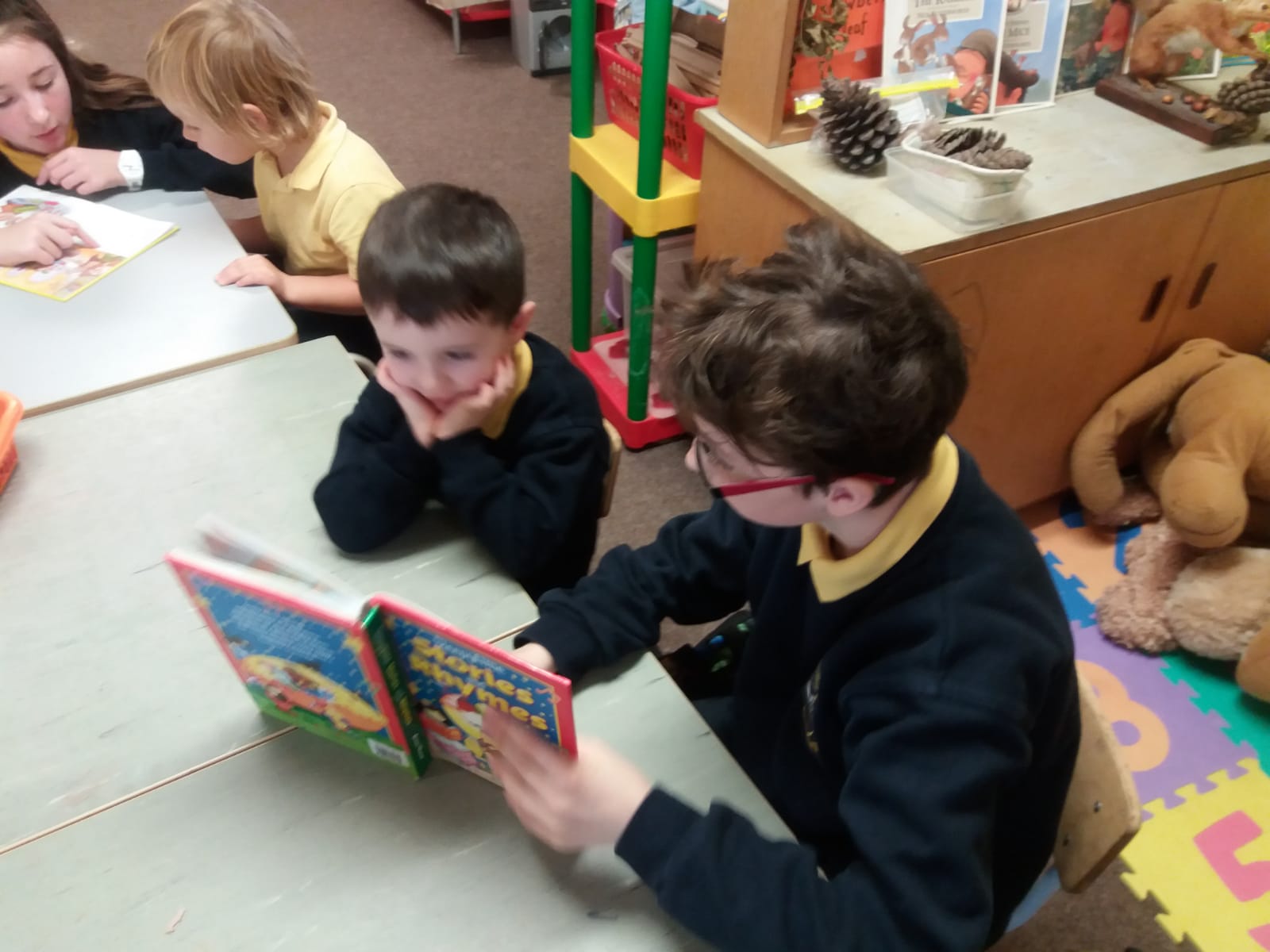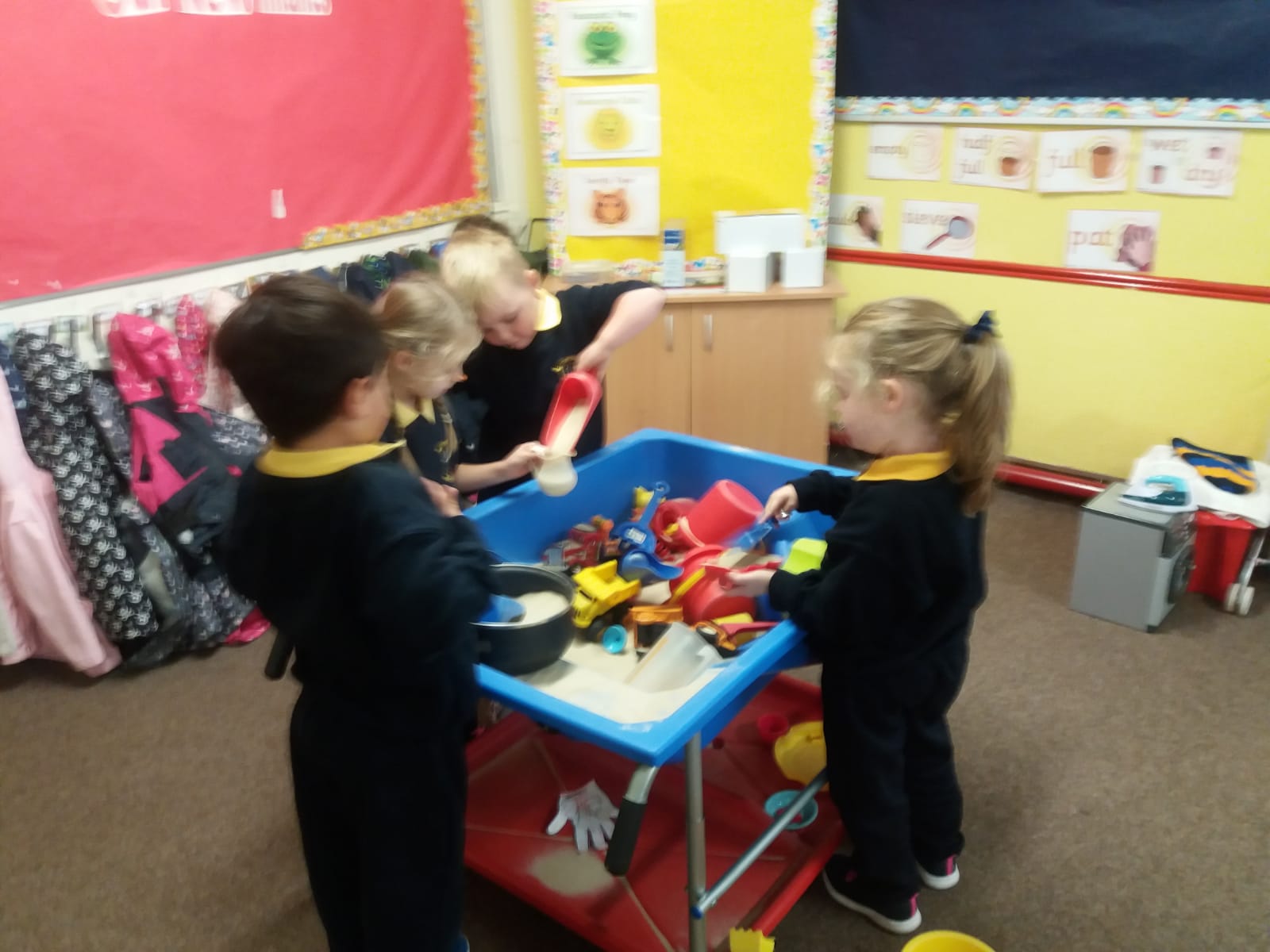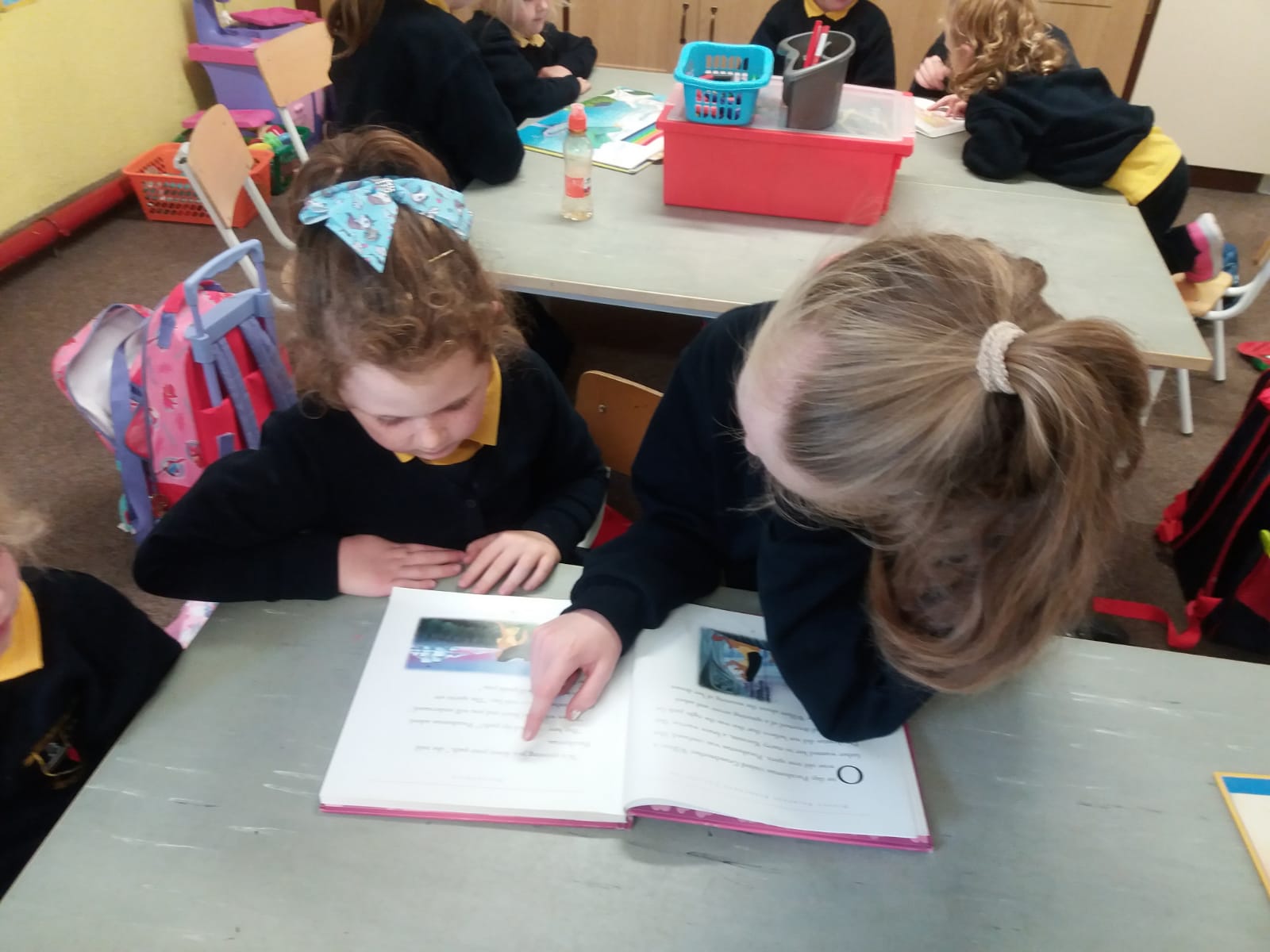 Confirmation: the date and time for Confirmation has been set. It will take place on Saturday, March 16th at 11:00 and Bishop Fintan will be in attendance.
School Play: this year's school play will be Annie and it is the turn of our senior classes to tread the boards. With classic songs like Tomorrow and Hard Knock Life we are sure that this year's show will be very enjoyable for both those taking part and the expected sell out audience. Currently auditions are being held in school and we hear from Ms. Frawley and Ms. O'Connell that the standard is exceptionally high this year. Best of luck to all those taking part and we eagerly look forward to seeing the final production at the end of this Term.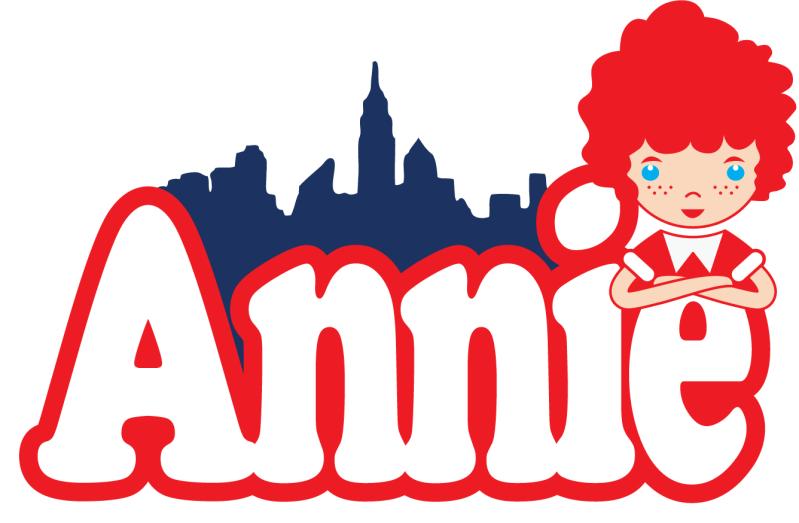 Upcoming competitions:
Football: our girls and boy's football teams are training very hard for their upcoming tournaments which kick off in early October. Attendance has been great so far at training but we can always do with a few more so make sure to encourage your children to stay on after school on Tuesday and Thursdays from 3:00 to 4:00.
Soccer: Also in action soon will be our 3rd/4th class soccer teams. They will be taking part in the FAI Futsal 5 a-side in Killavilla on October 5th. We will be bringing 4 teams to that blitz. Soccer training continues every Monday after school from 3:00 to 4:00.
Credit Union Art Competition: this year the theme for this art competition is 'Force of Nature'. Our classes are busy readying their entries, so fingers crossed they do well.
Battle of the Brains Quiz Competition: the first of our 2 big school-wide quiz competitions has kicked off. The Battle of the Brains takes place over 5 weeks and gives everyone from 4th up to 6th a chance to make our quiz squads which will prepare for the big Credit Union quiz later this week. For the first time we are also running a buzzer competition for 2nd class to generate enthusiasm for joining our quiz teams of the future. That comp. kicks off next week.
Choir: our choir are embarking on a very ambitious programme of events this year. There is so much going on we have had to divide our large choir into 3 separate ones! First up, is our Late Late Toy Show entry which needs to be submitted next week. We wish the choir the best of luck with their entry!
Gardening Club: Ms. Murphy and her fellow gardeners have been busy in our orchard recently. They put the apples we grow to good use by having an Apple Juice sale last Friday. Students in the club picked apples and made their own apple juice and sold it for 20c a glass. They raised 75 Euro for their efforts and plenty of fun while doing it. Well done to all involved!
Our senior infants paid a visit to our garden during the week and put together this lovely display.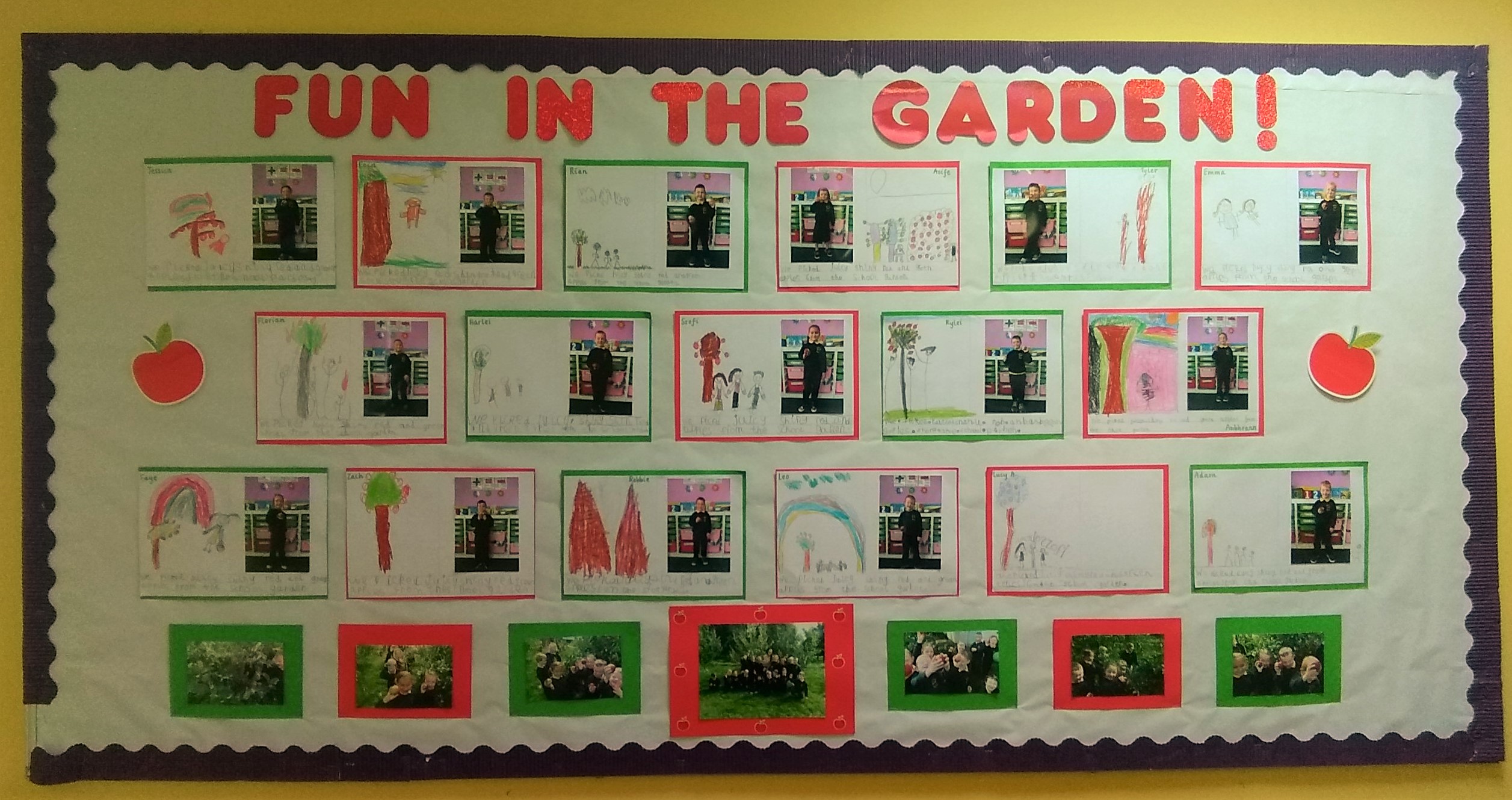 6th Class Blog: 'Out with the old and in with the new' is the title of the first blog post of this year's 6th Class. It signifies the passing of the blogging torch onto the next batch of students coming through the school. Last year's 6th class did a tremendous job detailing their exploits throughout the school year so this year's 6th class have a big job to do. I am sure they will be up to the task!
To follow this year's 6th class blog – click here
Here are a few photos to give you an idea of what they have been blogging about…..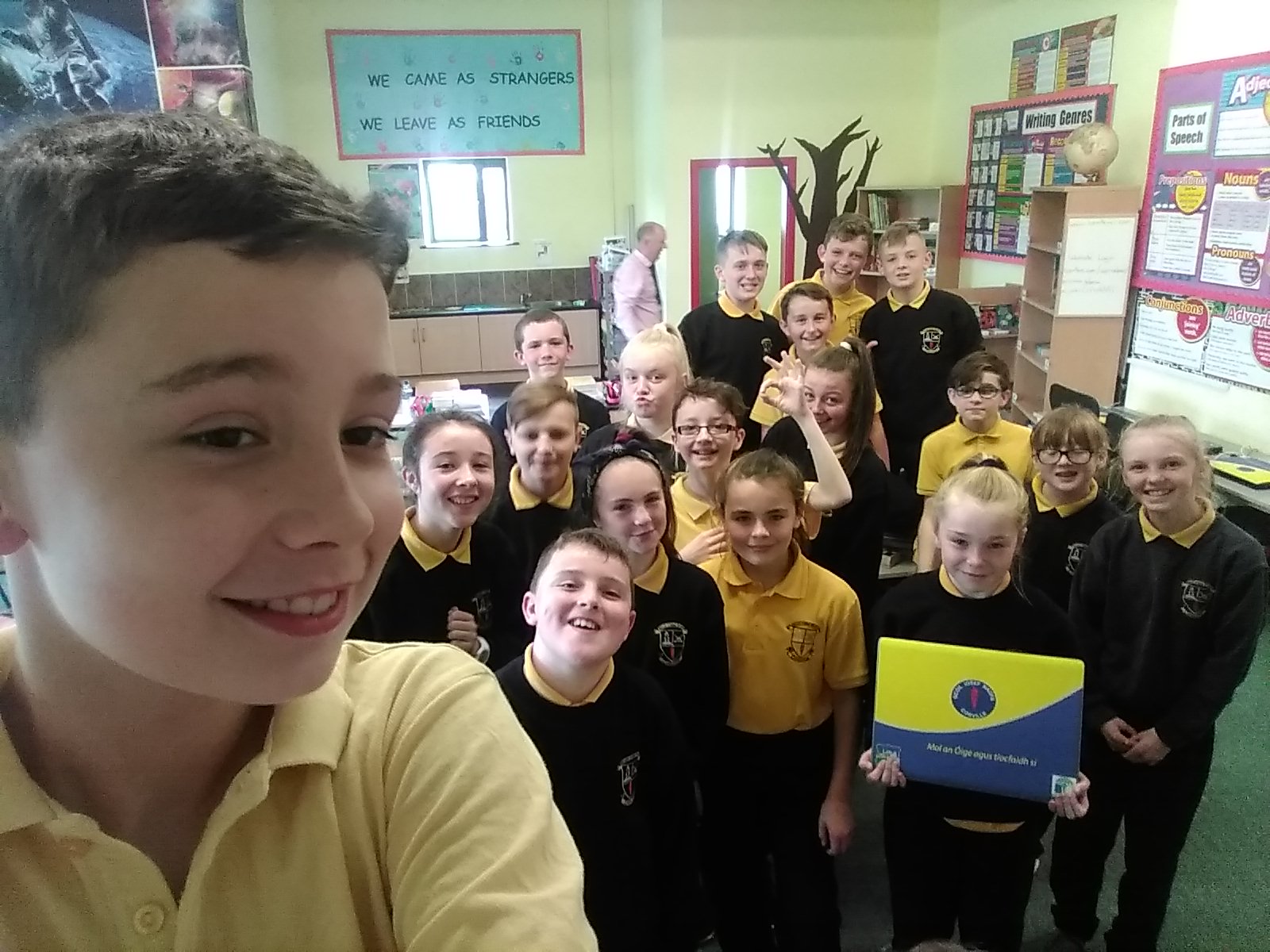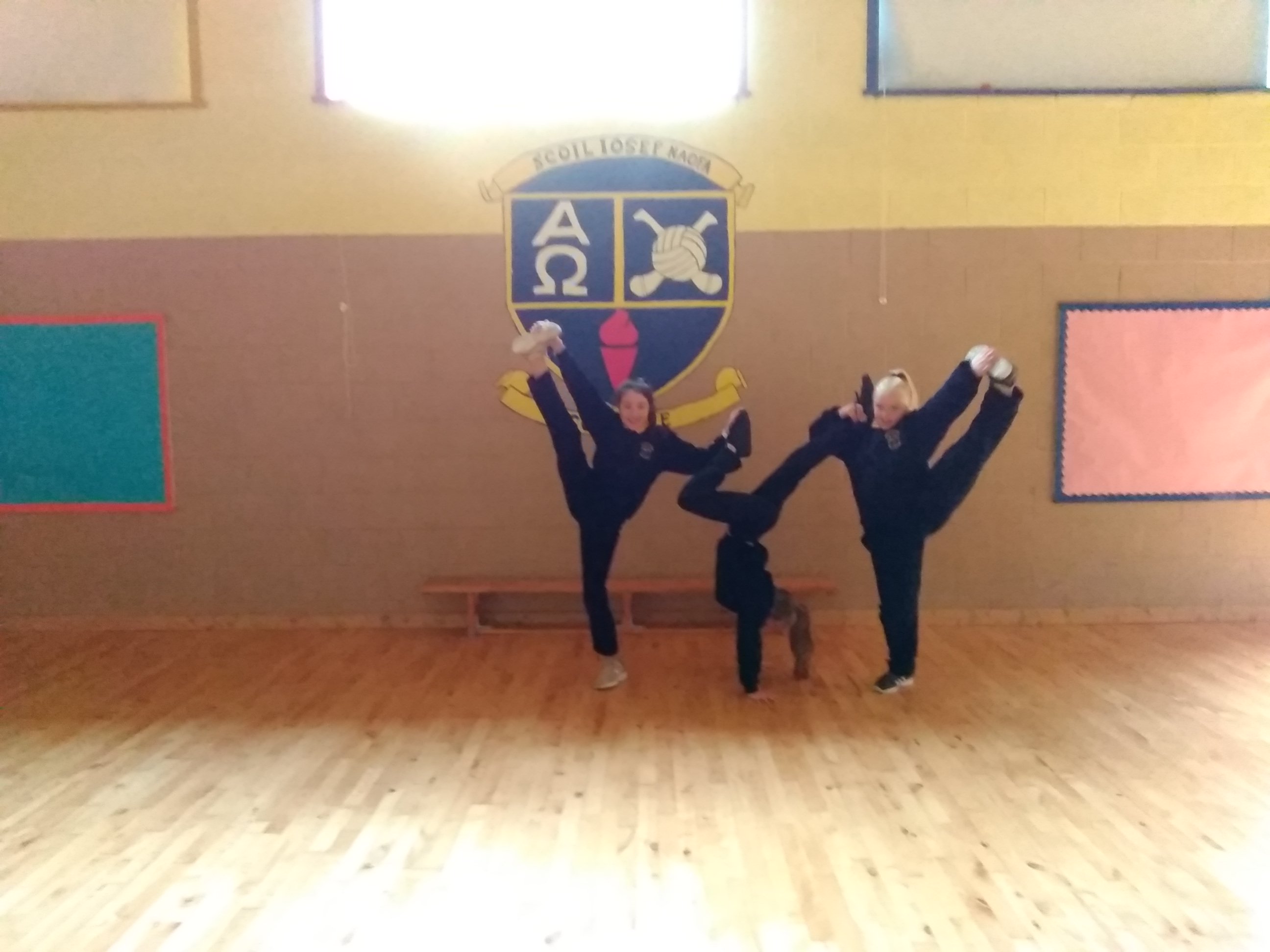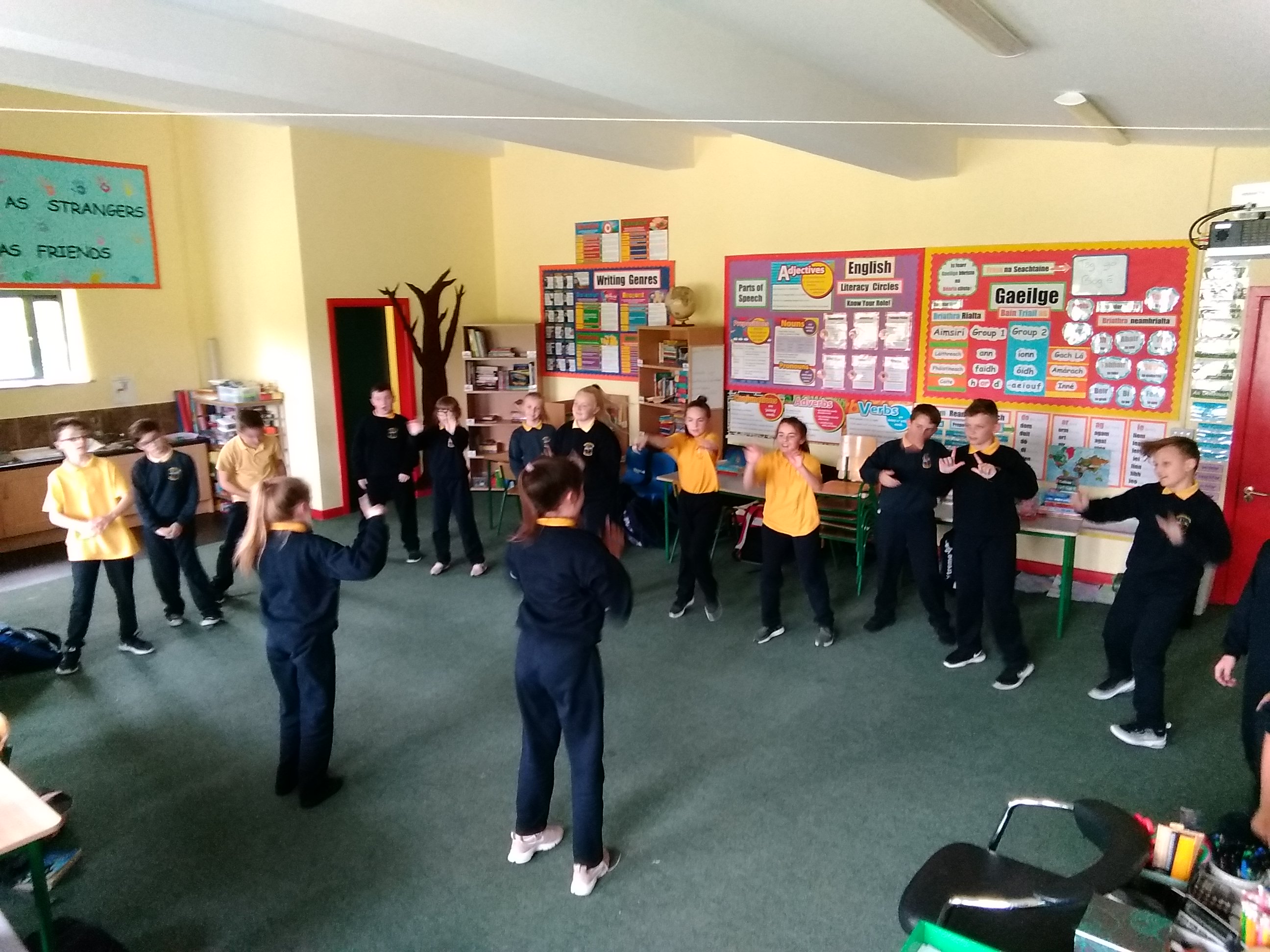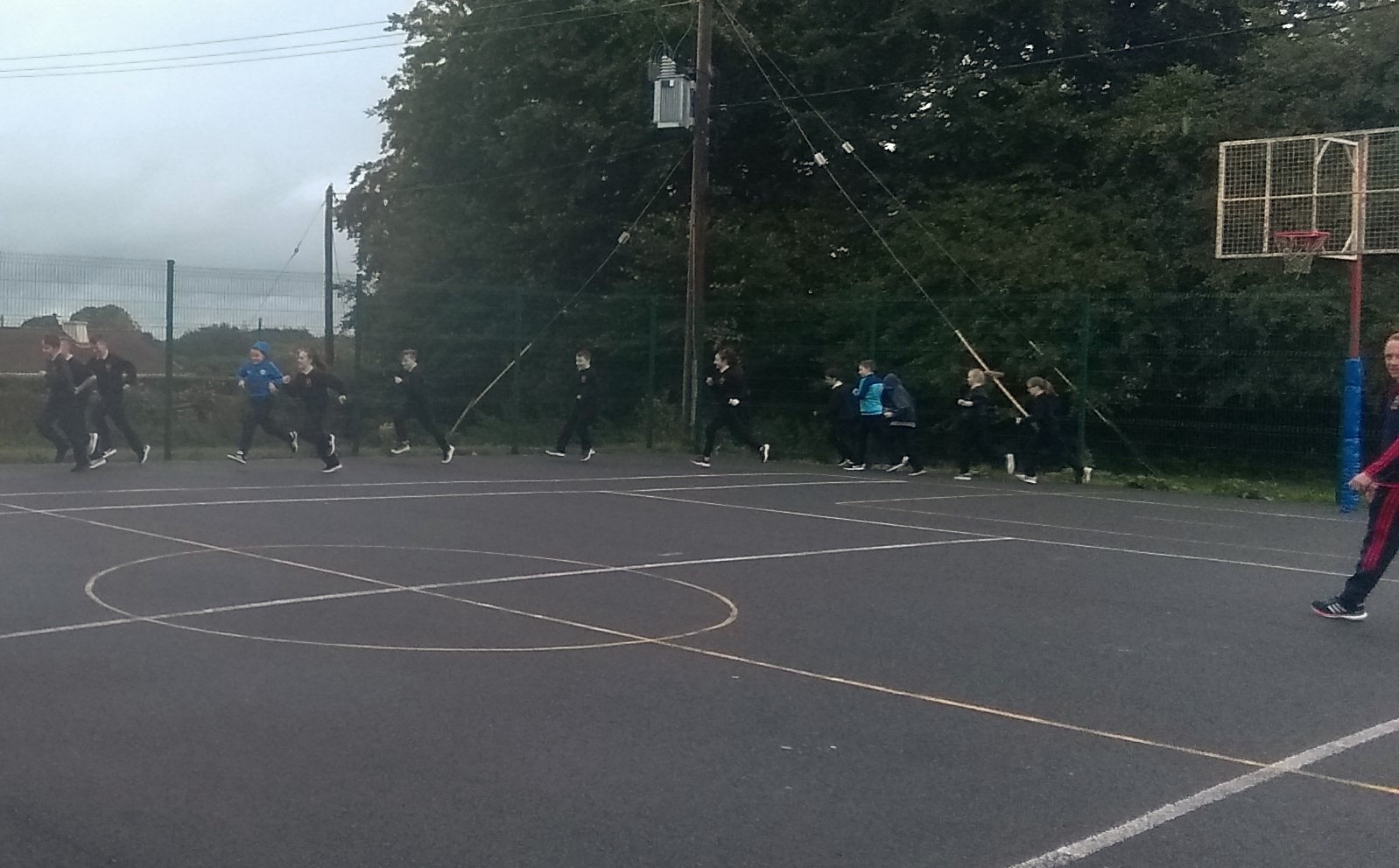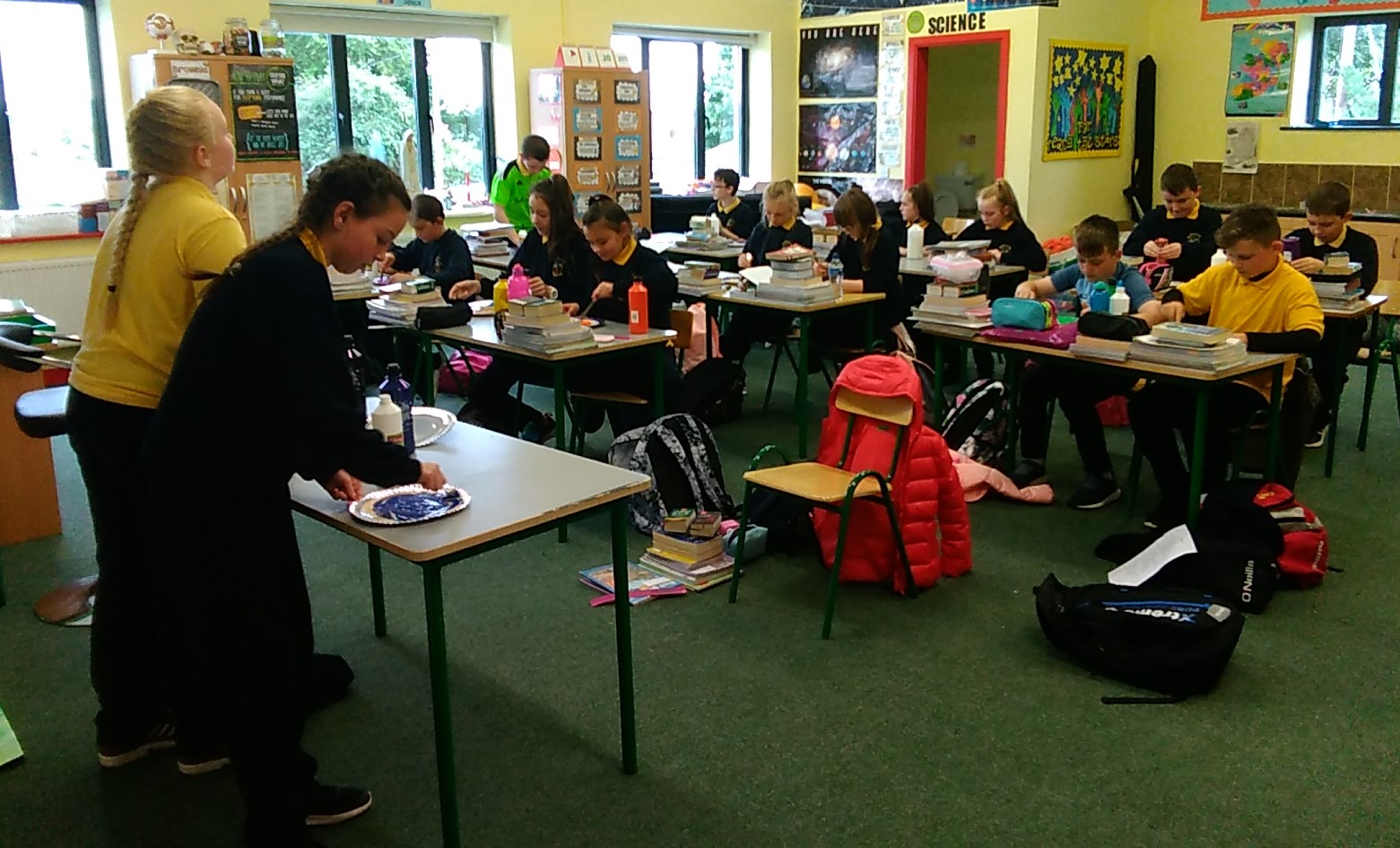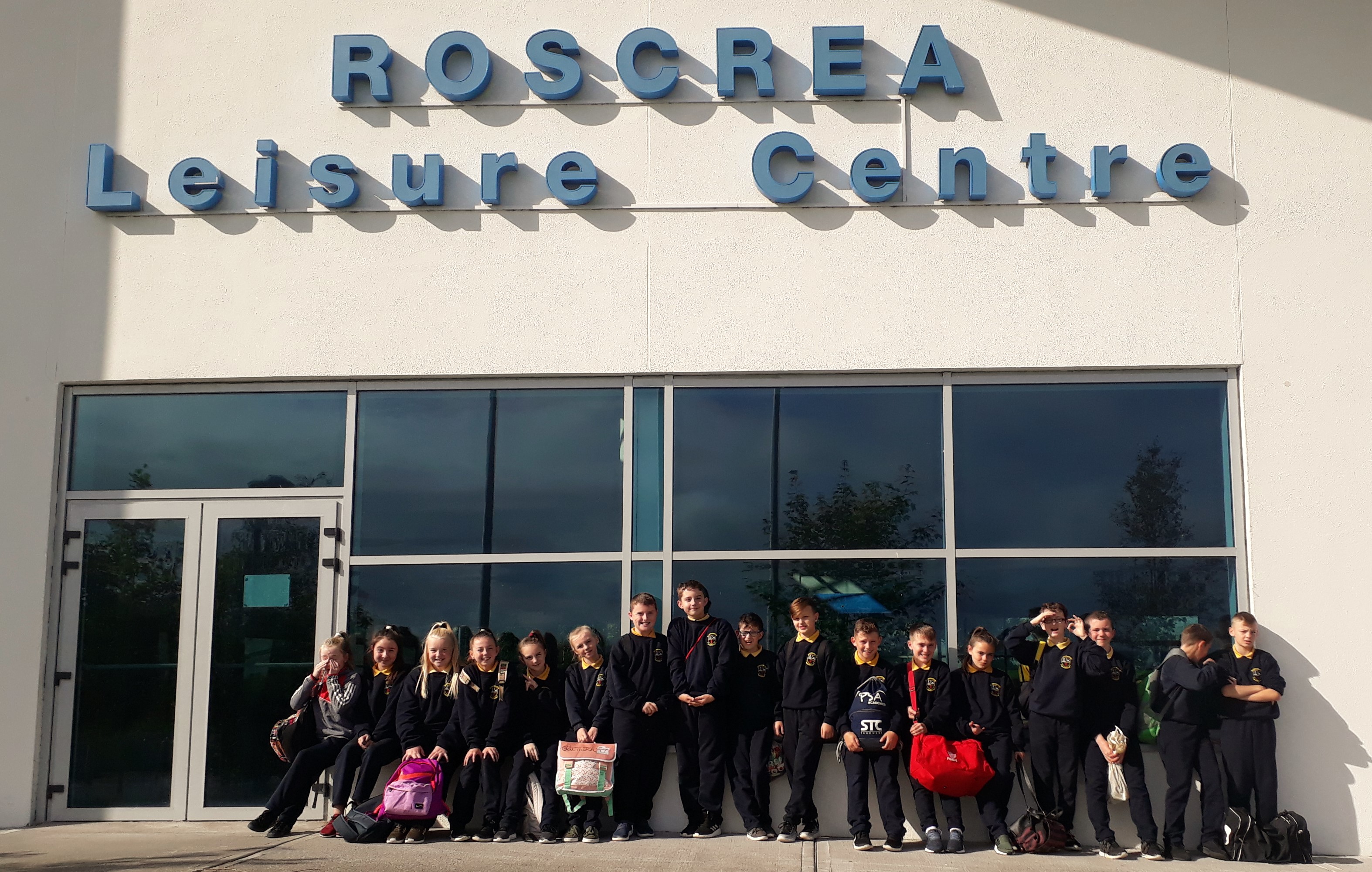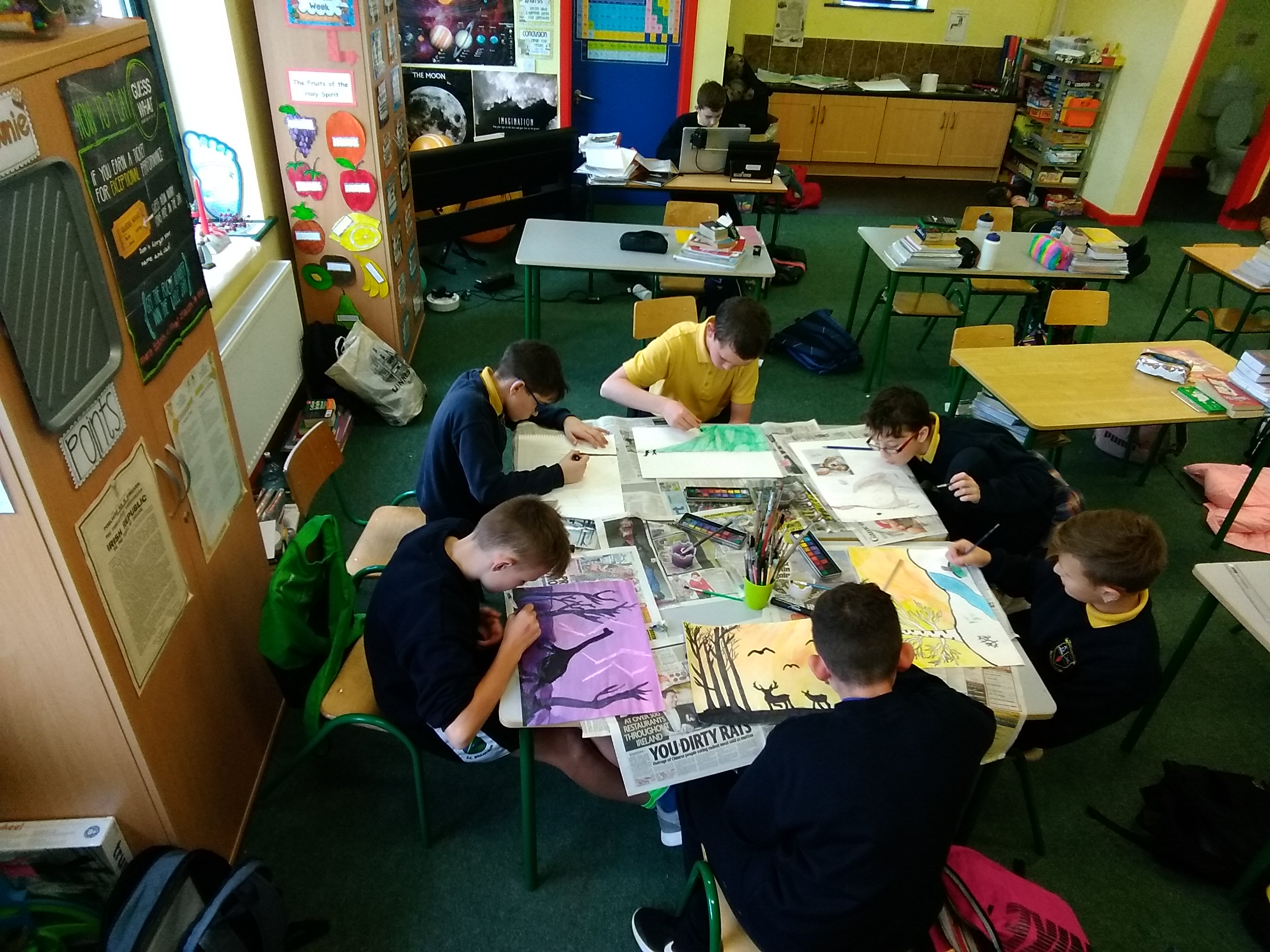 and finally……. here are some of the projects that can be seen adorning the school walls at the moment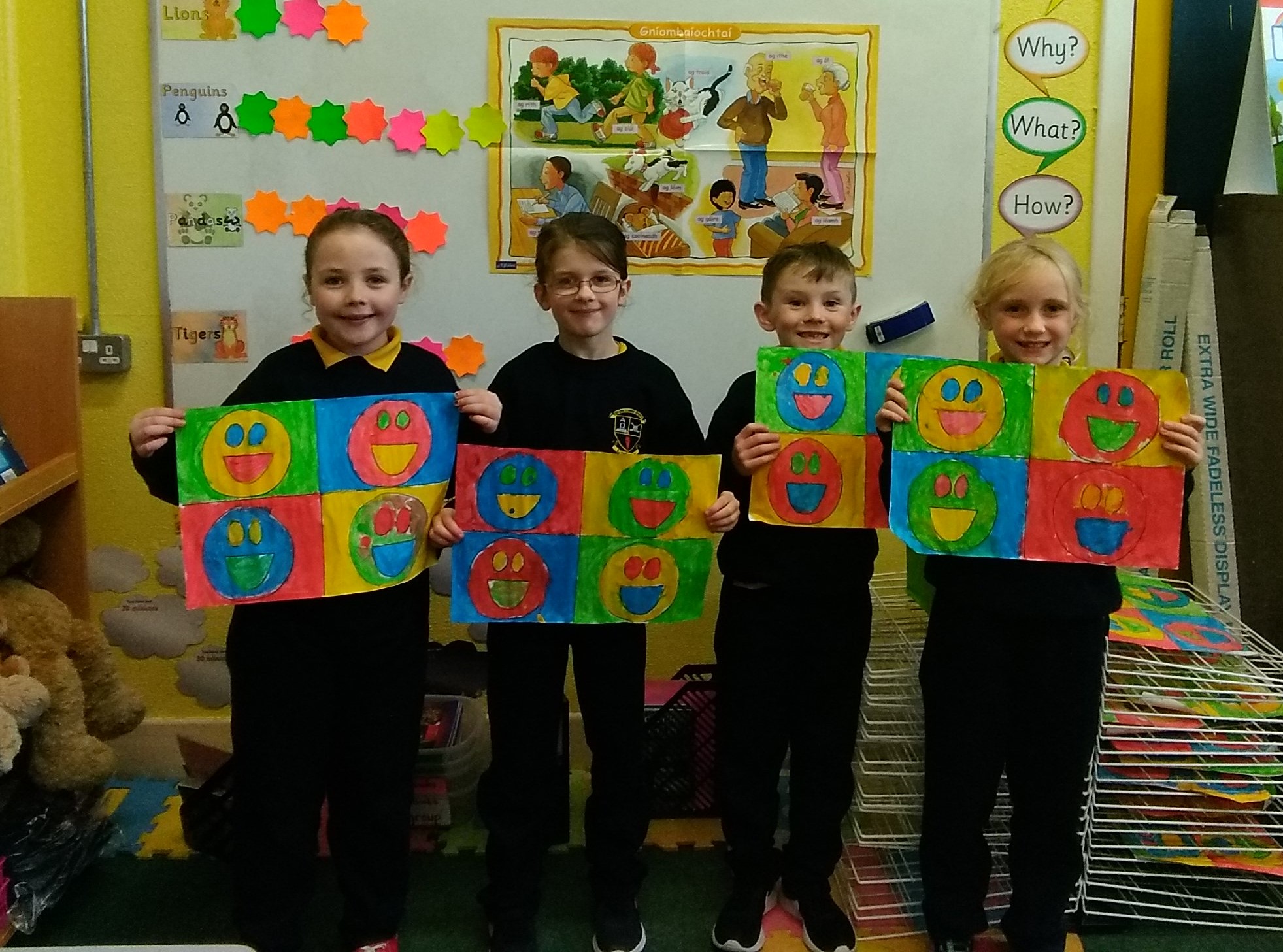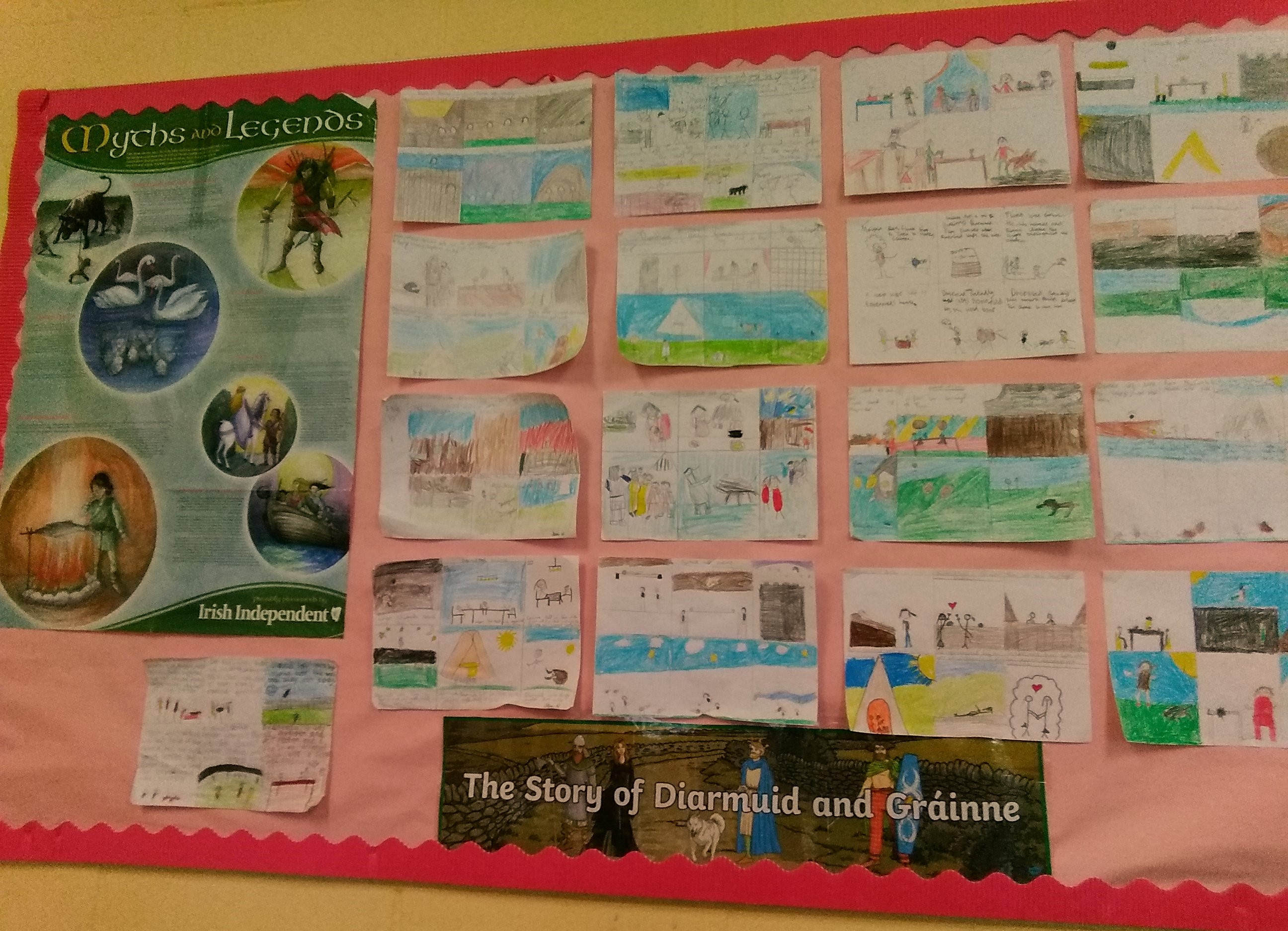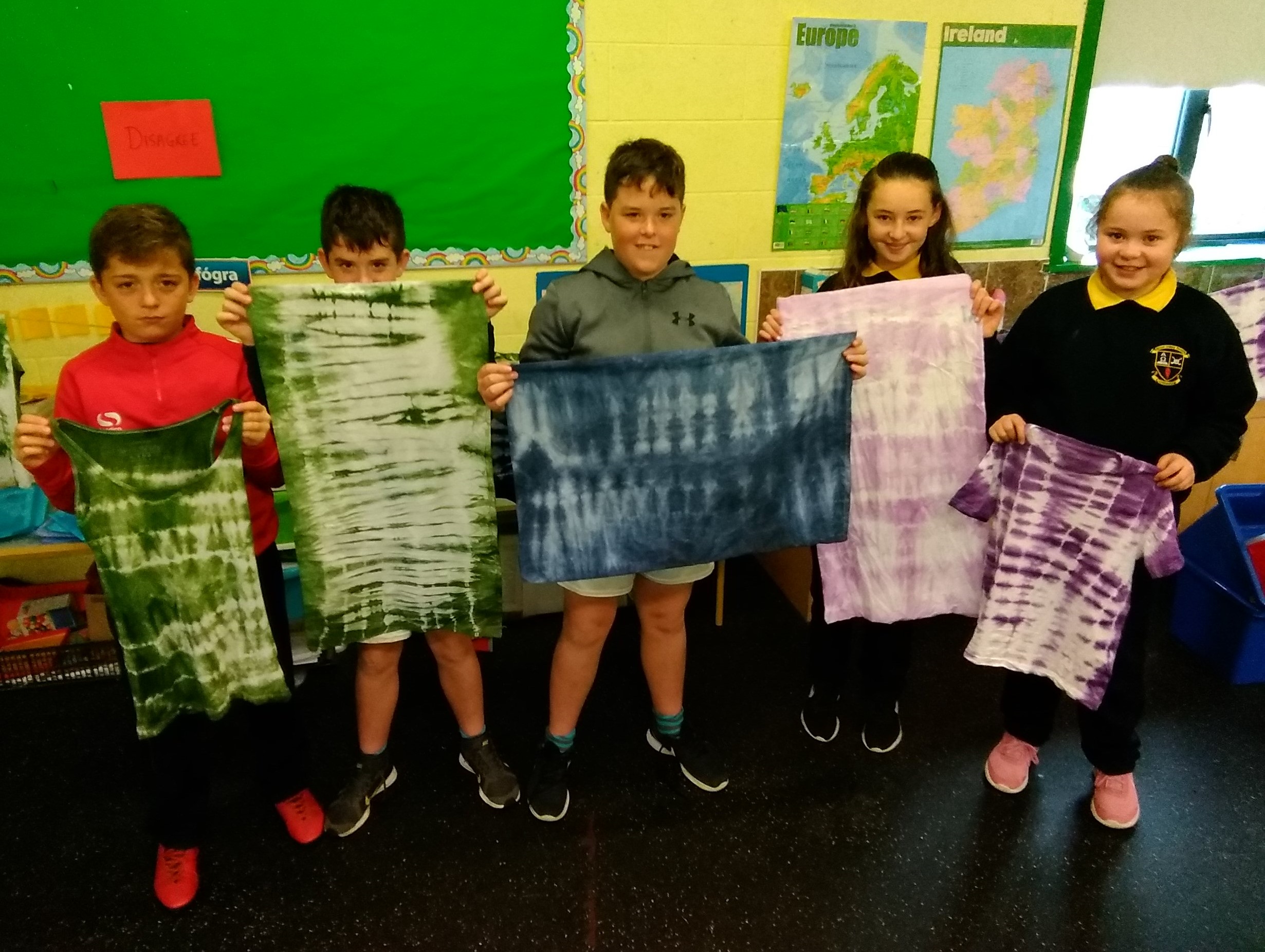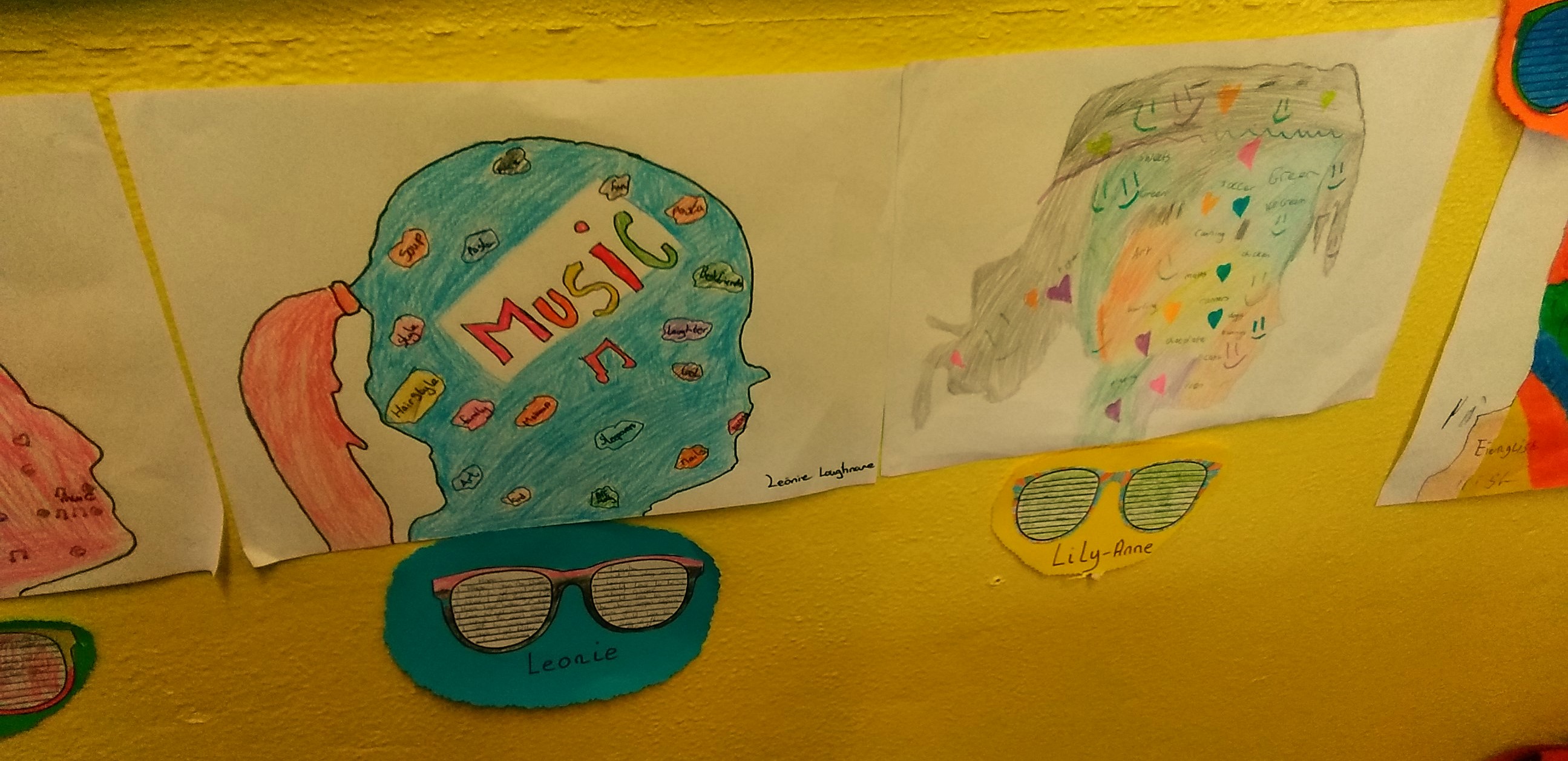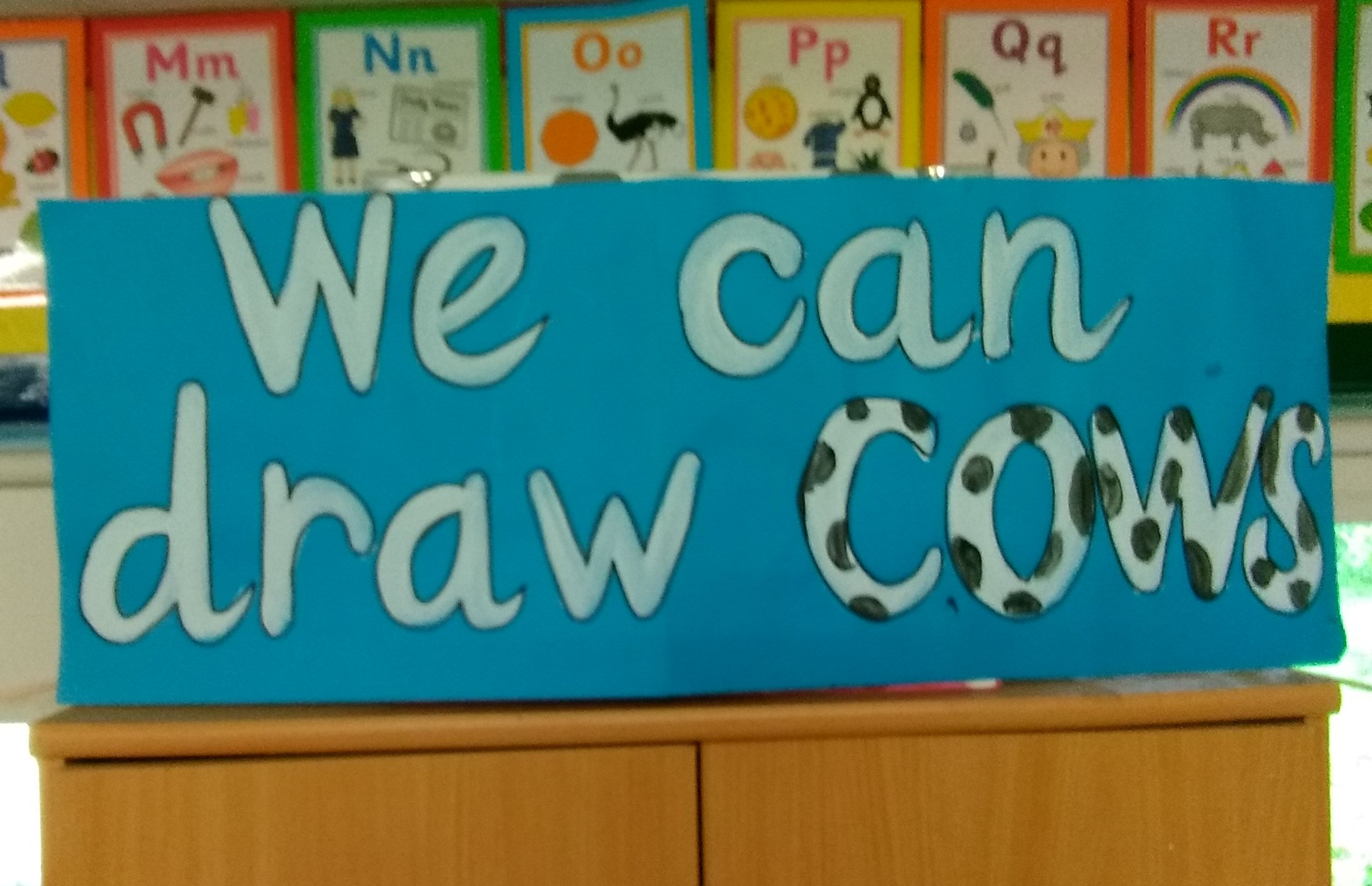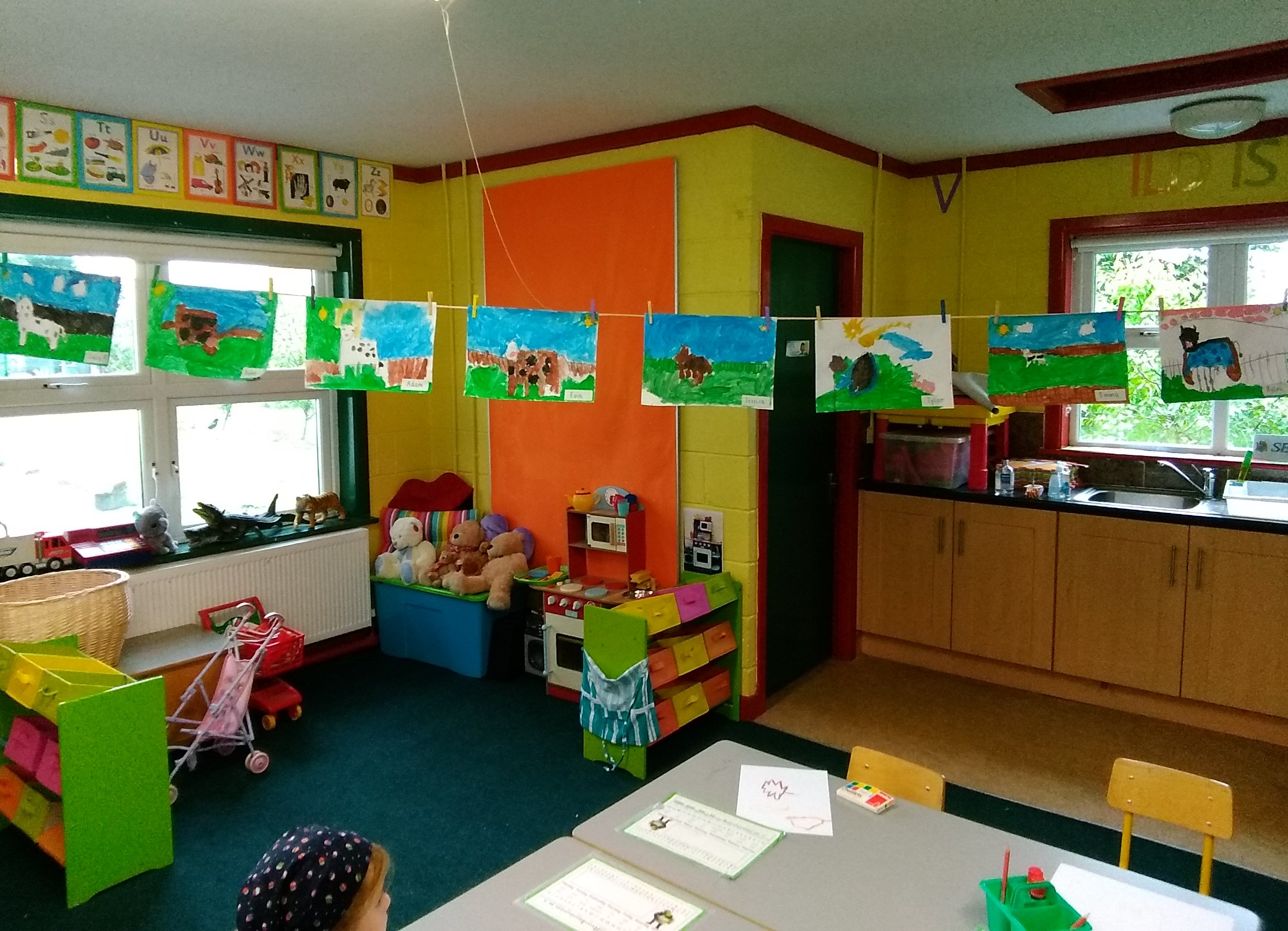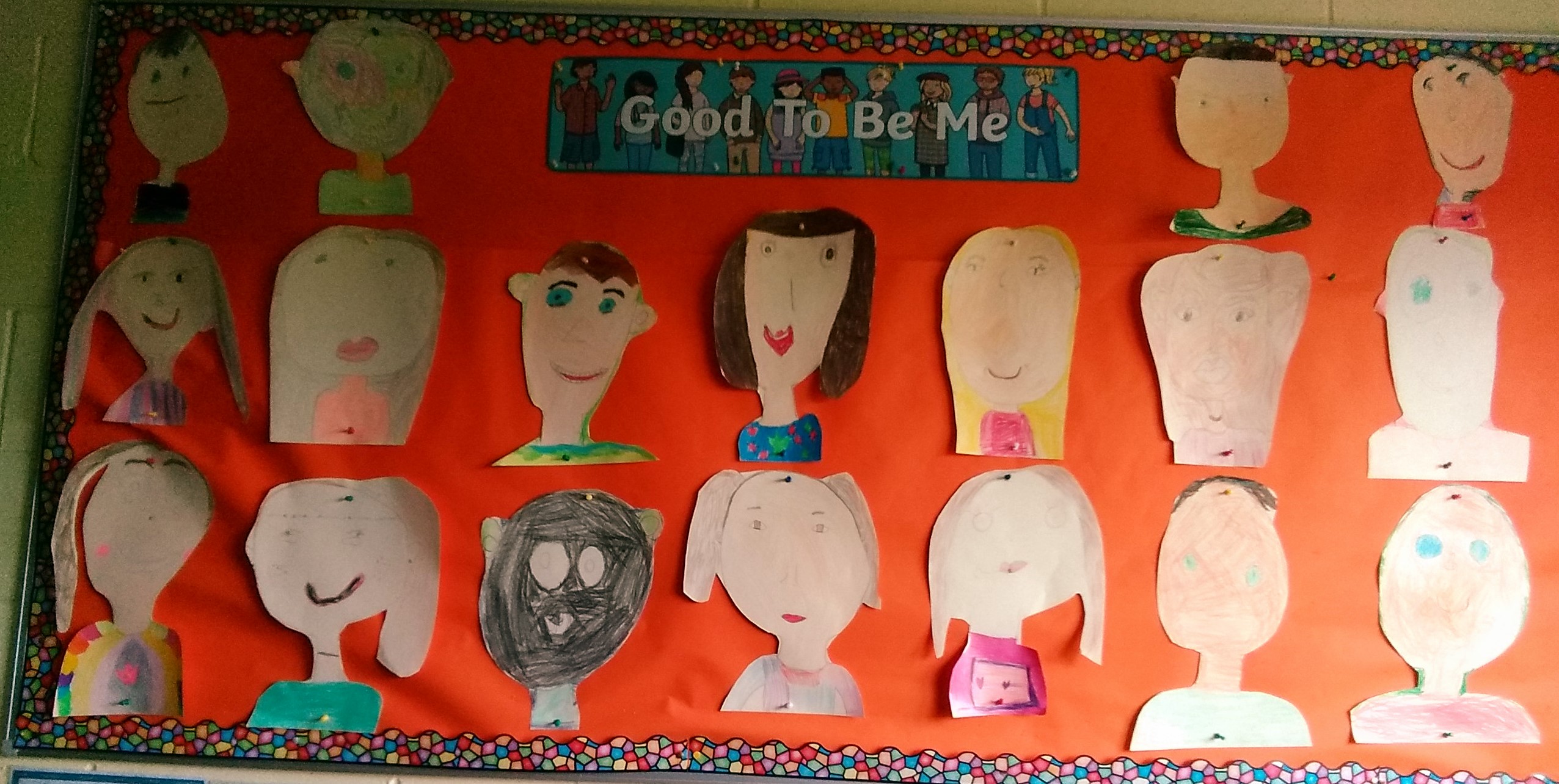 ---
Previous News: 2018/19 Term 1 | 2017/18 Term 3 | 2017/18 Term 2 | 2017/18 Term 1 | 2016/17 Term 3 | 2016/17 Term 2 | 2016/17 Term 1