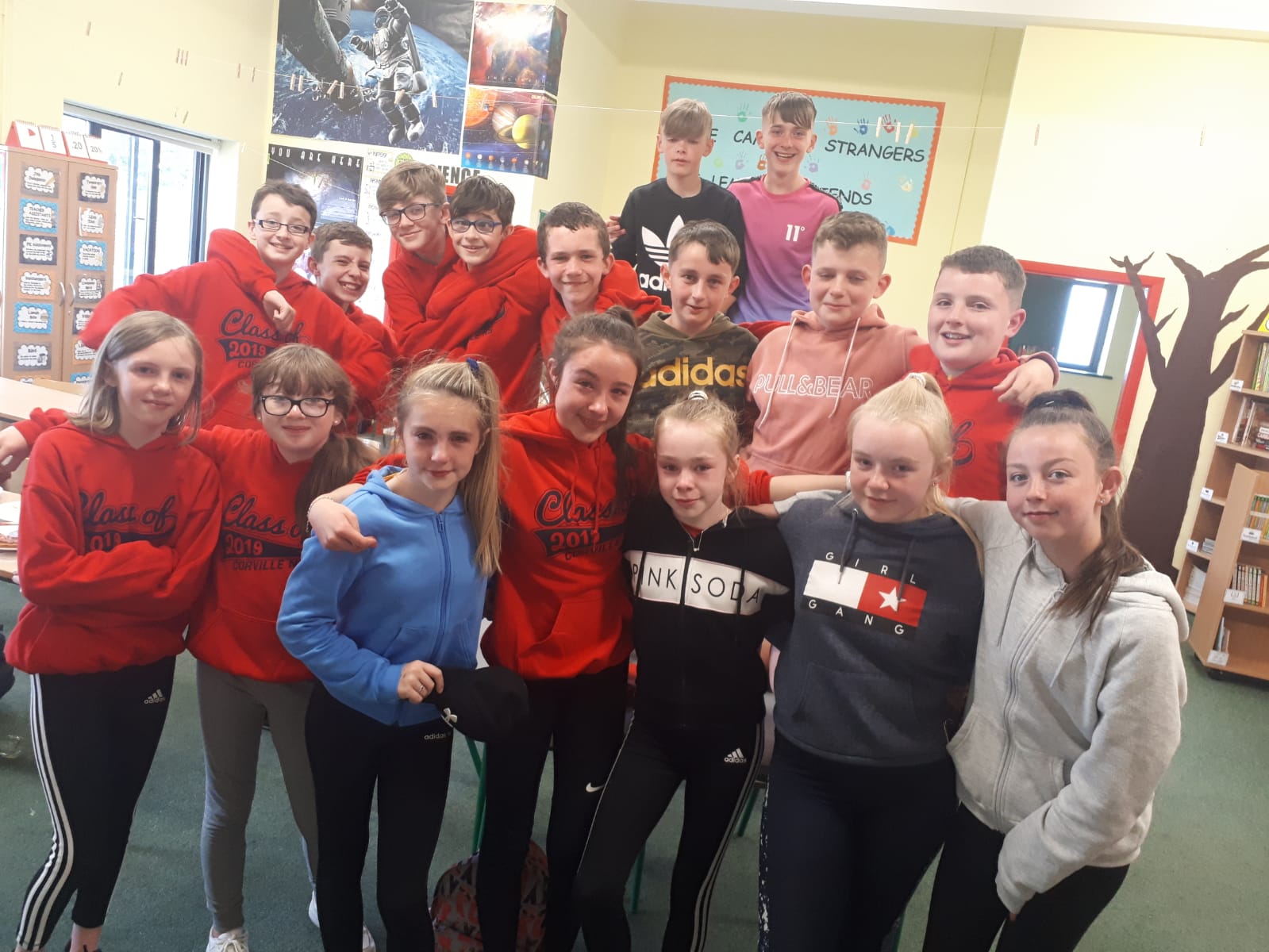 Believe it or not this will be our last blog post of the school year. We have had lots of fun writing the blog for you guys and we will miss bringing you all the news from our class. However, we have to go and we know the next 6th class will do a great job. Bye for now 6th class!! We leave you with our final goodbye poem we created for our grad.
Our Journey Through Corville
We are the Class of 2019
And this is the last time we'll be seen
As students walking through these halls
We've got to go, secondary school calls
When I first arrived my eyes were red
I wanted to leave but I stayed instead.
Our junior infant teacher was a very kind soul.
Ms. Kirwin was her name or Ms. Kelly as she's now known
In senior infants we had Ms. Frawley
She kinda reminds me of Matilda's Ms. Honey
Why? Because she was so sweet and funny.
In 1st class we had Ms. O'Connell and she was really cool.
There were always mischievous elves in the bathroom.
She worked so hard teaching our class.
We can safely say we had a blast.
In 2nd class we had Ms. Dillon.
That year was absolutely thrillin.
In 3rd class we had Ms. Fitzpatrick
When we found out, we were so ecstatic.
In 4th class we had Ms. Morrisroe
We taught her how to dab, it was quite a show
In 5th class we had Ms. Darcy.
She was a great teacher, on that we all agree.
She taught us how to play tennis
We had fun but were a bit of a menace
Strangely, every year we had female teachers who were blonde.
Until Mr. Scully came and sure his hair is nearly gone!
We would like to thank him for all he has done.
For helping us to be the students we've become.
Mr. Slattery is the best principal you will find
He is really nice and also kind.
He has been here in Corville for all our years
When we leave there may be tears
Of joy or sadness who can know
When your time is up you gotta go.
We have been here in Corville since we were 2 + 2
Some of us were older, but still, the 8 years flew.
That 8 year journey has been so much fun
But now we are sad, for school is almost done.
We thank the teachers, SNAs and all the staff
When we were upset they always made us laugh.
For the 19 students in our class
I hope our friendship will always last
We came as strangers we leave as friends
We'll always be remembered in Corville, but here our journey ends.